Indulge in a sippable treat with these amazing dessert cocktails for sweet after dinner drinks. These rich, creamy or fruity dessert drinks are the perfect way to end a meal.
From classic dessert cocktails like a chocolate martini to frosty delights like a boozy milkshake, you'll find delicious ways to make dessert in beverage form.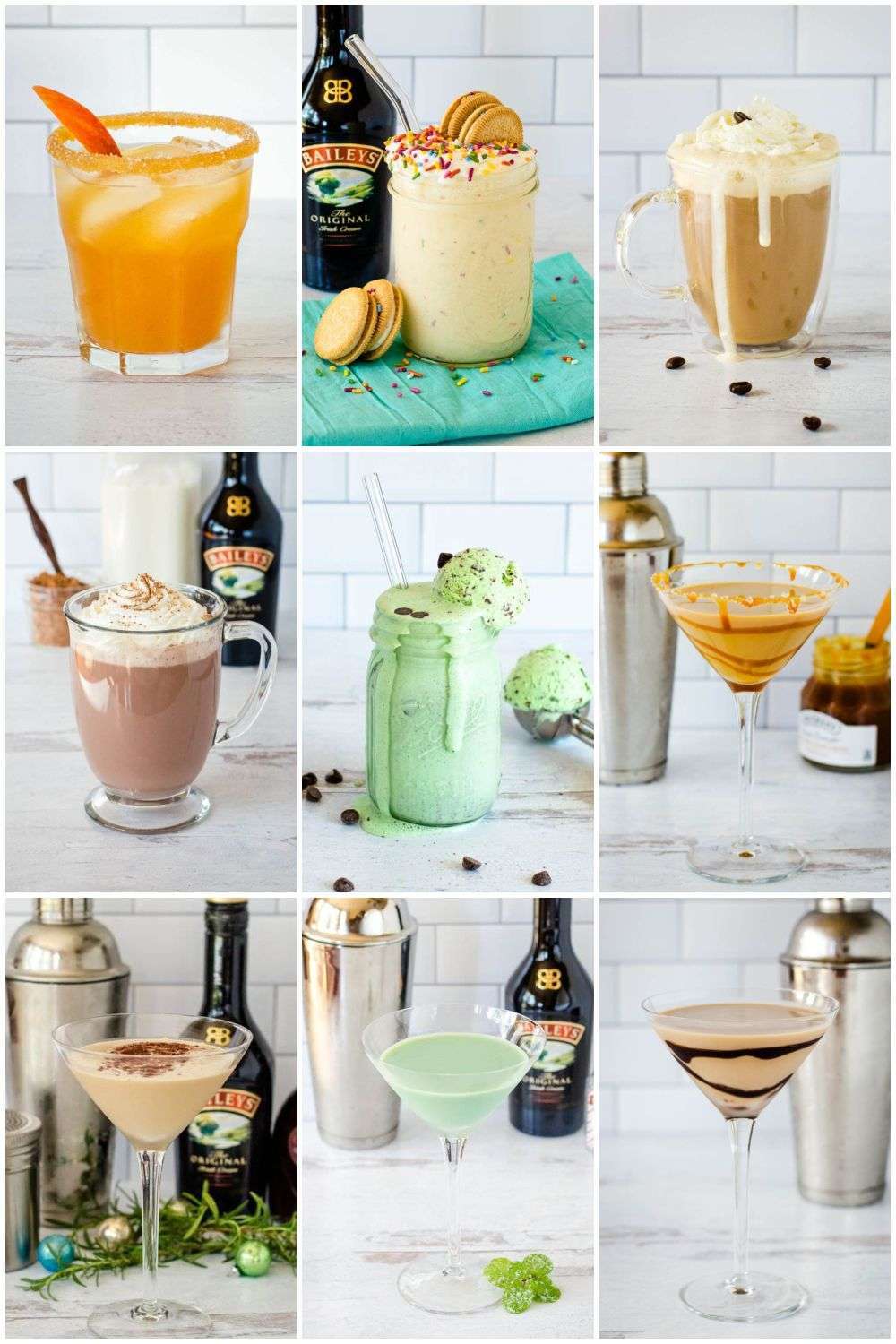 Recreate cocktails that taste like red velvet cake, key lime pie, tiramisu, pumpkin pie, candy apples and more. Flavored and creamy liqueurs along with spirits like vodka, rum, and bourbon are standard ingredients in dessert cocktail recipes, helping to keep them rich and scrumptious.
Best Dessert Cocktails
Browse your way through this collection of the best dessert cocktails that offer seasonal ideas as well as dessert drinks that can be enjoyed any time of year.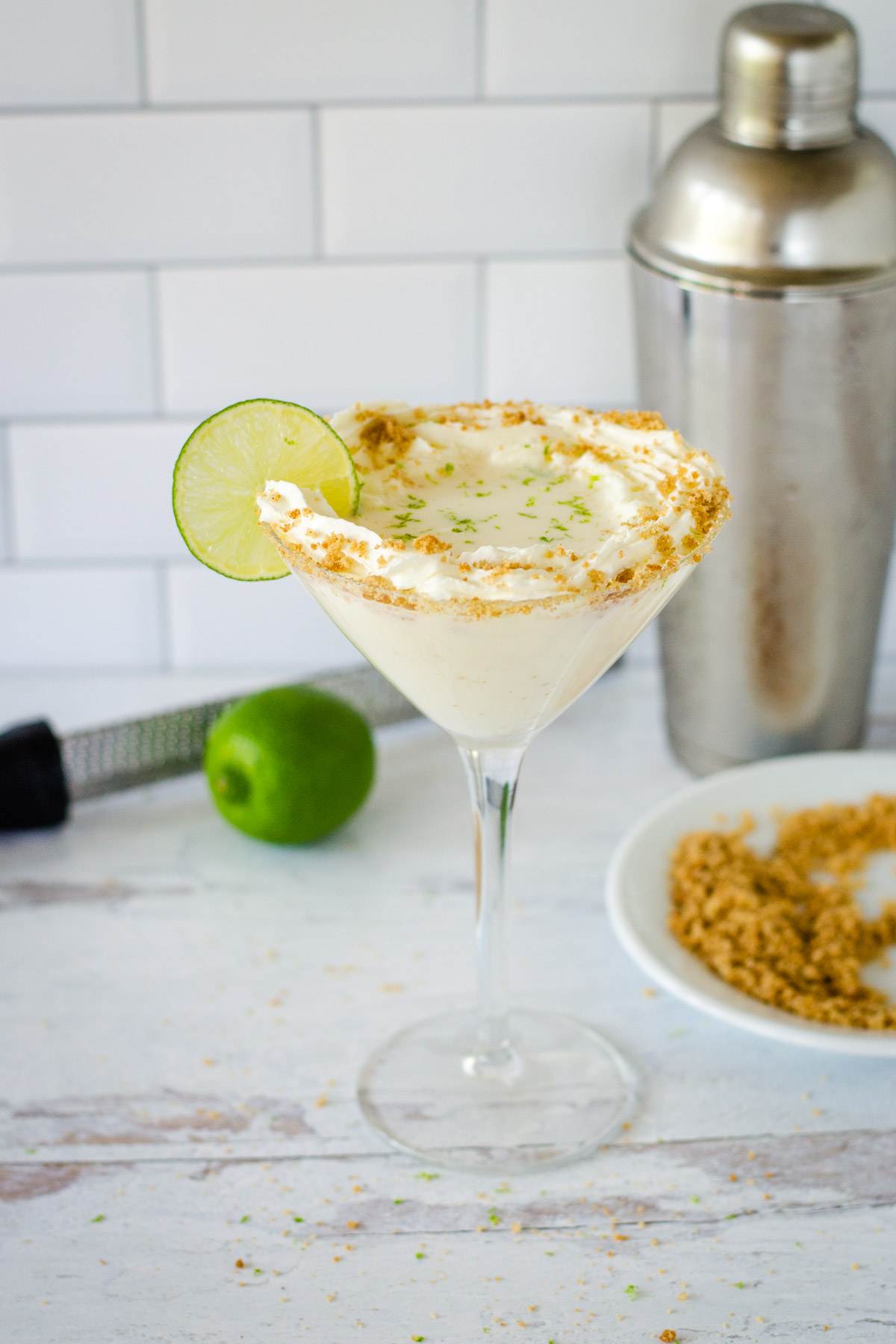 Key Lime Pie Martini
Every sip of this rum-based cocktail tastes like a sweetly tart bite of key lime pie, complete with crumbles of graham cracker for those buttery bites of crust.
It's all deconstructed into liquid form with the help of toasted coconut rum, key lime rum cream, lime juice, pineapple juice and a splash of cream. It's shaken together before being poured into a martini glass that's been rimmed with honey and dipped in crushed graham crackers.
Recipe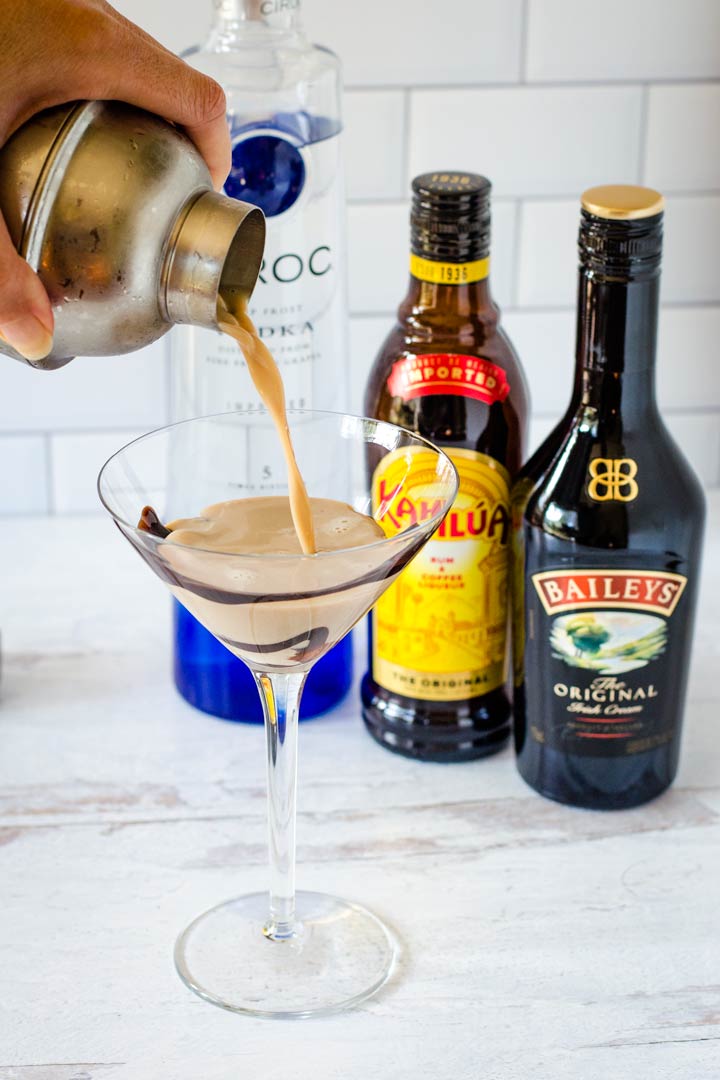 Tiramisu Martini
Serve this delicious Italian-inspired dessert cocktail that tastes like tiramisu. Start by rimming a martini glass with chocolate syrup and then dipping it in crushed lady finger cookies.
Go a step further and add a swirl of the chocolate syrup to the inside of the glass. This will make for a stunning presentation. To a cocktail shaker add Baileys Irish cream, Kahlua, vodka, and cream. Shake, strain and pour into the prepared glass.
Recipe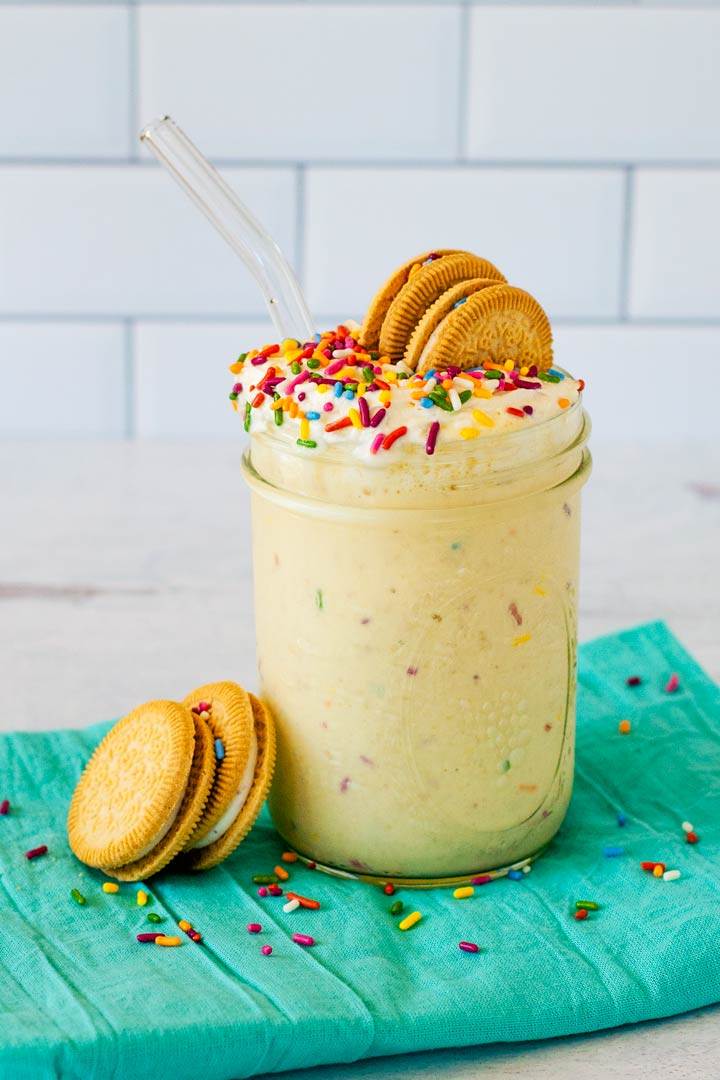 Boozy Birthday Cake Milkshake
Serve a cake-inspired dessert with this milkshake cocktail that includes vanilla ice cream, Baileys Irish cream, and vanilla sandwich cookies with rainbow confetti sprinkles, all combined in a blender for a rich and creamy texture.
Pour it into your glass and top it with whipped cream and a smattering of the crushed cookie crumbles and a dash of the sprinkles. Serve with a straw and or a long spoon.
Recipe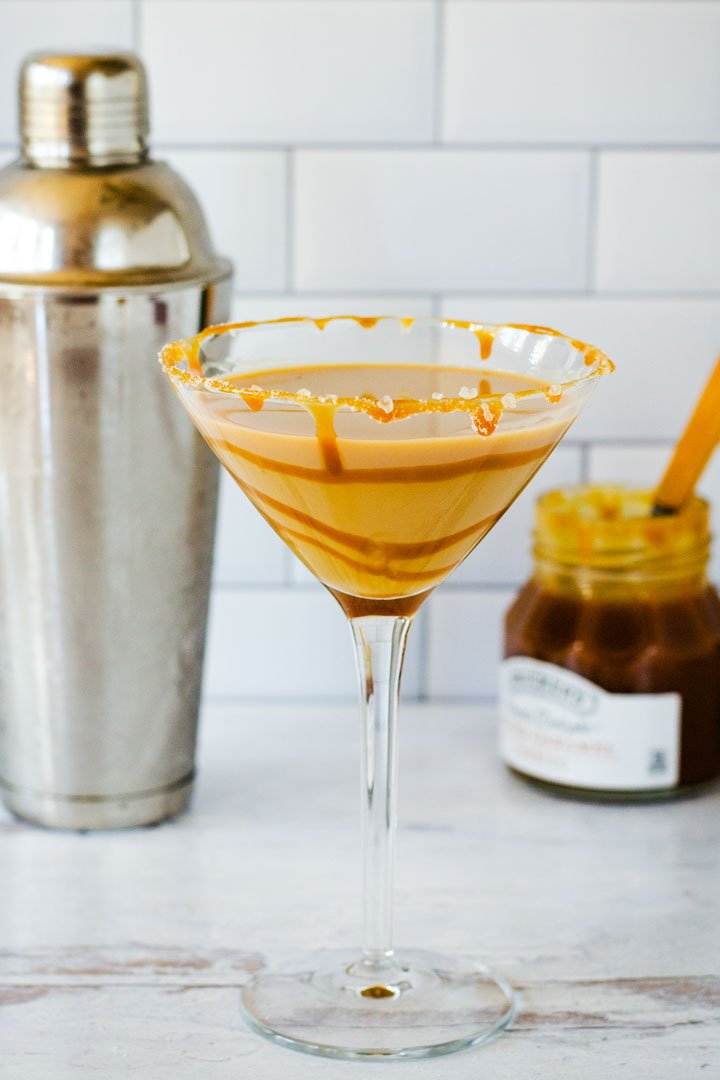 Salted Caramel Martini
Caramel and sea salt offer the sweet and salty combo that mingles with Baileys Irish Cream, vodka and heavy cream to make a rich and satisfying dessert cocktail.
Start by rimming a martini glass with caramel sauce before dipping it in coarse sea salt. Add caramel sauce to the inside of the glass to make a pretty swirl. Shake Irish cream liqueur, vodka, caramel syrup, and heavy cream over ice and strain into the prepared glass.
Recipe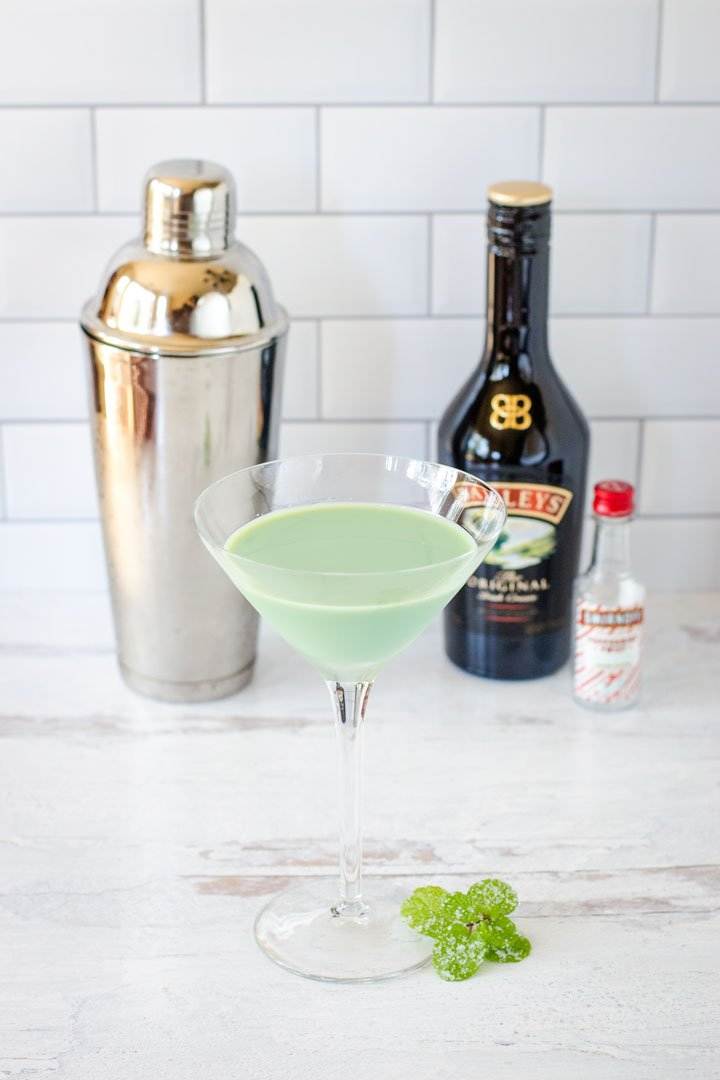 Shamrock Martini
While it's perfect for St Patrick's day, this minty dessert drink would also be appropriate for the winter holidays.
Made with Baileys Irish cream, heavy cream, peppermint vodka or creme de menthe for a sweeter flavor and slightly green tint, shake it over ice before straining it into a martini glass. It's a delicious twist on the classic grasshopper cocktail.
Recipe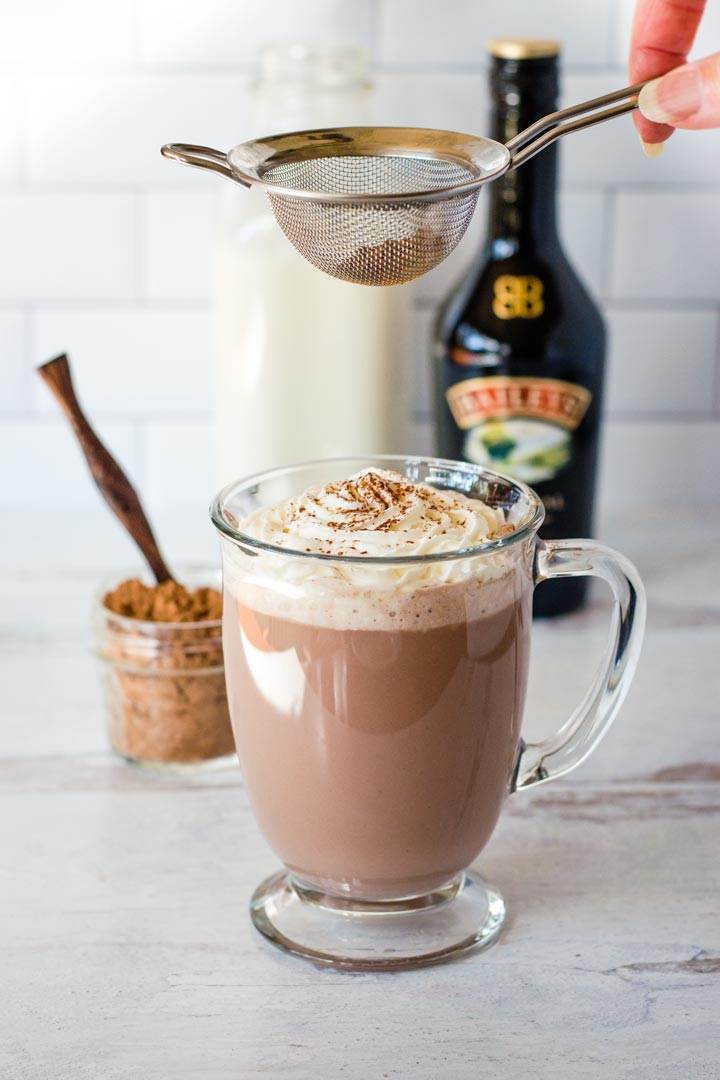 Hot Chocolate With Baileys
Nothing says cozy like a cup of hot chocolate, especially after dinner. Chocolate is always a dessert ingredient, and here, pair it with cocoa and warm milk with Baileys Irish cream for a classic dessert cocktail.
Pile it high with whipped cream and top it with sifted cocoa powder or a drizzle of chocolate syrup and dessert is served!
Recipe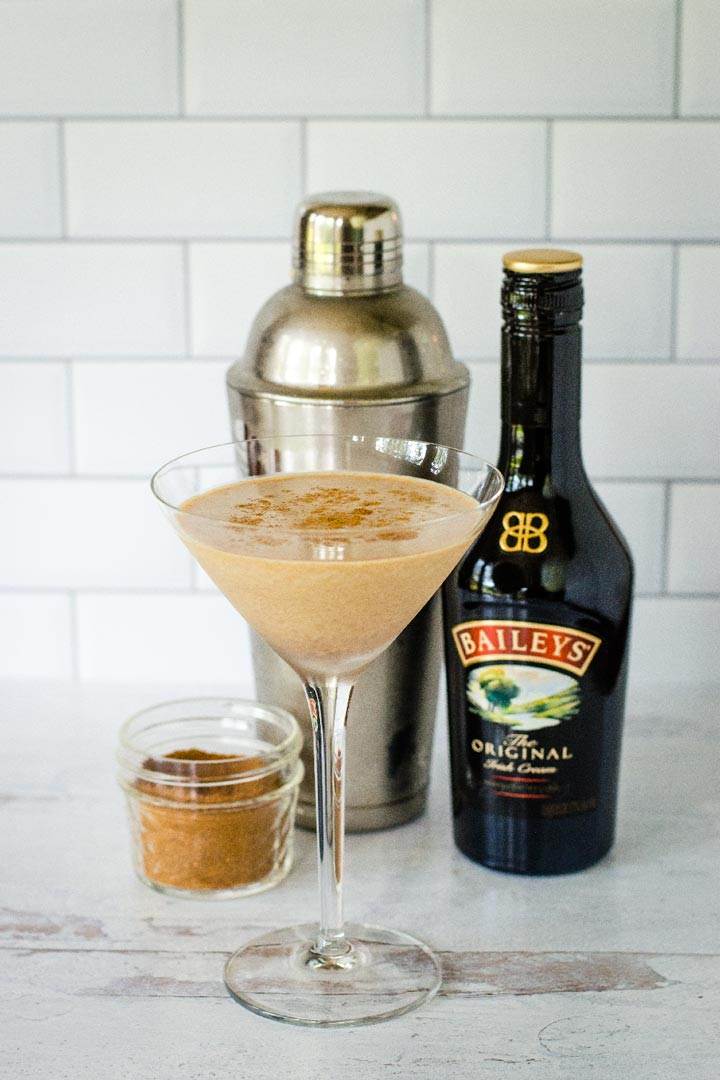 Pumpkin Spice Martini
Perfect for fall holidays like Halloween and Thanksgiving, this pumpkin spice dessert cocktail will check all the boxes. Instead of serving pumpkin pie, offer this sippable delight that includes real pumpkin puree along with Baileys Irish Cream, vanilla vodka, heavy cream, maple syrup and pumpkin pie spice.
Shake it all over ice before straining it into a martini glass and garnishing it with a dash of the spice blend. For extra sweetness, rim the glass with maple syrup and cinnamon sugar before pouring in the cocktail.
Recipe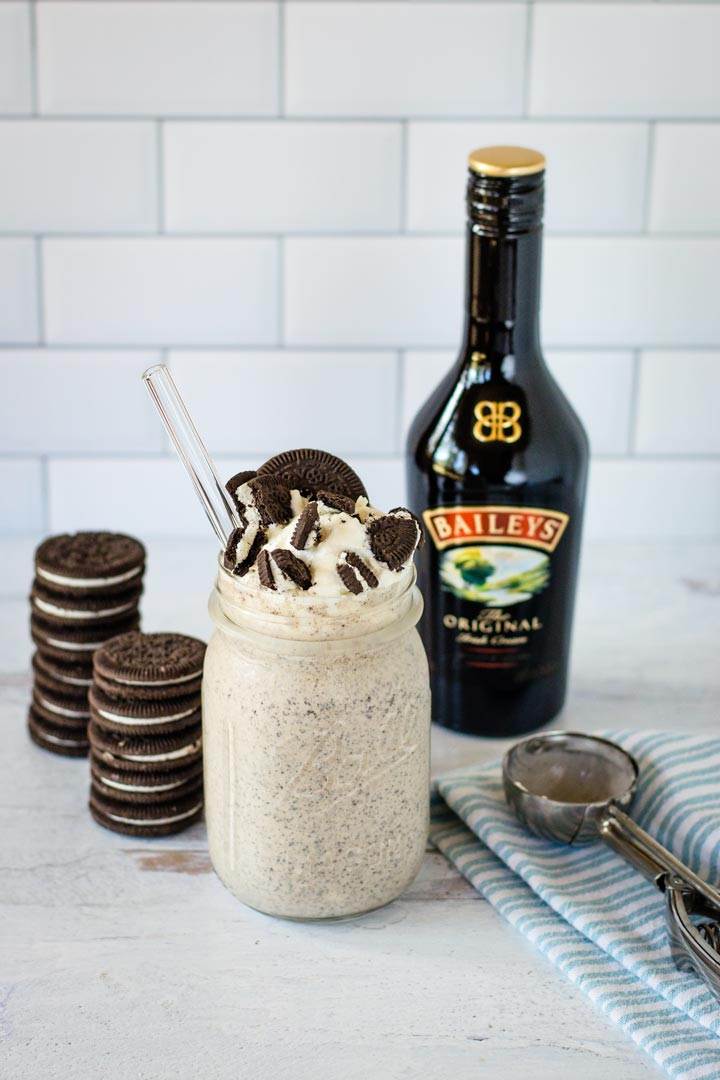 Cookies And Cream Spiked Milkshake
You're never too old for cookies and milk and here, you can present this favorite duo in the form of a boozy milkshake. To a blender add vanilla or chocolate ice cream, Baileys Irish cream, and chocolate sandwich cookies and blend.
Pour into your glass and top with whipped cream. Garnish with a drizzle of chocolate syrup and crushed chocolate sandwich cookie crumbs. Serve with a straw and a long handled spoon.
Recipe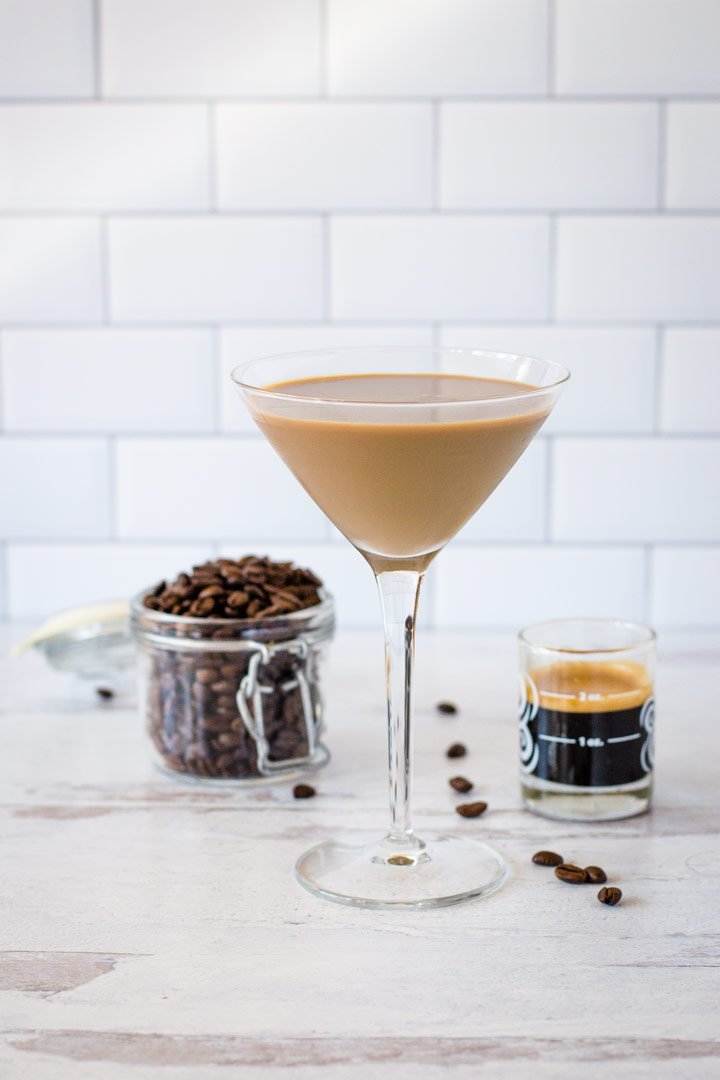 Espresso Martini
Up-level your after dinner coffee with this rich and creamy dessert drink that starts by adding a few shots of espresso to a cocktail shaker. Next comes Irish cream liqueur followed by a rum and coffee liqueur such as Kahlua and finished with vodka.
Shake over ice and strain into a martini glass. An espresso martini is an easy dessert cocktail that's the perfect way to end any meal.
Recipe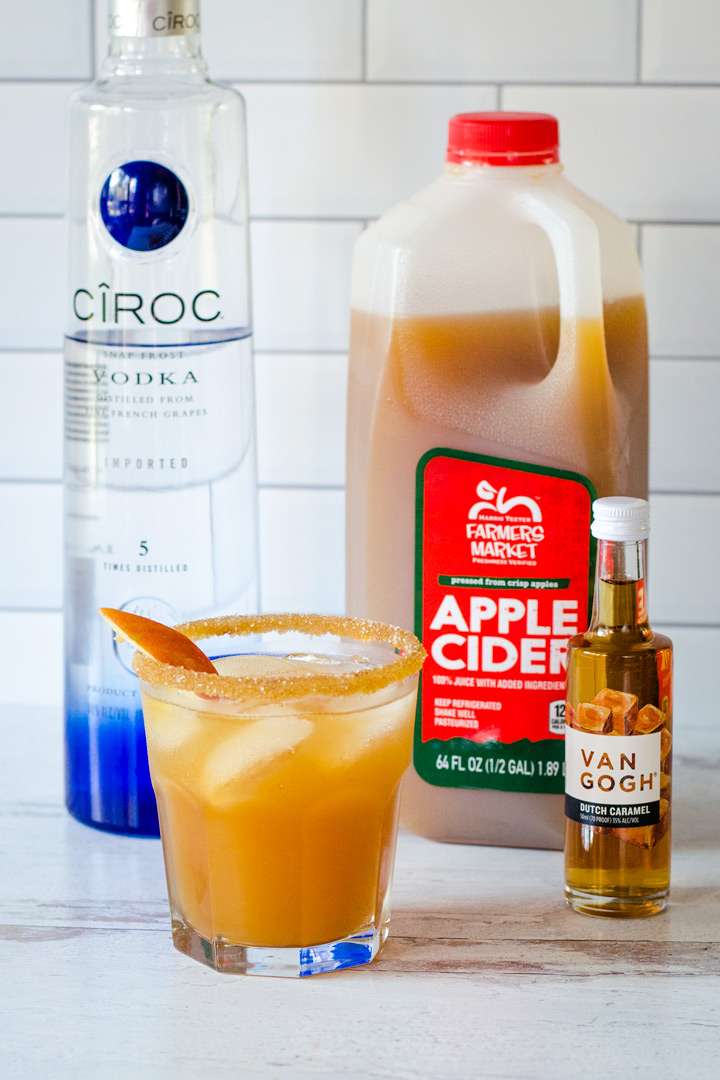 Caramel Vodka Apple Cider
Sweet and full of autumn tastes and fragrance, this vodka cocktail lands in the dessert category thanks to its caramel apple flavors. It tastes like a candy apple only in beverage form.
Rim your glass with salted caramel sauce then dip it in a sugar and apple pie spice mixture. Fill with ice cubes and pour in caramel flavored vodka and fresh apple cider. Give it a stir and garnish with a slice of fresh apple.
Recipe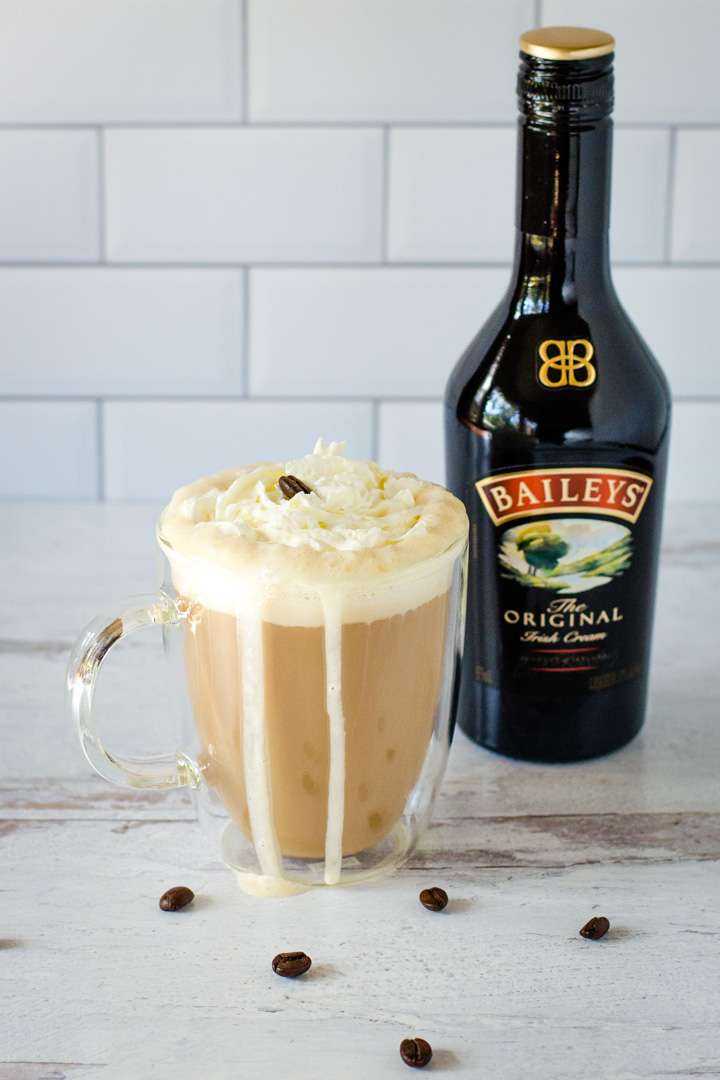 Irish Coffee With Baileys
Brew your favorite coffee and add a splash of Irish whisky or bourbon to it along with Baileys Irish cream. Top with whipped cream for coffee worthy of dessert.
Or, go in a different geographical and tasty direction by adding Amaretto liqueur rather than Baileys and whisky. Top with whipped cream, of course!
Recipe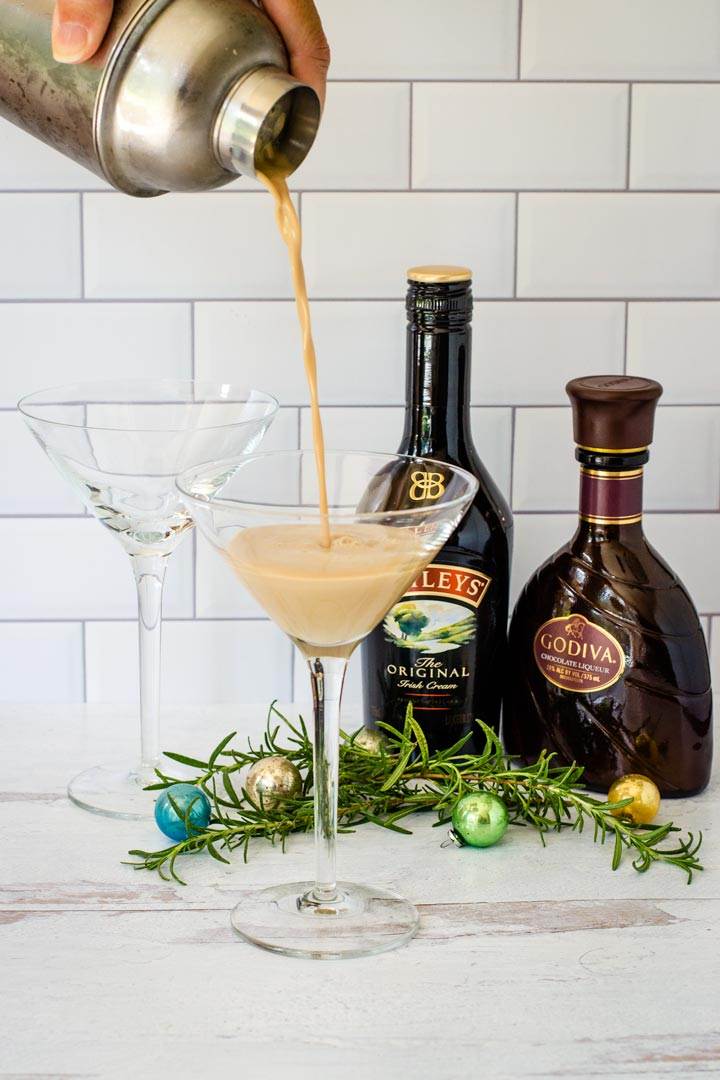 Chocolate Martini
Chocolate is always a good idea after a meal and here, you can sip your way to chocolate satisfaction with this sumptuous dessert martini. Use a white or dark crème de cacao or chocolate liqueur, such as the decadent Godiva brand for the base of this martini. Next add Irish cream, plain or vanilla vodka, and heavy cream.
Shake it over ice before straining it into a martini glass. Garnish with a sprinkle of cocoa powder on top. Love the combo of peanut butter and chocolate? Rim the glass with smooth peanut butter for a tasty idea.
Recipe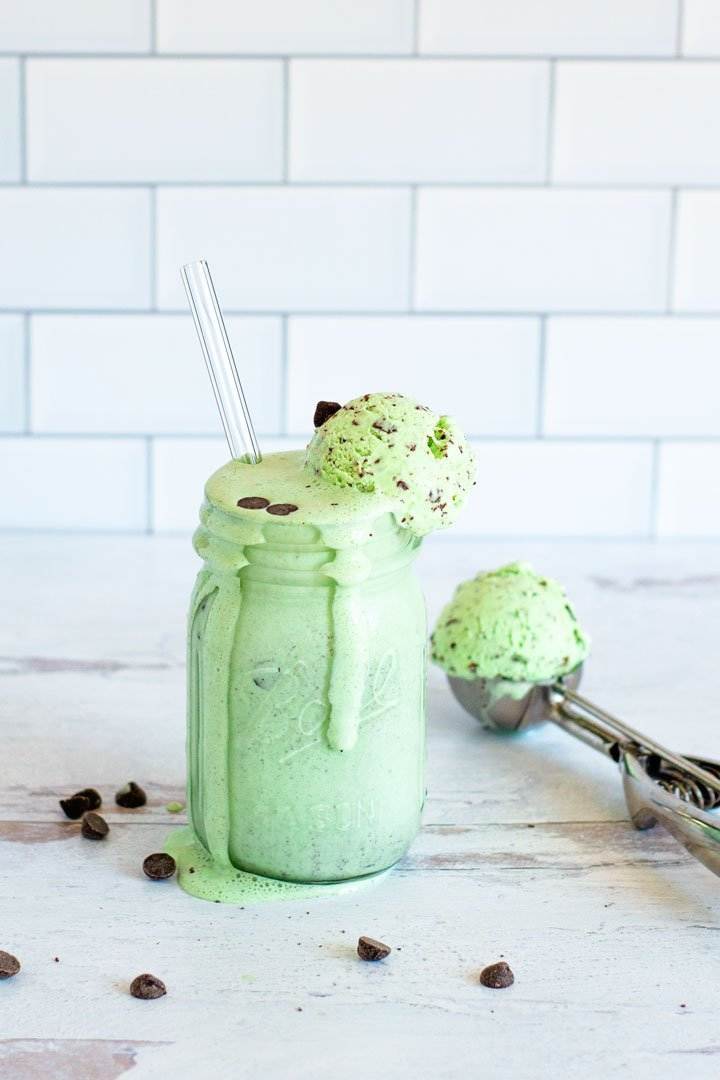 Boozy Shamrock Shake
Slurp this boozy green shamrock shake or frozen grasshopper dessert cocktail that combines chocolate chip mint ice cream with Baileys Irish cream.
It's an easy two ingredient recipe that's made quickly in your blender before being poured into your milkshake glass. Garnish with whipped cream, mini chocolate chips or chocolate shavings. It's the perfect ending to a summer meal or to celebrate St. Patrick's Day.
Recipe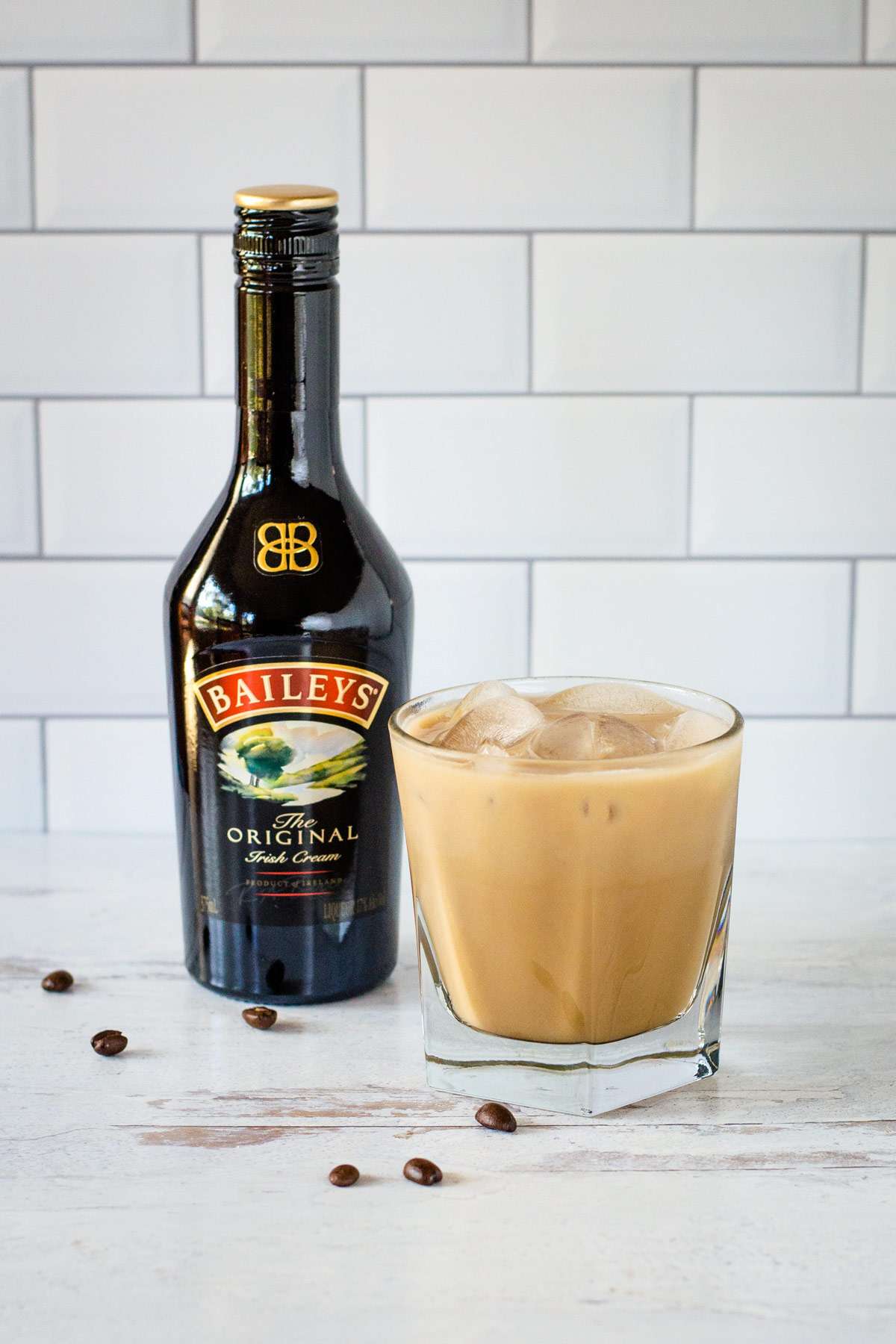 Baileys White Russian
A classic cocktail with a twist turns into a dessert cocktail with this White Russian variation. Made with Baileys Irish cream for extra rich flavor, vodka, Kahlua and cream, pour it all over ice in your glass and give it stir to combine.
To make it fancy, drizzle the glass on the inside beforehand with chocolate or caramel syrup to help elevate it to dessert status.
Recipe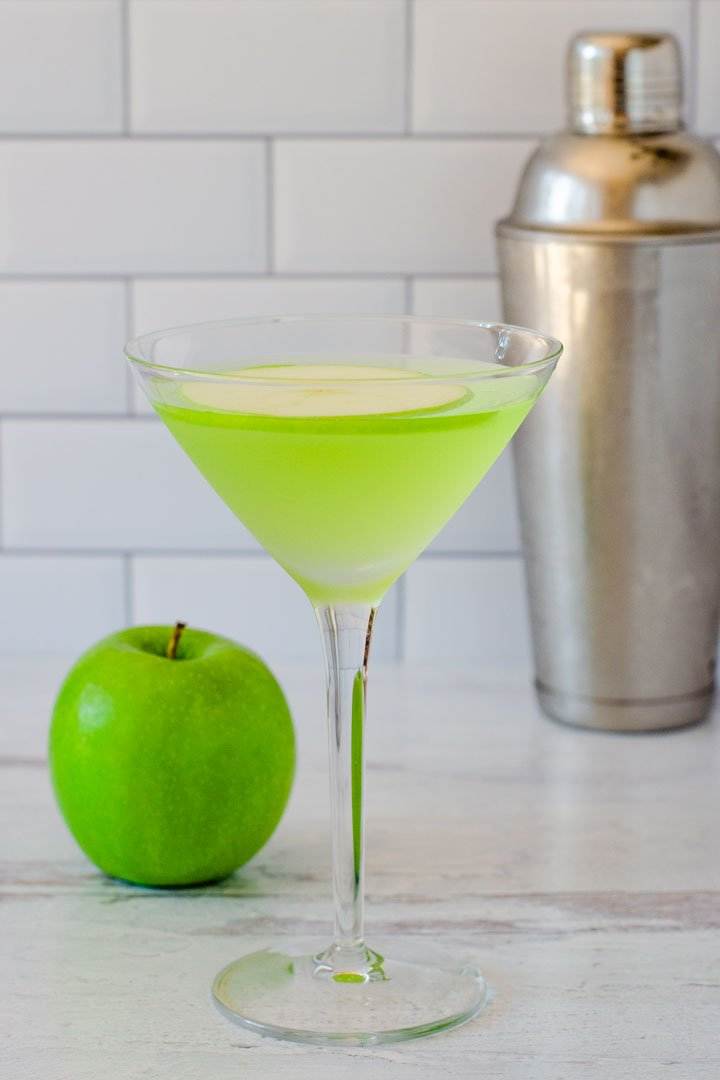 Appletini
Another classic cocktail to shake up at home, this sweet and sour green apple martini is perfect for girls' night. And the bright green color makes it a natural for holidays like Halloween or St. Patrick's Day.
If you like it sweet, but not too sweet, this may be the perfect sip for you!
Recipe
Pina Colada
For a refreshing summer dessert that will remind you of the tropics, blend up this fruity drink full of coconut milk, frozen pineapple and rum. Use the thick canned coconut milk for rich flavor and texture and let your high--speed blender whip all the ingredients into a frozen and boozy concoction, ready to enjoy after dinner.
For a tropical breeze variation add a splash of crème de banana liqueur to layer on another fruity flavor.
Recipe
Brandy Alexander
Creamy, chocolatey, and fragrant, this luscious cocktail is the perfect elegant dessert to serve after dinner. To a cocktail shaker filled with ice, add in your choice of liquor - brandy or cognac, creme de cacao and heavy cream.
Shake and strain into the glass. Garnish with freshly grated nutmeg and chocolate shavings.
Recipe by Sugar And Cloth
Red Velvet Cocktail
Perfect for Valentine's Day or Christmas, this 4-ingredient dessert cocktail is a delicious nod to red velvet cake. It's made with white chocolate liqueur for flavor, vodka for a boozy touch, grenadine to give it color, and milk to keep it creamy.
Shake all the ingredients over ice and pour into your glass. Take it up a notch by rimming your glass ahead of time with cream cheese frosting and red velvet cake crumbles.
Recipe by Mama On A Budget
Bourbon Eggnog
Keep it festive with this eggnog cocktail that incorporates bourbon for a sippable dessert cocktail. Just add bourbon to prepared eggnog, pour and garnish with nutmeg and cinnamon.
What could be easier? Oh, and it's perfect to make in big batches for parties.
Recipe by My Kitchen Love
Dirty Banana Drink
This banana split milkshake gets a boozy splash of rum and Kahlua along with milk and frozen bananas before being blended to dessert cocktail deliciousness.
Serve in a tall glass and top with whipped cream, a maraschino cherry and a fresh slice or two of banana on the rim.
Recipe by Sparkles To Sprinkles
Frozen Mudslide
Up your milkshake game with this frozen concoction of vanilla or chocolate ice cream, Baileys Irish cream, Kahlua, vodka and ice, all blended to chilled perfection.
Drizzle the inside of your serving glass with chocolate syrup before pouring in the mudslide cocktail. Finish it off with whipped cream and a drizzle of chocolate syrup on top.
Recipe by Berly's Kitchen
Try one of these amazing desserts as a cocktail for a sweet treat that is delightful and perfect for a date night or a special occasion.