Do you like Pina Coladas? Try this easy pina colada recipe with coconut milk. There's no need to buy pina colada mix when you can make it yourself with just two ingredients you dump in the blender. Add rum for the classic frozen drink, or skip the alcohol for a virgin pina colada!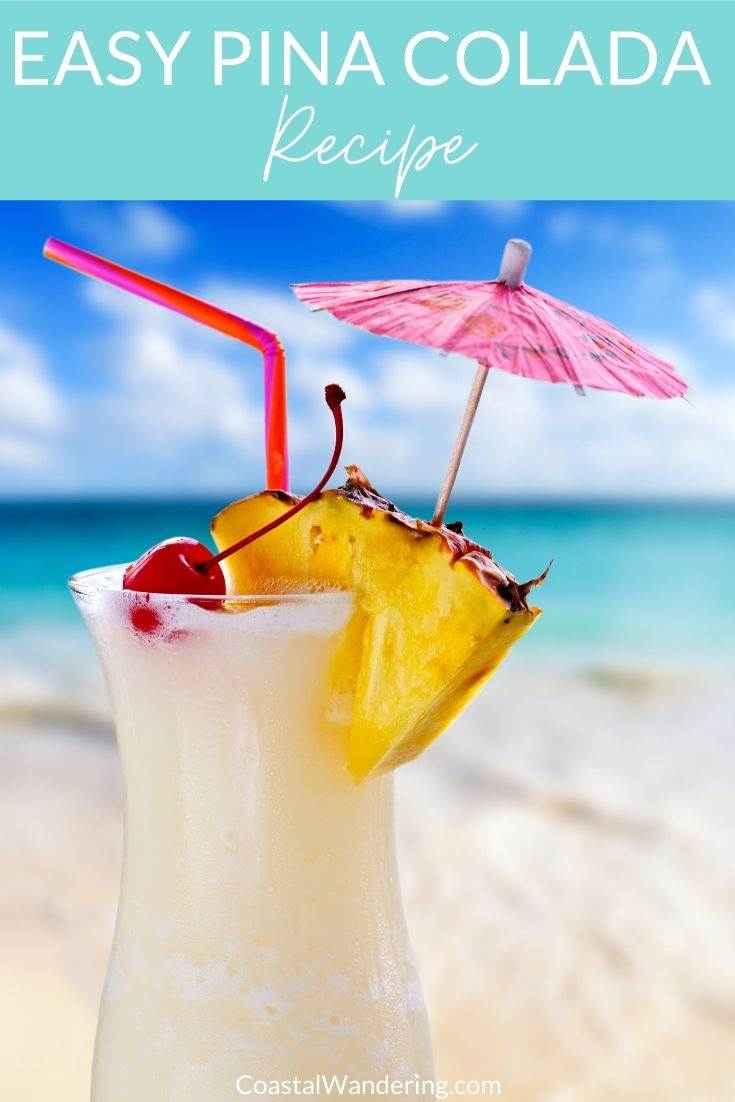 Nothing says tropical vacation like a frozen pina colada! I've been drinking them – and making them at home – for years. And I have to say I'm a pina colada purist. I hate the taste of the premade pina colada mix that you get in a lot of bars and restaurants. They're full of chemicals and high-fructose corn syrup. And they just taste fake.
If you've ever been to the Caribbean, you know what a good pina colada made from real tropical fruit tastes like. And because the drink is so simple, it takes just two ingredients to make a homemade pina colada that tastes fantastic.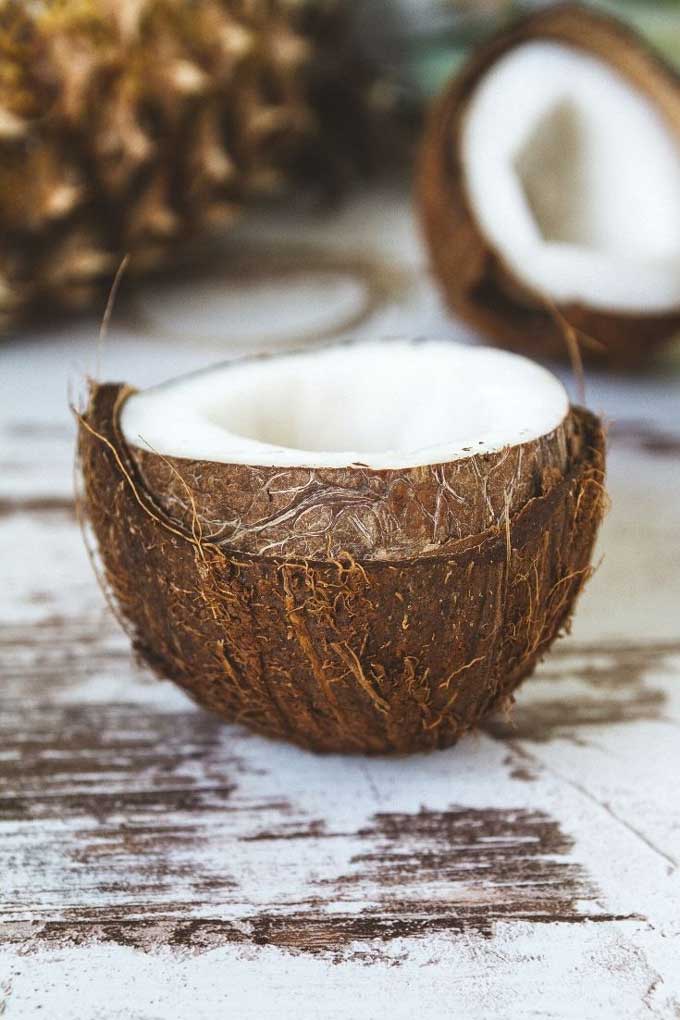 Luckily you don't need to crack open a coconut or peel and core a whole pineapple. All you need is coconut milk and frozen pineapple chunks. That's it!
How to make it
The combination of the frozen pineapple chunks and the creamy coconut milk gives it the perfect texture. Here's what you'll need to make it:
Coconut milk - look for unsweetened canned coconut milk. The main ingredients should be water and coconut, the fewer other ingredients the better.
Frozen pineapple - this is easy to find already peeled, cored, and cut into chunks in the frozen fruit section of your grocery store. It's frozen at the peak of freshness so it will have the closest to just-picked flavor. (Of course, you can always freeze your own fresh pineapple if you prefer.)
Rum - use white rum for a classic cocktail, dark rum for more rum flavor, or a coconut rum, like Malibu, to amp up the coconut flavor.
The best thing about frozen drinks is everything gets dumped in the blender. Just be sure to use a good quality blender that can blend ice so you get a perfectly smooth frozen drink. I have this one that has a button for frozen drinks so it's super easy. A quick blitz and you've got a vacation in a glass!
Variations
Starting with these basic ingredients, you can adjust the ingredients to your taste.
Prefer a non-alcoholic pina colada? Skip the rum and add a little water if needed to help blend everything together. This makes a perfect virgin pina colada!
Want to more rum? Try adding a little more rum and some ice to the blender to keep it nice and frosty. Or top off your drink with a rum floater.
Want to make a lava flow? Blend up some strawberries and ice (with or without rum) and layer the strawberry mixture into the glass with the coconut milk pina colada.
How to serve
Serve your frozen concoction in a traditional pina colada glass and garnish with a pineapple wedge and maraschino cherry. And don't forget the paper umbrella to really make it feel like you're on vacation!
Of course, if you want to serve your pina colada in a coconut shell, that just adds to the island vibe 😉
More easy cocktail recipes: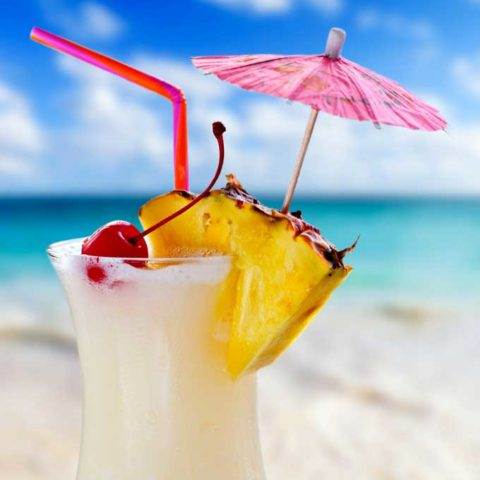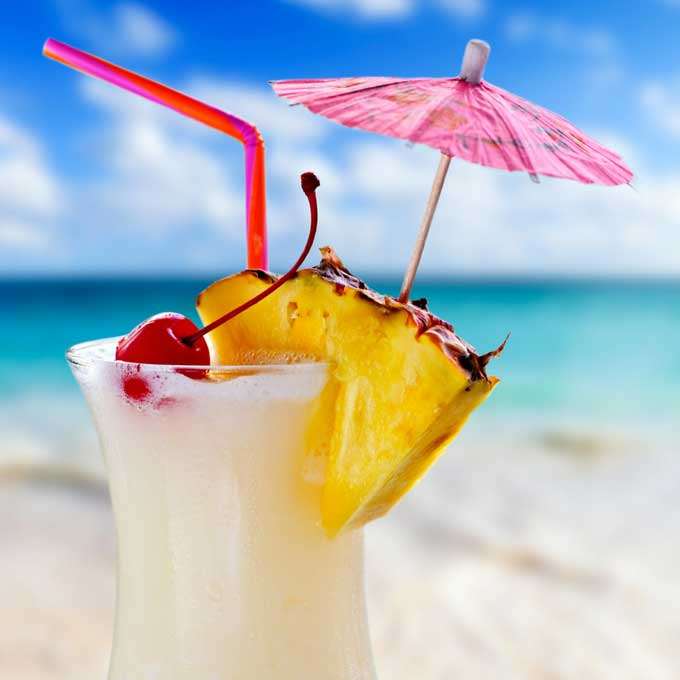 Easy Pina Colada Recipe With Coconut Milk
A simple coconut milk pina colada recipe you can use to make the classic frozen drink or a non-alcoholic version.
Ingredients
¾ cup frozen pineapple chunks
2 ounces rum, or more to taste 
Instructions
Add coconut milk, frozen pineapple and rum to high-powered blender and blend until smooth.
Notes
Skip the rum for a virgin pina colada. Add water if needed to thin.
Recommended Products
As an Amazon Associate and member of other affiliate programs, I earn from qualifying purchases.