This green apple martini recipe is bursting with apple flavor and the perfect balance of sweet and tart. If you love apples and fruity martinis, you will love this easy cocktail!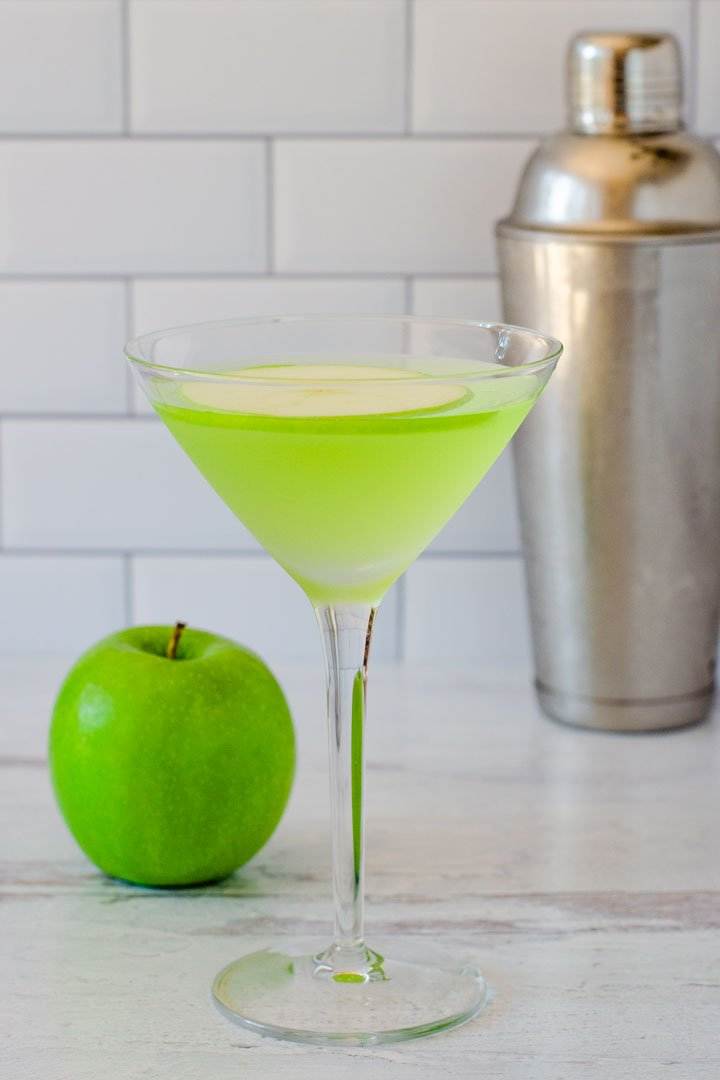 This cocktail is a super easy recipe, but it has all the sweet-tart green apple flavor of an old-school sour appletini!
This sweet martini drink is the quintessential girls' night cocktail. And the festive green color makes it perfect for Halloween or St. Patrick's Day.
Here's what you'll need to make it
For this sour apple martini, you'll need just a few simple ingredients. I've even included a simple substitute for the sour mix.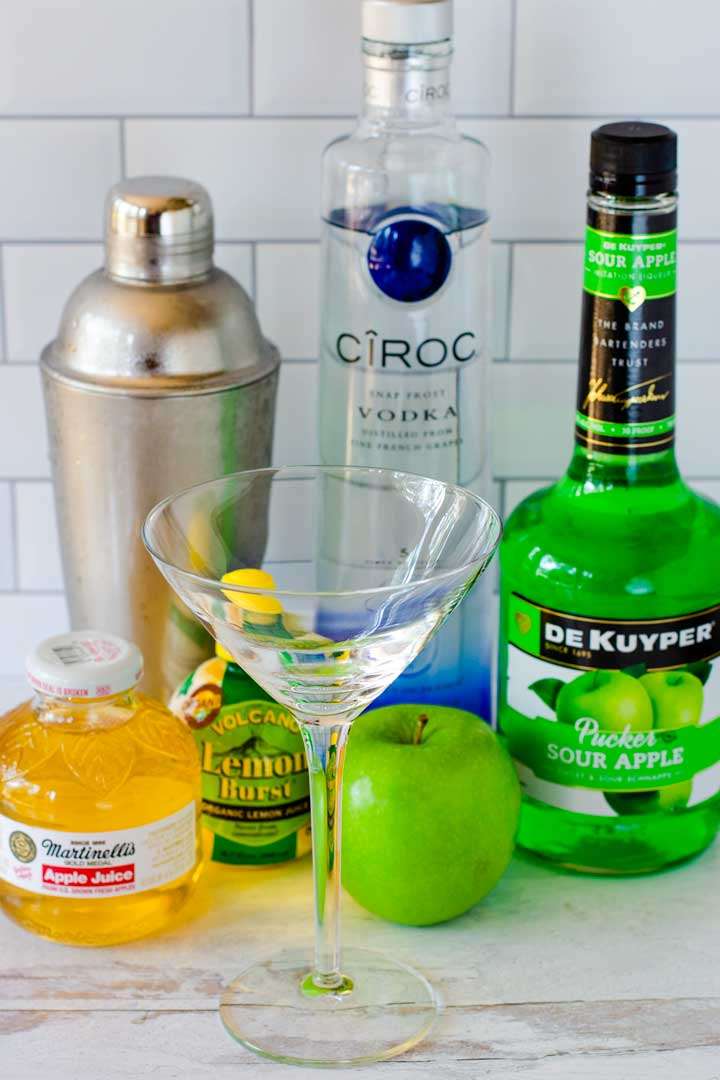 Sour apple liqueur

– the classic is De Kuyper Pucker Sour Apple Schnapps. It's also bright green, so it's what gives this drink its classic look and sweet and sour flavor. You can also make this drink with apple brandy, but you won't get the same color or flavor.

Vodka

– you have a couple of options here.

The traditional recipe uses

plain vodka. But if you want to experiment, you can try any flavored vodka that goes with the sweet-tart Jolly Ranchers flavor of the sour apple schnapps.

Apple juice or cider – look for 100% apple juice with no other flavors added. You just want the sweetness of the apples here to stand in for simple syrup. If it's the time of year that apples are in season, fresh-pressed apple cider from your local farmers' market will take the apple flavor up another notch.
Lemon juice – a little lemon juice, combined with the apple juice, stands in for the sour mix in the traditional appletini recipe and adds to the tart pucker. You can use fresh squeezed lemon juice or bottled lemon juice.
Green apple – this doesn't go in the shaker, but it's used for the apple slice garnish. A Fuji or Granny Smith apple complements the sweet and tart apple flavors and has a beautiful green color.
As for bar equipment, you'll definitely need a drink shaker to shake and chill your cocktail (this one has a built-in strainer, so you don't need any additional equipment).
For measuring the drink ingredients, I use this shot glass with ounces and tablespoons marked on it. I find it easier than having a separate jigger measure for mixing drinks.
And don't forget proper cocktail glasses for the full effect. Classic martini glasses are traditional, but if you want a different shape glass you can also use coupe glasses for cocktails, like martinis, daiquiris, and Manhattans, as well as for serving champagne.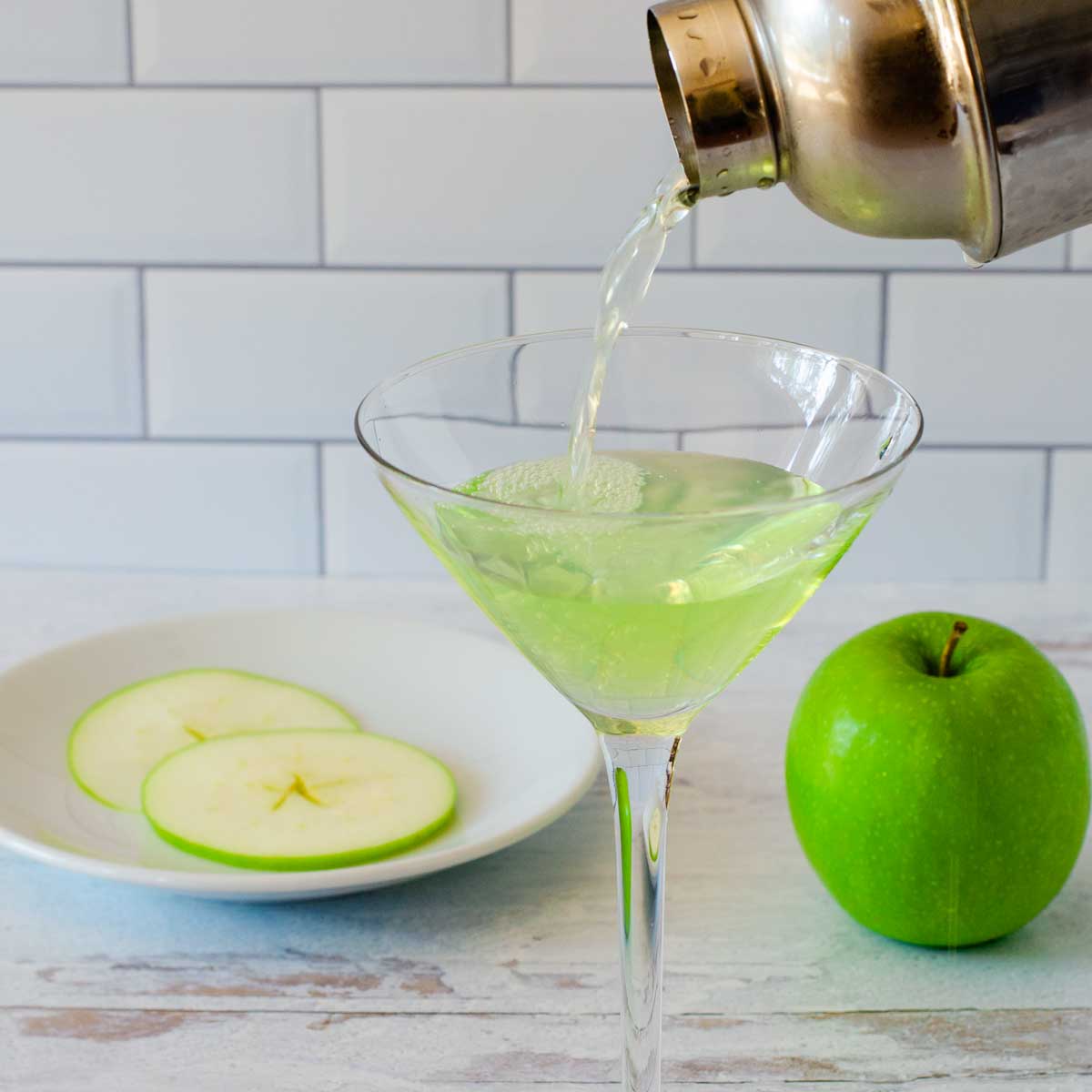 Variations
Start with this basic recipe and you can change up your appletini to make your own variation.
Prefer a stronger vodka martini? Skip the juice and just pour equal parts sour apple pucker and vodka into your cocktail shaker.
Like a less sweet cocktail? While the appletini is already some tart, you could adjust the amount of apple juice to taste. Start by cutting it in half and adjust from there until you find your perfect blend.
You can also swap the green apple schnapps for green apple vodka to get a less sweet apple flavor. (Try Ciroc Apple Vodka or Smirnoff Green Apple.)
Want it a little sweeter? Use less lemon juice or leave it out completely. Replace it with additional apple juice or cider to taste.
Craving a caramel apple martini? Add a swirl of caramel sauce inside the glass. You can also swap caramel vodka for the plain vodka in the recipe.
Want a little cinnamon? Try swapping the plain vodka for cinnamon vodka. Or add a splash of cinnamon schnapps.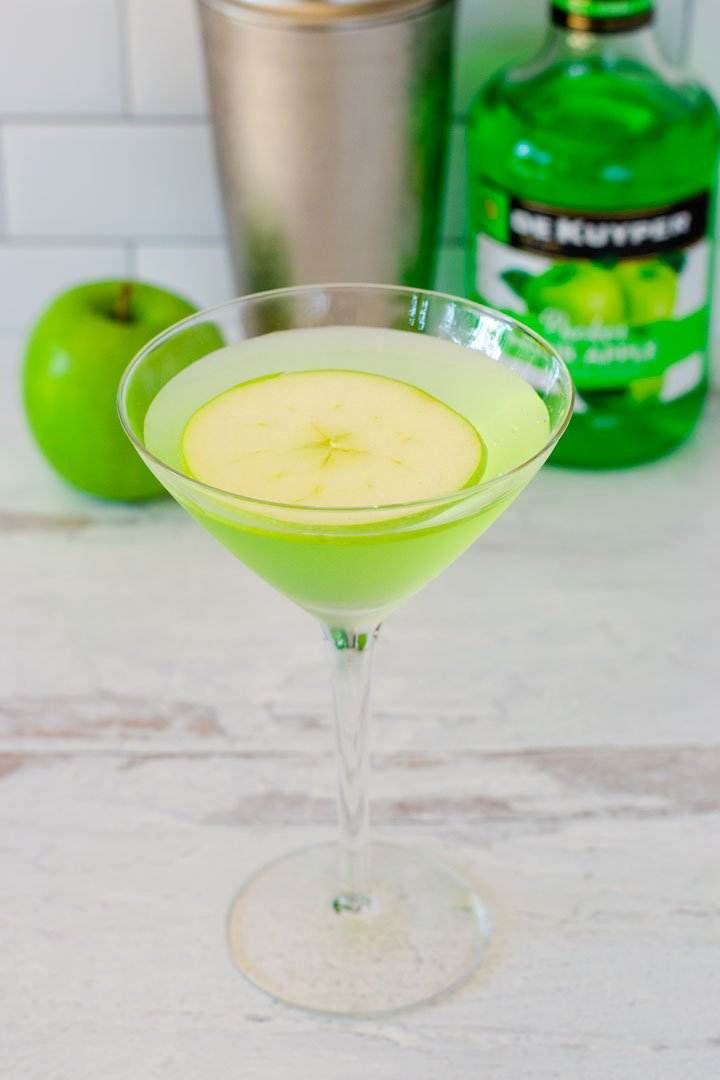 How to serve it
Garnish your cocktail with a thin slice of green apple (be sure to leave the apple peel on for color!). Dip or brush lemon juice on both sides of the apple slice to keep it from turning brown. Then just float it on top of the drink or make a cut in one side to place it over the rim of the glass.
Or try making an apple fan with half slices held together with a toothpick. Strain your drink into a chilled cocktail glass and place the apple fan on top.
And if you want to get fancy, rim the glass with coarse green sugar. Just squeeze a little lemon juice onto a small plate and dip the rim of the glass in it. Then dip the rim in a plate of the sugar.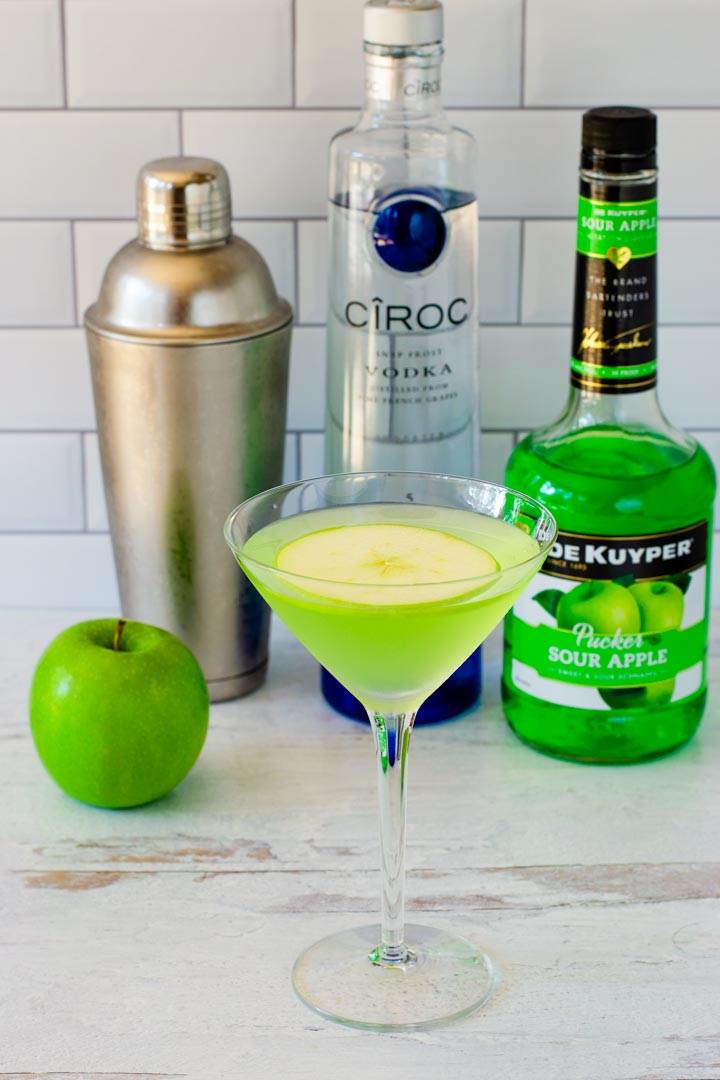 However you make it, you're sure to love this classic green apple martini recipe. It's also the perfect treat for St. Patrick's Day, Halloween, or any time you want a fun green drink!
More martini recipes to try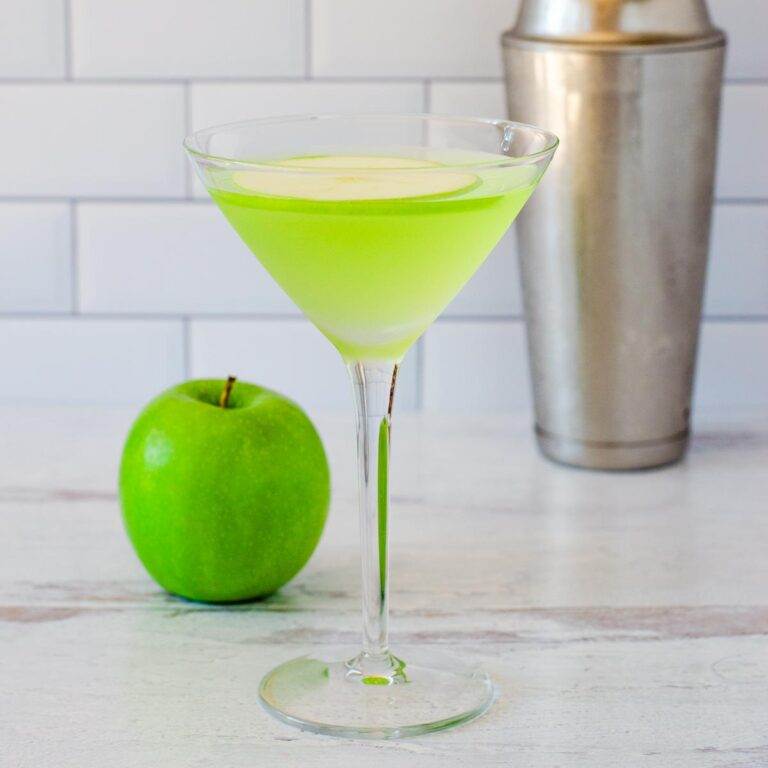 Green Apple Martini Recipe
This easy green apple martini recipe has all the sweet-tart apple flavor you love in a sour appletini.
Ingredients
Ice cubes
2 ounces sour apple schnapps
2 ounces vodka
1 ounce apple juice or apple cider
½ ounce lemon juice, plus more for apple slice (to prevent browning)
green apple slice for garnish
Instructions
Add the ice, apple schnapps, vodka, apple juice, and lemon juice to a cocktail shaker.
Shake until blended. Then strain into a chilled martini glass.
Dip a thin slice of green apple in lemon juice and float on top of the drink.
Recommended Products
As an Amazon Associate and member of other affiliate programs, I earn from qualifying purchases.