Whether you're at home in front of a cozy fireplace or next to a fire pit on the beach, this hot chocolate with Baileys will warm you up. It's so simple to make and perfect during the holidays or any time of year.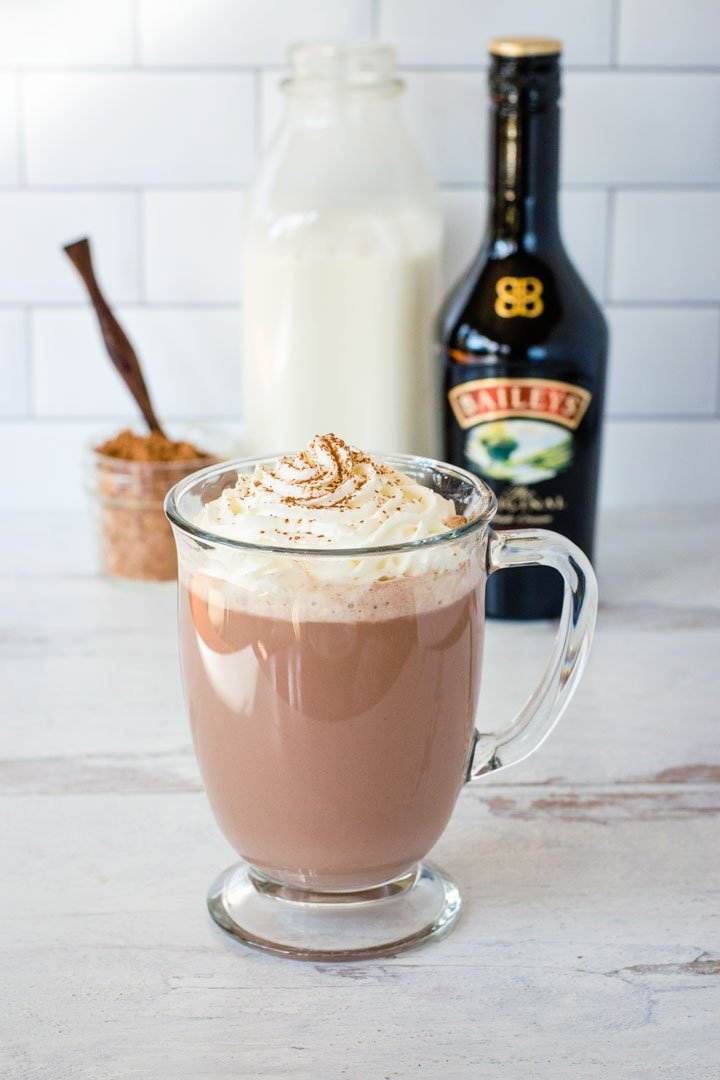 This easy Baileys hot chocolate recipe will have you warmed up in no time. The adult version of hot chocolate is not too sweet and has the perfect amount of Irish cream liqueur. You can even make a non-dairy version with almond milk Baileys.
If you love hot chocolate, you will love this boozy hot cocoa that you can make in just a few minutes. It's the perfect after-dinner drink for a relaxing evening!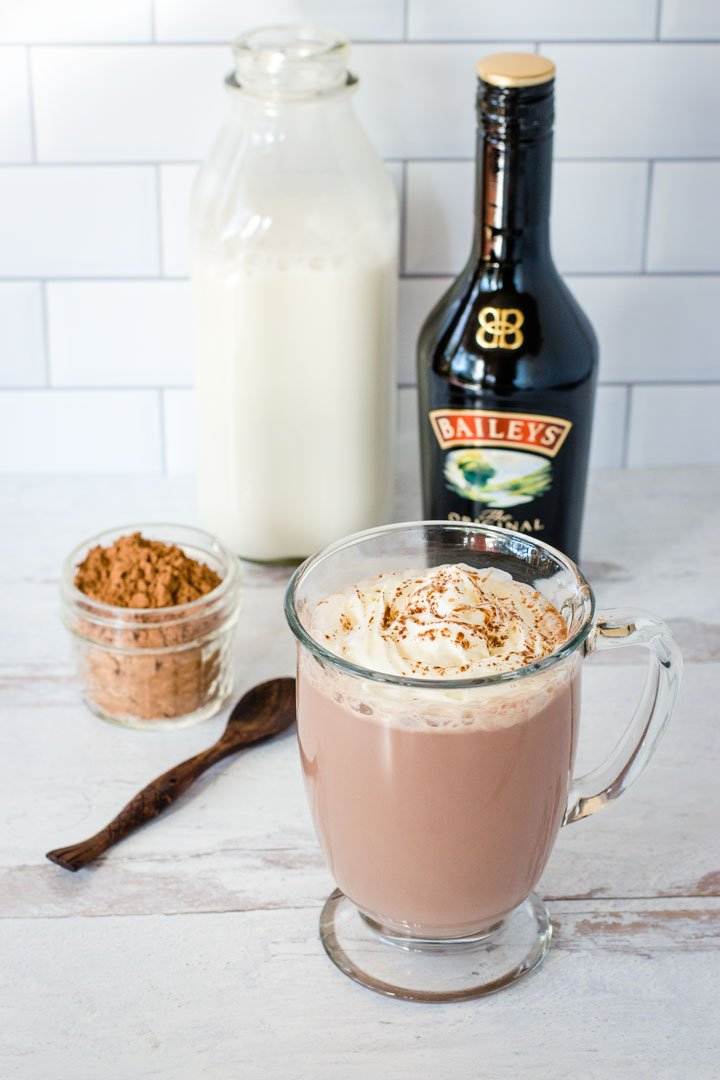 You won't need to melt any chocolate to make this decadent cocktail. All you'll need is cocoa powder, milk, and Baileys. That's it!
How to make it
The combination of the Baileys, milk, and cocoa powder gives it the perfect amount of sweetness and creaminess. Here's what you'll need to make it:
Milk - you can use any type of milk, but whole milk will make your hot cocoa creamier. You can also substitute coconut milk or almond milk if you prefer.
Unsweetened cocoa powder - using powdered chocolate makes this recipe quick and easy. Since this drink gets its sweetness from the Baileys, look for plain unsweetened cocoa or cacao powder (which is less processed).
Baileys Irish Cream - I use original Baileys Irish cream liqueur, but you can use any sweet cream liqueur for this drink.
Toppings - whipped cream is the perfect topping for this drink. It melts into the hot chocolate adds to the creaminess. Of course, you can add any toppings you like---marshmallows, crushed candy canes, chocolate sprinkles, chocolate syrup, or a dusting of cacao powder.
Making this drink is super simple. Just heat your milk, either in the microwave or on the stovetop, until steaming (don't let it boil). Whisk in the cocoa until smooth—a milk frother works great for this!—then add the Baileys. Pour into a mug and add your toppings.
Variations
Starting with the three basic ingredients—milk, cocoa, and cream liqueur—you can swap or add ingredients to make different hot chocolate flavors.
How about an island-inspired version? Use coconut milk and add a splash of spiced rum for a tropical flavor.
Love coffee? Add a splash of Kahlua and a shot of espresso for a caffè mocha.
Want to add almond flavor? Add a splash of Amaretto and use almond milk.
Love Mexican chocolate? Try adding a little cinnamon and a pinch of cayenne pepper with the cocoa powder. Rim the mug with a mixture of sugar, cocoa, and cinnamon.
Want to make peppermint hot chocolate? Add a splash of peppermint schnapps and rim the mug with crushed peppermint candy.
Prefer a dairy-free hot chocolate? Use almond milk and Baileys Almande Almondmilk Liqueur. Top with coconut whipped cream.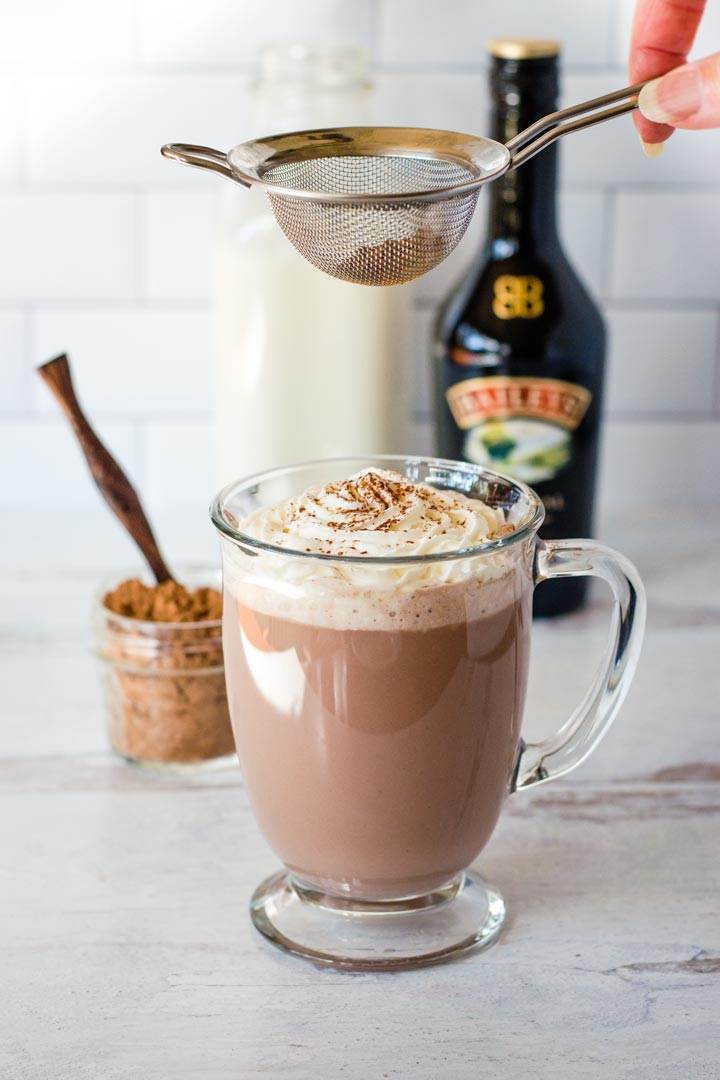 How to serve it
Serve your boozy hot chocolate in a coffee mug or insulated mug for outdoors and top it with a swirl of whipped cream or whipped coconut cream. And don't forget to sift a little extra cocoa on top (a small fine mesh strainer makes it easy).
Then sit back, relax by the fire, and enjoy your cozy hot chocolate!
More easy cocktail recipes: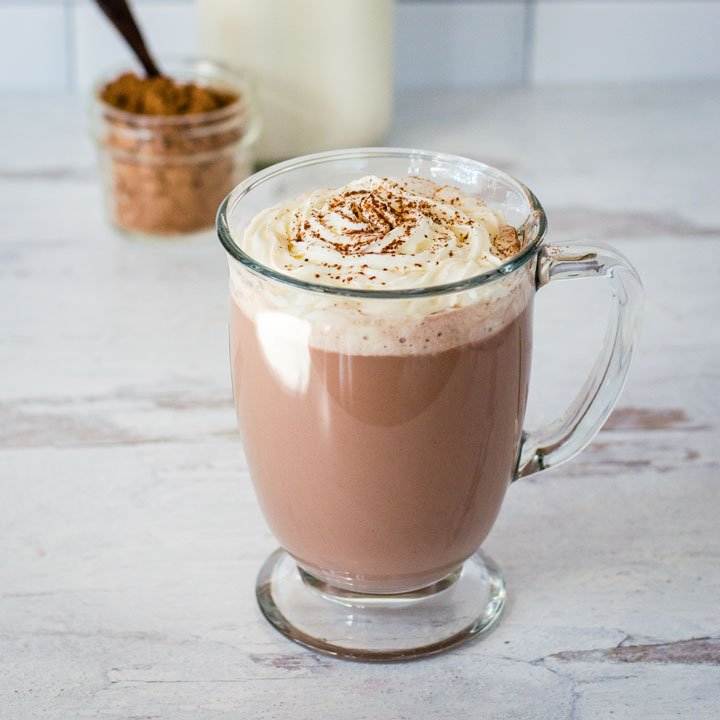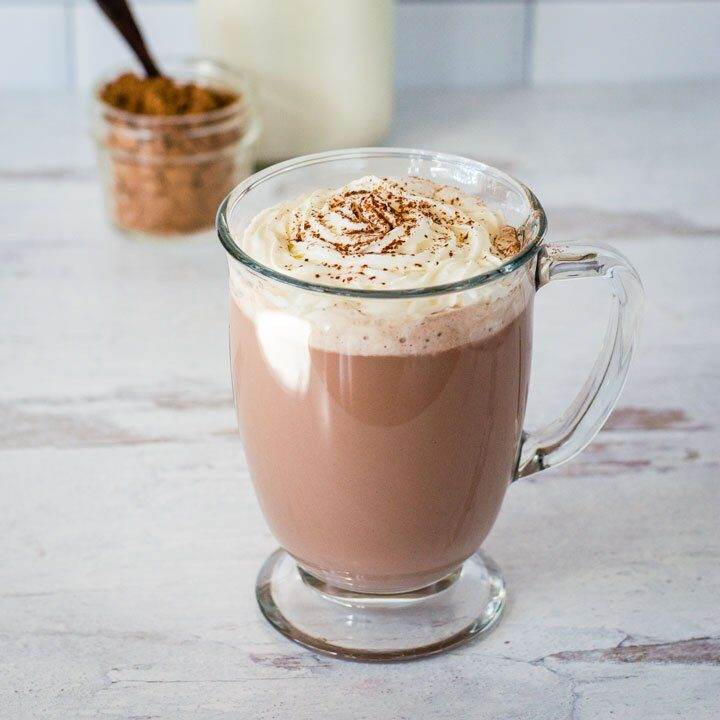 Hot Chocolate With Baileys
This hot chocolate with Baileys will warm you up. It's so simple to make and perfect for a relaxing evening during the holidays or any time of year.
Ingredients
¾ cup milk or non-dairy milk of choice
1 tablespoon cocoa or cacao powder, unsweetened, plus more for garnish 
¼ cup (2 ounces) Baileys Irish Cream or Baileys Almande almond milk liqueur 
Whipped cream or whipped coconut cream for topping
Instructions
Heat the milk on the stovetop or in the microwave until steaming hot. Be careful not to let it boil.
Whisk in the cocoa powder until completely combined. Stir in Baileys and pour into a mug.
Top with whipped cream, cocoa powder, or other toppings as desired.
Recommended Products
As an Amazon Associate and member of other affiliate programs, I earn from qualifying purchases.