The holidays are the perfect time to discover some new delicious and festive Christmas drinks with Baileys. Get your holiday drink inspiration here!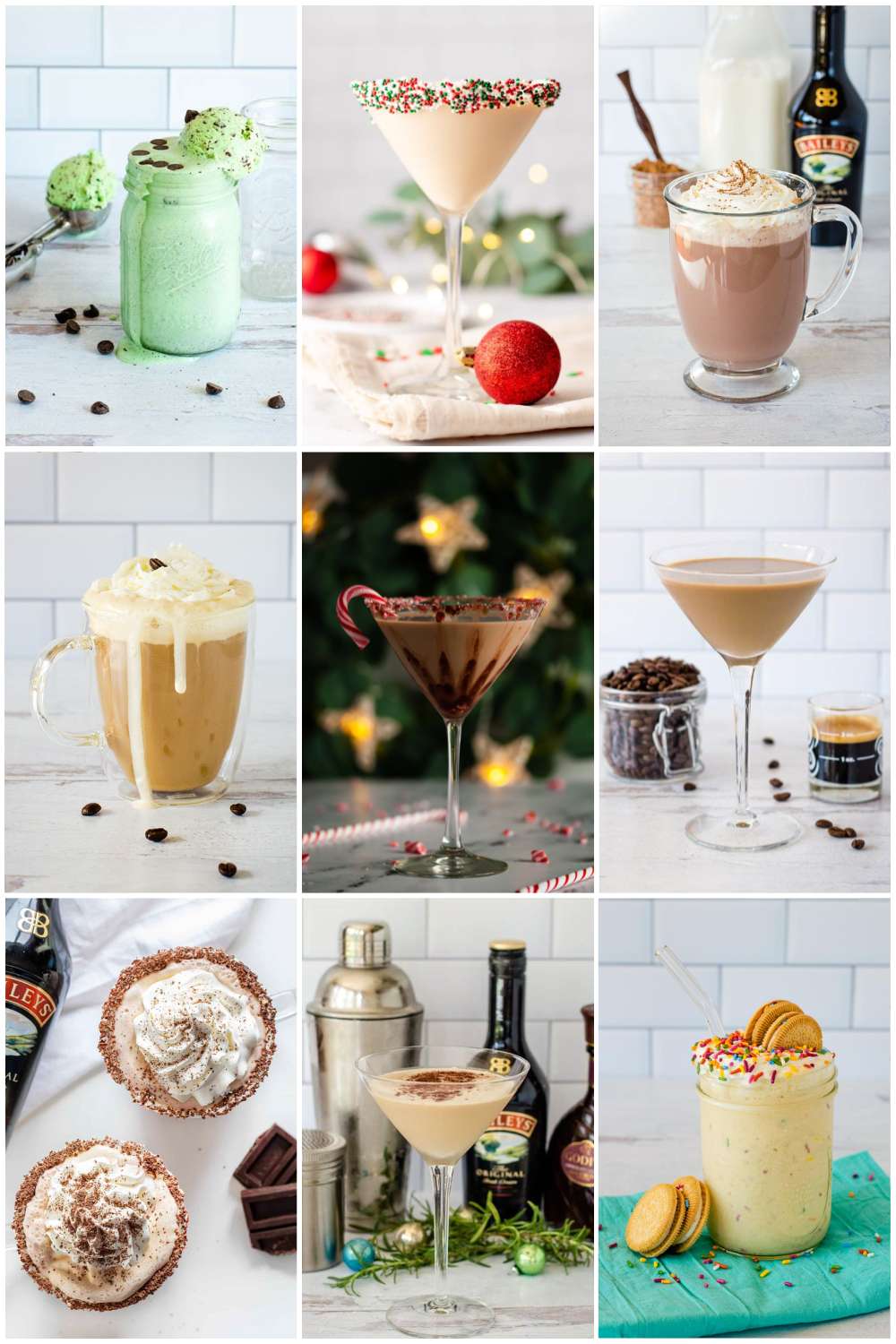 Get in the holiday spirit with this collection of easy festive cocktails that use Baileys Irish Cream to add richness, sweetness and creaminess to classic cocktails and creative drinks that include ingredients and flavors of the winter holidays.
From candy canes to gingerbread and from chocolate to caramel, there's no shortage of holiday flavors to help you make delicious dessert cocktails using Irish cream liqueur.
Easy Baileys Christmas Cocktails
These fun Baileys Christmas cocktails can be made with minimal ingredients and no fancy equipment. At most, you'll need a cocktail shaker and occasionally, a blender.
From frosty holiday cocktails like milkshakes to steaming mugs of boozy libations like Irish coffee, these spirited drink recipes are perfect for Christmas parties. You'll also find easy sweet martini recipes to celebrate the festive season. Keep a bottle of Baileys handy as you mix up delicious concoctions for your next holiday party!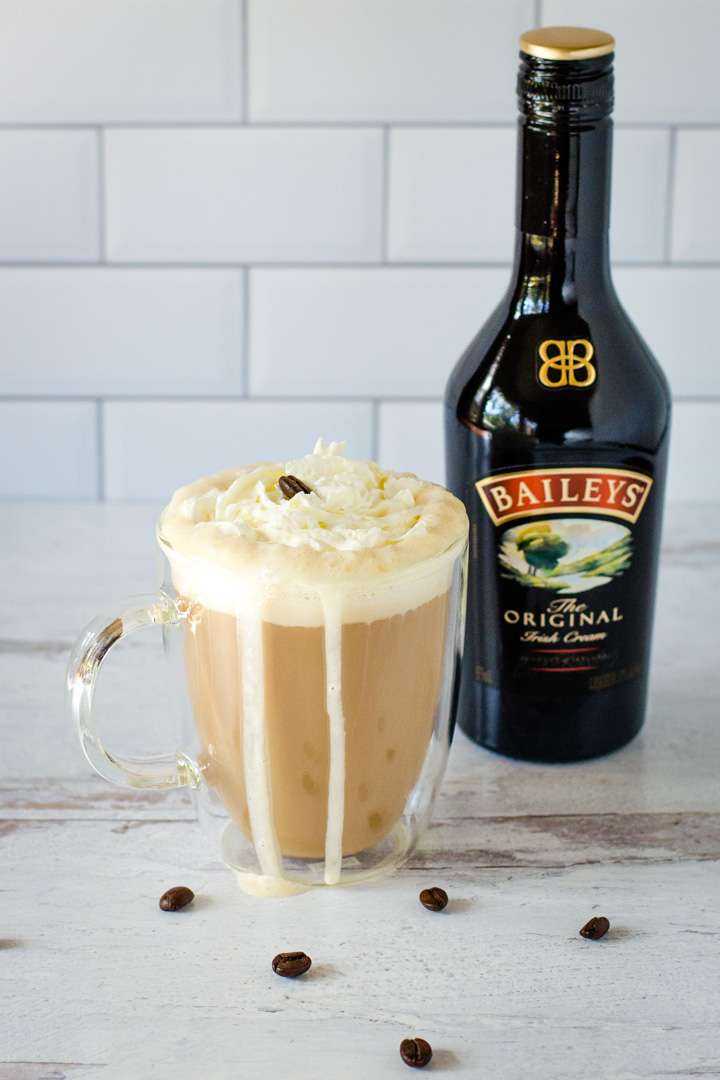 Irish Coffee With Baileys
Celebrate the Christmas holidays with a classic by infusing brewed coffee with Baileys Irish cream. Add an extra shot of Irish whisky or bourbon for a stronger kick. Just add all the ingredients to a glass mug, which is the traditional Irish way to serve it, stir to combine and top with whipped cream.
If you're feeling extra festive, swap out regular Bailey's with one of their many flavored creme liqueurs for a delicious holiday touch. Recipe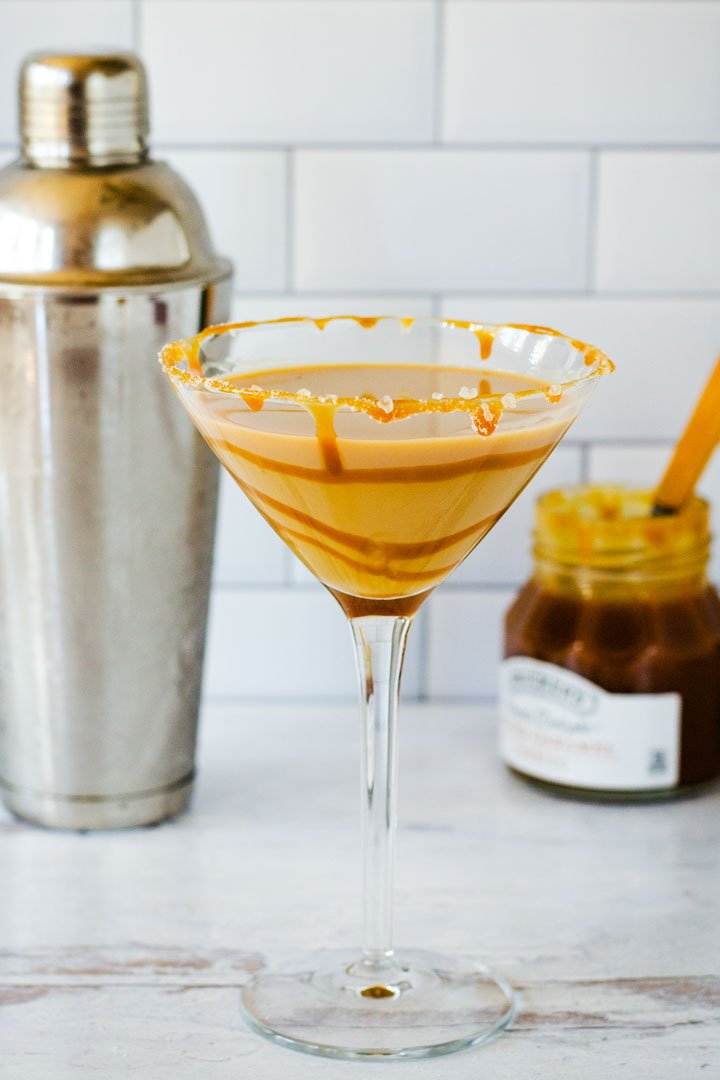 Salted Caramel Martini
Keep it sweet and salty with this delicious dessert cocktail that starts with the rim of a martini glass dipped in caramel sauce and then again in sea salt. Keep the caramel theme going with a pretty swirl of the syrup inside the martini glass, too, or use chocolate syrup as a delicious variation.
Make the cocktail by adding Baileys, vodka, a splash of heavy cream and caramel sauce to an ice-filled shaker. Shake until chilled and strain into the prepared glass. Recipe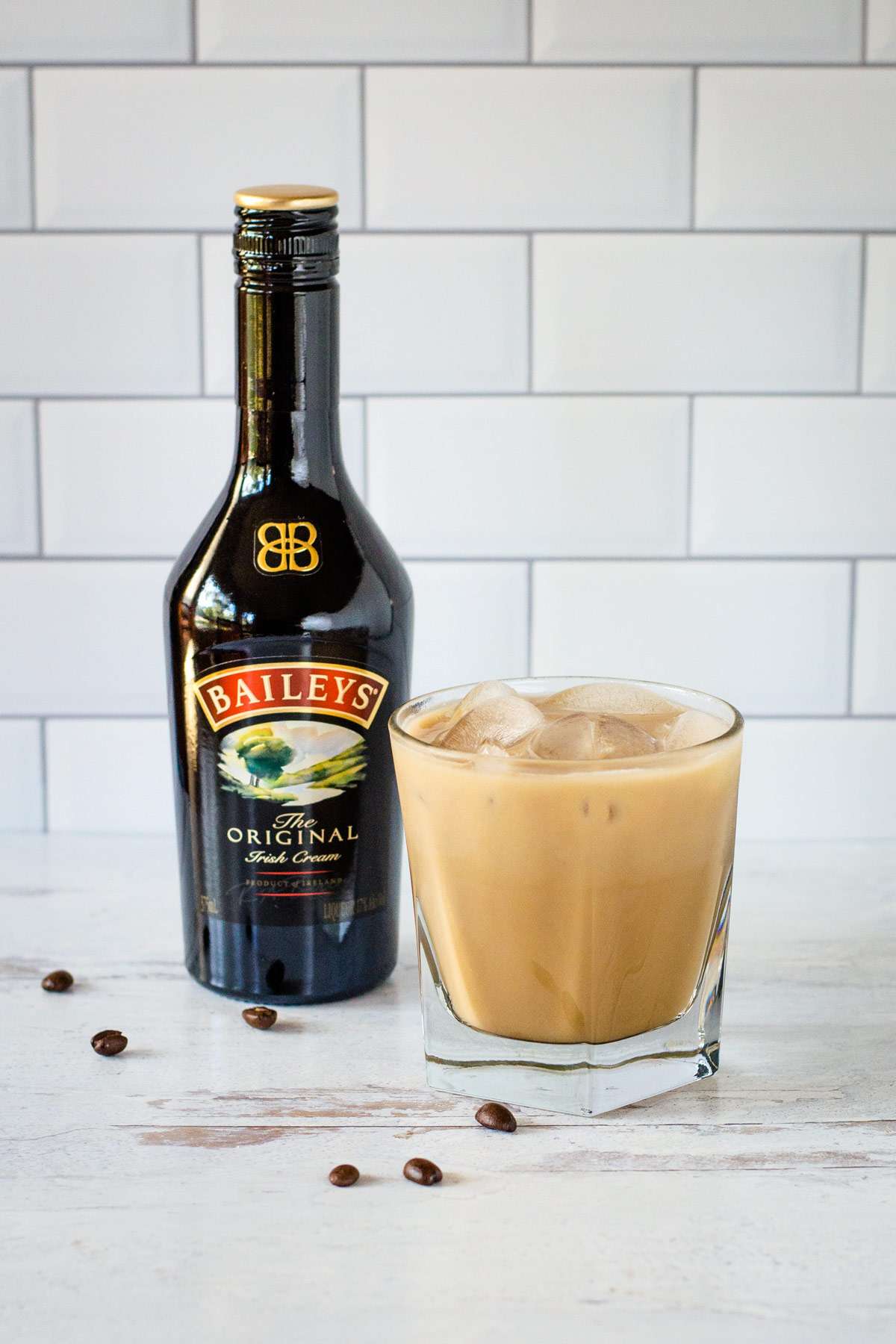 Baileys White Russian
This classic iced coffee White Russian cocktail gets a boozy boost with the addition of Baileys Irish cream. Milk or half and half is combined with Kahlua, vodka and Baileys and served on the rocks in a short heavy glass. Just stir to combine before serving.
To make it holiday-ready, consider drizzling a little chocolate syrup inside the glass before assembling the cocktail. It will pair perfectly with the coffee, chocolate, vanilla and whisky flavors from the liqueurs. Recipe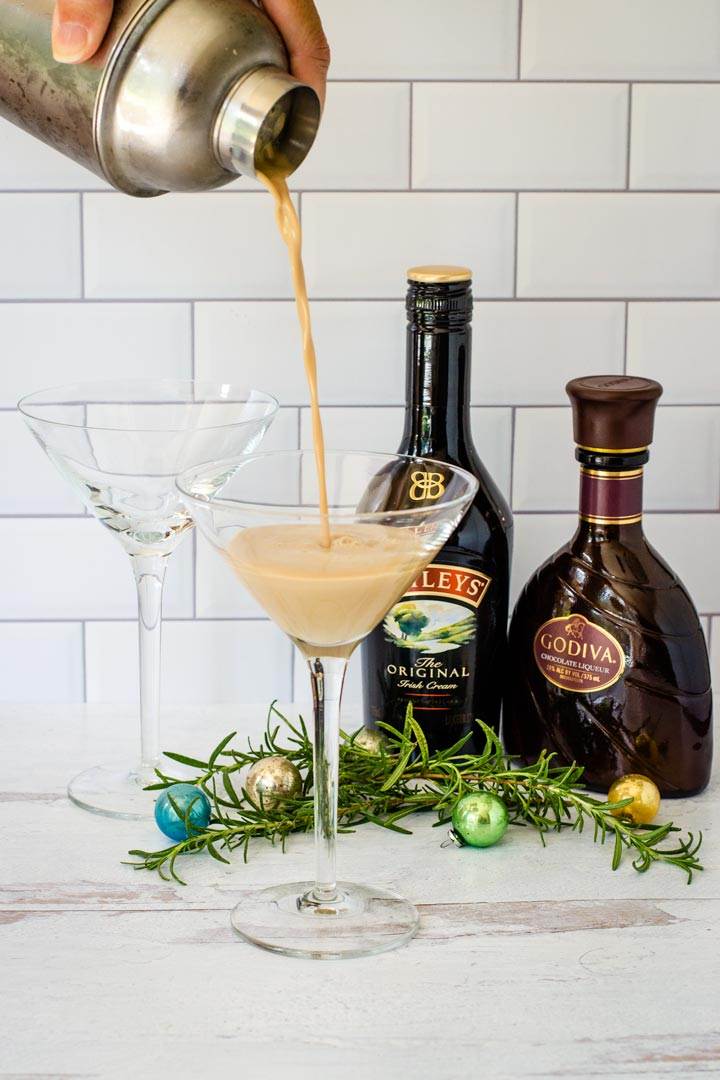 Godiva Chocolate Martini
Chocolate lovers will swoon over this creamy martini that's laced with the decadence of Godiva Chocolate liqueur. This holiday cocktail is a rich and sweet mixture that also includes vodka, Baileys Irish cream and a splash of heavy cream.
For a white Christmas variation, use Godiva's White Chocolate liqueur and use vanilla vodka. Add all the ingredients to a cocktail shaker along with ice and shake before straining into a martini glass. Garnish the top with a sprinkle of cacao powder, chocolate sprinkles or chocolate shavings. Recipe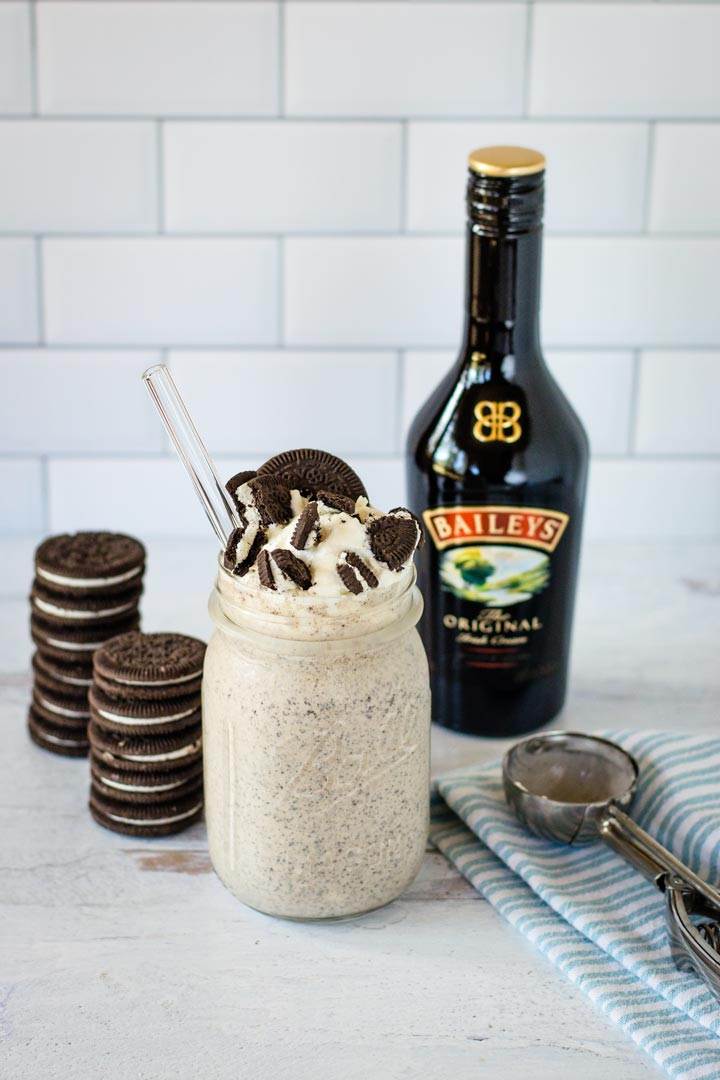 Baileys Cookies And Cream Milkshake
There's no shortage of ways that you can turn a milkshake into a Christmas cocktail, and here, your high-speed blender will do the work of combining holiday flavored ice cream along with Baileys Irish cream and chocolate sandwich cookies.
Go with the traditional vanilla ice cream but use a holiday flavored Bailey's to keep it festive. Or use mint chocolate chip ice cream and/or mint chocolate sandwich cookies for a crisp and cool winter taste. However you make it, be sure and top it with fluffy whipped cream and a smattering of cookie crumbles. Recipe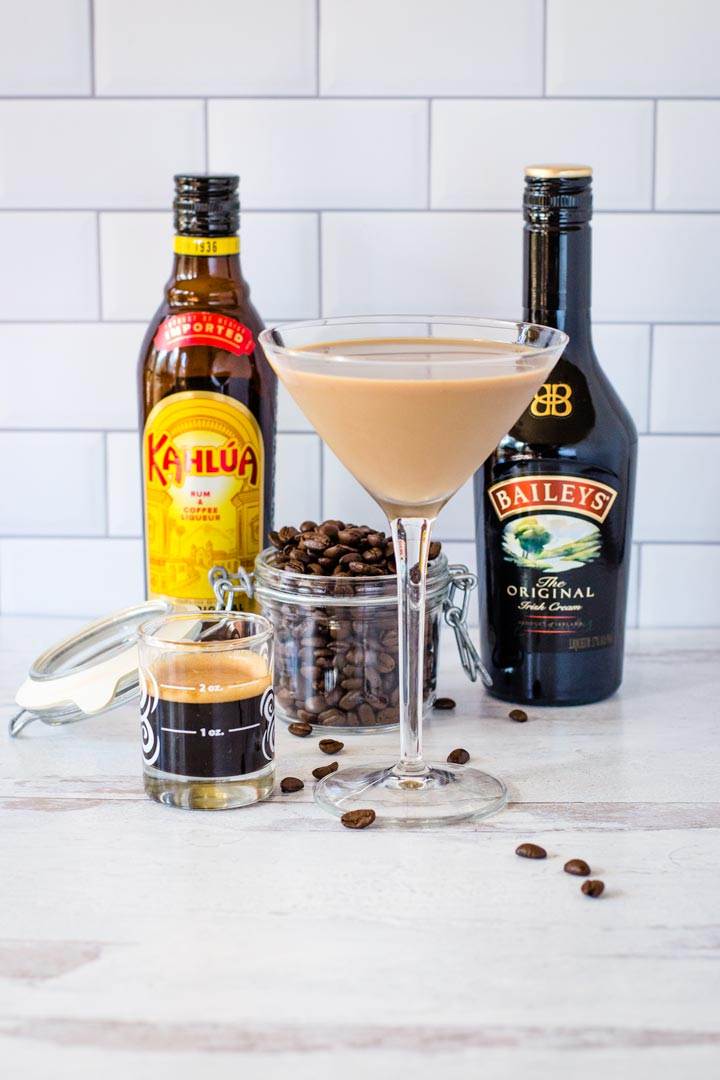 Espresso Martini
This creamy martini kicks it up a notch with strong brewed espresso that's shaken over ice with vodka along with Kahlua and Baileys Irish cream. Strain it into a martini glass that's been rimmed with caramel sauce and dipped in a mixture of espresso powder and sugar.
It's a festive blend that's perfect for coffee lovers who need their caffeine fix during the holidays! That said, you can also make it with decaf and still enjoy the rich coffee flavors. Recipe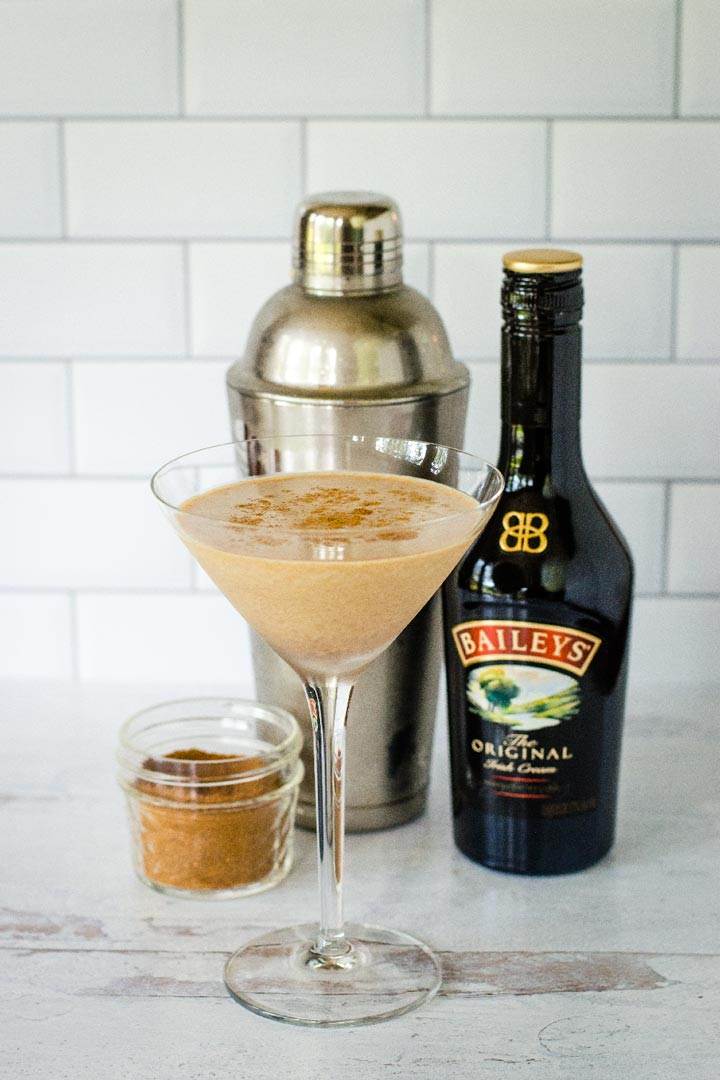 Pumpkin Spice Martini
Pumpkin pie will take a backseat to this delicious cocktail version that captures all the holiday flavors in a sippable form. Pumpkin puree is flavored with the classic cinnamon, ginger, cloves and nutmeg spices and shaken over ice along with heavy cream, vodka, maple syrup and Baileys Irish cream.
Strain into the glass and garnish with a cinnamon stick and a dash of pumpkin pie spice on top. The result? A creamy and irresistible dessert cocktail that is perfect for an after dinner boozy sweet treat. Recipe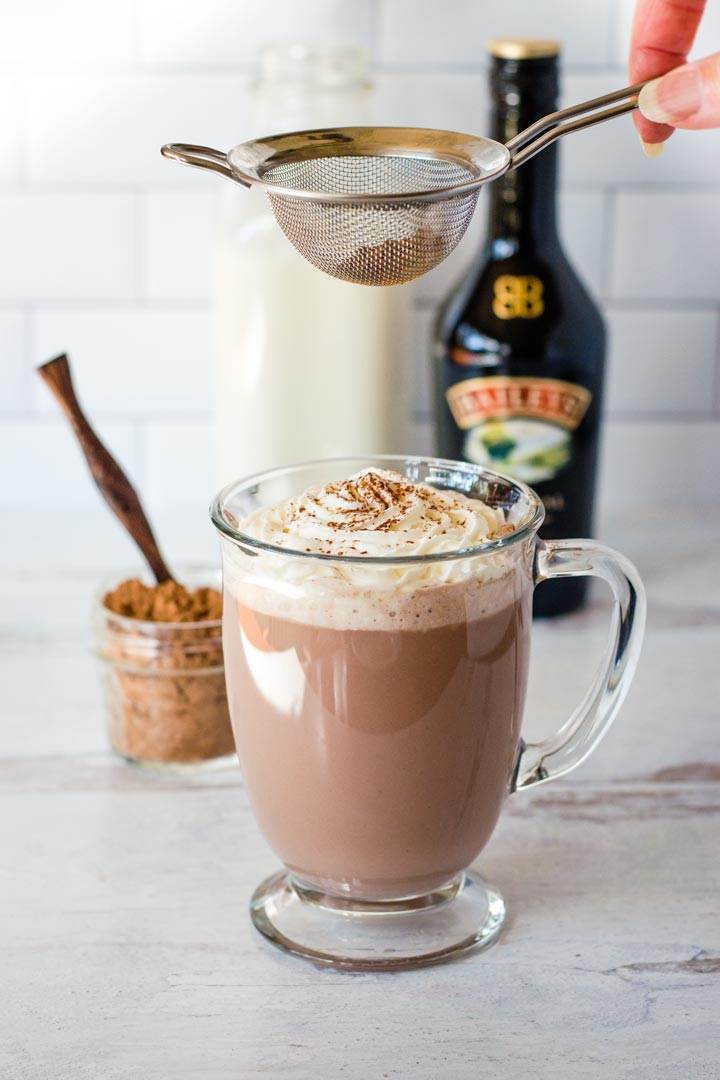 Baileys Hot Chocolate
Boozy hot chocolate is always appreciated during the holidays and this easy recipe starts on the stove with warming milk, unsweetened cocoa powder and Baileys Irish cream liqueur in a saucepan.
Pour it into your mug and top with whipped cream or marshmallows. If you're feeling extra festive, go all out and add a drizzle of chocolate syrup, too! It's the perfect creamy hot chocolate on chilly nights and a sweet way to end your day. Recipe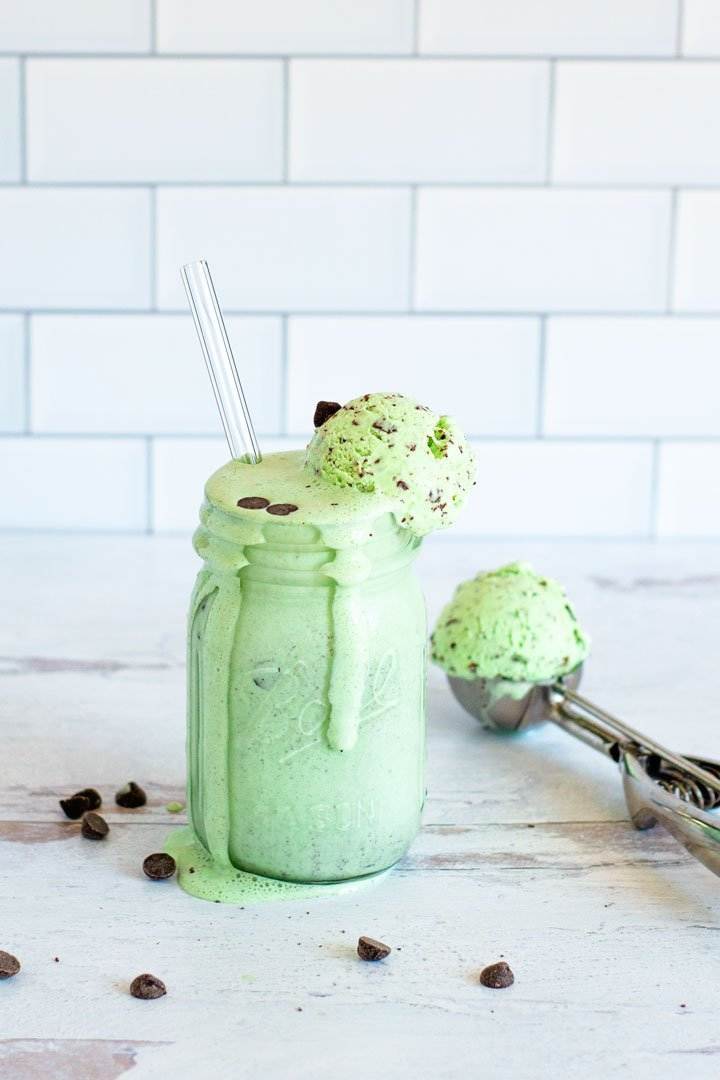 Mint Chocolate Chip Shakes
If you need a frozen dessert cocktail for Christmas, make this mint chocolate chip ice cream shake that's spiked with Baileys Irish cream. While it's great for St Patrick's Day, there's no reason why you shouldn't enjoy it for the winter holidays, too. Use green chocolate chip ice cream if possible, or add a few drops of green food coloring to the shake instead.
Add the ice cream and Baileys to a blender to combine. Pour it into a tall glass and garnish with mini chocolate chips, crumbled chocolate mint sandwich cookies or a drizzle of creme de menthe. Recipe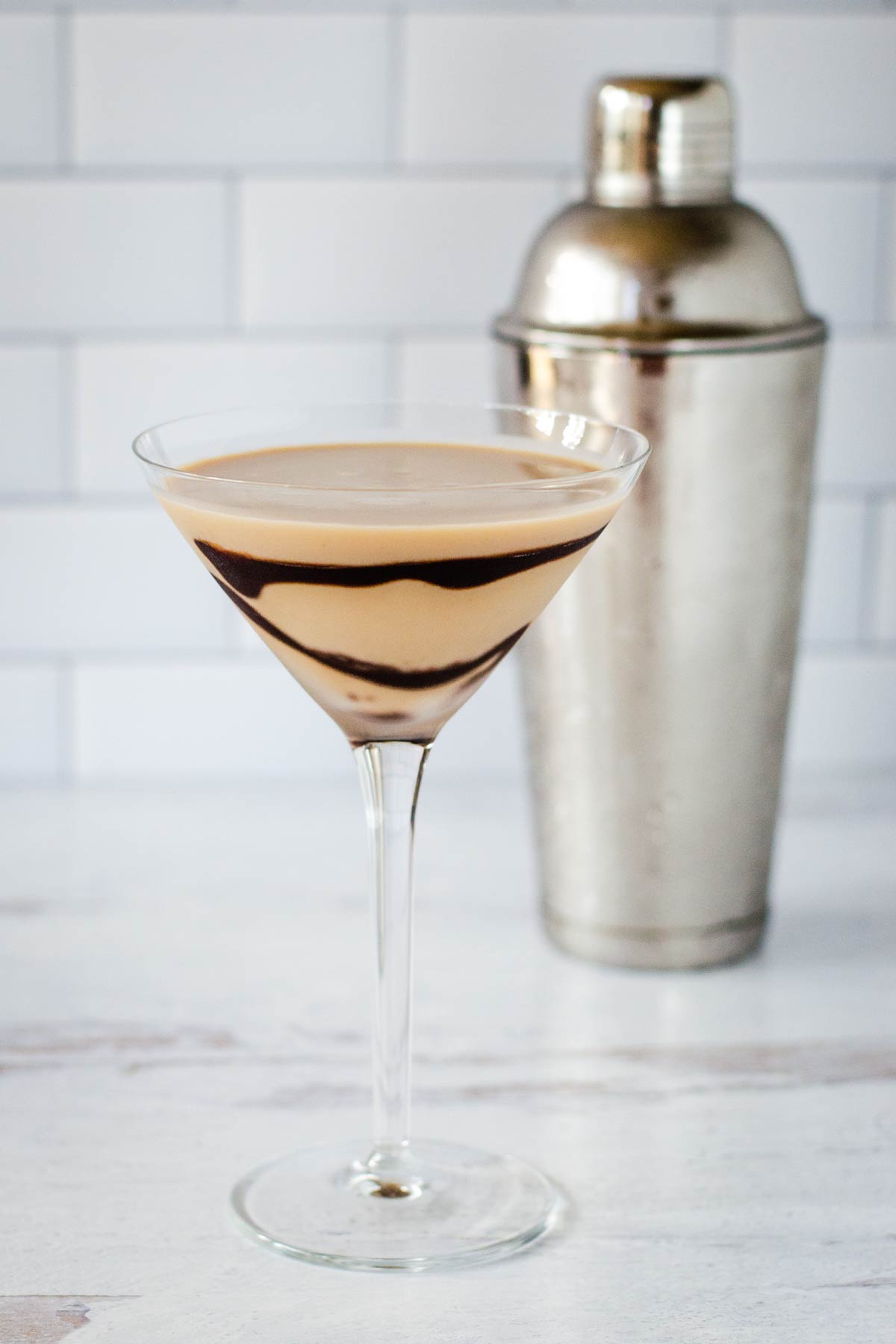 Tiramisu Martini
The classic Italian dessert of tiramisu takes on a new form with this decadent cocktail that's full of all the traditional flavors that you love from this dessert. Start by swirling a martini glass with chocolate syrup.
Add the ingredients of heavy cream, vodka, Kahlua, and Baileys Irish cream to an ice-filled cocktail shaker and shake to combine before straining into the prepared martini glass. Just like the original dessert, you'll want to lightly sprinkle cocoa powder over the top and serve with a ladyfinger cookie. Recipe
Pepperint Martini
Swap your holidays (and maybe the name!) and make this Shamrock Martini for Christmas! The green shade and minty flavor work perfectly for the winter holidays and Christmas parties. Start by rimming a martini glass with green sanding sugar for a festive touch before straining in the shaken cocktail.
You'll need peppermint vodka, heavy cream and Baileys Irish cream liqueur for the ice-loaded cocktail shaker. Oh, and a drop or two of green food coloring for a holiday vibe. It's a creamy and minty delight! Recipe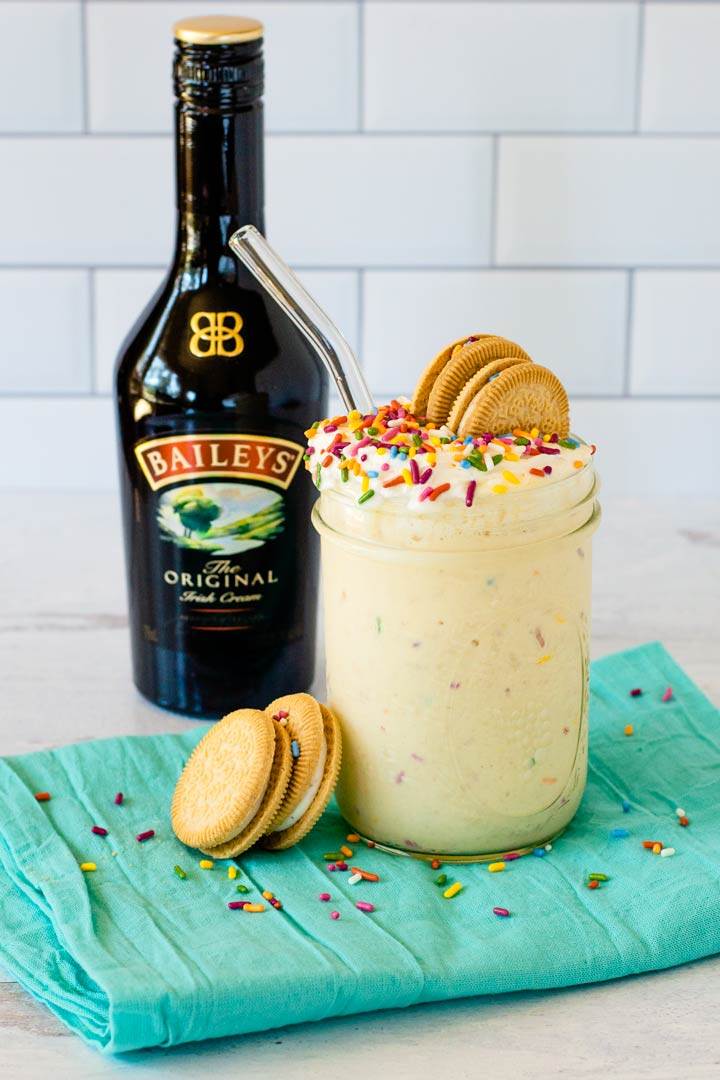 Boozy Funfetti Milkshake
With its funfetti colors and sprinkles dotting the ice cream, this dessert milkshake is on point for celebrating Christmas with a frozen cocktail. It's a simple combination in your blender of vanilla ice cream, sprinkles, crumbled funfetti cookies and Baileys Irish cream.
Try it with homemade Christmas cookies using red and green sprinkles to keep the holiday theme going. You'll just blend, pour and garnish with red and green sprinkles and maybe a smattering of crumbled cookies, too! Recipe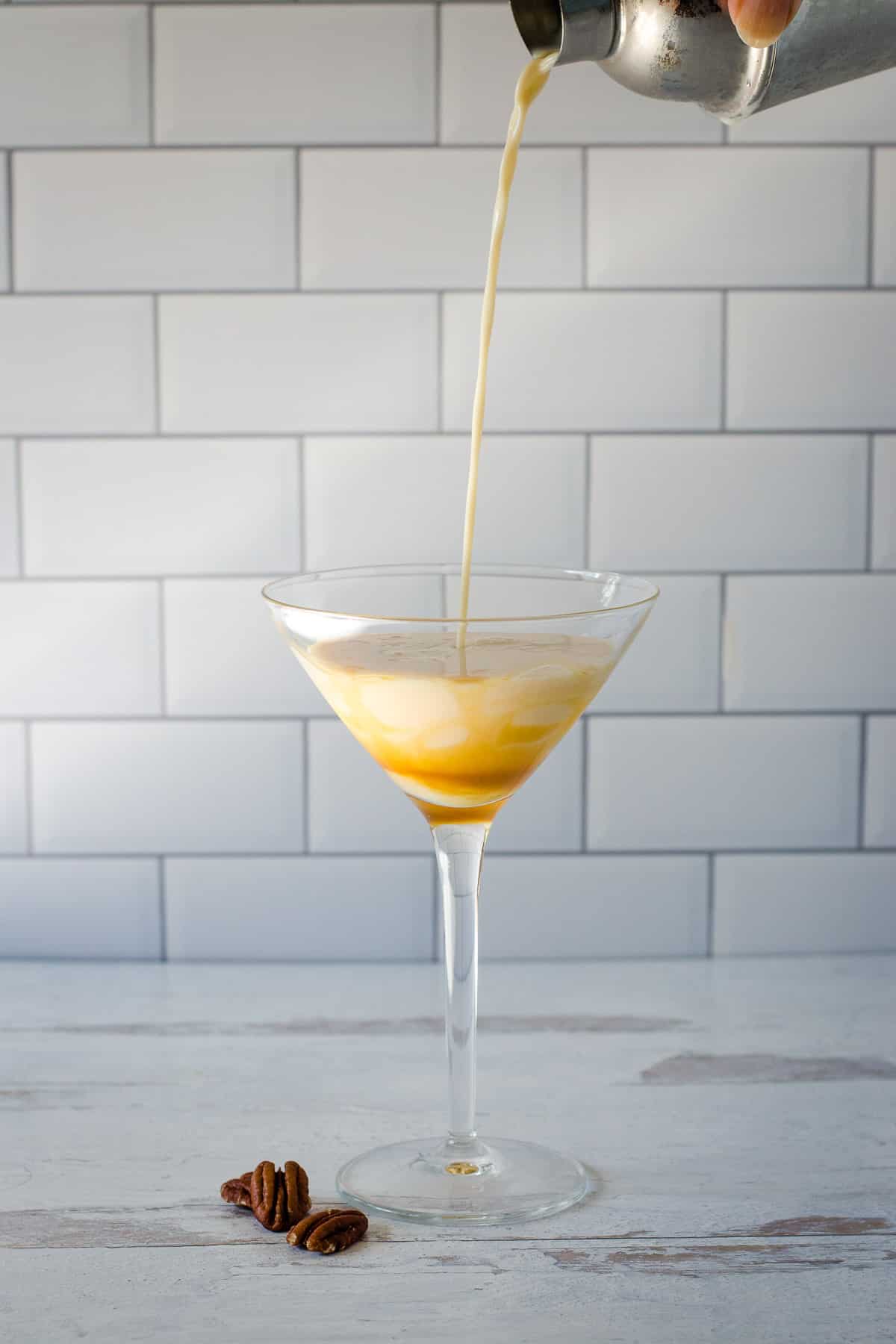 Pecan Pie Martini
This holiday favorite is inspired by the classic pecan pie. With the flavors of pecan liqueur, caramel and creamy Baileys liqueur, this pie will easily stand in as dessert after a festive meal.
Serve it straight up or garnish as you like with drizzles of caramel, a graham cracker crumb rim on the martini glass or a swirl of whipped cream. Top with a sprinkle of Christmas spice, chopped pecans or chocolate shavings. Recipe
Gingerbread Martini
Enjoy the classic flavors of gingerbread this holiday season with this scrumptious Baileys Christmas cocktail. This creamy dessert martini is spiced with gingerbread syrup, molasses, cinnamon and cloves. Milk and Baileys Irish cream keep it smooth and vodka adds a little more booze to keep it spirited.
Start by rimming the glass with crushed gingerbread cookies before adding the shaken-over-ice cocktail. It's a delicious Christmas cocktail recipe that's always a hit. Recipe by Sugar And Charm
Eggnog Holiday Cocktail
Christmas is the time of year to enjoy the holiday flavors of eggnog. This easy Christmas cocktail is a quick mix using prepared eggnog, Baileys and your choice of vanilla vodka, spiced rum, bourbon or cognac. Shake it over ice and strain into your glass.
You'll have plenty of holiday occasions to make this eggnog cocktail slightly different every time and taste which alcohol flavor profile you prefer. Be sure and garnish it with a sprinkle of ground cinnamon or a cinnamon stick. Recipe by Kitchen Swagger
Sugar Cookie Martini
This easy holiday dessert cocktail is perfect for your Christmas festivities. Vanilla vodka pairs with milk, powdered sugar, Baileys Irish cream and amaretto liqueur for a sweet sip that's served in a martini glass.
Make it extra scrumptious by rimming the glass with prepared vanilla frosting before dipping it in red, green and white Christmas sprinkles. Add ice to a cocktail shaker along with the cocktail ingredients and shake to combine before straining into the party-ready martini glass. What could be sweeter? Recipe by Wholefully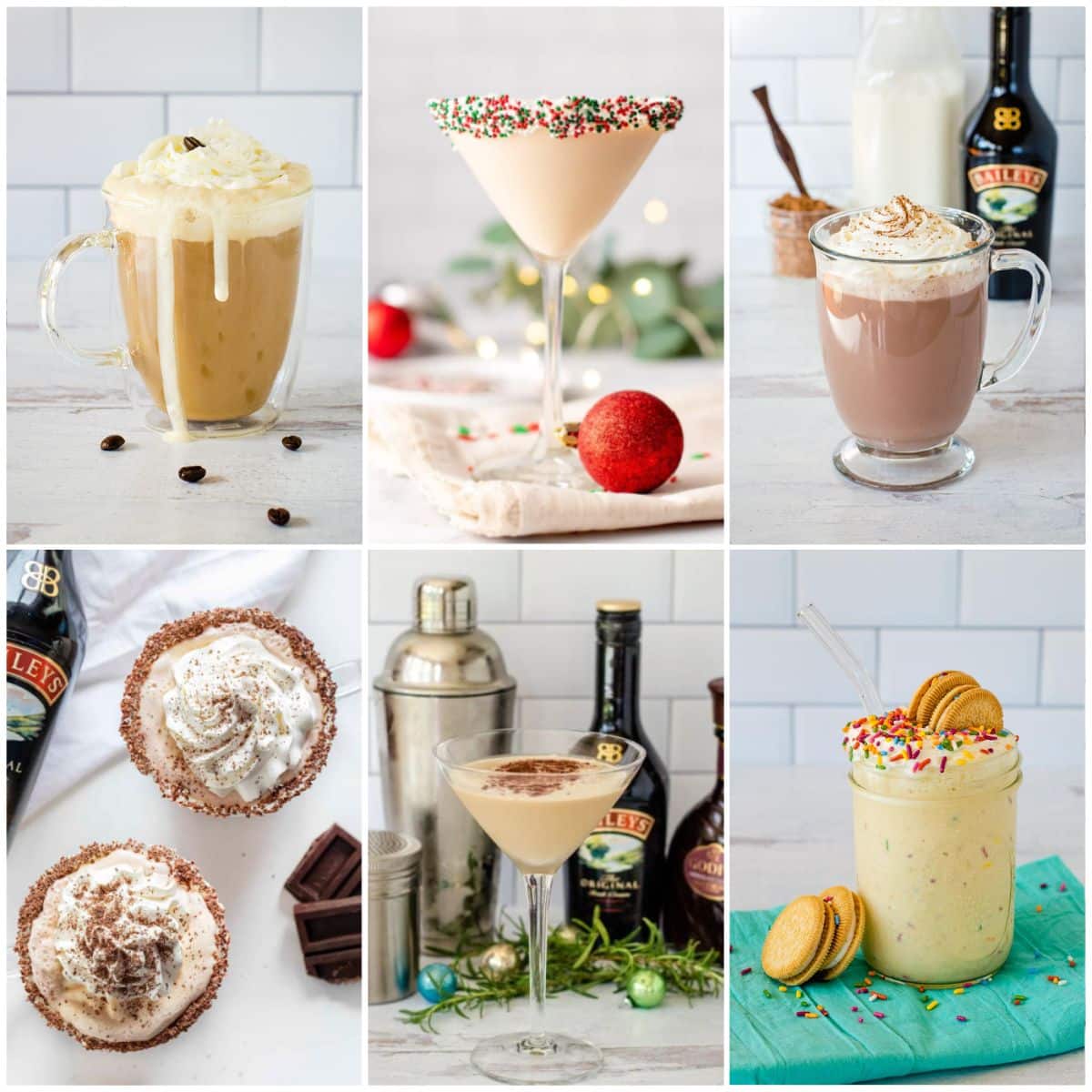 Peppermint Mocha Mudslide
Peppermint dreams abound in this minty chocolate holiday Baileys mudslide cocktail that combines heavy cream, Baileys Irish cream, vodka, Kahlua, and peppermint schnapps.
Shake the ingredients over ice in a cocktail shaker and strain into a prepared glass that's been drizzled with chocolate syrup. Garnish with more chocolate syrup on top and a fresh mint leaf. Recipe by Lemons For Lulu
Baileys Red Velvet Cupcake Chocolate Martini
Transfer your love of red velvet cupcakes into a delicious and drinkable form with this Baileys holiday cocktail recipe. This dessert cocktail is full of sweet, rich and creamy flavors thanks to chocolate liqueur, vanilla vodka, and Baileys Red Velvet Cupcake Irish cream, which gives it a festive red tint.
Start by rimming your martini glass with either chocolate shavings or red sanding sugar. In a cocktail shaker, combine the 3 ingredients and shake over ice before straining to the glass. Garnish with a sprinkle of chocolate shavings. Recipe by Our Crafty Mom
Drunken Snowman
Keep it merry this holiday season with this fun to make Drunken Snowman cocktail that's full of creamy vanilla and chocolate goodness. Start by rimming a mug with melted white chocolate before dipping it in milk chocolate shavings.
Add scoops of vanilla ice cream to the mug. Immediately pour hot chocolate and Baileys Irish cream over the ice cream. Top with whipped cream and a sprinkle of milk chocolate shavings. Scrumptious! Recipe by I Am Baker
Oatmeal Cookie Cocktail
The cozy flavors of cinnamon and oatmeal are on display in this Baileys seasonal cocktail that's guaranteed to get you in the holiday spirit. Cinnamon schnapps is joined with coffee liqueur and Baileys Irish cream in this flavorful drink that will be a hit at your Christmas events.
Rim your glass with brown sugar before adding the simple ingredients. A tasty variation is to swap out the cinnamon schnapps with Butterscotch schnapps. Delish! Recipe by Julie Blanner
Peppermint Mocha Martini
Chocolate and peppermint make merry in this Baileys candy cane cocktail that's perfect for the holiday season. Chocolate liqueur along with peppermint schnapps and Baileys Espresso Creme give this seasonal drink a rich and luxurious flavor. Amplify the minty taste by rimming the martini glass with crushed candy canes.
Swirl chocolate syrup on the inside of the glass before straining in the chilled and shaken ingredients. Add a candy cane to the glass before serving this festive cocktail at your Christmas party. Recipe by Marley's Menu