Looking for easy Halloween cocktails with vodka? Here are some spooky good drinks to make for your Halloween party.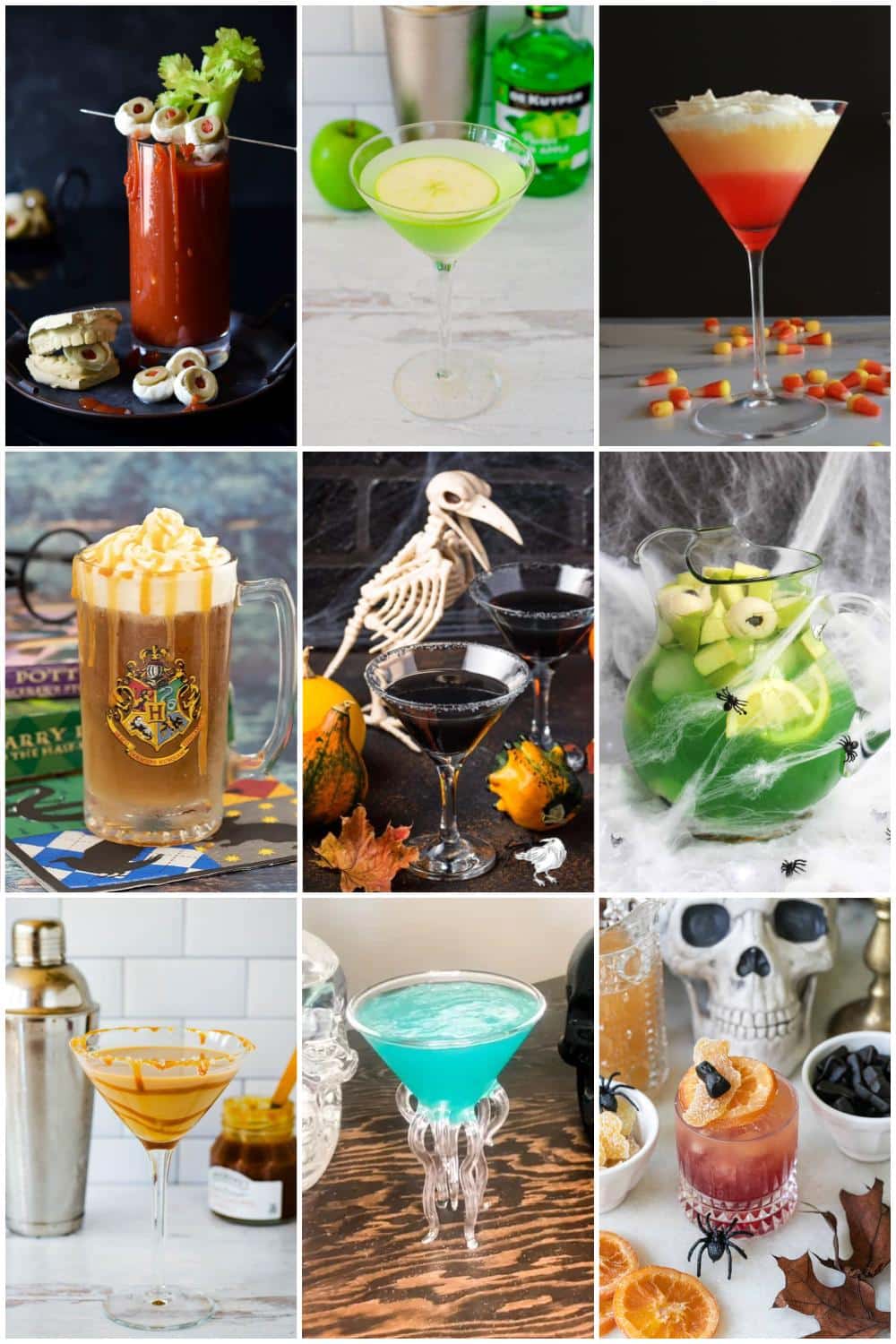 Keep this collection of easy themed cocktails with vodka handy when it's time to celebrate with spooky and boozy libations and seasonal flavors. You'll find delightful Halloween drinks with riffs and tricks on the classics as well as crowd-pleasing punches guaranteed to be a treat for all. 
These creative alcoholic drinks with simple ingredients are a great way to bring a spooky vibe to your next Halloween party. You'll even find a few mocktail options for these wicked brews.
Easy Halloween Drink Ideas
Ghosts and ghouls alike will approve of these easy Halloween drink ideas that are spiked with vodka. From creepy and cute to freaky and frightening, these spine-tingling Halloween cocktails are a delicious way to cast a spell on your guests at this year's festive bash.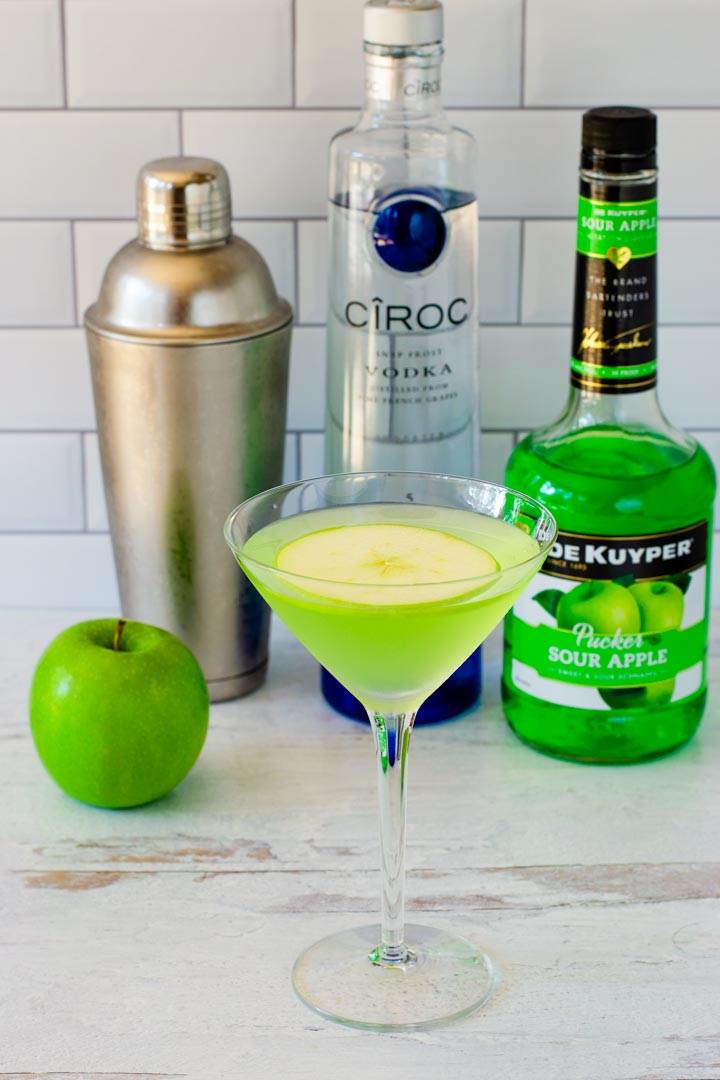 Green Apple Martini
With its vibrant green color and apple flavoring, this easy martini makes a tasty Halloween cocktail. Use apple cider or juice along with vodka (use cinnamon-flavored for a little extra spice), sour apple schnapps and lemon juice.
Shake in a cocktail shaker and strain into a chilled martini glass. Garnish with a slice of green apple.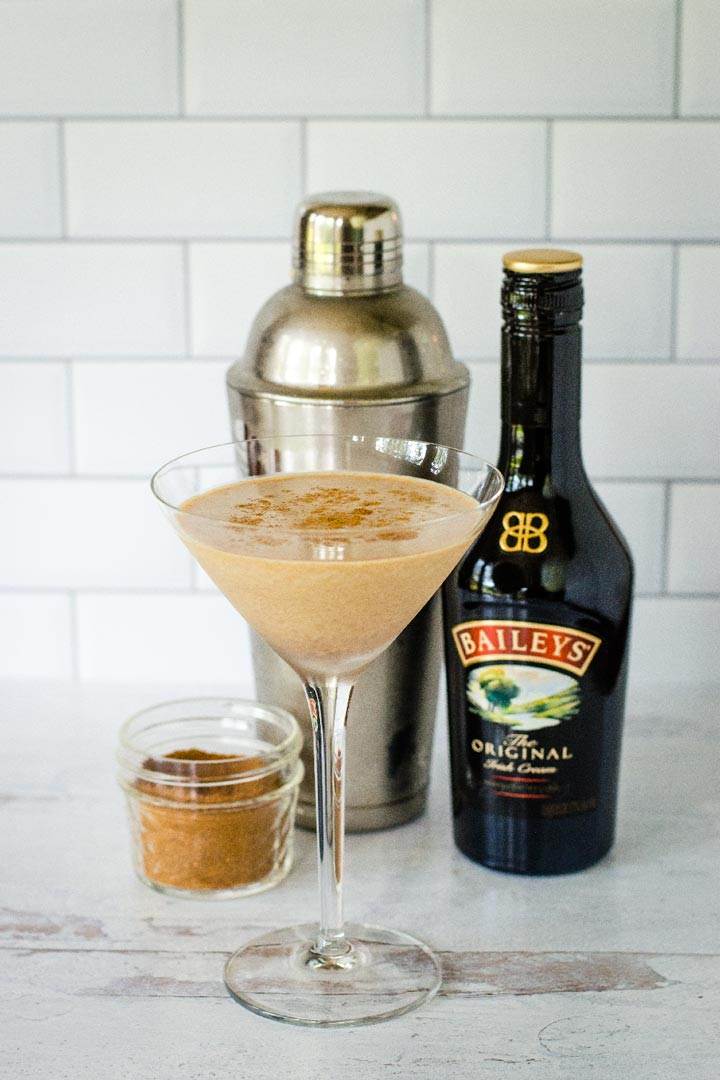 Pumpkin Spice Martini
You can't have a Halloween party without pumpkin spice, and here, this festive cocktail will supply the flavors. This dessert martini is a rich mix of Bailey's Irish Cream, vodka, pumpkin puree, heavy cream and pumpkin pie spice.
Shake well, with ice, in your cocktail shaker and strain into a martini glass. Garnish with a dash of pumpkin spice for a cozy seasonal sip.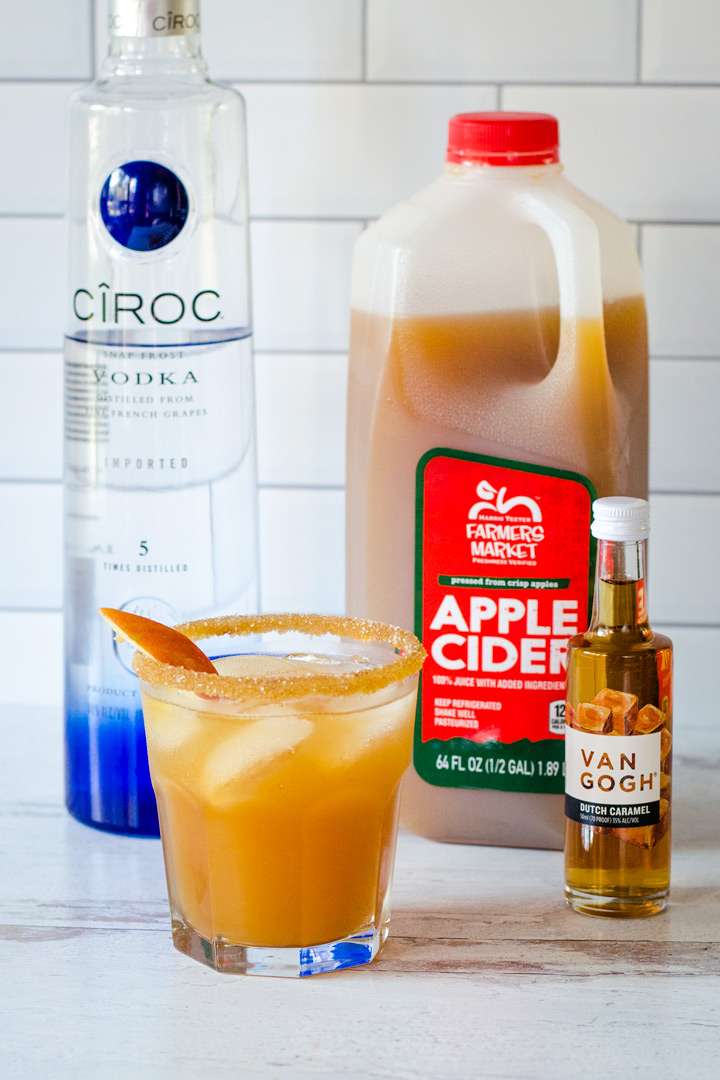 Caramel Vodka Apple Cider Cocktail
Apples and caramel are a classic flavor pairing and here, they co-exist in a delicious fall cocktail that's perfect for Halloween. Start by rimming your glass with caramel sauce and dipping it in cinnamon-flavored sanding sugar.
Add in ice cubes and then pour in the apple cider, caramel vodka and unflavored vodka and gently stir. Garish with an apple slice.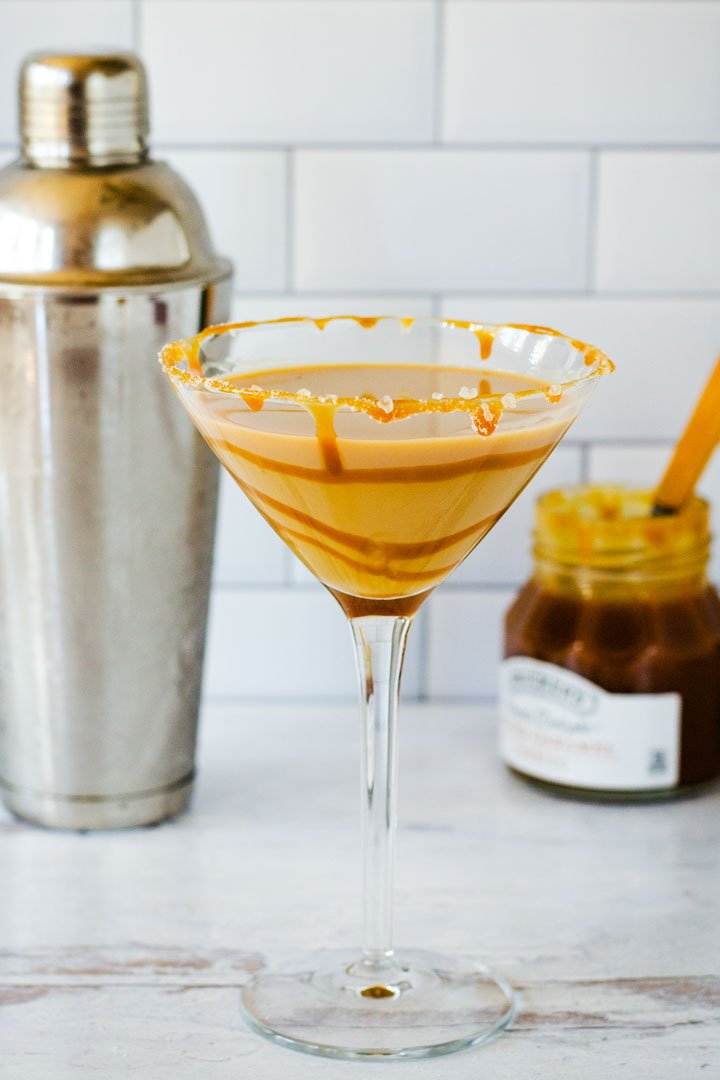 Salted Caramel Martini
Caramel is a fall-inspired ingredient and here, it makes this dessert cocktail perfect for a Halloween drink. To make it extra special, first rim the cocktail glass with caramel and dip it in sea salt.
Drizzle the inside of the glass with more caramel sauce before adding the shaken Baileys Irish Cream, vodka and half and half. It's not only rich and delicious, but looks enticing in the glass.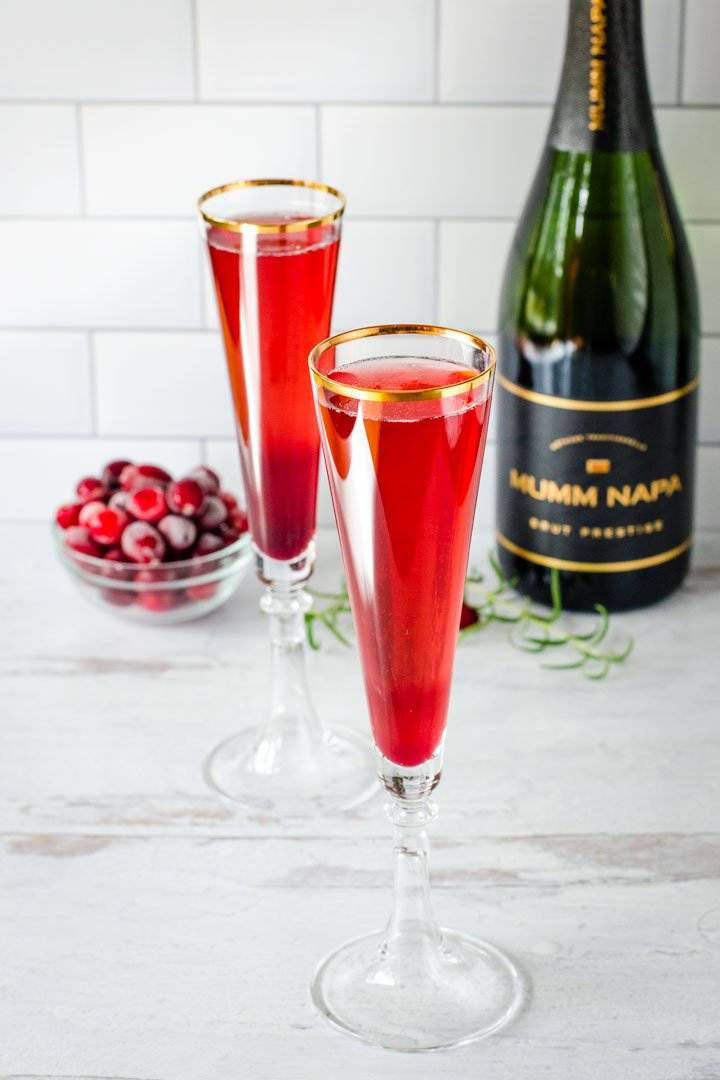 Pomegranate Mimosa
While this drink seems like it's suited to Christmas and New Year's, the rich red color makes it a sparkling pomegranate cocktail for Halloween, especially if you add a ghoulish spider or fangs to garnish the rim of the glass.
It's a simple drink of chilled pomegranate juice, chilled champagne and vodka, poured straight in your champagne flute. Garnish as desired for an elegant offering for Halloween.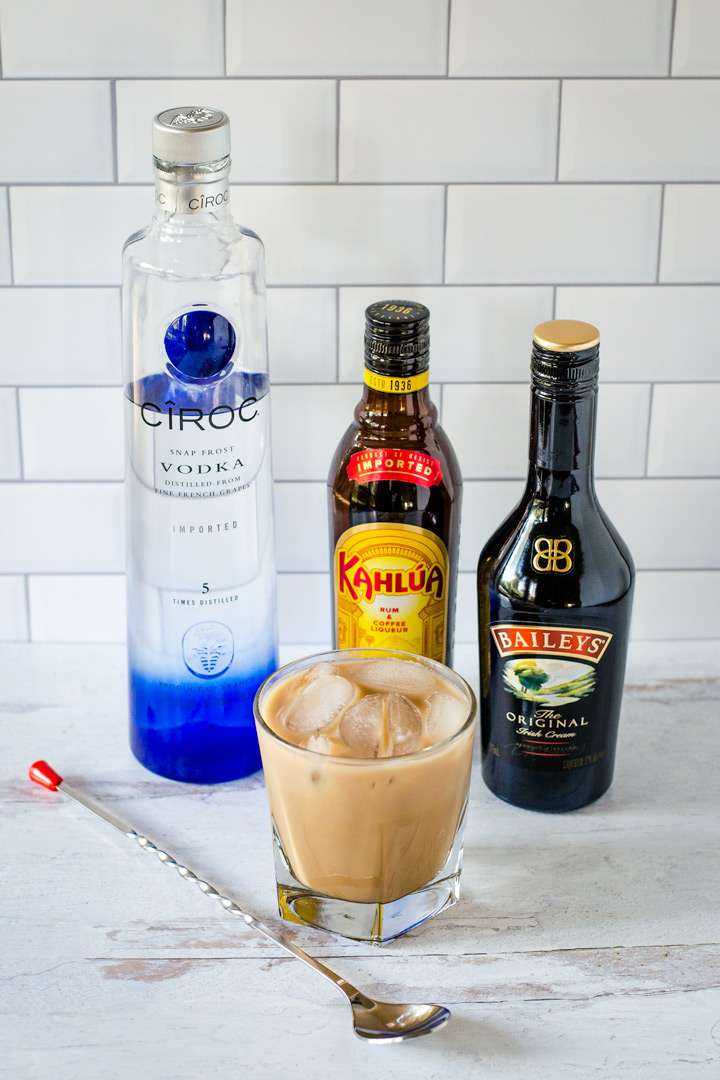 Baileys Pumpkin Spice White Russian
Take the classic White Russian cocktail and swap out the original Baileys Irish Cream with their pumpkin-flavored option or swap out the half and half with a pumpkin-flavored creamer.
Either way, it's an easy cocktail for Halloween which is easily assembled in a glass over ice and stirred to combine. Your guests will love it, especially if you top it with a dollop of whipped cream and a dash of pumpkin pie spice.
Recipe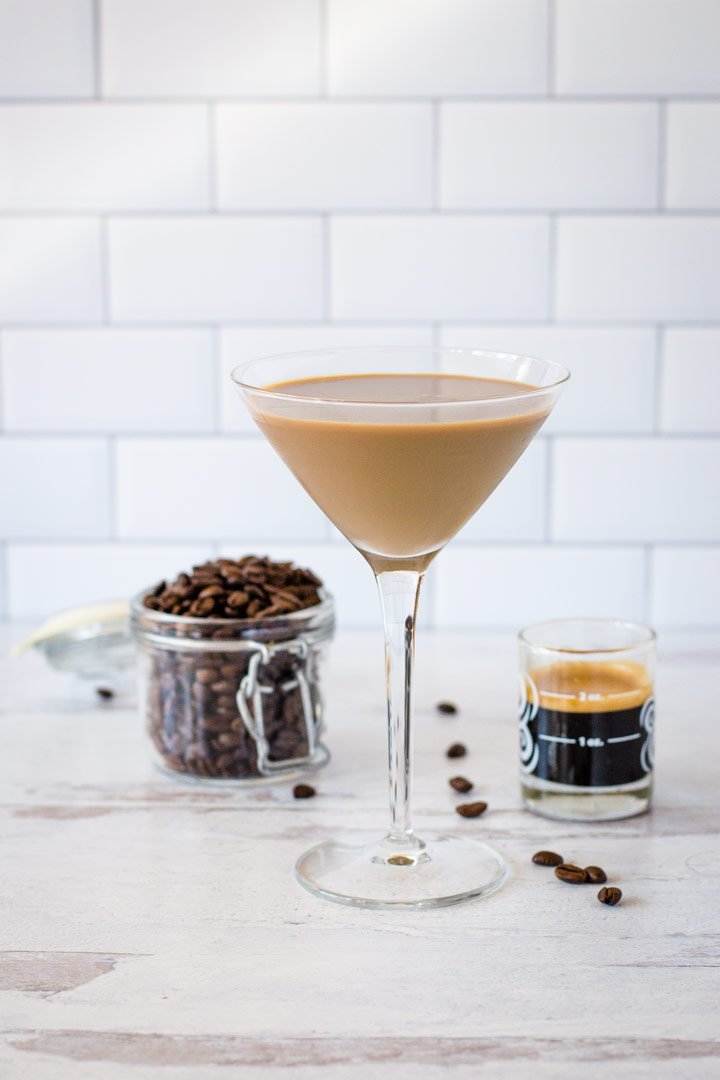 Espresso Martini
Keep it lively with this coffee-flavored martini that you can turn into a pumpkin-flavored cocktail by swapping out the original Bailey's Irish cream for their pumpkin-inspired variety.
It's a simple change that will elevate this to a Halloween drink that's shaken over ice with the other ingredients which include a shot of espresso, vodka, and Kahlua coffee liqueur. Strain into a martini glass and enjoy.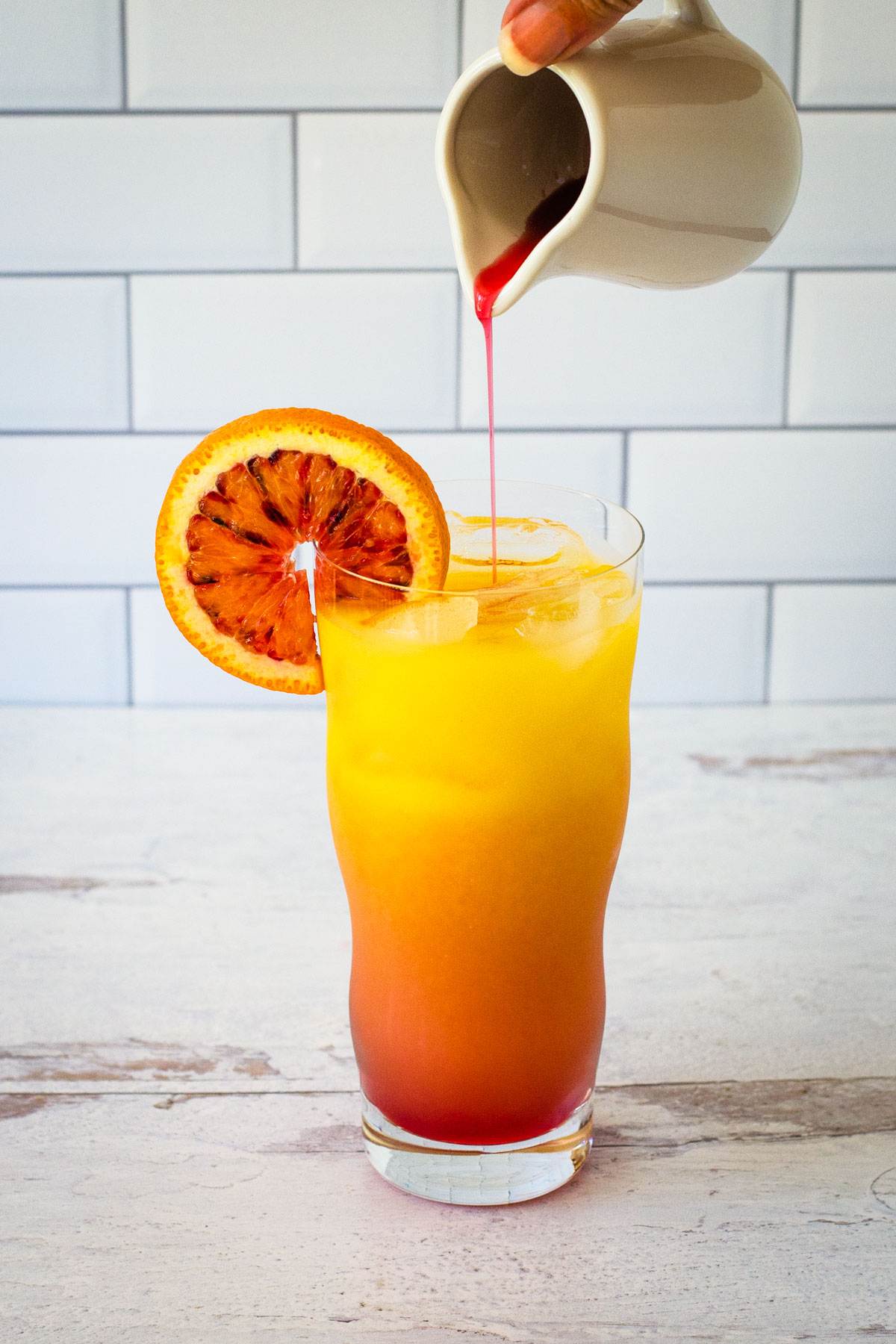 Vodka Sunset
This evening take on a vodka sunrise uses fresh orange juice and the dark color of blackberry brandy to create the graduated effect.
Just mix the vodka and orange juice in a tall glass with ice cubes then pour the grenadine into the bottom of the glass. Garnish with blood oranges, of course!
Bloody Mary Bloody Scary
The name alone makes this spooky drink the perfect Halloween sip, but by adding a scary garnish appropriate for the holiday guarantees this drink will be a winner. The classic ingredients of tomato juice, vodka, hot sauce, horseradish, Worcestershire sauce and seasonings make up the cocktail.
The "eyeball" skewered garnish is made from small mozzarella balls with cut olives and pimentos pressed into the cheese for a spooky effect.
Recipe by Brunch And Batter
The Raven Martini
With a Halloween vodka cocktail named raven you would, of course, expect it to be some shade of black and that's exactly what you'll get when you use black vodka in this spooky cocktail.
Take it a step further and rim the martini glass with black sanding sugar before pouring in the shaken cocktail of black vodka, chambord and blue curacao. This black vodka cocktail is a bewitching martini fit for the season.
Recipe by Champagne And Coconuts
Green Halloween Sangria
This green Halloween sangria is perfect to make in batch form for a party. The green shade, with the help of food coloring, is creepy enough to make it irresistible and delicious enough to keep your guests coming back for more.
The ingredients are made from a base of apple juice, white wine, vodka and limoncello. Fresh fruits of green apples, lemons, blueberries and lychees help flavor the concoction that you assemble in a pitcher and chill until ready to serve.
Recipe by Slow The Cook Down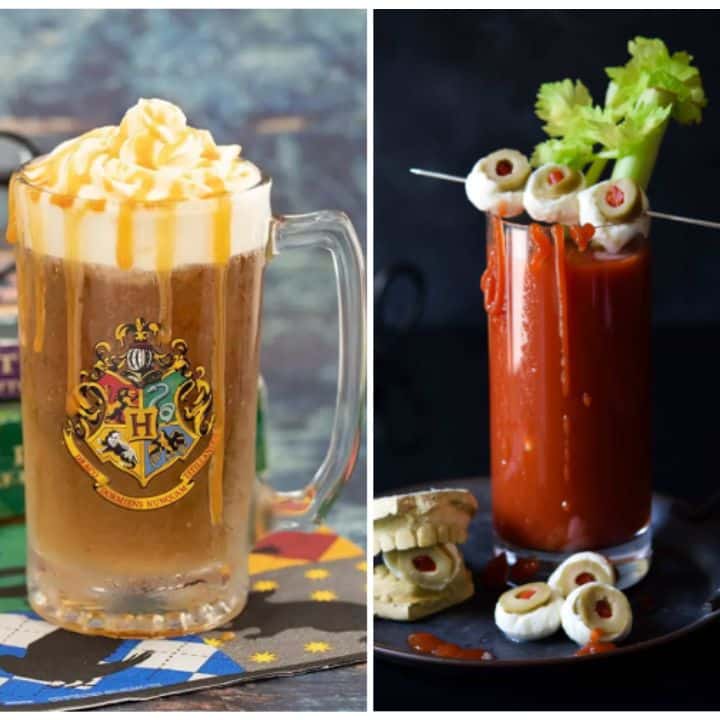 Witches Brew
Apple flavored vodka enhances the apple cider, orange juice and pomegranate juice base of this Halloween cocktail recipe. Make it right in an old fashioned glass filled with ice and just stir the ingredients to combine.
The trick to making it have more zing is to grate fresh ginger over it and stir. Need it as a mocktail? Just leave out the vodka.
Recipe by Sugar And Charm
Candy Corn Martini
This fun martini is on point for Halloween with its stacked orange, white and yellow layers that replicate the iconic candy corn candy. It's a dessert cocktail that starts in a martini shaker with crushed ice, pineapple juice and whipped cream flavored vodka. Shake and strain into the martini glasses.
Add a splash of grenadine to each glass. The color of grenadine comes from its pomegranate juice ingredient which will turn the bottom of the drink a bright orange shade as it sinks. All that's left is to top each drink with whipped cream for the classic and colorful candy corn look. Sweet!
Recipe by The Short Order Cook
Blood Orange Martini
The brilliant shade of the juice of blood red oranges is perfect for mixing a seasonal cocktail. The fresh blood orange juice mixes with vodka, triple sec and simple syrup for a stunning martini.
Shake vigorously to combine and garnish this Halloween-worthy cocktail with the peel of the blood orange. Simple, elegant and delish.
Recipe by Sweet Tea And Thyme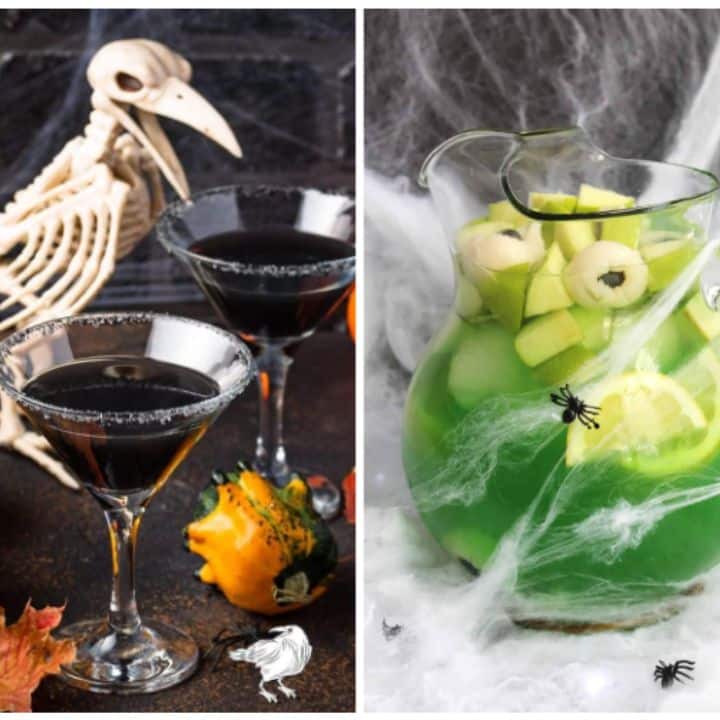 Zombie Shooter
A shot of this delicious Halloween cocktail might haunt you all night. It's a fun cocktail to assemble since you use Bailey's Irish cream to create the brain matter that settles at the bottom of a shot glass.
The trick is to freeze the vodka and shake it over ice with the lime juice to create a super chilled environment for the bits of Irish cream that you release into the cold shot. Fun, spooky and on point for Halloween.
Recipe by Self Proclaimed Foodie
Butterbeer
Harry Potter fans will enjoy sipping on this butterbeer concoction made with vanilla vodka, butterscotch schnapps and cream soda. In a tall glass mug, pour in the cream soda and then add the vodka and schnapps before stirring to combine.
Top it with whipped cream and a drizzle of butterscotch syrup. This dessert cocktail will be a hit with wizards and muggles, alike.
Recipe by Fun Money Mom
Vampire's Kiss Cocktail
In this easy Halloween cocktail recipe you'll add ice to your glass and top it with cranberry juice and vodka and finish with a quick stir. Add a set of vampire teeth and serve up this fun and festive drink.
Make it as a solo drink, or in batch form. For a deeper shade of red, add food coloring. For a mocktail, omit the vodka and pair the cranberry juice with cherry juice.
Recipe by Modern Mom Life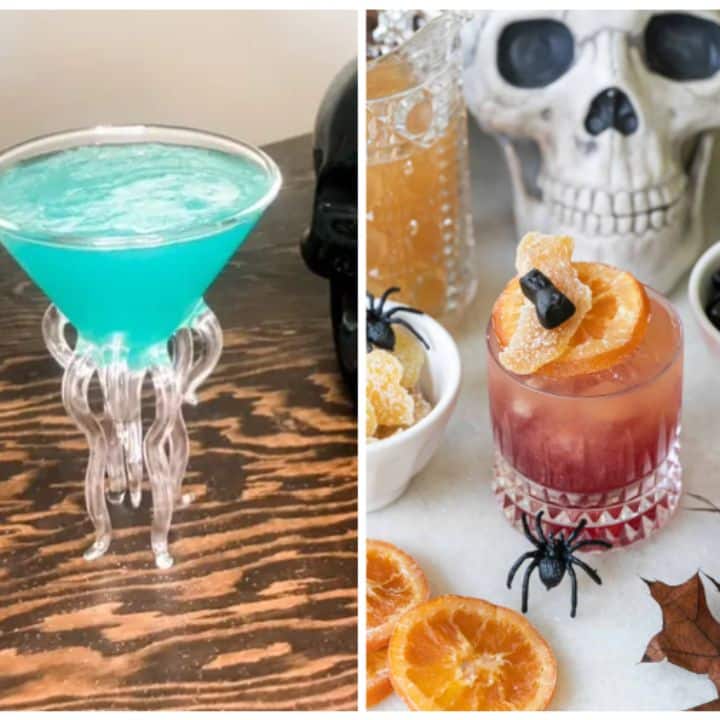 Blood Orange Moscow Mule
Vodka joins with ginger beer, an orange liqueur such as cointreau, lime juice and fresh blood orange juice for this tasty chilled cocktail perfect for Halloween. If you like your classic cocktail a little sweeter, add simple syrup, to taste.
Keep it classic and serve it in copper mugs with a garnish of mint and slice of blood orange.
Recipe by Cupcakes And Cutlery
Soul Taker
This adult drink is a heady mix of just 3 ingredients - equal parts of vodka, tequila and amaretto for a soul stealing sip that's spot on for Halloween. It's perfect for big batch cocktails, too, since it has equal parts.
Make a pitcher for shots and keep it chilled until ready to serve. Additionally, chill the glasses, too. The delicious cocktail will be extra chilling when enjoyed.
Recipe by Mix That Drink
Witches Brew
Halloween parties deserve fun cocktails and punch ideas and this one is perfect for adults who like it boozy. With just 3 ingredients, vodka, pineapple juice and blue curacao, this witches brew cocktail is super easy to make, shaken with ice in a shaker; then just strain and pour.
For a kid-friendly mocktail, use a non-alcoholic version of blue curacao syrup to achieve the Hocus Pocus sapphire color that the kids will love.
Recipe by Cocktails With Class
Pomegranate Vodka Punch
With its deep red color and spike of vodka, this big batch cocktail recipe is perfect for Halloween. Chill all the liquids and then, in a punch bowl, combine the pomegranate juice, vodka, ginger ale and Prosecco.
Sweeten with simple syrup and garnished with pomegranate arils. It's an easy and elegant way to serve up a Halloween cocktail.
Recipe by Self Proclaimed Foodie