Looking for east coast beach camping destinations? Here are 22 of the best seaside campsites in Florida, Georgia, South Carolina, North Carolina, and Virginia. You'll find both tent camping and RV camping recommendations for beautiful beach destinations like Fort de Soto, Cocoa Beach, and Folly Beach.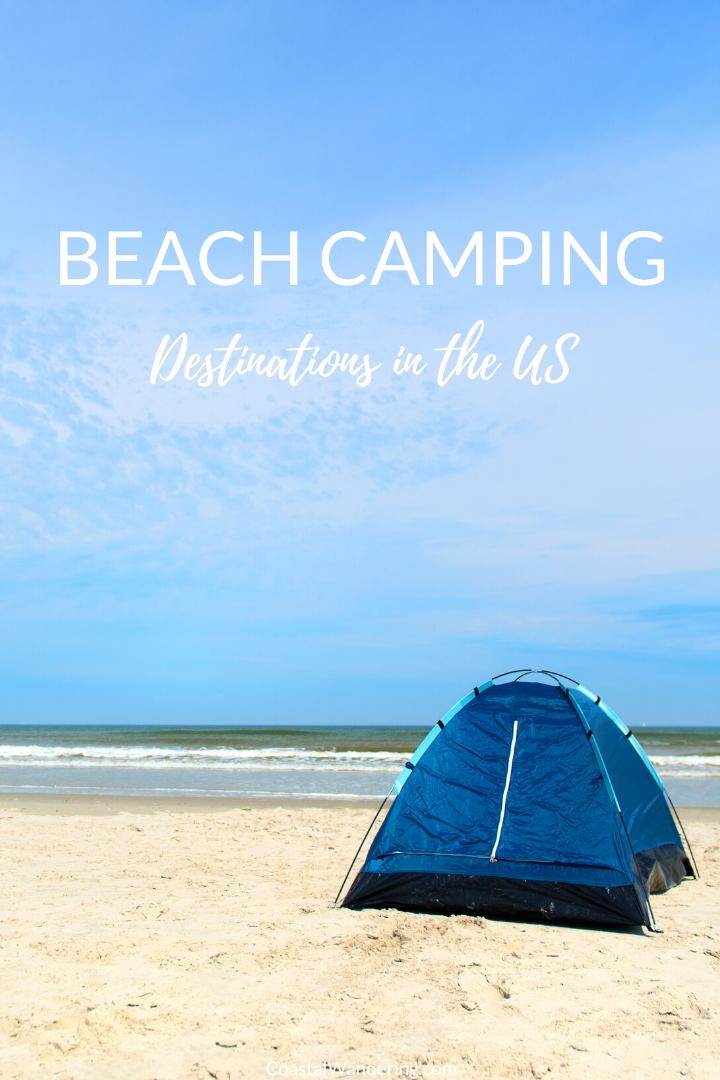 Beach camping holds a special place in my heart. I grew up camping at the beach for a family vacation every summer, learning to body surf and spending all day at the beach at Assateague Island in Virginia. Visiting this national seashore (with wild horses!) felt magical and I loved every second of it.
If you love the beach but haven't yet experienced beach camping, then this is a travel guide to bookmark. Here are some amazing coastal camping destinations for you to explore in the Southeast U.S.
Here's a table of contents for what you'll find below:
What is beach camping?
As experienced campers may already know, there are plenty of different ways to camp. Whether you prefer getting away from it all—backpacking, biking, or boating to a remote campsite near the ocean—or parking a luxury RV at a beachside resort, there's a beach camping experience for you.
Beach camping is essentially setting up your home away from home near or on the beach. And as with staying in a hotel or a vacation rental, you can find campgrounds with an ocean view, or you can choose to stay in an area that offers other attractions—pools, marinas, restaurants, shopping—but is a short walk, bike or drive to the beach.
Is it legal to camp on a beach?
This is an important question to ask, and it's rarely, if ever, as simple as setting up camp by the water's edge. The answer depends entirely on the destination you're visiting.
Some of the beaches mentioned below only allow tent camping or RV camping, and many of them place restrictions on when and where you're allowed to camp. For this reason, it's important that you check the websites for updates and follow the local rules and regulations.
Tent Camping Near the Waves
Beach camping in a site is the most simple and basic of all camping options. It's the classic camping trip that you might have experienced as a kid. No frills, just you, your family, and the great outdoors. One of the benefits of tent camping is you can often head to campsites you can't get to with an RV.
What's great about tent camping is that you really require very little to get started. Unlike RV camping (which might require either a van or RV rental or purchase), you just need a tent and some basic gear (like sleeping bags, pillows, and a cooler) to camp. Plus, it's a great excuse to unplug from modern life for a couple of days!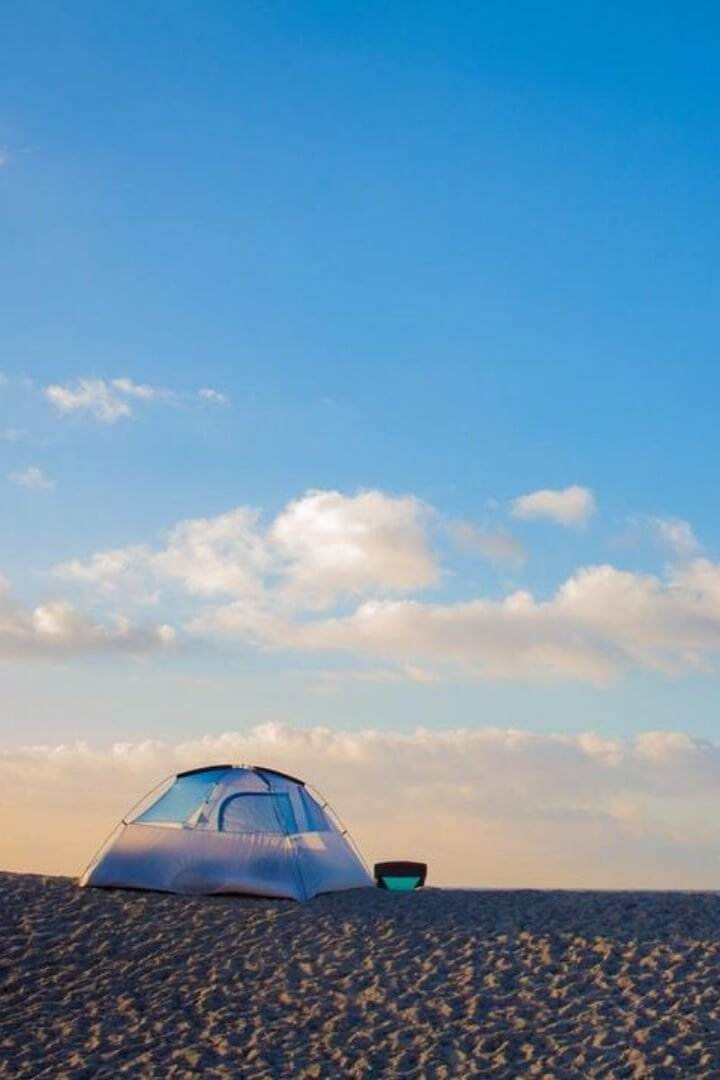 Of course, one of the biggest drawbacks of tent camping is that the weather can almost make or break your vacation. Flash downpours can put a real damper on your day and you'll want to make sure that your camping gear is prepared to handle the rain. There's nothing fun about being stuck inside a leaking tent!
Most amenities, like restrooms with flush toilets and hot showers, will require a walk from your tent site. You'll also need to consider how you store your food while you're tent camping. While you might enjoy tent camping because it allows you to get closer to wildlife, you likely won't want the local wildlife to invite themselves to dinner!
RV Camping With Modern Luxuries
RV camping probably provides the best compromise between getting out into the outdoors and vacationing with the comforts of home. Most RV parks come equipped with concrete pads and full hookups for electricity and water at the RV sites, as well as a host of amenities within the park—including things like wifi, cable, fire rings and a laundry facility.
Because an RV is mobile, RV camping is perfect if you want to visit a few beaches during a single vacation. It's easy and convenient to pack up and move quickly. And, of course, you don't need to worry if the weather is uncooperative while you're on the road. You'll stay clean and dry inside your RV. You'll probably even have a kitchen and bathroom inside your vehicle!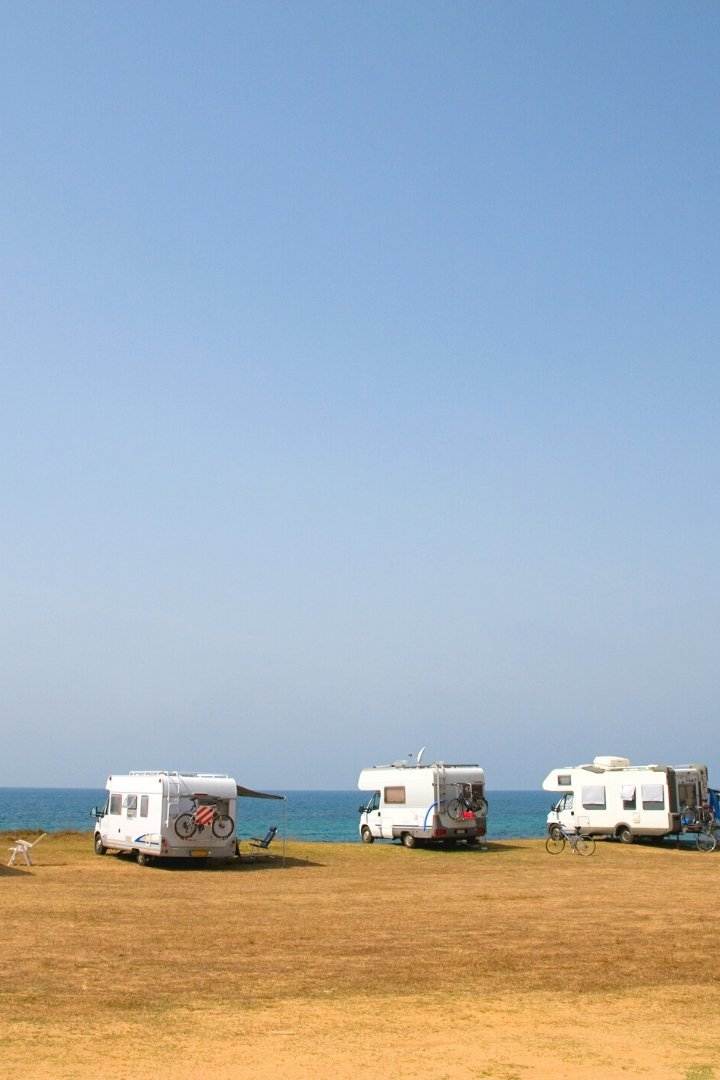 That said, if you're looking for a camping experience that truly feels like you're living in the outdoors, this probably isn't the camping style for you.
Beach Camping on the South East Coast
No matter whether you prefer tent camping or RV camping, these Southern United States beach camping destinations to consider as you plan your vacation:
Florida
Whether you have your eye on Atlantic destinations (like Daytona Beach) or Gulf coast destinations with white sand beaches, the Sunshine State should be on your list of dreamy U.S. beach vacations. Here are some of the best beach destinations in Florida to consider:
Fort de Soto (St. Pete)
Located near St. Petersburg, this popular county park spans across five islands and covers over 1,000 acres along the Gulf of Mexico and Tampa Bay. Fort de Soto's sandy shores and beautiful tidal pools are a favorite of ours–my husband grew up visiting here with his grandparents. We always make a point of visiting whenever we're in St Petersburg. You can enjoy this park from either the Fort de Soto Campground (tent and RV) or the Shell Key Preserve (tent only).
This park is also pet-friendly with special campsites set aside for camping with pets.
Tent Camping: Yes
RV Camping: Yes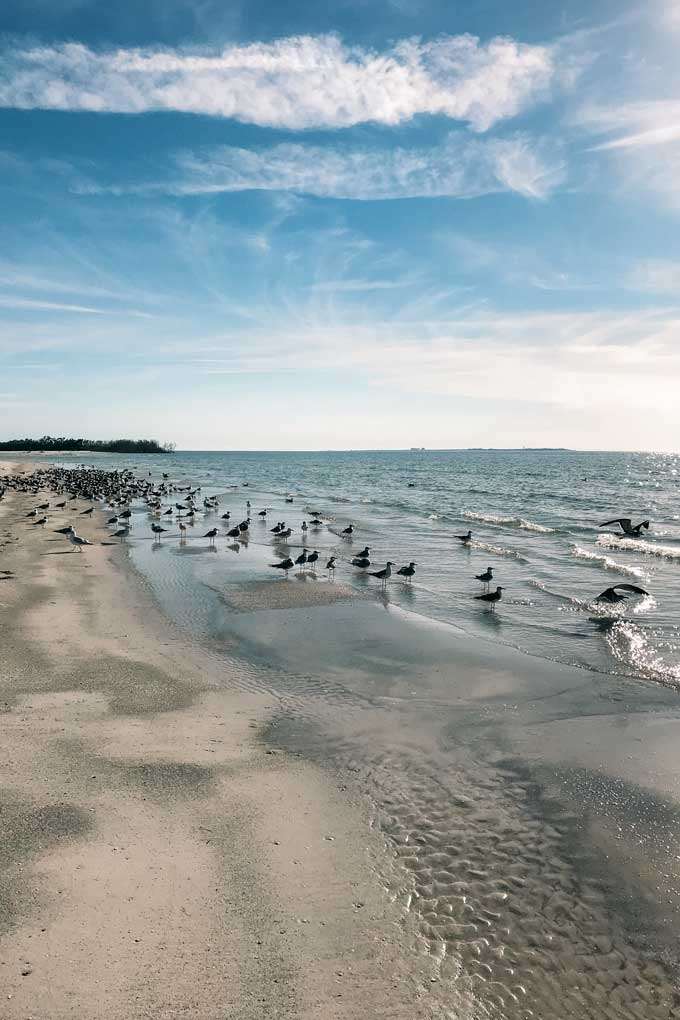 Cocoa Beach
There are several local campgrounds near Cocoa Beach, though Jetty Park Campground is likely the most popular in the area. You'll find this campground inside Port Canaveral. It's around 18 minutes by car from Cocoa Beach, so you'll also likely spot cruise ships and submarines coming and going.
Tent Camping: Yes
RV Camping: Yes
St. Augustine Beach
Just a short walk from St. Augustine Beach, you'll find the campground at Anastasia State Park. All sites have electricity and water as well as a picnic table, grill and fire pit. With more than 1,600 acres to explore, the park also has great spots for shelling, surfing, fishing, biking, hiking, and paddle boarding, kayaking or canoeing the tidal marshes.
Tent Camping: Yes
RV Camping: Yes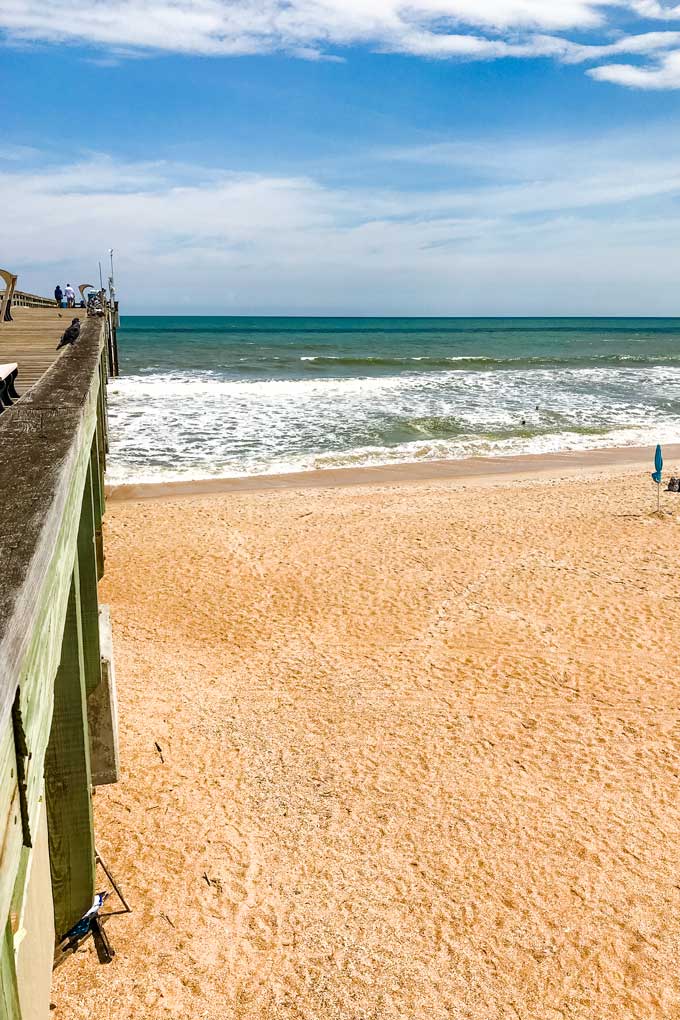 Flagler Beach
Just up the road in Flagler Beach, you'll find several beachfront RV parks (you can't miss them as you're driving down A1A). Beverly Beach Camptown RV resort has beachfront campsites with all the amenities - full utility hookups at the site, bathhouses, laundry, wifi, and cable. Flager beach is halfway between St. Augustine and Daytona Beach so you're close to all the Atlantic coast attractions.
Tent Camping: No
RV Camping: Yes
Daytona Beach
With a variety of beaches, restaurants, amusement parks, museums, and outdoor parks, there are plenty of fun things to do while you're camping in Daytona Beach. There are several local campgrounds to choose from near the oceanfront and rivers, so it's just a case of choosing the right fit for you and your family. (Note that while you can drive on the beach, you're not allowed to camp directly on Daytona Beach.)
Tent Camping: Yes
RV Camping: Yes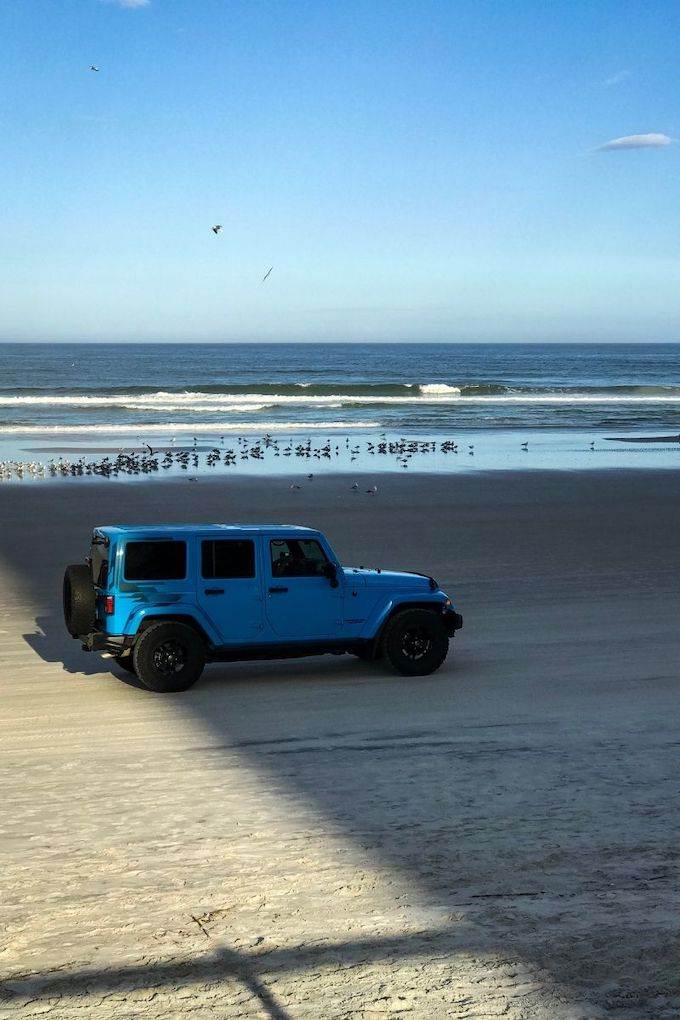 Bahia Honda Key
Bahia Honda State Park has the biggest natural sand beaches in the Florida Keys and deep water close to shore that makes it perfect for snorkeling and swimming in both the Gulf of Mexico and the Atlantic Ocean.
The park also has great spots for camping, all kinds of fishing and plenty of opportunities for boating and kayaking. Plus the marina has boat slips for overnight stays that include access to all the facilities.
Tent Camping: Yes
RV Camping: Yes
Georgia
The state of Georgia boasts about 100 miles of Atlantic Ocean shoreline and some of the most beautiful small barrier islands. If the Peach State is on your dream list of beach vacations, then these are some of the best island camping destinations to consider:
Jekyll Island
Jekyll Island is a great beach getaway just off the coast of Georgia in the Golden Isles. The state park campground is on the northern tip of the island near the famous Driftwood beach. It has both tent and RV campsites, as well as a general store and bike rentals. It's a perfect home base for exploring the history and natural beauty of the island.
Tent Camping: Yes
RV Camping: Yes
Tybee Island
Tybee Island is located just 30 minutes outside downtown Savannah. With three oceanfront beaches and two river beaches (all open to the public), there are plenty of beaches to explore during a beach getaway on this island. There are several RV and tent campsites on the island, but none are located right on the beach. Camping directly on the beach is restricted to protect local wildlife (like sea turtles!) and for safety reasons.
Tent Camping: Yes
RV Camping: Yes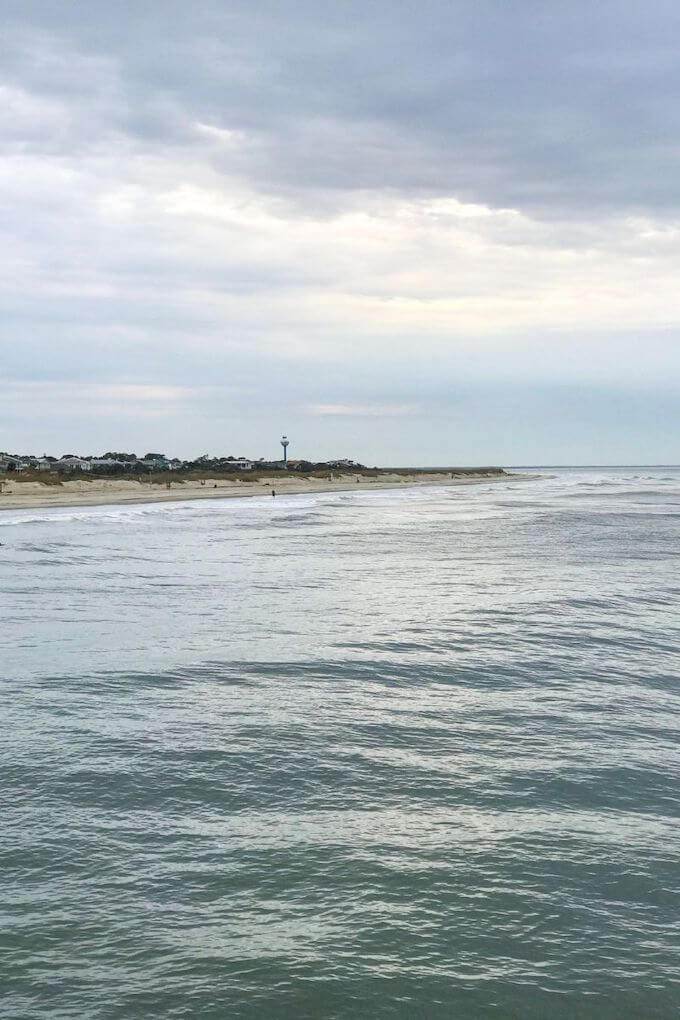 Cabretta Beach
Located on Sapelo Island within the R.J. Reynolds Wildlife Refuge, Cabretta Beach and the Cabretta Campground offer a rustic low-country experience for nature lovers to explore one of Georgia's most remote (and most beautiful) islands. Sapelo Island is a state-protected island that requires you to arrive with an approved tour group and is only accessible by ferry or plane (the ferry is just a short trip!).
Tent Camping: Yes
RV Camping: No
Cumberland Island
The National Park Service manages Cumberland Island and the total capacity is a maximum of 300 people, so it never gets crowded! This island is boat access only. It's great for a beach day trip, but you can also camp here! Be prepared for a rustic camping experience–you must hang your food and only one campground has drinkable water.
Tent Camping: Yes
RV Camping: No, but RV camping is available at Crooked River State Park in the nearby town of St. Mary's. You can take the ferry from there to Cumberland Island National Seashore.
South Carolina
Offering what are arguably some of the best beaches on the East Coast, the Palmetto State has over 2800 miles of coastline to explore. Here are some of the best beach camping destinations in South Carolina that you should add to your travel list: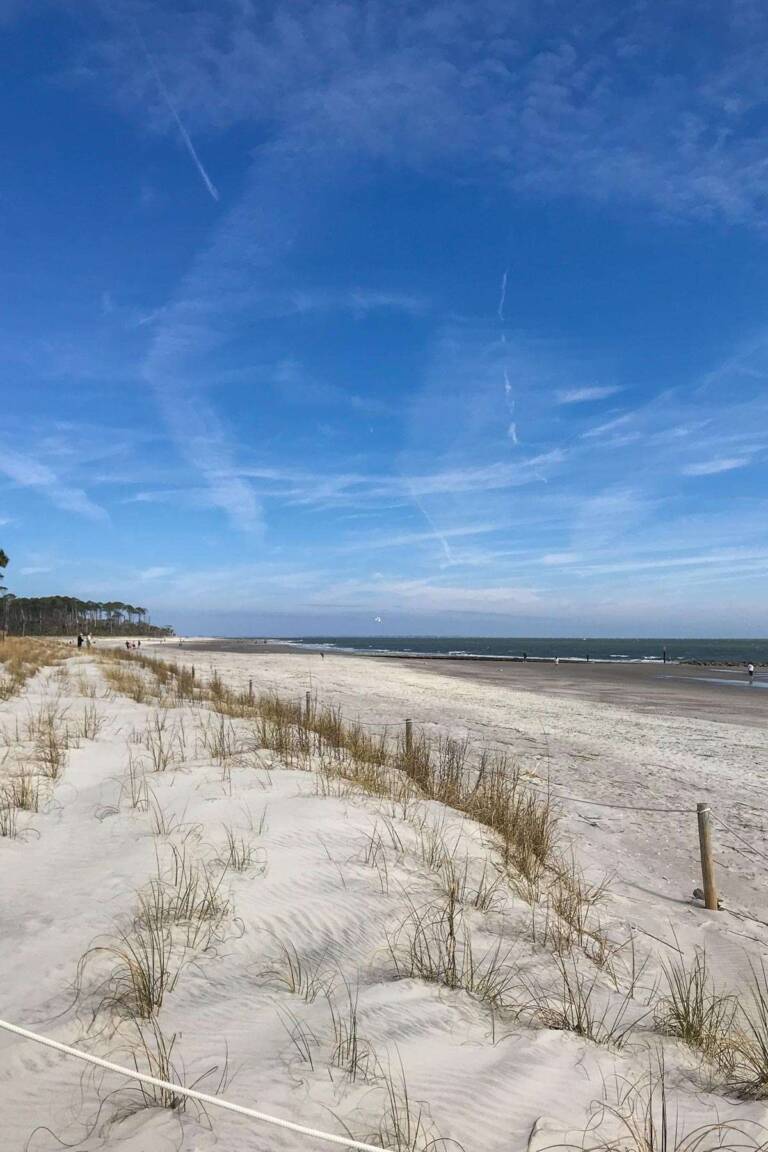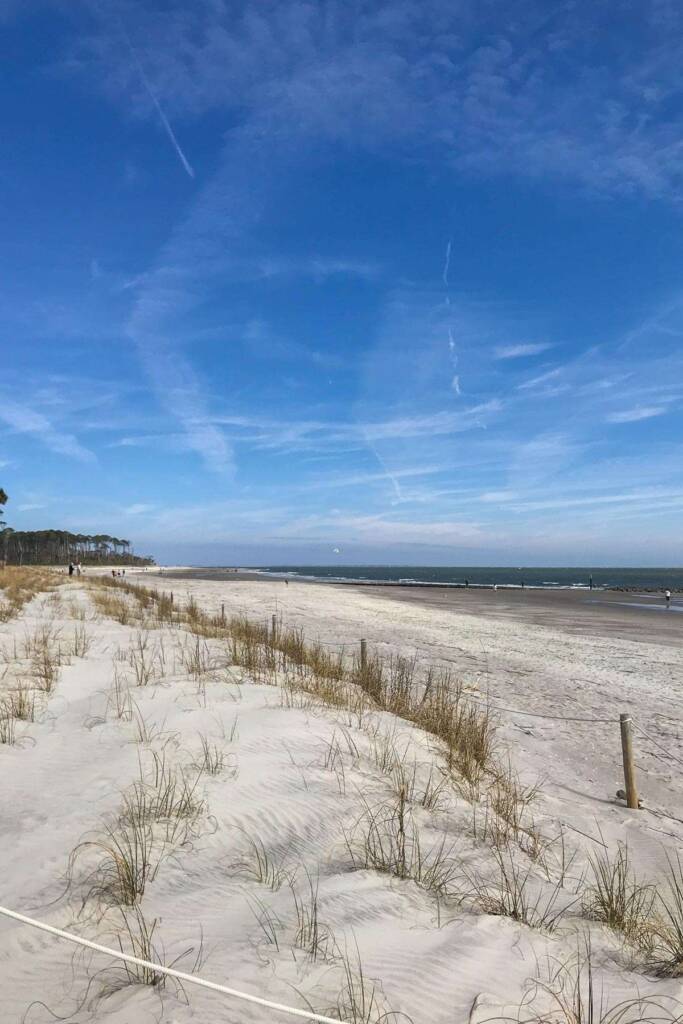 Hunting Island
The Hunting Island State Park beach boasts five miles of beautiful sandy shoreline. Arguably the most well-known and popular beach in Beaufort, this local gem offers plenty of marshes and maritime forest acreage, as well as a saltwater lagoon and ocean inlet. This is a great spot for hiking enthusiasts–you'll have so many trails to choose from! Keep your eyes peeled for the local wildlife.
Tent Camping: Yes
RV Camping: Yes
Folly Beach
Folly Beach is a great beach getaway near Charleston–especially for those that love surfing! The closest local campground is James Island County Park (just 10 minutes from Folly Beach). This large state park offers plenty of trails for walking and biking, 16 acres of fresh water for fishing and unrestricted saltwater fishing and crabbing. You can even purchase round-trip shuttle service between the park and Folly Beach!
Tent Camping: Yes
RV Camping: Yes
Hilton Head Island
If you're looking to explore Hilton Head Island's beaches and attractions, this luxury resort is a great home base. Overlooking the Intracoastal Waterway at the north end of the island, it has waterfront campsites, two swimming pools, a marina, a watersports center, and a gourmet restaurant onsite (go for dinner and the sunset view!). It's a short drive to the beaches or any of the island's golf courses, parks and nature centers.
Tent Camping: No
RV Camping: Yes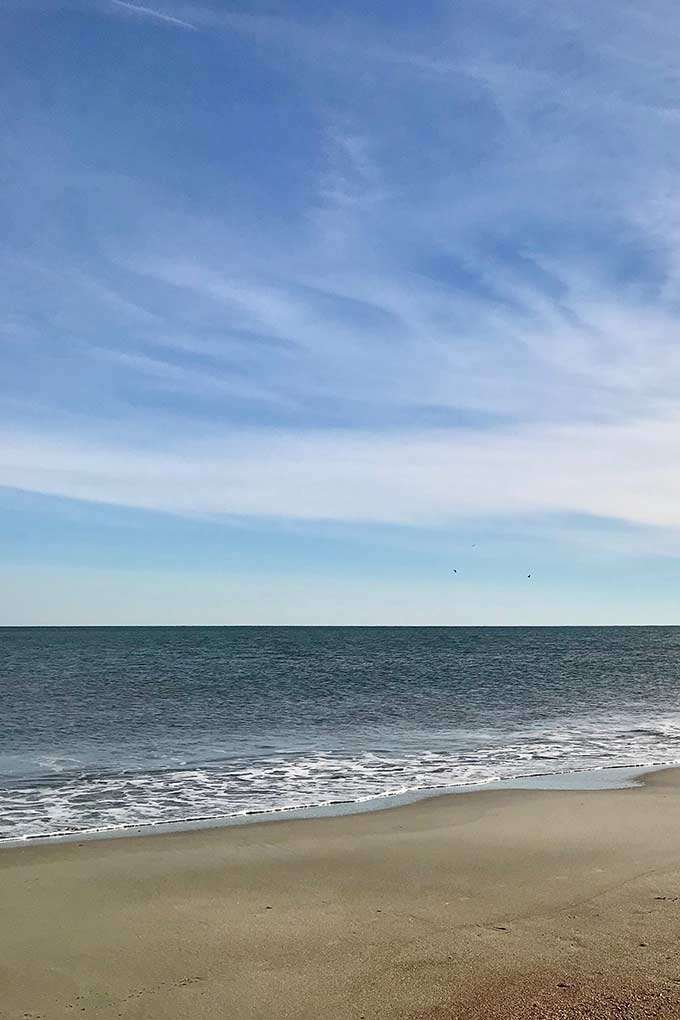 Edisto Beach
You'll have your choice of either ocean-side or salt marsh sites if you're camping at Edisto Beach. Highlights of camping here include shelling along the 1.5 mile palmetto-lined beach, fishing in Scott Creek Inlet and learning about the ACE Basin at the Environmental Learning Center.
Tent Camping: Yes
RV Camping: Yes
Myrtle Beach
Myrtle Beach campsites put you just a stone's throw away from the beach (about 300 yards). This popular South Carolina beach destination offers birding, fishing and crabbing (license required!), swimming, geocaching and biking. Take a walk through the Sculptured Nature Trail–it's one of the last maritime forests on the northern coast of South Carolina!
Tent Camping: Yes
RV Camping: Yes
North Carolina
The Tarheel State boasts 3000 miles of coastline, including 300 miles of barrier-island beaches. Better still, almost all of it is accessible! Here are some of the best coastal camping destinations in North Carolina to visit:
Hammocks Beach State Park
You'll find Hammocks Beach State Park nestled into the Topsail area, with local attractions like the Karen Beasley Sea Turtle Rescue and Lejeune Memorial Gardens. You'll find all the local beach camping sites on the 4-mile long Bear Island (access by ferry, private boat or paddling only). This undeveloped barrier island offers fantastic rustic camping year-round, though water and other facilities are not available between mid-November and mid-March. Don't miss hopping in a rental kayak or canoe to explore Bear Island and Huggins Island!
Tent Camping: Yes
RV Camping: No
Carolina Beach State Park
Located just outside of Wilmington, you'll find Carolina Beach State Park on a 761-acre island. Beach campers enjoy hiking, boating, swimming, and fishing. This state park has plenty of hiking trails that are perfect for nature lovers, though you're not allowed to bike those trails.
Tent Camping: Yes
RV Camping: Yes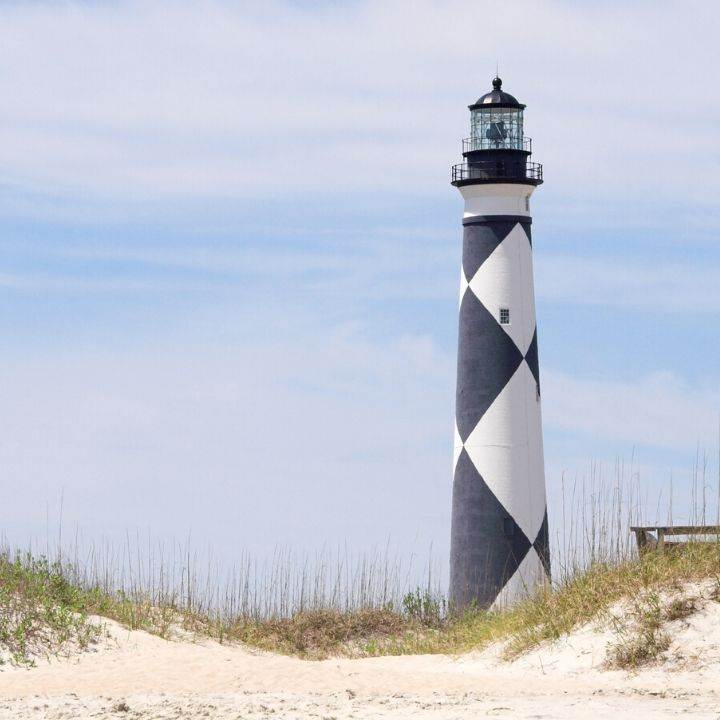 Cape Lookout National Seashore
If you're looking for a rustic beach camping experience, look no further than Cape Lookout National Seashore on the Crystal Coast. This is one of the rare campsites that has not designated specific campsites for visitors. Tent and van camping are allowed, though vehicle or van camping is only permitted on the oceanside beach seaward of the primary dunes, not between or on top of dunes. Don't miss spotting the wild horses roaming Shackleford Bands!
Tent Camping: Yes
RV Camping: Yes
Cape Hatteras National Seashore
Located in the Outer Banks island group, this national seashore runs 70 miles across multiple barrier islands and spans over 30,000 acres of maritime environment. Cape Hatteras National Seashore offers four campgrounds–they operate on a first come, first served policy. This beach destination is ferry-only access. You are not allowed to camp directly on the beach.
Tent Camping: Yes
RV Camping: Yes
Virginia
Seaside camping destinations in Virginia offer a beautiful mix of remote primitive campsites in undeveloped coastal areas and more traveled destinations, like those found near Virginia Beach. Here are some of the most interesting beach destinations in Virginia:
Chincoteague Island
Located near Assateague Island National Seashore, Chincoteague Island holds a special place in my heart. I grew up camping at this beach every summer! While you can camp on the Maryland side of the island at Assateague State Park, there is no camping on the Virginia side. We camped on Chincoteague Island in Virginia just across the bridge from Assateague.
Tent Camping: Yes
RV Camping: Yes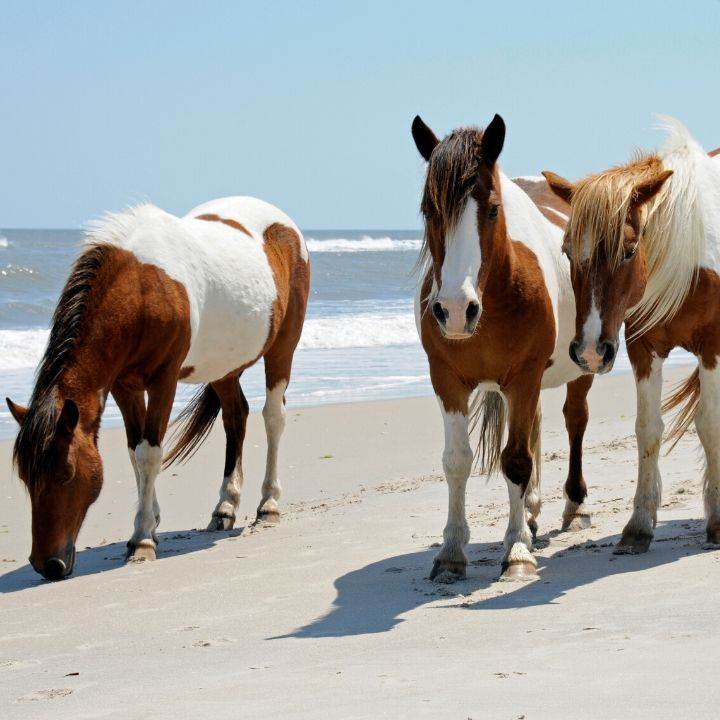 False Cape State Park
Located south of Virginia Beach, False Cape State Park offers a more rustic camping opportunity along the unspoiled Virginia coastline. To camp on this primitive tent campsite, you must arrive by foot, bicycle or boat by traveling through Back Bay National Wildlife Refuge. That's right–no car access! The journey is worth it though–False Cape attractions include wild ponies, awesome beachcombing, and a trail system for hikers and bikers through the local undeveloped maritime forests.
Tent Camping: Yes
RV Camping: No
First Landing State Park
Located near Virginia Beach, First Landing State Park offers 1.25 miles of beachfront, incredible 75-foot tall dunes and views of the entrance to the Chesapeake Bay. This campsite is conveniently located close to other Virginia Beach attractions, like the Virginia Aquarium & Marine Science Center and Cape Henry Lighthouse.
Tent Camping: Yes
RV Camping: Yes
Chippokes Plantation State Park
Located in Surry (south of Williamsburg), Chippokes Plantation State Park is a less crowded Virginia beach camping destination that looks out over James River. This is the perfect spot for beach campers that want a dose of historical charm. Nearby, you'll find historic Jameston, Colonial Williamsburg, and reportedly America's oldest continually working farm! Besides a beautiful beach, attractions also include an Olympic-sized swimming pool, hiking trails and a farm museum.
Tent Camping: Yes
RV Camping: Yes
Where will you go first?
No matter whether you prefer to camp in an RV or a tent, a beach campground is a great option for your next summer vacation. With this list, you now have plenty of beautiful U.S. beach destinations to choose from across Florida, Georgia, South Carolina, North Carolina, and Virginia. 
Looking for more U.S. beach vacation ideas? Check out these beach lists for more inspiration:
Is there another favorite destination I didn't include? Let me know in the comments below.