If apple cider and caramel vodka sounds like a tasty combination, here's a delicious and seasonal cocktail that's the ultimate fall drink. This recipe is perfect for the holidays, tailgating, or sipping around the fire any weekend.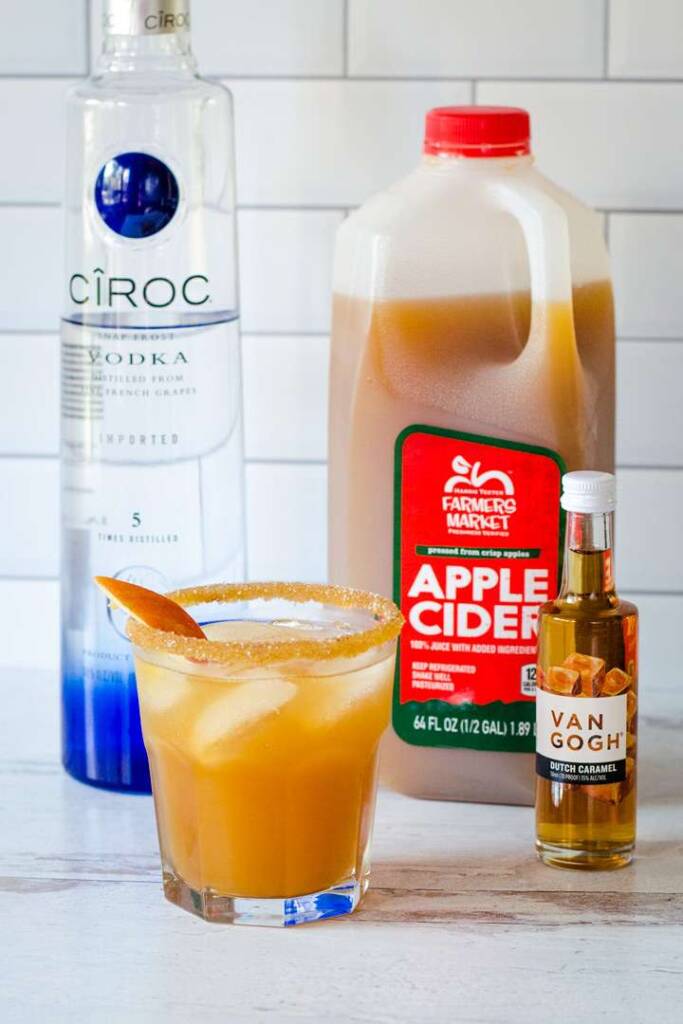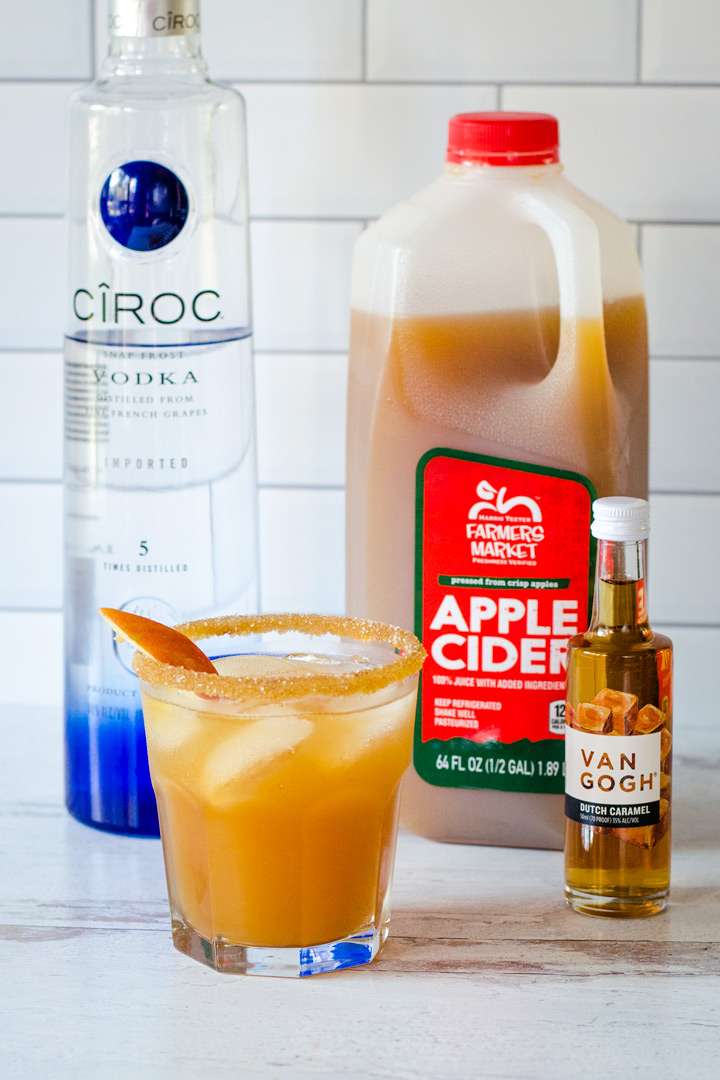 Love caramel apples? This drink has all the classic flavors in a caramel apple cider cocktail.
It couldn't be simpler to make and it's the perfect drink for all your favorite fall activities. You can even make a large pitcher (or thermos) full and take it along for tailgate parties, hayrides or bonfires.
Take advantage of apple season and try it as a Halloween treat for the adults while the kids are trick or treating. Serve it as your pre-Thanksgiving dinner cocktail or at the Christmas cookie exchange party.
Here's what you'll need
Caramel vodka – there are many options to choose from. I used Van Gogh Dutch Caramel Vodka, but Smirnoff, Effen and Stoli all make a salted version.
Vodka – you have a couple of options here. I use plain vodka to cut the sweetness of the caramel vodka and so you just get a hint of caramel in the vodka cocktail. But if you want to experiment, you can try vanilla, whipped cream or cinnamon vodka or just leave it out.
Fresh apple cider – it's the time of year that apples are in season, so look for fresh-pressed cider from your local farmers' market. If you're lucky enough to live near an apple farm, you might find different varieties of apple cider. (And don't forget to pick up some cider donuts too!)
Apple – a small red apple will make the best apple slices for garnish. Brush them with lemon juice to keep them from browning if your not using them right away.
Salted caramel sauce – adds caramel flavor accented by a touch of salt. You have a few different options here. I use a salted caramel topping ice cream topping, but you can use any sauce or syrup to rim your glass. If it's not already salted, add a pinch of fine sea salt to the sugar and spice mix.
Sugar and apple pie spice – this is as simple as a spoonful of sugar and sprinkle of apple pie spice mixed together on a plate. You can also use pumpkin spice or plain cinnamon sugar.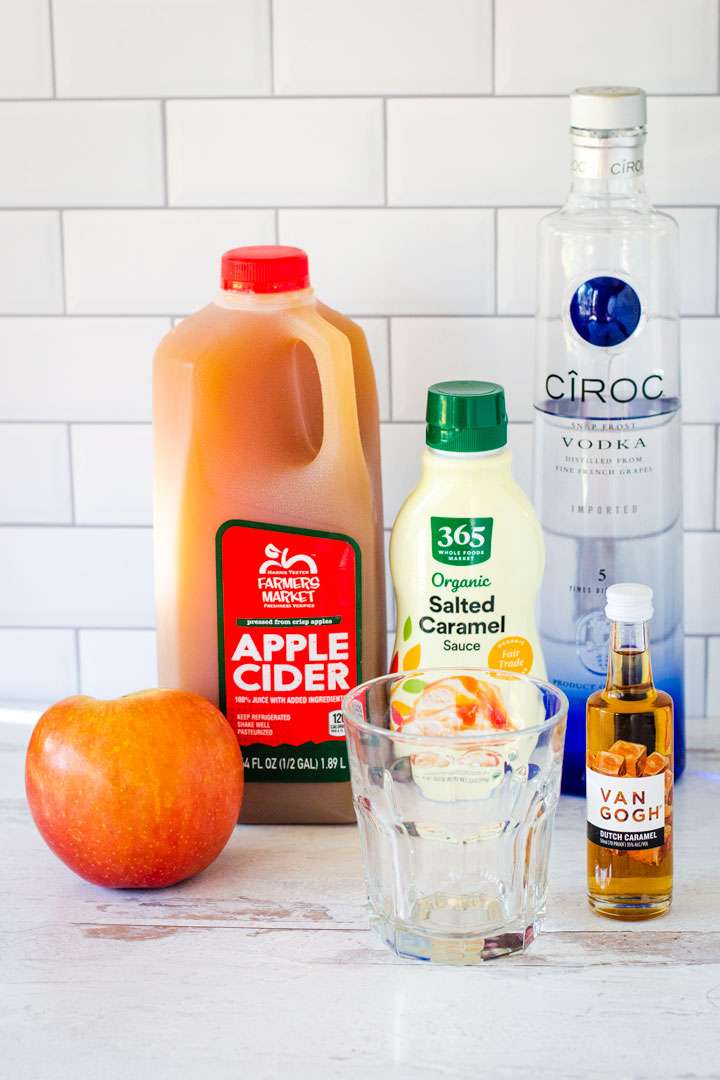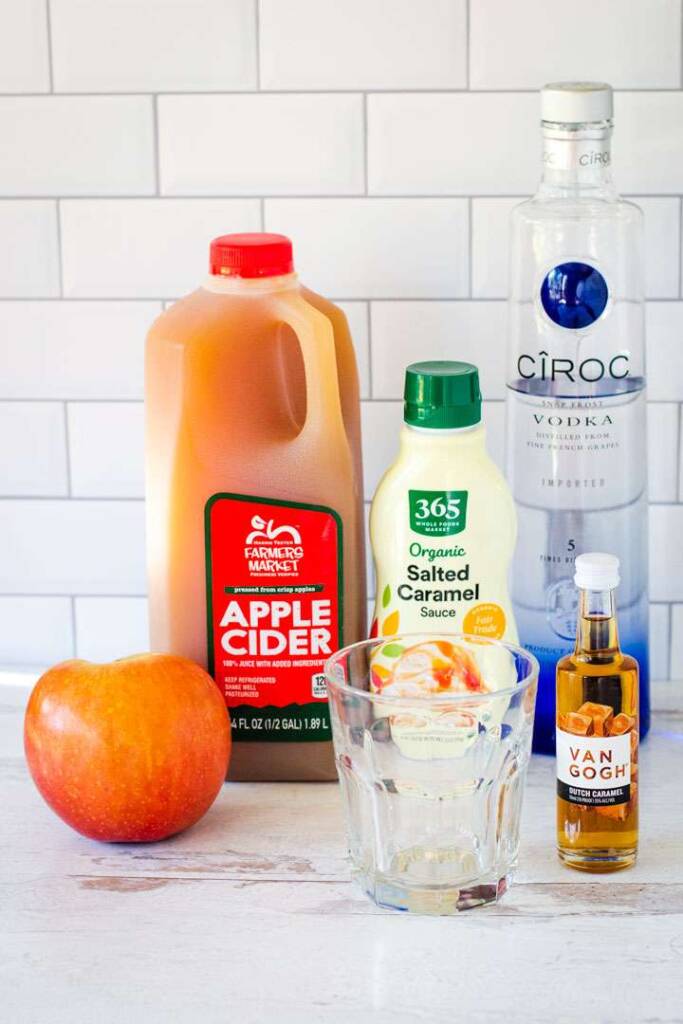 Bar Equipment
Double rocks glass – sometimes called a double old-fashioned or lowball glass is a short heavy glass that you can use for any cocktail served over ice. It's the perfect size for this drink.
Bar spoon – you can stir it with a regular spoon, but a long skinny cocktail spoon makes it easy to stir around the ice without disturbing the rim. Of course you can use a cocktail shaker and pour it over ice if you like, but it isn't necessary.
Mini measure shot glass – this clear shot glass with ounces marked on the side is the best for measuring cocktail ingredients.
How to Make It
Start by rimming your glass. Pour caramel sauce onto a small plate and mix the sugar and spices on another plate. Dip the rim of glass in the sauce, then in the sugar and spice mixture.
Fill glass with ice cubes. Pour caramel vodka, vodka and apple cider into the glass. Stir gently to blend.
Garnish with an apple slice or apple wedge on the side of the cocktail.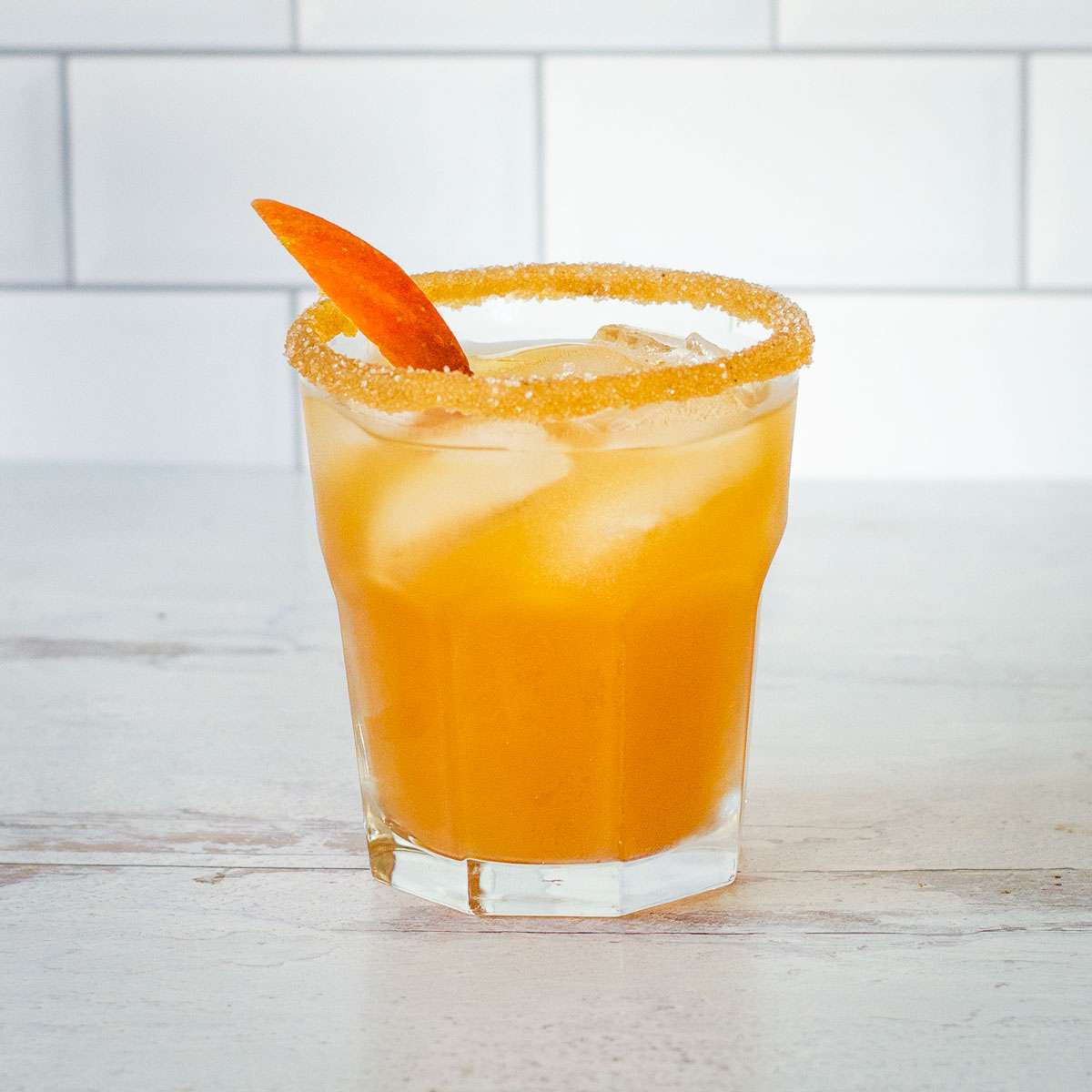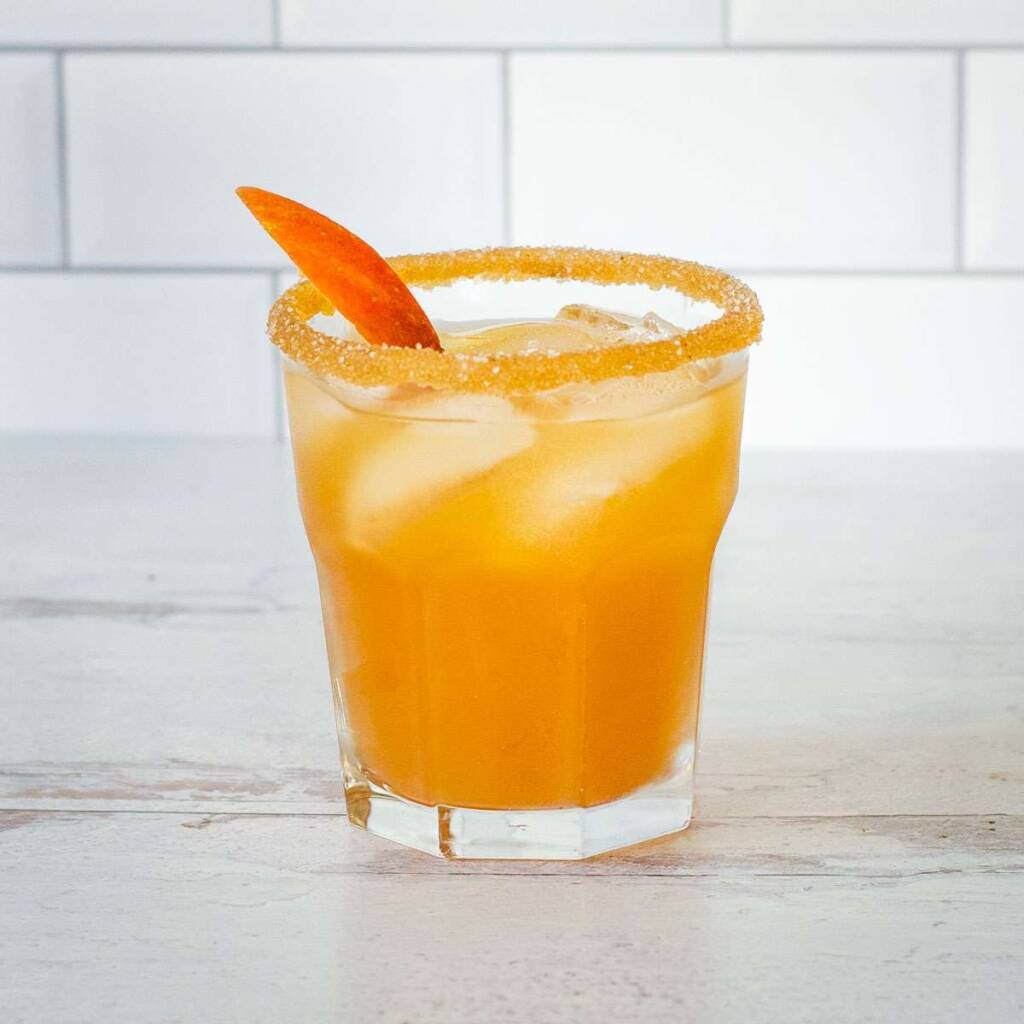 Variations
Warm caramel apple cider cocktail – heat the apple cider in a saucepan on the stove top. Add the vodkas to the individual glasses and garnish with cinnamon sticks.
Apple cider sangria – add Pinot Grigio and diced apples for the best easy fall sangria recipe.
Caramel apple martini – decrease the apple cider and add more plain vodka for a stronger cocktail.
Sparkling caramel vodka drink – top it off with champagne, prosecco or club soda.
However you make it, this is the perfect holiday cocktail!
More Festive Cocktails To Try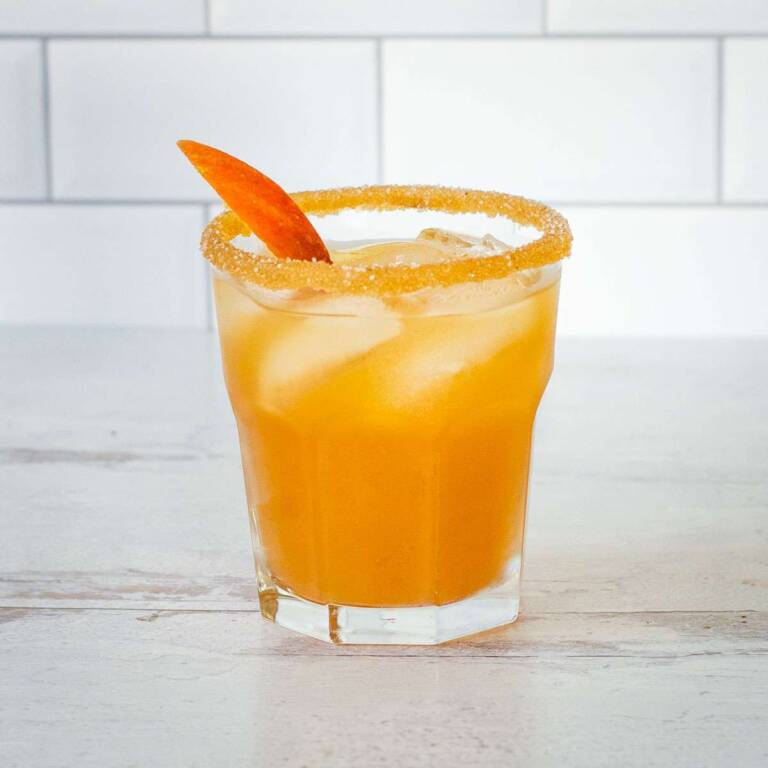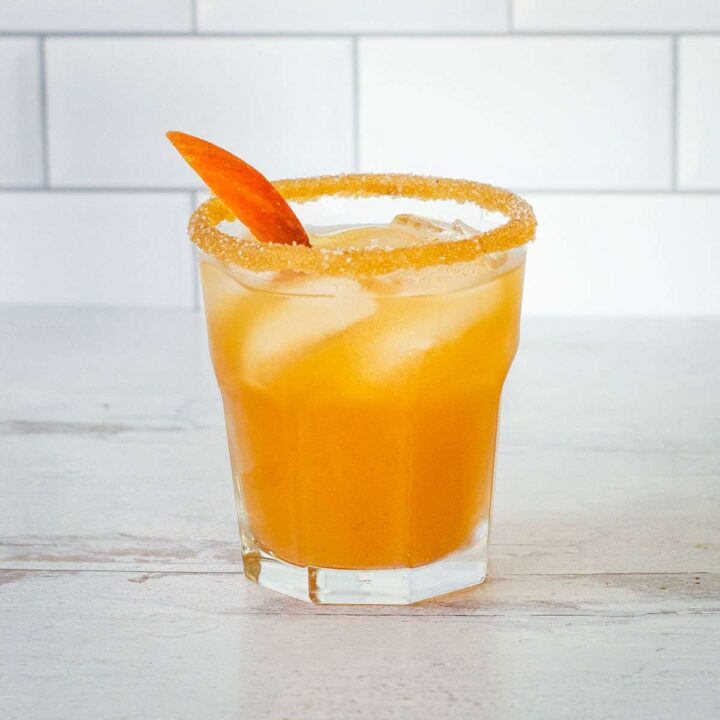 Caramel Vodka Apple Cider Cocktail
If you love fall apple picking and caramel apples, you have to try this easy and delicious caramel vodka apple cider cocktail!
Ingredients
ice cubes
1 ounce caramel vodka
½ ounce vodka
4 ounces apple cider
optional garnishes: apple slices, caramel syrup, sugar, apple pie spice
Instructions
Rim glass, if desired, by dipping in caramel sauce then in sanding sugar mixed with apple pie spice.
Fill glass with ice. Add vodka and apple cider. Stir to blend.
Garnish with apple slice and serve.
Recommended Products
As an Amazon Associate and member of other affiliate programs, I earn from qualifying purchases.