Here's a fun boozy birthday cake adult milkshake recipe to try! It's filled with the rich flavor of birthday cake batter (without cake mix), vanilla ice cream and rainbow sprinkles, and spiked with Baileys to make it a milkshake cocktail. And there's an easy non-alcoholic version too!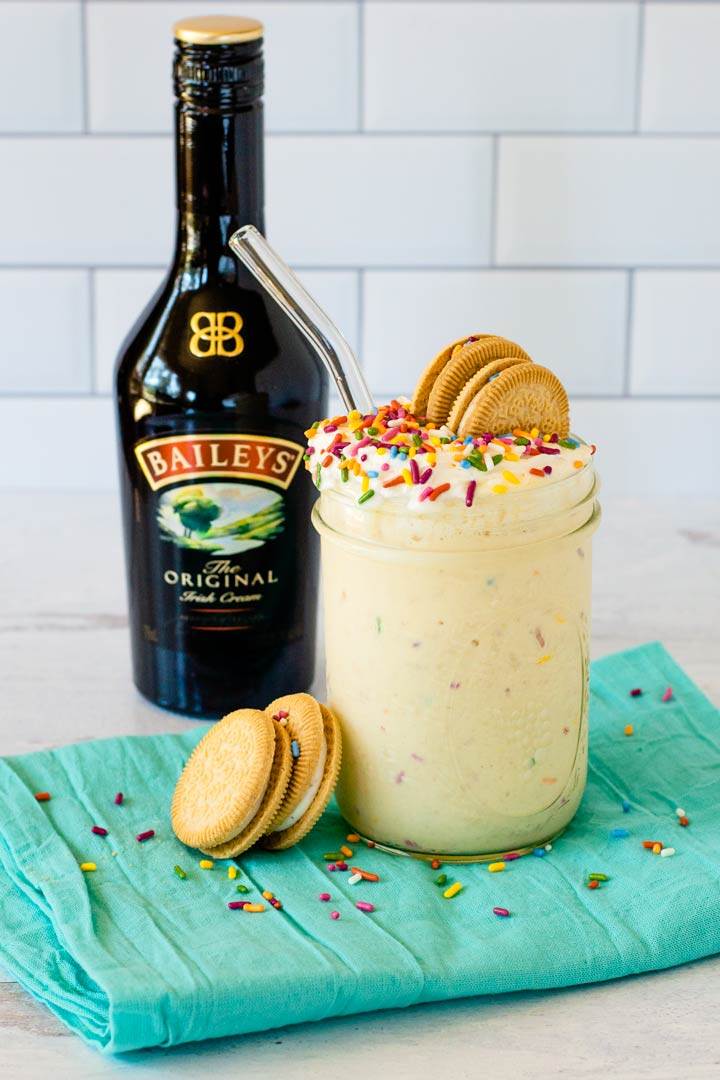 Need a fun dessert cocktail for a birthday or any day celebration? It doesn't get much better than this boozy birthday cake shake recipe! It's like a party in glass - a creamy milkshake with Baileys, cookie crumbles, and festive confetti sprinkles.
How do you make a cake batter milkshake without cake mix? That's where the birthday cake cookies come in! They have funfetti cake batter filling so they're an easy shortcut to get the cake batter flavor without using raw cake mix.
Here's what you'll need to make it
While some recipes for boozy milkshakes use vodka, this drink recipe substitutes Baileys in place of the milk for easy adult milkshakes. It's a quick and easy way to make boozy shakes. (You can make an alcoholic version of your favorite chocolate milkshake the same way by swapping out the milk for Irish cream liqueur and using chocolate ice cream or chocolate syrup.)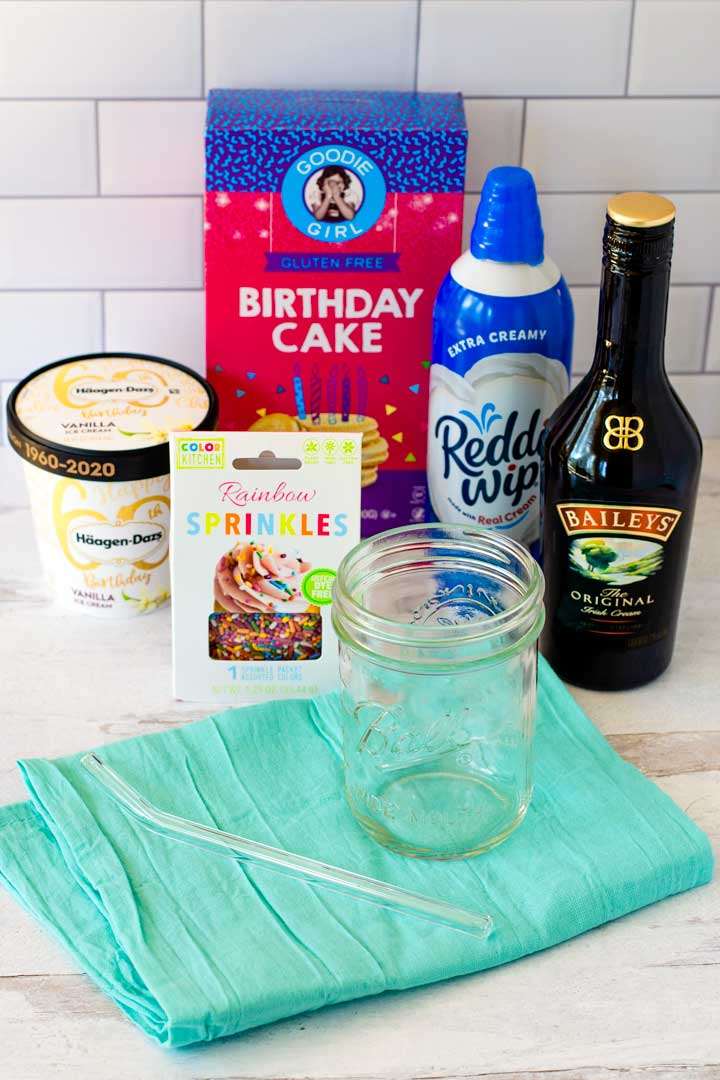 Bailey's Irish Cream – original Baileys works best for this drink since it lets the cake batter flavor shine through. A white chocolate liqueur would work here as well. Or you could try the new Baileys Deliciously Light Cream Liqueur that has 40% less sugar if you were looking to make it a little less sweet. Optional: want to kick it up another notch, add a shot of birthday cake or vanilla vodka.
Birthday cake cookies – I was so excited when I found these birthday cake cookies! They're vanilla sandwich cookies with cake batter flavored creme filling. They also happen to be gluten-free, but they taste like regular cookies.
Ice cream – vanilla ice cream is perfect in this homemade milkshake. Of course, if you love cake, you can use birthday cake ice cream.
Rainbow sprinkles – the more colorful, the better! I use these.
Whipped cream – whipped cream adds the final creamy decadent touch to this adult alcoholic milkshake.
How to make it
Here's how to make your birthday cake milkshake into a fun dessert drink:
Pour the Baileys into your blender container, then add the scoops of ice cream. Break the cookies into pieces and add them on top. Blend until smooth.
Add the rainbow sprinkles and pulse until just mixed in. You want to keep them as whole as possible so you can see the confetti colors through the glass.
Pour into a wide mouth mason jar or hurricane glass and top with whipped cream and more sprinkles
Ways to serve it
This is the perfect time to go crazy with the toppings. You can even set up a topping bar and let everyone customize their own boozy desserts.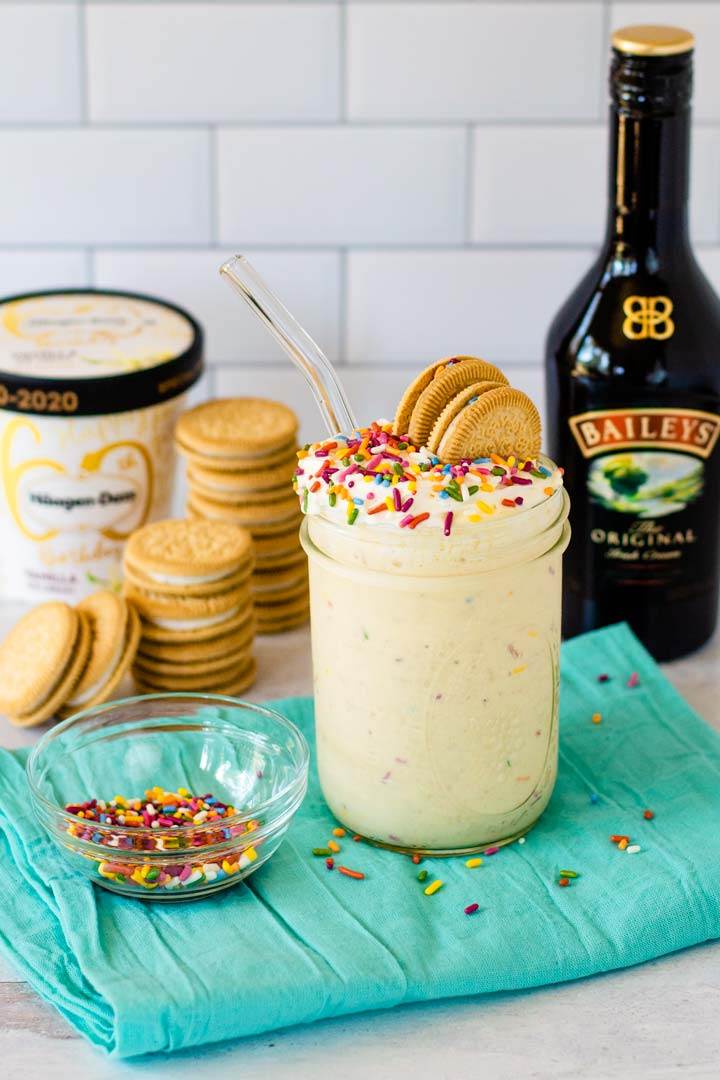 Here are some fun toppings to try:
Top it with a swirl of whipped cream
Go crazy with extra rainbow sprinkles
Garnish with extra birthday cake cookies (perfect for dunking!)
Add a maraschino cherry on top
Try mini funfetti cupcakes on the rim of the glass
Stack mini sprinkle doughnuts on the straw
Or add a slice of birthday cake over the top
And add a candle if you're celebrating
Serve it with a long iced tea spoon as well as a straw to make it easier to eat all the toppings. And be sure to use smoothie straws – they have a wider diameter for the cookies and sprinkles to fit through.
No matter how you make it, everyone will love this festive cake batter adult milkshake!
More dessert drink recipes with Baileys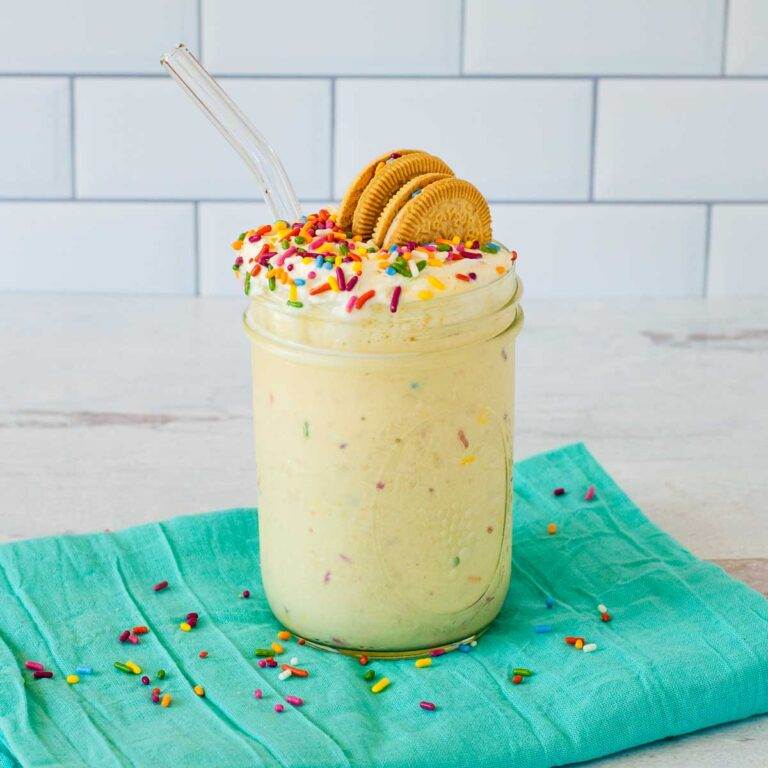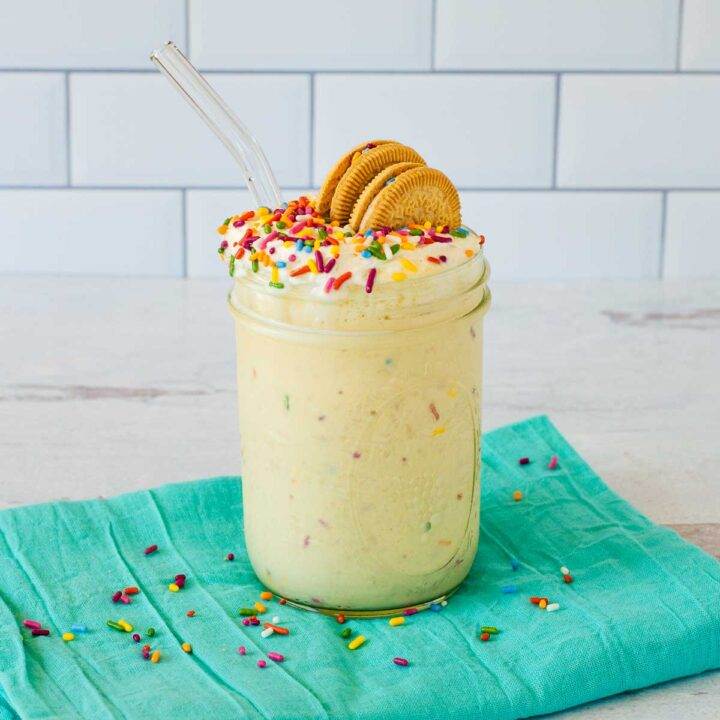 Boozy Birthday Cake Milkshake
This boozy birthday cake milkshake is an over the top celebration with Baileys, ice cream, birthday cake cookies, whipped cream and sprinkles!
Ingredients
¼ cup Baileys Irish Cream liqueur
2 cups of vanilla ice cream (1 pint) 
4 birthday cake sandwich cookies, plus more for topping
1 tablespoon rainbow sprinkles, plus more for topping
Whipped cream
Instructions
Add Baileys, ice cream, and cookies to a high-powered blender and blend until smooth. Add sprinkles and pulse until just blended
Pour into glasses and garnish with whipped cream, sprinkles and cookies.
Notes
For a non-alcoholic version, substitute whole milk for the Baileys.
Recommended Products
As an Amazon Associate and member of other affiliate programs, I earn from qualifying purchases.