If you love the combination of sweet and salty, you'll love this easy salted caramel martini with Baileys and vodka! With just a few ingredients and a drizzle of caramel sauce, you've got dessert in a glass.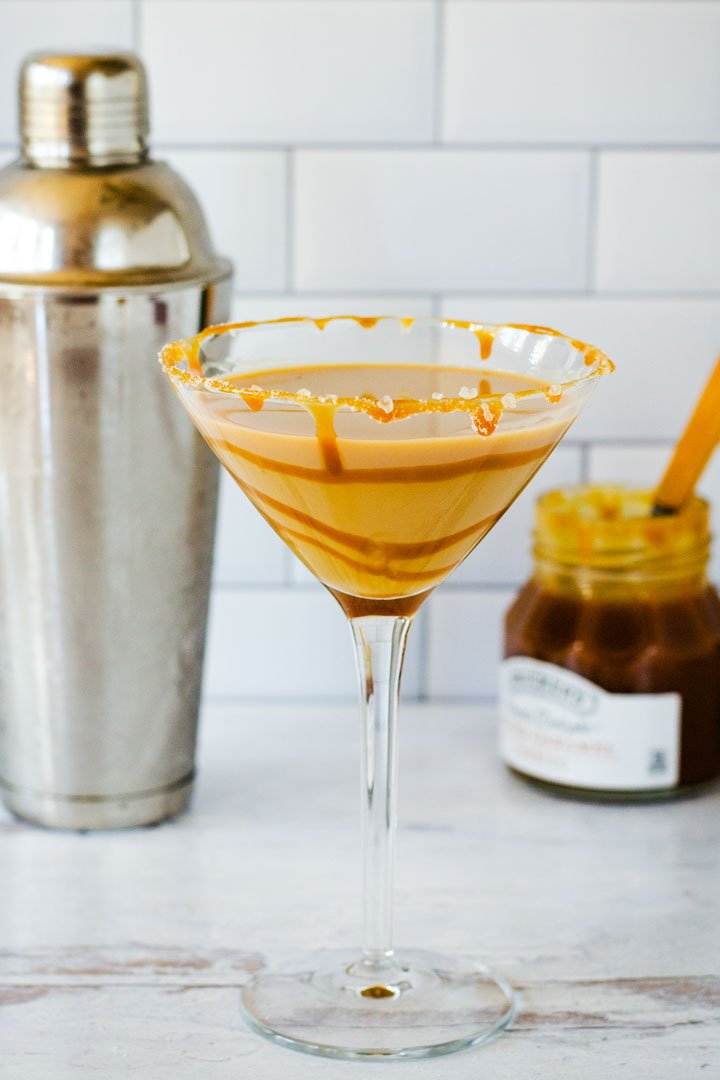 This salted caramel martini is so simple and so good. With just three basic ingredients, you have a sweet and salty cocktail. Drizzling it with extra caramel sauce makes it impressive enough for special occasions. It looks fancy but it's so easy!
This decadent cocktail is perfect for any time you want a fun dessert drink. It's the ultimate combination of sweet and salty with just enough vodka to let you know you're drinking a martini.
Here's what you'll need
This cocktail couldn't be easier. The combination of caramel, sea salt, and cream liqueur makes the decadent flavor of this indulgent dessert martini hard to resist.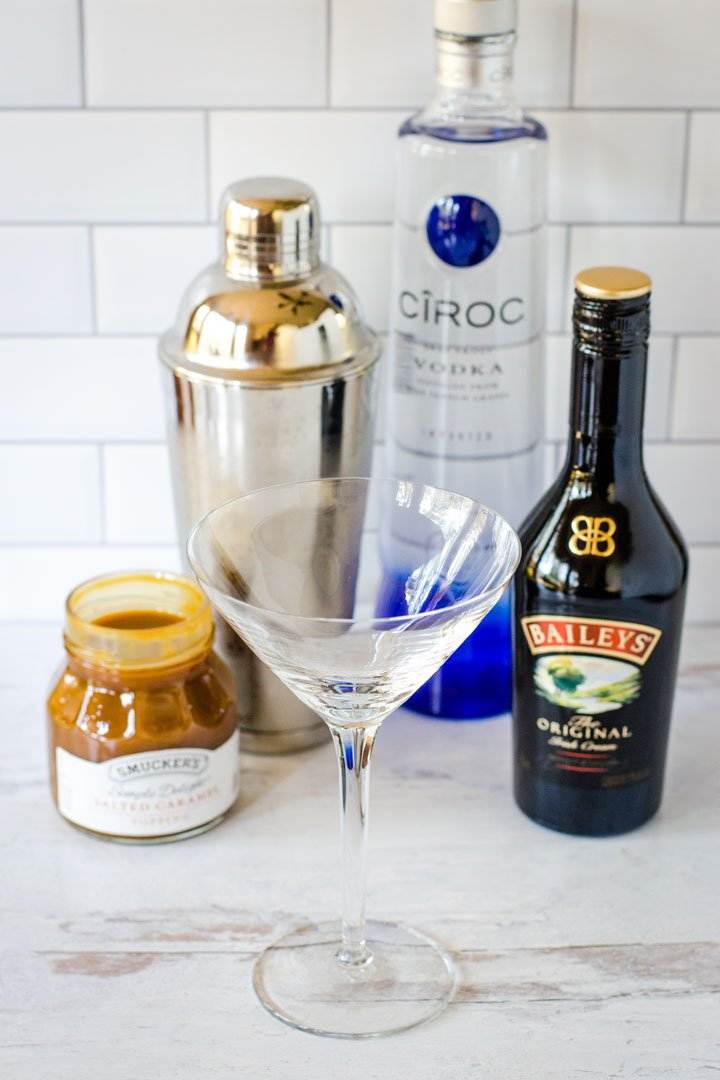 Here's what you'll need to make it:
Salted caramel sauce - salted caramel sauce adds caramel flavor accented by a touch of salt. You have a few different options here. I use this salted caramel topping, but you can use any sauce or caramel syrup to add flavor to your drink. If it's not already salted, add a pinch of fine sea salt (so it will dissolve easily) to the shaker.
You can also make your own homemade caramel sauce. To make it from scratch, just cook and stir sugar, butter, heavy cream, and salt together until it's caramelized.
Baileys Irish Cream - Irish cream liqueur is made from sweet cream and Irish whiskey. It adds the sweetness and creaminess of the drink. You can use original Baileys or the salted caramel flavor. Or you can use the almond milk version if you prefer.
Vodka - I tend to use plain vodka for cocktail recipes because that's what I usually have at home. But there are so many options that would work here. You can use vanilla or caramel flavored vodka, or experiment with other flavors that would go with this sweet creamy drink.
Cream - this is completely optional depending on how sweet and how strong you want your martini. Adding unsweetened cream will tone down the sweetness and the alcohol. It also makes it even creamier. You can use whole milk, half and half, or heavy cream depending on what you have on hand.
How to make it
Once you have all the ingredients, just shake everything together with ice cubes in a cocktail shaker so it's extra cold and slightly frothy.
Pro tip: if you use a thick caramel, like the topping, dissolve it in the vodka before adding it to the cocktail shaker so it's easier to mix.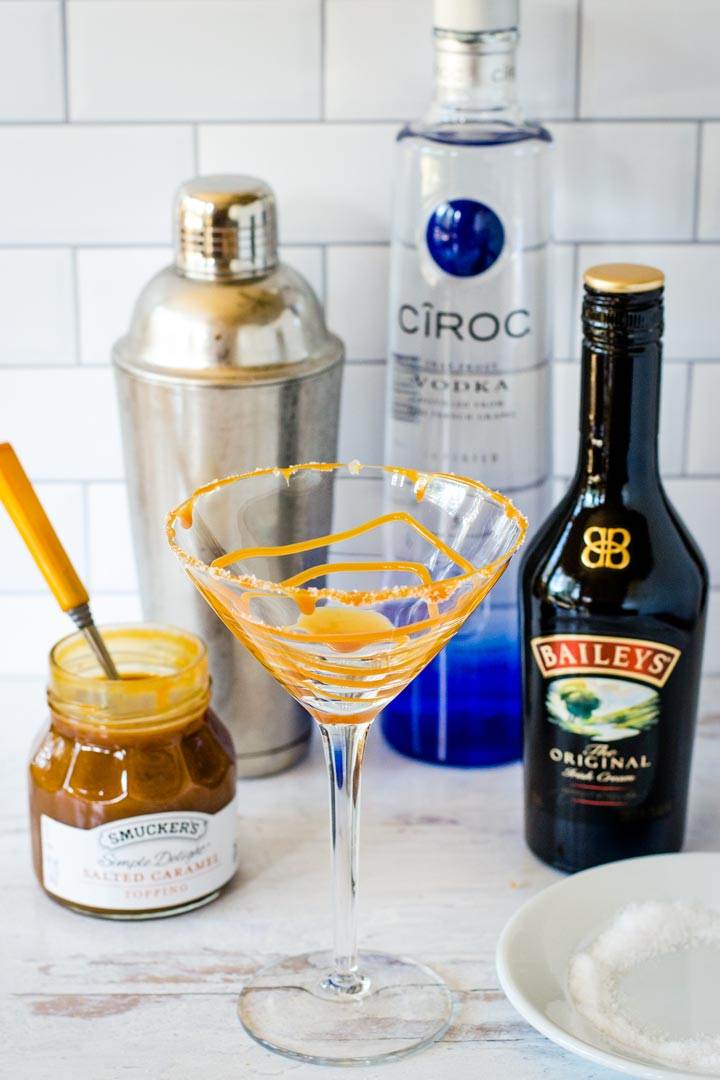 How to serve it up
This is the perfect drink to serve in a decorated glass. To rim the glass, pour a little caramel sauce onto a flat plate and run the rim through it. Or if your sauce is extra thick use the back of a spoon to spread the caramel on the edge of the glass. Then dip the rim into a plate of coarse salt.
To add the caramel inside the glass, swirl it in a spiral starting at the bottom of the glass and working your way up to the top. If your sauce is not in a squeeze bottle, dip a fork in it and drizzle it around the glass.
Variations
Starting with the basic ingredients of caramel, cream liqueur, and vodka, you can change up the recipe to make several different variations on this sweet martini.
Love caramel apples? Use apple-flavored vodka to make a salted caramel apple martini.
Prefer rum? Use creamy RumChata instead of Irish cream.
Want a chocolate version? Swap Godiva chocolate liqueur for all or part of the Baileys to make a salted caramel chocolate martini.
Love a caramel macchiato? Add a shot of espresso or swap Kahlua for part of the vodka for a coffee-infused version.
Can't decide? Combine the chocolate and coffee versions for a salted caramel mocha.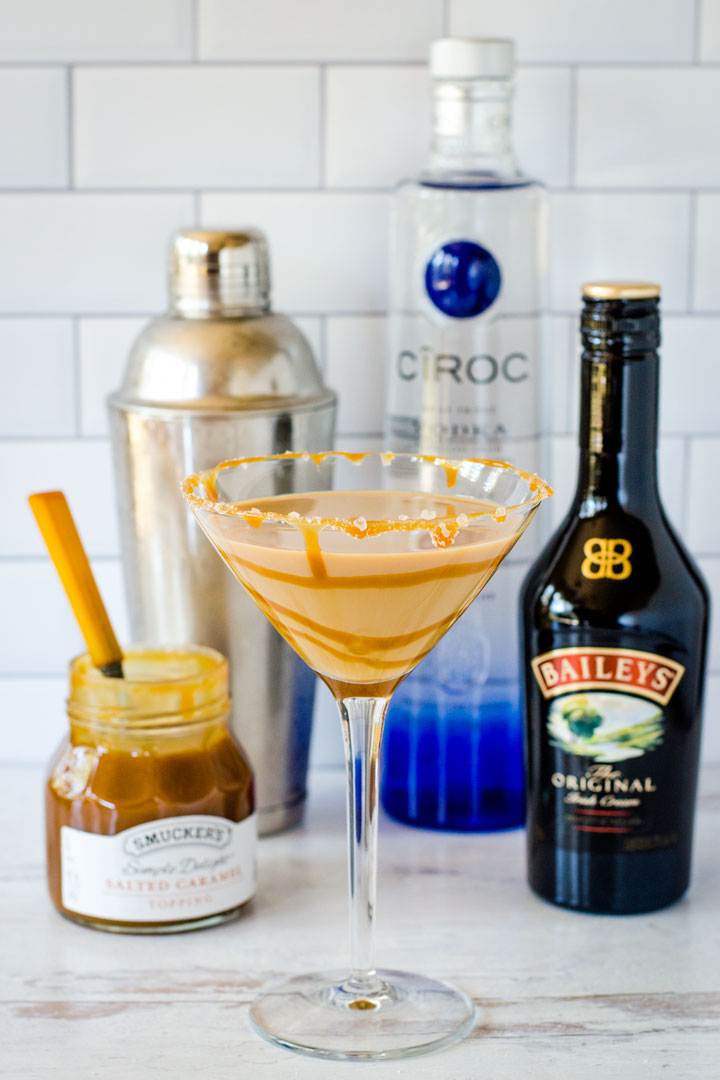 However you make it, you will love this sweet and salty martini!
More easy cocktail recipes to try
Looking for more drinks with the classic taste of the Irish cream? Give these a try!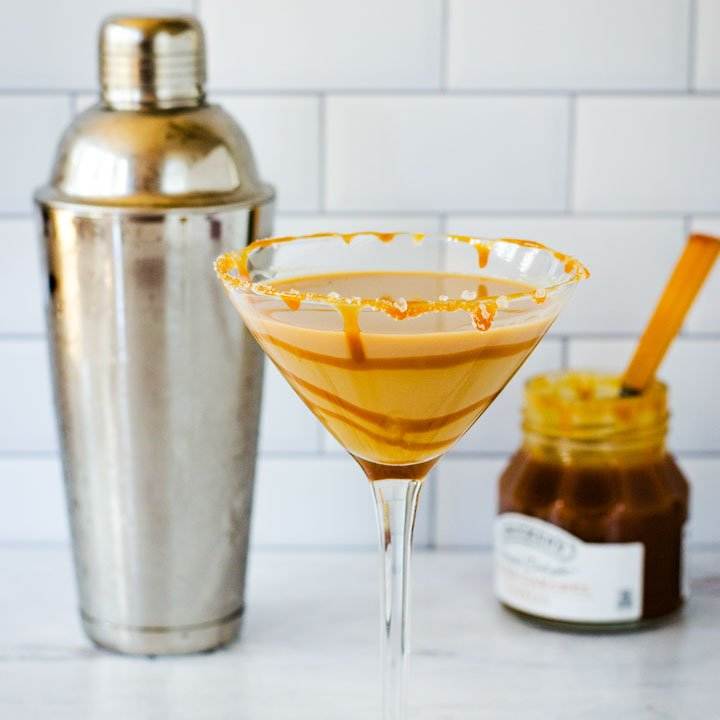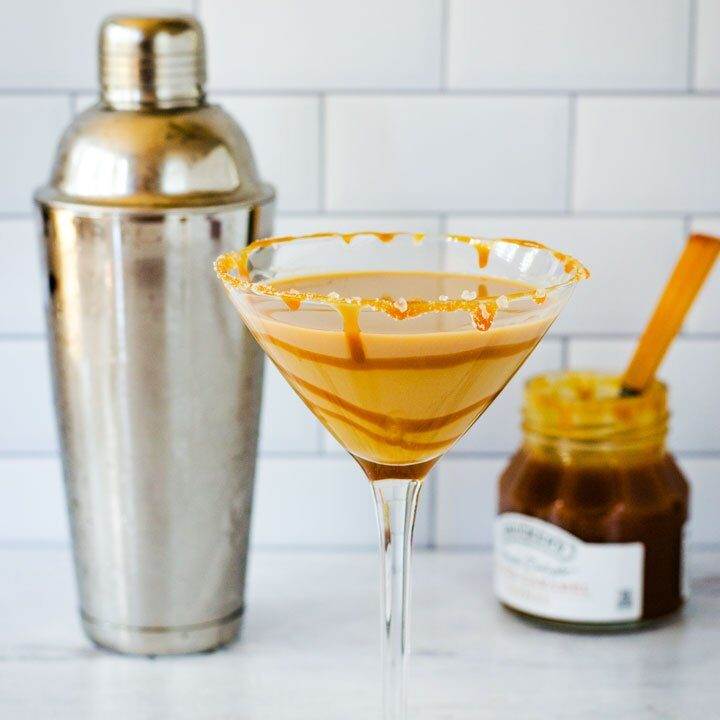 Salted Caramel Martini
This salted caramel martini with creamy taste of Baileys Irish Cream is pure sweet indulgence.
Ingredients
ice cubes
2-½ ounces Baileys Irish Cream liqueur
1-½ ounces vodka
1 tablespoon salted caramel syrup, sauce, or topping, plus more for decorating glass
splash of heavy cream or half and half  (optional)
coarse sea salt to rim glass
Instructions
If desired, dip the rim of the martini glass into a flat dish of caramel and then dip in sea salt. Drizzle caramel on the inside of the glass.
Add ice, Baileys, vodka, caramel, and cream if using to a cocktail shaker.
Shake until blended. Then strain into the prepared glass.
Notes
If your caramel sauce is very thick, dissolve it in the vodka before adding it to the cocktail shaker.
Recommended Products
As an Amazon Associate and member of other affiliate programs, I earn from qualifying purchases.