Go beyond the bird this year with these holiday-inspired seafood Thanksgiving recipes. This collection of appetizers, sides and entrees include deliciousness such as crab, salmon, fish, oysters, shrimp and more for your dinner table.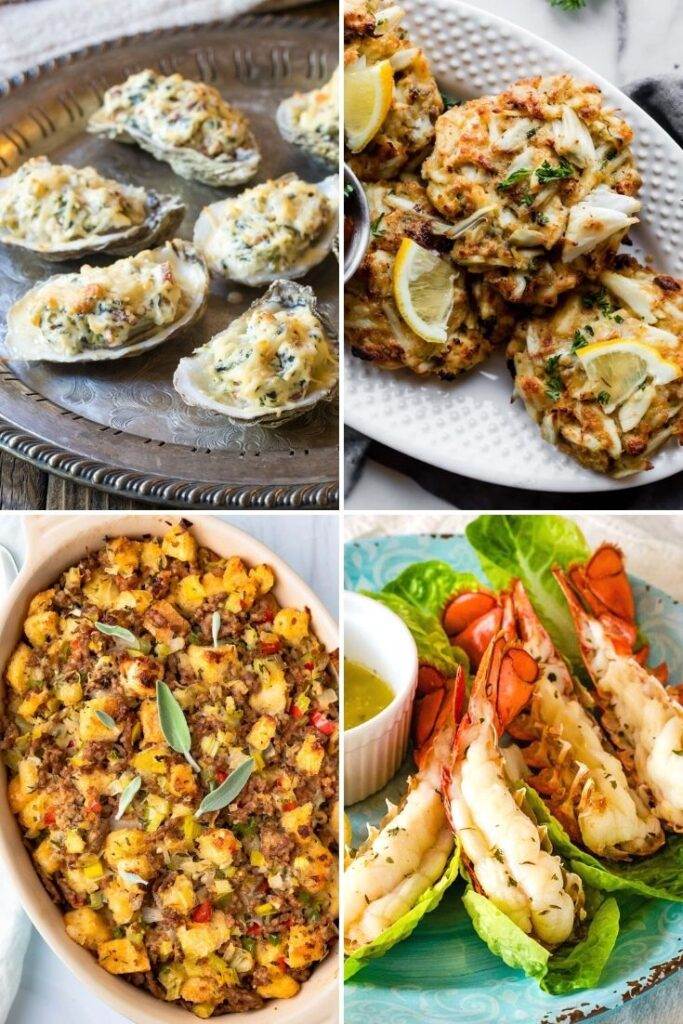 Seafood pairs beautifully with more traditional Thanksgiving turkey and side dishes, so there's no reason to not incorporate a few fresh and flavorful fish recipes into your holiday celebration. These ideas will help you build your menu around one or more of your favorite ocean-harvested foods.
You don't need to live on the coast to enjoy fresh seafood; you'll find plenty of options at your local grocery store behind the fish counter. All you need to do is make your selection, bring it home and prepare it for the big day.
From stuffing to chowder and from whole fish to shellfish, you'll find recipes to complement, or even replace, the traditional roast turkey on your Thanksgiving table. And plenty of ideas for creating a holiday feast of seafood delights for guests, friends and family.
Thanksgiving seafood recipe ideas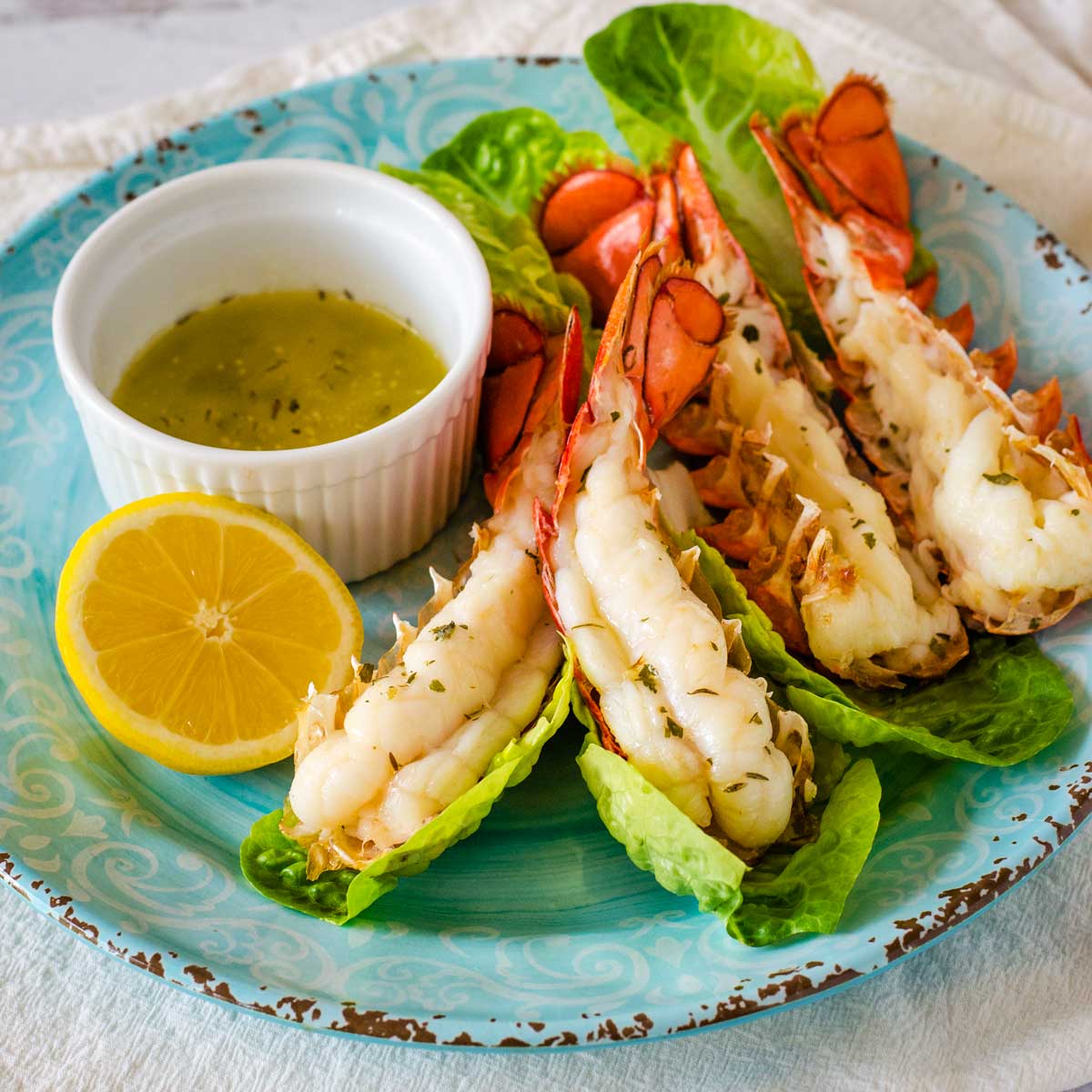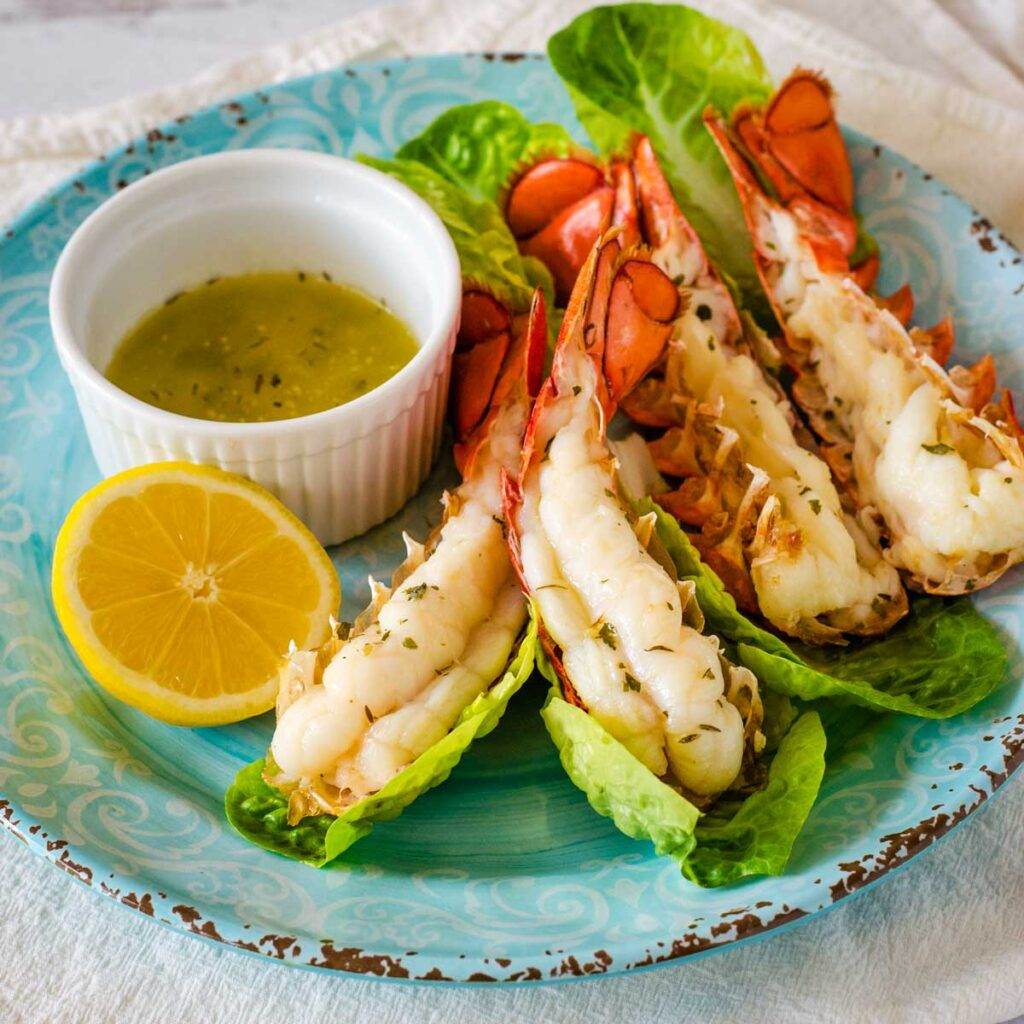 Easy Lobster Tails
These easy split lobster tails are a delicious seafood starter (or additional main dish). They cook in just a few minutes in the air fryer so you can save space in the oven. Or you can broil them or cook them on the grill.
Serve them up with the delicious herb butter for a fantastic start to your holiday dinner.
Recipe by Coastal Wandering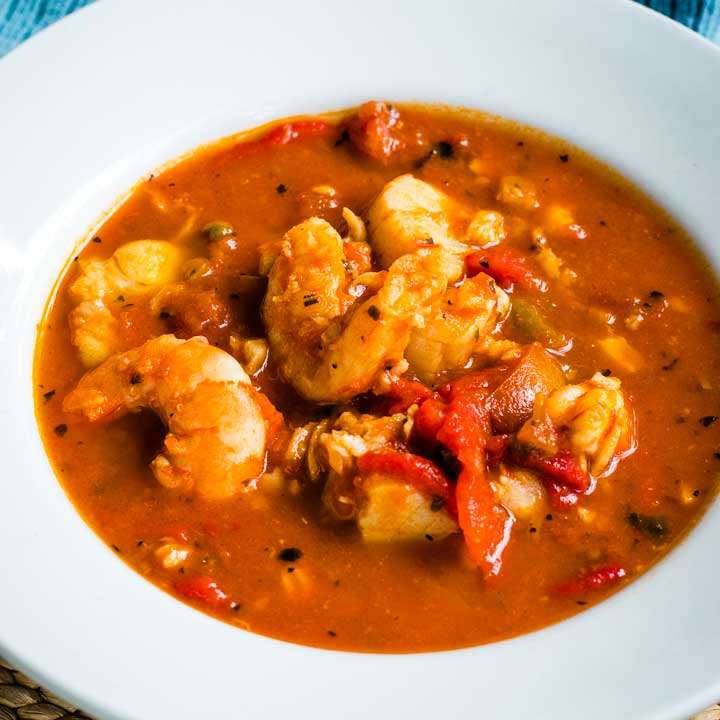 Easy Cioppino Seafood Stew
This stew is a seafood feast during the holidays. It's a real crowd pleaser and couldn't be easier to make. For this simple recipe just pour the broth ingredients into a big pot, add your choice of shrimp, fish and shellfish, stir and simmer until the seafood is cooked through.
It will delight every seafood lover in your family!
Recipe by Coastal Wandering
Maryland Crab Cakes
Full of lump crab meat and just enough spices to enhance the flavor, these baked crab cakes are always a crowd pleaser. Make these cakes ahead of time and let them chill before baking, which will help them maintain their form.
Serve these easy crab cakes with a squeeze of lemon or your favorite sauce.
Recipe by Sally's Baking Addiction
Crab Cakes with Avocado-Wasabi Sauce
Give fresh crab cakes an Asian twist with this no-mayo mixture that includes shallots, ginger, garlic, sriracha, panko bread crumbs and coconut milk. Bake these lump crab patties to golden perfection while you make the avocado, tofu and wasabi sauce.
They make an easy crab cake appetizer or main course.
Recipe by Love And Lemons
Creamy Shrimp Scampi Dip
Using either fresh or frozen shrimp, this cheesy and garlicky hot dip is always a crowd pleaser. You can even assemble it ahead of time and pop it in the oven when you're ready.
Butter, garlic and lemon add the classic flavor profile while sour cream, mozzarella, and parmesan add cheesy goodness to this appetizing dip. Serve with crostini, crackers, or pita chips.
Recipe by Lemon Blossoms
Cold Crab Dip
Have this chilled crab mixture as the center dip on a crudités platter, complete with crackers and bread, too. Horseradish and garlic give this delicious lump crab and cream cheese dip a zesty flavor boost that's irresistible.
Make it ahead of time so it's well chilled when it's time to serve.
Recipe by Wonky Wonderful
Crab and Bacon Stuffed Mushrooms
Mushroom caps are stuffed with a crab meat, bacon, cream cheese and shredded cheese mixture before their session in the oven. This low carb seafood appetizer will help set the tone for a savory holiday dinner.
Recipe by Maebells
Three Cheese Baked Oysters
Oysters are delightful on their own, but add three cheeses, garlic, spinach plus a little bacon and you've got one of the best oyster recipes.
These oysters on the half shell are covered with this delectable mixture before being baked for ten minutes, just enough to melt the cheese and leave the oyster underneath plump and delicious. Makes an awesome appetizer!
Recipe by A Spicy Perspective
Savannah Seafood Stuffing
Fill that savory breaded casserole known as seafood dressing in Savannah with shrimp and crab for a delight this Thanksgiving. It's one of the tastiest stuffing recipes!
An herb and cornbread stuffing mix gets up-leveled with thyme and spicy seasonings for a zesty boost of flavor. Onion, celery, red pepper and broth round out this easy recipe that's always a holiday season favorite.
Recipe by Spicy Southern Kitchen
Cajun Sausage And Oyster Stuffing
Spice it up your traditional Thanksgiving dinner with this cayenne, sausage and oyster stuffing that adds a cajun-inspired kick to the flavor. Start in advance, cube the bread, let it dry out overnight before cooking, and add the rest of the ingredients to the mixture the next day.
Transfer the oyster dressing to a pretty baking dish and dot the top of the casserole with cubes of butter. Bake until golden brown and serve to rave reviews!
Recipe by Garlic And Zest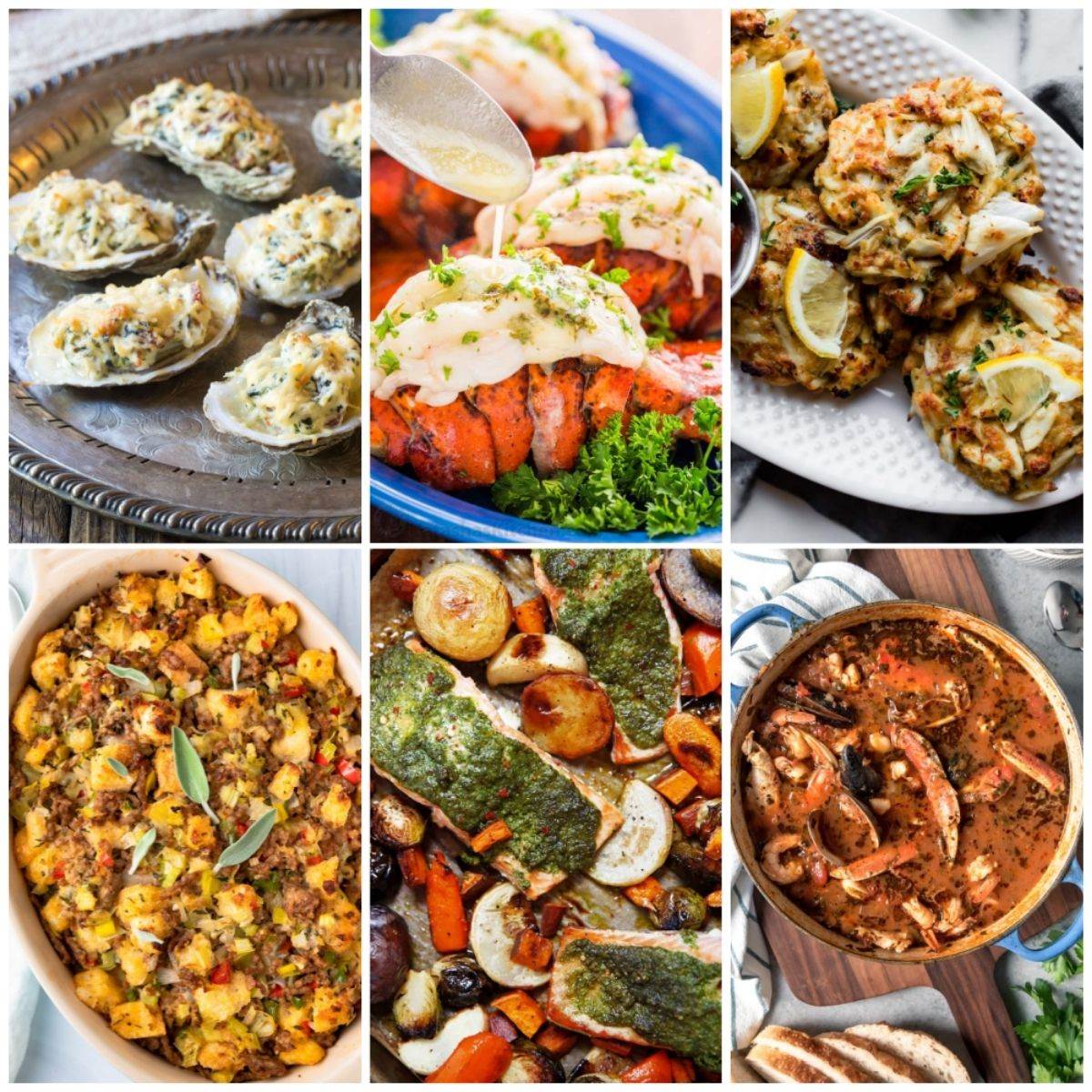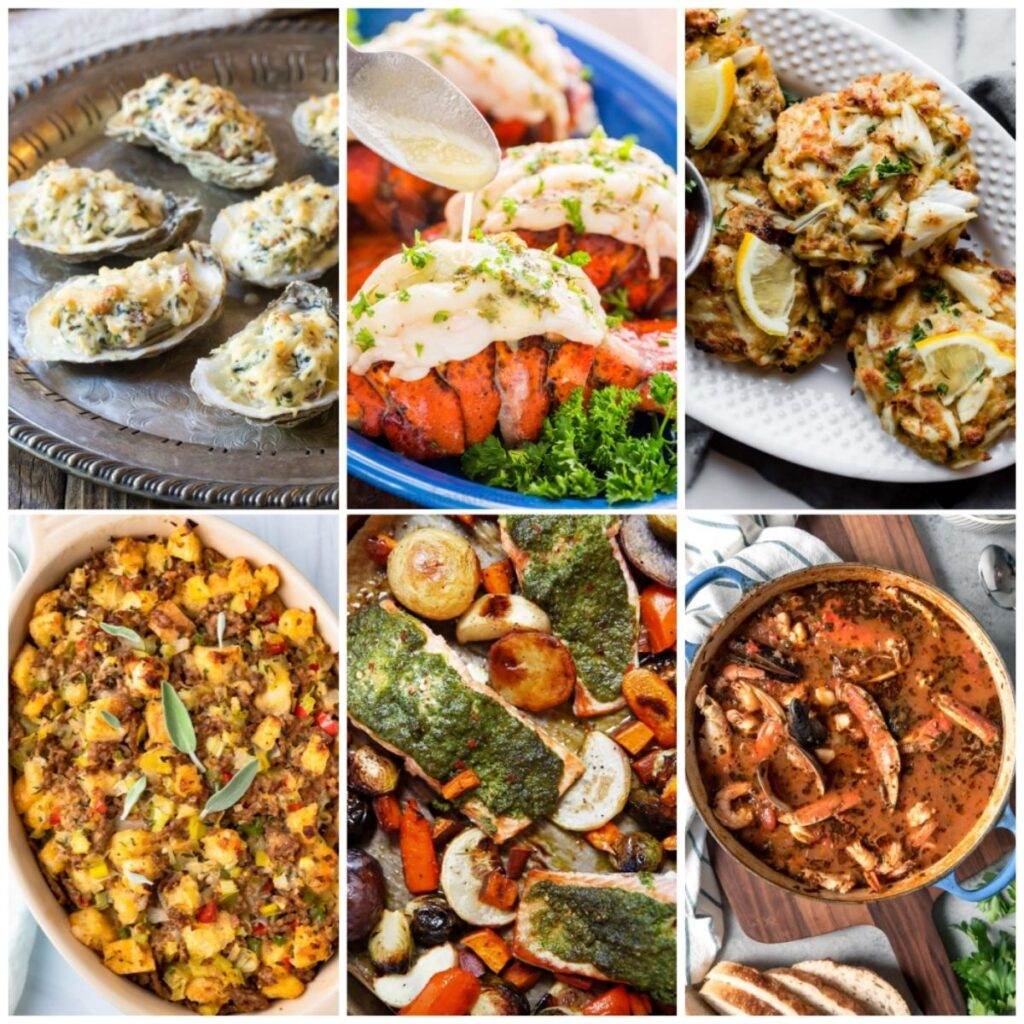 Crab Topped Salmon
Looking for salmon recipes for your holiday meal? This feast of a seafood dish consists of flaky and buttery salmon fillet topped with a crunchy and golden deconstructed crab cake mixture. Assemble and bake this gourmet meal in as little as 30 minutes.
It's a swoon-worthy offering that's perfect for a holiday event.
Recipe by How Sweet Eats
Sheet Pan Salmon with Sage Pesto and Root Vegetables
You'll love this harvest and seafood meal prepared on a sheet pan. Toss Brussels sprouts, carrots, beets, white potatoes and sweet potatoes in a little olive oil and add to a sheet pan.
The veggies get a head start in the oven before you add the salmon and homemade sage pesto topping. Return to the oven and wait for this magnificent meal to fully bake.
Recipe by Lexi's Clean Kitchen
Roasted Mustard Seed White Fish With Potato And Brussel Sprout Hash
A fish entree and tasty side of vegetables is made easy with this sheet pan meal. Thinly sliced potatoes, shallots, and Brussels sprouts are tossed in olive oil and seasonings to roast along with white fish in a spicy mustard seed marinade. Simply delicious!
Recipe by Feasting At Home
New England Clam Chowder
Warm and creamy, this clam chowder is the ultimate homemade comfort food that's perfect to serve for a cozy family Thanksgiving. Tender potatoes, salty bacon and seasonings join clams in this easy and crowd-pleasing chowder.
Recipe by Brown Eyed Baker
San Francisco Cioppino
Serve this stew served with sourdough bread which you'll want to have on hand for dipping in the savory broth. Fill the fish stock and tomato-based broth with fresh clams, crabs in the shell, shrimp, scallops, cod, and mussels and let it simmer to delicious perfection.
Recipe by House Of Nash Eats
Avocado Shrimp Cucumber Appetizer
This tasty low carb shrimp appetizer takes just minutes to make! Marinate fresh shrimp in a spicy garlic, cayenne, lemon and olive oil mixture before cooking on the grill or in a skillet. Slice the cucumbers, top with seasoned mashed avocado and a cooked shrimp.
Recipe by Yummy Healthy Easy
Easy Shrimp Ceviche
Sweet and savory, this no-cook shrimp and mango appetizer is a great dish to start your holiday celebration. The acid from the juice of fresh squeezed lemon, limes and oranges "cooks" the shrimp.
Add in avocado, red bell pepper, red onion, jalapeño and cilantro for a scrumptious appetizer.
Recipe by Flavor The Moments
Whole Baked Fish
Baking whole fish with citrus and herbs is a great way to achieve a juicy and tender-fleshed meal. It's perfect for serving at the holidays, too, since it looks as impressive as it tastes!
This whole snapper is stuffed with garlic, sliced lemon, parsley, and dill before being baked. Serve with the homemade garlic and dill butter sauce and a side of rice for the ultimate taste experience.
Recipe by Recipe Tin Eats
Grilled Whole Fish With Italian Bread Salad
Fire up your grill for this amazingly easy and quick whole fish sea bass entree. Crushed garlic and olive oil season the fish along with lemon slices tucked inside. Grill for about 5 minutes per side.
A medley of vegetables such as tomatoes, onion, bell peppers, garlic and asparagus are tossed with olive oil and grilled to tender perfection. Add them to a large bowl of cubed sourdough or french bread pieces for a delightful side salad. Simple and outrageously tasty!
Recipe by Happy Foods Tube
Sweet And Sour Whole Fish
Sweet and sour flavorings make this whole fish dish a wonderful entree for the holidays. Perfect for snapper, sea bass, grouper, barramundi, or trout, fry the whole fish twice for extra crispiness.
Top it with the amazing homemade sweet and sour sauce mixed with fried garlic, onion, bell peppers, tomatoes, and pineapple chunks. Plate up this extravaganza for a savory fish entree.
Recipe by Food Delicacy
Broiled Lobster Tails
You're just ten minutes away from tender lobster meat with this broiler method. You'll butterfly the lobster tails and add a garlic, dijon, lemon and butter marinade to them while they broil.
The result? Juicy and flavorful lobster meat that's perfect for a holiday dinner.
Recipe by Natasha's Kitchen
Seafood Lasagna
Layered between tender lasagna noodles and a garlicky, cheesy white sauce is a delectable array of seafood. A seasoned mixture of shrimp, scallops, and crab meat make this a delightful casserole to serve for friends and family.
Recipe by In Good Flavor
And don't forget to end your meal with a sweet treat. This pumpkin cheesecake dip is the perfect after Thanksgiving dinner dessert dip.