This key lime pie martini recipe has all the flavors of the famous Florida pie. It's a sweet-tart creamy key lime drink that even has a graham cracker crust.
If key lime pie is one of your favorite desserts, you will love this easy key lime martini!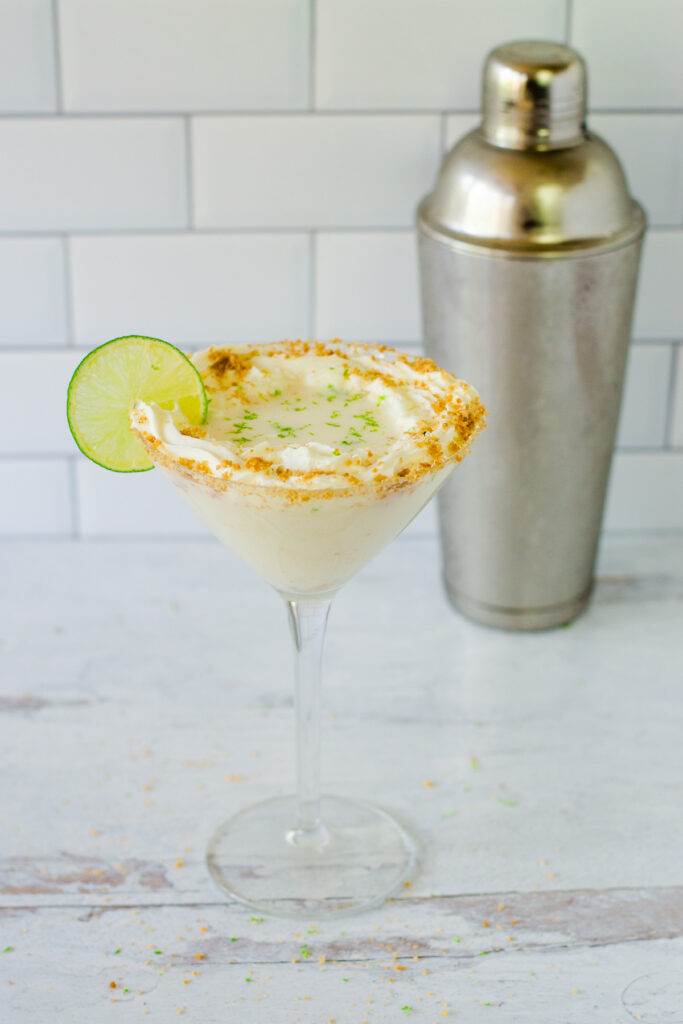 You can't visit Florida without having a slice of key lime pie. In fact, I think this classic dessert is on just about every restaurant menu in the state from the Florida Keys to St. Petersburg!
This key lime pie martini recipe translates all the flavors of key lime pie into an easy and delicious dessert cocktail.
What's in key lime pie?
This favorite pie from the Sunshine State uses key lime juice, zest and just hand full of ingredients to make the trademark key lime filling. The custard filling is made from fresh key lime juice, sweetened condensed milk, and eggs. It's baked in a buttery crust made with crushed graham crackers and topped with whipped heavy cream.
Key limes vs limes
What's the difference between a key lime and regular limes? The type of lime you're most likely to find at grocery stores is Persian lime. They're medium-sized and dark green in color.
Key limes are much smaller and more yellow than the Persian variety. You'll have to juice a lot more citrus fruit to get the same amount of juice. And The flavor is more floral and slightly less tart than regular lime juice.
Here's what you'll need to make it
For this key lime pie martini recipe, you'll need a just few key ingredients to recreate the classic creamy tart flavor of key lime pie. And we're going to take a couple of easy shortcuts so don't worry if you can't find key limes!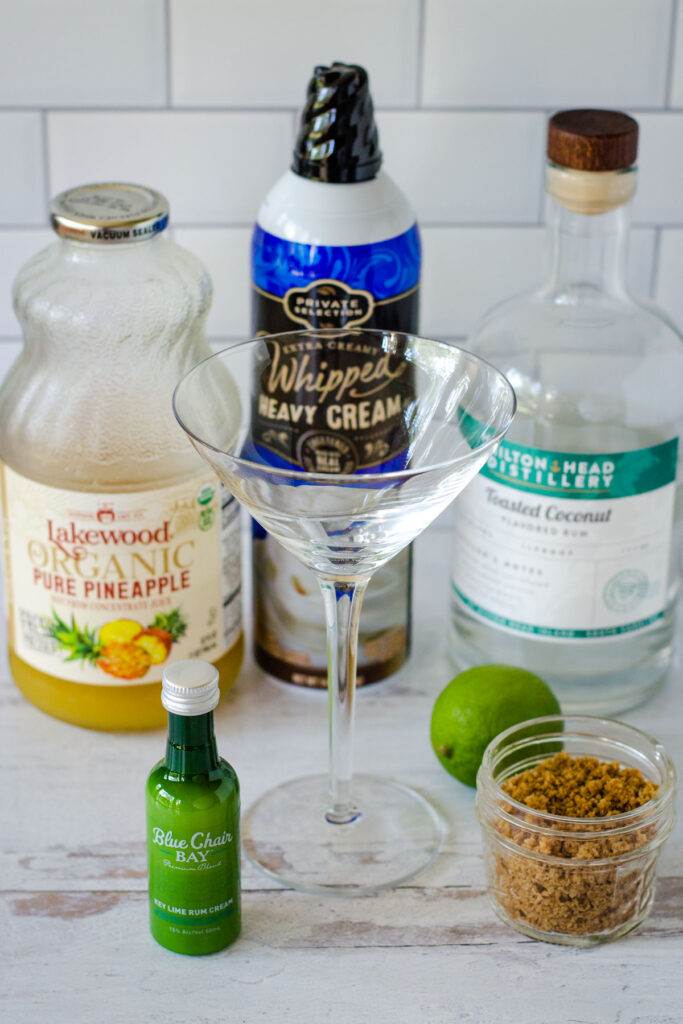 Cocktail ingredients
Key Lime Rum Cream – this key lime liqueur from Blue Chair Bay is the secret ingredient for this martini. It adds the key lime flavor so you don't have to worry about finding key limes or key lime juice. It also adds sweetness (no need to make simple syrup!) and creaminess to the drink.
Toasted Coconut Rum – the hints of toasted coconut and vanilla enhance the graham cracker crust flavor. You can also substitute vanilla rum or vanilla liqueur.
Lime juice - a little fresh squeezed lime juice intensifies the lime flavor. You can use key lime juice or regular lime juice here.
Pineapple juice – just a hint echos the floral flavors of key lime.
Cream or milk – this is completely optional, but a splash of whole milk or half and half makes the drink even creamier and tones down the alcohol and the sweetness a little bit.
Bar equipment
Cocktail shaker – use a shaker to make your drink extra cold. I like this stainless steel one with a built-in strainer lid, but you can also use a mason jar and a separate strainer to strain out the ice. 
Cocktail glasses – this drink really needs a chilled cocktail glass for the full effect. Martini glasses are traditional, but if you can also use a coupe glass, margarita glass, or any glass with a wide opening so you can fit all the garnishes.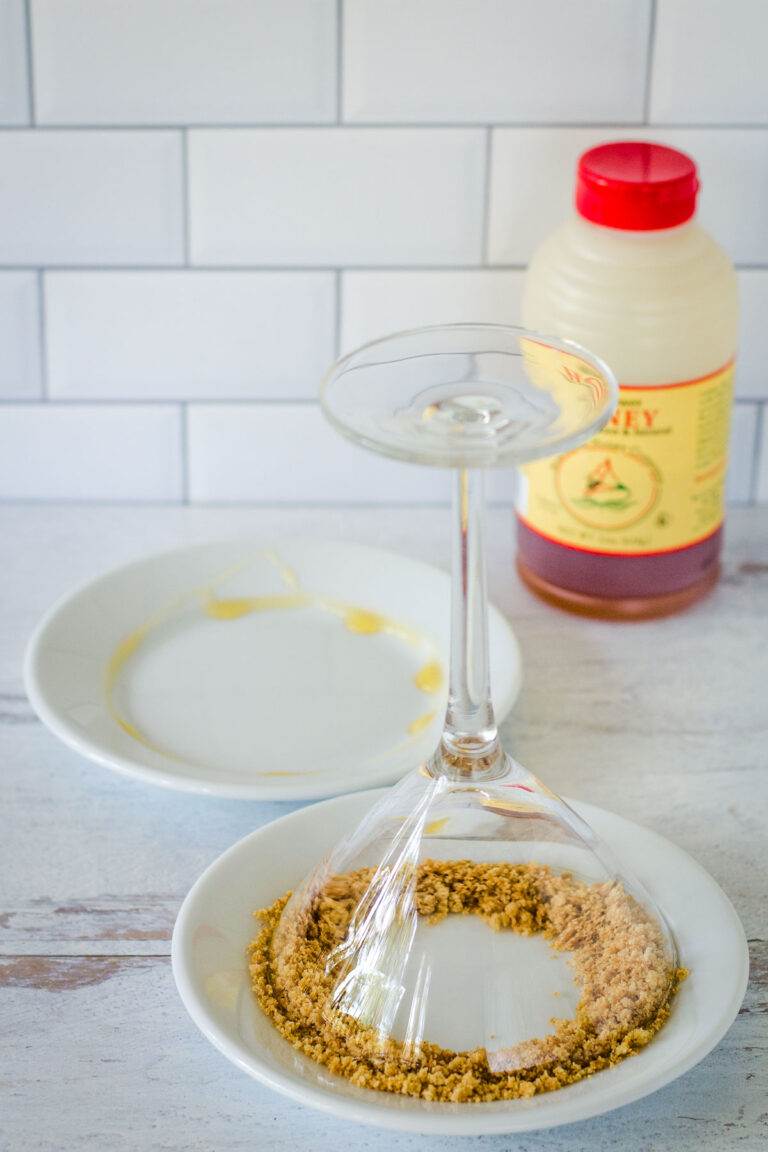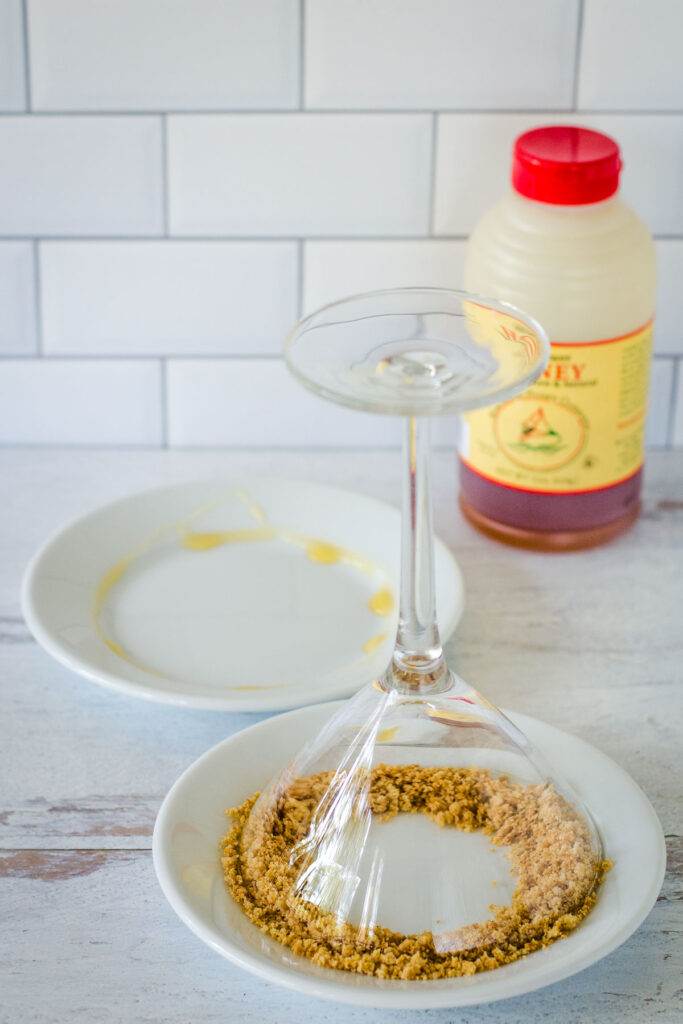 How to serve
If you're going to rim the glass, make sure you do that first. Then it really is as simple as adding all the martini ingredients to the ice-filled shaker. After a quick shake to mix and chill the drink you're ready to pour it into your prepared glass.
To create the graham cracker rim, just drizzle a little honey onto a dessert plate and run the rim of the cocktail glass through it. Then dip the rim into a plate of graham cracker crumbs (put them in a plastic bag and crush with a rolling pin).
To really make this cocktail a dessert, decorate the top like you would key lime pie. Pipe whipped cream around the edge of the glass. Sprinkle the whipped topping with more cookie crumbs. And finally, garnish with a lime wedge or lime wheel to the rim and dust the top of the drink with lime zest.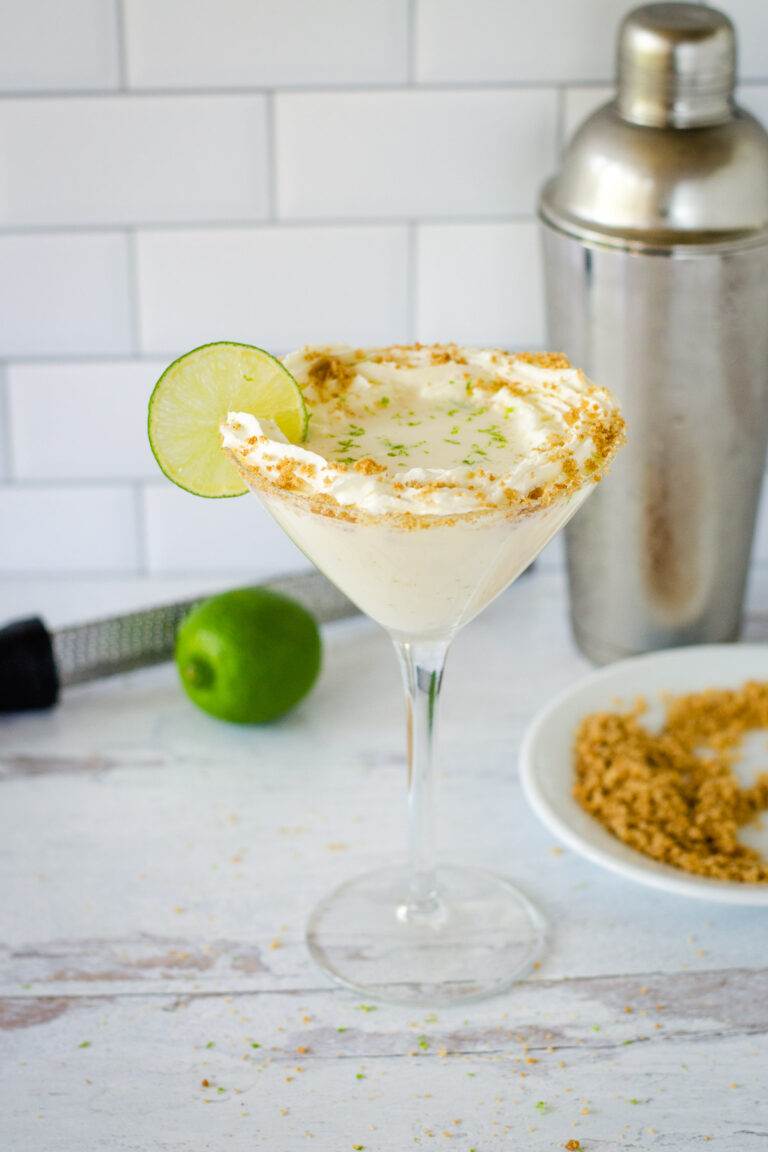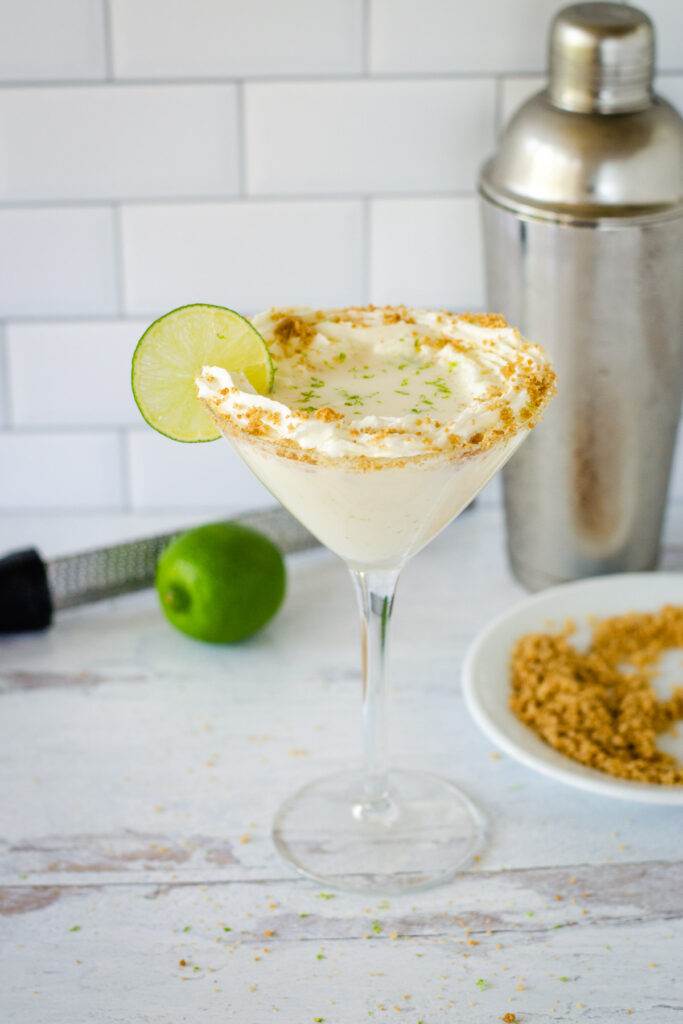 Variations
There are a lot of different ways to change up your key lime martini.
Try a key lime colada. For this version add more pineapple juice and a splash of coconut milk.
Want to boost the key lime flavor? Skip the pineapple juice altogether and add a splash of key lime juice. You can get bottled Key West lime juice here.
Prefer vodka martinis? Swap the coconut rum for vodka. Try vanilla vodka or whipped cream vodka to bring out the custard pie flavors.
Try an all citrus version. Skip the pineapple juice and add a squeeze of lemon juice and a splash of orange juice, citrus vodka or Cointreau orange liquor.
However you make it, you will love this easy key lime pie martini recipe!
More dessert cocktails to try
Love the taste of sweet martinis? Try these creamy dessert cocktail recipes for the perfect after dinner drink.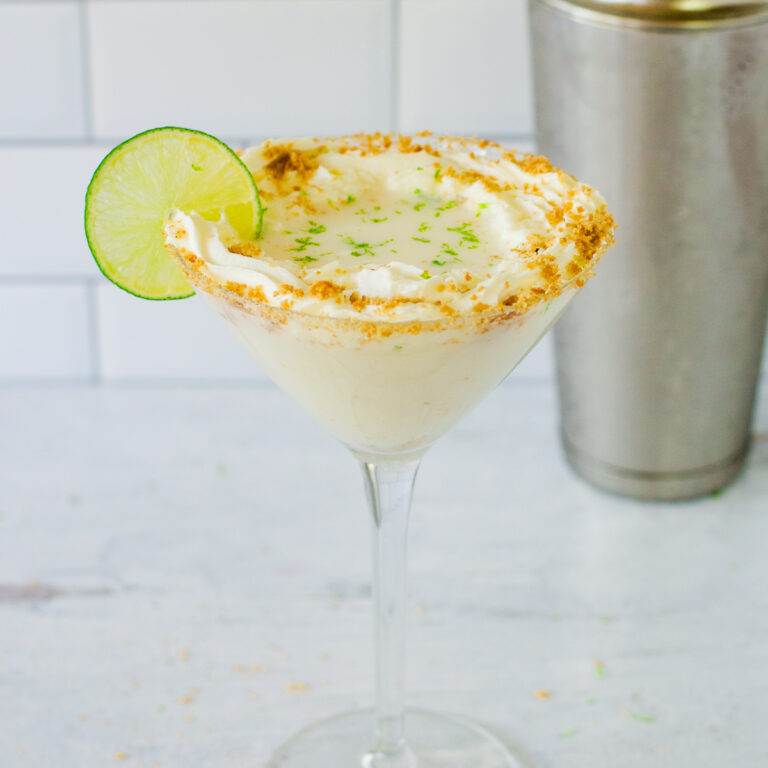 Key Lime Pie Martini Recipe
This key lime pie martini recipe has all the flavors of the Florida favorite. A sweet tart creamy key lime drink that even has a graham cracker crust.
Ingredients
Martini
Ice cubes
2 ounces Blue Chair Bay Key Lime Rum Cream
1 ounce Toasted Coconut Rum
¼ ounce pineapple juice
¼ ounce lime juice
splash of cream, optional
Garnish
honey to rim glass
graham cracker crumbs
whipped cream
lime slice and zest 
Instructions
Rim a martini glass by running honey around the edge then dipping it in a shallow dish of graham cracker crumbs.
Add ice, key lime rum cream, toasted coconut rum, pineapple juice, lime juice, and cream if using to a cocktail shaker. Shake until blended.
Strain the cocktail into the prepared glass and garnish with whipped cream, a lime slice, more graham cracker crumbs and lime zest.
Recommended Products
As an Amazon Associate and member of other affiliate programs, I earn from qualifying purchases.