This easy chocolate martini recipe with Godiva and Baileys is the perfect cocktail for dessert or any time you need a little chocolate. It's a smooth, creamy, decadent, and chocolatey indulgence for a holiday or everyday celebrations!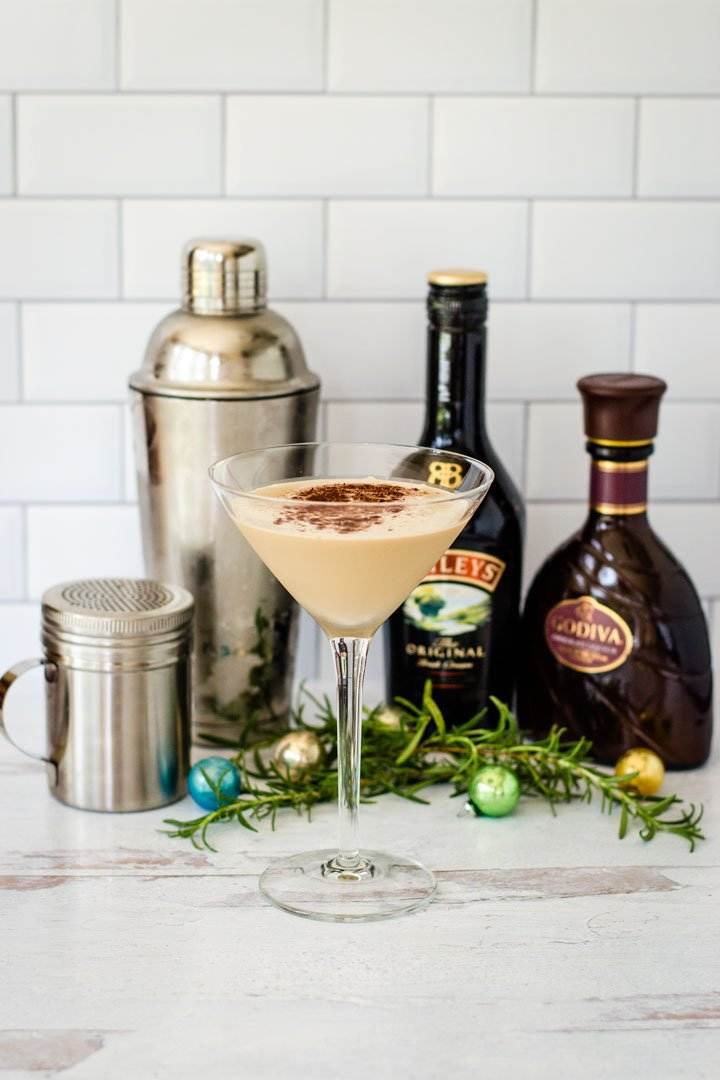 This cocktail is so easy, but it includes all the yummy flavors of your favorite Godiva chocolate truffle---including just the right amount of chocolate and sweet Irish cream.
If you love dessert martinis, you will love this chocolate martini recipe. It's the creamy perfect cocktail for chocolate lovers!
Here's what you'll need to make it
For the best chocolate martini, you'll need just a few simple ingredients. I've included a few different options for each so you can make your own delicious cocktail.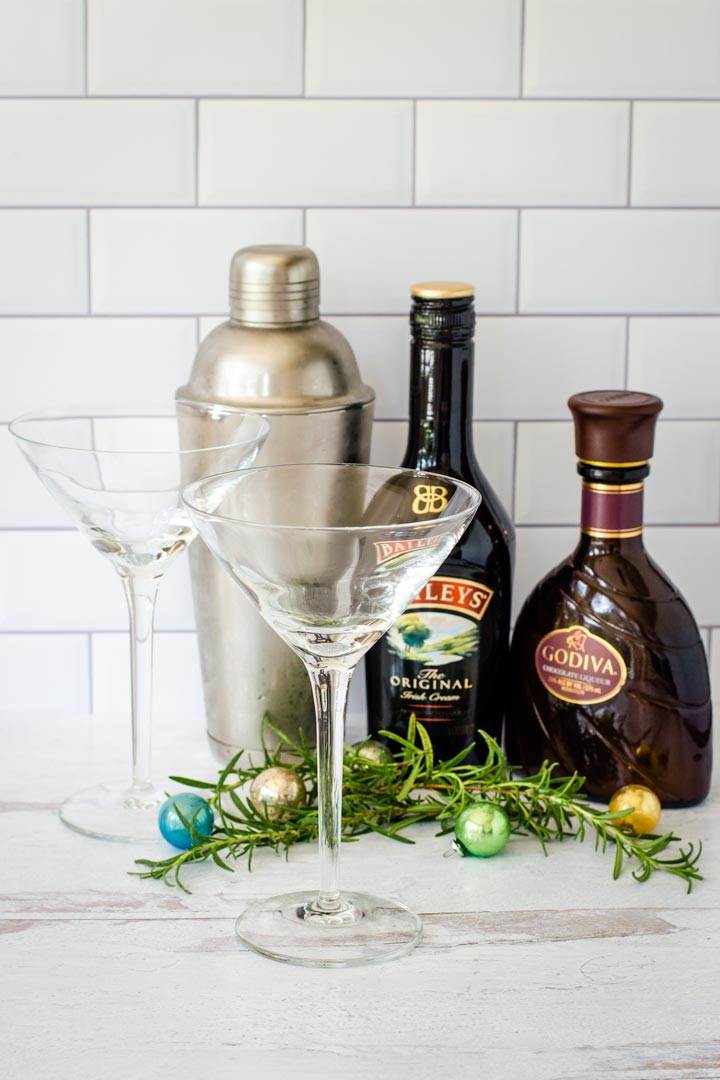 Godiva Chocolate Liqueur - Godiva chocolate is the star of the show here. It's a creamy chocolate liqueur, which is different from creme de cacao which is not creamy. I used the original version, but you can also use the dark chocolate or white chocolate flavors of Godiva liqueur in this recipe. All three will give you that decadent chocolate flavor, it's just a matter of what kind of chocolate you prefer.
Baileys Irish Cream - this adds to the sweetness and creaminess of the drink. You actually have a lot of options here---you can use any cream liqueur but I use the original Baileys because it's easier to find. They also make an espresso cream version, a salted caramel flavor, and an almond milk version that you can use instead.
Vodka - there are so many options for vodka. I use plain vodka because that's what I keep stocked at home (I'm partial to Ciroc). But you can use vanilla vodka, coconut, caramel, marshmallow, or any other vodka flavor that you like. If it's a flavor you would find in a truffle, try it in your cocktail!
Cream - this is optional depending on how strong you like your martinis. It makes it even creamier and tones down the alcohol a bit. You can use half and half, heavy cream, coconut milk, or even chocolate milk or nut milk. If you like Nutella, this hazelnut milk would be amazing in it!
Cacao powder - I use cacao powder to sprinkle on top because that's what I keep at home for baking, making hot chocolate, and dusting on coffee drinks. But you always can use cocoa powder or chocolate mix if that's what you have.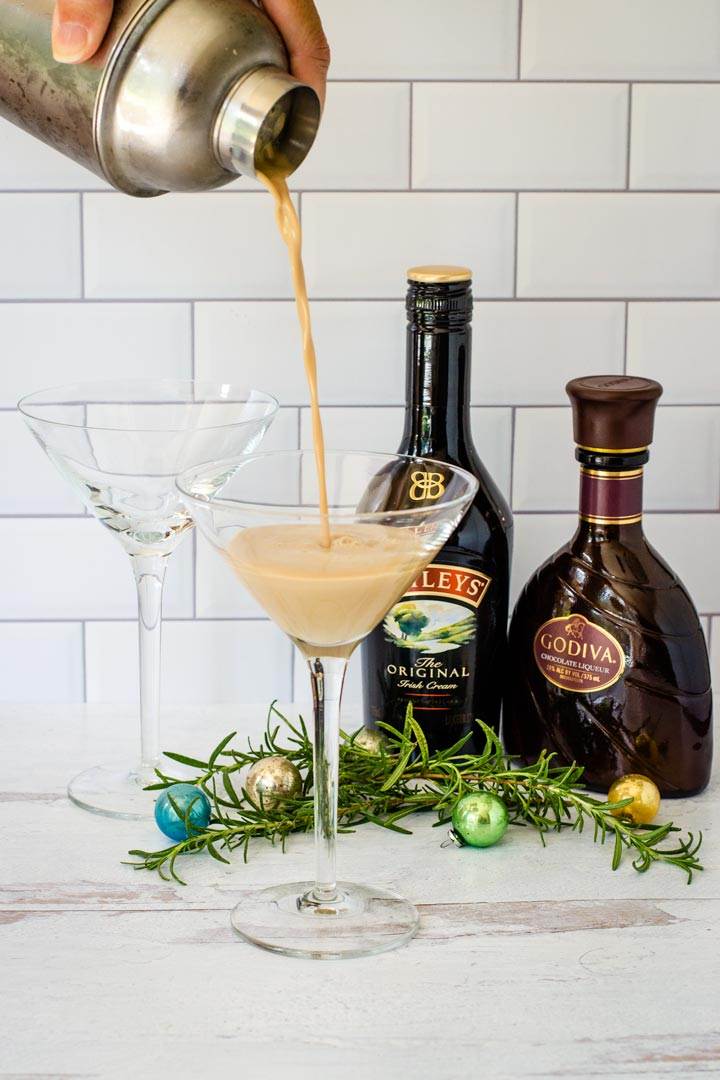 As far as bar equipment, you'll definitely want a cocktail shaker to shake and chill your drink (this one has a built-in strainer).
Just fill the shaker with a cup of ice, add your drink ingredients and shake for a smooth creamy texture. And be sure to strain into classic martini glasses to serve it!
Top your martini with a dusting of cacao powder for a little extra chocolate flavor. Or drizzle chocolate syrup inside of your martini glass before pouring. Or top it with dark chocolate shavings - use a grater on the edge of a chocolate bar for shavings or a vegetable peeler to make curls.
For a festive look, rim the glass with a mixture of grated chocolate and sugar. Just pour a little chocolate syrup onto a small plate and dip the rim of the glass in it. Then dip it in a dish of the sugar chocolate mix.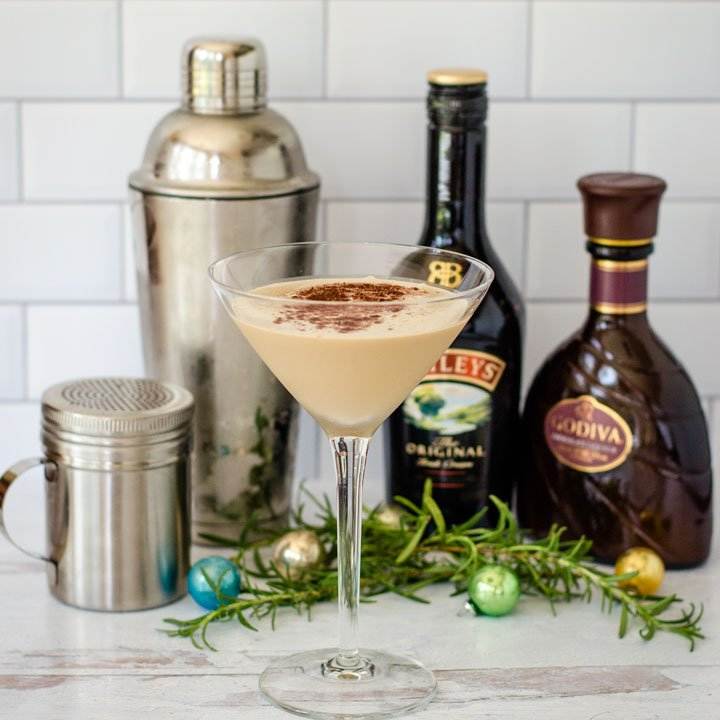 Variations
Start with this basic recipe and you can change up your creamy cocktail to make many different flavor variations.
Love a white chocolatini? Make a white chocolate martini with Godiva white chocolate liqueur, Baileys, and vanilla vodka. Serve in a chilled cocktail glass and top it with white chocolate shavings.
Want a chocolate caramel version? Use caramel vodka and add a swirl of caramel around the inside of the glass before pouring your drink.
Prefer dark chocolate? Use dark chocolate liqueur and chocolate vodka. Swirl with chocolate sauce and add some extra at the bottom of the glass.
How about a hint of fruit? Add orange vodka or Grand Marnier for an orange chocolate version---or raspberry vodka or Chambord for a chocolate raspberry version. Both are classic combinations that complement the chocolate flavor.
However you make it, you're sure to love this decadent Godiva chocolate martini! It's also perfect for holiday desserts, Valentine's day dinner, with Easter recipes and Halloween treats---or any special occasions.
More fun and festive cocktails to try
Love sweet cocktails? Try these easy cocktail recipes to satisfy your sweet tooth.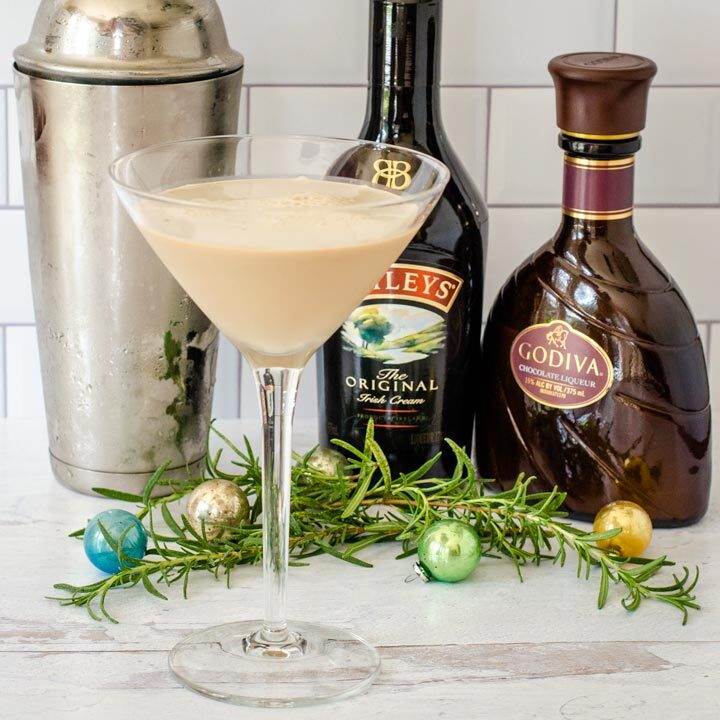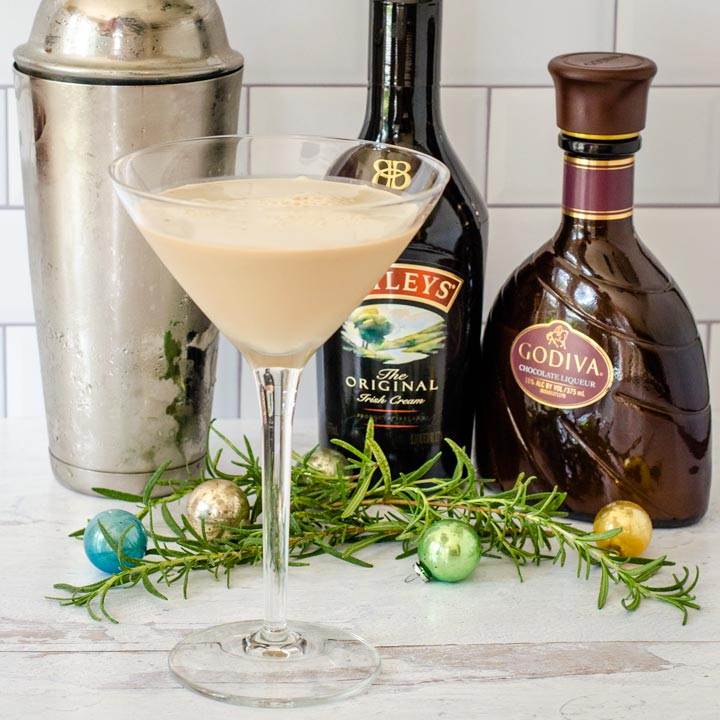 Godiva Chocolate Martini Recipe
This chocolate martini recipe with Godiva and Baileys is the perfect cocktail for any time you need a little chocolate indulgence!
Ingredients
Ice
2 ounces Godiva Chocolate Liqueur
1 ounce Baileys Irish Cream
1 ounce vodka
splash of heavy cream or half and half  (optional)
Cacao or cocoa powder for garnish
Instructions
Add ice, Godiva, Baileys, vodka, and cream if using to a cocktail shaker.
Shake until blended. Then strain into a martini glass and garnish with a sprinkle of cacao powder.
Recommended Products
As an Amazon Associate and member of other affiliate programs, I earn from qualifying purchases.