Whether you're looking for a crowd-pleasing martini or a delectable dessert cocktail, these sweet martini recipes are like dessert in a glass.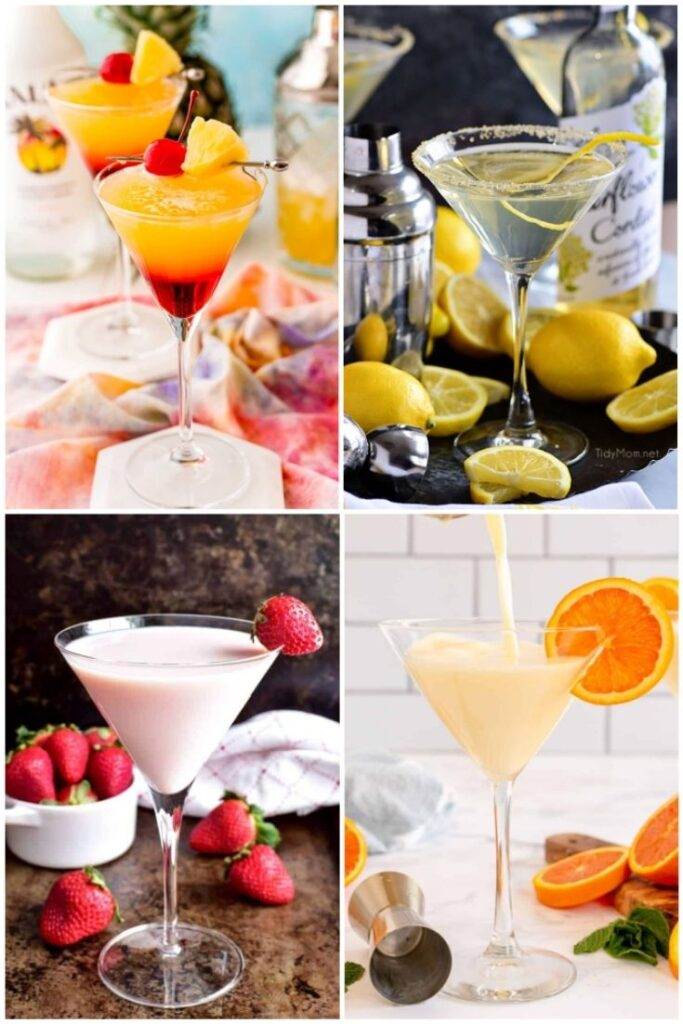 For a delicious twist on classic martini cocktails, let this collection give you inspiration for sweet martini recipes that you can make and share with family and friends. These ideas are a fun way to experiment with old classics as well as newer versions that use fresh ingredients, flavored liqueurs and unique combinations to create outrageously tasty drinks.
Up-level your home bartending skills with fruity martini recipes that feature watermelon, lemon, strawberry, cranberry, orange, cherries, peaches, key limes, and more. Liqueurs such as triple sec, blue curacao, and sweet vermouth join vodka as ways to enhance these cocktails to scrumptiousness.
Whether you use a mixing glass or a cocktail shaker to mix up your drink, be sure to have plenty of ice cubes. Serve it up in a chilled cocktail glass and remember sometimes the extra garnishes make the perfect martini recipe into the best cocktails.
Take a break from your traditional martini recipe and let these creative ideas inspire you to mix a delicious martini no matter what the occasion. You may even find your new signature drink. Cheers!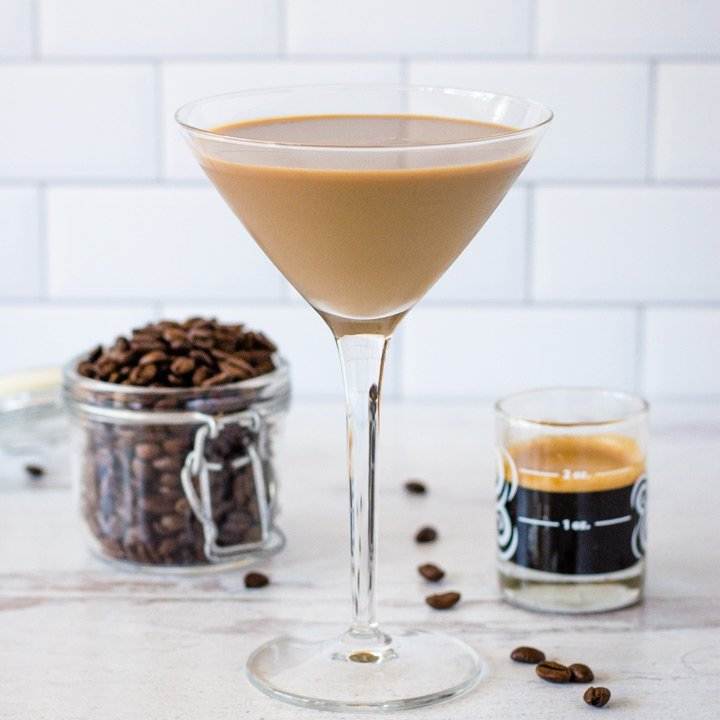 Espresso Martini Recipe
This easy espresso martini is made with Baileys and Kahlua for the perfect blend of sweet, creamy coffee flavor with a kick. Don't have an espresso machine? Don't worry, we give you lots of options for easy substitutions so you can make this after-dinner drink any time!
Recipe by Coastal Wandering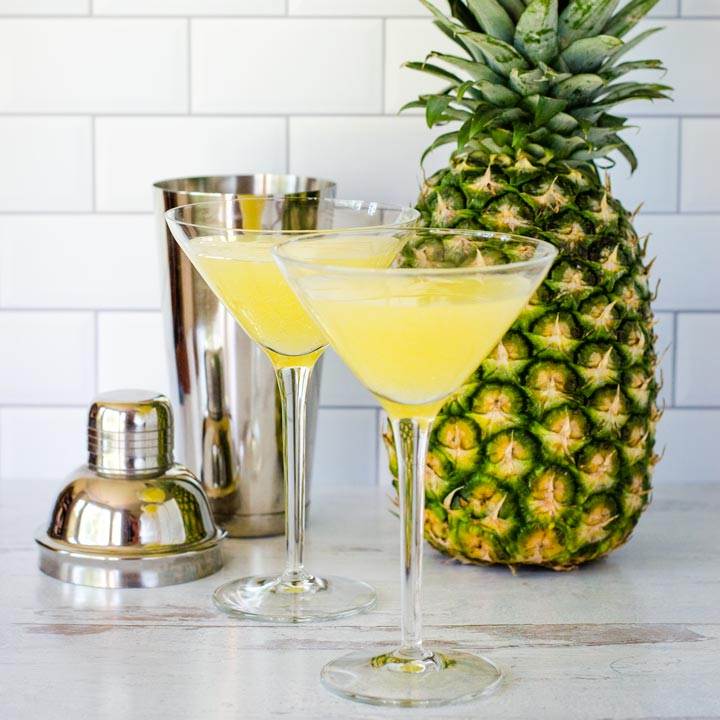 Pineapple Martini
This easy pineapple vodka martini recipe will take you back to the islands. One sip and you'll feel like your sitting on the beach with your toes in the sand. It highlights sweet pineapple flavor with just enough vodka to let you know you're drinking a martini.
Recipe by Coastal Wandering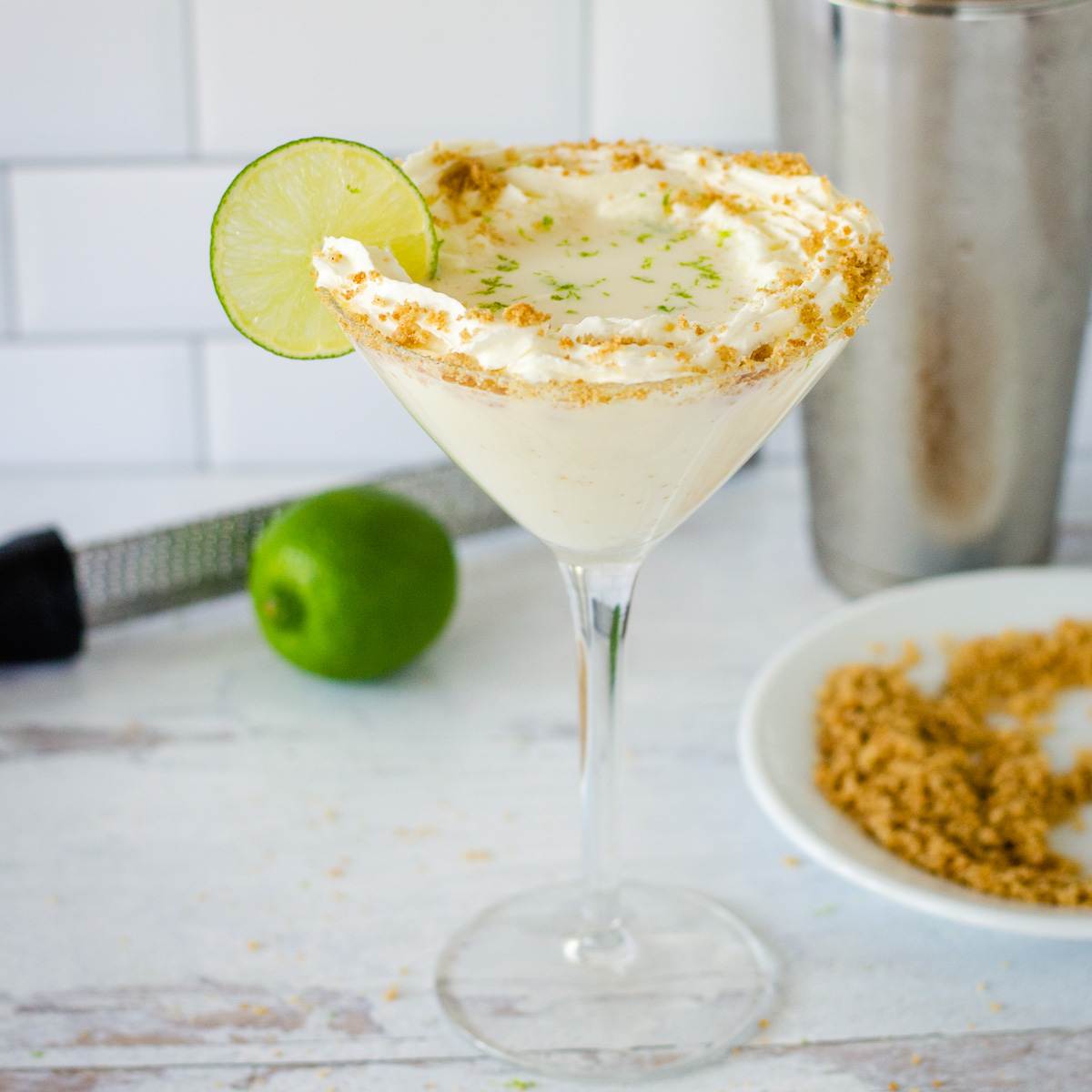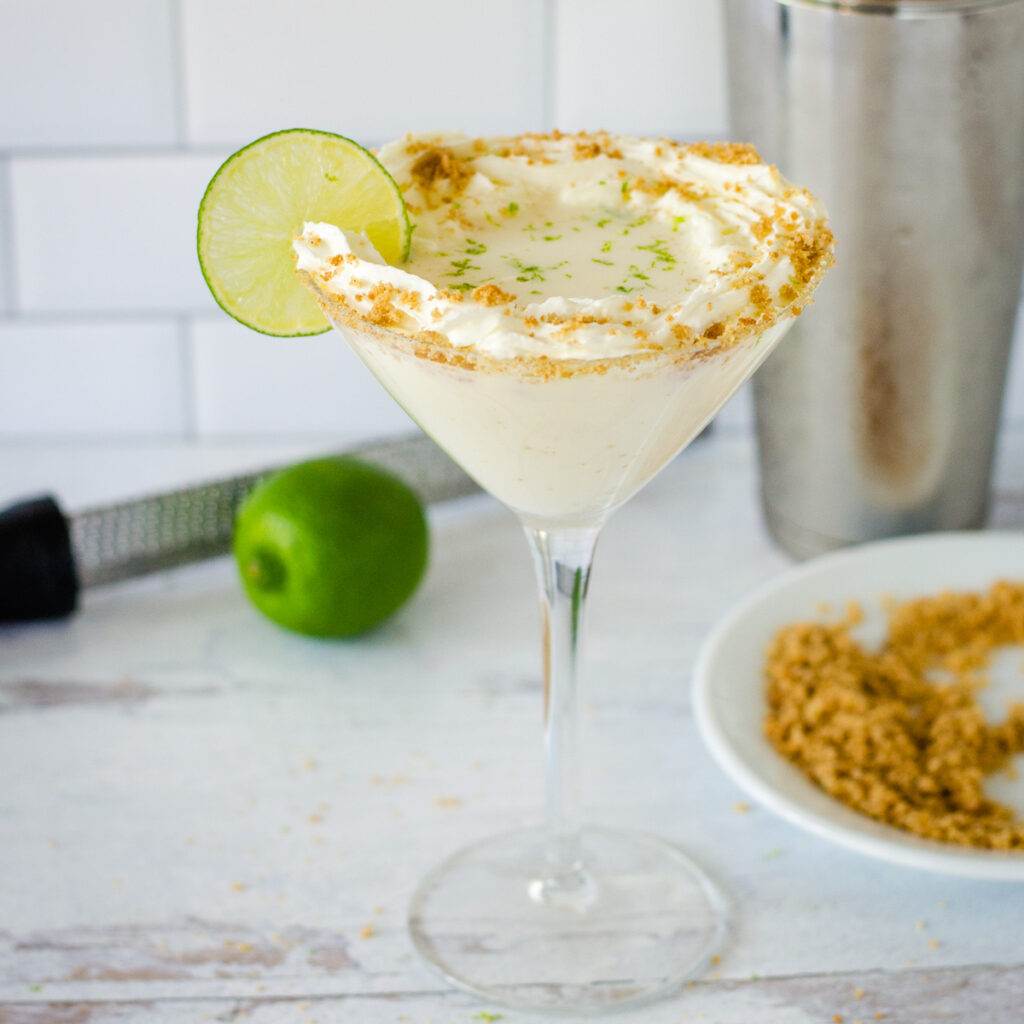 Key Lime Pie Martini
Enjoy a burst of citrus with this fruity martini that features the deliciously tart flavor of key lime. It takes it a step further with the addition of crushed graham crackers and whipped cream that line the rim of the glass for a nod to key lime pie. It's a charming mix of key lime rum cream, toasted coconut rum, pineapple and lime juices with a splash of cream. This key lime martini is perfection!
Recipe by Coastal Wandering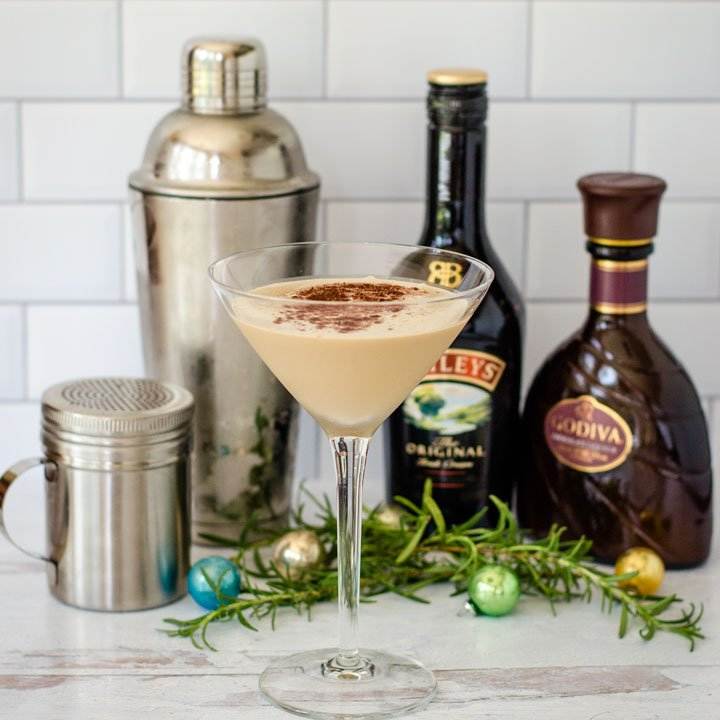 Godiva Chocolate Martini
Love chocolate? You will love this smooth, creamy, decadent, and chocolatey indulgence. Made with Godiva Chocolate liqueur and Baileys Irish Cream, it's the perfect blend for a chocolate lover's cocktail.
Recipe by Coastal Wandering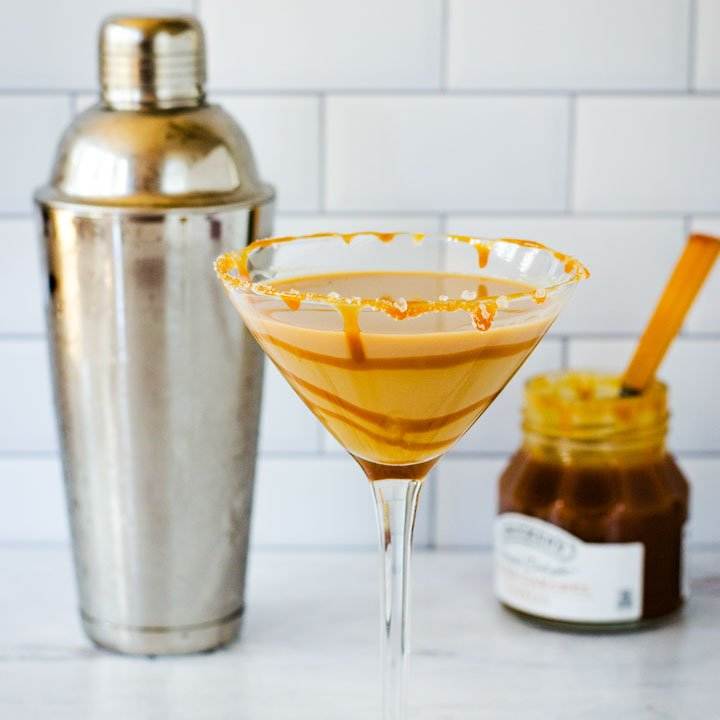 Salted Caramel Martini
If you love the combination of salty and sweet, you have to try this salted caramel martini. It's made with Baileys, vodka and caramel sauce. Just mix it up and rim the glass with salt and caramel for a decadent creamy caramel cocktail.
Recipe by Coastal Wandering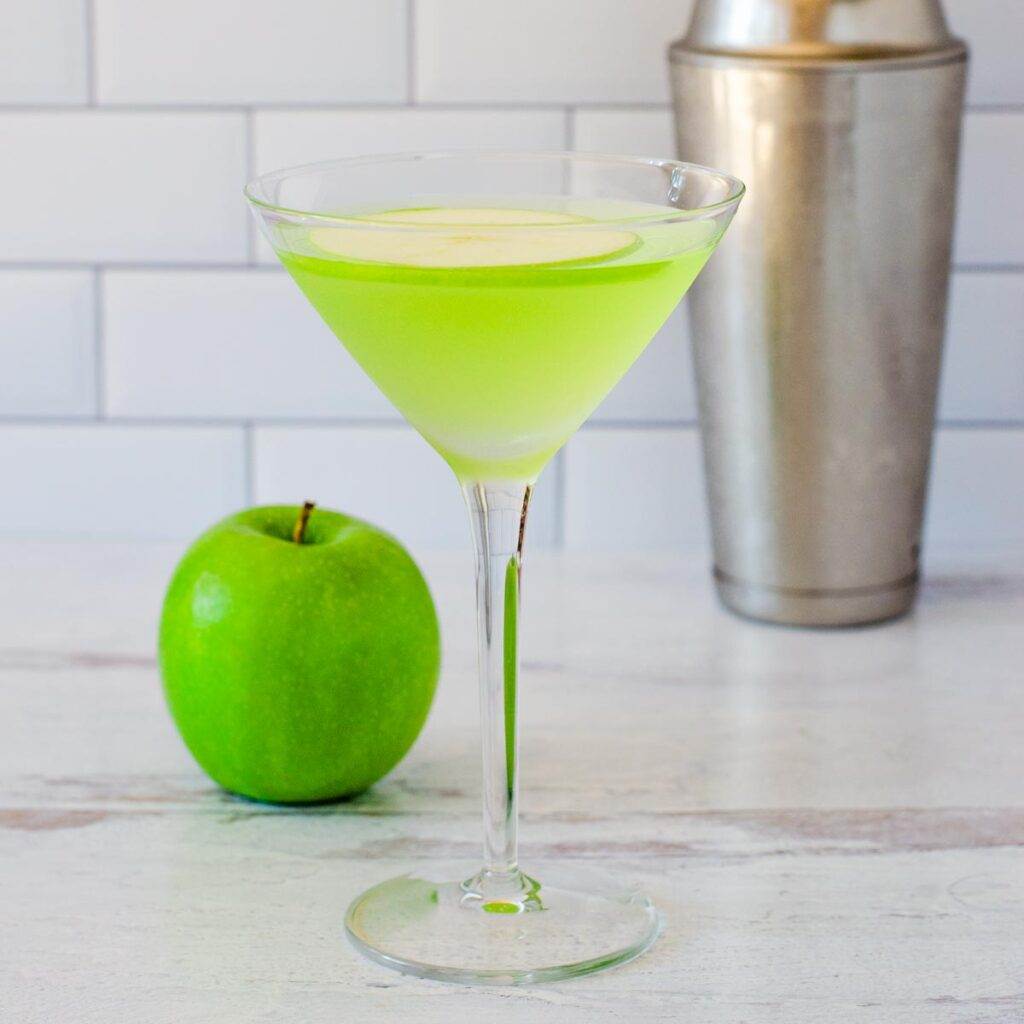 Green Apple Martini
This old-school green apple martini has the perfect blend of sweet-tart apple flavor. It gets its flavor punch and green color from sour apple liqueur and the sweetness from a hint of apple and lemon juices that make an easy substitute for the sour mix.
Recipe by Coastal Wandering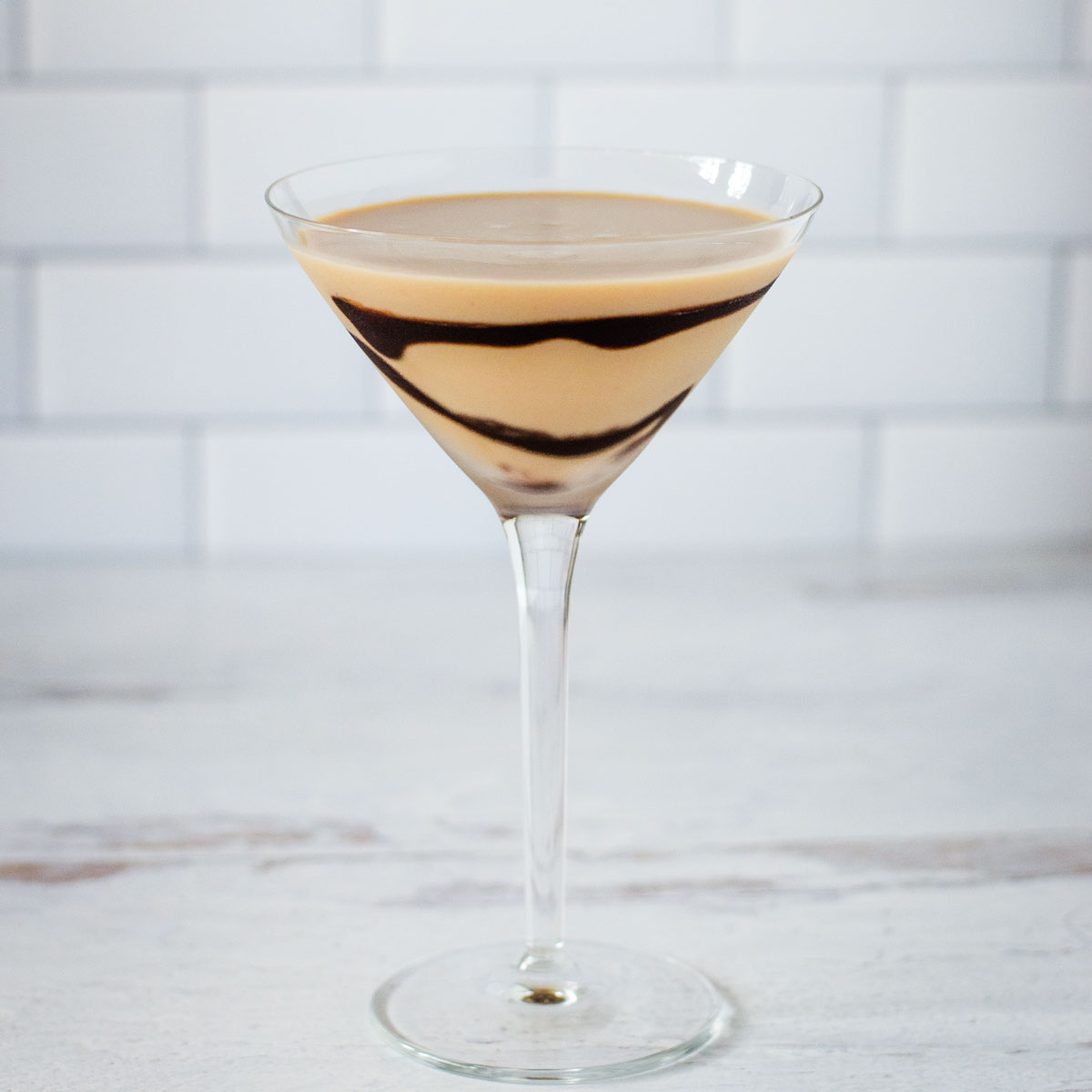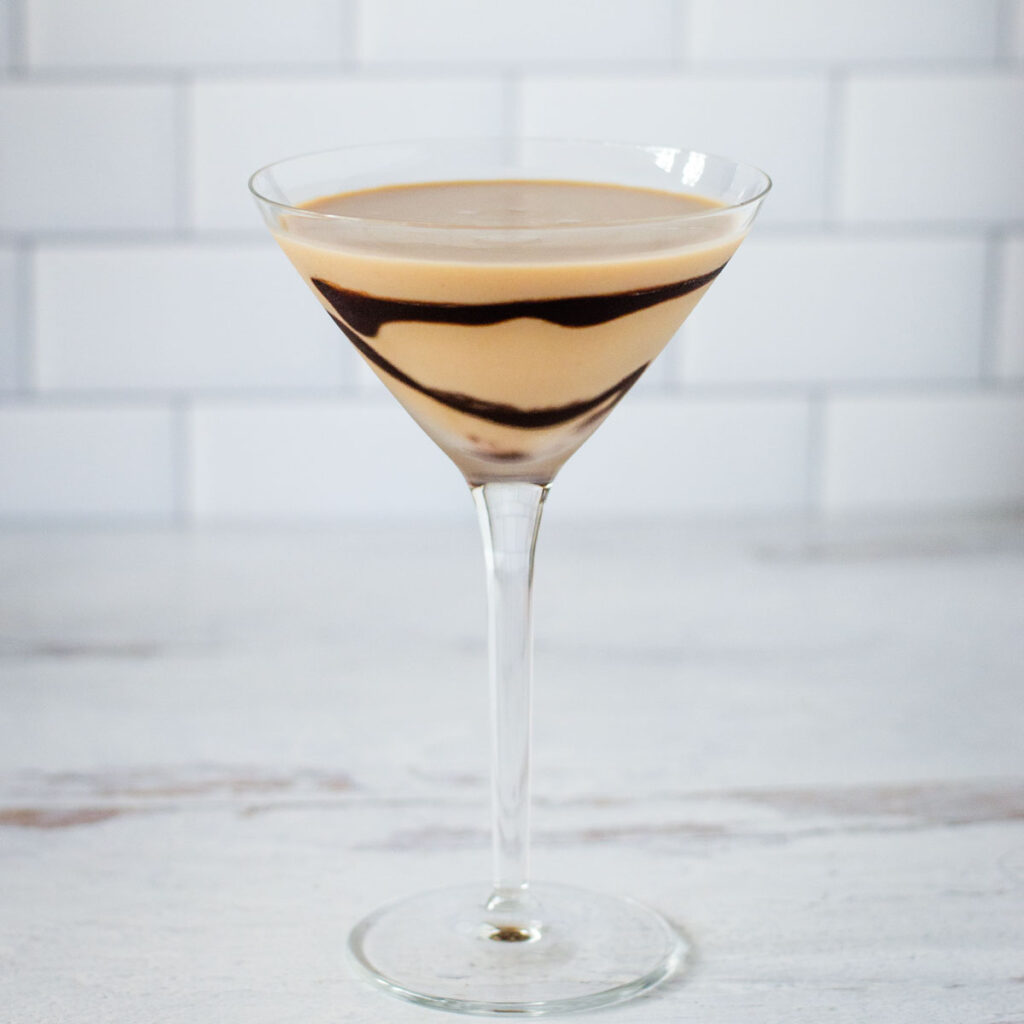 Tiramisu Martini
This tiramisu martini has all the coffee, cream, and chocolate flavors of the classic Italian tiramisu dessert in a delicious cocktail. Garnish with a drizzle of chocolate syrup and serve with lady fingers for dipping. You will love this pick me up cocktail as an ending to your favorite pasta dinner.
Recipe by Coastal Wandering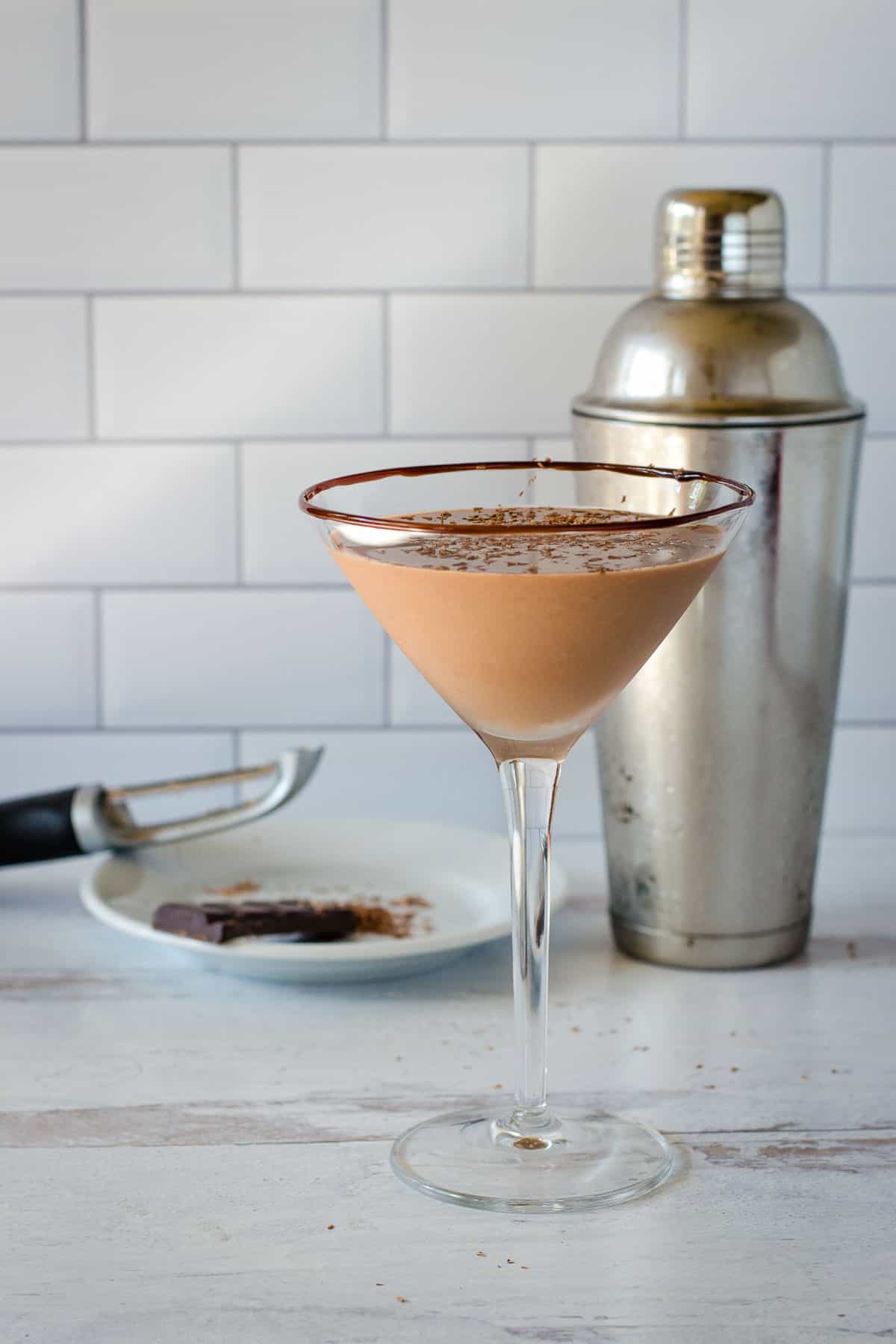 Chocolate Martini with Creme de Cacao
For the ultimate chocolate martini, this easy recipe is made with dark chocolate liqueur and creme de cacao as the key ingredient. This chocolate martini recipe is a rich and decadent adult version of cold and creamy hot chocolate.
Recipe by Coastal Wandering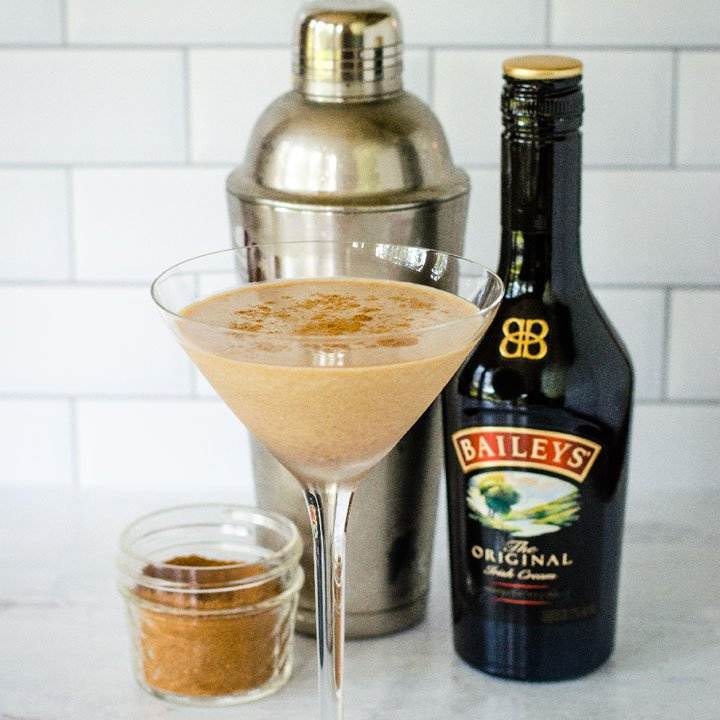 Pumpkin Spice Martini
This pumpkin pie martini recipe with Baileys, pumpkin and warm spices is the perfect cocktail to make you feel like fall. Who needs a pumpkin spice latte when you can have a decadent pumpkin spice martini?
Recipe by Coastal Wandering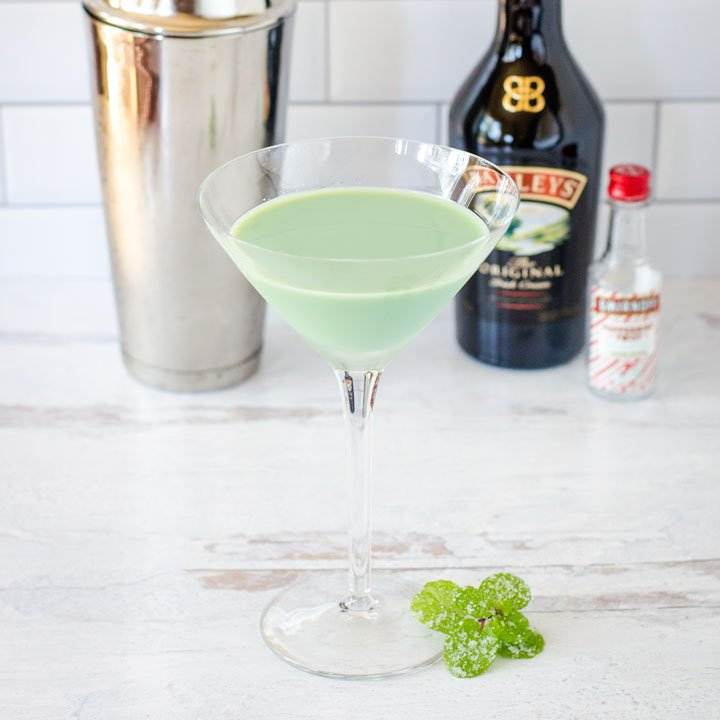 Shamrock Martini
This cocktail has all the flavors of a shamrock shake in a creamy mint martini. It's made with Irish cream liqueur, of course, peppermint vodka and a spash of cream. Try it for St. Patrick's Day!
Recipe by Coastal Wandering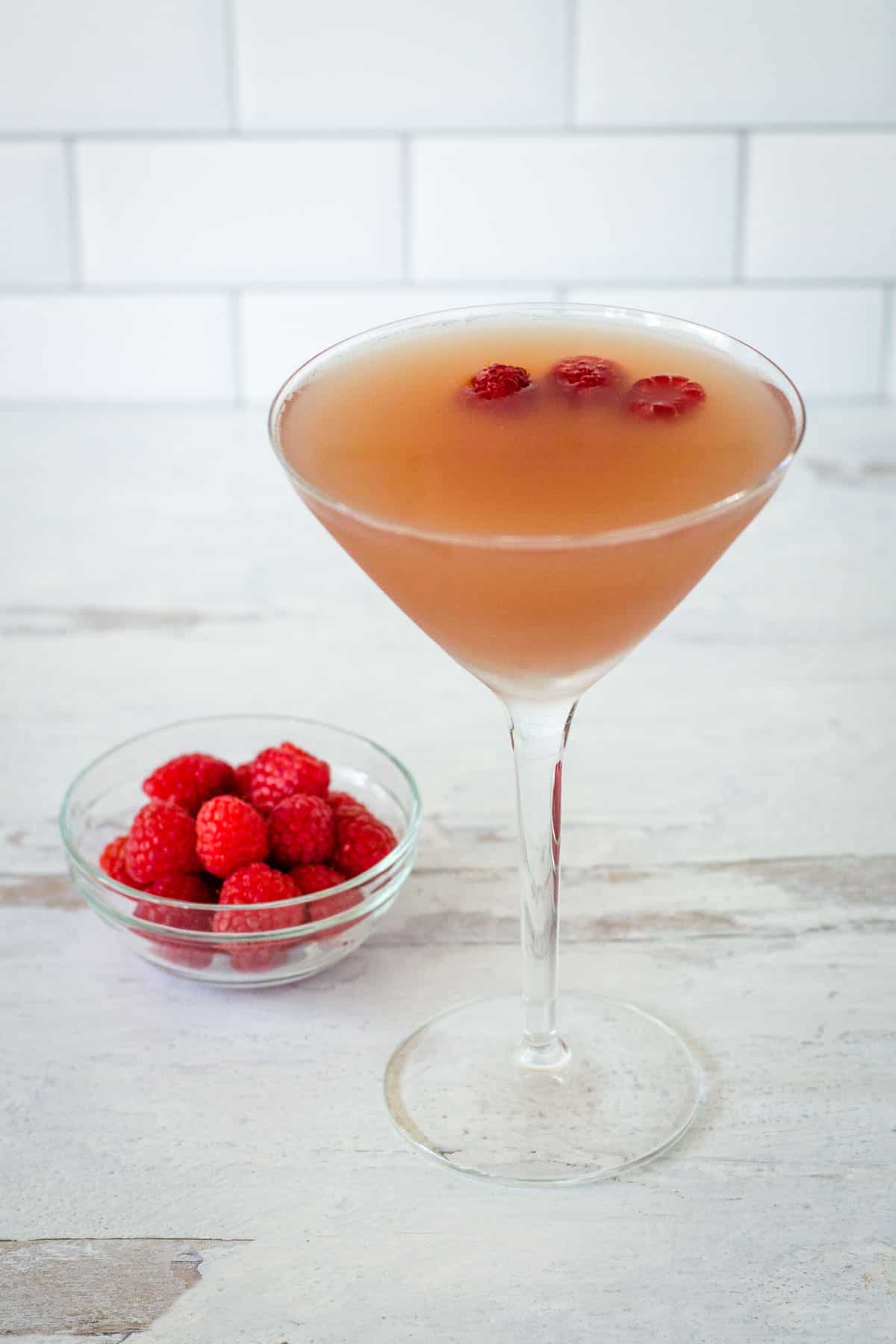 French Martini Cocktail
This fruit-flavored martini offers a base of pineapple juice combined with vodka and Chambord black raspberry liqueur. This 3-ingredient cocktail is super easy: just shake over ice and strain in your glass. Garnished with fresh raspberries or a twist of lemon. You can't go wrong with this classic French martini that's seasonless.
Recipe by Coastal Wandering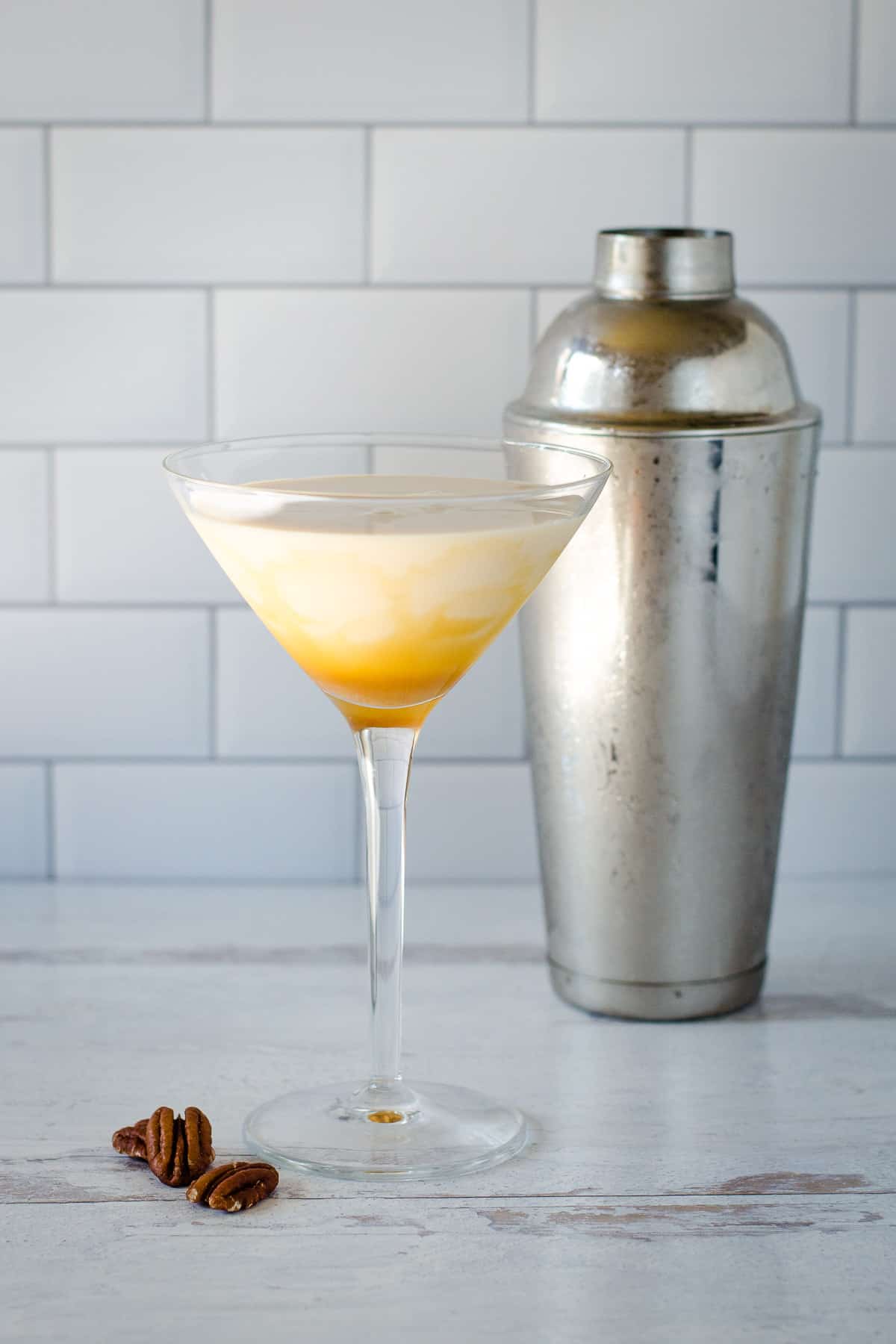 Pecan Pie Martini
This pecan pie martini is the perfect drink to serve in the fall or after a holiday meal. Made with pecan liqueur and infused with caramel flavor and a creamy finish, this easy cocktail is the perfect after-dinner drink to satisfy your sweet tooth.
Recipe by Coastal Wandering
Spiced Cranberry Apple Martini
Mulling spices are a fragrant and delicious way to up-level the homemade apple cider simple syrup in this fall-inspired cocktail. Cranberry juice, vodka, orange liqueur and the spiced apple simple syrup make up the base of this martini. Shake over ice, pour, and add a squeeze of lime juice. Garnish with an apple slice. It's a cozy martini that's perfect for the winter holidays.
Recipe by Freutcake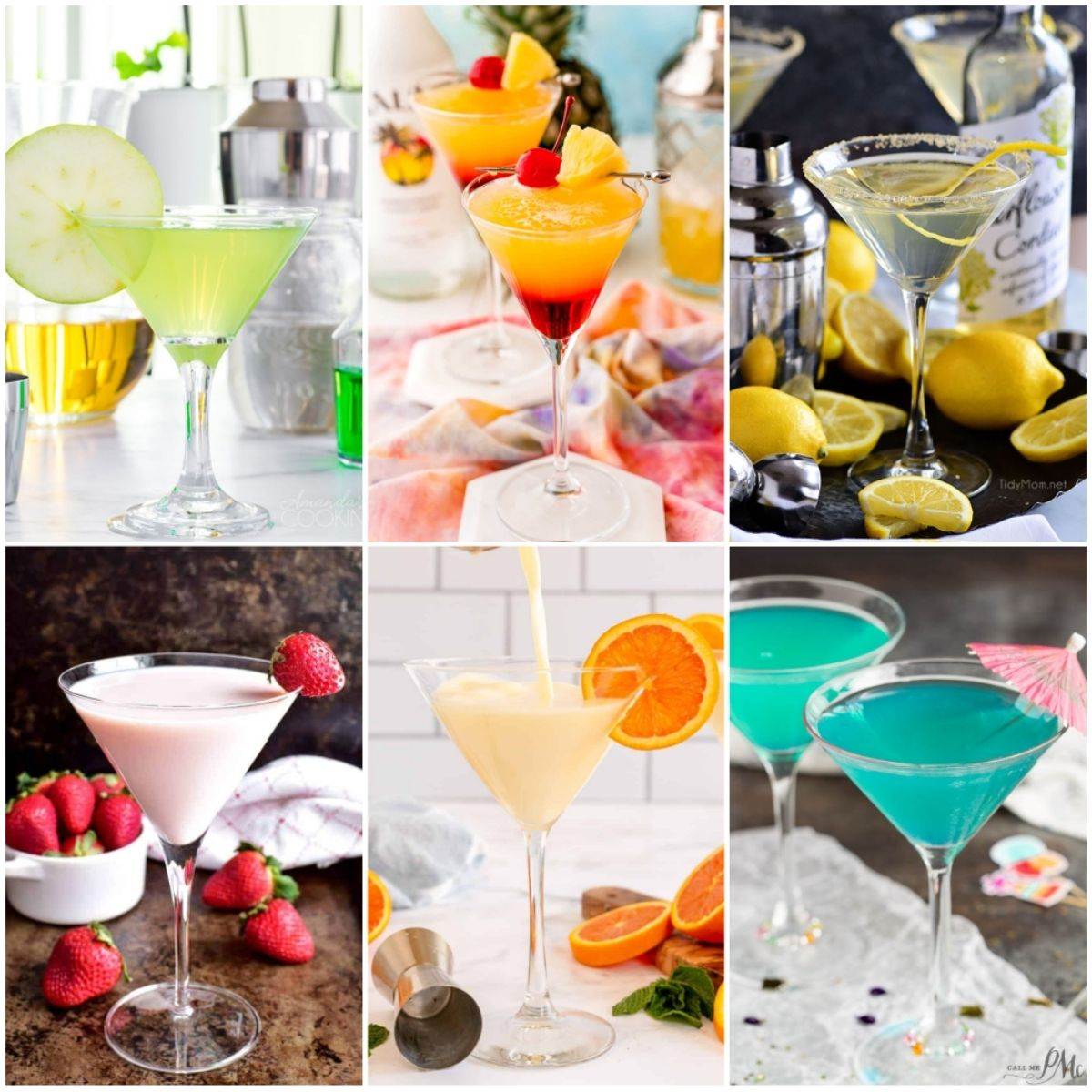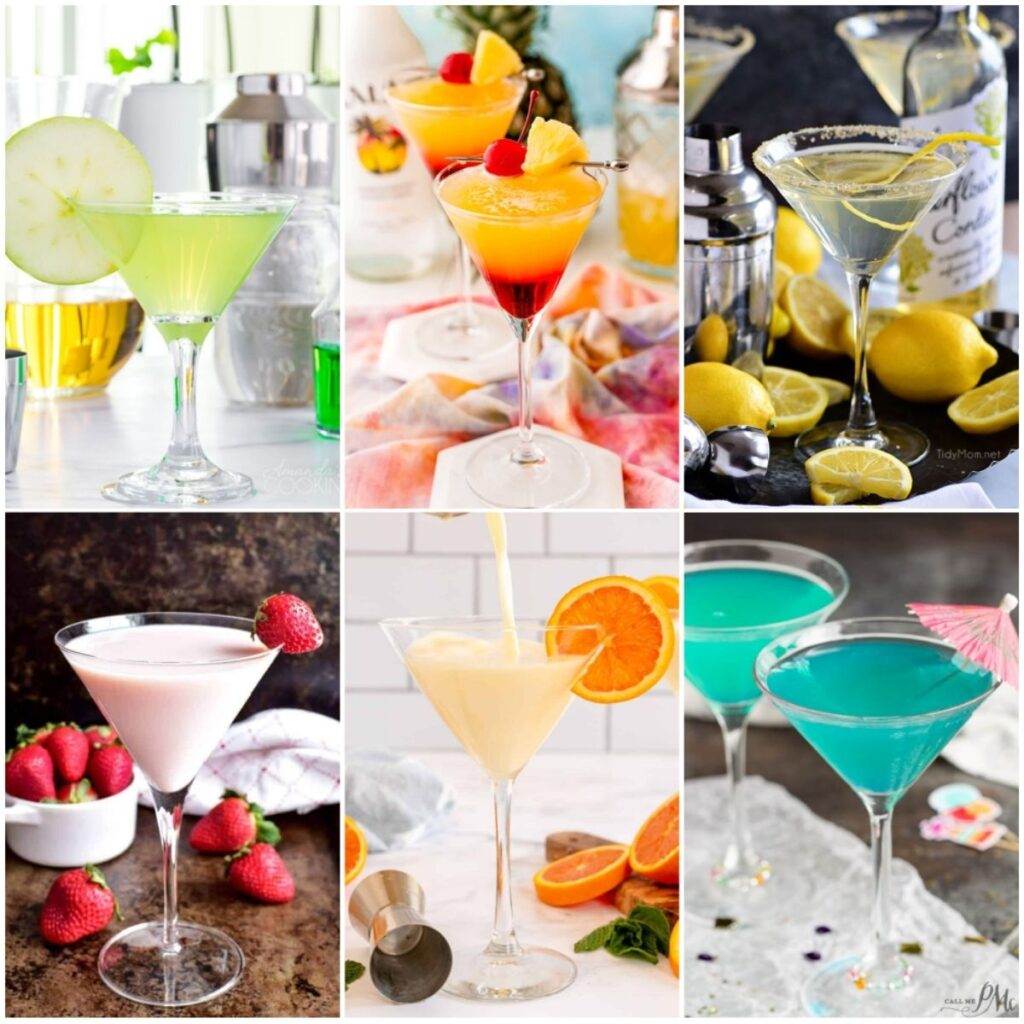 Bikini Martini
Relax with this visually bright cocktail that pairs the tropical flavors of coconut and pineapple with vodka, rum and grenadine for a martini that's perfect for pool or beach parties. This epic Bikini Martini is a fun way to celebrate the sunshine with its two layer color block of brilliant red and bright yellow. Garnish with a maraschino cherry and a pineapple chunk and enjoy!
Recipe by Homemade Hooplah
Alaskan Glacier Martini
Inspired by the majestic glaciers of Alaska, this cocktail is visually stunning with its floating "ice" atop a brilliant blue "sea." Thanks to blue curacao, gin, vodka, rum, a mixer and a splash of soda or sparkling water, this martini is garnished with a floating "glacier" in the form of a meringue cookie. Sweet!
Recipe by Princess Pinky Girl
Orange Creamsicle Martini
Creamy, sweet and citrusy, this cocktail will remind you of your favorite orange popsicle from childhood. Flavored vodka, half and half creamer and orange juice make this 3-ingredient martini easy to make. Shake over ice, strain, pour and garnish with whipped cream, if desired. Add an orange slice, too!
Recipe by Kylee Cooks
Cosmopolitan Martini
You can't go wrong with this classic cosmopolitan cocktail. It's a sweet combo of cranberry juice, triple sec, vodka and fresh lime juice. For a sweeter taste, be sure and use cranberry juice cocktail that has sugar added. Garnish the glass with a pretty twist of lime.
Recipe by Lemon Blossoms
Watermelon Martini
Perfect for summer, this cocktail is made from fresh watermelon chunks that you easily puree along with lemon vodka, melon liqueur and lime juice. For a frosty martini, freeze your watermelon chunks overnight before blending. Serve with a watermelon chunk and lime wedge for garnish. It's the ultimate refreshing cocktail for summer events!
Recipe by Eat Yourself Skinny
Lemon Drop Martini
Sweet, tart, pretty and bright are the hallmarks of a lemon drop martini. Perfect for spring and summer, combine vodka, triple sec, elderflower cordial and fresh lemon juice before shaking over ice. Strain and serve in a sugar-rimmed martini glass and garnish with a lemon twist. This burst of citrus is always a hit!
Recipe by Tidy Mom
How To Make A Lemon Twist
That perfect little curly-cue of lemon is an essential garnish for citrus-based martinis and it couldn't be easier to make. The lemon twist is made from the lemon peel. With just a few slices of a paring knife, you can create these elegant twists in minutes. Use this technique with lemons, limes and oranges. Thick, thin, or in between, learn how to make each with this handy tutorial.
Recipe by The Speckled Palate
Appletini
Kick off a girls night with this brightly colored cocktail. It's all about the apple with this scrumptious martini that has a punch of tartness to even out the sweetness. Apple juice is enhanced with apple flavored vodka, lemon juice and simple syrup before being shaken over ice. Pour and serve with a slice of green apple.
Recipe by Amanda's Cookin
Strawberry Shortcake Martini
Keep this dessert cocktail in mind for Valentine's day or summer parties when fresh strawberries will make it even more delicious if you want to make a homemade fruity simple syrup. The creamy strawberry liqueur gets up-leveled with rum for an icy and shaken cocktail that will help kick off any celebratory event. It's the ultimate pretty in pink martini!
Recipe by Lemon Tree Dwelling
Hawaiian Martini
You'll find all the tropical flavors of Hawaii in this scrumptious martini - coconut, orange and pineapple. Fill a shaker with ice, vodka, pineapple juice, coconut rum and triple sec. All that's left is to shake, pour and garnish with a bright maraschino cherry. Oh, and a little umbrella, too!
Recipe by Crazy For Crust
Georgia Peach Martini
Peach liqueur enhances the fresh peach puree that forms the fruity base of this cocktail. Fresh raspberries and cranberry juice help layer on the flavor in this vodka-spiked drink recipe. You'll mix the ingredients in a blender in stages before building this martini. Add a sprig of fresh mint to top off this delightful peach martini.
Recipe by 3 Yummy Tummies
Cranberry Limoncello Cosmo
A rim of sugar lines this martini glass that's filled to the brim with a bright cranberry, vodka and limoncello blend. Add a splash of grenadine for good measure and serve with fresh cranberries and a twist of lemon on the side. It's a beautiful and tasty take on a classic Cosmo.
Recipe by Mighty Mrs
Memphis Blues Martini
Perfect for poolside or beachside, this martini gets its gorgeous hue from Blue Curacao. Flavored with blueberry schnapps and vodka, shake to mix and serve with an orange slice. Not overly sweet, it's a stunning cocktail that's simply irresistible.
Recipe by Call Me PC
Manhattan Drink
Serve this classic cocktail at your next event for a drink that everyone can enjoy. Shake sweet vermouth, bourbon and spicy bitters over ice and strain into a martini glass. Garnish with a few maraschino cherries for a sweet finish and a bright edible bauble.
Recipe by Erren's Kitchen
Cherry Cheesecake Martini
This cocktail brings the flavors of vanilla and cherry together in this delightful martini that pairs vodka and cherry juice. Vanilla vodka along with cherry juice and maraschino cherry syrup add a sweet twist to this fun drink. Shake over ice and serve with a garnish of maraschino cherries, of course!
Recipe by Cooking With Curls
Pineapple Vanilla Bean Martini
Elevate this pineapple-based martini with a splash of elderflower liqueur, lemon juice and vodka. It's sweetened with a homemade simple syrup that's infused with vanilla beans. Keep the theme going by rimming your glass with vanilla bean flavored sugar. Celebrate summer with this tropical cocktail that's full of flavor and fragrance.
Recipe by Yes To Yolks
Blood Orange Martini
The beautiful sunset orange shade will entice you to try this lovely martini that combines vodka, triple sec, the juice of blood oranges and a touch of honey for good measure. Shake it over ice and serve with a slice of vibrant blood orange.
Recipe by Chisel And Fork
Chocolate Covered Cherry Martini
Chocolate and cherries are a favorite flavor combo and what better way to enjoy it than in a delectable cocktail. It's a sweet martini recipe that's made even more irresistible by rimming the glass with sugar and shaved chocolate. Irish cream, vodka, Kahlua, amaretto and chocolate syrup are shaken and poured before adding a dollop of maraschino cherry syrup to each glass. Garnish with more cherries and enjoy!
Recipe by The Kitchen Is My Playground
No matter which one you try first, you'll love these sweet martini recipes!
And if you prefer traditional classic cocktails check out this collection of dry martini recipes with gin, vodka, and dry vermouth.