It's time to break out the holiday tunes and whip up some yummy treats. Traditional Christmas cookies are nice, but these 20 deliciously easy no-bake Christmas cookies are fun to try instead. There's a no-bake recipe no matter which Christmas flavors you enjoy!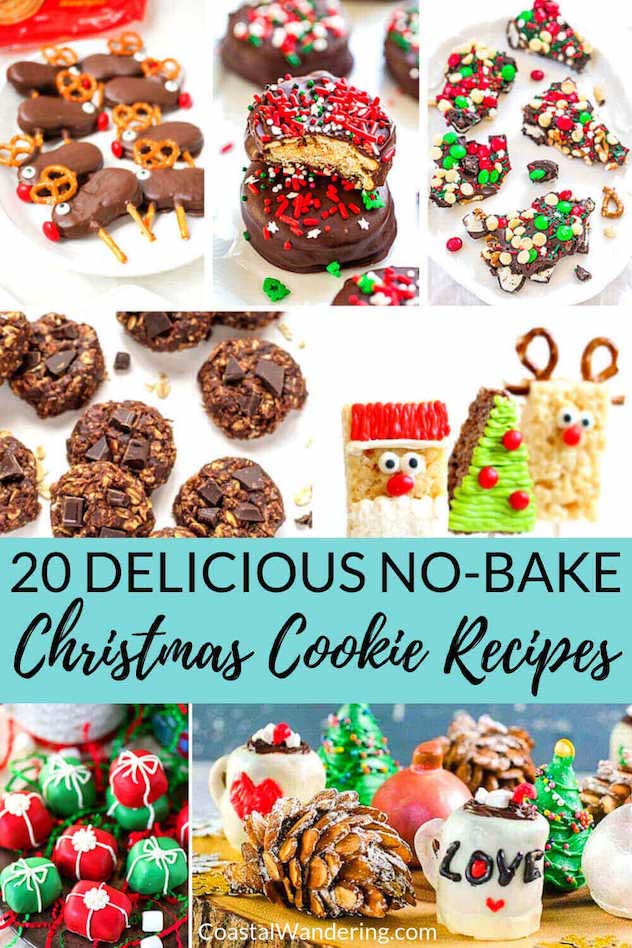 It's time to deck the halls and trim the tree with your favorite Christmas ornaments. This year, I'm getting in the spirit of the season with some DIY Christmas decorations and yummy no-bake Christmas cookies!
There are so many no-bake recipes to choose from that it might be overwhelming to know where to begin! My suggestion is to look for ingredients and flavors that you know you love. There are all sorts of different no-bake cookie recipes that include ingredients like peanut butter, chocolate chips, oatmeal, and even coconut.
Christmas Treats For Everyone
Likewise, there are plenty of no-bake Christmas treat recipes that are gluten-free, and vegan-friendly. There's a recipe for most dietary needs and this list features a handful of cookie recipes that fit the bill. That makes them a perfect gift for friends and family!
The variety of flavors, ingredient choices, and dietary options also make no-bake cookies a great choice for Christmas cookie exchanges. I don't know many people that can resist a fun twist on traditional Christmas flavors like candy cane or classic sugar cookies!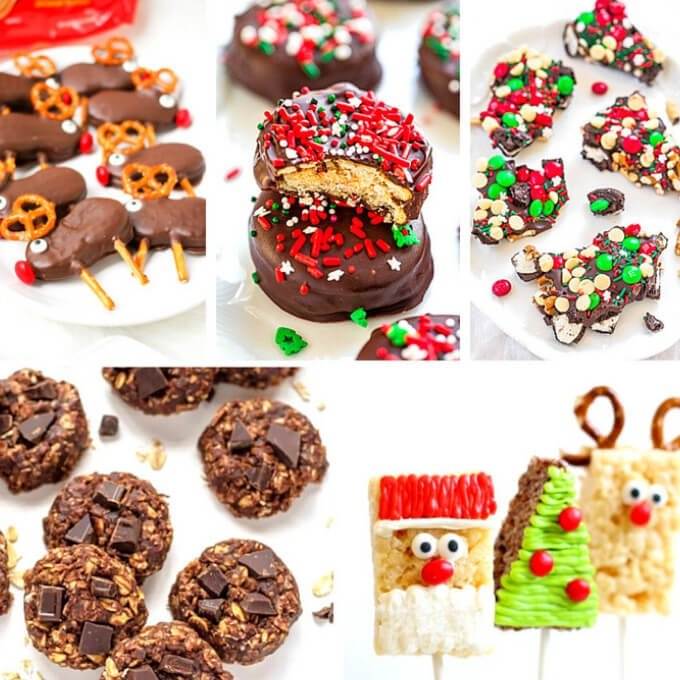 No-bake Christmas cookies are a great choice if you have little helpers in the kitchen. Most kids love these recipes because they're easy to make, come in lots of fun shapes (like reindeers and snowmen), and the dough is also safe to snack on as they help!
Most importantly, no-bake Christmas cookies and treats make holiday baking way less tedious. There's no slaving away in a hot kitchen for hours because these sweet Christmas treats come together fast! Typically, no-bake cookies need a little bit of time in the fridge or freezer to set, but that's about it.
20 Easy Recipes to Try This Year
No matter whether you're looking for a unique Christmas cookie or something a little more traditional, here are 20 easy and delicious no-bake Christmas cookie recipes to satisfy your taste buds. And if bark, bars, or truffles are more your style, there's a no-bake recipe for those also!
Festive Holiday Decorated
Traditional Cookies without Baking
Easy Balls and Energy Bites
Other No-Bake Treats
These fun and delicious no-bake Christmas cookies will take the stress out of your holiday baking. Whether your favorite flavors include sugar cookies, Oreos, peanut butter, rice krispies, or a simple cheesecake, there's sure to be a no-bake cookie recipe for you!
What's your favorite Christmas cookie to indulge in during the holidays? Drop us a note in the comments below!
Need a little help with your planning for breakfast on Christmas morning? These 20 easy and delicious breakfast casseroles are for you.
Looking for more unique dessert recipes? Check out this cheesecake dip and these creative s'mores recipes for everything from cookies to cupcakes to popcorn. And don't forget the old fashioned fudge that everyone loves for Christmas!