Need a fast and easy dinner? These easy frozen shrimp recipes are the answer! Everyone loves shrimp and with a bag stashed in the freezer you can make everything from shrimp scampi to shrimp tacos any time you need a quick meal.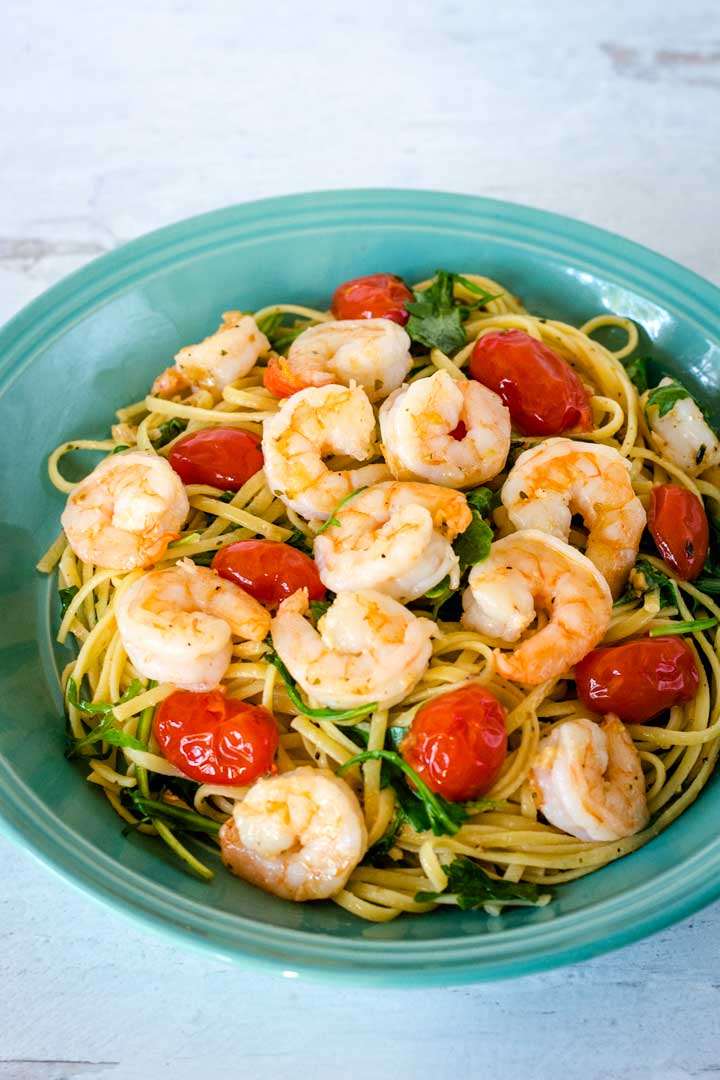 If you love seafood, shrimp is one of the easiest lean proteins to use to whip up a delicious meal. It makes meal planning simple because you can buy it frozen and stash it in your freezer so you'll always have some shrimp ready to cook.
It's easy to find at the grocery store, or you can freeze your own fresh shrimp from the local fish market. Whether you purchase it shell-on, peeled, deveined, raw, or pre-cooked, frozen shrimp is incredibly easy to use and perfect for quick and easy dinners.
Here, you'll find shrimp recipes that you can use with no thawing needed as well as those that require some defrost before cooking (it will thaw in a bowl of cold water in just a few minutes.)
Shrimp is versatile and can be baked, pressure cooked, sauteed, fried, grilled and even boiled. You'll find delectable ways to use frozen shrimp such as in stir fry, salad, sandwiches, casseroles, sheet pan dinners, tacos, appetizers, curries, and of course, shrimp scampi.
Easy Frozen Shrimp Recipes
Browse these awesome frozen shrimp recipes that are sure to inspire you and delight your family!
Easy Shrimp Cioppino
So good and much faster and easier than a traditional cioppino recipe! This is a super easy "dump recipe" using spicy Fra Diavolo sauce, frozen shrimp, and a few other pantry ingredients. You can use raw shrimp and the shrimp cooks in the sauce along with the other seafood. And you can mix it up with whatever additional seafood you like or happen to have in the freezer.
It's a great weeknight dinner that's impressive enough to make for holidays. And it's one of the fastest and easiest ways to make a big pot of seafood soup or stew. Perfect when you need a crowd pleaser. This one is a family favorite!
Cioppino recipe by Coastal Wandering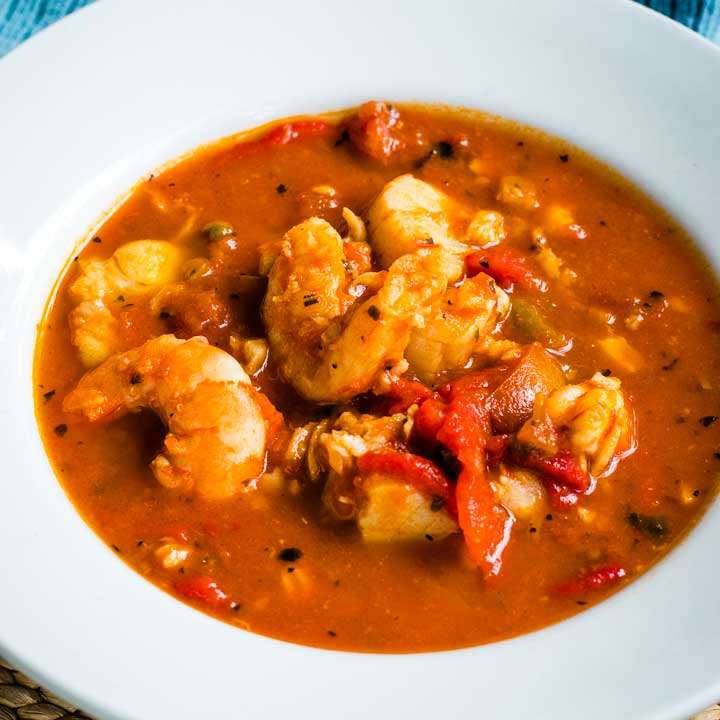 Shrimp Deviled Eggs
If you've got shrimp in the freezer and some basic pantry ingredients, you can whip up this fancy version of the classic deviled eggs in no time. Just place the frozen shrimp in a bowl of cold water to thaw while you boil the eggs. Then follow the simple recipe instructions to make this easy and delicious appetizer.
Recipe by Coastal Wandering
Easy Shrimp Cocktail
It's super easy to make shrimp cocktail in the oven! Just toss thawed raw shrimp in olive oil and some seasonings and bake. Whip up a healthy cocktail sauce (this one's keto friendly) while it's cooking and serve warm. Or even easier - just thaw some frozen cooked shrimp, squeeze some lemon juice over it and serve chilled with the cocktail sauce.
Recipe by Cook Eat Well
Shrimp Fried Rice
Who doesn't love a tasty meal of fried rice, complete with bite-sized veggies and shrimp, all seasoned with garlic, ginger, green onions, soy sauce, and a little scrambled egg? Whip it up quickly by using frozen shrimp, frozen veggies, and Instant Pot rice. Toss it in a skillet or wok over medium-high heat and dinner is done in no time. Win-win!
Recipe by Averie Cooks
Instant Pot Frozen Shrimp
No time to thaw your shrimp? No problem! This is the shrimp recipe for you. Your Instant Pot will make lightning-fast work of cooking frozen raw jumbo shrimp, with the shell on, into a luscious seafood entree. Just a little water, lemon juice, and Old Bay seasoning will do the trick!
Recipe by The Garlic Diaries
RELATED: 12 Instant Pot Fish Recipes For Easy Seafood Dinners
Italian Shrimp Bake
For this baked shrimp in a buttery Italian sauce use thawed shrimp and veggies. Add them to a sheet pan, and drizzle with butter and a dry seasoning mix (try adding a sprinkle of red pepper flakes if you like it spicy). Bake for 15 minutes and serve with white rice, pasta, or quick and easy air fryer baked potatoes. The tasty sauce will have you swooning over this delicious meal.
Recipe by Homemade Hooplah
Air Fryer Parmesan Shrimp
You'll love this tasty way to cook thawed shrimp! Just season the shrimp with garlic, salt and black pepper, onion powder, parmesan cheese, and cook in your air fryer. The result? A perfectly crispy, highly seasoned, and utterly delicious shrimp feast! Serve with your favorite sauce, dip, or just a squeeze of lemon.
Recipe by Bitz N Giggles
RELATED: 15 Easy Air Fryer Fish Recipes For Busy Weeknights
Baked Coconut Shrimp
A bag of thawed, peeled, medium-sized shrimp is perfect for dredging and coating with flaked coconut and panko crumbs before baking. Once coated, you'll bake the shrimp to golden crunchiness. Serve with your favorite dipping sauce. Makes a wonderful tropical appetizer or main course. Serve with a pina colada for an island inspired meal!
Recipe by Spend With Pennies
Low Country Shrimp Boil
Think you can't pull off a shrimp boil with frozen shrimp? Think again! This easy recipe will guide you through how to cook a tasty pot full of Cajun-spiced corn, Andouille sausage, onions, potatoes, and frozen shrimp. There's no need to even thaw before tossing them in toward the end. Awesome!
Recipe by The View From Great Island
RELATED: 12 Seafood Boil Recipes For Easy One-Pot Dinners
Shrimp Tacos
Keep packages of coleslaw mix and frozen pre-cooked shrimp stocked and you can make this outrageously delish taco meal for busy weeknights. A quick saute of thawed shrimp and taco seasoning in a splash of broth will get you started. Have limes, avocado, red onion, cilantro or your favorite toppings available and your choice of hard or soft shell tacos and serve it all in record time!
Recipe by Eating On A Dime
Easy Thai Shrimp Curry
Thaw your frozen shrimp and cook it up with this outrageously flavorful curry recipe. Coconut milk, onion, garlic, curry paste, and chicken broth create a rich base for this delectable meal. It can all be ready in under 30 minutes! Serve with rice.
Recipe by Salt And Lavender
Healthy Shrimp Scampi With Zucchini Noodles
Ditch the pasta in favor of healthy spiralized zucchini in this quick and delish dinner full of veggies and garlic butter shrimp. Butter, olive oil, lemon and Parmesan cheese give the shrimp its classic flavor. It's a quick meal that can be on the table in under 30 minutes!
Recipe by Well Plated
Spicy Shrimp Spaghetti
Go bold with this spaghetti meal that uses shrimp for a spicy protein. Using frozen cooked shrimp makes this dish even quicker to assemble since you'll just add the shrimp at the very end to make sure they're heated through when you're ready to serve. Fresh tomatoes, garlic, fresh parsley, and seasonings make up the simple sauce. So good!
Recipe by Happy Foods Tube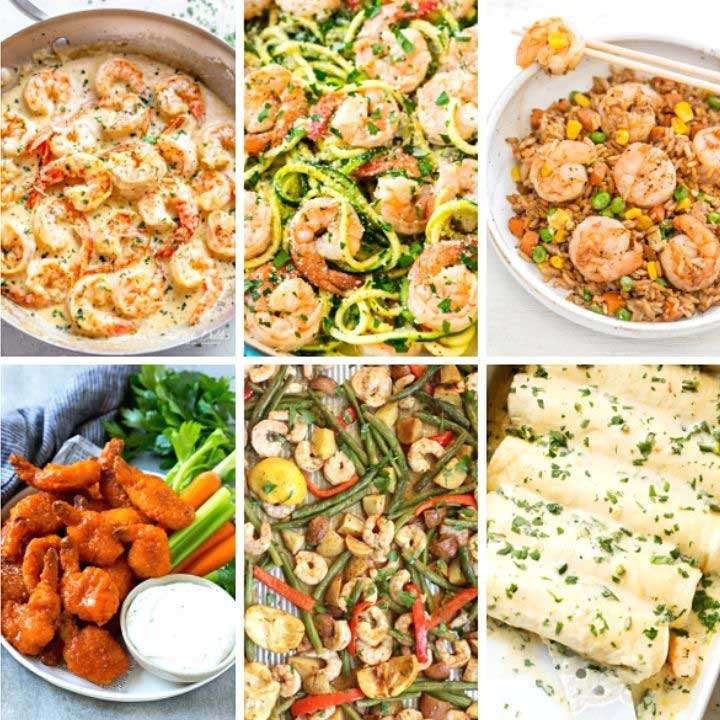 Shrimp Enchiladas With Creamy Poblano Sauce
Seafood enchiladas covered with a creamy white chili sauce are things that dinner dreams are made of. Thaw your shrimp and quickly cook it with spinach, shredded carrots, onions and seasonings. Stuff your tortillas and cover with the homemade sauce and bake. These are family approved, so make them with confidence!
Recipe by Little Spice Jar
Shrimp Sandwiches
Using pre-cooked frozen shrimp that's been thawed, chop it up into tiny pieces. You'll add that to a flavorful mix of mayo, sour cream, Dijon mustard, chopped green onion and chopped cucumber to make a shrimp salad. Mix and refrigerate until ready to add to sandwich buns and serve. Perfect for spring or summer.
Recipe by Natasha's Kitchen
Creamy Garlic Shrimp
This decadent shrimp sauce is everything and more. It's full of white wine, cream, butter, Parmesan cheese, garlic, and shrimp. Plus, it only takes about 10 minutes to put together in your skillet! It's a swoon-worthy meal that you can serve with rice, noodles or steamed veggies.
Recipe by Cafe Delites
Baked Shrimp Dip
Perfect for entertaining, this cheesy shrimp dip can be assembled ahead of time and baked right before you're ready to serve it. Mozzarella, Parmesan, cream cheese, white wine, and garlic make up the scrumptious base dip for the shrimp. Bake until hot and bubbly and serve this to rave reviews!
Recipe by The Chunky Chef
Cajun Shrimp Casserole
Casserole fans will adore this easy and highly seasoned shrimp bake. Swap out the traditional rice for cauliflower rice if you want to keep it low carb. Don't skimp on the cajun seasoning, though! Use frozen cooked shrimp that has been thawed. The whole casserole needs just 20 minutes in the oven. Perfect!
Recipe by Protecting Your Pennies
Sheet Pan Lemon Cajun Shrimp, Potato, and Vegetables
Enjoy a spicy Cajun-inspired meal with this easy sheet pan dinner that is made simple with potatoes, green beans, bell peppers and thawed uncooked shrimp. Butter, lemon juice, lemon wedges and spices keep it flavorful and coated with deliciousness.
Recipe by Hummusapien
Shrimp Alfredo Pizza
Pizza gets a new topping with a cheesy Alfredo sauce and shrimp for a lean protein topping. Feel free to use a store bought crust and sauce to make it effortless, although her recipe for Alfredo sauce is super easy. Just make sure you're using thawed pre-cooked shrimp!
Recipe by Tastes Of Lizzy T
Bang Bang Shrimp And Rice Bowls
Here's an easy copycat recipe for Bang Bang shrimp. Use thawed and pre-cooked shrimp and fry them for the classic crispy texture. Serve over rice and coat it all with the homemade sauce recipe that's positively mouthwatering.
Recipe by Domestic Super Hero
Buffalo Shrimp
If you're looking for a super easy appetizer or even a quick protein for dinner, look no further. Use frozen and breaded butterfly shrimp and give it a spicy kick with Buffalo sauce. Bake the shrimp, coat it in your favorite Buffalo sauce, and serve. For a meal option, choose a few delicious sides and you're done!
Recipe by Dinner At The Zoo
Shrimp Stir Fry
Rice or noodles make the perfect bed for this spicy shrimp meal. Covered in a delicious Asian-inspired sauce, the shrimp and veggies can quickly be made from thawed, frozen ingredients. It's a family favorite meal that everyone will appreciate.
Recipe by Spend With Pennies
So try one of these quick and easy shrimp recipes for a coastal inspired dinner this week!