Flounder is a great fish to cook at home, and there are so many delicious and easy ways to prepare it. Try these tasty flounder recipes whether you want to grill it, steam it, bake it or even fry it, the possibilities are endless.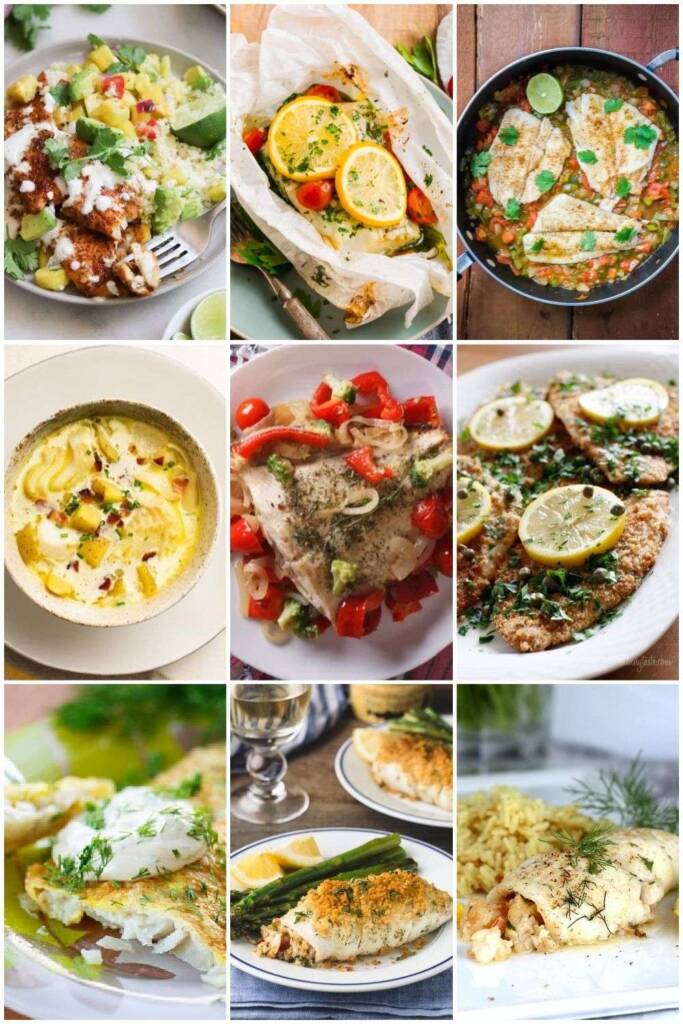 Lean and flaky, flounder is a mild-flavored fish, making it a great choice to transform into a variety of delicious dinner options.
Flounder is a great choice for seafood recipes. Since it has such a mild flavor, it's easy to keep the prep simple with ingredients like butter, garlic and lemon as your go-to seasonings. Flounder can also handle more substantial flavors from breading, sauces and spicy seasonings that can offer a flavor boost.
It's easy to pair flounder with just about any side dish. Salads, air fryer potatoes, vegetables, rice and even pasta are all wonderful accompaniments for flounder.
Easy Flounder Recipes
Enjoy this mild flavor, deep-sea flatfish with these easy flounder recipes that are perfect for a weeknight dinner. One advantage of flounder is that it cooks relatively quickly. Broiling, baking and steaming are all easy ways to prepare this fish.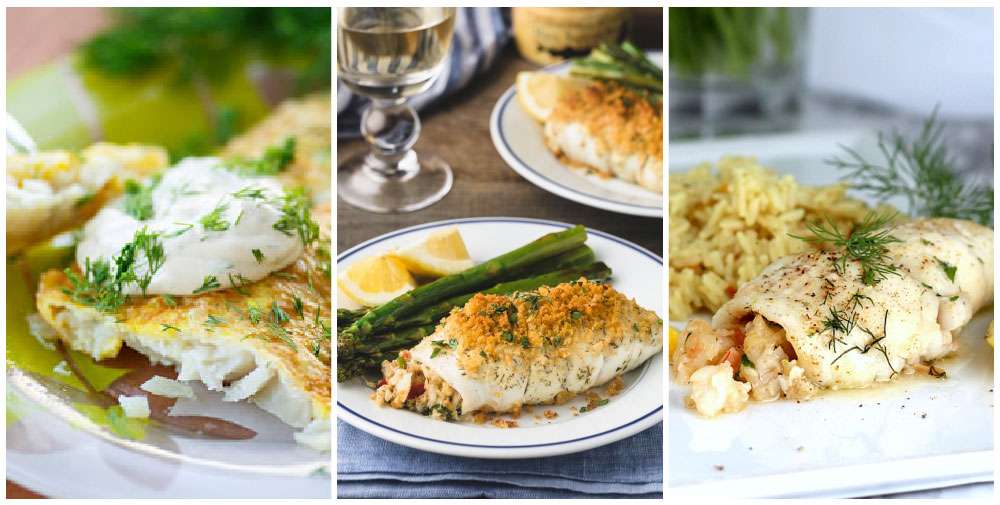 Easy Cioppino
Flounder is the perfect white fish to use in this super easy cioppino recipe. It can even go into the pot straight from the freezer! Just dump all the broth ingredients into a large dutch oven or soup pot, bring to a simmer and add your seafood of choice. Frozen shrimp and scallops pair well with the flounder and keep this recipe simple enough for weeknights, yet impressive enough for entertaining. Serve with crusty bread for dipping.
Recipe by Coastal Wandering
Crab Stuffed Flounder
Easy and elegant, this dish combines crab cakes and fish for a tasty main course. Make this seafood delight by adding a spicy lump crab mixture to the center of flounder filets and rolling each into a bundle. Place the flounder bundles in a baking dish and drizzle with a homemade lemon dill aioli. Sprinkle the top of each bundle with seasoned crushed buttery crackers. Bake until the flounder is opaque.
Recipe by Striped Spatula
Blackened Flounder With Pineapple Salsa
To make blackened flounder, season each filet with a homemade spice blend before pan frying. Made a homemade pineapple salsa that also includes chopped avocado, diced tomatoes and chopped cilantro and serve it over the fish. The perfect side is Carolina Gold rice for a delicious meal.
Recipe by Cook At Home Mom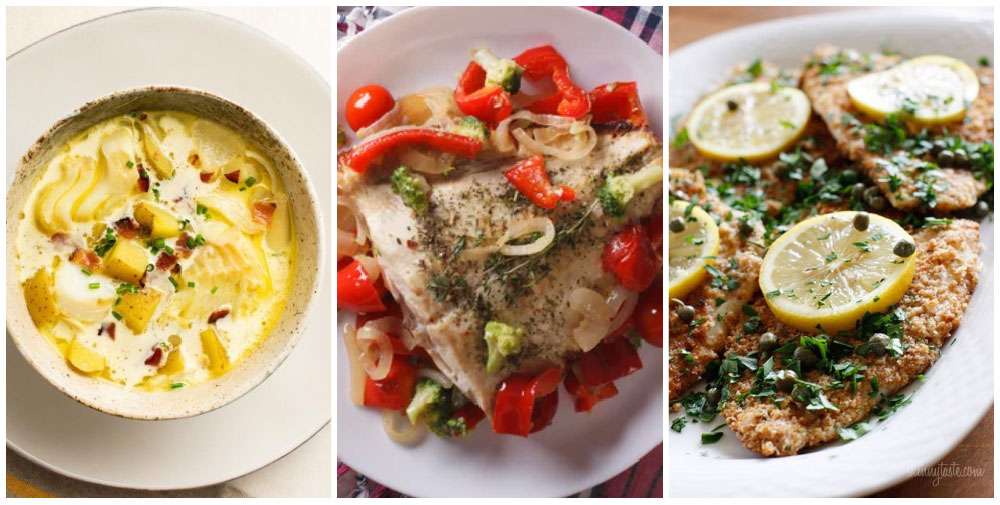 Skillet Fish Filet With Tomatoes, White Wine And Capers
A little butter, crushed garlic, lemon juice and some white wine go down in your skillet to start the beginning of a savory sauce. Add in your favorite marina sauce and stir to combine. Nestle the flounder in the saucy mixture and garnish with capers. Simmer for 5 minutes and plate up this deliciousness.
Recipe by Skinny Taste
Pecan Crusted Flounder
This easy substitute for fried fish uses a crunchy coating of finely chopped pecans or walnuts. Have your prepared baking dish ready for these coated flounder filets. Dip each filet in an egg mixture before coating both sides with the chopped nuts. Lay the filets in the baking dish and drizzle melted butter over them before baking. Check for doneness at 20 minutes or when the fish begins to flake easily with a fork.
Recipe by Wellness Mama
Parmesan Crusted Flounder
Enjoy a breaded fish with this low carb recipe that uses seasoned almond flour, parmesan cheese and spices to create the mixture. Sprinkle the breading over both sides of the flounder and place it on a baking sheet. It only needs about 15 minutes in the oven before it's golden, literally.
Recipe by Beauty And The Foodie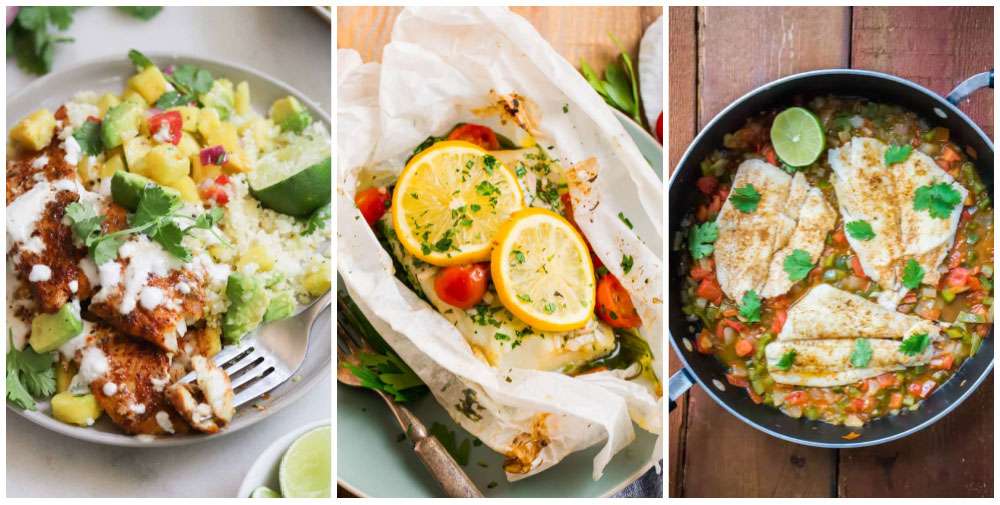 Spicy Creole Flounder
Give your fish dinner a kick with this spicy skillet recipe with a Creole flair. In a cast-iron skillet, sauté chopped onions and peppers before adding diced tomatoes and Creole seasoning. Give the flounder filets a sprinkle of the Creole seasoning, as well. In a separate skillet, sear the flounder on both sides for a few minutes before transferring to the spicy tomato skillet. Continue simmering until fish is opaque and flakes with a fork.
Recipe by Living Chirpy
Crispy Fried Flounder
If you happen to procure a whole flounder, you'll want to try this fried recipe that crisps the entire fish in a wok or large skillet, which takes about 5 minutes per side. Have a large platter ready for plating the fried flounder and drizzle it with a homemade hot soy sauce and Shaoxing wine mixture. Garnish this fish feast with julienned scallions and chopped cilantro.
Recipe by The Woks Of Life
Flounder Oreganta
Elevate flounder filets with an herbal topping of oreganata, which is an Italian-inspired crunchy topping that's a mixture of bread crumbs, olive oil, lemon zest and oregano. Spoon this classic mixture over each flounder filet and bake for just 12 minutes or until the fish is opaque.
Recipe by Carrie's Experimental Kitchen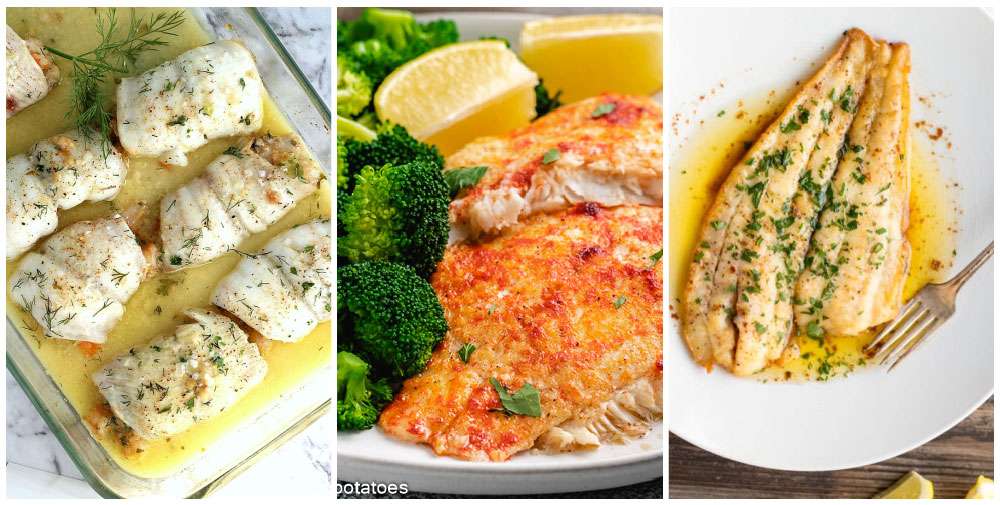 Baked Flounder With Tomatoes And Pesto
Steam your flounder to outrageous taste in a sheet of parchment paper that's folded into a packet, ready for a short session in the oven. Each filet is topped with your favorite pesto sauce, grape tomatoes cut in half and rings of red onion. Add a pat of butter and drizzle a little white wine on each filet before folding up the parchment packets. They need approximately 15 minutes in the oven to fully steam.
Recipe by Killing Thyme
Broiled Flounder WIth Lemon Cream Sauce
Season your flounder fillets with Old Bay, a cajun blend, or just use salt, pepper and paprika. Place the fillets on a baking sheet that's been prepared with cooking spray. Broil for approximately 8 minutes. While the flounder is under the broiler, make a quick sauce on the stovetop using heavy cream, butter, garlic and lemon juice. Serve this creamy sauce over the filets for a tasty accompaniment.
Recipe by Spicy Southern Kitchen
Baked Flounder
Flounder filets are drizzled with a seasoned melted butter, lemon juice and garlic sauce before being baked to flaky perfection in about 15 minutes. It's long enough for you to prepare a side salad and steam your favorite veggie for a quick and delightful meal. It's doesn't get any easier than this!
Recipe by More Than Meat And Potatoes
Provencal Seafood Bisque
Fish stock along with saffron and orange zest provide the unmistakable flavor for this delectable soup. Bacon, onion, garlic, carrots, celery and tomatoes provide the canvas of flavor that the flounder amplifies. Simmer the bisque to fully cook the fish and then use an immersion blender to smooth it. Stir in heavy cream during the final minutes of simmering for added richness.
Recipe by Simply Recipes
Flounder Meunier
Prepare your flounder filets by rinsing them and patting them dry with a paper towel. Dredge each filet in flour before skillet frying in extra virgin olive oil. Remove the filets from the skillet. Wipe out the skillet and brown the butter to nutty deliciousness. Add in fresh thyme and lemon juice. Plate the flounder and drizzle this herb butter sauce over each filet and garnish it with fresh parsley.
Recipe by Coley Cooks
Fish En Papillote
Lemon and herbs adorn flounder filets in this easy parchment fish recipe. The fish is steamed in the oven, thanks to the packets and infused with lemony flavor along with seasonings of garlic, shallots and parsley. Add in veggies like grape tomatoes, broccoli florets and/or zucchini and let them steam, too.
Recipe by Well Plated
Shrimp Stuffed Flounder
A quick sauté of chopped shrimp, onion, garlic, celery and herbs form the stuffing for this flounder recipe that's perfect for a seafood feast. Stir in breadcrumbs to complete the stuffing. Spoon stuffing on each flounder filet and roll up, placing them seam side down in a prepared baking dish. Drizzle with melted butter and lemon juice and bake for 25 minutes until the fish flakes easily with a fork.
Recipe by Grateful Prayer Thankful Heart
Thai Steamed Fish In Coconut Sauce
Make a homemade Thai sauce consisting of shallot, fresh ginger, lemongrass, chili, coconut milk, fish sauce and cilantro. Spread this thick and savory sauce over each flounder filet. Use a steamer to cook the fish for about 8 minutes. Serve this tasty flounder over rice and with a garnish of fresh cilantro.
Recipe by Panning The Globe
Coconut Lime Flounder
Give your flounder a tropical flavor with this easy preparation method. Coconut milk joins eggs to create a dipping mixture for the filets. Next, dredge each filet in a seasoned panko breadcrumbs mixture that contains coconut flakes and lime zest. Place each filet on a prepared baking sheet and bake for 15 minutes until flaky. Serve with lime wedges.
Recipe by Dinner Feed
New England Fish Chowder
Fish stock (or chicken stock) with onion, bacon, spices, potatoes and flounder create a fragrant and savory soup experience that's perfect any time of the year. Heavy cream keeps it thick, creamy and rich. Make this on your stovetop in under 30 minutes. Serve with your favorite crusty bread.
Recipe by Fearless Eating
Flounder Piccata
Capers, white wine and lemon add lots of flavor to this lightly breaded flounder that's quickly pan fried in a skillet. The sauce is easily made in the same pan with butter, chicken broth, fresh lemon juice and wine. Simmer and add in the capers before spooning it over the cooked flounder. Garnish with lemon wedges.
Recipe by Skinny Taste
Spicy Soy Baked Flounder
Fold up a foil pouch full of flounder seasoned with a homemade spicy sauce of soy sauce along with garlic, chili, lemongrass and cilantro pastes plus a tablespoon of rice wine. Drizzle this mixture over the filets and bake in the foil packs for approximately 15 minutes. Dinner is served and cleanup is a breeze!
Recipe by Sweet Cs Designs
Make a quick and easy fish dinner this week with one of these simple flounder recipes.