If you're looking for an exciting weekend getaway, look no further than Savannah, Georgia. You'll find an eclectic mix of interesting activities and unique experiences to explore in downtown Savannah and the surrounding coastal area.
There are plenty of fun things to do in Savannah, no matter whether you're a history buff or beach lover!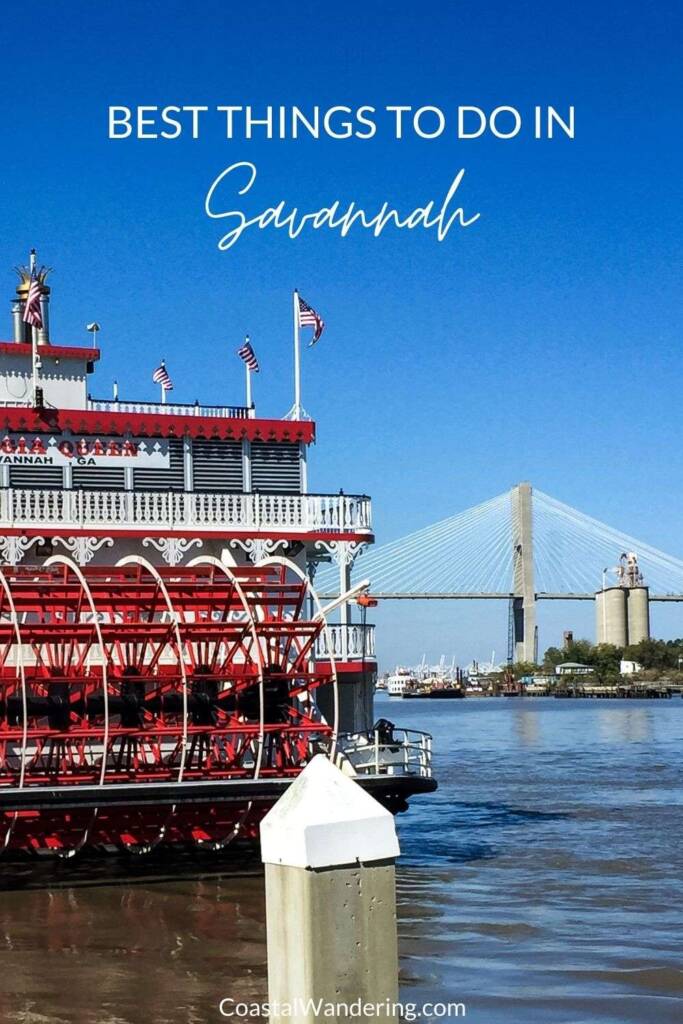 Cobblestone streets, beautiful parks, and notable historic buildings – Savannah offers all of this and more. As the oldest city in the state of Georgia, you expect plentiful historic sites and activities.
And while Savannah is truly an architecture and history buff's dream come true, it's just as fun for outdoor lovers because of its fantastic access to the beautiful Savannah riverfront and nearby coastal islands.
Within Savannah's downtown core you'll find the Savannah Historic District (my favorite place to visit), the Savannah Victorian District and 22 different squares. Steeped with a rich history, this strategic port city was a critical area during both the American Revolution and the Civil War.
Today, the "Hostess City of the South" remains an important Atlantic seaport and popular coastal vacation destination.
Here are the best things to do in Savannah – some are free and all are fun! Whether you find yourself traveling to shop and dine, enjoy the outdoors, or steep yourself in local history and art, there's something for every type of traveler.
Best Time To Visit Savannah
No matter when you go, you'll find lots to love about the city. Here are a few things to keep in mind when planning your Savannah stopover.
Ready to start planning your vacation? Search for the best hotels in Savannah here.
Time of Year
As a Southern destination, Savannah weather is warm most of the year. In fact, the heat and humidity of June, July and August can be a challenge if you're not used to it.
September and October are my favorite times to visit Savannah. The weather is still warm and there are fewer tourists making it a perfect time to explore the city.
Local Events and Festivals
Love movies, music and food? Plan your trip around the Savannah Film Festival in the fall. Or check out the Savannah Music Festival, Jazz Festival, or the Savannah Food & Wine Festival.
And Savannah is magical at Christmas time with the city decked out in lights and flowers. Stay through January 1st and celebrate New Year's Eve with fireworks on River Street.
Or experience St. Patrick's Day in Savannah with one of the largest parades in America!
Exploring Downtown & The Savannah Historic District
As you've likely guessed, there are plenty of fun things to do in downtown Savannah. Full disclaimer: one of my favorite areas within the downtown core is the Savannah Historic District, so you'll find that many of these suggestions are located within this area of the city.
Savannah Old Town Trolley Tours
Whether you choose the one-day or two-day unlimited hop on and hop off options, this is an easy and convenient way to get around Savannah.
If you decide to take the Savannah Old Town Trolley Tours hop-on-hop-off, you'll be able to visit many popular destinations mentioned in this post. This includes places like Forsyth Park, City Market, River Street, Cathedral of St. John the Baptist and more.
If you're in the mood for something a little bit spookier, you should consider the Ghosts & Gravestones Tour run by the same company. The ghost tour takes you through the most haunted city sites.
During this tour you'll visit two of the most famous haunted buildings in Savannah – Andrew Low House and Perkin's & Son's Ship Chandlery – as well as Antebellum Mansions, a handful of local cemeteries, and you'll even stop by some of the bloodiest battlegrounds in history.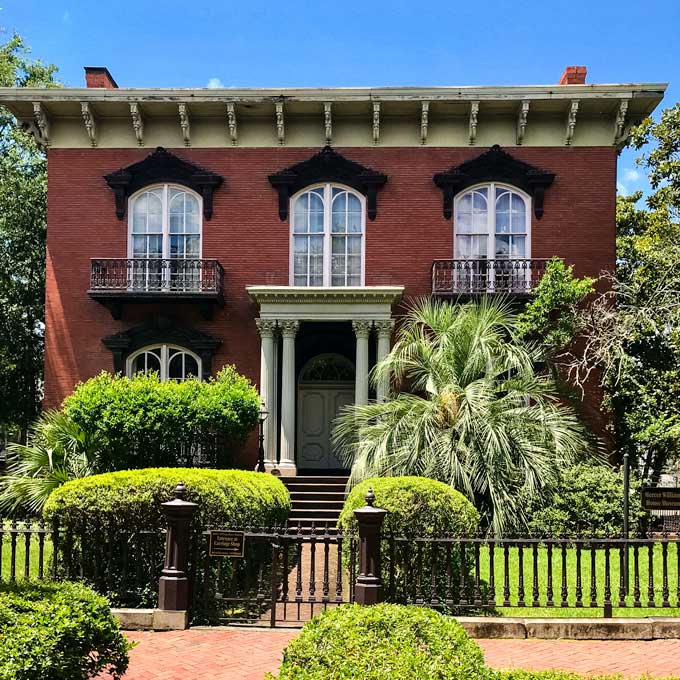 Savannah's Historic Squares
Savannah was originally laid out in a grid pattern with 24 squares built around small parks. Today 22 of the squares remain, and you can see may of them on the trolley tours.
But the best way to explore Savannah's beautiful squares and architecture is by walking. Each square has its own unique personality with most containing a monument or fountain, garden, pathways, and benches.
Chippewa Square was the location for the famous park bench scenes in the movie Forrest Gump – although the bench was a movie prop that is now in the Savannah History Museum.
Fun fact: they reversed the direction of traffic around the square for the movie so the bus could pull up with the door facing the square. Chippewa Square was one of the few Savannah locations in the movie as most of the film's locations were in and around nearby Beaufort, SC.
The Mercer Williams House, the location of the events depicted in the book and movie Midnight in the Garden of Good and Evil, is located on Monterey Square. If you're a fan of the movie, you'll recognize some of the locations on the house tour.
You can also tour the Owens-Thomas House located on Oglethorpe Square and the Davenport House Museum on Columbia Square. Or just wander through the squares and take in the history and architecture.
City Market
One of the primary gathering points for locals for close to 300 years, the Savannah City Market has a rich and colorful history. Located in the historic district, you'll find the City Market covering a full city block. It's situated at the corner of Jefferson and West St. Julian Streets.
Beginning in the middle of the 18th century, this market was the place to purchase groceries and goods. Even after two fires, the Civil War, and the great Savannah hurricane of 1896, the City Market remained central to the everyday lives of Savannah locals.
Today, City Market is home to many of the most popular restaurants in the historic district, as well as a wide variety of art galleries and small boutiques.
And if you're visiting Savannah during St. Patrick's Day and want to experience a world-famous party, you'll need to stop by the market! You'll find a two-day long outdoor bash that envelops the City Market as well as the surrounding restaurants and squares.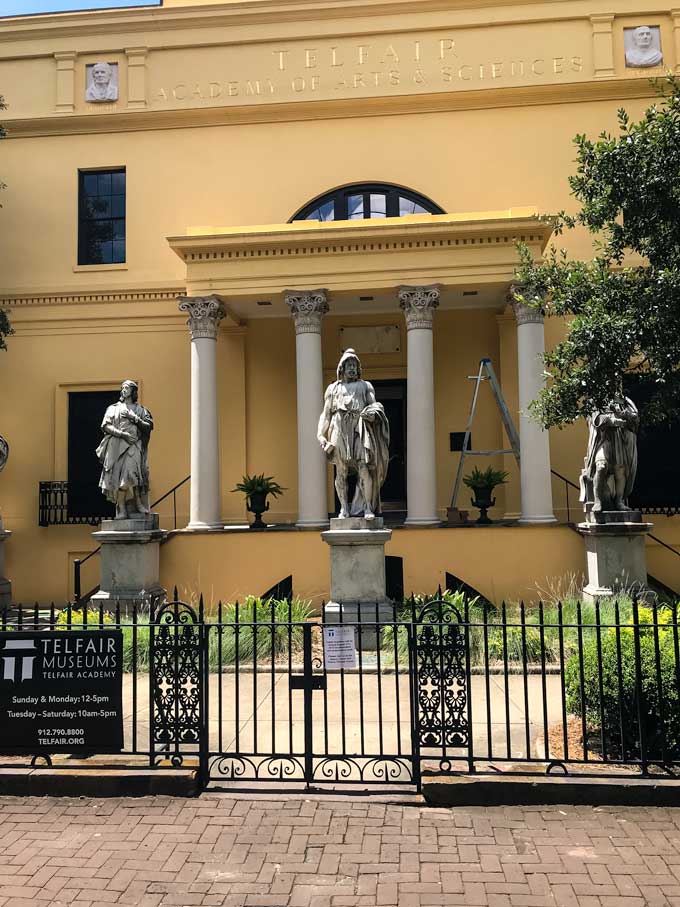 Telfair Museums
If you live and breathe art, history, and architecture, the Telfair Museums are a must-do while you're in Savannah. The Telfair Museums – Telfair Academy, Owens-Thomas House and Slave Quarters, and Jepson Center – are all located within walking distance of one another.
I would recommend setting aside at least an afternoon to visit these museums, but if you're a real culture junkie it's the perfect activity for a day trip!
Originally founded in 1883, this trio of museums now presents over 200 years of culture and is the oldest public art museum in the southern states.
Bequeathed to the Georgia Historical Society in 1875, Telfair Academy is the original museum in the group. This building presents the home and furnishings of local philanthropist Mary Telfair, as well as a lovely Sculpture Gallery.
Likewise, the Owens-Thomas House is one of the most beautiful examples of classic English Regency architecture in the entire country. This interesting house museum contains art dating from the late 18th and early 19th centuries. It's also home to a carriage house with intact urban slave quarters.
Finally, the Jepson Center is fully devoted to contemporary art and is home to a rotation of visiting exhibitions.
No matter whether you choose to visit a sampling of these museums or explore them in their entirety, the Telfair Museums provide a unique look at local art and culture as it developed throughout Savannah's history.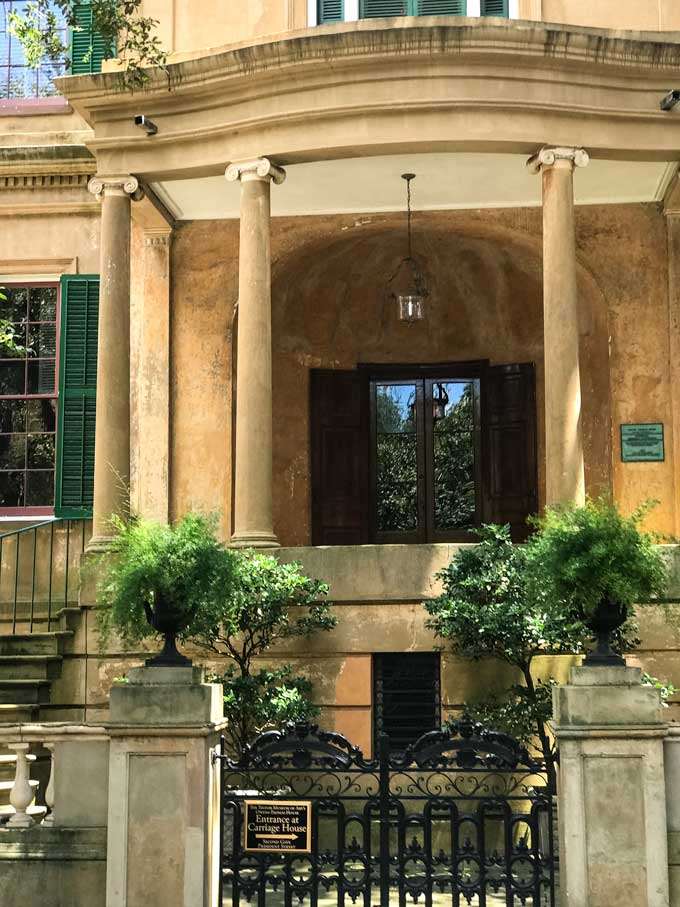 Colonial Park Cemetery
You'll find this historic cemetery in downtown Savannah. Originally built in 1750, Colonial Park Cemetery is the final resting place of many of the earliest settlers in Savannah.
While you won't find any Confederate soldiers in this cemetery, you will find a mass grave for close to 700 locals that fell victim to the yellow fever epidemic of 1820.
The cemetery was closed to burials in 1853 and became a city park in 1896. Beyond its use as a cemetery, Colonial Park was also the official dueling grounds of Savannah between 1740 and 1877.
Whether you're visiting Colonial Park Cemetery for its beautiful landscape of Spanish moss and old trees, or you're wanting to take in Savannah's spookiest ghost stories, this destination is a must-see.
River Street
Stop by Savannah's famous River Street after spending a day out and about exploring all that Savannah has to offer. Here you'll find plenty of century-old buildings converted into neat shops, art galleries, and wonderful restaurants and bars.
You'll even find old-fashioned candy shops making pecan pralines perfect for souvenirs to take home.
This is the perfect spot to kick back, relax, do a little shopping and grab a delicious meal. And if you're hoping for a view of the Savannah River, be sure to check out one of the rooftop bars along this street.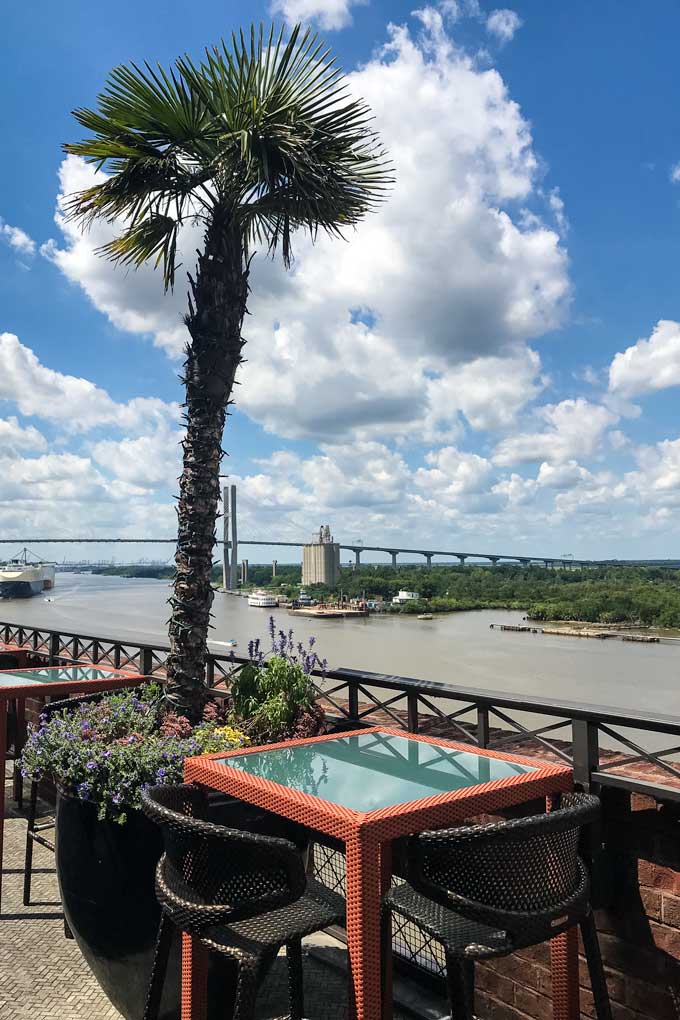 The Most Interesting Places to Eat in Savannah
Savannah is truly a foodie traveler's paradise – especially if you love seafood! Here are a few restaurants that offer a fantastic culinary experience as well as a fascinating snapshot of Savannah's history.
Mrs. Wilkes Dining Room
Here's a fun spot to try if you're hankering for southern classics like fried chicken and butter beans. You'll find Mrs. Wilkes Dining Room on Jones Street in the historic district. Jones Street is one of the most lovely streets in Savannah.
You'll see Spanish moss hanging from the trees and old cobblestone streets. You'll certainly feel like you've stepped into the past!
This historic house began as a boardinghouse many years ago and was taken over by Sema Wilkes (Mrs. Wilkes) in 1943. Her classic menu offers casual Southern cooking at its finest – along with dishes like fried chicken and butter beans, you'll also find candied yams and a rotating seasonal menu.
Warning: Mrs. Wilkes doesn't take credit cards or reservations. Bring cash and prepare yourself to wait in line. It's worth it!
The Olde Pink House
You'll find this striking Georgian Mansion faces Reynolds Square – it's the perfect spot to visit if you're looking for a seafood fix.
Now a national landmark, The Olde Pink House originally opened in 1771 as the Habersham House. While not originally intended to be pink, the coloring of the brick bled through the plastered walls and changed the exterior color from classic white to the vibrant pink you'll see today.
You have a couple of different dining options here – lunch, dinner, and the Arches Bar. You'll find southern classics like fried green tomato and shrimp and grits, but there's also plenty of seafood to choose from. Flounder, salmon, shrimp, lobster tails, and more. The choice is yours!
The Grey
The Grey is a combination dining room and diner bar and is located inside what was once a Greyhound Bus Terminal. Originally built in 1938, the downtown Savannah terminal features beautiful art deco architectural touches.
The Grey menu is Chef Mashama Bailey's personal take on Savannah's classic southern cuisine. You'll find dishes like a raw bar platter, crab rice, the dayboat catch, fried flounder, and chilled cucumber soup on the dinner menu.
If you're looking for something a little more laid back, try the diner bar menu – it's filled with snacks like pickled eggs, smoked olives, tartare tartine, smoked fish dip, and even ham & potato croquettes.
Leopold's Ice Cream
Don't miss this iconic ice cream shop's fabulous flavors and movie-themed decor at their flagship store on Broughton Street. Be sure to taste the original Tutti Frutti flavor the Leopold brothers created in 1919!
They also serve soups, salads and sandwiches if you want to grab lunch first.
Free Things To See & Do In Savannah
While there are wonderful restaurants, shops, museums, and historic sites, there are also plenty of interesting free things to see and do in Savannah!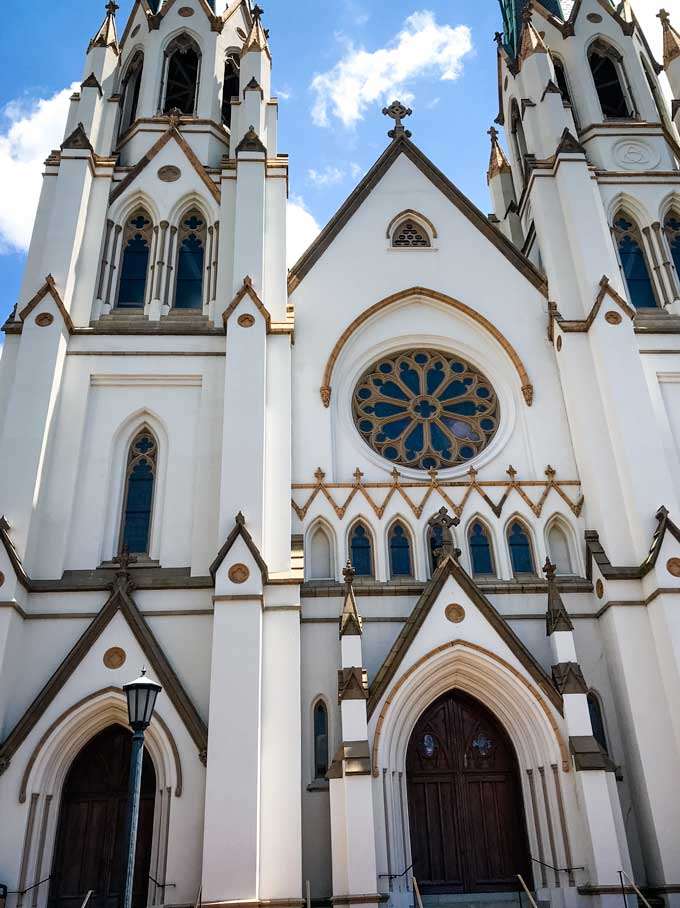 Here are our top picks if you're looking for a budget-friendly afternoon activity:
Cathedral of St. John the Baptist
This cathedral's towering steeples are an iconic symbol along the skyline of Savannah.
The first parish was established just before the beginning of the 19th century by French Catholic émigrés. While much of the original structure was destroyed in a fire in 1898, the current Cathedral of Saint John the Baptist was quickly rebuilt and dedicated on October 28, 1900.
You'll find the Cathedral of St. John the Baptist on Lafayette Square and can visit for a self-guided tour Monday through Saturday from 9:00 a.m. to 11:45 a.m. and from 12:45 p.m. to 5:00 p.m.
Bonaventure Cemetery
You'll find this charming popular tourist destination located a little east of Savannah, along the Wilmington River.
This 100+ acre cemetery is well-known for its beautiful roads lined with trees filled with Spanish moss, interesting cemetery sculptures, and architectural elements. Not to mention the plentiful local folklore and legends associated with the many notable persons interred here!
In operation for over 150 years, this site first opened in 1846 as a private cemetery and later became a public cemetery in 1907. Prior to its use as a cemetery, the land existed as the Bonaventure Plantation.
You can walk the Bonaventure Cemetery grounds daily from 8:00 a.m. to 5:00 p.m. While you can always embark on your own self-guided tour, the Bonaventure Historical Society also runs occasional free tours, so be sure to check their schedule.
(Hint: If your visit doesn't line up with a BHS tour, download their self-guided tour app to get the most out of your visit.)
Savannah Botanical Gardens
What could be better than enjoying an afternoon stroll through a beautiful botanical garden?! This 10-acre garden includes beautiful rose gardens, a children's garden, vegetable gardens, fern gardens and more. I'd recommend hopping on the nature trail that runs along the edge of the pond.
The Savannah Botanical Gardens is located on Eisenhower Drive. It's free to access the public areas inside the gardens. You can visit any day of the week during daylight hours.
Be sure to also check out the historic Reinhard House while you're at the gardens. Originally built near downtown Savannah in the 1840s, this quaint German-style farmhouse was moved to its present location inside the garden in 1990. It now acts as the headquarters for the local garden clubs.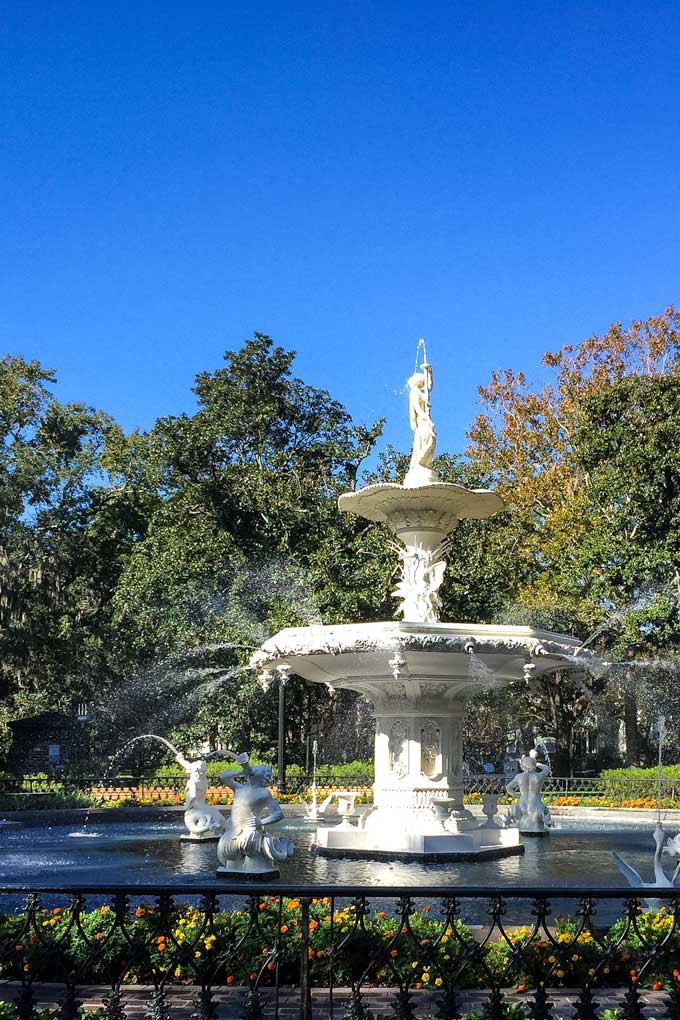 Forsyth Park
Occupying 30 acres of land, Forsyth Park is the largest park located in the historic district of Savannah. This is a popular destination for both locals and visitors.
On any given day you can find park-goers enjoying a mixture of activities. Concerts, recreational sports, people-watching, sunbathing, and enjoying an afternoon reading are all fair game here. You'll also find a fantastic farmer's market if you happen to be around the park on a Saturday.
One of the most popular sights here is the large fountain that sits at the north end of the park. First constructed in 1858, this iconic fountain has since become a very popular spot for proposals. There are plenty of benches around the fountain – this is a great place to people watch!
Nearby Savannah Attractions
Wormsloe Historic Site
If you're looking for the quintessential picture of live oaks filled with Spanish moss, Wormsloe Historic Site is the destination for you. While this spot is particularly interesting to history and architecture buffs, almost everyone can appreciate the beauty of this iconic destination.
This historic site is home to the tabby ruins of Wormsloe, Savannah's oldest standing structure. You can also visit the estate gravesites, partake in a guided tour, and walk the nature trail.
When you visit you'll also get the chance to interact with historically costumed interpreters and guides. Visting Wormsloe is a unique opportunity to step back in time and learn about daily life during the very beginnings of this important port city.
McQueen's Island Historic Trail
This is the perfect thing to do in Savannah if you're an avid hiker or biker. At 5.6 miles long, this gravel trail is a great option for a morning or afternoon walk. No matter the time of day, you'll have the opportunity to breathe in the fresh air and enjoy the marsh and seaside views of coastal Georgia.
This historic trail is located just east of Savannah and follows the former Savannah & Tybee Railroad line that runs along the edge of the Savannah River. The rail line was originally built in 1887 to carry beach vacationers between Savannah and Tybee Island.
These days you won't see any trains, but the trail does boast plenty of native wildlife. Keep your eyes peeled for the eastern box turtle, osprey, red-tailed hawks, pelicans, and even American alligators.
Tybee Island
If it's sand, surf, and sunshine that you're looking for, you'll want to check out Tybee Island. Previously known as "Savannah Beach," Tybee Island is located only a short drive outside Savannah – just 18 miles away!
Nearby activities include the Tybee Lighthouse (the first southern Atlantic coast lighthouse) and Fort Pulaski but it's also regularly named one of the best beaches in the U.S. Enjoy an afternoon relaxing on the beach or rent a kayak to paddle through Georgia's iconic coastal sea marshes.
The public beaches are not pet-friendly. If you're traveling with a furry friend, you can (and should) explore the nearby dog parks and wildlife trails instead.
Butterbean Beach
Butterbean Beach is a hidden gem in the city of Savannah. It's located just 20 minutes from downtown on the Skidaway River. Butterbean is a great place for kayaking, boating, fishing and spotting wildlife. During the season there are often food trucks there so you can grab lunch with a view.
Exploring the Hostess City
Whether you're a foodie traveler, history buff or nature lover, there's certainly something for you to enjoy in Savannah, Georgia. Use this list of things to do in Savannah as a jumping-off point as you plan your coastal vacation, long weekend, or day trip to the Hostess City.
And if you're preparing to pack for your Savannah getaway, be sure to check out how to pack for a beach getaway in just a carry-on (you'll thank me when you hit the cobblestone streets!).
Start planning your vacation now. Search for the best hotels in Savannah here.
Did we miss your top thing to do in Savannah? Let us know in the comments below!