If you like eating oysters, then you'll love these delicious oyster recipes that are easy to make and absolutely mouth-watering.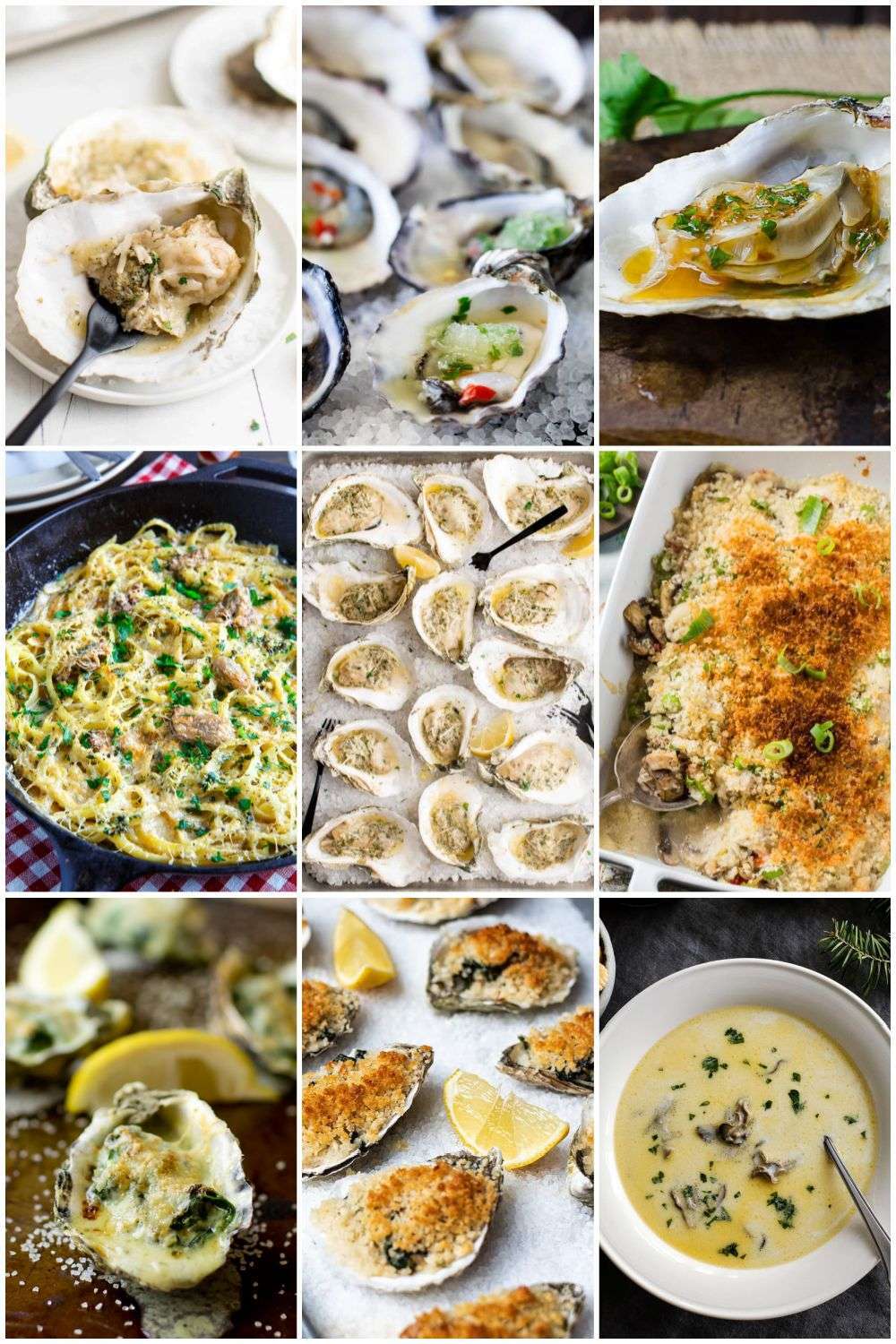 Whether you're preparing oysters as an appetizer or an entrée, this collection will provide you with easy and delicious oyster recipes to make at home.
Once you've mastered how to shuck fresh oysters, you'll be inspired to explore how to serve this shellfish. They're perfect for soups and stews, but can be enjoyed in a variety of ways and with a myriad of delicious toppings.
Best Oyster Recipes
From baking to broiling and from grilling to serving raw on the half shell, oysters are a delicacy that can be paired with lemon, garlic butter, cheese and herbs for a delightful meal or starter course. You'll find the best oyster recipes right here with plenty of tasty options for your next seafood meal.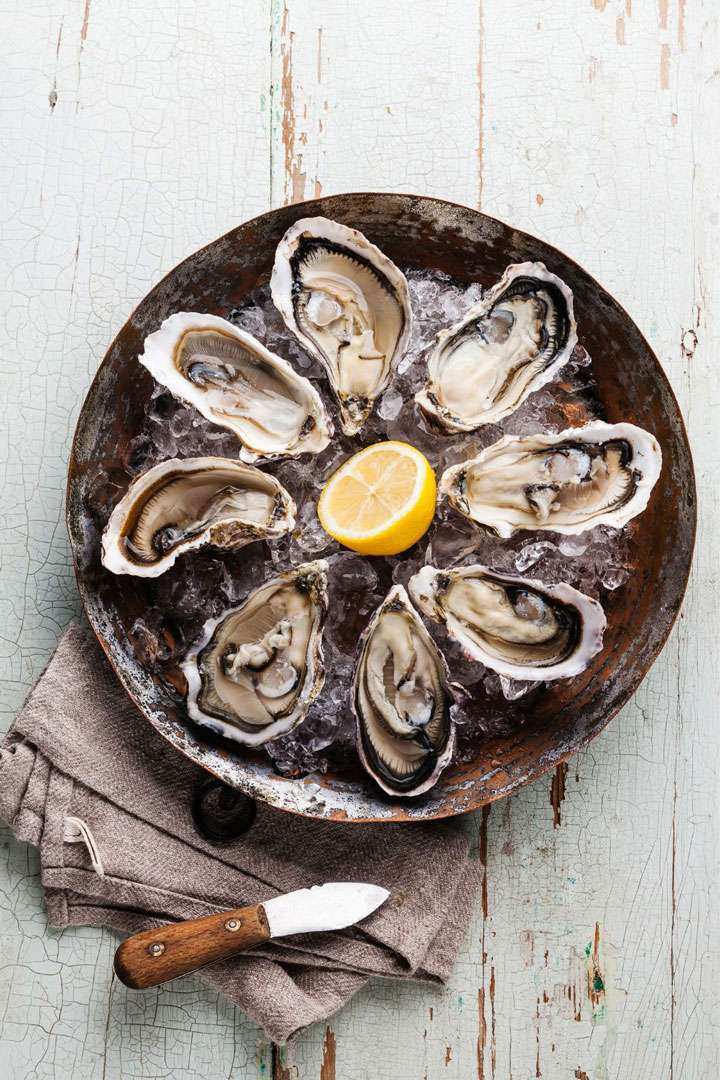 Oysters On The Half Shell
It doesn't get more classic than this 4-ingredient recipe that walks you through the basics of shucking fresh oysters using a handy oyster knife, placing them on a platter over ice or Kosher salt and serving with wedges of lemons and a garnish of mint leaves.
It's the easiest way to enjoy this shellfish that's sure to satisfy your oyster craving.
Recipe by Savor The Best
Oysters With Mignonette Granita
For a more elegant and impressive presentation, serve your oysters half shell appetizer with an eye-catching mignonette granita. The classic oyster condiment made with red wine vinegar, minced shallot, crushed peppercorns, sea salt and sugar is heated on the stovetop, cooled and strained through a sieve before being frozen to create an icy topping.
Scrape the granita every hour while in the freezer until small pieces form, making for a stunning display sitting atop each oyster in its half shell.
Recipe by Unami Girl
Easy Baked Oysters
Fresh oysters are shucked, kept in their half shell with their delicious juices, and placed on a foil-lined baking sheet before being topped with creole seasoning and finely grated Parmesan and cheddar cheeses.
Bake until cheese is melted and golden. Garnish with chopped parsley before serving.
Recipe by Amy Casey Cooks
RELATED: 20 Baked Mussels Recipes For A Quick And Delicious Meal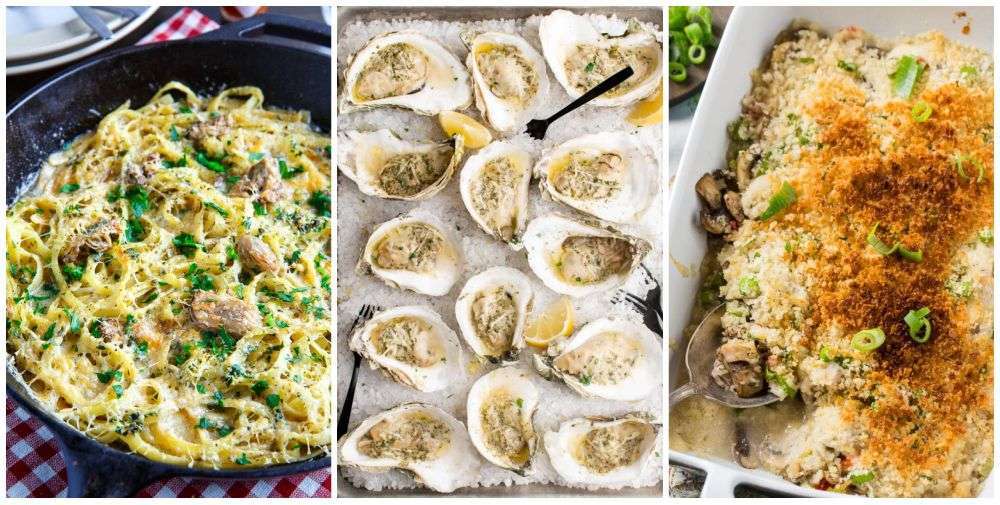 Oysters Rockefeller
Sumptuous flavors make this broiled Oysters Rockefeller recipe a favorite for a meal entrée or appetizer. In a large skillet, sauté chopped shallot and garlic in butter over medium heat and add a splash of Pernod for a little anise flavor. Add in heavy cream, chopped spinach and grated Pecorino Romano cheese and simmer until thickened.
Spoon a teaspoon of the spinach mixture over each shucked oyster on a lined baking sheet and top with more grated cheese. Place under the broiler until the cheese is melted.
Recipe by The Gourmet Gourmand
Shucked Oysters With Mignonette Sauce
Top your freshly shucked oysters with this easy mignonette sauce that's a classic accompaniment for this raw shellfish. The ingredients in mignonette sauce help bring out the natural sweetness of raw oysters.
Combine red or white wine vinegar, chopped shallots, freshly cracked black pepper and kosher salt in a bowl and let it sit at room temperature for a few hours before serving to help the flavors infuse. A little goes a long way, so add less than a teaspoon on top of each oyster and enjoy,
Recipe by Well Seasoned Studio
Baked Oysters With Pancetta
Fragrant and flavorful, half shell oysters receive a topping of smokey pancetta that's been sautéed over medium heat in butter with shallot and garlic. Chopped spinach is added along with white wine and Parmesan cheese and stirred to combine.
Rock salt holds the bottom shells securely on a baking sheet while you top the oysters with the spinach mixture. Add buttered panko crumbs on top and bake until the tops are golden brown. Serve with lemon wedges.
Recipe by Kitchen Swagger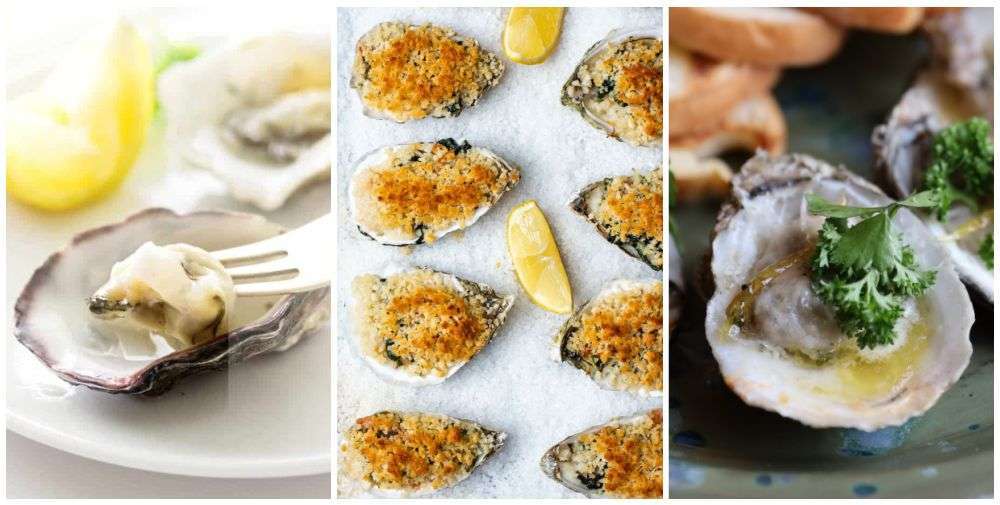 Oyster Ceviche
If you're an oyster lover, your taste buds will relish this ceviche of fresh oysters that are chopped and then mixed with freshly squeezed lime juice and a little olive oil and salt.
Add in marinated onions, diced tomatoes, diced bell peppers and freshly chopped cilantro. Let this amazing concoction marinate for 10 minutes before serving.
Recipe by Laylita
Oyster Stew
Using freshly shucked oysters or store-bought raw oysters in their juices, this simple stew is a delicious way to enjoy this shellfish. Melted butter and garlic join with flour, hot sauce, Worcestershire sauce, milk and the oyster juice to form a broth.
Simmer until the mixture is almost boiling. Add the oysters and cook on low until oysters begin to curl. Serve this easy oyster stew with a garnish of freshly chopped parsley and oyster crackers.
Recipe by A Farm Girl Dabbles
Pan Fried Oysters
For shucked store-bought oysters, adding a beer batter (or milk batter) and pan-frying them is a tasty way to enjoy them. A simple dip in an egg wash that includes beer, onion, garlic, peppers and a smidge of cayenne is the first step before coating them in a flour and panko mixture.
Fry them in oil in a deep skillet for a few minutes on each side. Remove, drain, and serve with lemon wedges.
Recipe by Craft Beering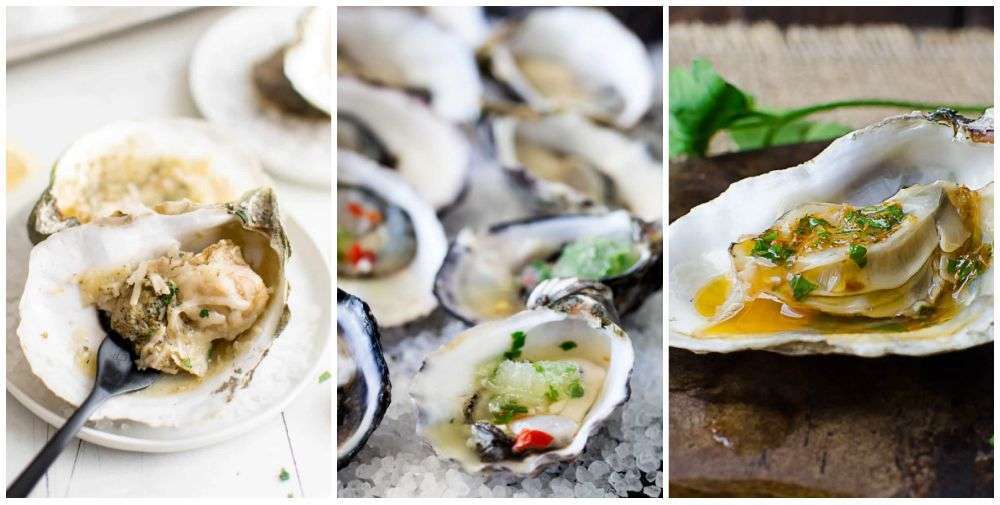 Mardi Gras Grilled Oysters
Grill a dozen oysters shucked with this flavorful New Orleans Mari Gras recipe that's topped with a spicy and buttery mixture. Melt butter and add in lemon juice, Worcestershire sauce, smoked paprika, cayenne pepper and parsley and stir to combine.
Place each unopened oyster on the grill, making sure the bottom shell is on the grates, and let the heat help open them in about 3 or 4 minutes. Take them off the grill and now easily remove the top shell. Add a spoonful of the prepared butter mixture on top plus a dash of hot sauce, too, for an extra kick of spiciness.
Recipe by Garlic And Zest
Baked Oysters
Fresh oysters are shucked and baked with a zesty butter mixture of lemon and garlic seasonings. Place shucked oysters on a baking sheet lined with rock salt. The rock salt provides the perfect cradle for the oysters to keep the bottom shells from moving when baking.
Add a sprinkle of Parmesan cheese to the top of each buttered oyster before baking. They need less than 15 minutes in the oven. Garnish with fresh parsley before serving.
Recipe by Spoonful Of Flavor
Thai Oysters With Lime Cucumber Granita
An explosion of taste tops these oysters on the half shell with an easy sweet and spicy dressing and a salty and herbal granita. Cucumber, cilantro, salt, lime juice and lime zest combine to make an icy granita. Rice wine vinegar, red chili and garlic make the zesty Thai dressing.
Position your oysters over rock salt or ice and drizzle on the dressing, followed by a spoonful of the salty granita, and enjoy.
Recipe By Sprinkles And Sprouts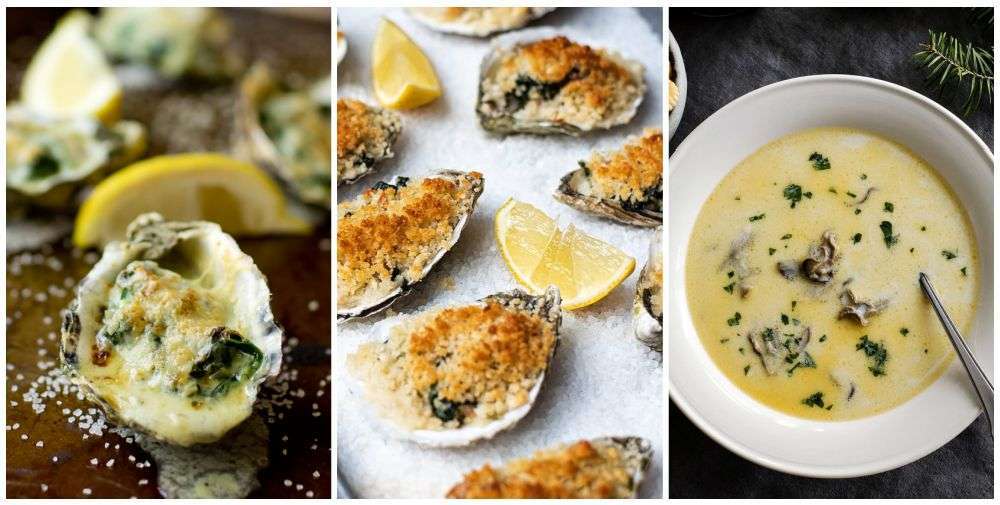 Crispy Fried Oysters With Lemon Caper Aioli Sauce
Spicy with a little texture from capers, the tartar sauce in this recipe makes the perfect dipping sauce for these crispy oysters. Make the aioli sauce with mayo, lemon juice, chopped capers and shallot and a few dashes of hot sauce. Make ahead and let it chill in the fridge.
Dredge raw oysters in a seasoned flour mixture, an egg mixture and finally coat with crushed saltine crackers. Fry in a pan over medium heat in vegetable oil until golden brown. Drain well and serve with the tasty tartar sauce.
Recipe by Sabrina Currie
Buffalo Blue Cheese Grilled Oysters
Quick, easy and full of spicy flavor, you'll love the taste of these grilled oysters. Melted garlic butter gets a dash of hot sauce before being spooned over oysters on the half shell that have been placed on the grill.
Top with crumbles of bleu cheese. Cook until they reach an internal temp of 145 degrees, as read by a meat thermometer. Remove and garnish with fresh parsley.
Recipe by Grill Girl
Smoked Oyster Dip
Perfect as a starter to a seafood meal, this dip is an easy appetizer made with canned smoked oysters. Drain the oysters and add in cream cheese to keep it smooth.
Spice it up with cayenne pepper, ground chipotle, smoked paprika, fresh dill and lemon juice. Stir it all together with a spoon, mashing together the ingredients as you go. For a little bit of tanginess, stir in a few teaspoons of capers, Chill well before serving with crackers and sliced cucumbers.
Recipe by White On Rice Couple
Oyster Casserole
Oyster casserole is a great seafood side dish to serve along with a Thanksgiving turkey. It's a flavorful mixture of oysters with buttery sautéed aromatics of onions, garlic, celery, bell peppers and mushrooms.
A heavy cream and parmesan cheese sauce keeps it rich. It's all contained in a baking dish and topped with panko crumbs and green onions. Broil until the crumbs become brown and the edges of the casserole are bubbly.
Recipe by Spicy Southern Kitchen
Oysters Rockefeller With Pernod
For special occasions, you'll want to make this elegant spin on Oysters Rockefeller. Oysters on the half shell sit cozily in a bed of rock salt on a baking sheet.
They're topped with a delectable spinach mixture that includes watercress, green onions, garlic, fennel, hot sauce and Pernod. Sprinkle on grated Parmesan cheese and bake until golden on top. These ultra appetizing oysters would be perfect for Mother's Day or New Year's brunch.
Recipe by Culinary Hill
Oyster Chowder
Bacon, potatoes and cream make a delicious base for this oyster chowder recipe that's a warm and savory seafood meal.
Bacon, along with celery, onion, leeks, potatoes and chilies are sautéed until tender. Fish stock is added and simmered before adding in heavy cream, corn and canned oysters. Heat through and top with fresh parsley when served.
Recipe by Tastylicious
Scalloped Oysters
This easy oyster casserole uses freshly shucked or canned oysters that go down in a baking dish on top of a buttery crumb mixture.
Pour a heavy cream and Worcestershire sauce mixture over the top. Add the rest of the butter and crushed cracker mixture before being baked to golden and bubbly deliciousness.
Recipe by Jam Hands
Oyster Pasta
Toss linguine with a garlic, lemon, oyster and white wine sauce for an incredible seafood entrée that takes just minutes to prepare. Freshly shucked oysters are added to the wine and lemon juice broth and seasoned with garlic and Worcestershire sauce.
Toss the linguine with the sauce as well as freshly grated parmesan cheese. Easy and delicious!
Recipe by Closet Cooking
Before you order out at your favorite seafood restaurant, why not try these easy oyster recipes to create delicious appetizer and main course dishes at home?