This air fryer lobster tail recipe with garlic butter sauce with lemon and herbs is so good you won't believe how easy it is!
And we've got you covered with the best sides to serve with lobster tails for a complete lobster dinner.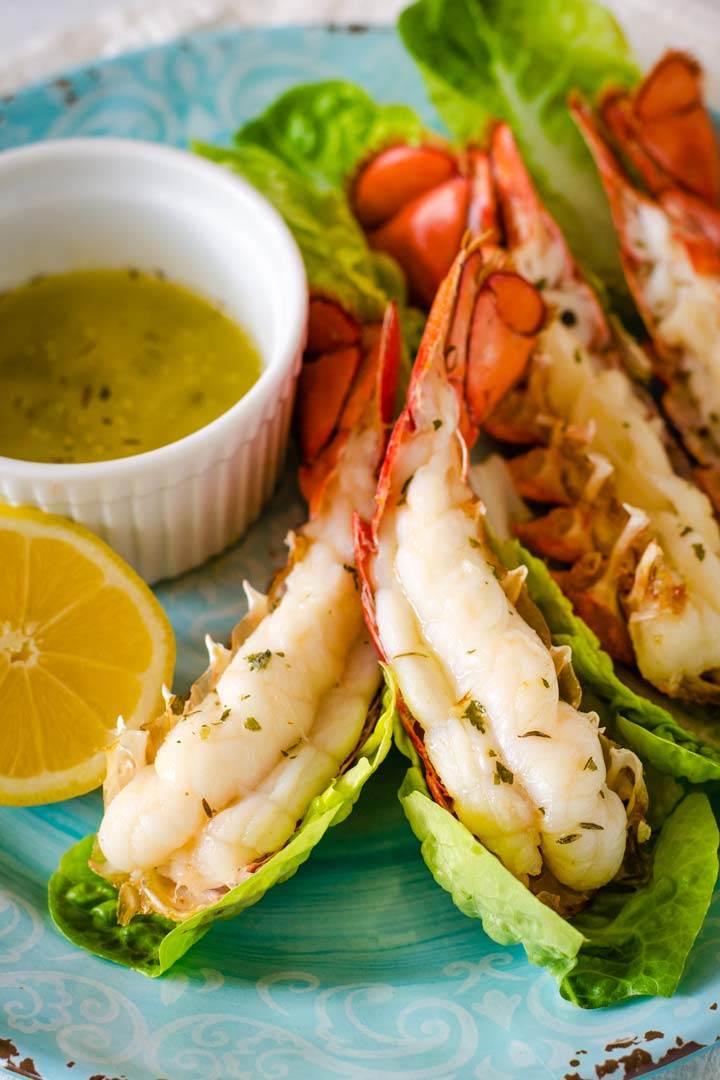 It's super quick and easy to cook seafood in the air fryer. Actually, the hardest part of this recipe is prepping the lobster tails for cooking. But I'll let you in on all my secrets to the best way to prep and air fry lobster tails - including step-by-step instructions with pictures!
The great thing about this lobster recipe is it's fancy enough for a special occasion like Valentine's Day, New Year's Eve, or date night. Pair it with a grilled steak for the ultimate surf and turf!
It's easy to adjust the servings for as many or as few lobster tails as you need. And it's simple enough for any day you want a seafood dinner.
Here's what you'll need
It takes just a handful of simple ingredients to make this air fried lobster tail recipe.
Lobster tails - The beauty of this recipe is it can be made with a frozen lobster tail. There's no need to mess with cooking whole lobsters. Just grab some frozen or fresh lobster tails at the grocery store or local market. You can use a larger lobster tail as long as the size of the tail fits in your air fryer. Thaw frozen tails in the fridge overnight or in a bowl of cold water until thawed.
Butter - For the garlic butter sauce use good quality unsalted butter or ghee.
Garlic - You'll need a clove of fresh garlic.
Lemons - This goes in the sauce and is served with the lobster tails.
Herbs - Dried thyme and parsley or your choice of soft fresh herbs like thyme, parsley, and basil.
Sea salt - For seasoning the sauce. Pepper is optional, but I usually skip it.
That's it! Pretty simple right?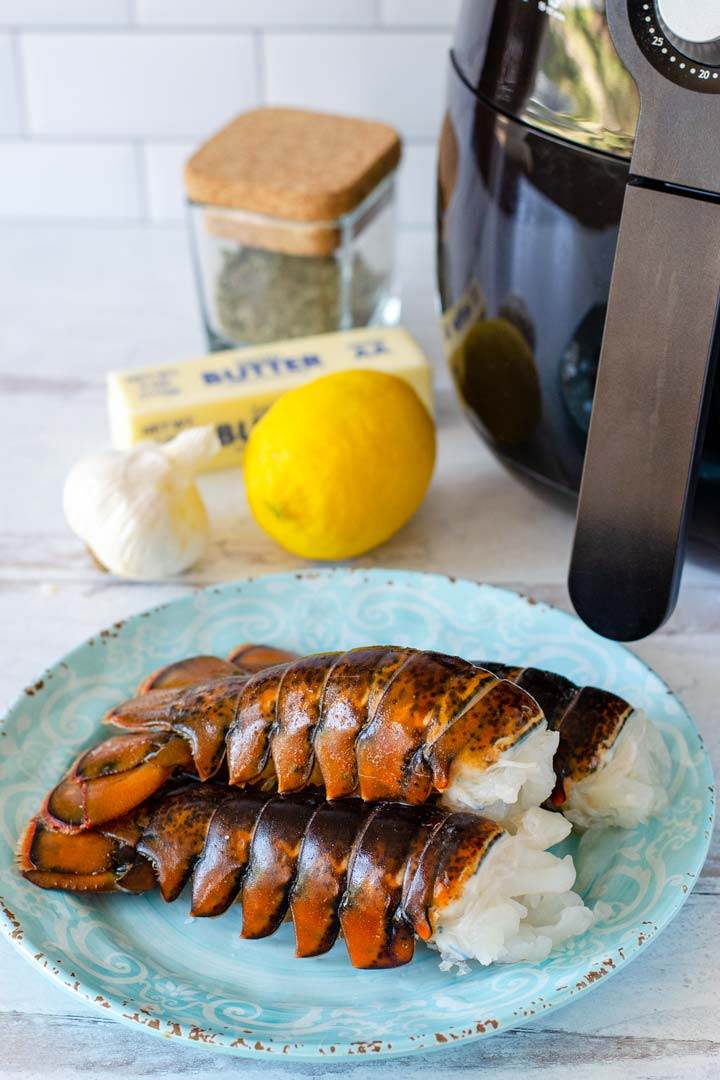 How to make it
Start by making the garlic butter sauce. This is as simple as melting the butter in a small saucepan over very low heat with the garlic, herbs, and fresh lemon juice. You can add lemon zest as well if you like more lemon flavor.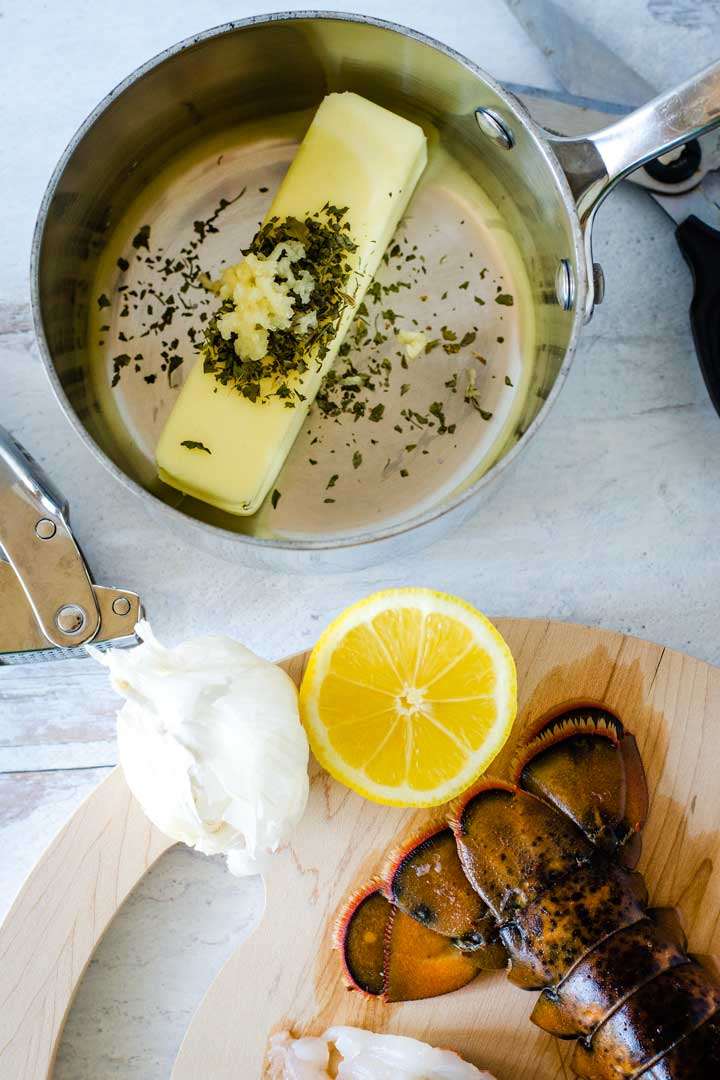 Prep the lobster tails for cooking while the butter is melting.
There's no need to butterfly lobster tails. Cutting them in half is easier. And cooking it in the shell holds the butter in the bottom of the shells so you get juicy lobster tails.
Starting on the top of the shell, cut the lobster tails in half lengthwise. A good pair of kitchen scissors or a large heavy chef's knife work best for this.
Remove the dark vein from the tail. Then carefully lift the meat out of the shell, but leave it attached by the tail fins. Lay the meat back in the shell.
Don't skip this step! Loosening the lobster meat makes it much easier to eat once it's cooked.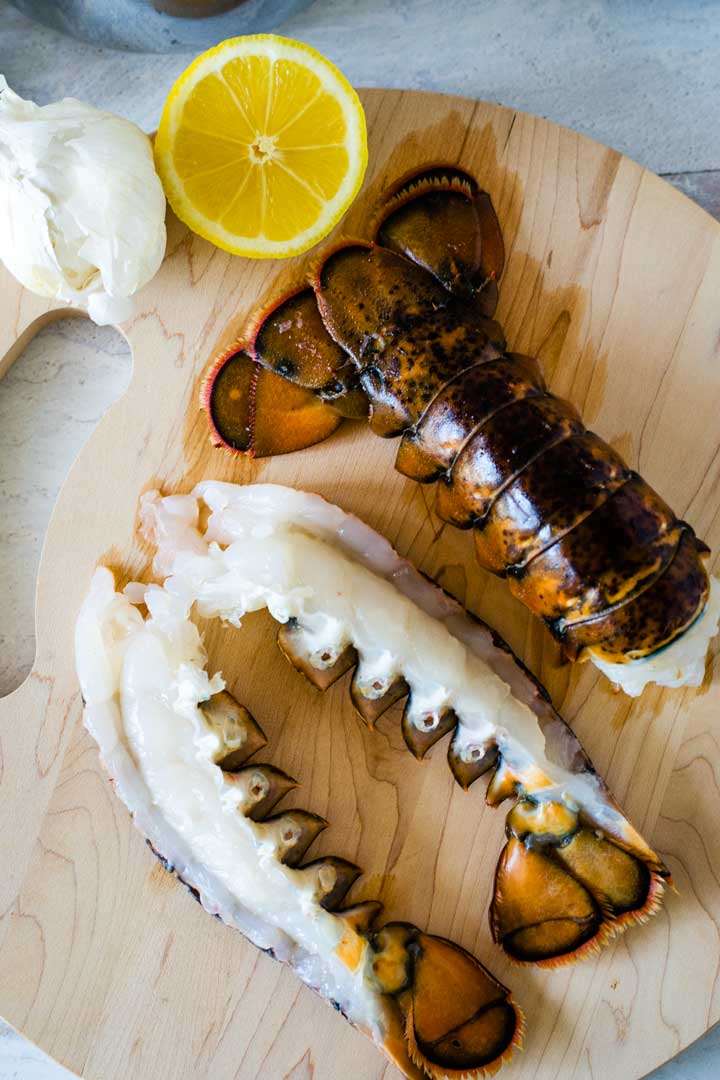 Brush the cut side of the meat with the garlic butter mixture. Cook lobster tails in the air fryer basket meat side up until they're cooked through and the lobster meat is opaque. Cook time will depend on size, but should be about 10 minutes.
Be sure to spoon extra lemon garlic butter sauce over each tail before serving.
Don't have an air fryer? Check out this buyer's guide.
You can also use the same easy recipe and cook the lobster tails on the grill or broil on a baking sheet in the oven.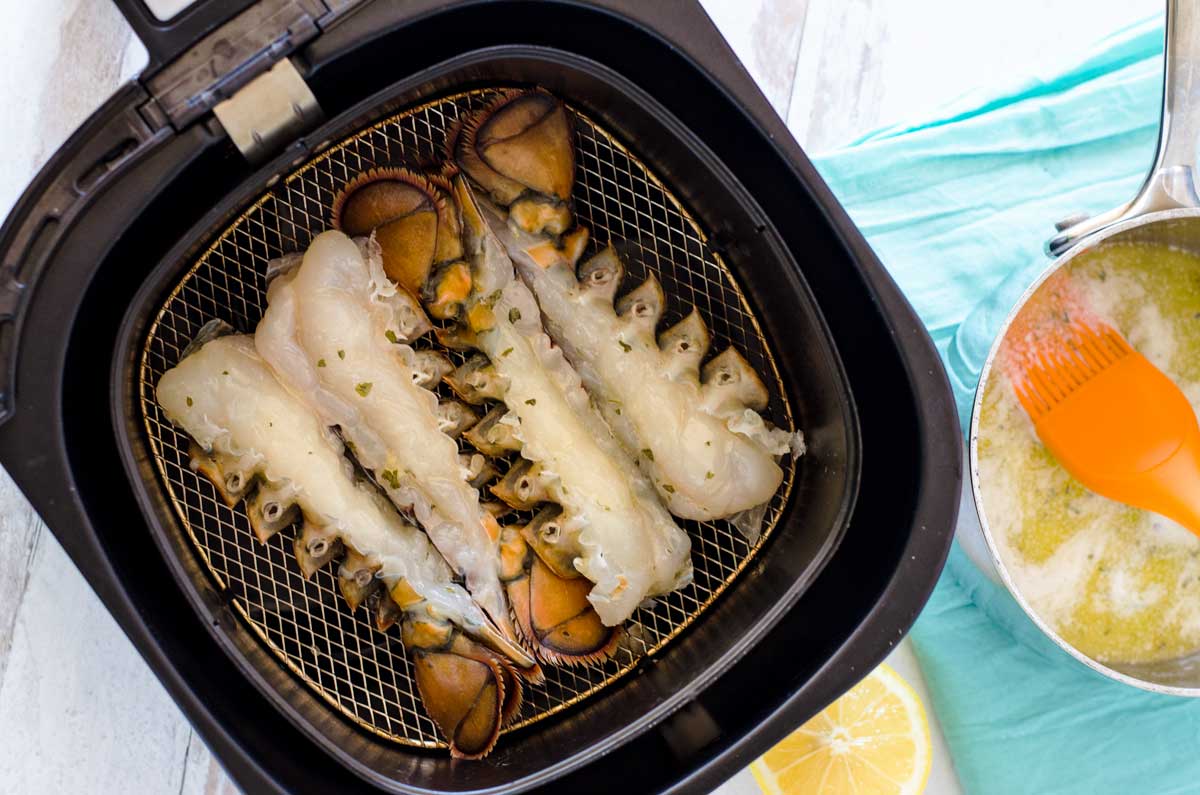 What to serve with lobster tails
Wondering what to serve with lobster tails? You can't go wrong with any of these classic sides to complete your dinner plate.
Butter! - For buttery lobster tails, serve with extra lemon garlic butter, drawn butter, clarified butter, or ghee. And don't forget to add a lemon wedge to the plate.
Savory rice - Make this easy Carolina Gold rice in an Instant Pot for perfectly seasoned buttered rice. It's a great alternative to rice pilaf.
Sweet potatoes - Roasted to perfection and served with an extra helping of melted butter, they complement the sweet flavor of the cooked lobster meat.
Baked potatoes - This simple baked potato in the air fryer is crispy on the outside and tender on the inside. And so good with butter and truffle salt.
Garlic bread - Another winning combination. Just spread a loaf of crusty bread with a couple of tablespoons of melted butter and garlic, add grated parmesan cheese and toast until golden brown.
Green salad - Caesar salad dressing over crisp romaine or tender butter lettuce is a nice contrast to the richness of the lobster.
Roasted asparagus - Quickly roast fresh asparagus stalks in the oven or air fryer and drizzle with extra butter sauce.
Fresh green beans - Another great option for green vegetables. Serve them quickly fried in olive oil or in a green bean salad.
Champagne cocktail - Try a French 76, the hint of lemon will complement the butter sauce. Or try a pomegranate mimosa with a little sweetness to pair with the lobster tails.
White wine - A dry white wine also pairs well with lobster. Try it with a buttery chardonnay.
More side dish ideas - Any of these sauces and sides for seafood dishes will work with lobster.
And don't forget dessert! A lemon cheesecake and fresh fruit make the perfect ending to a decadent meal.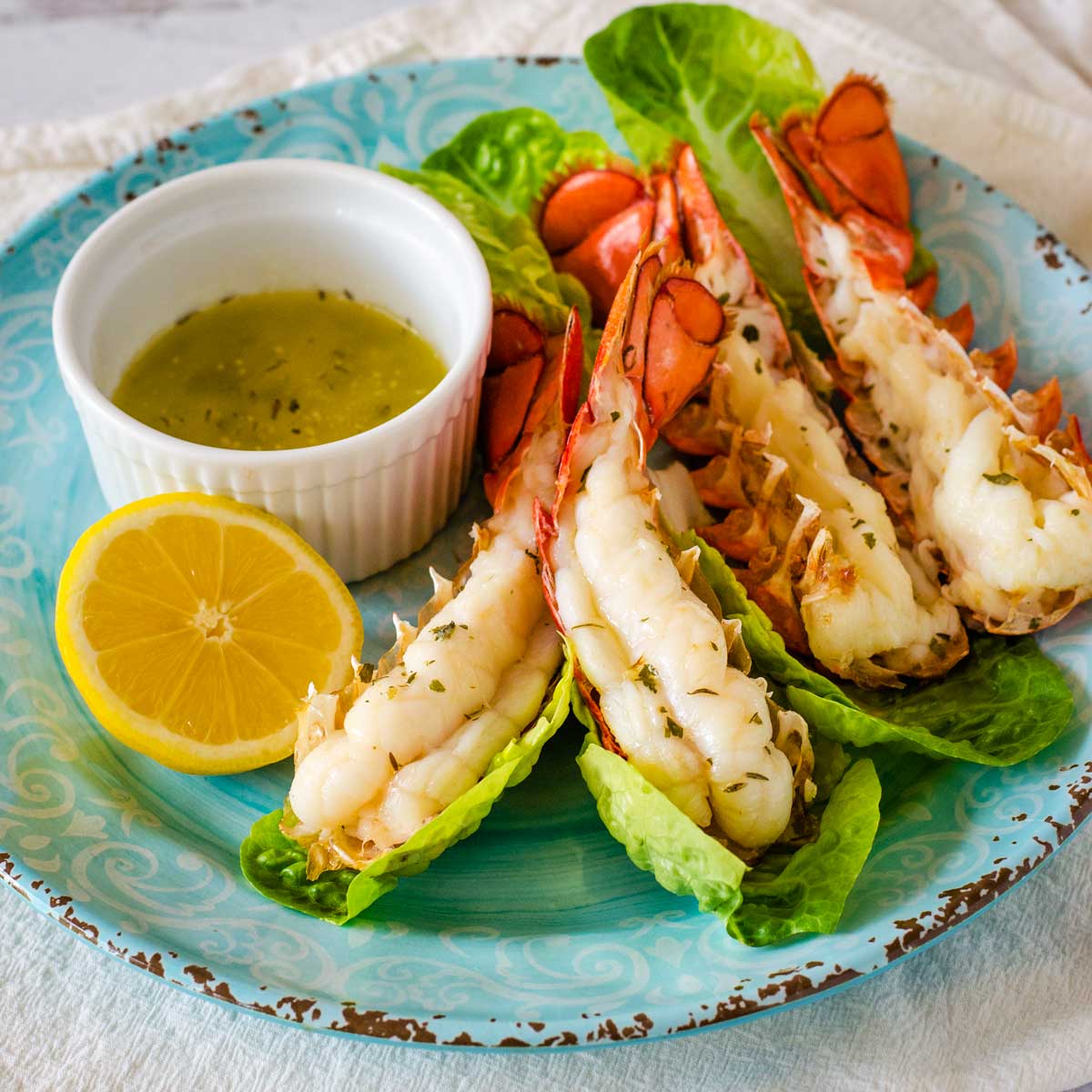 More seafood meal ideas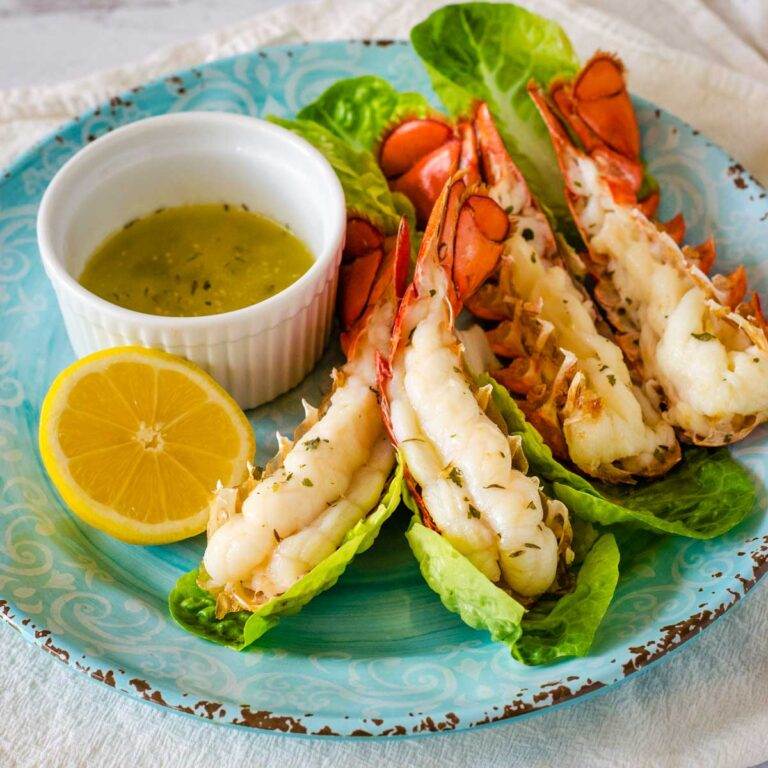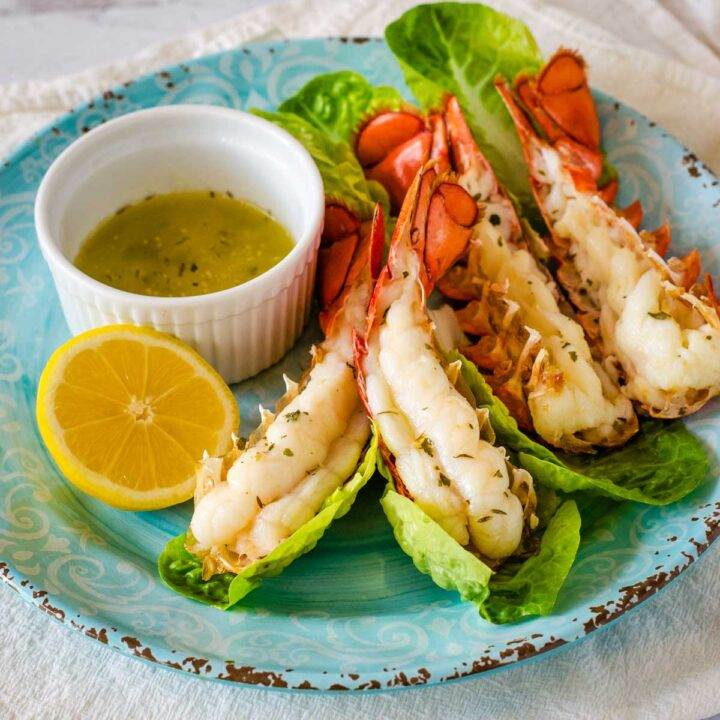 Air Fryer Lobster Tail
This super easy air fryer lobster tail is perfect for a quick seafood dinner, or to serve for a special occasion.
Ingredients
4 frozen lobster tails, thawed
For Garlic Butter Sauce
1 stick of butter (8 tablespoons butter)
1 garlic clove, pressed or minced
½ teaspoon dried parsley
½ teaspoon dried thyme
juice of ½ lemon
sea salt to taste
Instructions
Preheat the air fryer to 350 degrees F.
Make the garlic butter sauce: Combine the butter, garlic, herbs, salt, and lemon juice in a small pan. Cook over very low heat until the butter is melted, stirring occasionally. Reserve half of the sauce for serving.
Prepare the lobster: Using kitchen shears, snip off the small legs and cut lobster shell lengthwise on top and bottom. Use a large knife to cut through the lobster meat. Remove the vein and rinse the lobster under cold water. Pull the meat out of the shell, leaving the tail end attached, and place it back in the shell (this makes it easier to eat after it's cooked).
Pat the lobster dry and brush the cut side with the garlic butter sauce.
Place the lobster tail halves in the air fryer basket cut side up and cook for 10 - 12 minutes or until just cooked through. Cook them in batches if they will not all fit in a single layer.
Remove the lobster tails and spoon some of the reserved garlic butter sauce over the lobster meat. Serve with additional sauce and lemon wedges on the side.
Notes
This savory garlic butter sauce can also be served over roasted potatoes or vegetables.
Recommended Products
As an Amazon Associate and member of other affiliate programs, I earn from qualifying purchases.
Nutrition Information:
Yield:

4
Serving Size:

1
Amount Per Serving:
Calories:

326
Total Fat:

25g
Saturated Fat:

15g
Trans Fat:

1g
Unsaturated Fat:

8g
Cholesterol:

137mg
Sodium:

520mg
Carbohydrates:

3g
Net Carbohydrates:

0g
Fiber:

0g
Sugar:

0g
Sugar Alcohols:

0g
Protein:

23g
Note: nutrition data provided here is only an estimate.