Serve these delicious and easy to make crab appetizers at your holiday dinner. From crab dip to crab meat stuffed mushrooms to cream cheese filled wontons, these tasty appetizer recipes are sure to be a hit!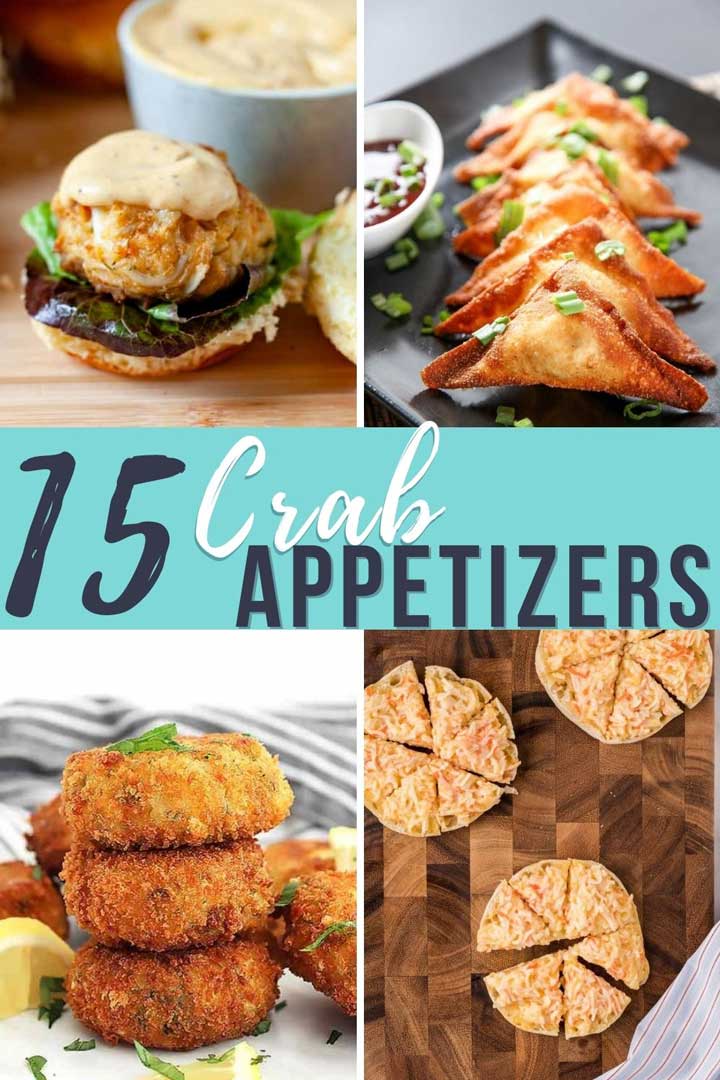 The best thing about these appetizers is that they are easy to make! Not only are they easy to whip up, but they are also a quick starter to serve as you catch up with friends and family. Perfect for Christmas or New Year's Eve!
These tasty crab appetizers range from your traditional crab dip to something a little more elegant. No matter what type of appetizer you're looking for, you are sure to find the perfect fit with these crab appetizers.
And if you're looking for crab entrees, try these easy crab cake recipes that take you back to the beach. Also, check out these flavorful dipping sauces and side dishes to serve with crab for more seafood dinner ideas.
Delicious crab appetizer recipes
Southwest Crab Dip Recipe
A quick and easy crab dip that will make the perfect appetizer, friends and family will love this delicious southwest crab dip. Recipe here.
Cheesy Crab and Spinach Crostini
An elegant appetizer that you can put together in just a few minutes, this cheesy crab and spinach crostini will be a hit. Recipe here.
Crab Cream Cheese Wontons
Stuffed with crab and cream cheese, these delicious wontons can be served with a sweet and sour dipping sauce for the ultimate appetizer. Recipe here.
Crab Cake Sliders
These crab cake sliders will be the hit of the party. Topped with a delicious mayo mixture, these mini sliders are sure to become a favorite. Recipe here.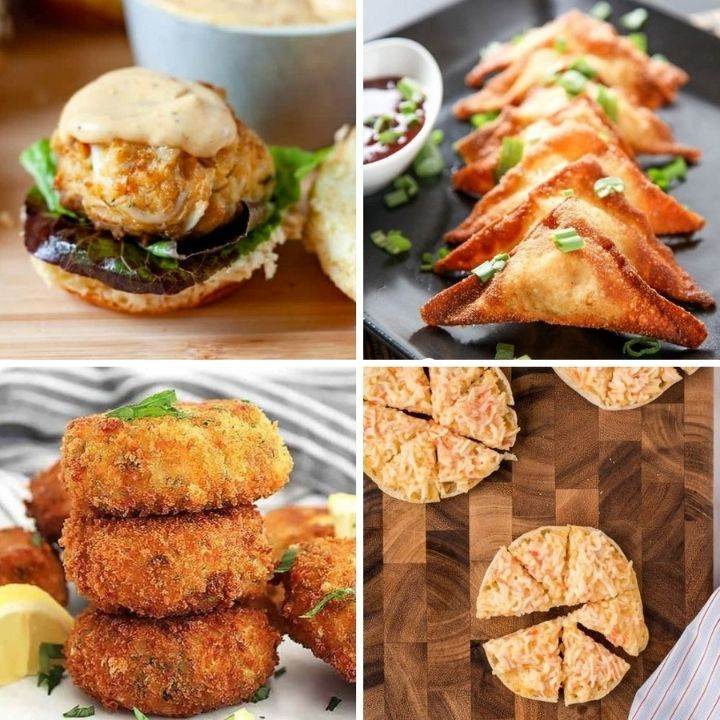 Mini Crab Cakes
Easy to make, these mini crab cakes are crispy and delicious. These cakes are sure to be a crowd pleaser at your next gathering! Recipe here.
Crusty Baguette Seafood Spread
A delicious appetizer that guests are sure to love, these crusty baguettes are topped with a homemade seafood spread. Recipe here.
Maryland Crab Dip Pretzel
A tasty appetizer that you will find in Maryland, these soft pretzels are covered in a delicious homemade crab dip for an easy appetizer. Recipe here.
Easy Holiday Appetizer Recipe: Crabbies
A make-ahead appetizer that can be frozen, these Crabbies can be popped in the oven when you are ready to use them. Recipe here.
Crab Stuffed Mushrooms
Made in the air fryer, these mushrooms are filled with a crab stuffing that is sure to liven up your taste buds. Recipe here.
Crab Rangoon Pizza
Made on a flatbread, this crab Rangoon pizza will be a hit at any party or family gathering. Easy to make and delicious, this pizza is a must-try appetizer. Recipe here.
Cajun Keto Crab Cakes
A keto-friendly and low carb appetizer, these crab cakes have a bit of spice to them due to the Cajun flavors. Recipe here.
Easy Crab Dip
Another keto-friendly appetizer that you are going to love, this crab dip will make a great addition to the appetizer table. Recipe here.
Baked Crab Cakes
Baked until just right, these crab cakes are made with crab meat, herbs, and spices. Topped with a refreshing sauce made from lime juice and Greek yogurt. Recipe here.
Crab Rangoon Egg Rolls
A delicious appetizer to kick off any meal, these crab Rangoon egg rolls are easy to make and tasty. Recipe here.
Crab Cakes with Mango Relish
Crab cakes are easy to make and these delicious cakes are topped with a fruity mango relish to create a unique flavor. Recipe here.
What's your favorite crab recipe? Let us know in the comments below!
Looking for more easy appetizers? Try these 21 Easy Pinwheel Sandwiches Recipes.