Looking for seafood Christmas dinner ideas? Here are 21 delicious, elegant, and easy seafood recipes for a Christmas fish dinner that your family and friends are sure to love.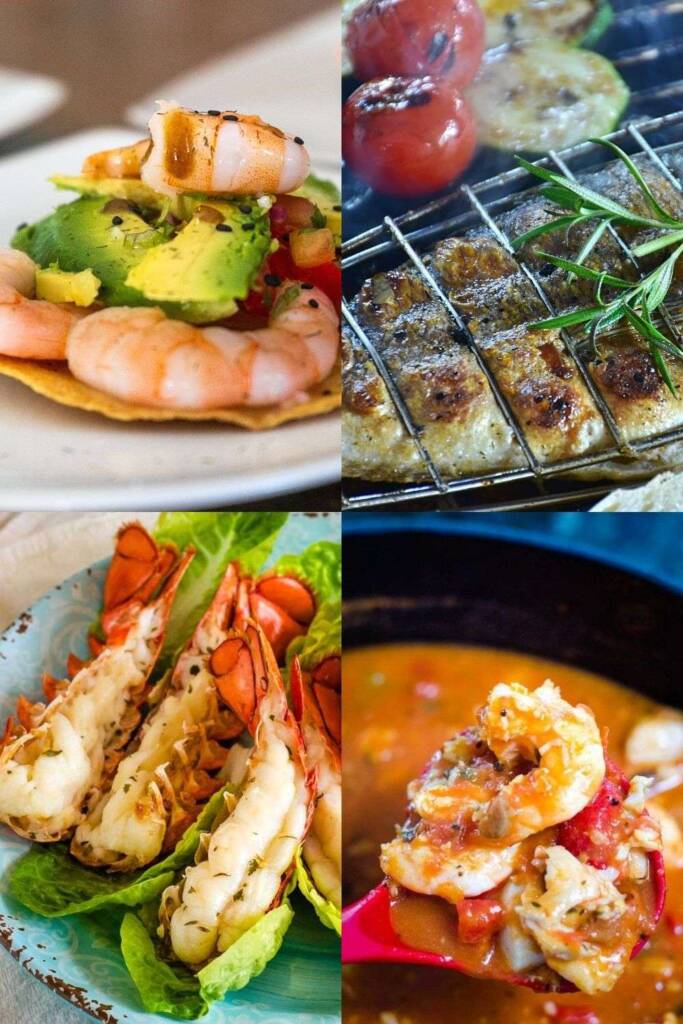 You can impress the whole family with these seafood recipes for Christmas. They're easier than you might think and don't take too long to make. But be warned: your family might start expecting seafood for every holiday from now on.
A feast of the seven fishes is a Christmas Eve dinner tradition in many Italian-American families. It typically includes several different types of fish dishes. But whether you're cooking for the night before or Christmas Day, these seafood dinner ideas are a great for special occasions.
Christmas Seafood Recipes
In our house, fish on Christmas Eve is a holiday tradition (this Cioppino recipe!). This collection of delicious recipes gives you plenty of options from first course to main dish to sides. All you'll need to add to your holiday table is the Christmas cookies for dessert.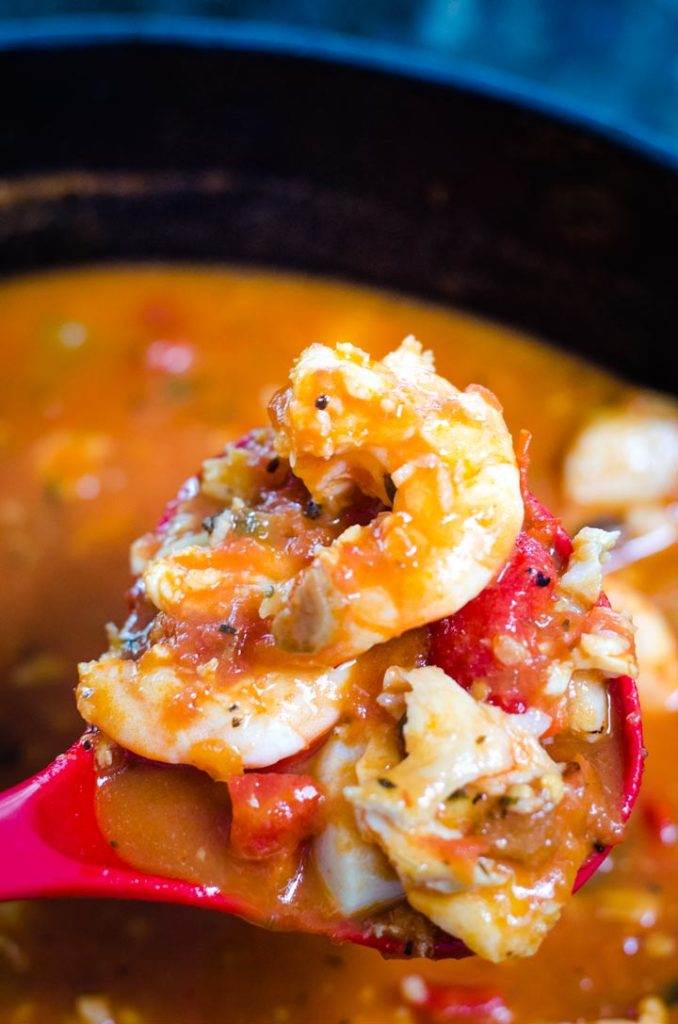 Cioppino is the perfect recipe when cooking for a large family gathering. No one said that your Christmas fish recipes had to be complicated, after all.
Cioppino is a seafood stew with a tomato-based broth. This version is a quick and easy dump recipe that you can make with frozen or fresh seafood. But it looks like you spent all day cooking. Your guests will feel appreciated, and you can spend more time with them instead of in the kitchen preparing dinner.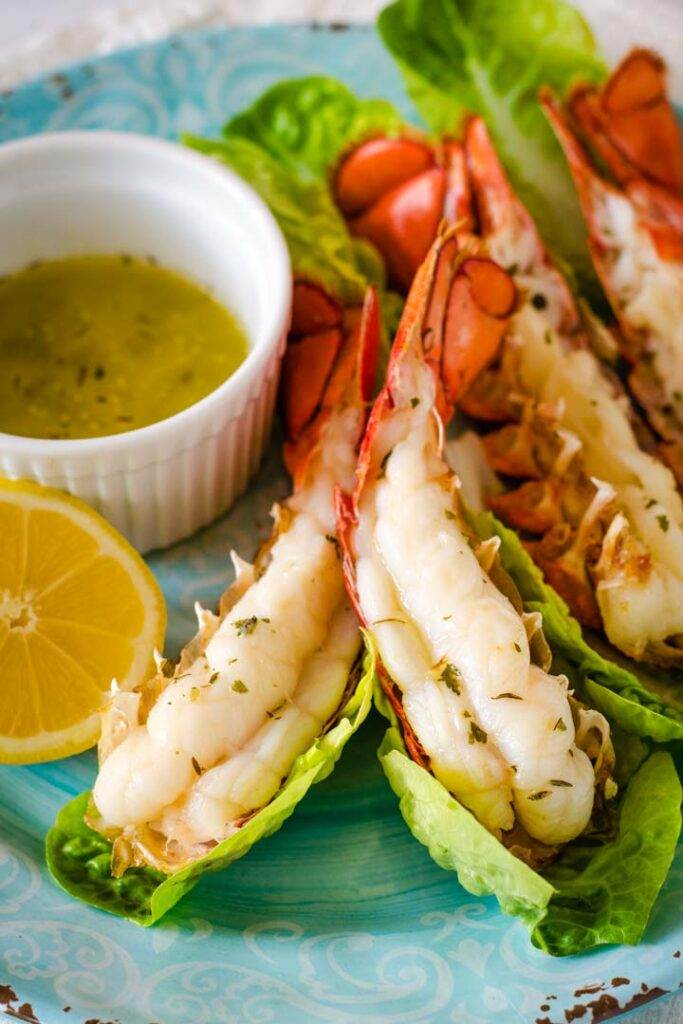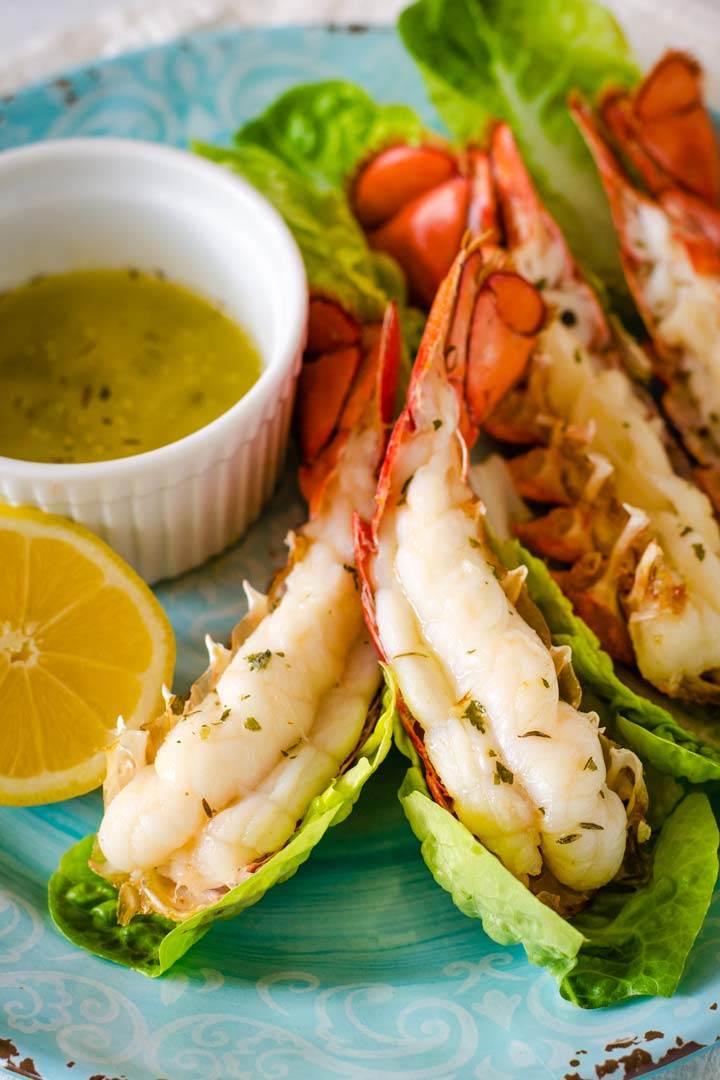 Lobster is another excellent Christmas seafood dinner idea. And, if you have an air fryer, cooking your lobster tails has never been easier.
It uses lots of butter, garlic, and lemon, making it a flavorful and popular dish for the whole family. The other reason we like it is that it's fancy enough for a holiday meal but not so complicated that you spend hours preparing it and never get to catch up with guests.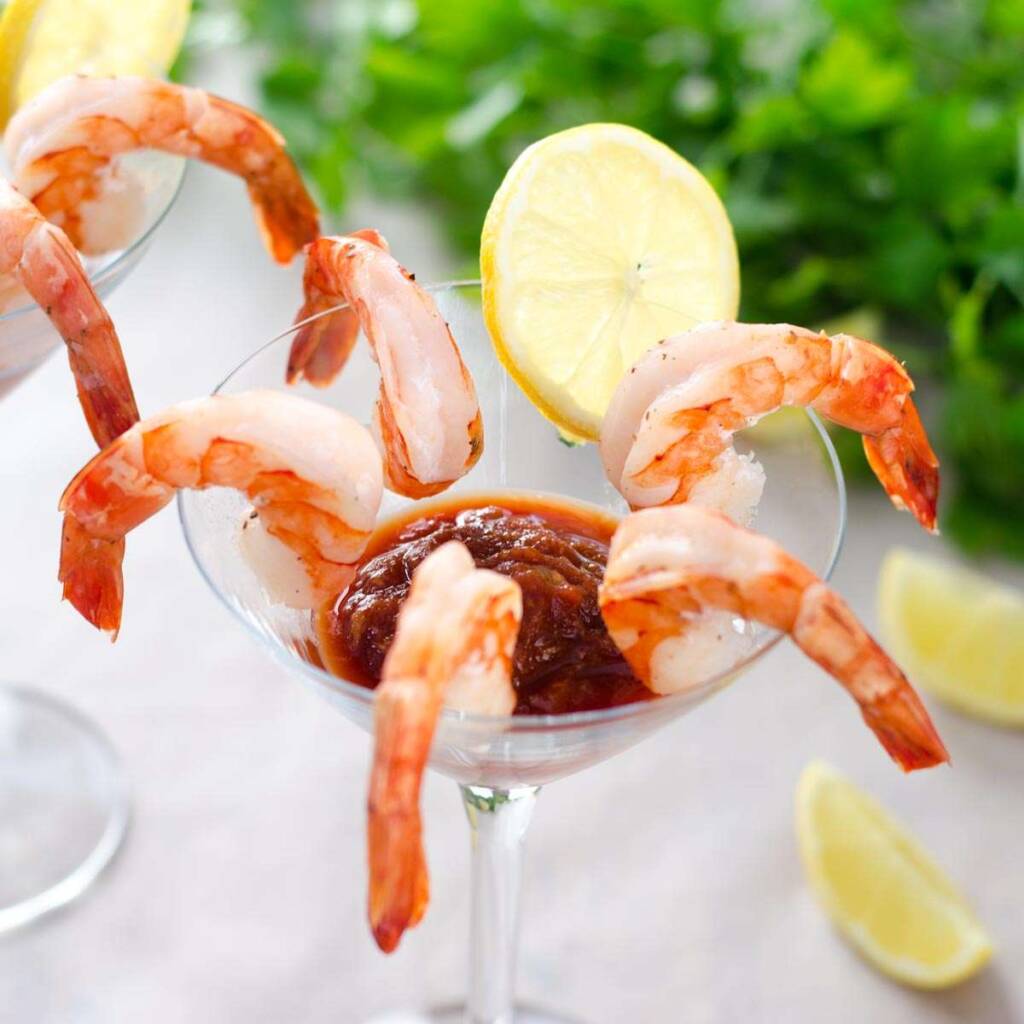 Shrimp or prawn cocktails make an excellent Christmas appetizer for holiday dinners. They look elegant, and if you use frozen shrimp, they thaw quickly i a bowl of cold water.
While they thaw, you can prepare the easy homemade cocktail sauce. Then all you need to do is quickly cook the shrimp and serve it in a pretty glass.
When it comes to fish, salmon is our go-to favorite. It's versatile and has more flavor than white fish. 
This seafood recipe bakes salmon in mustard. The recipe is gluten-free, so anyone can enjoy this salmon dish.
It's also fast. You can cook this in about 15 minutes, perfect for organizing multiple dishes for a Christmas fish dinner. Serve it with roasted asparagus and a side of Carolina Gold rice.
This is another fantastic appetizer worth exploring when compiling recipes for a seafood Christmas menu.
You can prepare it ahead, and it's even easier to make if you use frozen shrimp.
The result is a cheesy, hot dip with lots of garlic and sour cream. It's rich and indulgent—exactly what you want in a holiday dinner. It's also an excellent way to tick one of your seven fishes without spending days in the kitchen.
This quick and easy recipe bakes shellfish into a delicious appetizer. All you need is raw oysters, several kinds of cheese, some garlic, and bacon. When you've prepared the sauce, spread it over your oysters and stick them in the oven for ten minutes.
This white fish dish is another excellent Christmas seafood recipe. The whole fish are stuffed with simple ingredients like fresh herbs, lemon wedges, butter and capers.
You can decide whether to serve the fish whole or portion it out. Another thing to recommend this recipe is that while it looks complicated, it's much more straightforward than the recipe suggests.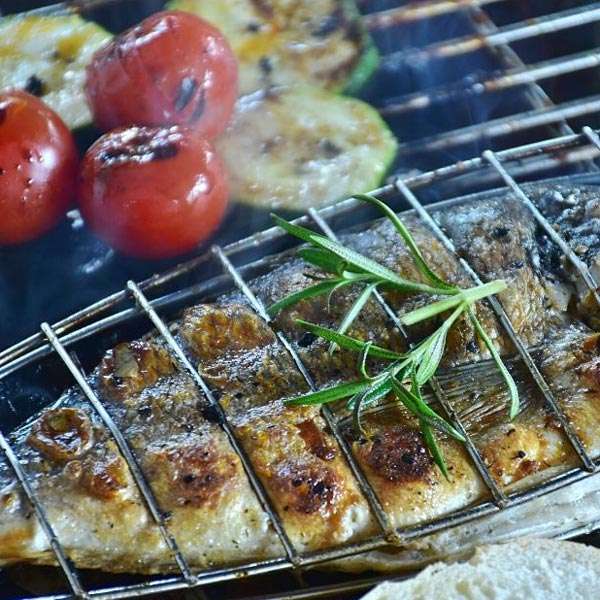 Another great dinner idea is to grill a whole bass. This looks equally impressive but takes less time.
Stuff the bass with lemon to keep it moist and cook with plenty of grilled vegetables. They add color to the plate and add flavor while the fish cooks.
It takes about five minutes per side and uses simple olive oil and crushed garlic for an extra tasty entrée.
If you're looking for a suitably filling main course to put on your Christmas seafood dinner menu, whole fish is an excellent option.
It makes for a stunning presentation, provided no one is squeamish about fish heads. Or you can serve one of these easy baked haddock recipes if you prefer using fillets.
Another way to add courses to the feast of seven fish is through soup, and what could be heartier or more perfectly suited to warm up your guests on cold winter weather than clam chowder?
It takes some time to organize, but throw in some bacon and plenty of cream, and you'll be glad you made it. This is one cozy soup recipe guests can't help but love.
This is another hearty Christmas fish dinner idea that belongs on your menu.
The salmon is delicate and buttery, while the crab topping contrasts it with a crunchy, crab-cake type composition. It makes a worthy focal point for any feast and offers a satisfying conclusion to those seafood appetizers.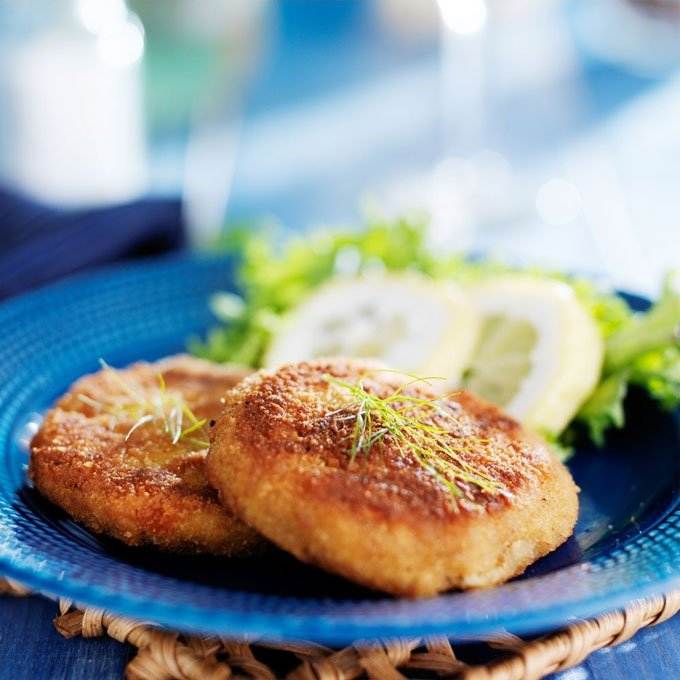 Crab cakes are one of our favorite seafood dishes because you can dress them up in many different ways. This recipe makes a wonderful addition to a holiday menu, whether you use it as a crab appetizer or entrée (or topped with poached eggs and Hollandaise sauce for Christmas breakfast!).
For the best results, prepare the cakes ahead and keep them cold. All that time in the fridge will help them keep their shape so that they look as good as they taste.
Another excellent Christmas seafood recipe is pan-seared scallops. We love scallops because they cook quickly.
Season them with lemon and garlic or toss them in with risotto, and you have a lovely, uncomplicated shellfish dish.
This Christmas seafood recipe combines scallops, mushrooms, and shallots. A white wine and dijon sauce gives this scallop dish an irresistible richness.
You must keep your eye on the scallops to ensure they don't burn. But we like this recipe for Christmas seafood dinners because it looks elegant and tastes great, making it the perfect way of showing people you put effort into cooking for them.
If you don't have an air fryer to prepare lobster tails, you can also cook this lobster dinner by broiling the tails.
It takes ten minutes, making it ideal for a holiday meal. Marinate the tails using garlic, Dijon, butter, and lemon to create a tasty lobster dish in minutes.
These cilantro and lime shrimp tacos are another seafood dinner idea that will liven up your Christmas table.
You can make the sauce from scratch or a packet. The cilantro gives it enough spice to be interesting, while the lime offers a contrast. And they are a fantastic way to introduce kids to seafood dishes.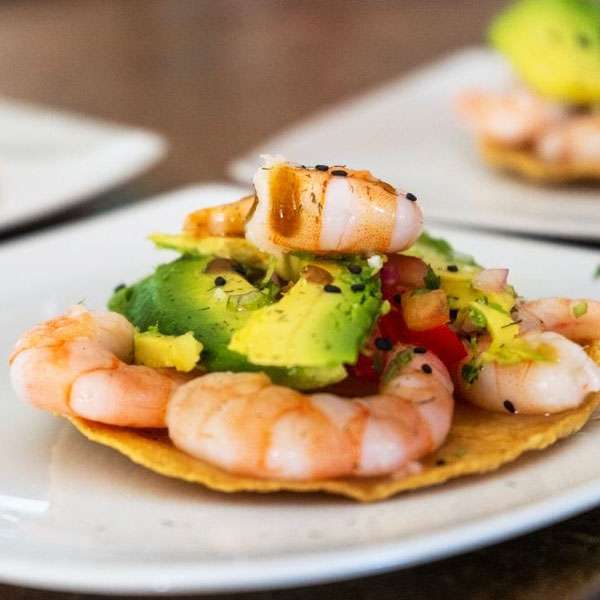 This spicy seafood appetizer is guaranteed to warm everyone up on a cold winter night.
Season the shrimp with cayenne, garlic, and lemon, and cook it. The avocado complements the spiciness of the seasoning, and you have an instant hit on your hands.
This flavorful fish recipe is an excellent way to add an exotic flair to your Christmas seafood dinner.
We love salmon as a curry base because it has more flavor than white fish, and the right blend of spices can bring that out. Tikka is an ideal sauce here because it's spicy enough to add a bit of heat to your fish dinner but mild enough that less adventurous guests can still enjoy it.
One of the reasons we recommend this Christmas seafood recipe is because there's no trip to the fishmonger needed. You can make it with good-quality canned tuna, and no one will know the difference.
Make it with creamy pasta sauce and add peas for a hint of festive color.
Christmas wouldn't be Christmas without stuffing, and this dish is perfect with a fish dinner or served alongside a traditional roast or smoked turkey.
Blend shrimp and crab with plenty of herbs and cornbread mix for a seafood stuffing to accompany your main courses. Onions, celery, and red pepper add culinary accents and make this holiday meal popular with everyone.
This seafood dinner dish is an exciting reimagining of a Southern staple (and also great for a seafood Thanksgiving). It needs a bit of organization since you have to prepare the bread the night before.
But once you've done that, it's a straightforward recipe. The cayenne gives the dish extra zest, and the sausage and oyster add flavor to the bread base. Once you're ready to bake it, cover the top with generous cubes of butter and let the oven do the rest of the work.
If you love fish, then you will love these seafood Christmas recipes. They are amazingly simple and yet very delicious additions to your Christmas dinner spread.