Up-level a classic appetizer item to a seafood delight with this easy shrimp deviled eggs recipe.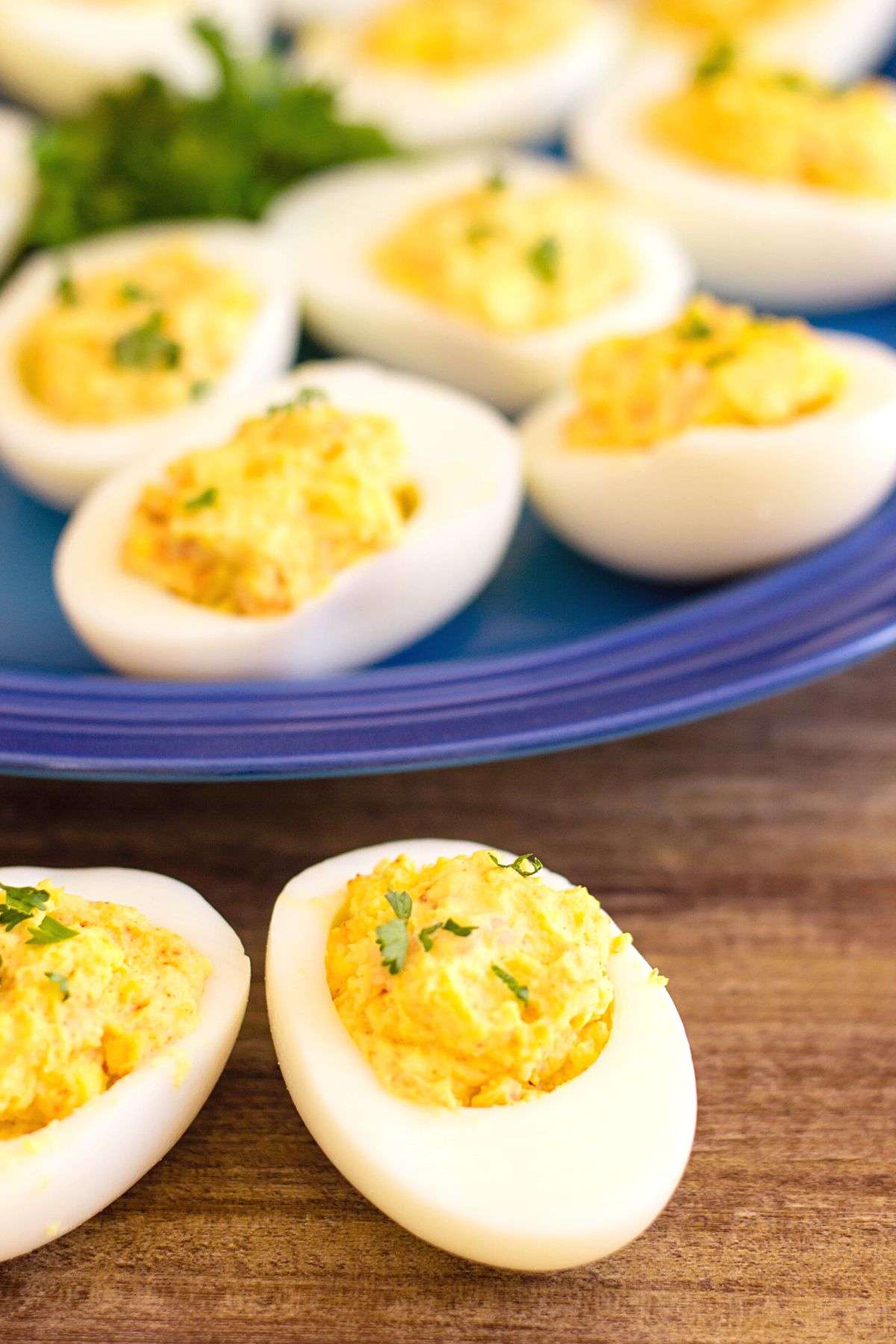 Deviled eggs are a staple on just about every appetizer table. They also serve as a hearty side dish for cookouts and picnics. Here, I've enhanced their flavor with the addition of shrimp, mixed right in with the creamy and seasoned yolk filling.
The egg yolk filling is a savory mixture of chopped, cooked shrimp that's seasoned with just the right amount of mayo, Dijon mustard and spices to keep you coming back for more. It's a tasty twist on a traditional deviled eggs recipe.
Using classic Old Bay as a seafood seasoning, you can amp up the spiciness and heat factor by swapping out that ingredient for a cajun seasoning. Suddenly, you've got a Creole inspired deviled egg with a fiery kick.
Whether you're making these for appetizers, brunch, tailgating, or to have on hand for snacks, shrimp deviled eggs are a protein-packed finger food that's a delicious way to satisfy a seafood craving.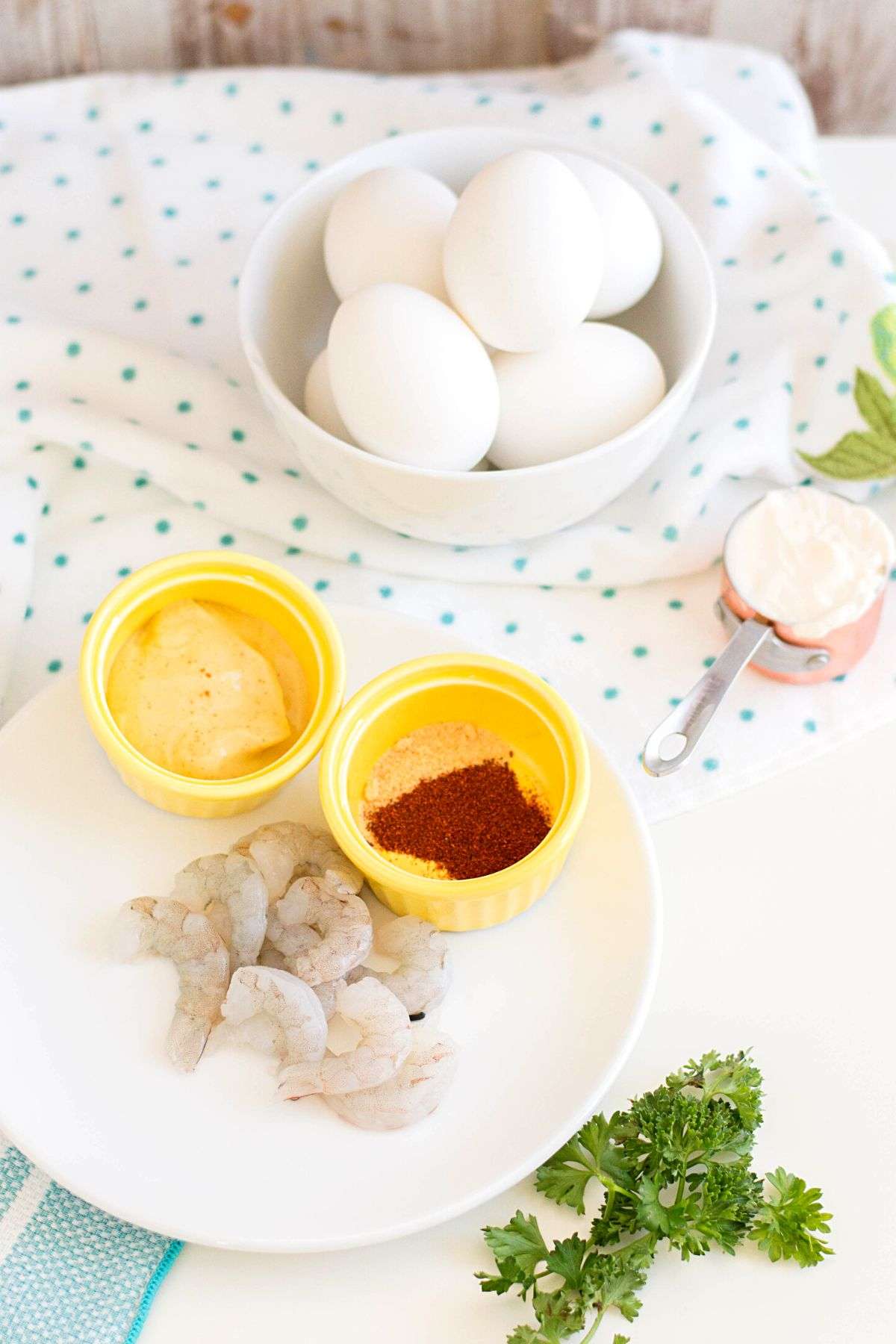 Ingredients Needed
Eggs: You'll need 6 large hard-boiled and peeled eggs. Once halved, you'll get a dozen shrimp deviled eggs from this recipe.
Shrimp: You'll need deveined, peeled and cooked shrimp. If you use frozen, make sure they're thawed.
Mayonnaise: Use your favorite mayonnaise. You can also substitute plain yogurt.
Dijon Mustard: This adds a little spicy kick to the mix, thanks to the horseradish in the mustard.
Seasonings: Old Bay seasoning, paprika, sea salt and pepper add the spiciness that makes these deviled eggs delicious.
Optional Ingredients: Fresh chopped parsley to garnish each deviled egg and/or additional cooked shrimp to top each deviled egg with.
How To Make Shrimp Deviled Eggs
STEP 1: Divide The Eggs
Halve each hard-boiled egg, lengthwise, with a sharp knife.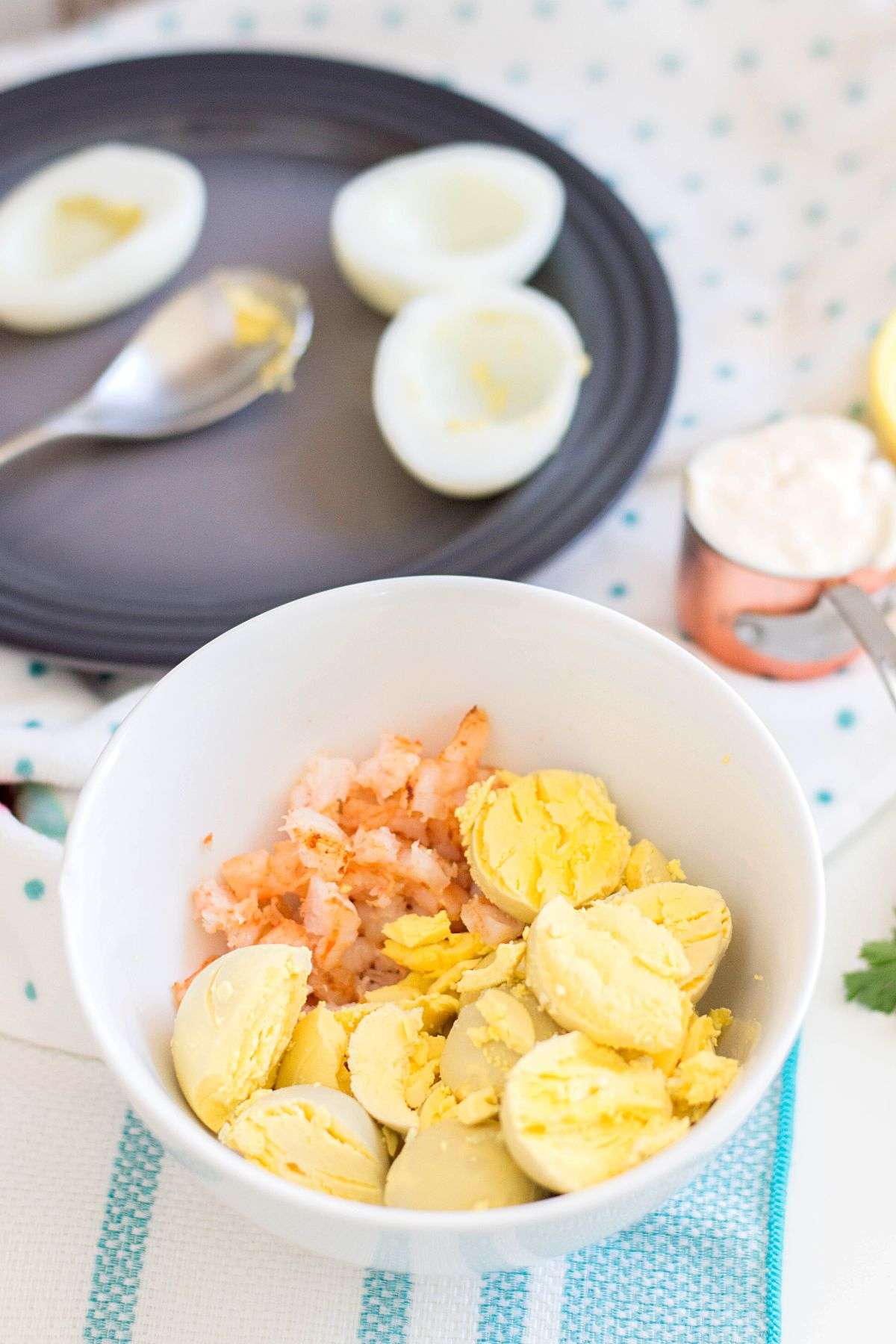 STEP 2: Make The Yolk Mixture
Carefully remove each cooked yolk in the egg halves; transfer them to a medium bowl. Set the egg whites aside.
Chop the cooked shrimp into small bits and add to the mixing bowl with the egg yolks and mash yolks with a fork.
Add in the mayonnaise, mustard and seasonings and stir until well blended.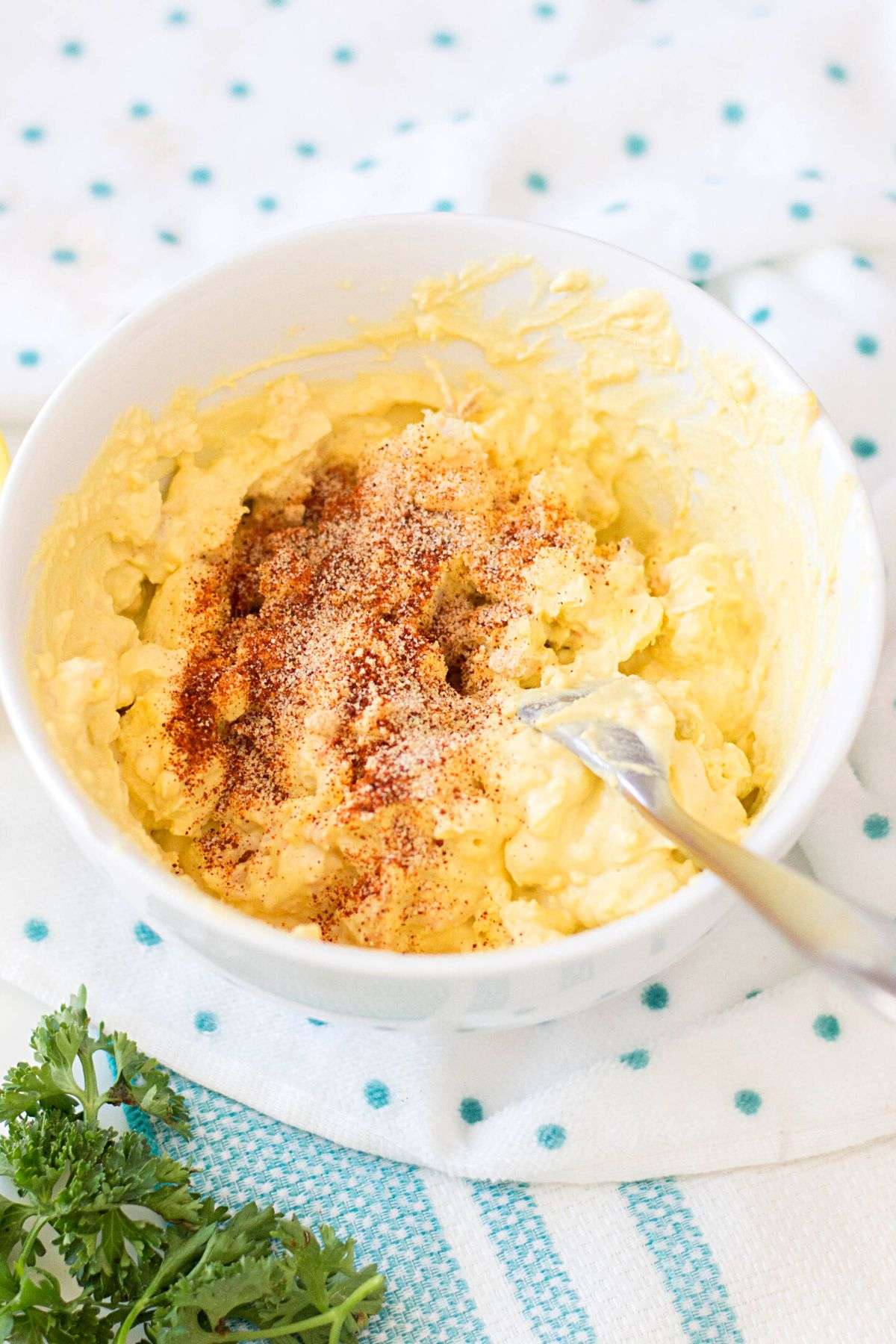 STEP 3: Assemble The Deviled Eggs
Using a spoon, transfer the shrimp and egg yolk mixture back into the egg white halves.
Garnish with chopped parsley or additional shrimp, if desired.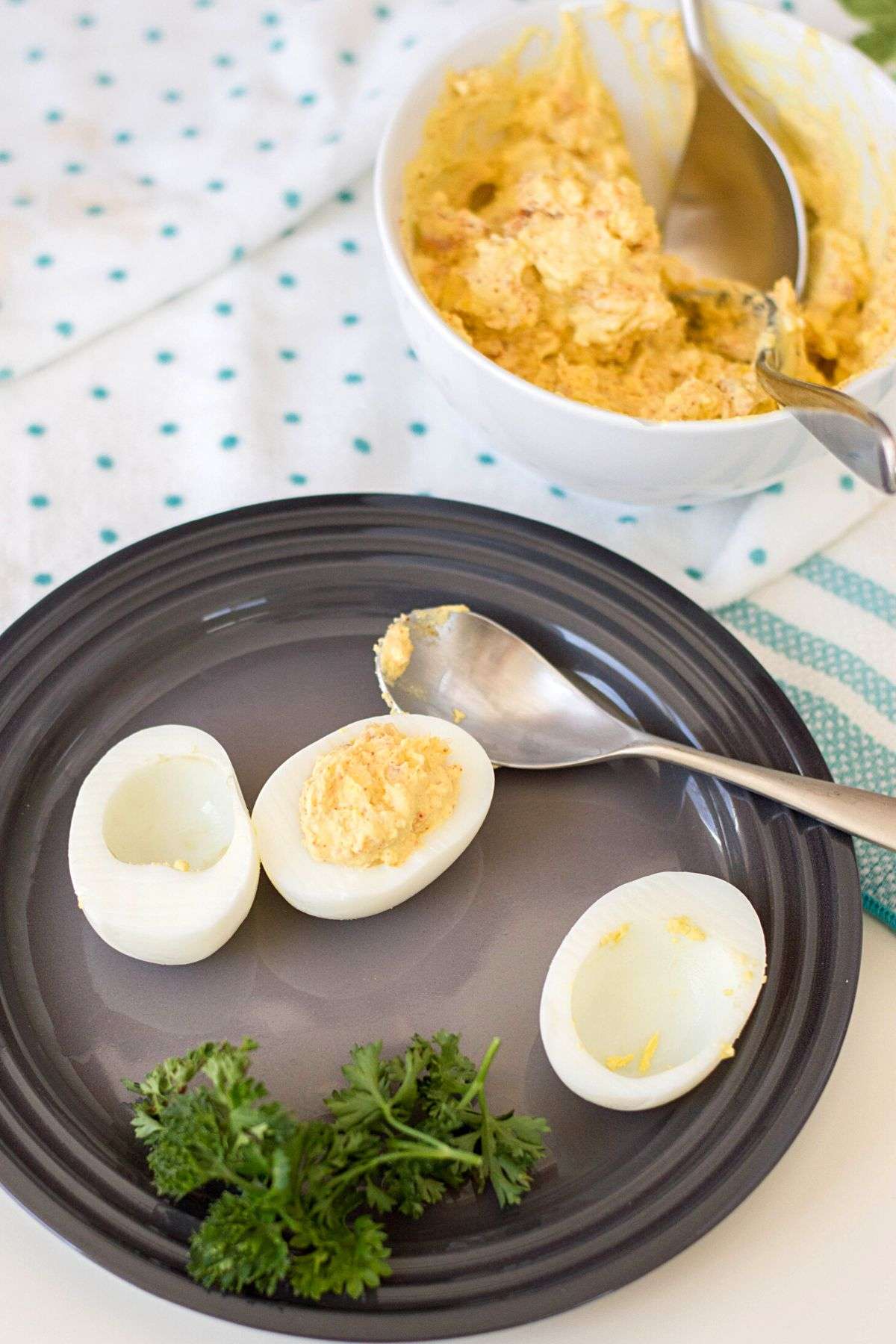 STEP 4: Serve Or Store
Either serve immediately or cover with plastic wrap and refrigerate before serving.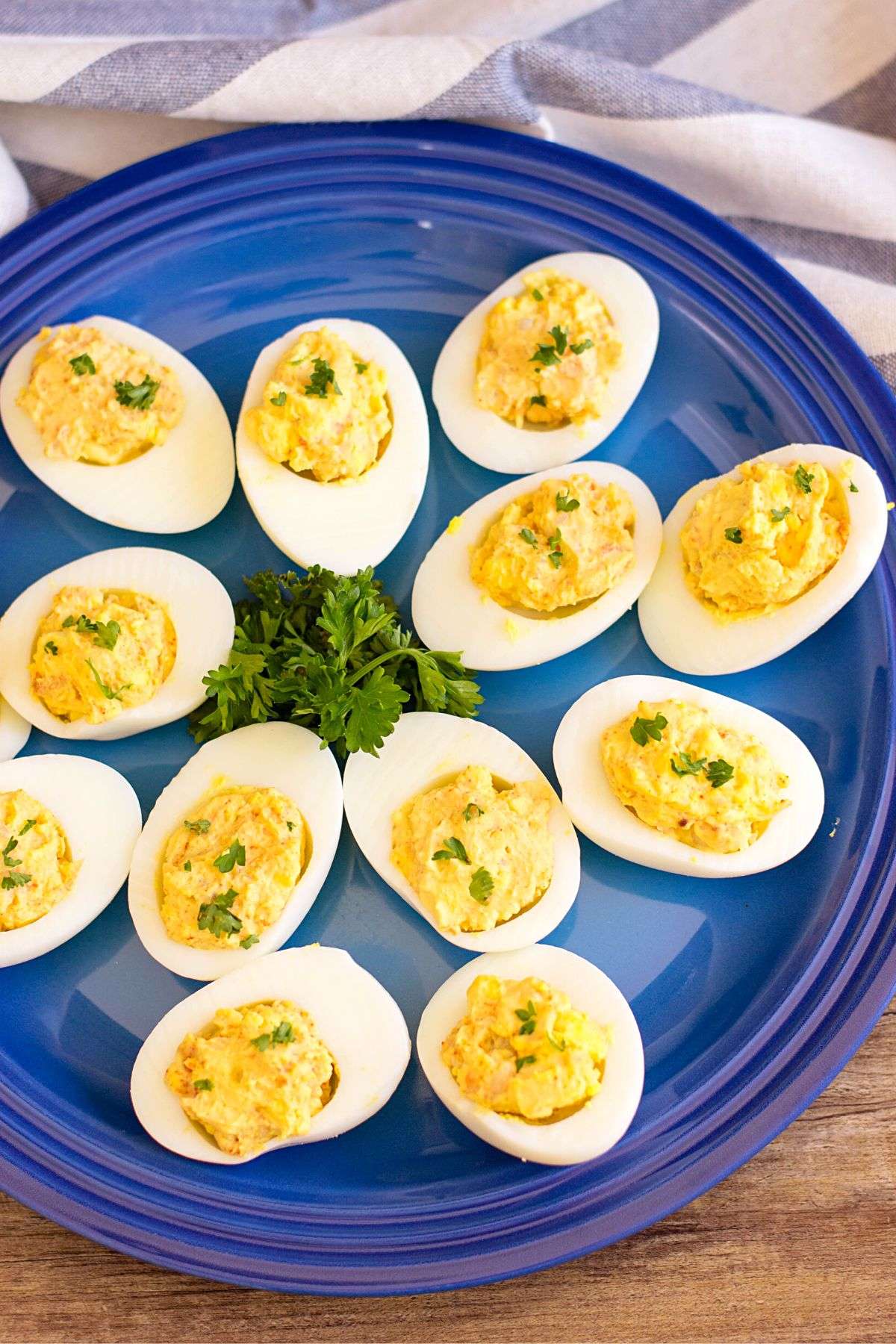 Variations
Swap out the mayonnaise for plain greek yogurt.
Swap out the Old Bay seasoning for a more intense spice flavor by using Cajun seasoning.
If you like a little crunch in your yolk mixture, finely dice a stalk or two of celery and sitr into the mixture.
Topping Ideas
To make these shrimp deviled eggs appetizer-worthy, here are some ideas for a topping that will make them completely irresistible.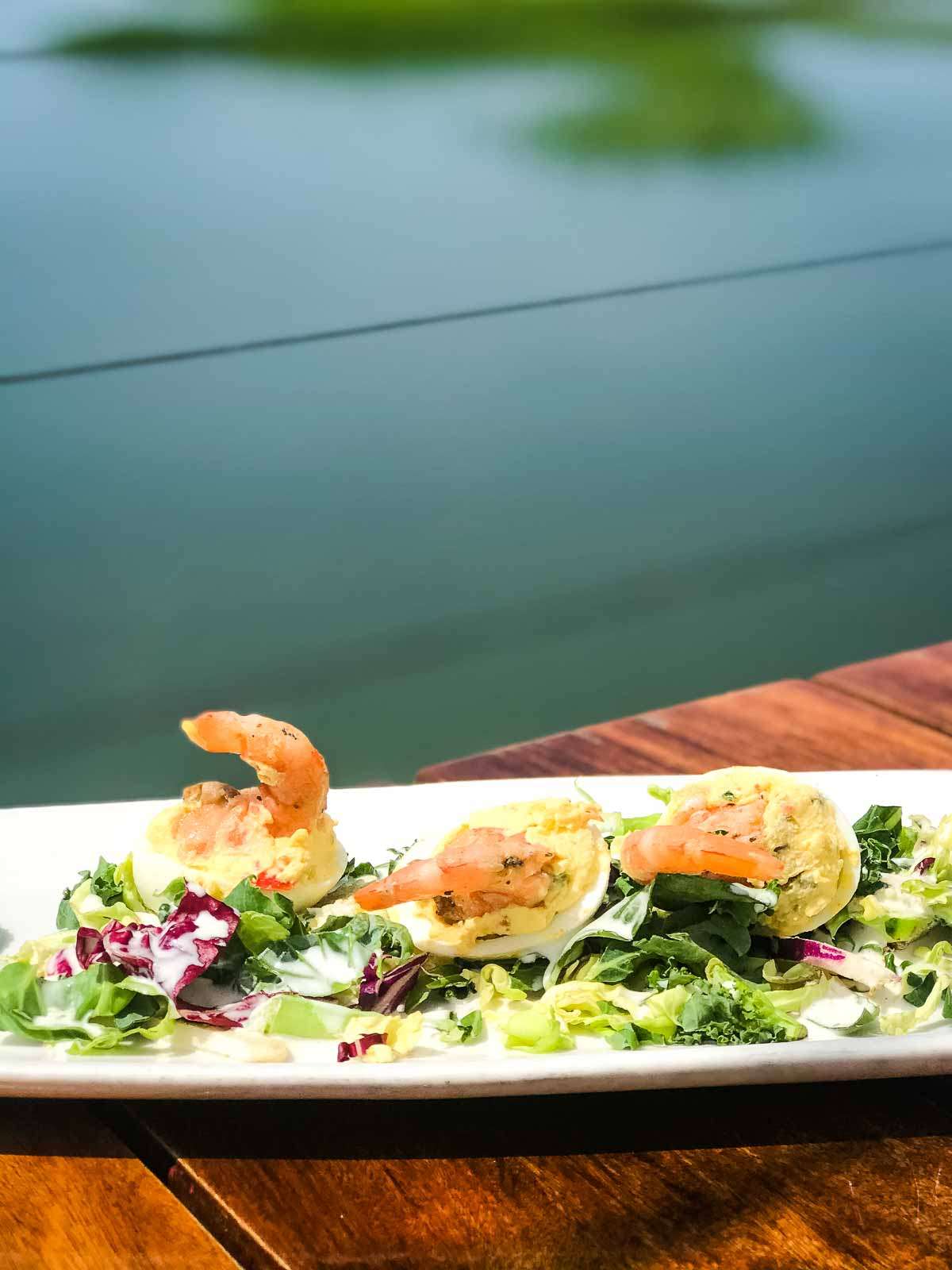 Perch a cooked shrimp on the top of each deviled egg and serve on a bed of lettuce for a fancy presentation.
Tuck a fresh sprig of dill on the top of the mixed shrimp filling. Or simply chop fresh herbs, like dill or chives, and sprinkle on top.
Garnish the top with cooked bacon crumbles
Garnish with thinly sliced green onion.
For extra spiciness and heat, top each egg with a slice of jalapeño.
Sprinkle with ground spices like cayenne pepper or smoked paprika.
Pipe in the shrimp filling rather than spooning it in. Just add it to a piping bag and either pipe in the mixture with a swirl or use a unique tip for a subtle design. It's a lovely look that won't require any additional garnish, except maybe a scant sprinkle of Old Bay, paprika or Cajun seasoning.
How To Easily Devein Fresh Shrimp
It's really quite simple to devein shrimp. Here are the easy steps. For each shrimp:
Pull off the head and legs.
Remove the shell. It should peel right off with a little help from your fingers.
Using a small knife, make a slit along the back of the shrimp where you see the dark vein.
Remove the vein using the tip of the knife to scrape it out.
Repeat the process with the next shrimp.
You can also use a tool to peel and devein the shrimp in one step.
How To Cook Shrimp For This Recipe
If you are using fresh shrimp, cook the shrimp and let them cool before starting the recipe. Here's how I do it.
Add a drizzle of olive oil to a skillet and heat to medium high. Add the deveined shrimp and saute, each side, for approximately 2 minutes or until pink. Remove from the heat and pan and let them cool before chopping for the yolk mixture.
Methods For Making Hard-Boiled Eggs
From the classic stovetop method to using modern appliances, finding a method that delivers perfect hard-boiled eggs every time can be tricky. I've found a few methods for making hard-boiled eggs that I use, depending on how much time I have and how many I need to make. Give them each and try and see which one ends up being your favorite.
Classic Stovetop Method
Go the traditional route and add your eggs, in a single layer, to the bottom of a pot. Cover them with cool water, filling to at least an inch and a half above the eggs. Bring them to a boil, uncovered, and immediately remove them from the heat. Let them sit for 12-15 minutes in the hot water to continue cooking to a hard-boiled status.
Then, pour out the hot water from the pan, carefully holding the eggs back. Run cold water over the eggs until they are cool and you can handle them and peel them.
Slow Cooker Method
The slow cooker method is great if you're meal prepping for the week. It's a hands-off way to hard-boiled a dozen eggs while you set it and forget and go do other things.
Just add a dozen fresh eggs to your slow cooker and cover them with water. I like to have at least an inch and a half of water above the eggs. Put the cover on and cook on high for 2-3 hours.
When finished, carefully drain the hot water and refill it with cool water. I like to add some ice cubes to the water, too, to help them cool more quickly. Once they've cooled enough to handle, remove the eggs and proceed with peeling them.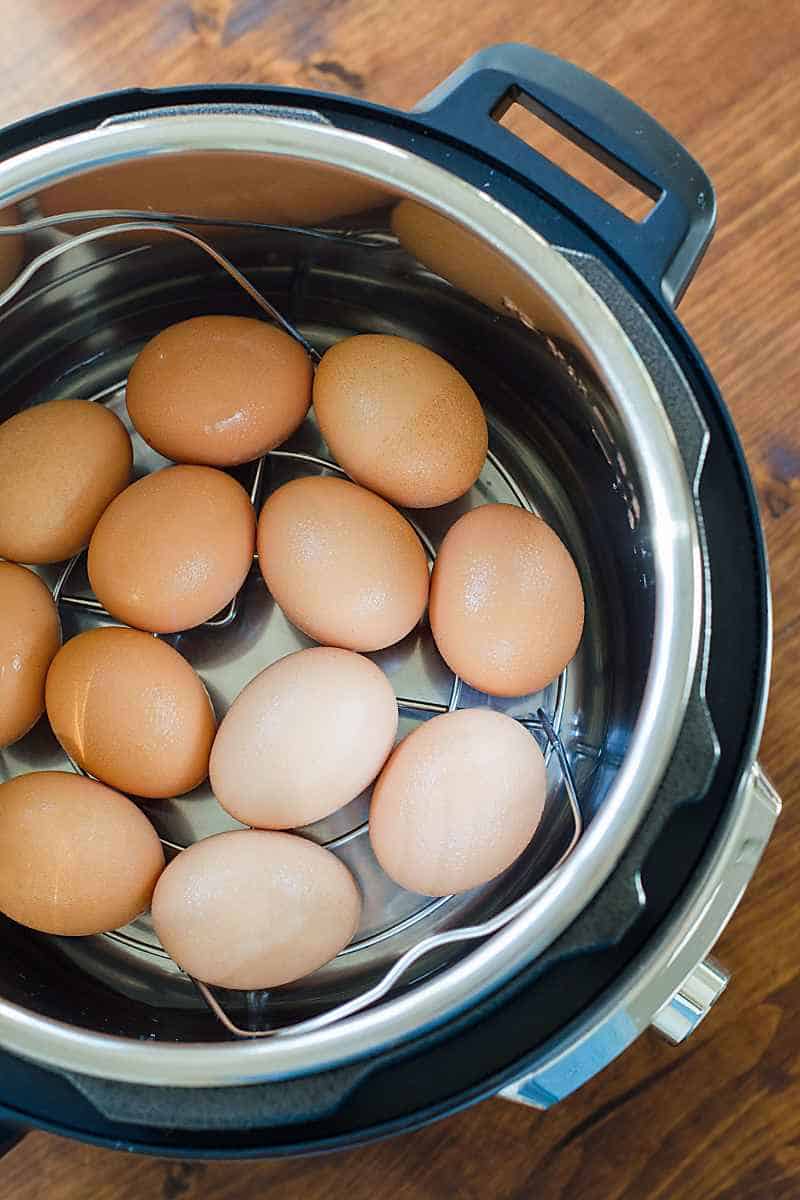 Instant Pot Method
Making hardboiled eggs in the Instant Pot is super easy as well. Just place the eggs on the rack inside the pot, add a cup of water and set the Instant Pot to the egg setting for 5 minutes. Do a quick release of the pressure to stop the cooking.
Carefully remove the eggs with tongs and place them in an ice water bath. Leave them in the ice water for 10 minutes. I always add a little more ice about halfway through. Once cooled, you can remove and peel them.
Air Fryer Method
If you happen to have a handy air fryer, try hard-boiling them in the air fryer basket. This is similar to oven baking the eggs, but it's quicker in this appliance.
Place your eggs in a single layer in your air fryer basket. Make sure they're not crowded and that there's space between each egg. Air fry at 250 degrees F for 16 minutes. Be sure and set the timer.
When done, place the eggs in an an ice bath as noted above.
Can I Make These Ahead Of Time?
Yes. You can either prep all of the ingredients separately and store in the refrigerator before assembling or make and assemble the shrimp deviled eggs for storage. Either way, they'll keep for up to 2 days in the fridge.
Storage
If prepping the ingredients, such as hard boiling and peeling the eggs and cooking or thawing the shrimp, they'll keep, unassembled and stored separately, for up to 2 days in the fridge before you continue with the recipe to fully prepare the mixture and assemble the deviled eggs.
For fully assembled deviled eggs, store them in an airtight container for up to 2 days before serving.
More Shrimp Recipes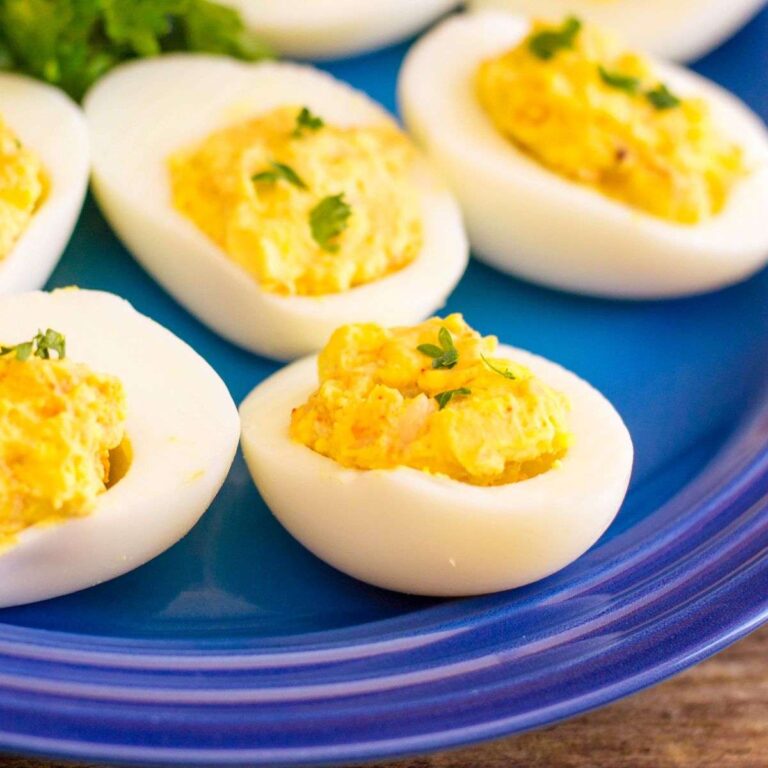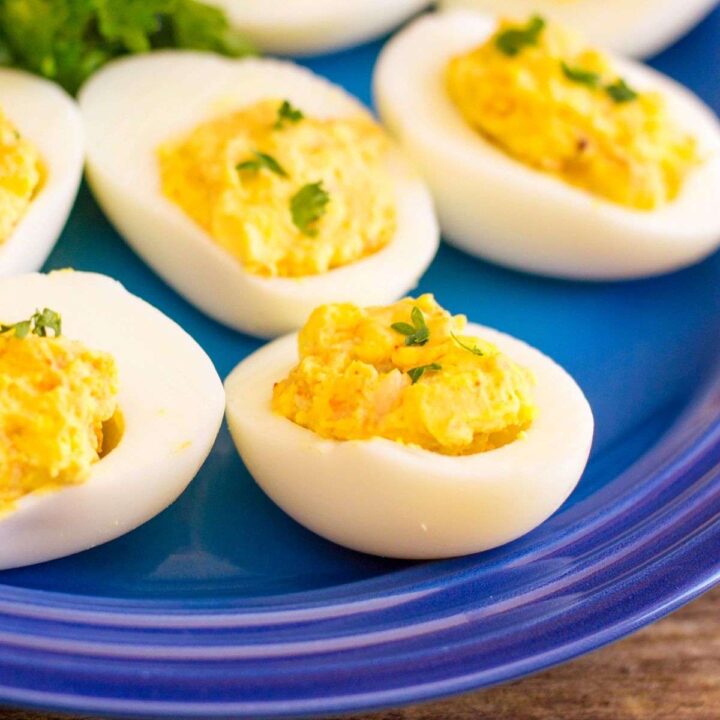 Shrimp Deviled Eggs
This deviled egg recipe takes it up a notch by adding shrimp to the mix. You will love this seafood version of the classic appetizer!
Ingredients
6 large eggs, hard-boiled and peeled
12 deveined and peeled cooked shrimp (thawed if frozen)
3 tablespoon mayonnaise
1 teaspoon Dijon mustard
½ teaspoon Old Bay seafood seasoning
¼ teaspoon smoked paprika
sea salt and fresh ground pepper to taste
1 Tbsp, fresh parsley, chopped (optional)
additional cooked shrimp for garnish (optional)
Instructions
Halve the peeled eggs lengthwise and remove the yolks and mash in a medium bowl.
Chop the shrimp and add to the mixing bowl with the egg yolks. Add mayonnaise, mustard, and seasonings and stir until well blended.
Spoon the shrimp mixture into the egg white halves.
Garnish with chopped parsley or additional shrimp if desired.
Place the eggs on a serving plate and serve at once or cover and refrigerate for up to two hours before serving.
Notes
For a fancy presentation, place additional cooked shrimp on top of the eggs after filling.
Nutrition Information:
Yield:

6
Serving Size:

2 halves
Amount Per Serving:
Calories:

160
Total Fat:

11g
Saturated Fat:

3g
Trans Fat:

0g
Unsaturated Fat:

7g
Cholesterol:

249mg
Sodium:

571mg
Carbohydrates:

1g
Fiber:

0g
Sugar:

1g
Protein:

13g
Note: nutrition data provided here is only an estimate.