Looking for a tasty fish recipe? Check out this collection of easy grouper recipes for a hearty, healthy fish dinner everyone will love.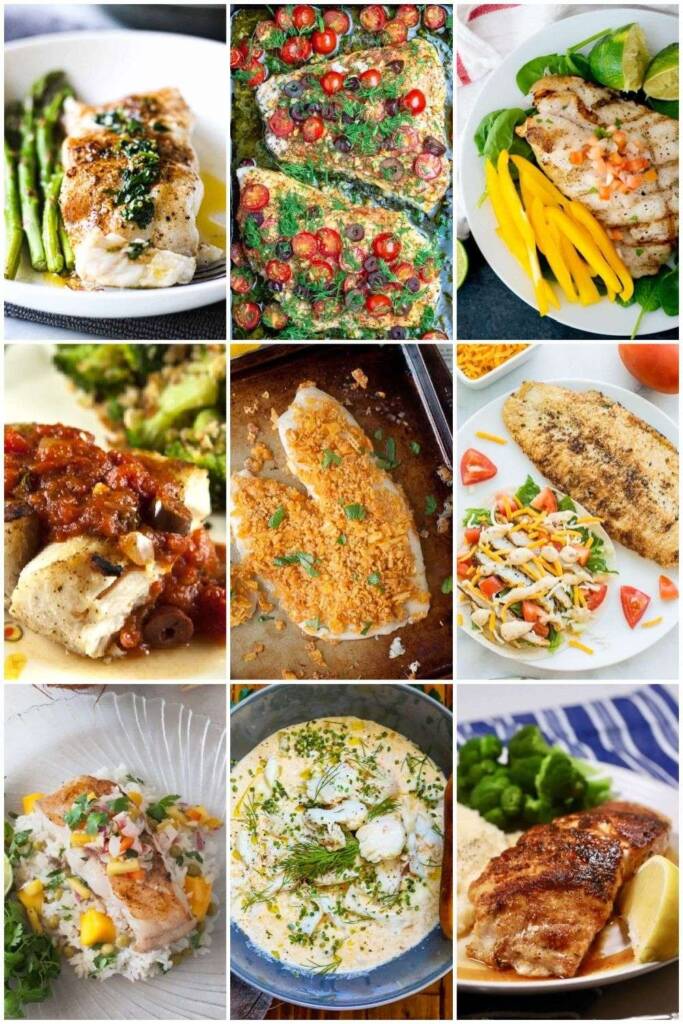 Mild with large flakes, grouper is a versatile white fish that can be prepared easily for a quick and delicious seafood meal.
From the sea bass family, grouper is a white fish with a mild flavor, similar in taste to halibut or bass. Nutritionally, it's a healthy fish that's protein-rich and high in calcium and iron.
The different types of grouper that you'll routinely see are red grouper, black grouper, gag grouper and goliath grouper. Each has a slightly different flavor, yet all are mild and pleasant.
Grouper is an excellent choice to make an easy seafood meal, whether using fresh grouper or frozen. Its firm texture makes it able to withstand grilling and frying as well as baking and steaming.
Easy Grouper Recipes
In this collection of easy grouper recipes, you'll find delicious ways to top it with sauces, herbs, spices and more.
Whether you're looking for an elegant seafood dinner or a savory fish sandwich, you'll find a variety of ways to cook grouper for a hearty meal, no matter what the occasion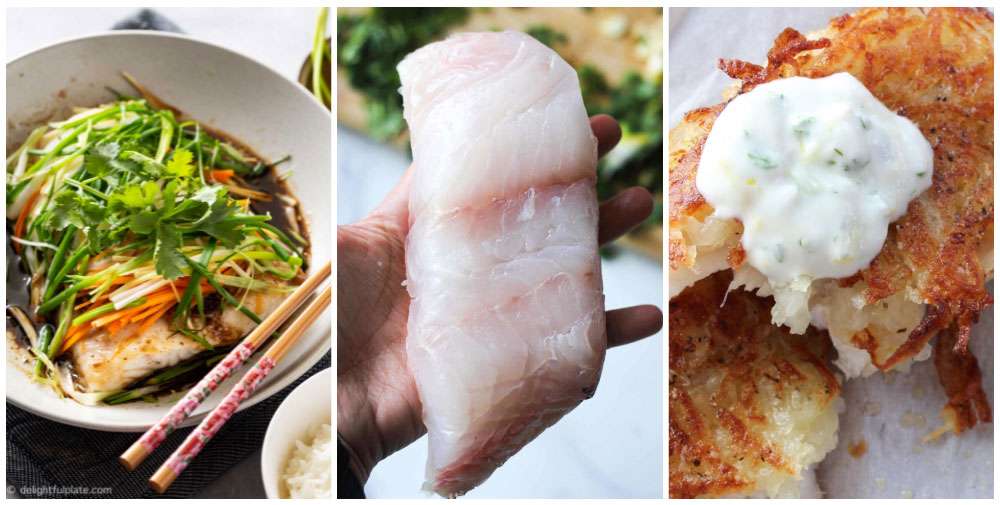 Mediterranean-Style Baked Grouper
Tomatoes, garlic, olives, herbs and lemon contribute to the bold flavors of this oven-baked grouper meal. The fish is seasoned with dry spices and drizzled with fresh lemon juice and olive oil.
It's then topped with minced garlic, sliced tomatoes and Kalamata olives before being baked to outrageous deliciousness. Serve with a side dish of rice and roasted veggies. Before serving, garnish with sprigs of fresh herbs.
Recipe by The Mediterranean Dish
Bacon Horseradish Lobster Stuffed Grouper
Elevate grouper fillets with a savory topping of chunky cooked lobster mixed with cooked crumbled bacon, horseradish, butter and bread crumbs. You'll top the broiled grouper with this delectable mixture before returning the grouper to the oven for a second broil, just to heat and crisp up the lobster stuffing.
Serve with asparagus for an elegant meal that's as easy as it is delicious.
Recipe by Binky's Culinary Carnival
Grouper Piccata
Grouper fillets that are rinsed clean and picked free of stray bones are patted dry with a paper towel before being dredged in flour. Pan-sear them in a hot skillet with butter and olive oil and brown on both sides until the fish is cooked through.
Remove from the skillet and make the buttery wine and lemon juice sauce. Add in parsley and capers before drizzling the butter sauce over the cooked grouper.
Recipe by Kumquat Blog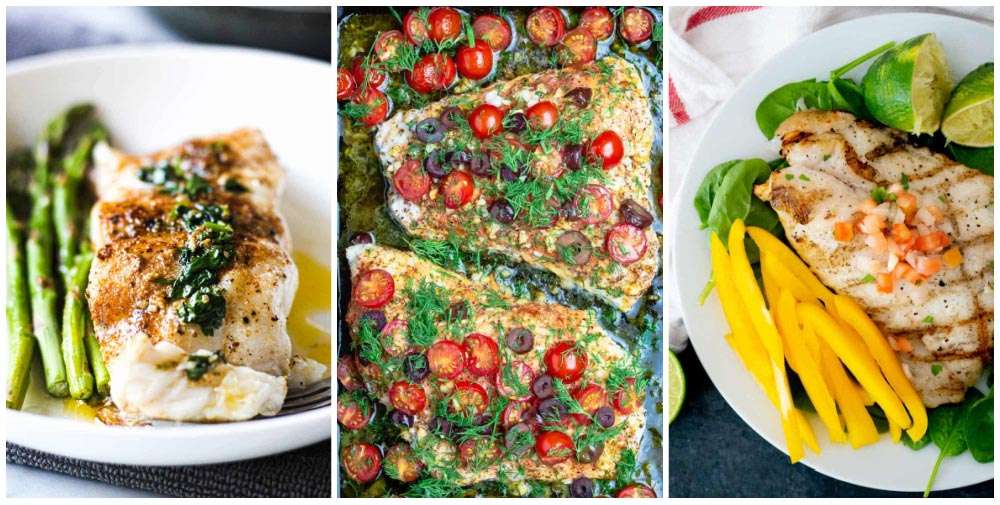 Key Lime Butter Grilled Grouper
For a buttery citrus flavor, in a small bowl, make a simple compound butter by adding lime juice and its zest to the softened butter. Mix well to incorporate and spread it on the grouper filets before grilling them over medium heat.
Sear each side for about 6 minutes each and until the grouper is cooked through and flaky. Serve with lime wedges, pico de gallo and your favorite sides.
Recipe by Shaken Together Life
10-Minute Grouper Fish Tacos
This one-skillet meal of seared grouper seasoned with butter, lemon juice, salt and pepper makes a wonderful stuffing for tacos. Dredge the fish in flour before adding it to your hot skillet so that it sears, in just a matter of minutes, to a golden brown on both sides.
Be sure and make the Dijon honey sauce to drizzle over the fish, lettuce, tomato and shredded cheese that's piled into your taco shells.
Recipe by Averie Cooks
Blackened Grouper
You'll want to use a cast-iron skillet to render the most savory, crisp and blackened coating on your fresh grouper. Make the sweet and spicy homemade blackening seasoning with pantry ingredients that include dried oregano and thyme, which are essential herbs for this blackening mix.
Kosher salt, cumin, paprika, garlic, onion, cayenne and black pepper round out the spices along with a teaspoon of brown sugar. Bush the grouper with softened butter before adding a tablespoon of the blackening seasoning to both sides of each grouper fillet.
Add them to a hot, buttered cast-iron skillet and cook for about 3 minutes on each side, over medium-high heat. When the grouper is opaque and flakes with a fork, it's ready to be plated and enjoyed.
Recipe by Grits And Pinecones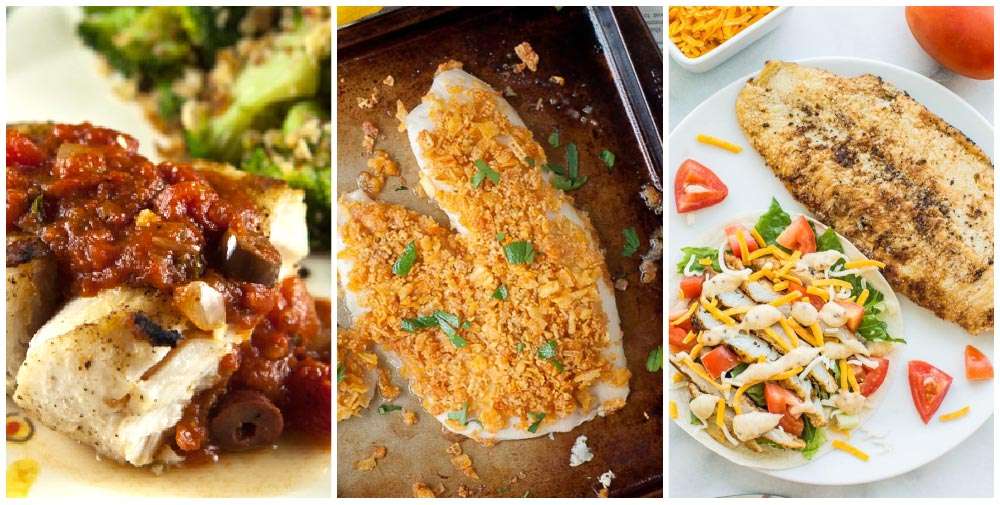 Steamed Fish with Ginger And Soy Sauce
Julienned vegetables of carrots, scallion stalks, ginger and onion provide aromatic deliciousness for this steamed grouper meal. Season and cover the grouper with aluminum foil before setting it in a steamer to cook.
Halfway through, pour the ginger, soy sauce and black pepper mixture along with the julienned veggies over the grouper. Cover and continue to steam until cooked through.
Recipe by Delightful Plate
Pan-Seared Grouper Sandwiches
You'll adore this grouper sandwich that's made tasty with a homemade spicy mayonnaise that's infused with citrus flavors as well as garlic, onion, cumin, and oregano. Make the mayo ahead of time and slather it on your sandwich buns.
Pan sear the grouper on each side for about a minute before brushing each side with mayo and searing again, until cooked through. Place on the buns and top with lettuce and tomato.
Recipe by My Gourmet Connection
Fish Chowder
Grouper is a lovely white fish to include in this richly seasoned chowder recipe. It works well as a substitute for other white fish such as red snapper, cod, bass, and haddock. Heavy cream, fish stock, potatoes, butter and aromatics like onion, celery and garlic make up the base that's brightened with lemon zest.
Chop the fresh grouper and add to the base during the last 10 minutes of cooking, giving it enough time to cook through before serving. Garnish the steaming deliciousness with freshly ground pepper.
Recipe by The 2 Spoons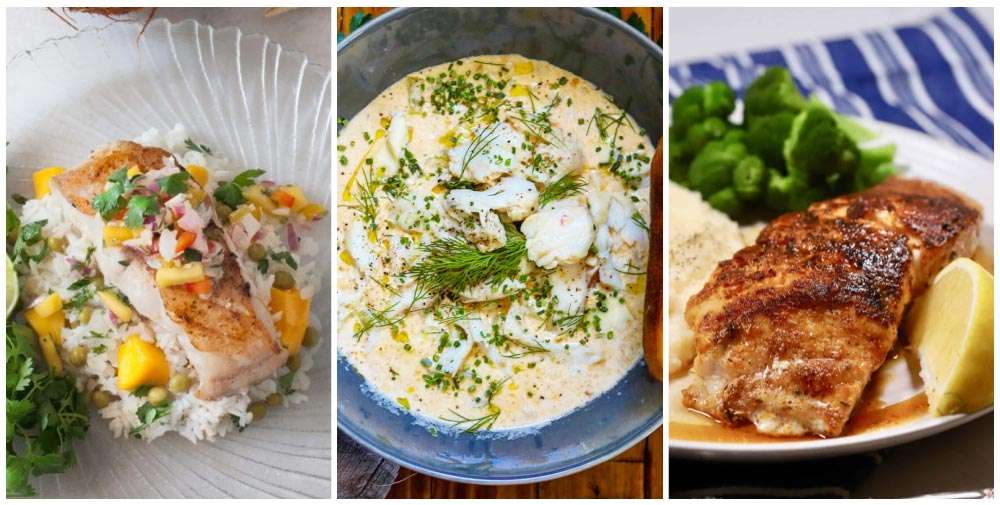 Grouper With Lemon Basil Cream Sauce
Broiled grouper gets a creamy and lemony sauce for a flavorful finish with this easy recipe. On a prepared baking pan, broil the fish until opaque, about 10 to 15 minutes. In a skillet, over low heat, melt butter and olive oil before adding in grated garlic and black pepper.
Pour in white wine and boil until it reduces before adding in cream, lemon juice and chopped basil. Let the sauce thicken before drizzling over the cooked grouper.
Recipe by Eclectic Recipes
Rosemary, Garlic And Potato Encrusted Grouper
Grouper fillets are encased in shredded potatoes, pan-fried and seasoned with rosemary and garlic-infused oil in this delicious fish dinner.
The potato coating creates a crispy crust as it's being seared to golden perfection in the hot skillet. It only takes about 5 minutes per side. Serve this crusted grouper with homemade sour cream and herb sauce.
Recipe by My Delicious Blog
Baked Grouper with Citrus-Cilantro Crumb Topping
Bright and herbal is the tasty flavor combo that tops this baked grouper recipe. Buttery, crushed cracker crumbs join with finely chopped cilantro and the zest of lemon, lime and orange before being mixed with melted butter.
Spread this mixture on top of the grouper fillets and bake until the fish is opaque and flakes easily. This same topping works well with halibut and cod, too, if you're looking for a suitable white fish alternative.
Recipe by My Gourmet Connection
Grouper Collars
If you're lucky enough to procure grouper collars, or the "neck" of the fish, make this tasty recipe for a delicious and impressive dinner. You'll grill the grouper to crispy perfection after a light spritz of olive oil and patting a homemade dry spice mixture of paprika, garlic, onion and cayenne pepper on the grouper collars.
It only takes about 5 minutes per side for the fish to cook through and become crispy. Serve over steamed or sautéed greens for a stunning presentation.
Recipe by Eat Simple Food
Broiled Grouper with Lemon and Thyme
Fresh grouper filets, seasoned with lemon juice and its zest, minced garlic, dried thyme and black pepper, are broiled to achieve a slight crispiness on top. Watch the fillets closely because they only need about 7 minutes under the broiler, or until opaque and flaky with a fork.
Pair the broiled grouper with white wine and Brussels sprouts for a dinner that's simple yet sensational.
Recipe by Curious Cuisiniere
Grouper Reuben
Here's a deli-style take on a grouper sandwich. Swap out corned beef for broiled grouper in this grilled classic that combines the fish with sauerkraut for a delightful seafood meal. Place the seasoned grouper in a cast-iron skillet and broil it in the oven for about 9 minutes or until opaque.
On thick and substantial sliced bread, spread a spicy homemade Russian sauce, sauerkraut, grouper, and Swiss cheese. Top with another slice of bread and grill the sandwich, on each side, in a pat of melted butter in the cast-iron skillet.
Recipe by Champagne Tastes
Potato Chip Crusted Baked Fish
If you're looking for a family-friendly, kid-approved fish meal, here it is. No egg, flour or dredging is needed with these pantry staple ingredients that are used to coat the grouper.
It's a unique mix of crushed potato chips, cereal, parmesan cheese, paprika and butter that will cover your grouper fillets before being baked to golden crunchiness in the oven. Serve with the homemade tartar sauce.
Recipe by Mama Gourmand
Pan-Seared Grouper
Coconut rice and mango salsa elevate this pan-seared grouper to citrusy proportions. Make the salsa ahead of time and let it chill in the fridge. Jasmine rice is flavored with cilantro and unsweetened coconut flakes.
The grouper filets are sprinkled with a Cajun seasoning before being added to a heated skillet to brown. Flip the fillets to brown each side until the fish is cooked through and flakes easily with a fork.
Serve over the rice with the bright mango salsa on the side.
Recipe by Acadian Table
Pan Seared Grouper With Lemon Butter
This recipe works well for either fresh grouper or frozen grouper that's been thawed. To a skillet over medium heat, add butter and minced garlic and sauté for about a minute. Season the grouper with salt and pepper before adding to the skillet, cooking both sides until golden and opaque.
Remove from the skillet and set aside. To the skillet add lemon juice and chopped fresh parsley and sauté to heat through. Drizzle the lemon and herbal butter over the cooked grouper and serve.
Recipe by The Top Meal
Grouper Puttanesca
A zesty puttanesca sauce tops this pan-seared grouper meal for a nod to Italian cuisine. This tomato-based sauce simmers along with onion, garlic, salted capers, oregano, parsley, Kalamata olives, and if you're bold, a touch of anchovy paste to boost the flavors.
In a separate skillet, pan-sear the grouper fillets on each side, about 5 minutes each, until cooked through and flaky with a fork. Serve, topped with the savory puttanesca sauce.
Recipe by Italian Food Forever
Bacon-Crusted Grouper
Panko breadcrumbs combine with the smokiness of cooked and minced bacon pieces to form the crunchy coating for the grouper. Dredge the fillets in an egg mixture and then the panko and bacon mixture, coating each side.
Place the coated filets in an oven-safe or cast-iron heated skillet and pan-fry each side for about a minute. Place the skillet and grouper fillets in a pre-heated oven for about 5 minutes, or until the grouper is cooked through and opaque. Serve with the homemade ranch-flavored dill sauce.
Recipe by My Delicious Blog
If you're looking for a fish dinner that is delicious and simple to prepare, try one of these easy grouper recipes in your weekly meal plan.