Love pan-seared scallops? Here are the best side dishes to serve with them for an amazing seafood dinner at home.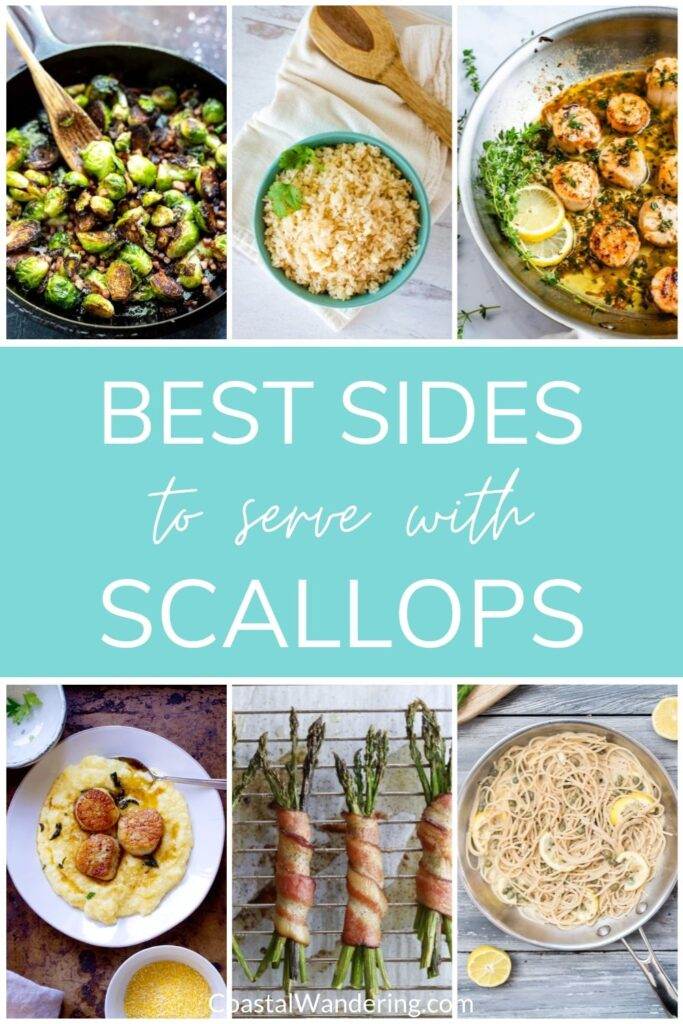 Pan-seared scallops are a quick and delicious dinner option when you're craving a seafood meal. And with the right side dishes, they're an easy fancy meal for a special occasion.
In this collection, you'll find the best side dishes to help compliment this mild-flavored seafood whether you're serving it for an elegant dinner party, Valentine's Day, or weeknight dinners.
Here's what to serve with pan-seared scallops from potatoes to polenta and from fresh vegetables to pasta to salads. You'll even find savory sauces to drizzle over these bite-sized wonders and crusty bread for dipping. Butter, garlic, herbs and parmesan cheese are classic ingredients that help flavor fresh scallops to an irresistible level when served with these accompaniments. 
The best side dish recipes for scallops
Whether you choose wet scallops or dry scallops, bay scallops or large sea scallops, consider a delicious recipe or two from this list to serve with the main dish for a stunning seafood dinner.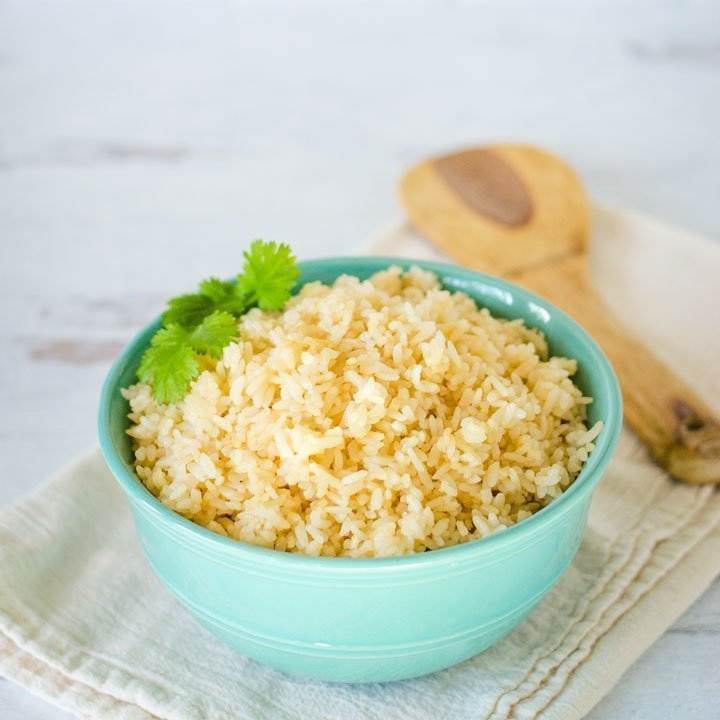 Carolina Gold Rice
Let your Instant Pot make a batch of this heirloom grain variety of rice that's cooked with chicken stock for a delicious flavor and lovely color. A staple of the Lowcountry in South Carolina, this golden rice is an easy recipe for a versatile side dish that works equally well for seafood as well as poultry and beef. Nutty and subtly sweet, it will become a staple side dish for many meals.
Recipe by Coastal Wandering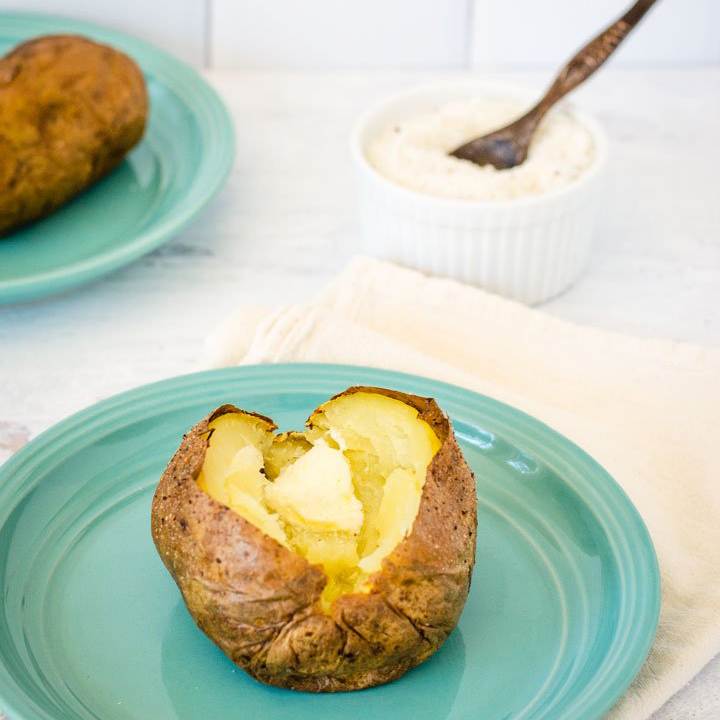 Air Fryer Baked Potato
Crispy on the outside and steamy and tender on the inside, these air fryer baked potatoes will be a delicious accompaniment to any meal. Russet potatoes receive an oil and salt coating before their session in the air fryer, which helps their skin become delightfully crispy. You can't go wrong adding butter, cheese and sour cream to these potatoes, which pair perfectly with scallops.
Recipe by Coastal Wandering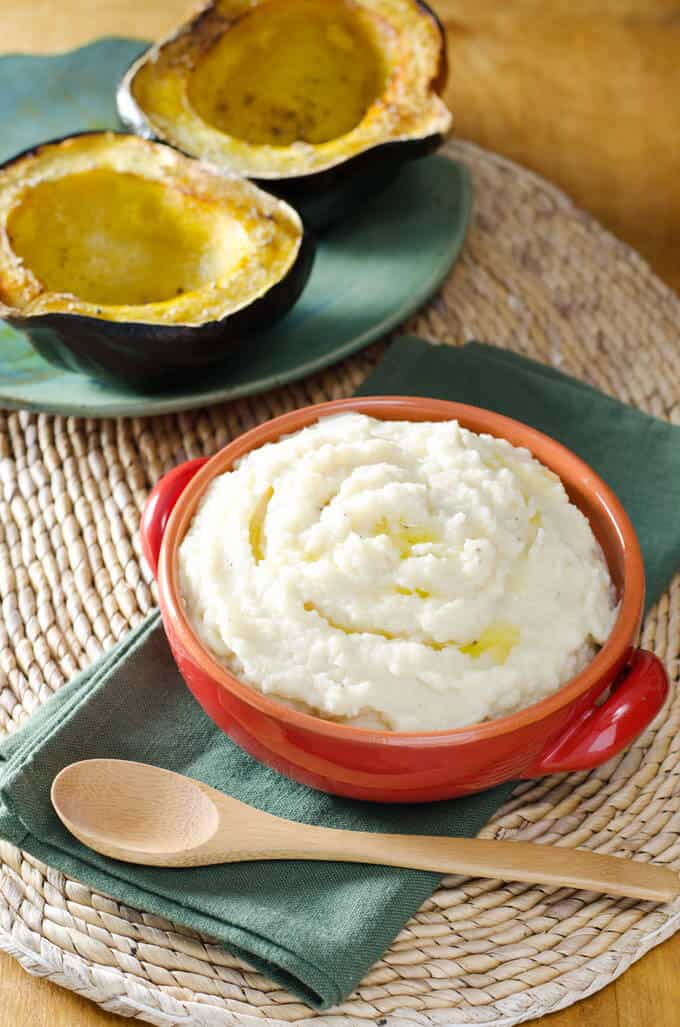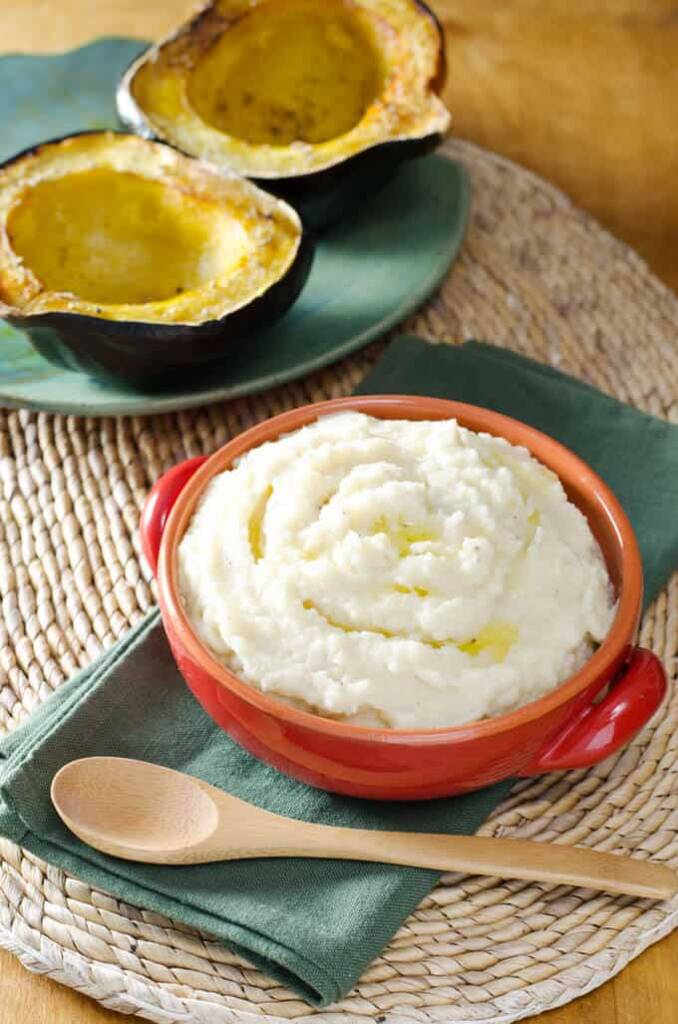 Cauliflower Celery Root Mash
If you're a fan of mashed potatoes, you'll love this creamy and decadent cauliflower puree with celeriac or celery root. The combination makes a great bed for a scallops and steak surf and turf. Add roasted acorn or butternut squash to complete the meal.
Recipe by Cook Eat Well
Air Fryer Broccoli Parmesan
Fresh broccoli florets become tender, tasty and cheesy thanks to being air fried. If you love roasted broccoli, this is the best way to achieve that end goal. Just toss the broccoli florets in a bit of ​​olive oil, garlic and parmesan mixture before adding to your air fryer. Five minutes later you're ready to plate it up!
Recipe by Happy Veggie Kitchen
Bacon Wrapped Asparagus
Take your asparagus over the top by wrapping small bundles of spears with bacon before roasting in the oven. You can also cook these on the grill or in an air fryer. Plus, this is a delicious Whole30 and keto side or appetizer when you use sugar-free bacon or prosciutto.
Recipe by Cook At Home Mom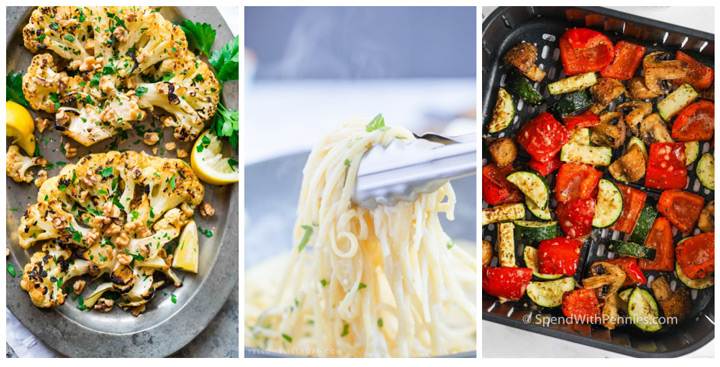 Grilled Cauliflower Steaks
If you're trying to keep it low carb, these spicy cauliflower "steaks" are a must-make for a zesty side item. Seasoned with olive oil, salt, lemon zest and juice, and fresh herbs, grilling these large sections of cauliflower make for a tender yet crispy vegetable that's perfect for seafood meals.
Recipe by Well Plated
Creamed Spinach
A rich and creamy homemade Béchamel sauce compliments baby spinach leaves. The garlic and parmesan add just the right flavor, making this a tasty side dish for almost any meal. Oh, and you can use frozen spinach in a pinch with equally yummy results.
Recipe by Savory Nothings
Air Fryer Vegetables
If you have an assortment of fresh veggies that need to be used, heat up your air fryer for a quick way to cook them to healthy deliciousness. Here, bell peppers, mushrooms and zucchini are seasoned with garlic and parmesan before being caramelized in the air fryer. It's a flavorful and quick side item!
Recipe by Spend With Pennies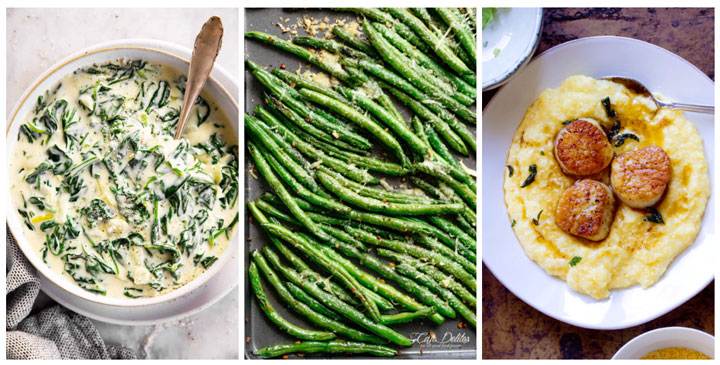 Brown Butter Polenta
Slow-cooked stove top polenta is the perfect vehicle to top with deliciously seared scallops. Set some time aside to make this creamy and buttery polenta. At the very end, sear the scallops and make brown butter sauce. Then add the cooked scallops and sauce making this a one-bowl meal that will win you rave reviews!
Recipe by The Gourmet Gourmand
Scallops And Mushrooms in White Wine Sauce Over Crème Fraîche Polenta
Stove-top polenta become rich and creamy with the addition of crème fraîche. Seared scallops join the butter, mushrooms, shallots, white wine and dijon sauce for an elegant seafood meal worthy of restaurant menus.
Recipe by Floating Kitchen
Garlic Green Beans
Fresh green beans get a roasting session in the oven as they're flavored by olive oil, finely minced garlic and a sprinkle of grated parmesan cheese. Just toss them halfway through so they'll crisp up evenly for a crunchy, zesty and cheesy side item.
Recipe by Cafe Delites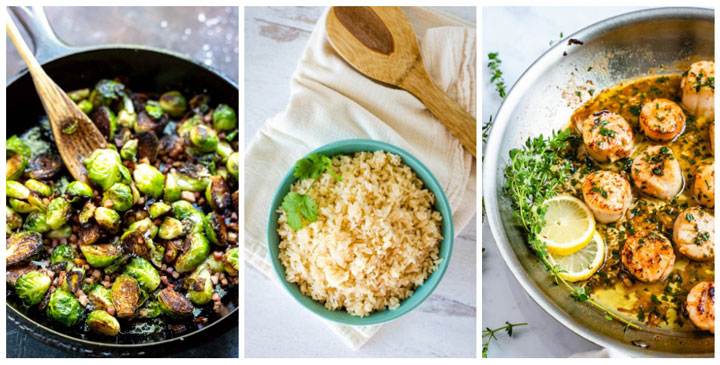 Pan Fried Brussel Sprouts With Pancetta
Outrageous flavor is achieved with very few ingredients in this pan-fried Brussels sprouts dish. A little olive oil and salt get the sprouts going while finely chopped pancetta joins the pan for the perfect salty accompaniment to this vegetable. In just 15 minutes, this side item is ready to be served.
Recipe by Wonky Wonderful
Haricot Verts With Dijon Vinaigrette
A spicy dijon vinaigrette dresses these slim French green beans, or haricot verts, that are easily boiled for 5 minutes before receiving an ice bath to keep them bright and crisp. The red wine vinegar and mustard sauce will coat the beans for a zing of flavor on this delightful side item. Serve warm or at room temperature.
Recipe by House Of Nash Eats
Spaghetti Piccata
Satisfying on its own, but delicious as an accompaniment to scallops, this pasta dish is a bright and buttery dish that's simple to make. A reduction of capers, oil and garlic is made into a fragrant piccata sauce that coats the tender spaghetti. Garnish with pine nuts and serve with scallops for a delightful meal.
Recipe by One Ingredient Chef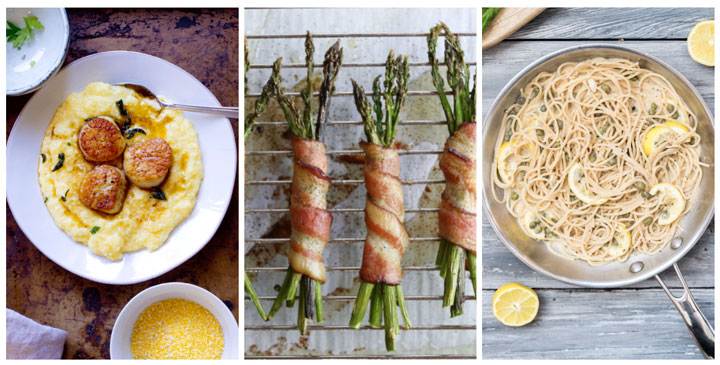 Angel Hair Pasta
Cook your favorite brand of angel hair capellini pasta and add it to an herb and garlic-infused butter and olive oil mixture. Add freshly grated parmesan, if desired. Optionally, you can also add diced tomatoes to the top for another flavor profile. It's a quick and delicious pasta side dish for scallops.
Recipe by Dinner At The Zoo
One Pan Garlic Parmesan Pasta
Similar to an Alfredo sauce, this cheesy addition to pasta amps up the flavor with minced garlic. Half milk and half cream give it a rich texture and taste. Linguine or fettuccine is perfect for soaking up this thick parmesan sauce. This dish can be ready in about 20 minutes.
Recipe by Yellow Bliss Road
Pancetta And Pea Pasta
Let cured pork belly add a salty and crispy addition to this easy pasta dish. Cooked linguine gets tossed with a pancetta, garlic, peas and cream sauce. Add freshly grated parmesan for a spectacular pasta dish that works well with seafood.
Recipe by Salt And Lavender
White Wine Lemon Caper Sauce
Once you make this simple creamy lemon sauce, you'll want to use it on everything from seafood to pasta and beyond. In a heavy cream base, white wine adds flavor, lemon juice keeps it bright while the capers and parmesan cheese add just the right amount of saltiness to this rich sauce. Best of all, you can make it in just 10 minutes!
Recipe by Julie Blanner
Lemon Herb Sauce For Scallops
What could be more savory than a melted butter sauce infused with the tang of lemon, the punch of garlic and the aromatics and flavor of herbs? This easy buttery sauce is a classic to drizzle over scallops and other seafood. This lemon butter sauce comes together in about 2 minutes, so serve it while it's warm and fragrant.
Recipe by A Couple Cooks
Grilled Garlic Bread
If you're making most of your meal on the grill, be sure and add some crusty garlic bread to the grates. Cut a long bread loaf in half, lengthwise, and slather with garlic-infused butter. This will keep flare-ups to a minimum while ensuring a golden-grilled and crispy outcome that's a perfect side item for a seafood meal.
Recipe by Recipe Tin Eats
Air Fryer Garlic Parmesan Twists
Put your air fryer to work cooking these garlic twists made with puff pastry. These impressive and delicious breadsticks couldn't be easier. A garlic butter mixture goes between two pastry sheets before being cut, twisted, brushed with melted butter and air fried to crispy perfection. So easy!
Recipe by Amanda's Cookin
Easy Succotash
A simple classic side dish that says summer! This succotash is loaded with corn, lima beans, onion, red peppers and cherry tomatoes. Cook the veggies with olive oil, salted butter and parsley for a healthy side.
Recipe by A Couple Cooks
Mango Salsa
What could be better than fresh mango salsa with fresh seafood? This easy recipe has just five ingredients - mango, avocado, red onion, cilantro and lime juice - but so much flavor. If you love guacamole, you need to try this salsa!
Recipe by Natasha's Kitchen
These perfect side dishes are all delicious served with pan seared scallops. Which one sounds like your favorite? Let us know in the comments!