Looking for a fun and easy way to get into the holiday spirit? This Christmas tree meringues recipe is super simple - and you can decorate these festive cookies as much or as little as you like.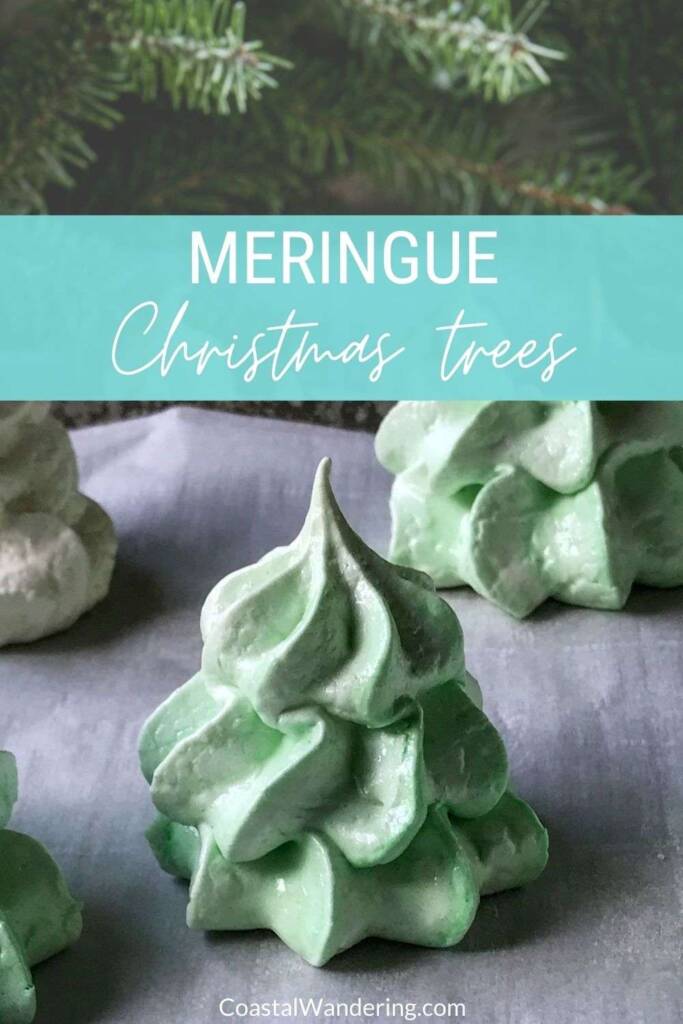 If you've never made meringues before, don't worry it's easier than it looks. Once you get the technique, you can whip up meringue cookies for any holiday.
For these cute Christmas tree cookies, you can keep them simply white with just a hint of color using sanding sugar. Or add some green coloring and decorate them with candy stars, balls and sprinkles for a more traditional Christmas tree look.
You can even create a color scheme to match your Christmas decorations, table setting for a holiday meal, dessert spread or holiday cookie plate.
Here's what you'll need
The Christmas tree meringue cookie ingredients are so simple and you probably already have most of them in your fridge and pantry.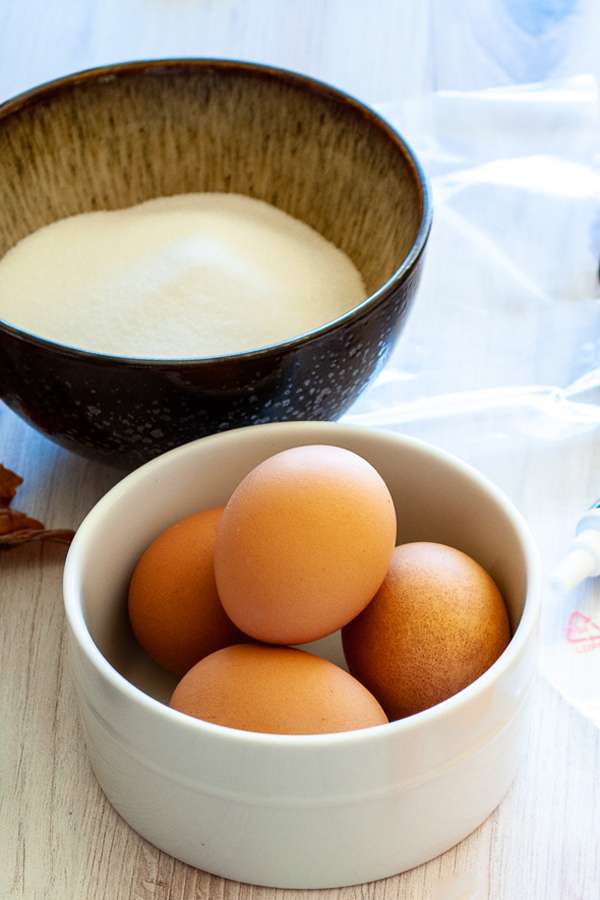 For the cookies
Egg whites make up the base of the meringue. Two important things to remember when working with egg whites:
Your eggs should be room temperature. Either remove them from the fridge and let them sit out to warm up, or put them in a bowl with warm water.
Be careful when separating your eggs. To whip the egg whites to stiff peaks, they must be completely free of yolk. Separate each egg in a small bowl to be sure there is no trace of egg yolk left before adding it to your mixing bowl.
Cream of tartar will help stabilize the eggs when you whip them. Look for it with the spices in the grocery store or online.
Sugar and vanilla extract are the remaining ingredients in the meringue base. That's all you'll need for the basic cookies.
For the decorations
Green food coloring makes the cookies look like little green Christmas trees. However, you can make them look like snow covered trees by leaving them plain white. Or make them any color you like.
Sanding sugar, candy balls, stars and sprinkles in holiday colors will make the glitter, icicles and ornaments if you want to decorate your trees. You can also use gel frosting to draw on garland or bows.
DECORATING SUPPLIES
EQUIPMENT
How to make meringue
Add egg whites and cream of tartar to a large mixing bowl that is completely clean and dry. Any oil or moisture in the bowl can prevent the egg whites from whipping up so wipe the bowl and whisk with white vinegar to be sure they are completely grease-free.
The easiest way to make meringue is using a stand or electric mixer with a whisk attachment (I use this one). You can use also use a hand mixer, but since the egg whites need to whip for several minutes the stand mixer can whip them while you work on something else.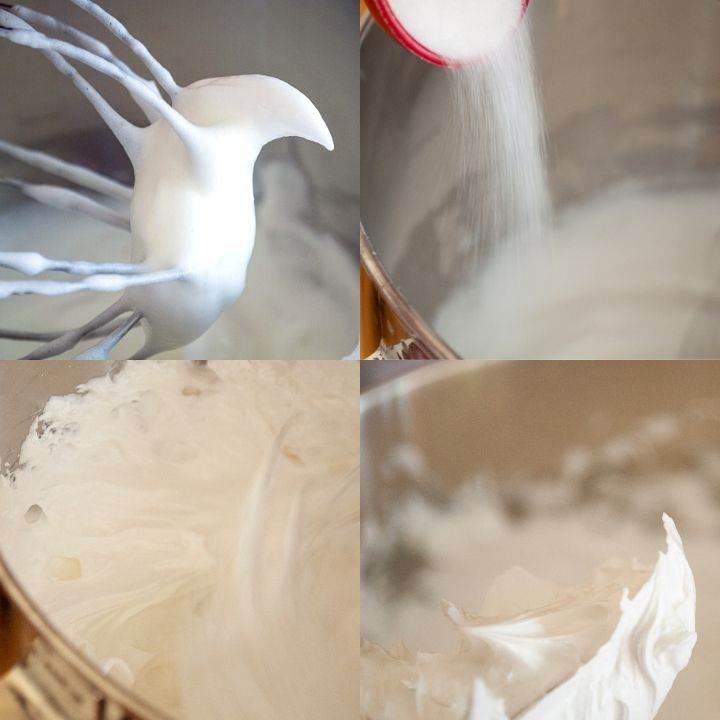 Start the mixer on low speed, then increase to medium speed once the egg whites start to get foamy. Whip the egg whites until soft peaks form (the peak will fall over when you lift the beater out of the mixing bowl, as in the first picture). Once you reach this stage, add the sugar, one tablespoon at a time, until all the grains of sugar are incorporated.
Continue to beat the egg white to stiff peaks (the peak will stand up when you lift it out, as in the last picture). Add the food coloring and vanilla extract and whip for a few more seconds. Stop as soon as stiff peaks form, you do not want to overbeat the egg whites.
Making the Christmas trees
This is the fun part! Pipe the meringue onto baking sheets in a Christmas tree shape. For this, you'll need a large piping bag fitted with a large star tip. You can also use a round tip for a different shape (like these boo meringues).
The easiest way to fill the pastry bag is to set it in a tall glass and fold the sides over the rim. That way you can use both hands to scoop the meringue mixture to fill the bag. You can also spread a little green gel food coloring on the side of the bag for a stripy effect.
Holding the bag about an inch above the parchment paper, press gently on the bag and pipe your trees onto the baking sheets. Use a circular motion or move the bag up in stages to make the tree shape.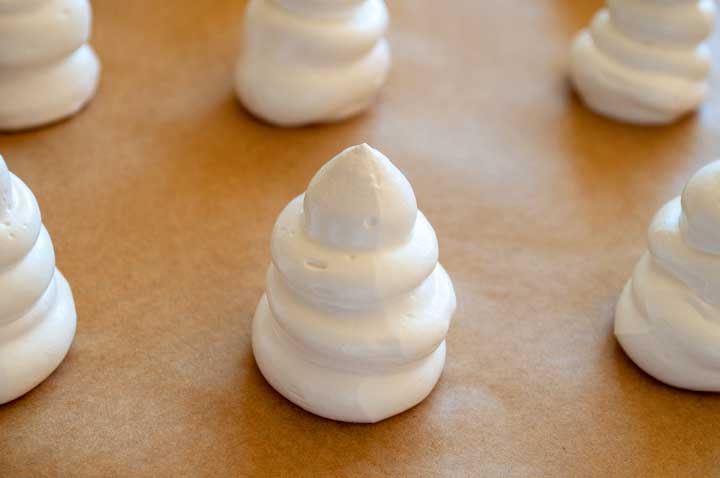 Just make sure the bottom of the tree is wider than the top and pull up while you stop squeezing the piping bag to make a little point. You can make them close together because they don't really spread.
Once you've piped the trees onto a baking sheet, you can leave them plain, decorate simply with sanding sugar or add a star to the top of the tree and decorate the "branches" with colored balls and Christmas sprinkles.
Bake the trees for one hour, rotating the the trays after 30 minutes. If you bake them in the lower portion of the oven you won't get browned trees.
When they're done, turn the oven off and leave the trees inside to cool for another hour. When you remove them, set the tray on a wire rack to finish cooling.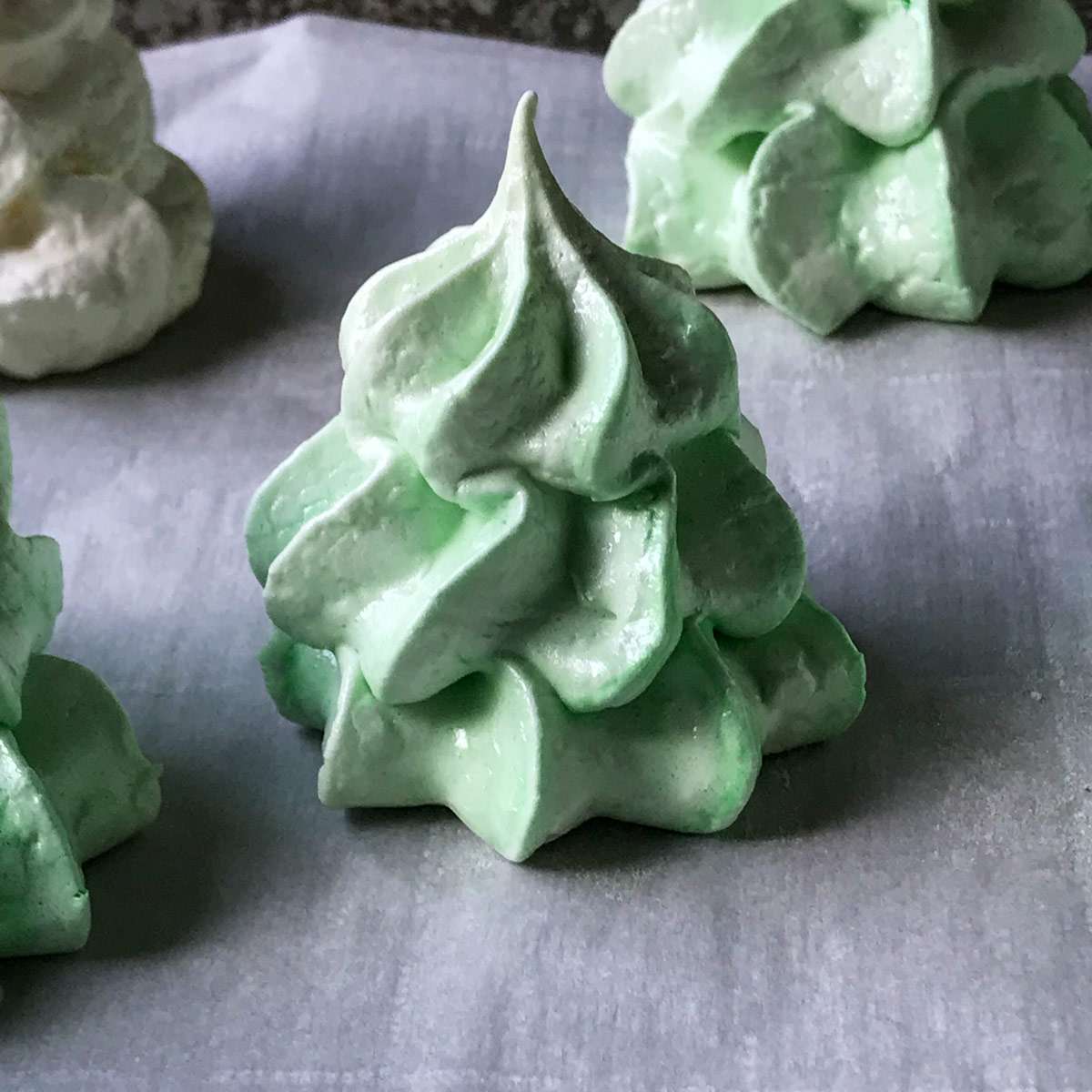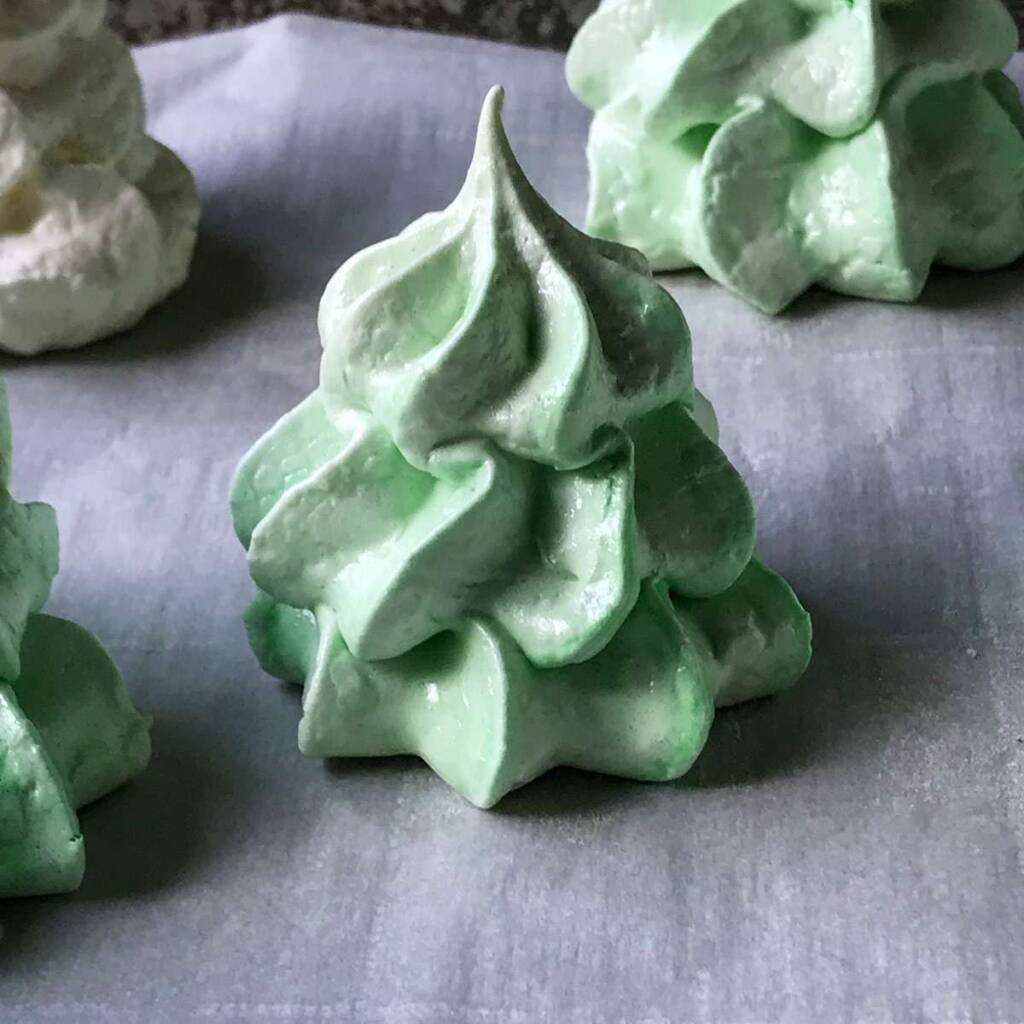 After they've cooled completely, you can add "garland" using the gel frosting if you like. Decorate them as much or as little as you like and the trees are ready for your holiday cookie tray!
These festive meringue Christmas trees are perfect this time of year with a cup of hot chocolate and your favorite holiday movie. Or you can use them to top cupcakes or decorate the yard of your gingerbread house. The possibilities are endless for this delicious treat!
More Christmas recipes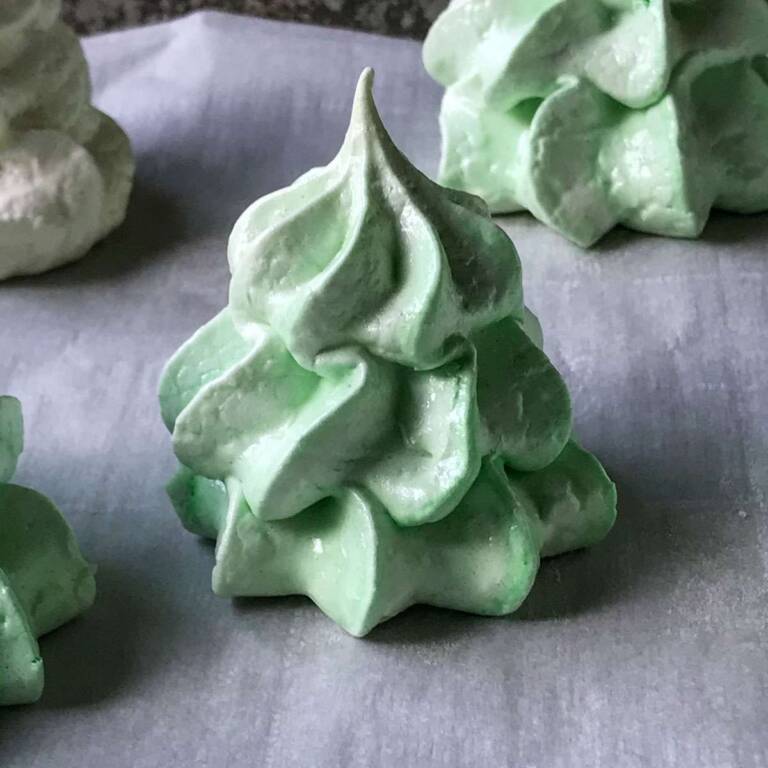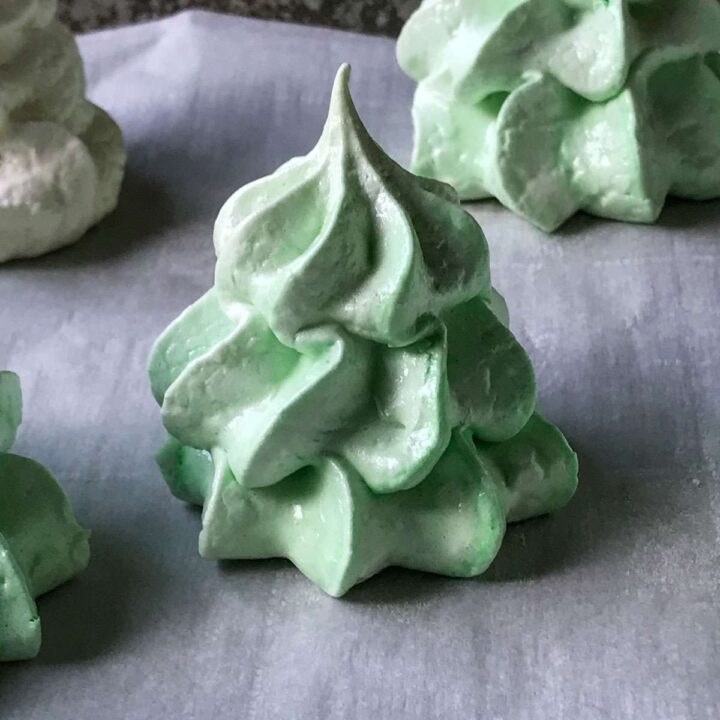 Christmas Tree Meringues
Total Time:
2 hours
10 minutes
These easy Christmas tree meringues cookies will become a holiday favorite sweet treat for your cookie tray!
Ingredients
4 egg whites, room temperature
½ teaspoon cream of tartar
1 cup granulated sugar, caster sugar or baker's sugar
1 teaspoon vanilla extract
green food coloring (optional)
Christmas sprinkles (optional)
Instructions
Preheat the oven to 200˚ and line 2 large baking sheets with parchment paper or silicone baking mats.
Wipe the mixing bowl and whisk attachment with vinegar to remove any grease, wipe dry with a clean paper towel.
Add room temperature egg whites and the cream of tartar to the bowl of a stand mixer fitted with the whisk attachment. Turn the mixer on low to mix in the cream of tartar.
Slowly increase the speed to medium and beat until the mixture is foamy. Then increase the speed to high and beat until it holds soft peaks.
With the mixer running, slowly add the sugar, one tablespoon at a time, beating well between each addition.
Beat until it holds stiff peaks and looks glossy. Add the vanilla and food coloring and beat for 30 seconds.
Cut the tip off of a disposable pastry bag and fit it with a star nozzle or round tip. Fill the pastry bag with the meringue batter.
Pipe the trees onto the lined trays. Make sure the bottom is wider than the top and pull up while you stop squeezing the piping bag to make a point.
Decorate with stars, balls and sprinkles as desired.
Bake the trays for 60 minutes, rotating them halfway through. If you bake in the lower portion of the oven you won't get browned trees.
Turn off the oven and leave them inside for 60 minutes. Remove and let cool completely on wire racks.
Notes
You can add a drop of peppermint or almond extract to make different flavors.
Store the cookies in an airtight container at room temperature.
Nutrition Information:
Yield:

24
Serving Size:

1
Amount Per Serving:
Calories:

38
Total Fat:

0g
Saturated Fat:

0g
Trans Fat:

0g
Unsaturated Fat:

0g
Cholesterol:

0mg
Sodium:

9mg
Carbohydrates:

9g
Fiber:

0g
Sugar:

9g
Protein:

1g
Note: nutrition data provided here is only an estimate.