This easy 3-ingredient pineapple martini recipe will take you back to your favorite tropical island vacation. It has the perfect blend of sweet pineapple flavor and enough vodka to let you know you're drinking a martini.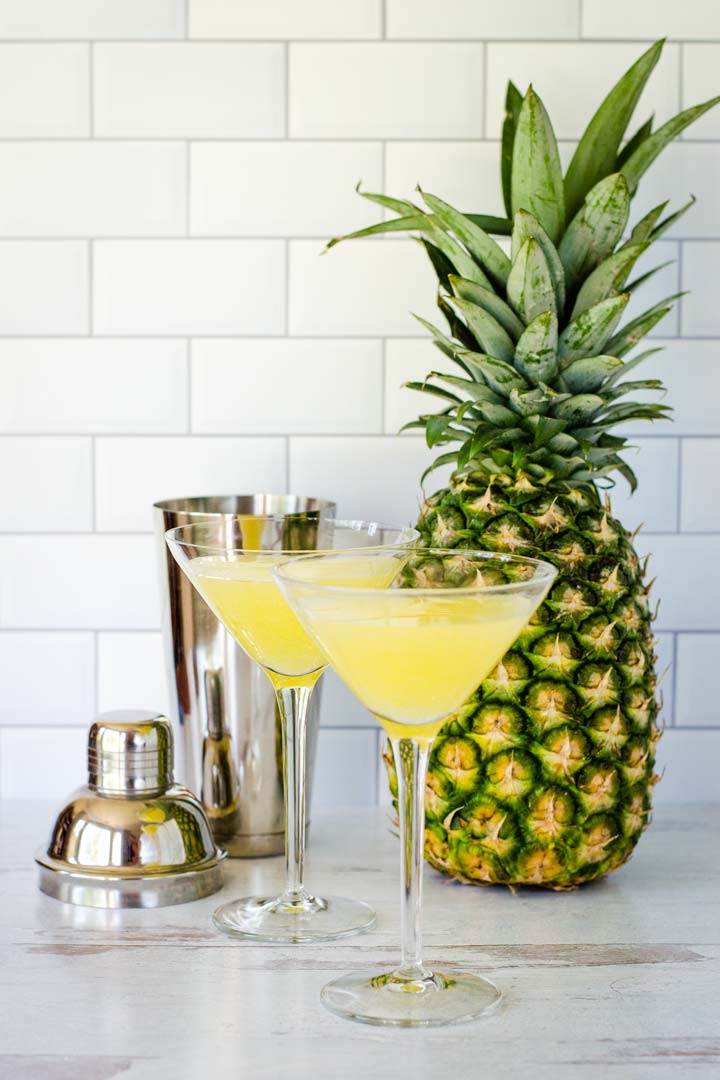 If you love pineapple, you will love this island-inspired pineapple martini with vodka. It's so simple and beautifully tropical—like a vacation in a glass.
This sweet martini is the perfect cocktail for any time you're in the mood for a tropical treat.
HERE'S WHAT YOU'LL NEED TO MAKE IT
While a classic traditional martini is made with gin, this recipe uses vodka to let the clean fresh flavor of the pineapple come through.
To get the pure sweet tropical flavor of pineapple in a martini you'll need just a few ingredients. I've kept it super simple so you can enjoy this easy pineapple cocktail any time.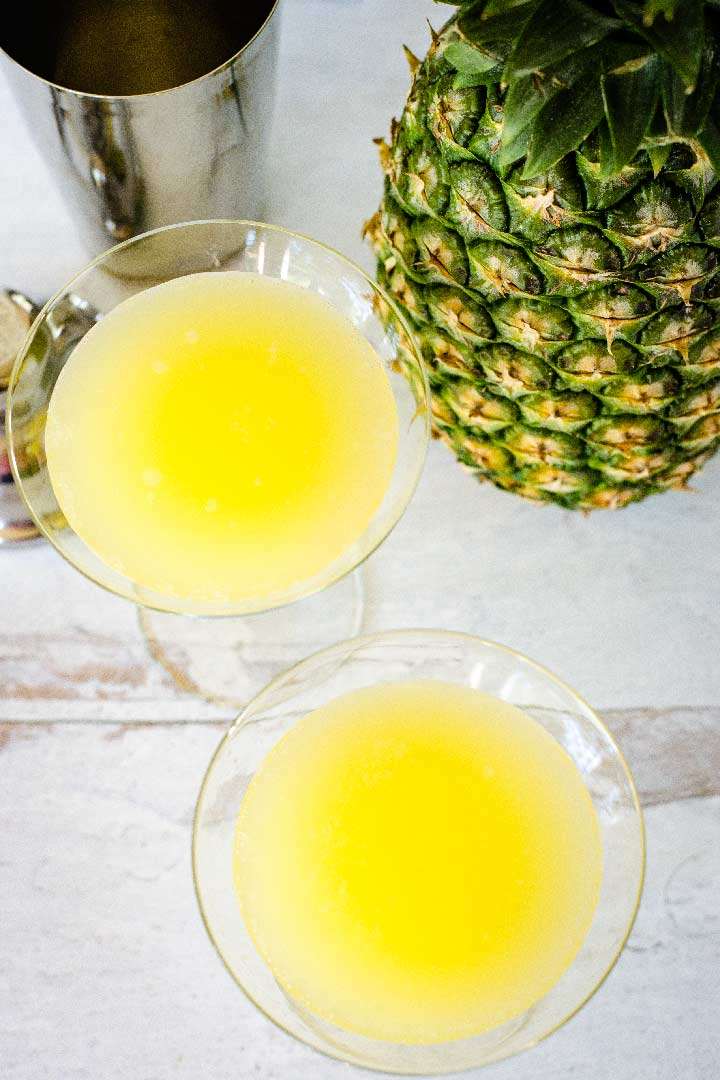 Pineapple juice

– look for 100% pineapple juice with no sugar or other flavors added. You can get it in a jar or fresh in the produce section. If you have access to fresh-pressed pineapple juice from your local juice bar it will taste even more authentic.
You can also use homemade. It's easy to make pineapple juice at home from a whole pineapple with or without a juicer. To make it without a juicer, just core and peel the pineapple, puree it in a high power blender and strain it to make fresh juice.
Vodka

– you can really use any kind of vodka that you like for this cocktail.

I use plain vodka because that's what we usually have, b

ut you can use pineapple vodka, vanilla vodka, coconut vodka, or any other flavor that goes with pineapple juice.

Lime juice

– a little fresh lime juice brings out the flavor of the pineapple and contrasts the sweetness. Just cut a wedge of lime, squeeze it into the shaker and drop the whole wedge in before shaking.

Cocktail shaker

– the only bar equipment you need to make this is a shaker to make your drink extra cold (I like this stainless steel one with a built-in strainer).

Cocktail glasses

– and don't forget to serve your pineapple vodka martini in a cocktail glass. You can use a traditional martini glass or a coup cocktail glass.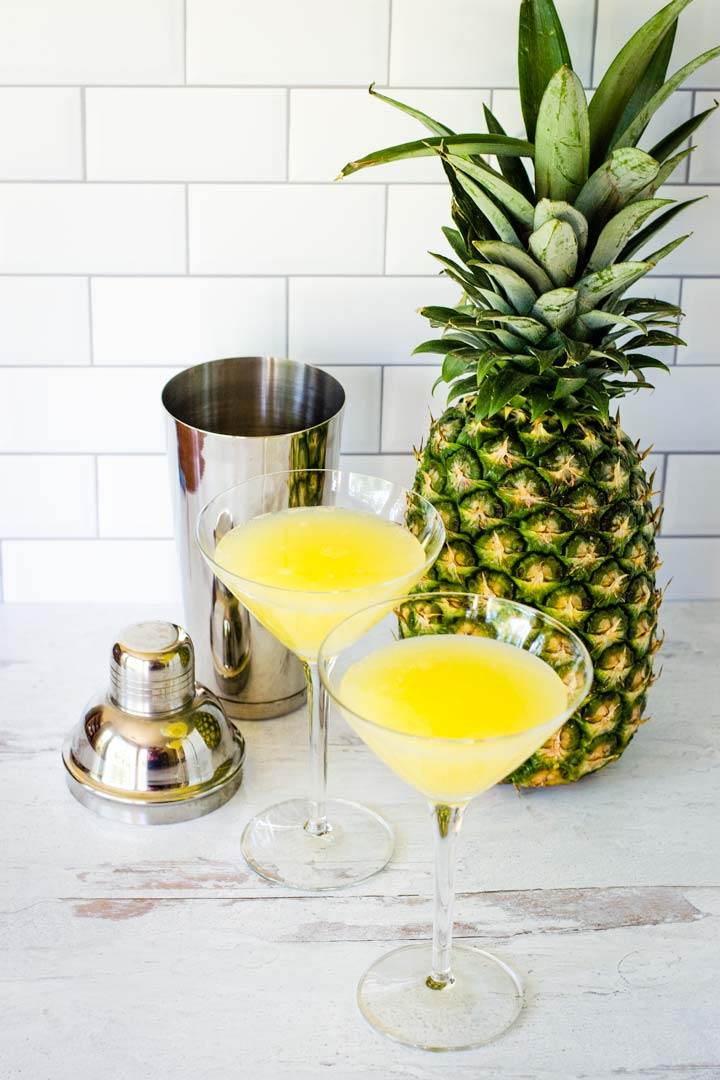 VARIATIONS
Starting with these three basic ingredients, you can let your imagination run wild with tropical-inspired pineapple martinis!
Prefer gin? Go ahead and make this drink with your favorite gin for a classic twist.
Want a pina colada vibe? Try making your martini with coconut rum to give it a hint of pina colada flavor.
Want to spice it up? Add a slice or two of jalapeno to the shaker for a spicy pineapple jalapeno martini.
Love pineapple upside down cake? Mix it up with birthday cake vodka and garnish with a maraschino cherry for a pineapple upside down martini.
Love raspberry? Try a classic French Martini with Chambord and pineapple juice.
How about a smoky version? Grill up a slice of pineapple to use for garnish. You can even add it to the drink when you shake it for more of a smoky flavor.
HOW TO SERVE
I like to garnish the drink simply with a pineapple wedge or a thin slice of lime. But if you want to get fancy, you can make a lime twist or rim the glass with a mixture of spice and sugar or salt. Just dip the rim of the glass in lime juice and then into the mixture of your choice.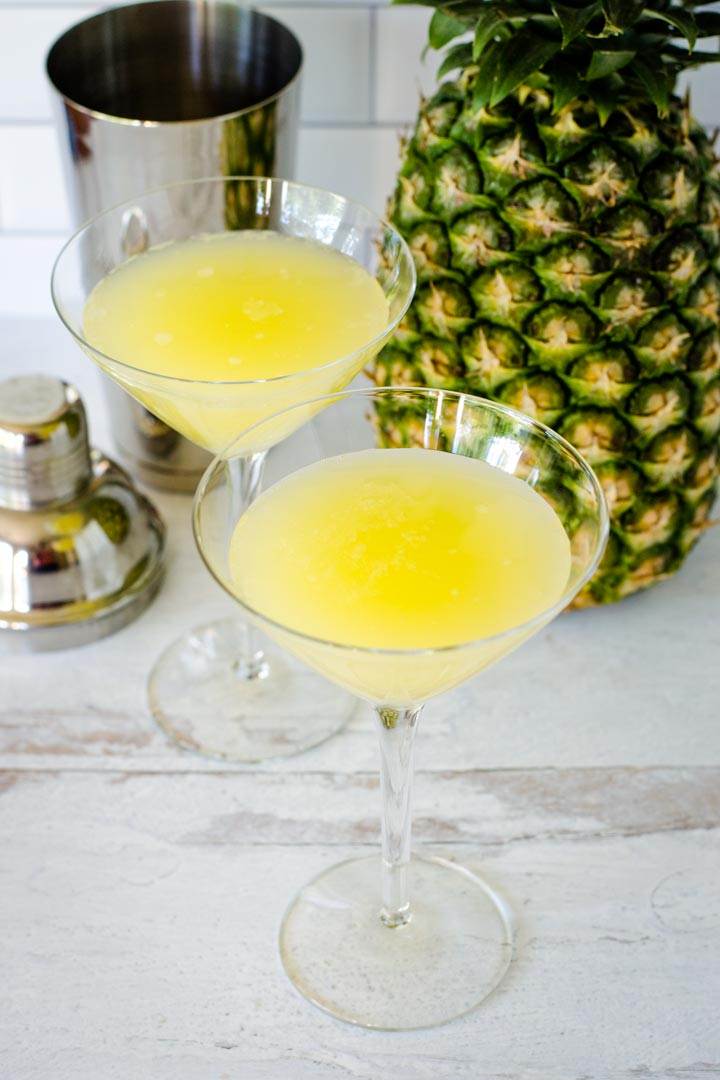 So take a sip of the tropics with this Pineapple Martini. It's the perfect fresh pineapple vodka cocktail to pour when you need an island vacation!
More easy cocktail recipes to try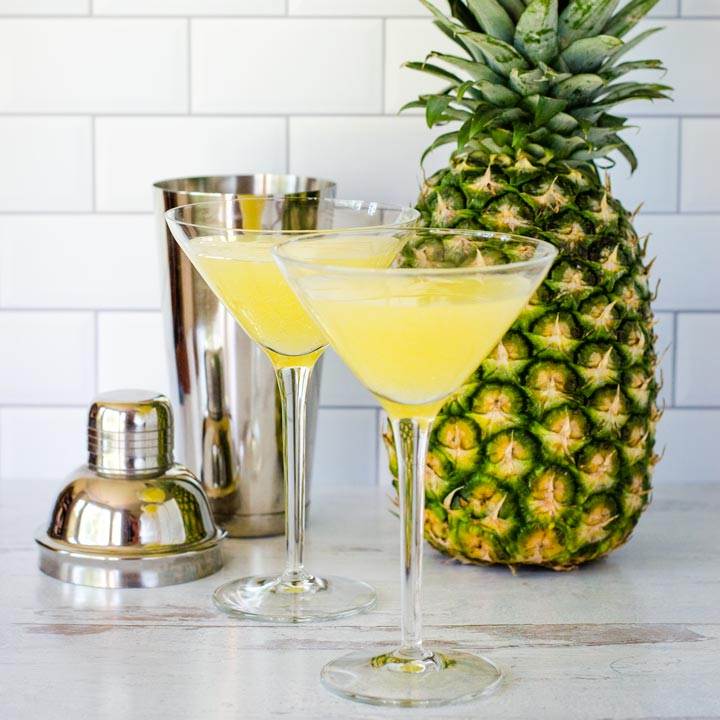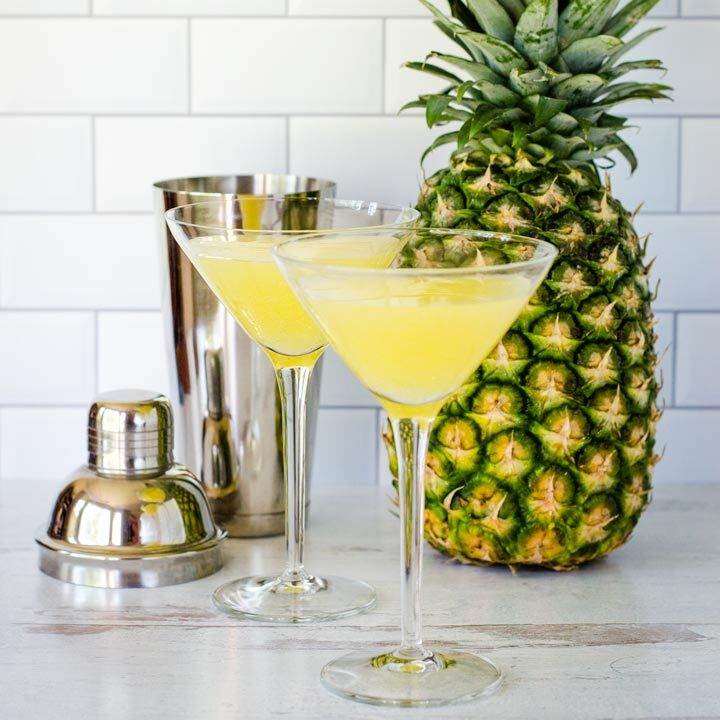 Pineapple Martini
This easy 3-ingredient pineapple martini recipe has the perfect blend of fresh fruit flavor and vodka.
Ingredients
Ice
2 ounces pineapple juice
2 ounces vodka
lime wedges
Instructions
Add ice, pineapple juice and vodka to a cocktail shaker. Squeeze a lime wedge and add to shaker.
Shake until blended. Then strain into a martini glass and garnish with a pineapple wedge or lime wedge
Recommended Products
As an Amazon Associate and member of other affiliate programs, I earn from qualifying purchases.