If you're looking for a fun fruity cocktail you will love this French martini cocktail recipe! This easy vodka martini combines the flavors of pineapple and raspberry for a yummy drink perfect for girls' nights or lounging by the pool.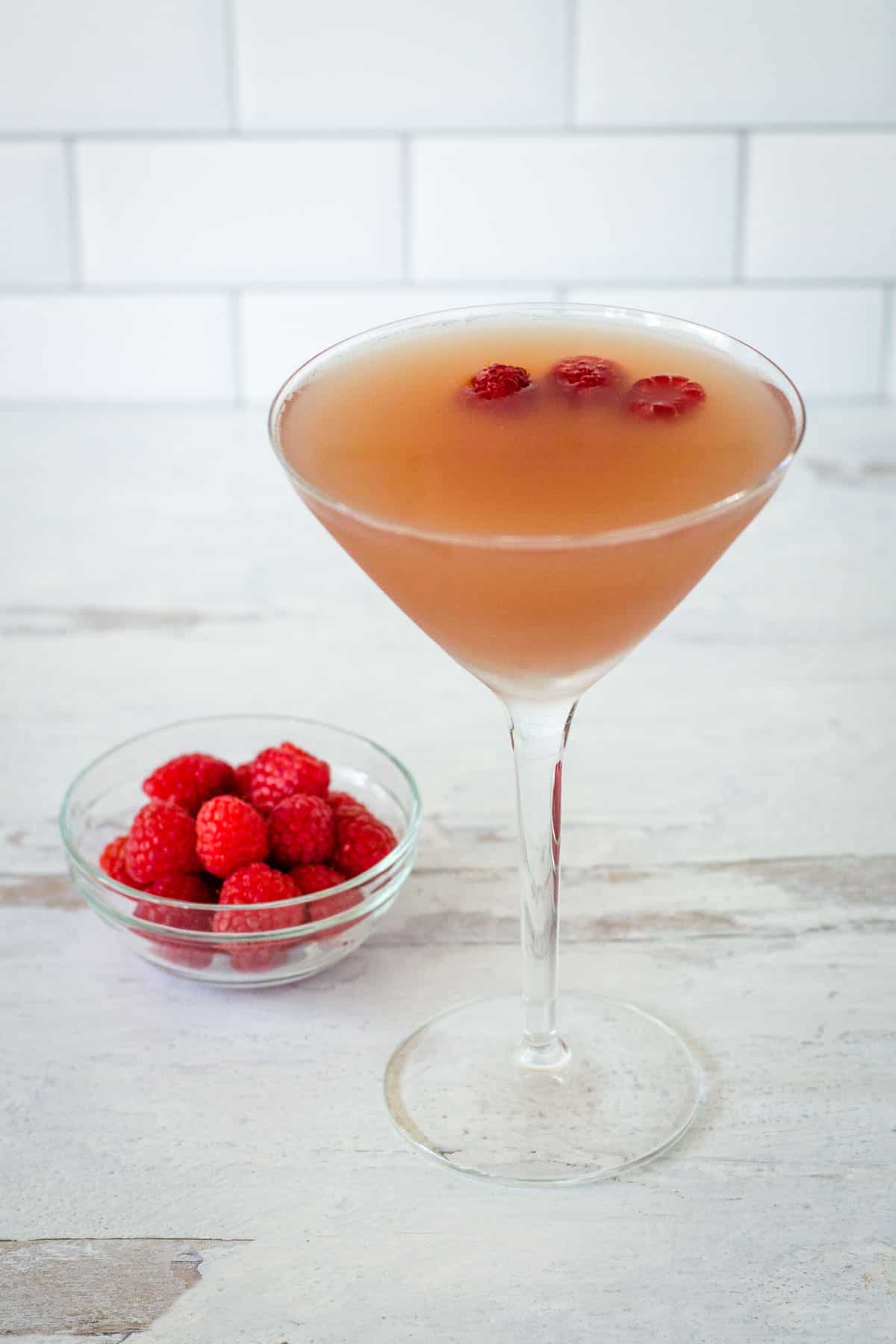 This amazing drink has a tropical vibe from the pineapple juice, similar to my pineapple martini and coconut margarita recipes, but is infused with berry flavors from the Chambord.
What is Chambord?
Chambord is a French raspberry liqueur made in the Loire Valley. Ingredients like whole raspberries, blackberries and blackcurrants are blended with cognac, vanilla, honey, citrus peel, and spices for a complex flavor.
It has a deep purple color and tastes like dark fruit with a hint of spice. It has a lower alcohol content (16.5% ABV) and can be sipped alone, blended in mixed drinks or used in dessert recipes.
Ingredients You'll Need
Vodka - Ciroc Vodka is made from French grapes and in keeping with the French theme. Grey Goose is another high-quality French vodka. I like plain vodka for this, but you can also use vanilla vodka, pineapple vodka or raspberry vodka to complement the flavors of the cocktail.
Pineapple juice - Fresh pineapple juice will give you the best flavor. But if you don't have it, bottled pineapple juice will work in this cocktail. Just get one that is 100% pineapple juice with no added sweeteners or other types of juice.
Chambord - the classic recipe uses this black raspberry liqueur that adds sweetness along with raspberry flavor and color. You can also substitute crème de framboise raspberry liqueur, crème de mûre blackberry liqueur, or creme de cassis black currant liqueur.
Ice cubes - have plenty of ice on hand for shaking or to quickly chill your glass.
Bar Equipment
Cocktail shaker – for bar equipment, use a shaker to make your drink extra cold (I like this stainless steel one that has a built-in strainer). Or opt for a mixing glass to stir the ingredients together with the ice.
Measuring glass - this easy-to-read professional measuring glass measures a half ounce to four ounces. You can also use a traditional jigger that measures an ounce on the small side and two ounces on the larger side.
Cocktail glasses – be sure to use a chilled cocktail glass to serve your drink (stash it in the freezer for at least 30 minutes). Classic martini glasses are the traditional stemware. But if you prefer a glass with a higher rim try a coupe glass which can also be used for different cocktails, as well as for champagne.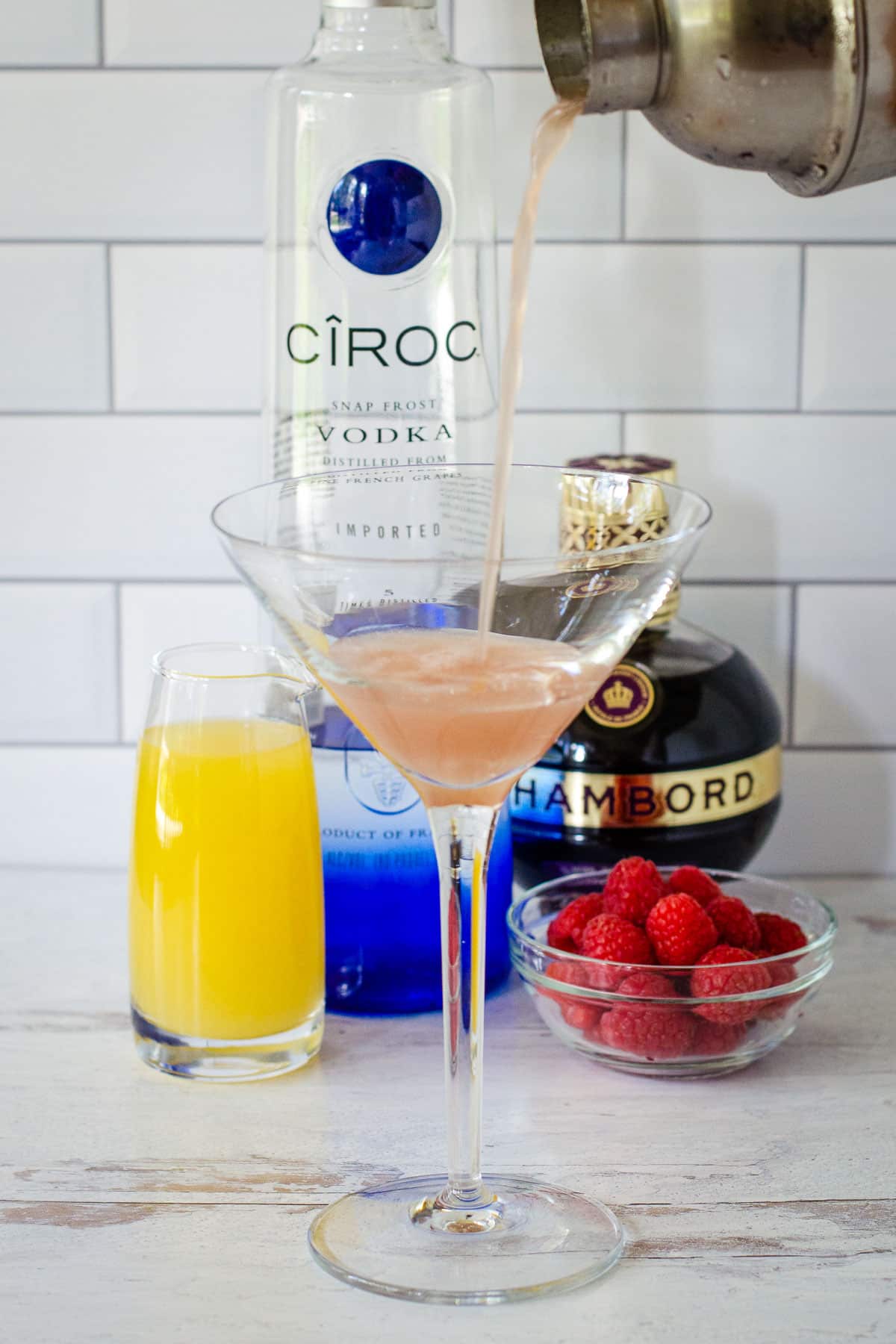 How To Make A French Martini
Prepare your glass. Chill your cocktail glass for an extra cold drink. If you want to make it fancy, you can dress up your glass with a sugar rim.
Just dip the rim of the glass in pineapple juice, then dip it in a flat dish of sanding sugar or regular sugar mixed with crushed dried berries.
Mix the drink. Add the vodka, pineapple juice, Chambord and ice cubes to the shaker, shaking until chilled.
Serve it up. Pour your perfect French martini into your chilled martini glass and garnish with fresh raspberries, a pineapple wedge or a twist of lemon peel.
Variations
If you're a fan of the classic French Martini but want to switch things up a bit, there are plenty of variations to try. Here are a few simple ideas to get you started:
French Daquiri - Swap light rum for the vodka and add a squeeze of lime for an island-inspired daiquiri version. Garnish with a fresh pineapple wedge.
Gin - For a sweet version of a classic gin martini, try swapping out the vodka for gin. The herbal notes in gin add a unique flavor that pairs well with the sweetness of the pineapple juice and Chambord.
Fresh Blackberry - To add a fresh blackberry note, muddle a few blackberries in the shaker before adding the other ingredients, shaking and straining into a glass. Garnish with more fresh blackberries.
No matter how you make it, fruity French-inspired sweet martini will become one of your favorite martini recipes.
What's the difference between a martini and a French Martini?
A classic martini is made with gin and is dry rather than sweet. A French martini is vodka based and is made sweet with the addition of fruit juice and Chambord liqueur.
What is the difference between a French 75 and a French Martini?
A French 75 is a champagne cocktail made with gin, lemon juice, simple syrup, and champagne. On the other hand, a French martini is a sweet vodka martini made with vodka, pineapple juice, and Chambord raspberry liqueur.
Why is a French Martini called French?
Despite its name, the French martini is not actually a classic martini and it was not invented in France. The cocktail was created in the late 1980s in New York City and was named after the French liqueur, Chambord, which is the main flavor ingredient in the original recipe.
More Sweet Drinks
If you love sweet martinis, here a a few more easy drinking cocktails to try.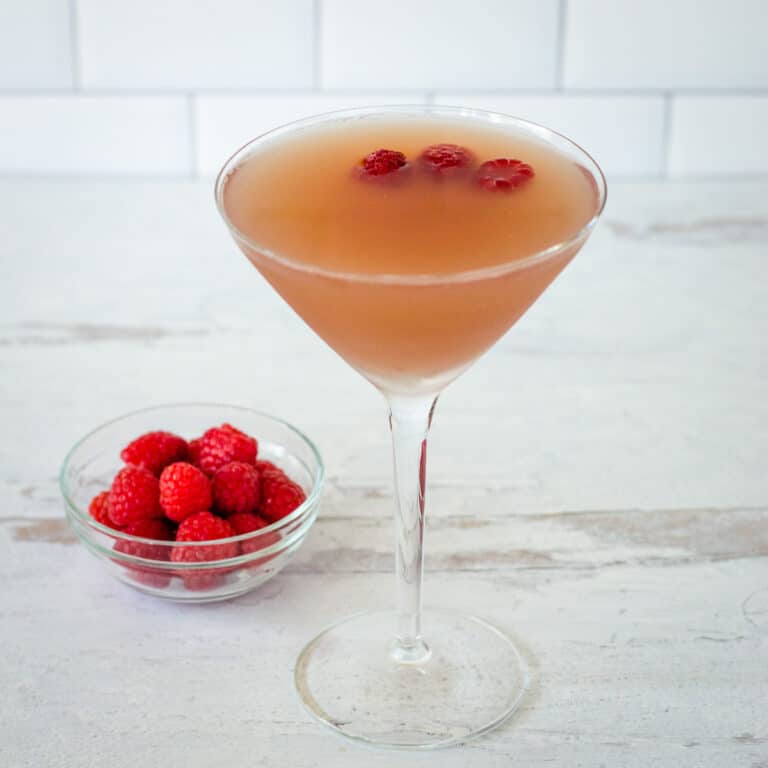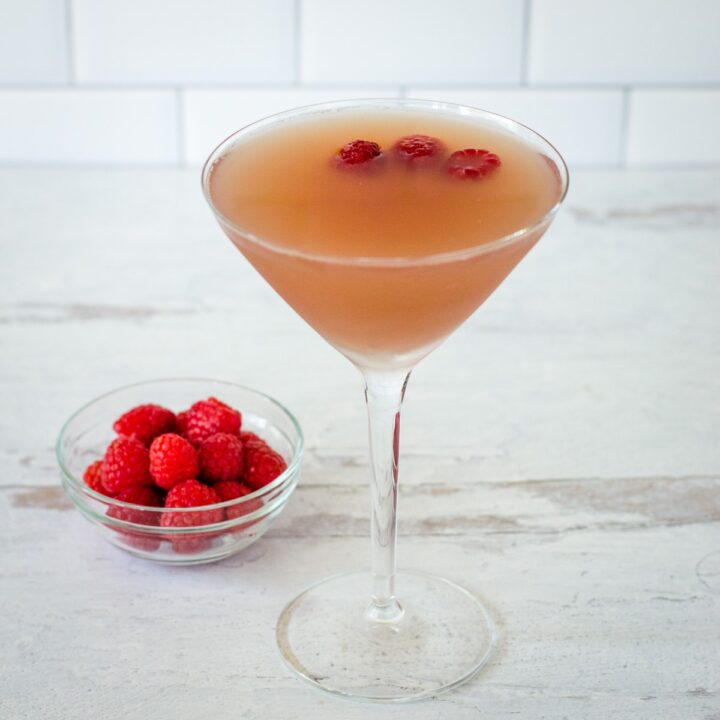 French Martini
The classic French Martini recipe is a simple vodka cocktail with the flavors of pineapple and raspberry.
Ingredients
Ice cubes
1 1⁄2 ounces vodka
2 ounces fresh pineapple juice
1⁄2 ounce Chambord raspberry liqueur
Garnish with fresh raspberries or blackberries
Instructions
Add ice cubes, vodka, pineapple juice and Chambord to a cocktail shaker.
Shake until blended. Then strain into a martini glass and garnish with fresh berries, pineapple slice, or a lemon twist.
Recommended Products
As an Amazon Associate and member of other affiliate programs, I earn from qualifying purchases.
Nutrition Information:
Yield:

1
Serving Size:

1
Amount Per Serving:
Calories:

398
Total Fat:

0g
Saturated Fat:

0g
Trans Fat:

0g
Unsaturated Fat:

0g
Cholesterol:

0mg
Sodium:

147mg
Carbohydrates:

60g
Fiber:

2g
Sugar:

55g
Protein:

1g
Note: nutrition data provided here is only an estimate.