These 20 fun tropical cocktails are the perfect remedy when you're missing the sand and sun. If you're on the hunt for Margarita, Mojito, Hurricane, Mai Tai, Blue Lagoon, Sangria or Painkiller tropical mixed drinks recipes, then you're certainly in the right place!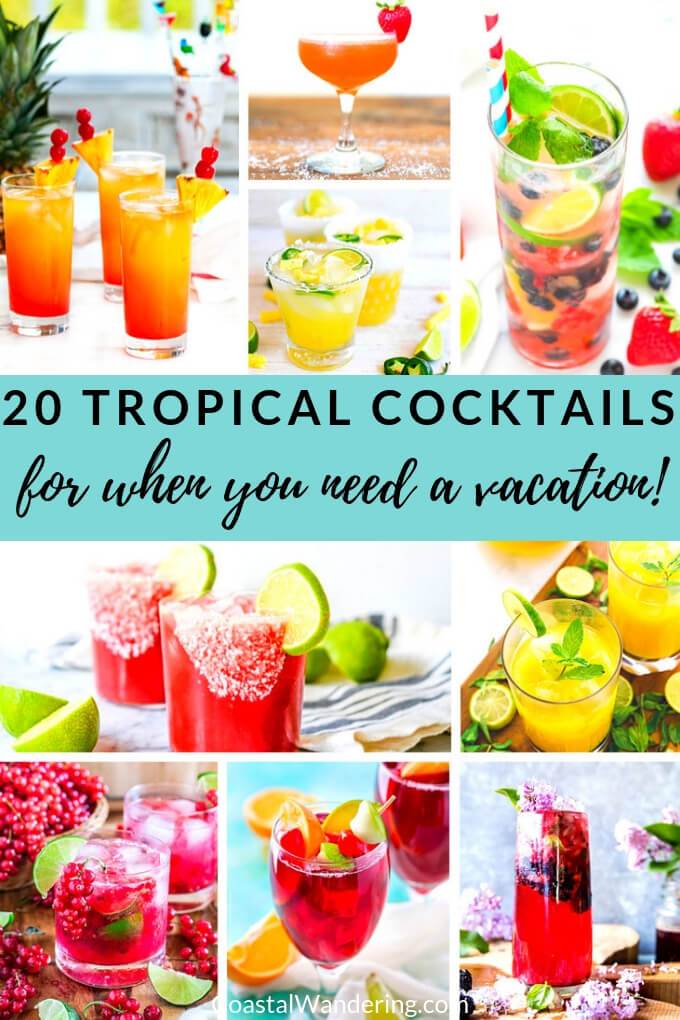 In need of an island vacation, but no time to get away from the hustle and bustle of regular life? Trust me, you're not the only one! I've found that one of the best (and cheapest) ways to send myself on an instant beach vacation is to add a little liquid sunshine to brighten your day! This is where these yummy tropical drink recipes come in.
Ingredients & Tools for your Tropical Cocktails
Many of these Caribbean-inspired drink recipes are rum-based, but you'll also find recipes using tequila and vodka. Try the margarita recipes if you're after a tequila cocktail or a Blue Lagoon if you prefer vodka. Of course, there's no need to sit out if you prefer non-alcoholic beverages because we've included a few virgin cocktail recipes also!
You can certainly make these recipes with the tools you already have on hand, but there are a few bar cart essentials (beyond the booze) that will make it easier to play bartender. There's no need to spend a lot of money to keep a well-stocked bar cart. For example, once you have a cocktail shaker, a mixing beaker, and a bar spoon, you'll be well on your way. After that, other tools for serving up Tiki Room-worthy cocktails include a paring knife, cutting board, and vegetable peeler, but you likely already have those in your kitchen!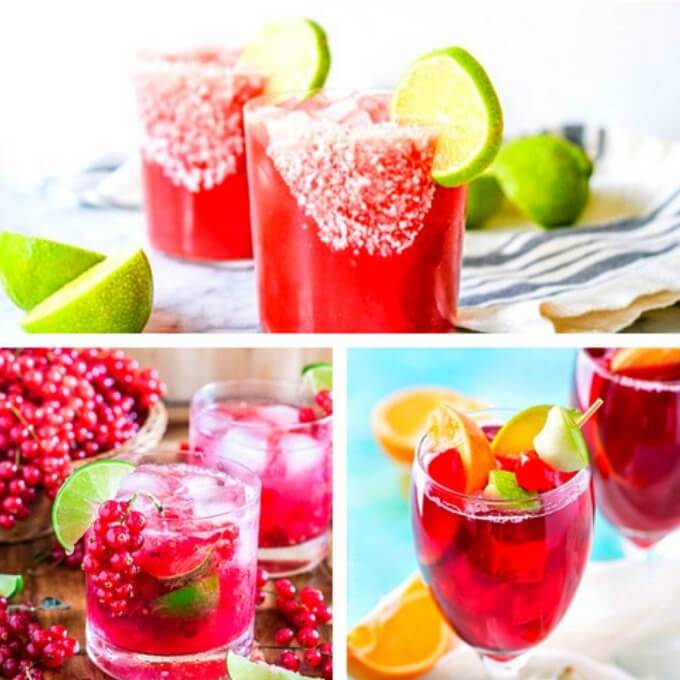 Likewise, you can really enhance the enjoyment of your beach-inspired drink by topping off your glass with a couple of extra garnishes. Especially if you'll be sipping on your tropical drink with a friend! Of course, ice is a necessity but it never hurts to add a little rimmer or spice up your drink with some fresh fruit. These additions make for a refreshing drink that's as pleasing on the eyes as it is to the taste buds.
You'll notice that many of these tropical cocktails provide instructions for garnishes, but don't let that limit you from making these delicious drinks your own!
Tropical Cocktails for Every Taste
If you like piña coladas...there's certainly a recipe for that! Margaritas and mojitos also. In fact, we've pulled together 20 delicious tropical cocktails for every taste because what's better than a drink that reminds you of the beach! From daiquiris to sangria to blue tropical drinks and more, you're sure to find a drink that reminds you of your favorite island getaway.
And if you're already on vacation? Pack your beach bag, grab your favorite sun hat and enjoy the warm breeze as you sip on one of these delicious island drinks!
Simple Margarita Recipes & Tequila Mixed Drinks
Blue Lagoon & Summer Vodka Drinks
Mai Tais, Hurricanes, Sangria, and Other Rum Cocktails
Mojitos & Daiquiris
Non-Alcoholic Tropical Mixed Drinks
Whether you prefer rum, tequila, vodka or a non-alcoholic tropical drink, there's certainly a recipe to fit your taste. Pour yourself one of these tropical cocktails, kick your feet back and drift off to your favorite vacation in the sand and sun! Or get a headstart on your next adventure and sip a tropical cocktail while you pack for your beach getaway!
Looking for a slushy tropical drink to satisfy your beach-inspired taste buds instead? You should check out these Frozen Tropical Drink Recipes that will make you feel like you're on vacation---even if you're not. And these Strawberry Winesicles are perfect for summer!
Did we miss any of your favorite tropical mixed drinks? Drop us a note in the comments below!