Looking for an easy, healthy, and affordable fish dinner? These delicious baked haddock recipes have you covered.
Mild-flavored haddock is a firm-textured white fish that is excellent for baking to tender and flaky perfection. It can easily be prepared with just a few basic ingredients (try it with butter and a squeeze of lemon juice over rice) or surrounded by more robust flavors to create a delectable meal.
Either way, haddock is a versatile fish that's easy to work with and always tastes fantastic. And if you don't have haddock, you can substitute another mild flavor white fish like cod, halibut, orange roughy or pollock in most recipes.
Oven Baked Haddock Recipes
From classic New England-style haddock to Asian and Mediterranean-inspired seasonings, you'll find simple recipes that require minimal ingredients when baking with this tasty fish.
From crispy and crunchy toppings to succulent and butter-based sauces, these easy baked haddock recipes will keep you busy trying new ways to experience this white fish.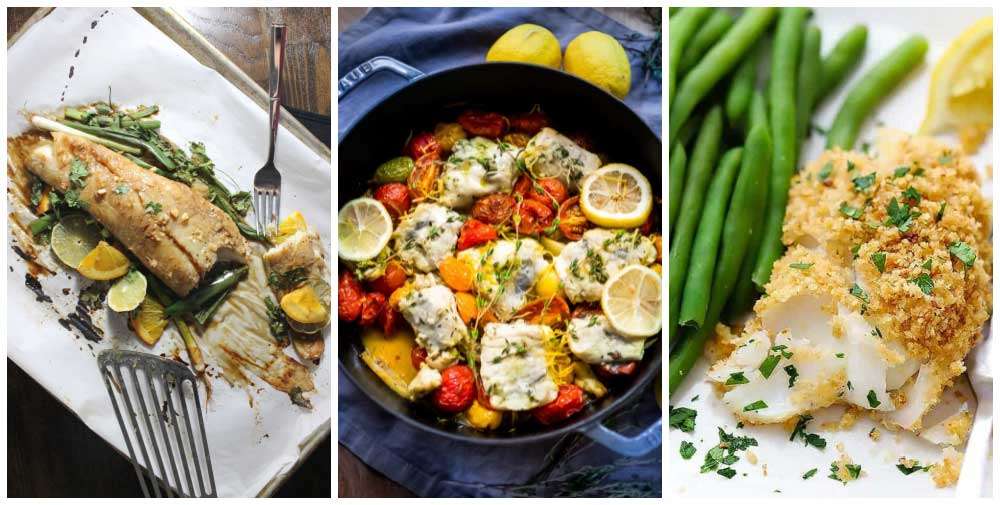 Baked Haddock With Roasted Tomato And Fennel
Give haddock a flavorful infusion with a host of zesty ingredients. This tasty recipe marinates the fish in olive oil, garlic, thyme and lemon juice while onion, fennel and tomatoes roast in the oven to start the baking process. Add the fish to the baking dish and continue baking until the fish is cooked through or reaches an internal temperature of 145°F. It's a colorful presentation that tastes as good as it looks!
Recipe by Feasting At Home
New England Baked Haddock
With just 3 ingredients needed, there's every reason to bake this haddock recipe as soon as possible! Traditional New England haddock calls for crushed Ritz crackers topping, but here, a seasoned buttery breadcrumb mixture is used. This recipe gives you the option to go gluten-free if you prefer or use prepared Panko crumbs. Super easy and delicious!
Recipe by Bowl Of Delicious
Haddock With Tomato Sauce
For a Mediterranean flair, try this easy haddock recipe that adds smoked paprika to take it over the top. Fresh tomato, onion, herbs, spices and garlic make this homemade sauce that lines the baking dish and infuses the fish as it bakes. Succulent and zesty, it's a delightful way to prepare haddock.
Recipe by Little Cooking Tips
Butter Baked Haddock
Your haddock will bake up tender, buttery and succulent when you use this easy recipe. Nestle the haddock filets in a baking dish and drizzle melted butter over them. Squeeze on lemon juice, seasonings, and fresh parsley. Simply scrumptious served with air fried potatoes and a green salad!
Recipe by Now Cook This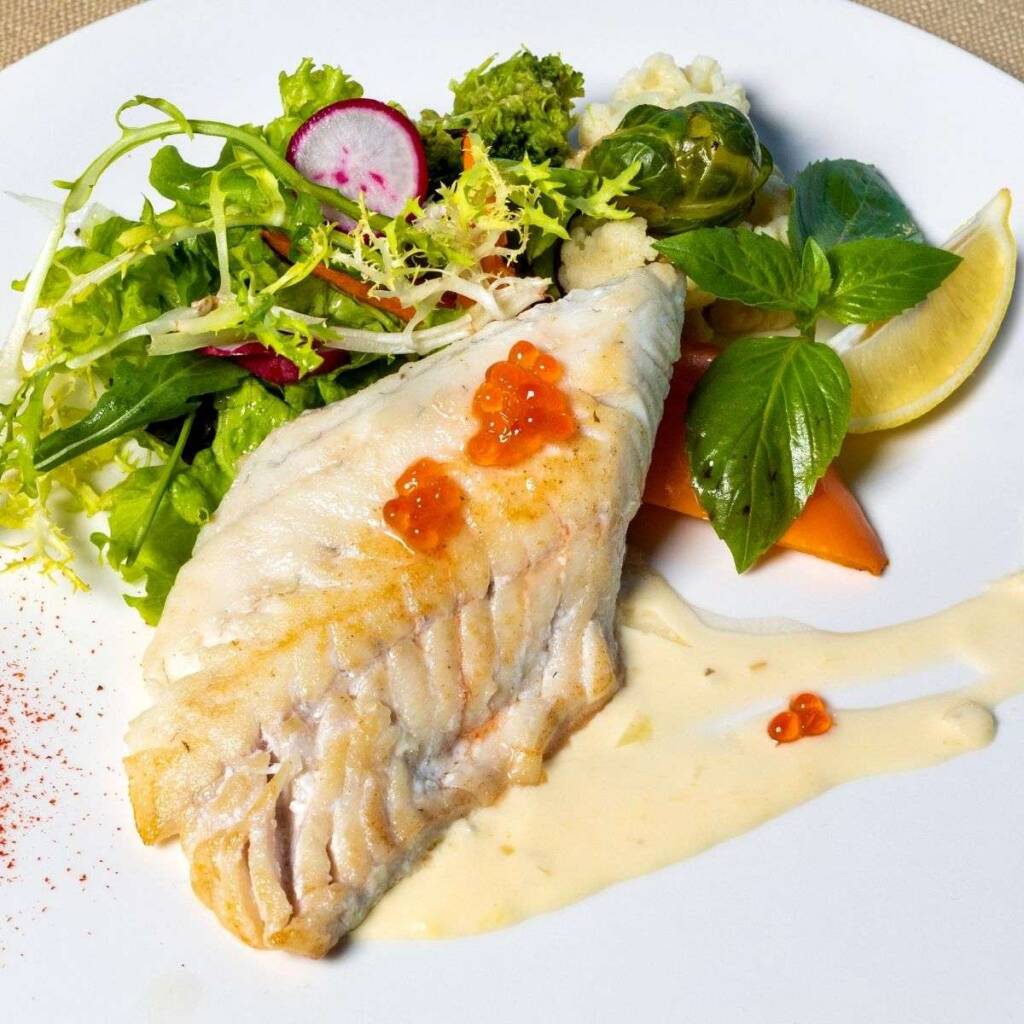 Crispy Baked Haddock
Coat your haddock in this zesty topping and bake to crispy perfection with this easy recipe. Mix together a topping of mayonnaise, Dijon mustard, Panko bread crumbs, garlic powder, lemon juice and zest and add a generous layer to each fish fillet. Bake until the fish is cooked through and the topping is browned and crispy on top.
Recipe by Table For Two
Ginger Soy-Glazed Haddock
This Asian-inspired recipe will have your taste buds on alert with the spicy ginger, garlic, onion, brown sugar and soy notes that infuse the fish as it marinates. Give it at least 2 hours in this tangy mixture before baking. You'll love this easy and fresh way to season haddock!
Recipe by Platter Talk
Baked Haddock With Brown Butter
Perhaps the easiest and most elegant way to prepare haddock is a quick baking session in the oven and then a drizzle of sumptuous and nutty-flavored butter that's been browned. This is such a simple and delicious way to cook and serve haddock that it's totally company-worthy.
Recipe by Crafty Cooking Mama
Garlic Baked Haddock With Ritz Crackers
Make this New England-inspired baked haddock by drizzling the fish with a mixture of melted butter, white wine, lemon juice and finely minced garlic. Top the haddock with a layer of crumbled Ritz crackers and finely chopped parsley. Bake until scrumptiousness is achieved.
Recipe by Maria's Mixing Bowl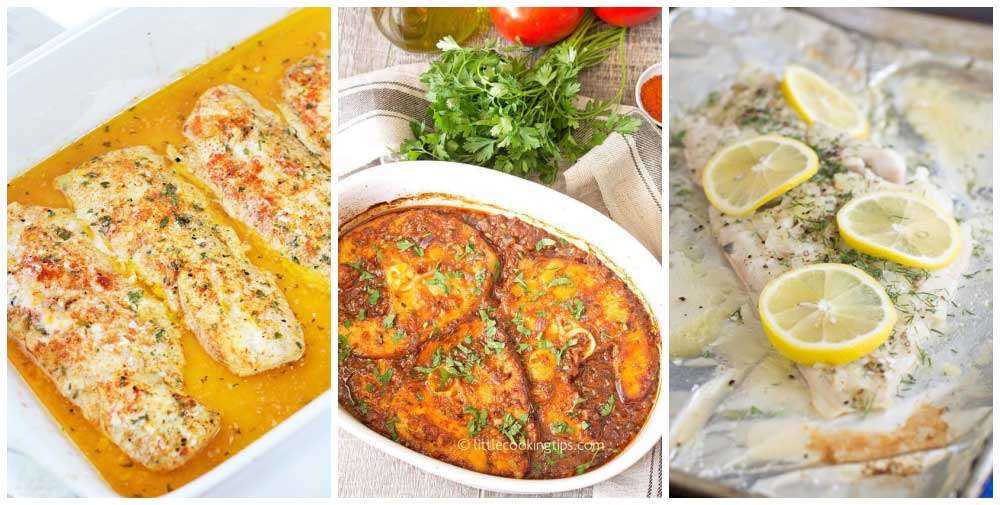 Sheet Pan Fish Tacos
Tacos are made quickly with this easy sheet pan meal. Haddock sprinkled with homemade fajita seasoning and lime juice pairs with sliced bell peppers and red onion before being baked to savory deliciousness. Use your favorite tortilla and be sure and make the outstanding lime crema for a tangy taco sauce.
Recipe by Simple Bites
Baked Haddock And Scallops With Lemon
Pair haddock fillets with scallops in this feast of a meal flavored with fresh lemon and dill. In a baking dish, top the haddock with scallops and add chopped bell pepper and quartered tomatoes around the fish. Sprinkle with seasoned breadcrumbs and fresh dill and drizzle it all with melted butter. Add chicken broth to the dish and bake. Serve with warm garlic butter seasoned with fresh dill and parsley.
Recipe by What's Cooking Italian Style Cuisine
Mediterranean Baked Fish
If you're looking for a burst of flavor surrounding your baked haddock, you'll want to try this extravaganza of a colorful and tasty recipe. Haddock goes down in a baking dish of olive oil, garlic, cherry tomatoes, olives and herbs before being topped with jalapeños and capers. Bake and serve this amazing fish to the delight of your friends and family.
Recipe by Two Purple Figs
Roasted Haddock With Walnut Crust
Ridiculously easy and indescribably delicious this baked haddock recipe keeps it paleo-compliant. Brush the fish with olive oil and top with a mixture of finely chopped walnuts, freshly chopped dill, paprika, and lemon zest before baking. It's a satisfying and healthy way to enjoy white fish.
Recipe by Oh Snap Let's Eat
New England Baked Haddock With Shrimp Stuffing
While haddock is certainly delicious on its own, give it a little extra seafood flavor by stuffing it with shrimp. The "stuffing" is actually a layer of shrimp that tops the haddock filets before you add a crushed and buttery Ritz cracker layer. When baked, the shrimp becomes the middle section of the whole ensemble. The result? A swoon-worthy seafood meal guaranteed to earn you rave reviews!
Recipe by Family Table Treasures
Citrus Soy Sauce Baked Haddock
Marinate haddock in an orange juice, lime juice, soy sauce, cayenne pepper and garlic mixture for at least 30 minutes before adding to parchment paper for its session in the oven. Add green onions and additional orange slices before baking.
Recipe by Keys To The Cucina
Baked Haddock With Lemon Dill Aioli
Citrus and dill are always a bright combo and here, they flavor haddock as it bakes. Top the haddock with a quick mix of dried dill weed, parsley, lemon zest and garlic powder and bake. Make a homemade aioli sauce by adding finely minced garlic, dill lemon zest and juice to mayonnaise. Serve a dollop on the side with the baked haddock.
Recipe by Turnips 2 Tangerines
Parmesan Crusted Haddock
The light layer of breadcrumbs and parmesan cheese sitting atop haddock filets will produce a mouthwatering fish entree that will become a family favorite. Create the crusty layer with panko breadcrumbs, grated parmesan, seasonings and a dollop of mayo. Cover the top of each filet and cook for a scant 12 minutes or so. Simple, quick and delightful!
Recipe by Mantitlement
Creole Baked Haddock
Add a kick of flavor with this Creole-inspired recipe that adds a cooked mixture of crushed tomatoes, chopped garlic and onion, as well as diced red and green peppers to haddock filets before baking. Fast, easy and oh, so tasty!
Recipe by Magic Skillet
Fish Fillet With Onions and Herbs
You don't need cooking skills to prepare this delectable haddock recipe. If you can chop an onion, melt butter, slice a lemon and chop some fresh dill, that's all that's required! Add the haddock to a baking dish and top with the ingredients mentioned. Bake, serve, and congratulate yourself on a delicious meal!
Recipe by The Cookful
Parmesan And Paprika Baked Haddock
Ensure your baked haddock stays moist with a buttery dredge before being coated in a parmesan, garlic and paprika panko mixture. Place the coated filets in your baking dish and gently pour the remaining melted butter in between the filets. Bake this savory white fish to cheesy and buttery goodness!
Recipe by The Yum Yum Club
Baked Haddock And Asparagus
Easy and quick, this kid-approved recipe combines seasoned haddock and prosciutto-wrapped asparagus into a flavorful fish and veggie meal. The haddock is brushed with melted butter, sprinkled with Old Bay seasoning and topped with sliced onion followed by sliced lemon. Bake until done and serve this simple yet delicious meal.
Recipe by Marathons And Motivation
Haddock is a versatile and affordable fish that can be substituted for many other types of fish and can be cooked in a variety of ways. Try these delicious baked haddock recipes for easy seafood dinners.