Try these baked mussels recipes for a quick and delicious dinner. You won't believe how easy it is to make a fabulous seafood dinner at home with mussels!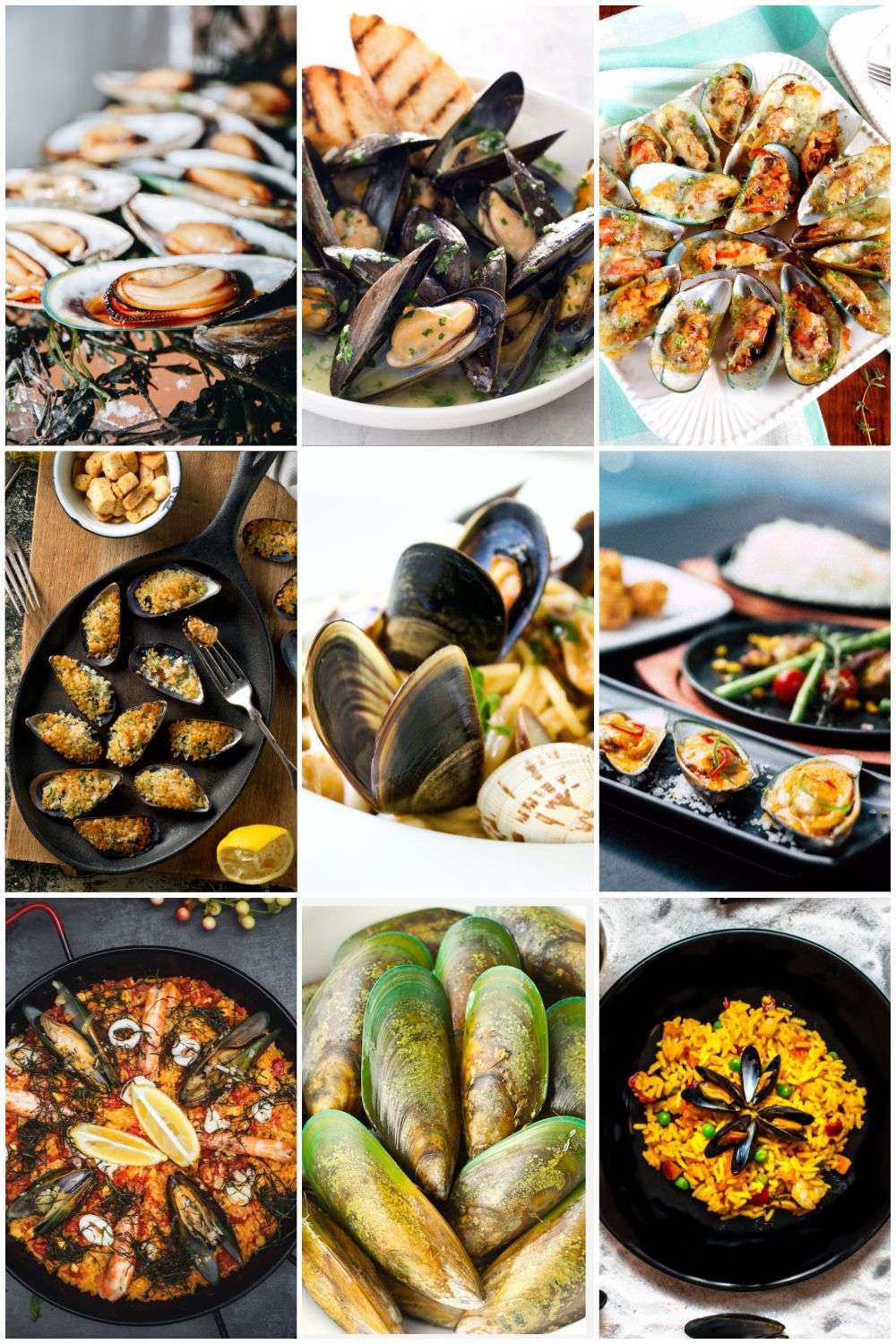 If you're looking for an easy shellfish dinner or appetizer, consider trying one of these baked mussels recipes for a quick and delicious meal. Here, you'll find savory ways to flavor mussels for a seafood entree that's always elegant but never pretentious.
These are just a few reminders when working with those glossy black mussels that you typically find in your grocery store.
When you buy live mussels, you'll need to remove the beard, which are tiny thread-like pieces on each side of the mussel. Also called the byssus, this is how the mussels attach themselves to rocks. Simply pull them off with the back of a knife.
Always rinse and brush the shells to remove any dirt or sand before cooking.
And be sure to toss any that don't open after cooking.
The New Zealand green-lipped variety of mussels can be found in the frozen section of your grocery store. Sometimes you can find them already pre-cooked and on the half-shell, making it easy to defrost and add any toppings, stuffing, or seasoning to them.
Baked Mussels Dishes
Don't be intimidated by mussels - they're actually very easy to work with and even easier to cook in the oven! Here, you'll find delicious ways to prepare mussels for a seafood Thanksgiving, party appetizer or a delightful weeknight dish.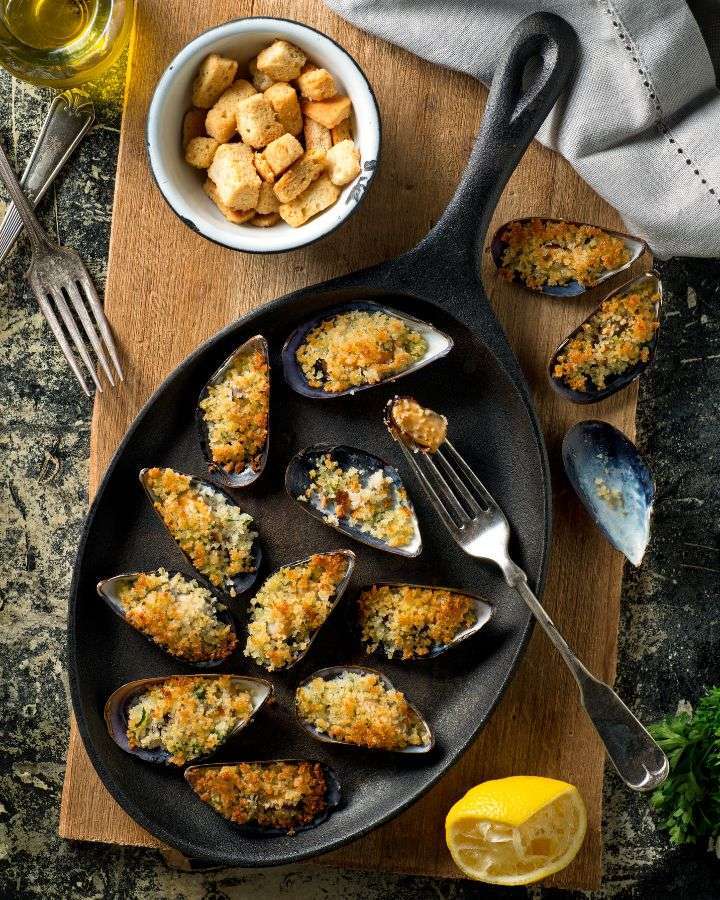 Baked Mussels with Crisped Bread Crumbs
Combine breadcrumbs, finely chopped garlic, fresh chopped parsley and olive oil in a bowl to make a scrumptious topping for these baked mussels. Start by boiling the mussels to open them and snap off the top shell to expose the meat. Add them to a baking tray and top each with the breadcrumb mixture and bake until crumbs turn light brown and form a crust.
Recipe by Leite's Culinaria
Japanese Baked Mussels
The ever popular Japanese baked mussels use Kewpie mayonnaise, which is a thick and creamy version that uses egg yolks and rice vinegar to achieve its texture and tang. Pair it with sriracha, soy sauce, lemon juice and masago, or smelt roe, and you've got a simple yet spicy topping for baked mussels. Garnish with scallions and serve this crowd-pleasing Asian-inspired appetizer.
Recipe by The Seasoned Wok
Easy Baked Spicy Mussels
The addition of olive oil, tomatoes, garlic, capers and hot chili sauce adds spicy flavor to a white wine sauce that cooks along with black mussels in the oven. Bake for 20 minutes until the mussels have opened. Garnish with fresh basil and serve this saucy seafood entree with bread, pasta or a salad.
Recipe by Mommy's Home Cooking
Green Mussels
Green-lipped mussels from New Zealand are the focal ingredient in this shellfish recipe. Find these mussels with a green tinge on their outer shell in the frozen section at your grocery store. A quick boil will open the defrosted shells. Set them in a baking dish and top them with an olive oil, panko breadcrumb, garlic, lemon zest, chili flakes and parsley mixture. Broil them for about 8 minutes until cooked through. Serve as a main dish with a hearty salad or with a side of pasta.
Recipe by Two Purple Figs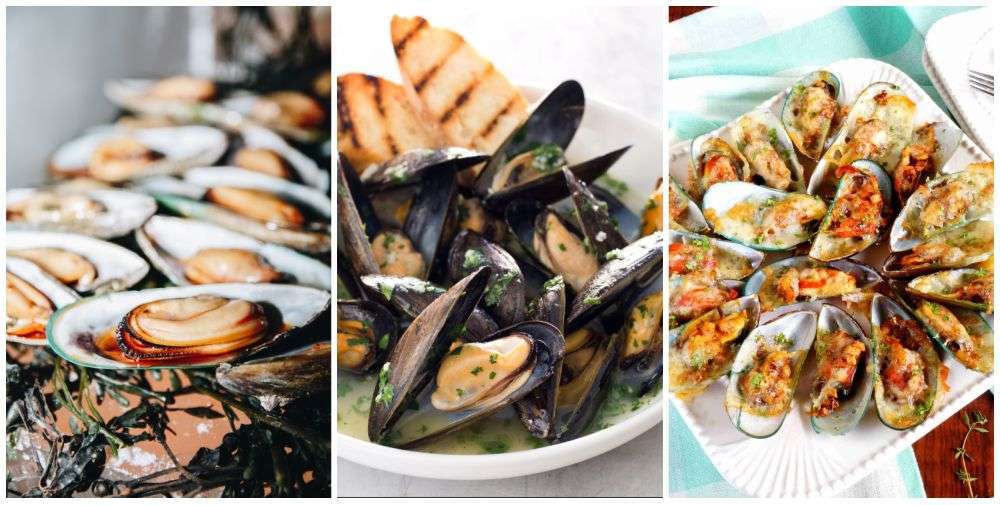 Oven Roasted Mussels And Shrimp Paella
Seafood paella gets cooked to perfection in the oven with this easy recipe that starts in a skillet. In the skillet, add olive oil and sauté bell pepper, garlic, saffron and red pepper flakes before adding basmati rice and chicken broth. Bake for 15 mins before nestling in the shrimp and de-bearded and cleaned mussels. Bake for another 8 minutes to allow the shrimp to cook and the mussels to open. Garnish with lemon and fresh parsley.
Recipe by The Cake Chica
Sheet Pan Clam Bake
An oven version of seafood boil, this easy baked recipe includes mussels, clams, shrimp, chorizo and more. Be sure and clean the mussels before adding them to the roasting pan with the other ingredients. Mix melted butter, garlic, Old Bay Seasoning and freshly chopped thyme before drizzling over this seafood feast. Bake for 15 minutes until the mussels and clams have opened, and the fish is opaque.
Recipe by Damn Delicious
Roasted Mussels In Wine Sauce
In a large roasting pan, prepare In a savory mixture of melted butter, chopped garlic, minced shallots, white wine and lemon juice along with toasted chopped almonds and herbs. Add cleaned mussels in a layer on top of the sauce and dot with pats of butter. Roast in the oven until the mussels have steamed open. Serve with crusty bread.
Recipe by Martha Stewart
Easy Baked Mussels
A pot of boiling water infused with ginger is the way to soak these tasty mussels before draining and separating. Place the opened shells on a sheet pan and drizzle with melted garlic butter and herbs. Sprinkle with shredded cheddar or mozzarella cheese and bake for 10 minutes until the cheese is golden.
Recipe by Sweet Peas Kitchen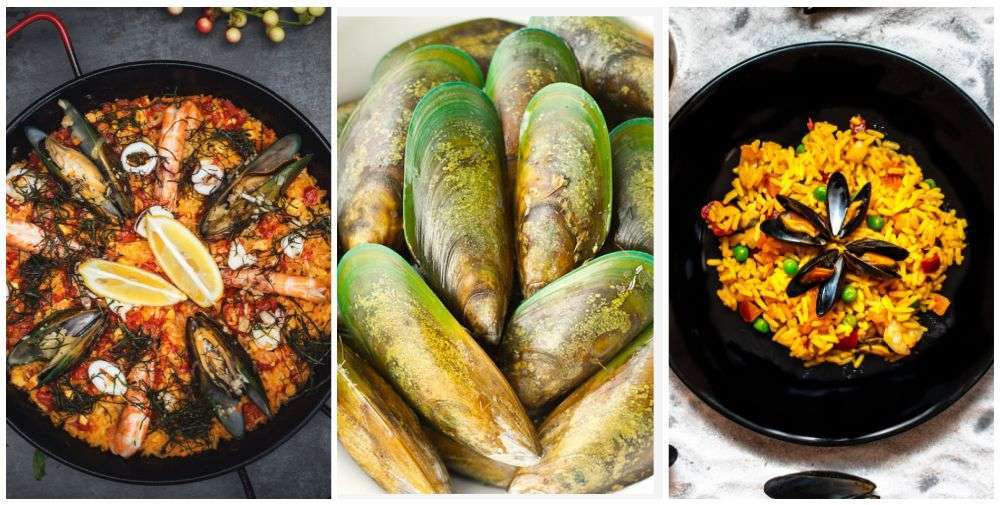 Cheese Mayo Baked Mussels
Use green mussels from New Zealand, found in the frozen seafood section, to make this Japanese-inspired cheesy and mayonnaise baked mussels appetizer. Also known as Mussels Dynamite, these green half-shells are lined on a baking sheet and topped with a mixture of mayonnaise, Parmesan cheese, lime juice and Sriracha before baking for about 20 minutes. Before serving, garnish with tobiko fish roes to complete this popular appetizer.
Recipe by Rasa Malaysia
Roasted Mussels
Boil your mussels in vegetable broth to infuse with a little flavor before draining the opened shellfish. Discard the top shell and place the mussels on a baking sheet. Melt butter and infuse it with minced garlic and freshly chopped rosemary. Add in panko crumbs and salt and pepper. Top the half shells with this savory mixture and bake until golden.
Recipe by Diet Hood
Air Fryer Mussels
Cooking seafood in an air fryer (or small convection oven) is quick, and the clean up is minimal, too! After you've soaked your fresh mussels. brush, clean and remove the beard from them. Using an air fryer-safe pan, add water, butter, minced garlic, herbs and the clean mussels to it. Air fryer for 3 to 5 minutes or until the mussels have opened. What could be easier?
Recipe by Fork To Spoon
Oven Steamed Mussels With Wine Sauce
A butter and garlic wine broth helps infuse these mussels with outrageous flavor. On the stovetop, make a sauce of melted butter, chopped garlic, red pepper flakes and dry white wine. And in thyme and bay leaves for additional flavor. Transfer it all to a large roasting pan or dutch oven and add in your clean and de-bearded fresh mussels. Cover with a tight-fitting lid or aluminum foil and roast for 15 minutes to steam open the mussels. Serve with bread or a side of pasta.
Recipe by Once Upon A Chef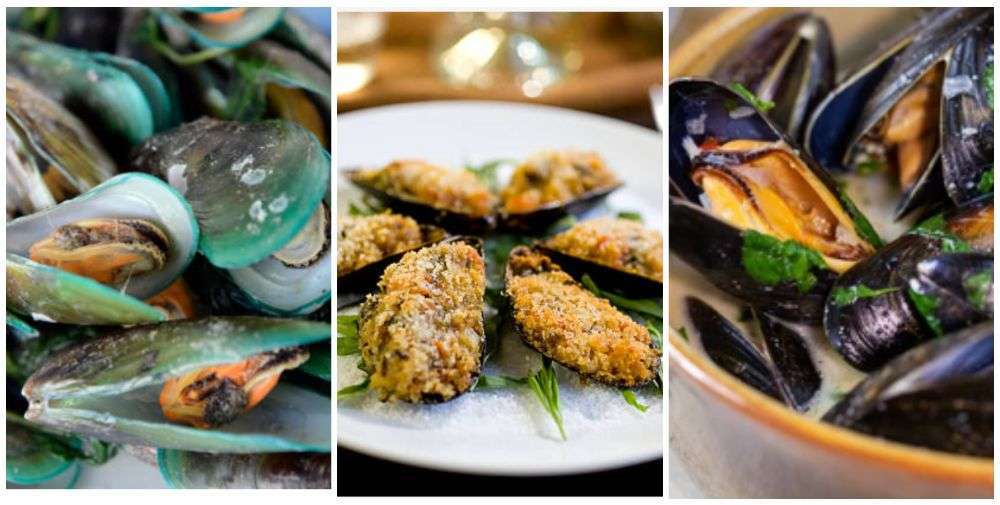 Seafood Gratin
This easy pasta and seafood casserole hosts a mix of frozen seafood such as mussels, shrimp, fish and calamari, but it's adaptable for whatever shellfish you choose. It's all mixed with a creamy Béchamel sauce before being topped with a mixture of panko breadcrumbs, parmesan cheese and parsley. Bake this seafood gratin for 30 minutes for a tasty entree that's elegant enough for company.
Recipe by Recipe Tin Eats
Roasted Mussels With Fennel And Cream
Mussels roast to deliciousness in the oven on top of a white wine, onion, heavy cream and fennel sauce. Start the fennel sauce on the stove before adding a layer of mussels on top. Roast until the mussels have opened. Serve by spooning the creamy sauce over the roasted mussels.
Recipe by Edible Seattle
Baked Paella With Seafood
Add spiciness to this paella with the addition of chorizo, red pepper, paprika, onions and garlic. It all flavors rice that starts in a skillet and finishes in the oven. Add in cleaned mussels, shrimp and peas during the last 15 minutes in the oven so they can cook to deliciousness. Garnish with parsley before serving this easy and flavorful seafood dish.
Recipe by Paella Recipes
Seafood en Papillotte
You'll love this easy parchment paper packet of seafood that includes mussels, shrimp, chunks of salmon and cod. It's easy to assemble these individual packets by layering the fish first and the shellfish on top. Add fresh parsley and lemon slices, too. Drizzle with white wine or fish stock and seasonings. Fold up the packets for the oven. They need less than 15 minutes to steam and cook.
Recipe by Chez Le Reve Francais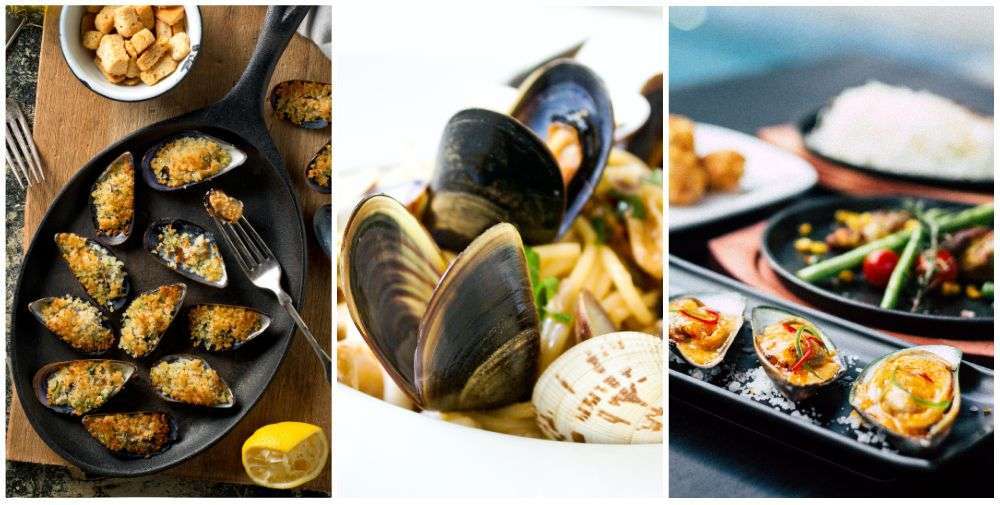 Oven Roasted Mussels With Spinach
Gently toss cleaned mussels with a marinade mixture of olive oil, garlic, white wine, red pepper flakes, chopped tomatoes, minced parsley and black pepper. Refrigerate for 10 minutes before transferring the mussels to a baking dish, along with the marinade, and bake for 10 minutes and until the mussels have opened. Serve over steamed spinach with a side of crusty bread.
Recipe by Dining And Cooking.
Mussels And Shallot Stuffing
This easy seafood stuffing is perfect for the holidays. Start by steaming open the mussels on the stovetop in a savory broth. Remove the mussels from the shells and return the mussels to the broth. Add in rustic, toasted bread cubes and seasonings and stir to combine. Transfer to a casserole dish and bake until golden on top.
Recipe by Martha Stewart
Roasted Beets And Mussels
Try this tasty pairing of roasted red beets with green-lipped mussels. Use fresh beets or the canned variety, drained, and season them with olive oil, lime juice, salt and pepper. Roast them and during the last 10 minutes, place the mussels on the roasting pan to cook and open. Melt butter and stir in snipped chives. Plate up the beets and topped with the mussels. Drizzle with the melted butter mixture.
Recipe by Tummy Treasure
Garlic Cheese Baked Mussels
Soy sauce flavors the aged cheddar, cream cheese and chives mixture that tops the New Zealand green-lipped mussels. Already cooked and on the half shell when purchased frozen, just make the cheese mixture and top each mussel with a generous dollop before roasting on a sheet pan. Broil for the last 5 minutes to achieve a crust-like cheesy topping.
Recipe by Pups With Chopsticks
These simple oven-baked mussels recipes will impress your family and friends at the dinner table. The best part is that they are easy to make and require very little time to prepare.