Whether you're looking for an easy dinner for the family, or a seafood dish to feed guests, these clam recipes can be whipped up in no time. From classic dishes like clam chowder to linguine with clam sauce and from steamed littlenecks to stuffed mushrooms, you'll find easy recipes for all your favorites.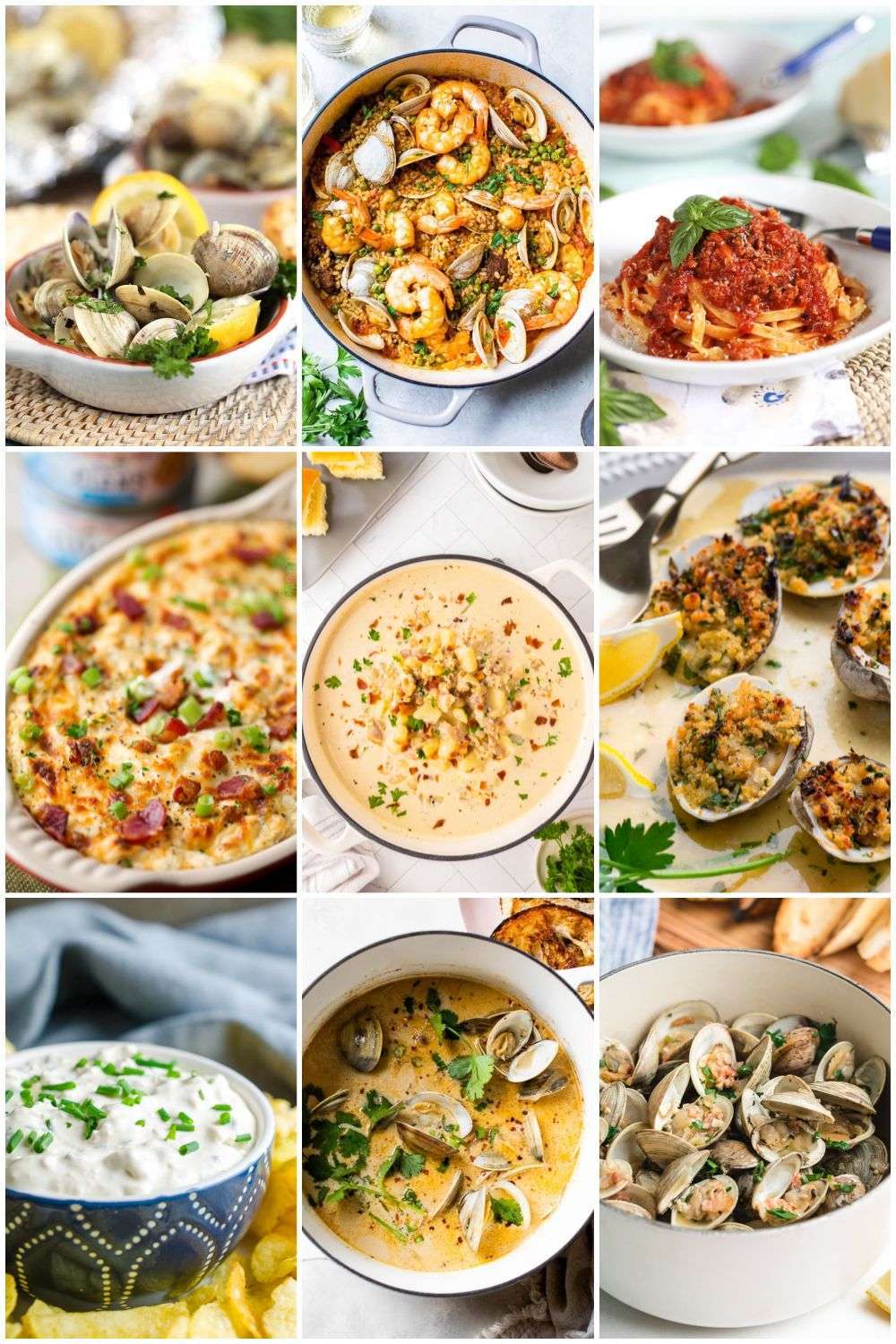 Salty, briny, buttery and delicious, clams are shellfish that can be prepared in several ways. From steaming to frying or just using a canned variety, clams can be incorporated in a variety of recipes.
Don't be intimidated by the fact that fresh clams need to be cleaned before you can cook with them. Because clams spend their lives buried in the sand, literally, they need to be freed of any sand contained in and around their shells.
Give them a good soak in cold water to loosen debris and sand before using a small brush to scrub them clean. Be sure and follow the instructions in each recipe to make sure you're cleaning them as instructed before moving forward.
Or, if you opt to use canned clams, you'll find delicious recipes that will help you make the most of this seafood delicacy. Use this collection to find the best clam recipes that you can quickly and easily make at home.
Best Clam Recipes
These quick and easy clam recipes that you can make at home will give you inspiration for your next seafood meal. Find ideas for chowders, pasta, dips, or even a classic clam bake with these easy recipes.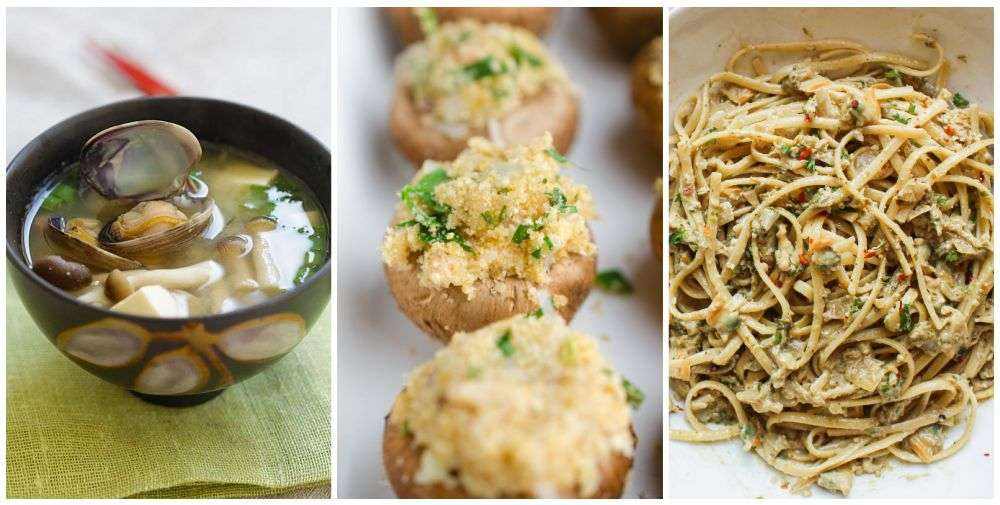 Easy Cioppino Seafood Stew
This is the perfect easy cioppino to add clams along with your favorite seafood. It's an easy "dump" recipe that's perfect for entertaining. Once you make the soup base with tomato sauce and stock, cook the fish in the broth. When it's almost done, add the clams on top along with your choice of shrimp, mussels or other shellfish.
The clams steam in the soup and when they open it's ready to serve with crusty bread for dipping.
Recipe by Coastal Wandering
Grilled Clams by The Suburban Soapbox
You won't believe how easy it is to grill littleneck clams! The best part is the succulent garlic and parmesan basil butter sauce that they bathe in as they steam open on the grill. It's perfect for dipping your favorite bread in, too! Just toss clean, scrubbed and sand-free clams into a foil pack topped with the compound butter.
Grill the packs over high heat for approximately 7 minutes until the shells have steamed opened. It's an easy and delicious shellfish dinner with minimal effort.
Recipe by The Suburban Soapbox
Stuffed Mushrooms
Perfect as an appetizer, these stuffed mushrooms are filled with a savory mixture of sautéd shallots and garlic mixed with chopped clams and their juice, bread crumbs, Parmesan cheese and fresh herbs.
It's all stuffed into large button mushrooms, drizzled with olive oil and baked. To brown the tops, give them a few minutes under the broiler before serving.
Recipe by Life's Ambrosia
New England Clam Chowder
Made smooth and savory from bacon, onion, garlic, and heavy cream, this classic New England seafood chowder comes together with the help of chicken broth and chopped clams. Adding clam juice to the chowder helps intensify the flavor.
You can make this in a Dutch oven in about 30 minutes and enjoy the leftovers days later.
Recipe by Kleinworth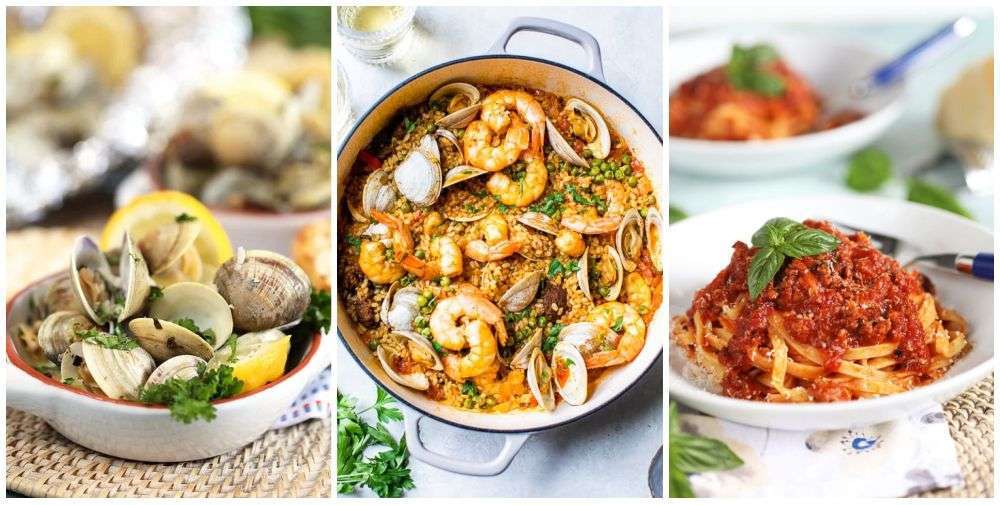 Sheet Pan Clam Bake
Keep it simple and mess free with this sheet pan recipe for a clam bake. Pile on fresh and cleaned clams, mussels, shrimp, chorizo, parboiled baby potatoes, corn on the cob, onions and lemons, all drizzled with a seasoned melted butter and Old Bay mixture.
Bake until the mussels and clams have opened. It's tasty, zesty and the clean up is quick and easy.
Recipe by Damn Delicious
Clam Dip
For a warm appetizer that celebrates seafood, serve this easy to make clam dip that uses canned clams. They're mixed with a savory collection of ingredients like horseradish sauce, cooked bacon crumbles, grated onion, cream cheese, hot sauce, salt, and pepper. Transfer this mixture to a baking dish and heat until it's warm and bubbly.
Garnish the top with more bacon crumbles, sliced green onions and parsley. Serve with crackers or toasted baguette slices.
Recipe by The Chunky Chef
Linguine With White Clam Sauce
This classic white clam sauce is easily made by starting it in a skillet by sautéing garlic and red pepper flakes in olive oil. Add in white wine and simmer before adding chicken broth. To make it perfect for a seafood pasta dish, add in clam juice.
Toss in drained and cooked linguine along with canned clams that have been chopped. Simmer it until heated through. Plate it and garnish with red pepper flakes, fresh parsley and lemon zest.
Recipe by The Mom 100
Miso Soup With Clams
Easily make this Japanese soup with a briny flavor, thanks to clams, and enjoy it in just about 15 minutes! Water, tofu and mushrooms start in the pot and come to a boil. Add in fresh and cleaned clams and continue boiling for a few minutes until the clams have opened. Remove from the heat and stir in miso paste.
Garnish with chopped scallion and serve with rice.
Recipe by Rasa Malaysia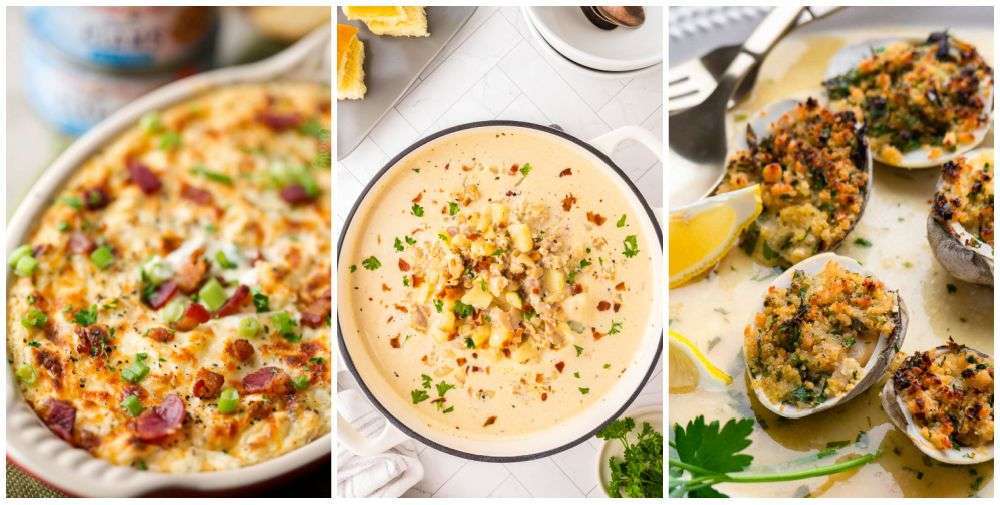 Beer Steamed Clams
Lager adds the perfect flavor to these beer steamed clams that are also layered with bacon and shallots for an easy seafood meal. Use Manilas or littleneck clams that have been thoroughly cleaned and are free of sand.
Use a pale lager in a deep pot and bring to a boil before adding the clean clams. Reduce heat and cover to steam open the clams. When they've opened, serve with the broth, fresh parsley, and grilled bread for dipping.
Recipe by Striped Spatula
Manhattan Clam Chowder
Crispy and browned bacon helps flavor this tomato-based seafood chowder. Clam juice, chicken broth, chopped tomatoes, potatoes, onion, and celery help season this clam dish that simmers on the stove to mingle the flavors.
Stir in either canned baby clams or use fresh clams in this easy Manhattan chowder. Serve with oyster crackers.
Recipe by Dinner At The Zoo
Clam Pasta With Pesto
Keep it easy by using canned whole baby clams for this savory and creamy seafood pasta meal. It's ultra zesty thanks to the addition of pesto in this classic clam pasta recipe. The clam sauce is enhanced with additional clam juice, along with garlic, onion, red pepper flakes, wine, pesto and heavy cream.
It all simmers over medium low heat before adding in the clams. Serve this delectable sauce of linguine. Garnish with freshly grated parmesan cheese and parsley.
Recipe by For Fisk's Sake
Frutti di Mar
For a Mediterranean flair, make this Frutti di Mar salad that's a delectable mix of clams, shrimp, calamari and scallops. You'll poach the seafood in a savory broth, drain it and mix it with fresh veggies like tomatoes, celery and bell peppers.
Use fresh ingredients and dress it with your best olive oil and freshly squeezed lemon juice. Serve it well-chilled with your favorite crusty bread.
Recipe by Simply Recipes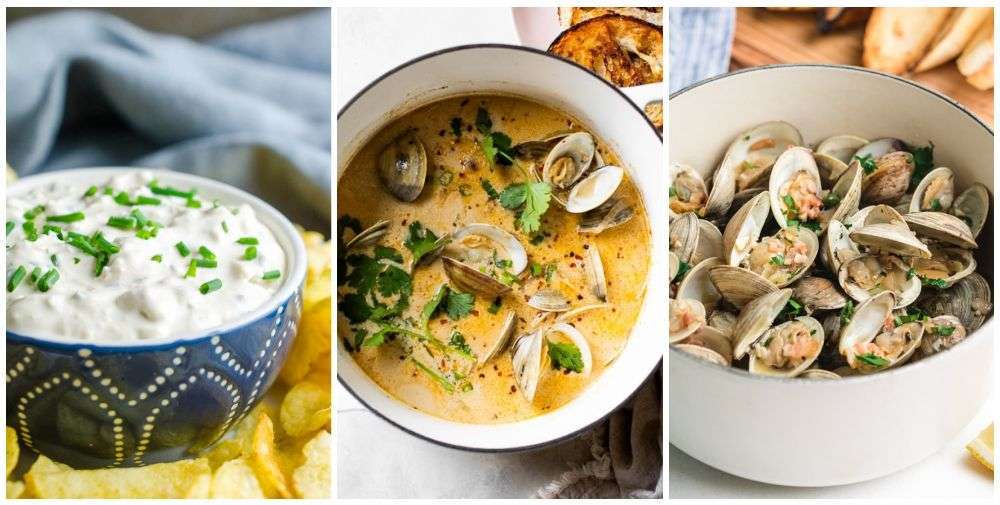 Coconut Broth Clams
This Asian-inspired clam soup in a base of coconut milk is full of Thai flavors that make it a favorite with family or guests, And best of all, it comes together in about 20 minutes. Sauté a handful of aromatics such as onions, lemongrass stalks, ginger, garlic, and red pepper flakes.
Simmer it in white wine before following with stock, brown sugar, coconut milk and a tablespoon of fish sauce for added flavor. Add in fresh, cleaned and scrubbed littleneck clams and return the broth to a boil and continue to cook until the littlenecks have opened. Serve, garnished with scallions and cilantro.
Recipe by Skinny Taste
Simple Red Clam Sauce
Rich and spicy, this tomato-based sauce joins with salty pancetta and clams as the perfect topping for your favorite pasta. Browned pancetta leaves behind the perfect drippings to sauté garlic and celery in before adding tomatoes and spices.
Use fresh or canned chopped clams and clam juice to add the seafood component. Simmer until the clams are cooked and serve over linguine or spaghetti for a delightful seafood pasta dish.
Recipe by The Suburban Soapbox
Clams Oreganta
Littleneck clams bake up to scrumptiousness with a filling of breadcrumbs, minced garlic, kosher salt, minced parsley, oregano and crushed red pepper flakes. Start by baking the clean clams until they open. Remove the top shell leaving the bottom shell that holds the clam meat.
Top with the breadcrumb mixture, drizzle with a savory olive oil sauce and broil until golden.
Recipe by Sip And Feast
Clam Fritters
Try these homemade clam fritters that use fresh clams that have been chopped and added to an easy batter mix of flour, minced onion, egg, Old Bay seasoning, clam juice and baking powder. Ladle the batter onto a hot griddle and fry the fritters in oil on each side until golden brown. Serve with your favorite toppings and sauce.
Recipe With A Splash Of Color
Clams And Chorizo
Fresh little neck clams and Spanish chorizo join together to create this zesty steamed dish that's perfect to serve with crusty bread. Be sure and soak and scrub the clams to remove any sand. In a Dutch oven, sauté diced chorizo in olive oil with minced shallot, garlic, anchovies and crushed red pepper flakes.
To create the broth, add in white wine and vegetable broth before adding in the clean clams. Cover and steam the clams for about 7 minutes. Ladle them into a bowl and garnish with fresh parsley and lemon wedges.
Recipe by Girl With The Iron Cast
Grilled Clams With Lemon Herb Butter
If you've ever wondered if you could place clams directly on the grill, the answer is yes! It's a great way to help the clams cook and then open with help of high heat. Make the easy butter, garlic and lemon mixture according to the directions.
Once the clams have all opened, remove them from the grill carefully to keep their juices intact. Place them in a large bowl and drizzle with the melted lemon garlic butter mixture. Serve with crusty bread.
Recipe by Just One Donna
Seafood Paella
You can make this one pan seafood meal of shrimp, clams and chorizo in just 30 minutes, making it perfect for busy weeknights. Just add short grain rice to turn it into a spicy paella dish. Try cherrystone clams in this recipe that starts with browning the chorizo and aromatics.
Add in the rice, broth, and finally the seafood. Cover and steam to amazing deliciousness. Garnish with parsley before serving.
Recipe by Skinny Taste
New England Clam Boil
Make this classic boil meal by steaming the seafood and vegetables in a large stock pot filled with water. The ingredients are layered on a steamer rack that sits above the water.
The clams, potatoes, corn on the cob, chorizo sausage, white fish such as cod, onions and lemons are all steamed to deliciousness in about 30 minutes. Turn it all out on a newspaper-lined table and dig in!
Recipe by Kitchen Dreaming
Cold Clam Dip
Perfect for the appetizer table or game days, this easy clam dip comes together in a base of cream cheese and sour cream that's studded with minced clams and chives. It's seasoned with garlic, hot sauce and Worcestershire sauce for a zesty finish. Chill well before serving.
Recipe by Life's Ambrosia
Clam recipes are actually pretty easy to make, with these easy-to-follow clam recipe ideas.