If you're looking for a beach shelling vacation destination in the United States, look no further. Here's your guide to the 10 best shelling beaches in Florida, as well as the types of shells you can expect to find, the live shell laws you need to know, and even a handful of shelling tips to kickstart your beachcombing adventure.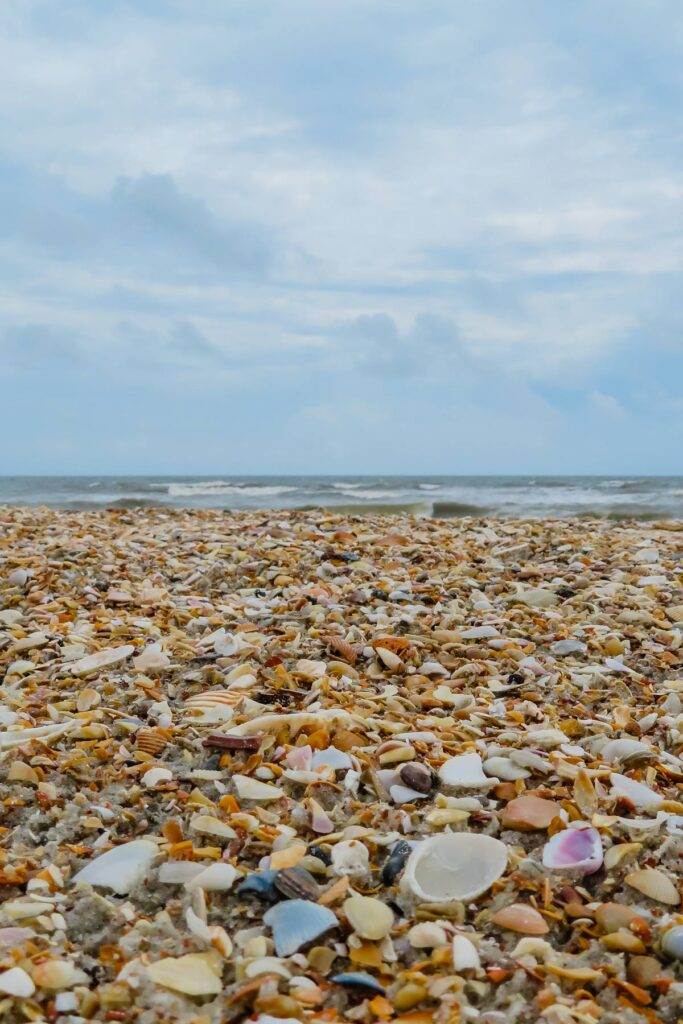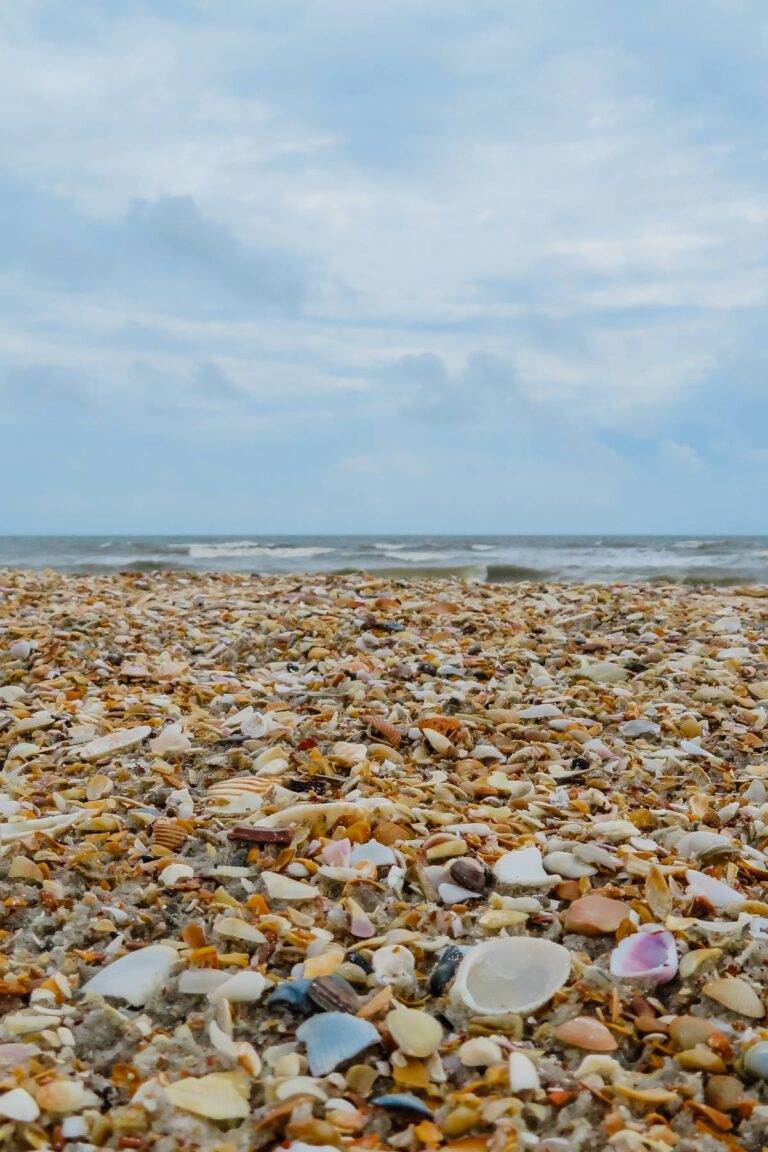 If wandering the beach for seashells and sea glass sounds like your dream beach vacation, then you'll want to visit the beaches on the southwest side and central area of Florida on the Gulf of Mexico. This is where the best beaches are!
Not only will you find some of the most pristine beaches in the country, but it's also a beachcombers paradise. From Coquina shells to Sand dollars, you'll find a wide variety of species scattered along the shoreline.
And while some of my favorite Florida beach vacation destinations are located on the Atlantic Coast of Florida (like St. Augustine Beach and Daytona Beach), most of those beaches don't offer the same selection or quantity of shells. But if you're looking for shark teeth, you can find a great place on the east coast at Mickler's Beach or Amelia Island.
To search for the best hotels in Florida, click here.
A Quick Shell Guide for Florida Beaches
When you find yourself beachcombing in Florida, you'll quickly see that it truly is a treasure trove of beautiful shells. Here's the scoop on the types of seashells you can expect to see in Florida:
Conch shells
Lightning whelk shells
Cockle shells
Tulip banded shells
Sand dollars
Olive shells
Murex shells
Coquina shells
Cerith shells
Worm snail shells
Spotted slipper shells
Limpets
Turkey wing shells
Wentletrap shells
Calico scallops
Florida spiny jewel box
Jingle shells
And finally Junonia shells – these are rare!
And if you're on the hunt for sea glass, you should be able to find some of that while you're beachcombing as well. While it's becoming increasingly rare on some beaches around the globe, sea glass is a pretty common find in Florida.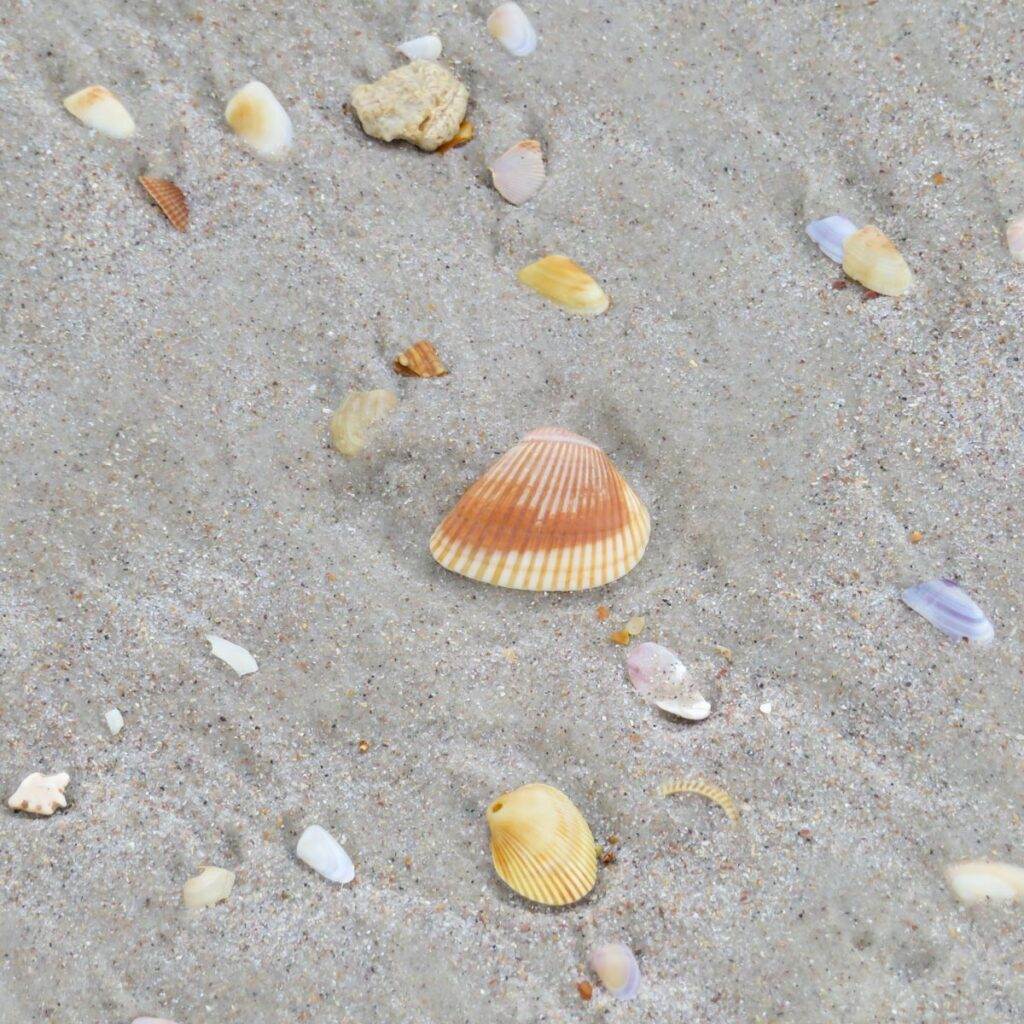 10 of the Best Beaches for Shelling in Florida
Whether you're on the hunt for the rare Junonia shell or simply want to collect any seashell you can get your hands on, here are the top Florida beaches you should visit:
Marco Island
Well-known to both tourists and residents, you'll find this barrier island and popular shelling area among the Mangrove Islands near Naples. With three different walkways, South Beach is easily accessible to the public. Likewise, Tigertail Beach is another local beach option. It's perfect if you'd also like to get out on the water in a kayak or paddleboard.
Seashell species spotted on this beach include: Atlantic calico scallops, Sunray venus shells, Olive shells and Banded tulips.
Captiva Island
You'll find Captiva Island located not too far from Fort Myers and Sanibel Island in Lee County. This tropical paradise offers plenty of outdoor activities like biking, golfing, birding, sailing and – of course! – shelling. Captiva Island beaches are the perfect options to shell if you're on the hunt for larger sea treasures.
Seashell species spotted on this beach include: Conch shells, Cockle shells, Murex shells and Lightning whelks.
Sanibel Island
It's not a surprise that Travel & Leisure Magazine named this island one of the best places for shelling in North America. The local beaches are filled with shells for you to bend over and pick up – they call it the Sanibel Stoop!
You'll find a selection of best shells on Bowman's Beach, but if you're on the hunt for smaller shells try Lighthouse Beach.
And if you're in the mood for a little museum time, try the Bailey-Matthews National Shell Museum – it's a real treat for shell collectors and nature lovers. They even have local experts that lead daily Beach Walks!
Seashell species spotted on this beach include: Coquina shells, Sand dollars, Lightning whelk shells and plenty of scallops.
Fort de Soto Beach & State Park
Fort de Soto is one of my favorite beaches in Florida – we always make a point of going when we're in the St. Petersburg area. Located near Shell Key Wildlife Preserve, you'll find white sandy shores, plenty of little tidal pools and lots of local wildlife. These shallow waters are also well-traveled by pelicans, osprey, manatees and dolphins, so keep your eyes on the lookout for the local wildlife!
Seashell species spotted on this beach include: Sand dollars, Cerith shells, Worm snail shells and a variety of others.
Tip: If you're a beginner to shelling, visit the Administration office for a local shell species identification guide.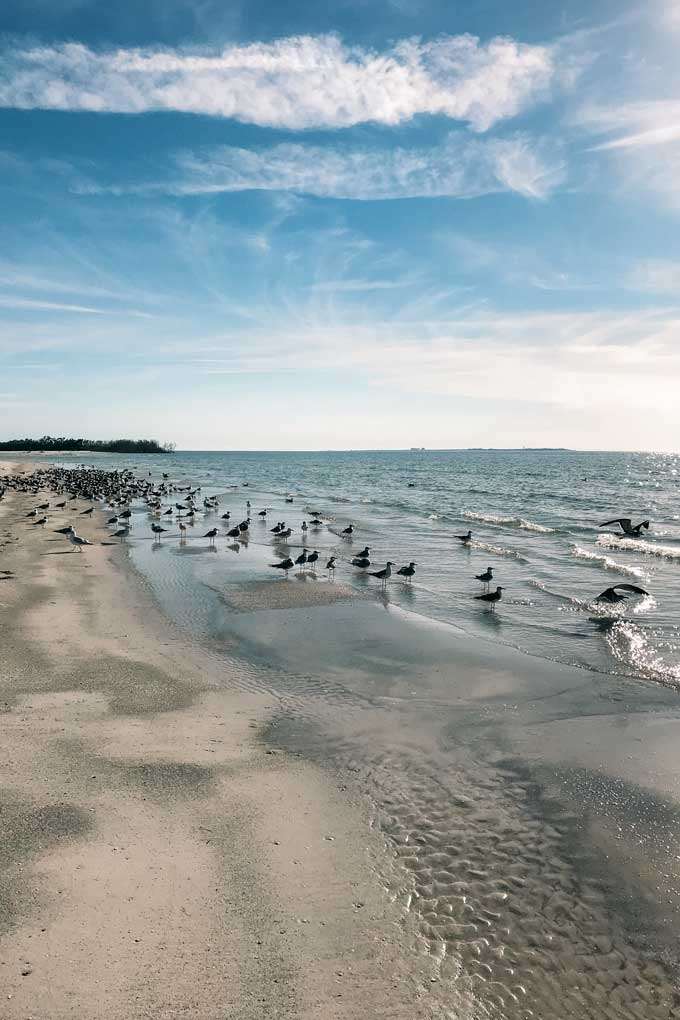 Shell Island (Near Panama City Beach)
Situated near Panama City Beach, Shell Island is aptly named and the perfect day trip for shelling enthusiasts. This Florida gem is limited by boat access only, so you'll need to book a boat rental or hop on the local ferry. It's important to note that this 7-mile stretch of undeveloped barrier island is very natural – be sure to pack snacks and water in your beach bag if you plan to stay for the entire day.
Seashell species spotted on this beach include: Lightning whelks, Sunray venus shells, Moon snails, Pin shells and Sand dollars.
Venice Beach, Florida
You'll find Venice, Florida along the Gulf Coast just south of Sarasota. With 14+ miles of white sandy beaches, this beach destination isn't just a sheller's paradise. It's also touted as the shark tooth capital of the world! They even host a local Shark Tooth Festival every spring.
If you find yourself wanting to try your hand at hunting for shark's teeth, it's best to use a scoop and sift technique. You can do this freehand or you can pick up a shark tooth basket at a local shop.
Seashell species spotted on this beach include: Pink murex shells, Angel conch shells, Junonia shells and Auger shells.
Saint Pete Beach
You'll need to hit St. Pete Beach early in the day if you hope to have your pick of local sea treasures. This beach is popular with both locals and travelers! Located just north of Pass-a-Grille Beach in the St. Petersburg area, you'll know you've found St. Pete Beach when you can spot the pink palace (also known as Don CeSar).
Seashell species spotted on this beach include: Fighting conch, Lightning whelk shells and Murex shells.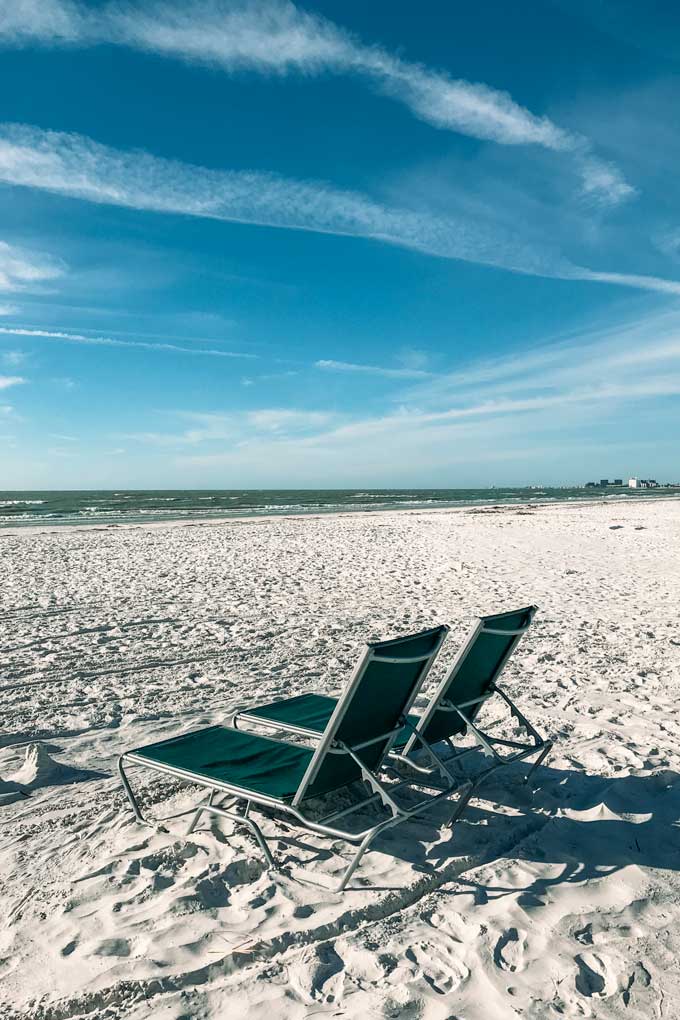 Fort Myers
You'll find Fort Myers located near Sanibel and Captiva Island in the Southwest Florida region. It's rumored that the best shelling spots are located on the south end of the beach, past the mid-island area. That said, the beaches of Lee County yield more than 400 different types of seashell species, so you really can't go wrong no matter where you decide to set up your beach chair for the day!
Seashell species spotted on Fort Myers beach areas include: Paper fig shells, Olive shells, Tulip banded shells and Junonia shells.
Honeymoon Island State Park
Located just north of Caladesi Island State Park in Florida's St. Pete and Clearwater area, Honeymoon Island is well-loved by locals and not as often visited by travelers. If you want a secluded shelling getaway, this is the spot for you! With over five miles of beach to explore, you can also expect to see plenty of wildlife (like manatees and the endangered gopher tortoise) on this natural barrier island. 
Seashell species spotted on this beach include: Sand dollars, Chestnut turban shells, Shiva shells and plenty of other small shell species.
Pass-a-Grille Beach
Make your way over to Pass-a-Grille Beach (near St. Pete Beach) if you're looking for a quiet and relaxing shelling experience in St. Petersburg. Pass-a-Grille is recognized as a National Historic District, so you'll find four miles of pristine undeveloped beach with full public access.
Seashell species spotted on this beach include: Sand dollars, Worm snail shells and Brown-banded wentletraps.
The Florida Shelling Laws You Need To Know
You need to know the local rules before you hit the beach. Here's the scoop on the need-to-know-now Florida shelling laws that could get you into trouble if you don't follow them:
Don't shell live organisms. Unless you have a recreational saltwater fishing license, you aren't allowed to harvest a seashell containing a living organism. This rule holds true even if you're shelling on the shore!
Don't shell prohibited species. Harvesting the Bahama starfish is not allowed. You're not allowed to have live Queen conch shells either.
Read the county, state or federal park rules. Shelling rules in Florida also differ depending on where you're visiting. When in doubt, contact the park information desk for guidance.
You can read more about Florida shelling laws here.
Shelling Tips to Use During Your Beach Vacation
Here are some tips for making the most of your beachcombing time:
Hit the beach early in the day for a better selection (I usually pack a breakfast sandwich for the road).
It's also handy to stay at a hotel close to the beach – easier to get out on the sandy shores early.
Take your time to scan the sand slowly. You'll be more likely to spot hidden treasures!
Even if you're shelling during low tide, try shelling a little further up from the water. High tide may have left some treasures behind for you!
Don't forget to check near rockier sections too (providing that it's safe to walk there).
Split from the pack if you find yourself shelling with a lot of other people. You'll have a better selection of shells.
Time your beach shelling visit around low tide (the best time is either an hour before or after).
If possible, try to shell after a storm. The winds will have pulled extra shells ashore.
Likewise, you're in luck if you can time your visit during a new or full moon. This is when there are the most dramatic tides which help to pull more shells onto the beach.
Pack sunscreen and a mesh bags for shells in your beach bag. And don't forget a hat! The Florida sun is hot, even first thing in the morning.
And remember: don't collect live organisms!
You've found your perfect shells. So, what's next?
If you've already got your seashells in hand, you're probably wondering what to do with them.
If you're anything like me, you might want to try your hand at some DIY seashell crafts and coastal decor. But whether you decide to display them as is or transform them into a natural treasure, these hand-picked shells will be a beautiful keepsake of your time beachcombing the best shelling beaches in Florida.
Looking for DIY seashell craft ideas? Here are some of my personal favorites:
Ready to start planning your Florida beach vacation? Start searching for the best hotels here.