If you're dreaming of warm summer sunshine and beautiful white sands then St. Petersburg, Florida might just be your perfect beachside destination. Here are 12 fun things to do, including a guide to the local beaches, water adventures, historic sights, and fun restaurants (plus accompanying day trip itineraries).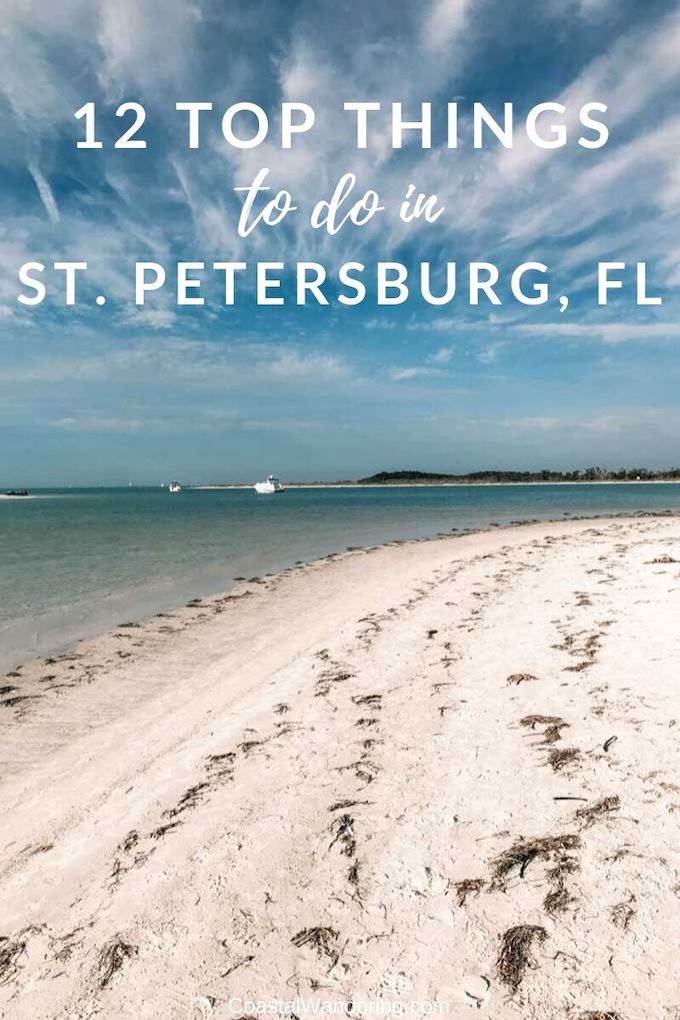 You'll find St. Petersburg between Tampa Bay and the Gulf of Mexico, on the Pinellas peninsula. Some know it as The Sunshine City, others know it as St. Pete, but no matter what you call it, you're sure to have a fantastic beach getaway when you vacation in this U.S. destination.
With an average of 361 days of sunshine each year, you're likely to have fantastic weather during your stay. This makes it particularly great for snowbirds and other winter getaways. But no matter when you visit, there's plenty to do and see in the area.
Your Guide to St Petersburg, Florida Beaches & Surrounding Area
While you'll have plenty of sand and sunshine to enjoy, these 12 places and activities are spread across four key areas in and around St. Petersburg:
Fort De Soto Park & Beach
Saint Pete Beach
Pass-a-Grille
Downtown St. Petersburg
Each spot could be a day trip on its own, but these destinations are all close to one another, so you can easily combine parts of these itineraries for a little beach-hopping weekend getaway.
To search for the best hotels in St. Petersburg, click here.
Fort De Soto Park & Beach
This popular county park spans five islands and covers over 1,000 acres along the Gulf of Mexico and Tampa Bay. Pack your beach bag, because here are the best things to do during a day spent in the Fort De Soto area.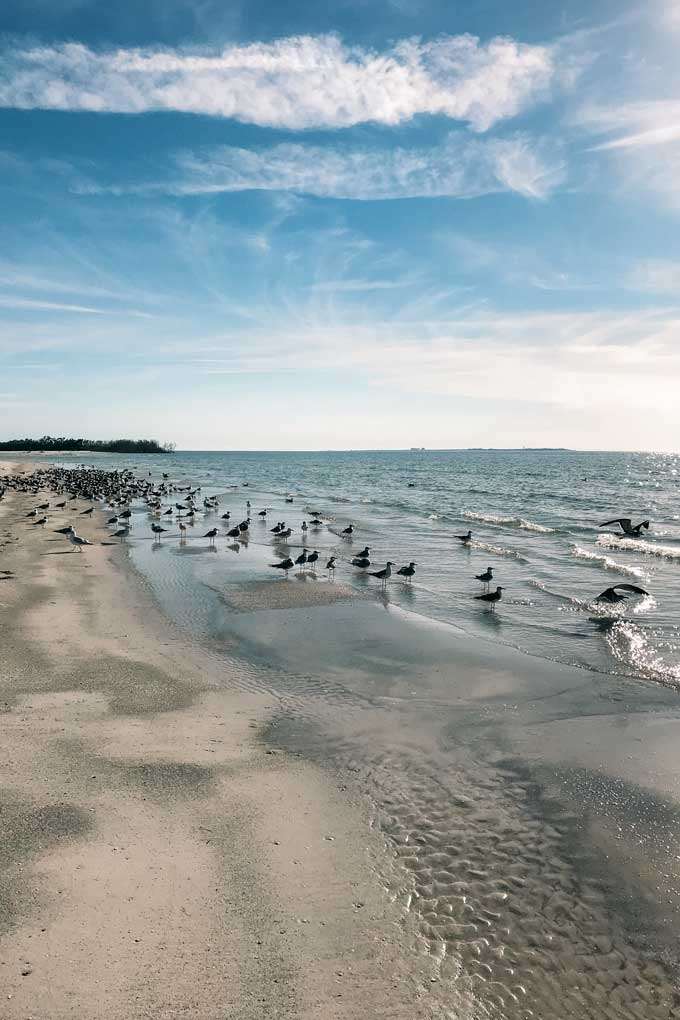 1. Kick Back On The Fort De Soto Beach
This is a favorite of mine. Aside from the (obvious) attraction of sandy shores and coastal views, my husband grew up going here with his grandparents. We always make a point of going whenever we're in St Petersburg.
Recognized by the likes of USA Today and Parents Magazine, Fort De Soto Beach's beautiful sandy shores and kid-friendly tidal pools, it's no wonder that it regularly wins prizes for "Best Family Beach." This beach is great for more than just families though. Lounging, people-watching, and even finding seashells (perfect for crafts and coastal decor). These are all perfect ways to enjoy an afternoon at Fort De Soto Beach.
It's also a great place to visit if you're traveling with a furry companion. Fort De Soto is the only local dog park that has a designated area where dogs are allowed on the beach. Perfect if your pup enjoys splashing around.
2. Kayak (Or Canoe) The Local Waters
If you're up for an oceanside adventure, try renting a canoe or kayak. You could even take a unique look at the local wildlife with a clear kayak tour of the nearby Shell Key Wildlife Preserve. This area is well-traveled by pelicans, herons, osprey, manatees, rays and even dolphins!
3. Walk the Fort De Soto Trails
If you're feeling the need to get out and stretch your legs, Fort De Soto Park offers seven miles of multi-purpose trails. Whether you're out for a long run, casual stroll, or bike ride, you'll enjoy beautiful scenic views of the park.
4. Visit the Fort
No stop at Fort De Soto Park is complete without a look at the historic fort. Take a self-guided tour of Battery Laidley and the ruins of Battery Bigelow.
Battery Laidley offers a glimpse at the final remaining 12-inch M 1890-MI mortars in North America. If you want to see the other remaining mortars, you'll have to travel to the Philippines! And while Battery Bigelow was swallowed up by the Gulf of Mexico in 1932, you can still spot the ruins in the surf just a little southwest of Battery Laidley.
You'll pass the Fort as you head towards the North Beach area, so save a little time for a quick look as you head towards the beach.
Key Details For Planning Your Visit To Fort De Soto Park & Beach
Parking: Daily parking fees of $5, though there are also annual parking passes available. You are not required to pay a fee if you have a valid Disabled Parking Permit. You are not required to pay a fee if you're entering the park on foot or by bicycle.
Hours: 7 am until dusk
Accessibility: Fort De Soto Park offers a 2,200 ft Barrier-Free Nature Trail, which includes access to rest areas and water fountains.
Suggested Fort De Soto Park & Beach day trip itinerary:
9 am - 10 am: visit the Fort
10 am - 12 pm: rent a kayak
12 pm - 1 pm: picnic lunch
1 pm - 4 pm: kick back on Fort De Soto's North Beach
4 pm - 5 pm: take a stroll along the nature trail
5 pm onwards: head home for dinner
St. Pete Beach
This is probably the first beach that visitors think of when they think about St. Petersburg, and it doesn't disappoint. With a great selection of water fun, boutiques, restaurants, and (of course) a beautiful beach, this is one of my favorite day trip destinations in the area.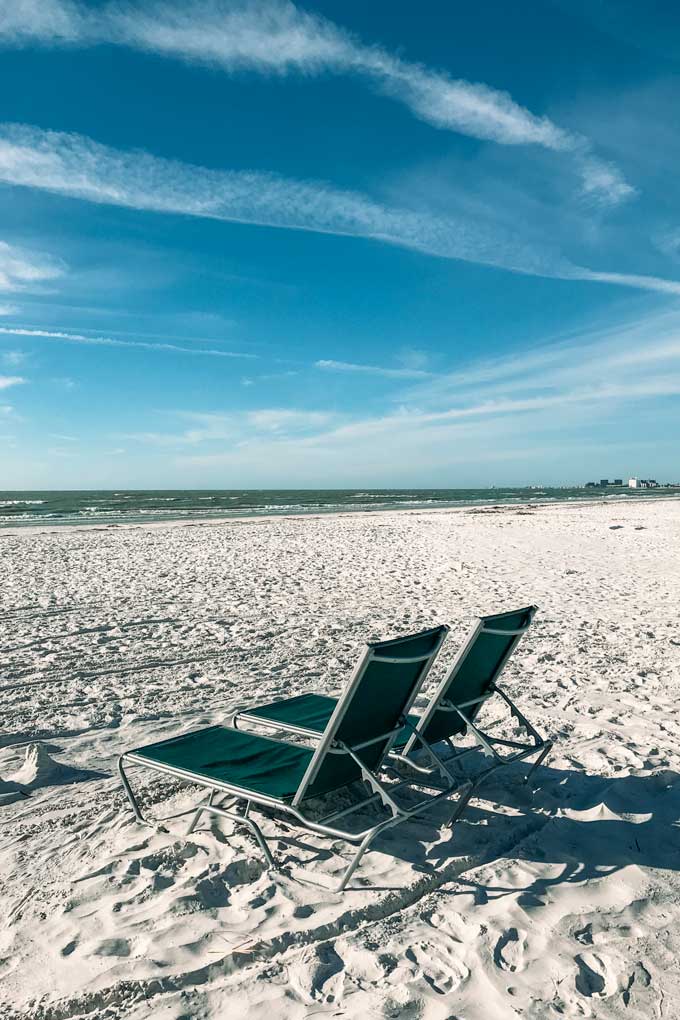 5. Lounge On Saint Pete Beach
Here's another noteworthy and award-winning beach to check out. It was actually named the #4 U.S. beach on TripAdvisor's Travellers' Choice Top 25 U.S. Beaches in 2019. (Driftwood Beach on Jekyll Island and Coligny Beach on Hilton Head Island also made the list).
St. Pete Beach is well known for its wide sandy shores and clean white sands. It's great for shelling or simply lounging, and even though it's popular with locals and travelers alike, there's always room for everyone without the beach feeling over-crowded.
6. Plan An Action-Packed Water Adventure
If you're looking for a water adventure that packs a little more adrenaline, look no further than St. Pete Beach. Whether you're in the mood for stand-up paddle-boarding, windsurfing, kiteboarding, or even parasailing, you'll have a variety of high-octane water sports to choose from.
7. Visit the Don CeSar
While not technically a day trip activity, if you aren't staying at the Don CeSar then you at least need to go take a look at it! This historic hotel, fondly known by many as the Pink Palace, is truly a sight to behold. Think Great Gatsby meets tropical paradise! Built in the late 1920s, this popular beachfront property has been hosting travelers for almost a century!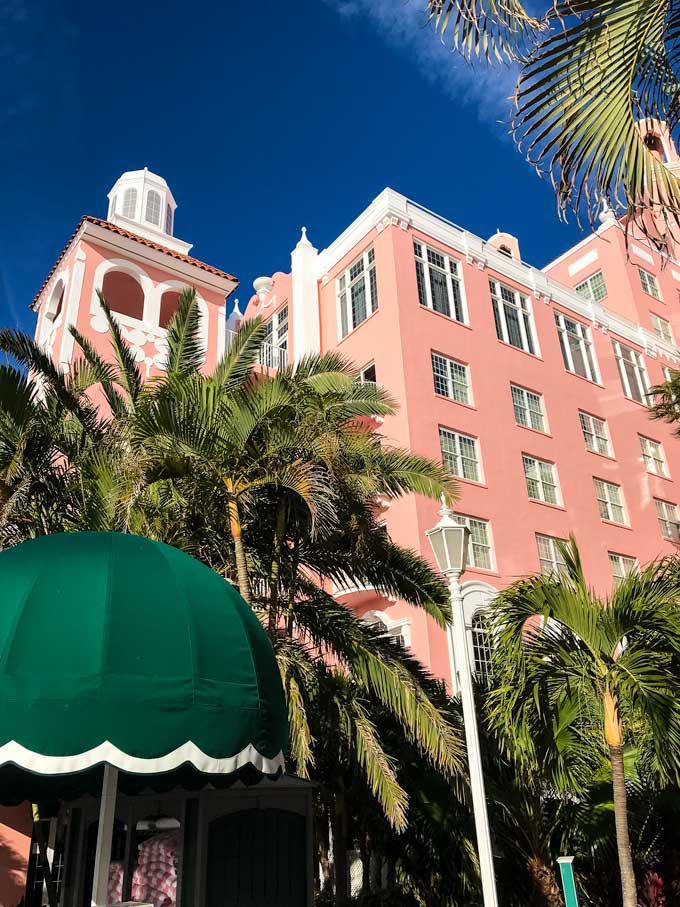 8. Enjoy A Drink And The Sunset At Our Favorite Restaurant in St. Pete Beach
Cap off your day with a cocktail at Salty's Tiki Bar and Beach Lounge. I love sitting on the sofas on the beach around a fire pit table, kicking back as I watch the sunset. Toes in the sand and maybe even a little live music – what could be better?!
Salty's is a particularly great choice if you're in the mood for a frozen cocktail, though they also serve beer and wine. Snack on some appetizers as you enjoy the end to a perfect day at the beach.
Key Details For Planning Your Visit To Saint Pete Beach
Parking: You'll find a mix of permit and metered parking in the St Pete Beach area.
Hours: Dawn to dusk
Suggested St. Pete Beach day trip itinerary:
9 am - 10 am: stroll along the shore and take a look at Don CeSar
10 am - 12 pm: rent a stand-up paddle-board to get out on the water
12 pm - 1 pm: picnic lunch
1 pm - 4 pm: lounging with a book on the beach
4 pm onwards: relaxing at Salty's for snacks, drinks and a sunset view
Pass-a-Grille Beach
While Pass-a-Grille is officially part of St. Pete Beach, this hidden gem offers a distinctly different vibe. Head to Pass-a-Grille for a relaxing day away from the hustle of downtown St. Petersburg.
9. Enjoy the Pass-a-Grille Beach
You'll find these four beautiful miles of undeveloped public beach where Gulf Boulevard meets the Don CeSar. Pass-a-Grille is recognized as a National Historic District, this beach is quieter and calmer compared to its neighboring Saint Pete Beach.
These sandy shores are perfect for shelling and enjoying your surroundings – dolphins playing on the shoreline, spectacular sunsets, and snorkeling – without the crowds of the main Florida beaches.
10. Watch The Sunset at Hurricane Seafood Restaurant
A day in Pass-a-Grille isn't complete until you've enjoyed a grouper sandwich at the Hurricane. For us, it's a family tradition. We've gone to the Hurricane for years!
You'll find this restaurant at 9th Avenue and Gulf Way, situated perfectly for spectacular sunset views. If the grouper sandwich isn't for you, you'll also find classic Southern recipes like boom boom shrimp and crab cakes. And you'll want to try your best to get yourself seated on the rooftop bar – it's the best sunset view in Pass-a-Grille!
Key Details For Planning Your Visit To Pass-a-Grille
Parking: Try the North and South Ends of Pass-a-Grille Beach for the easiest parking options. Meters typically start at around $1.25 per hour.
Hours: Dawn to dusk.
Accessibility: Limited accessibility.
Suggested Pass-a-Grille day trip itinerary:
9 am - 10 am: pack a breakfast sandwich for breakfast on the beach
10 am - 12 pm: shelling along the beach, beginning (or ending) at Don CeSar
12 pm - 1 pm: picnic lunch
1 pm - 5 pm: kick back on the beach with your favorite book
5 pm onwards: grab a cocktail and grouper sandwich on the Hurricane's rooftop bar
Downtown St. Petersburg, Florida
Make sure to save a little time to enjoy the heart of St. Petersburg, Florida. You'll find plenty of wonderful restaurants and attractions nearby. Perfect for a morning or afternoon away from the beach.
11. Visit The Dali Museum
If you need a little break from all the sun and surf, try spending an afternoon at The Dali. Offering a comprehensive overview of the life and work of Salvador Dali, this museum boasts the largest collection of Dali pieces found outside Spain. Among the 2,400+ works, you'll find everything from oil paintings to sculptures, manuscripts, and even some book illustrations.
12. Wine & Snacks at Annata (One of the Best Restaurants in St. Petersburg, FL)
There are plenty of great restaurants in downtown St. Petersburg, but the best restaurant (in my opinion) is Annata. You'll find this gem of a restaurant and wine bar on the harbor, near North Straub Park. We love this restaurant so much we visited twice on our last trip!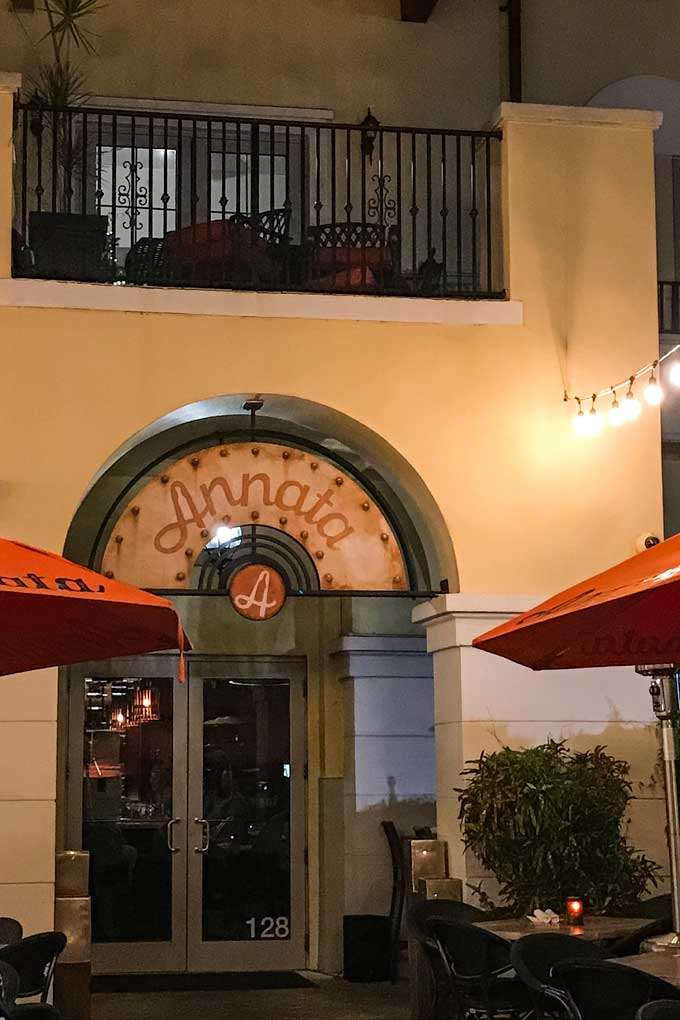 While Annata's menu offers a nice mix of Italian and international dishes made with local ingredients. My favorite? The charcuterie. You'll find everything from duck prosciutto and shrimp chorizo to truffle ham and sriracha lomo. Not to mention a wide and varied selection of cheeses from all over the world.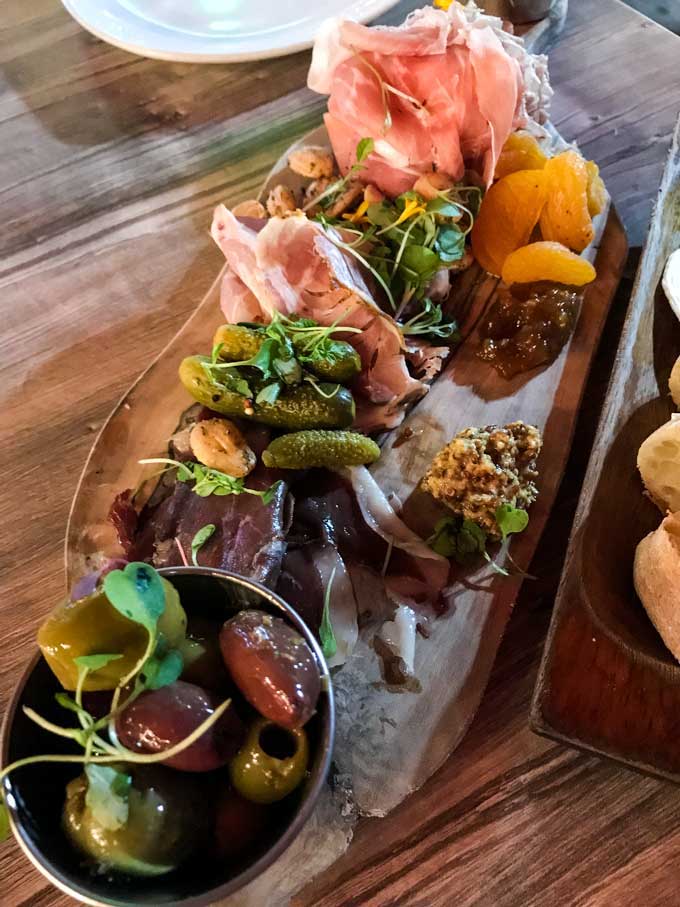 Bottom line: Wine? Check. Good eats? Check. Annata is a must-visit when you're in the area.
Key Details For Planning Your Visit To Downtown St. Petersburg, Florida
Parking: There are time restrictions on most street parking spaces. Look for metered parking garages if you're planning to park for more than a couple hours.
Hours: Varied, check your destinations for current hours of operation.
Suggested downtown St. Petersburg half-day trip itinerary:
12 pm - 12:30 pm: drive from a morning at Fort De Soto, St. Pete Beach, or Pass-a-Grille
12:30 pm - 1:30 pm: picnic lunch along the waterfront
1:30 pm - 4:30 pm: visit the Dali Museum
4:30 pm - 5 pm: walk along the waterfront & through Straub Park (towards Annata)
5 pm onwards: wine & charcuterie at Annata (and grab a pic of the nearby St. Pete street mural while you're there)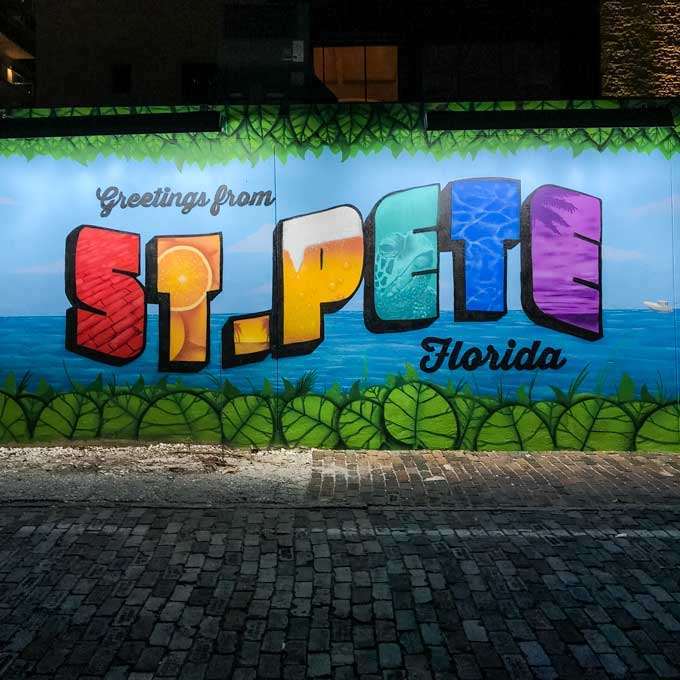 Start Planning Your St. Petersburg, Florida Vacation
So there you have it. A travel guide to downtown St. Petersburg, Florida as well as the beaches and surrounding areas of Fort De Soto Park, Saint Pete Beach and Pass-a-Grille. Use these short half-day and full-day itineraries to mix and match your way to your best beach vacation yet!
Ready to start planning your St. Petersburg, Florida vacation?
Start searching for the best hotels and rentals in St. Petersburg here.