Looking for white sandy shores and plenty of classic American beachy activities? Look no further than Daytona Beach, Florida. With a wide selection of beautiful beaches, amusement parks, restaurants, museums, and outdoor parks, there are so many fun things to do in Daytona Beach.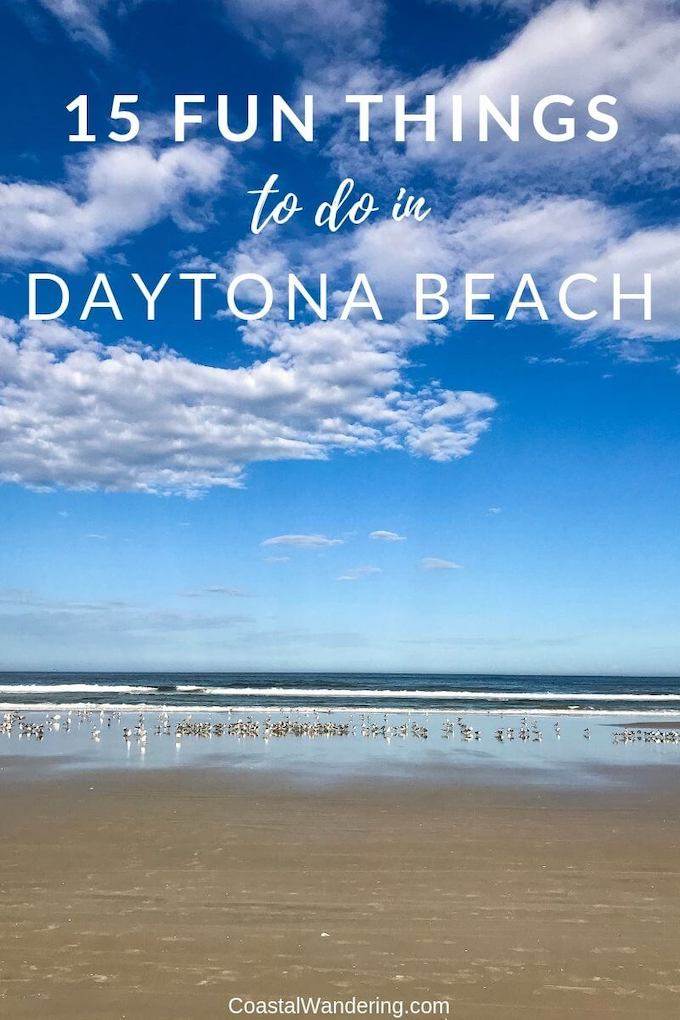 You'll find Daytona Beach located along the Atlantic Ocean and Halifax River (which is part of the Atlantic Intracoastal Waterway), in Volusia county in northeastern Florida. It's an hour and a half drive from Disney World---and just over an hour from Port Canaveral if you're going on a cruise.
Daytona Beach initially gained popularity for its high-speed car testing and racing in the early 1900s and it has held firmly to the title of the "World's Most Famous Beach" since the 1920s.
Unsurprisingly, Daytona Beach had me at "World's Most Famous Beach."
While Daytona Beach was initially founded as a winter vacation spot for Northerners, it has since established itself as a popular year-round beach vacation destination. No matter the time of year, you'll spot beachgoers building sandcastles, riding their bikes, enjoying a jog along the waterfront, fishing, swimming in the Atlantic, surfing or just relaxing in the warm Florida sunshine.
To search for the best hotels in Daytona Beach, click here.
Whether you're spending a day at the local water park, soaking up the sun on the beach, or catching a free concert at the Boardwalk Bandshell, there are plenty of exciting things to do. I'd recommend planning at least some of these 15 fun things to do in Daytona Beach for your beach getaway!
Must-Visit Daytona Beach Attractions & Activities
Whether you're looking for a little fun in the sun or an exciting day at an amusement park, Daytona Beach really delivers. With plenty of local parks, mini-golf courses, splash parks and more, you won't have anyone uttering the dreaded words: "I'm bored."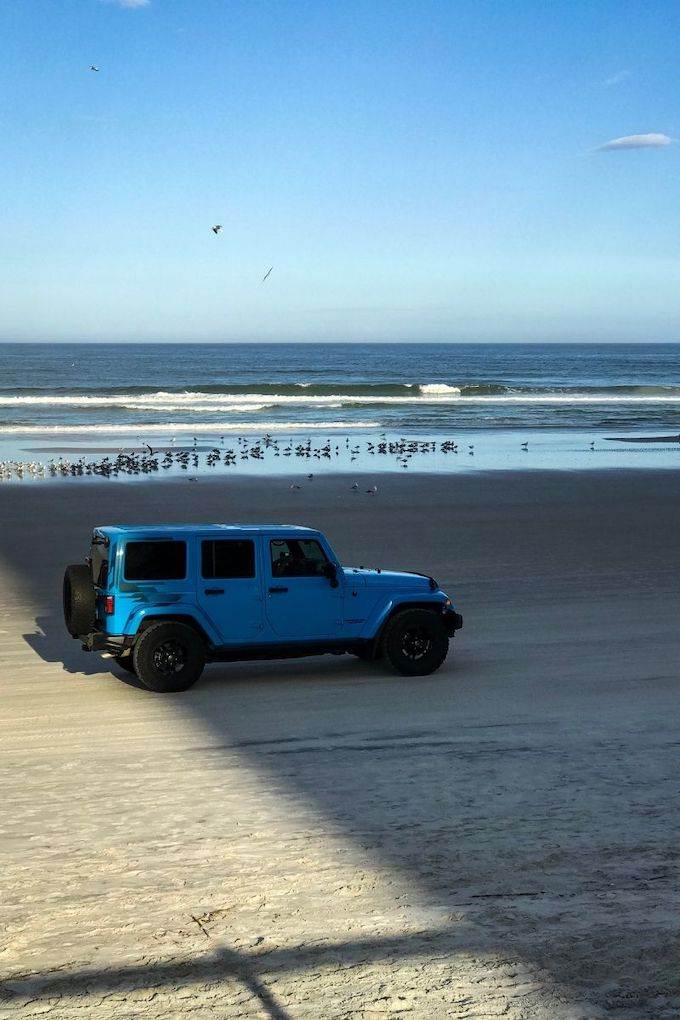 Take a Drive on the Beach
Beach driving is perhaps the most iconic activity you can enjoy while on Daytona Beach! One glance at Daytona Beach's wide, hard-packed sandy shores and you won't be surprised that the area's beach driving history dates back to 1902. Today, there are only a few areas around the United States that even permit beach driving. And you only have two options for beach driving in Florida – Daytona Beach and New Smyrna Beach.
You can find Daytona Beach car access points on A1A (Florida's scenic highway that runs along the Atlantic coast). Take note that while beach driving you'll need to stay within the designated driving areas, stay below 10 mph, and you should always have your headlights on and windows down while driving on the beach.
There's a nominal fee for each car, but you'll have access for an entire day of beach driving and parking. This unique opportunity is well worth the small cost!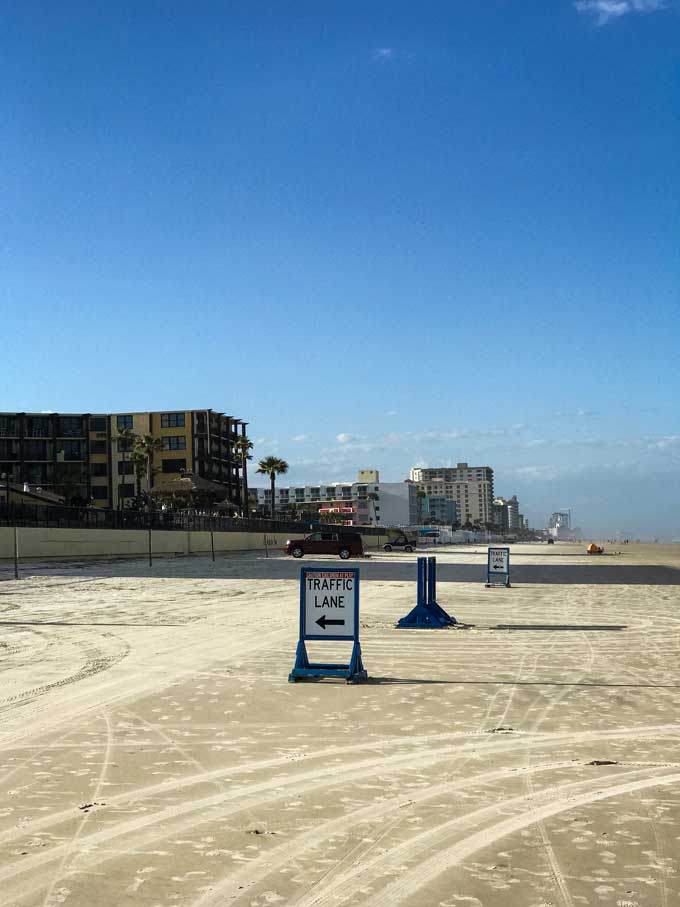 RELATED: How to Pack for a Beach Vacation in Just a Carry-On (Packing List Included!)
Daytona Beach Boardwalk
Enjoy a leisurely stroll along the Daytona Beach Boardwalk as you take in the street performers, Ocean Walk Shoppes, gift shops, snack bars, restaurants, and – a family favorite – the classic arcade. Don't miss the Skee Ball!
You can usually find events happening over at the Daytona Beach Bandshell. Especially in the warmer months (check out my note about their free concerts a little further down in this post).
This is a great place to start your day – especially if you're in the mood to visit a water park. You'll be within walking distance to the Daytona Lagoon!
Daytona International Speedway & the DAYTONA 500
This is the place to be if you live and breathe cars and racing. The Daytona International Speedway is one of the most famous international racetracks. And it's also home to the very popular annual DAYTONA 500 race. Since first opening in 1959, the Speedway has since undergone several facelifts. Today, this motorsports complex offers the world's most diverse racing schedule.
If you skip town for the DAYTONA 500 but still have a serious need for speed, then you'll love their NASCAR racing experience. With a variety of solo driving options that include a driver's meeting with the Crew Chief, as well as training and instruction in driving a NASCAR race car, there are plenty of ways to get your adrenaline fix.
And if you'd rather let someone else take the wheel, you can ride shotgun with one of the Speedway's professional instructors!
Daytona Lagoon
Whether you choose to play laser tag, test your skills at the MEGA arcade, play a round of mini-golf, climb the rock wall, race some go-karts, traverse the sky maze, or kick back at the water park, Daytona Lagoon is easily a full day activity. There's plenty to do here!
This is a particularly great place to hang out if your family wants an alternative to the sunshine and waves on Daytona Beach. The Daytona Lagoon water park not only offers plenty of high-speed slides, but also a lazy river, wave pool, and wading pool. There are options for both the thrill-seekers and those that just want to kick back and relax.
Congo River Golf
You need to check out Congo River Golf if you're traveling with mini-golf lovers. This neat course gets rave reviews from all of its visitors and it's easy to see why! Located just a short drive from the Daytona Beach pier, this award-winning 18-hole course offers way more than your classic mini-golf experience.
Not only will you play a fun explorer-themed course, but you'll also be working on solving a scavenger hunt! Make sure to end your visit by feeding the live aligators some snacks.
Museums & Historic Sites in Daytona Beach
While museums and historical sites likely aren't the first things to come to mind when you think about Daytona Beach, here are a couple of noteworthy spots to explore during your coastal vacation.
Marine Science Center
Wildlife lovers shouldn't miss the Marine Science Center. Located a short drive from Daytona Beach, this is another great option to add to your Ponce Inlet day trip itinerary.
This center offers visitors a unique look into the processes of both sea turtle and seabird rehabilitation. The primary goal of this center is to help heal sick and injured wildlife – including sea turtles, hatchlings, and over 190 species of seabirds – so that they can eventually return to their natural habitats.
In addition to viewing areas for the turtle hospital pools, visitors also have access to the aquatic touch pool. It's here that you can take a closer look at local water-dwelling creatures, including several species of fish, horseshoe and hermit crabs, anemones, and even sea urchins.
Museum of Arts and Science
This is a must-see for culture lovers! The Museum of Arts and Science is the largest art, science, and history museum in all of Central Florida.
The MOAS permanent exhibits include a wide range of collections, including African, American, Chinese, and Cuban arts. You'll also find one of the largest collections of Coca-Cola memorabilia in the entire world! And if you're traveling with young children, you'll need to check out the Charles and Linda Williams Children's Museum. It's perfectly suited for the exploratory learning style of young (and young at heart!) museum visitors.
While MOAS offers periodic guided tours, they also have a small handful of self-guided one-hour tour itineraries to help you make the most of your visit.
Ponce Inlet Lighthouse
The Ponce Inlet Lighthouse tower and museum are located just a short drive from Daytona Beach. Climbing this lighthouse is the perfect activity to add to your Ponce Inlet day trip itinerary. Measuring at 175 feet tall, the Ponce Inlet Lighthouse is the tallest in Florida. From the top, you'll be able to enjoy incredible views of Daytona Beach, Ponce Inlet, and the surrounding inland waterways.
Steeped in over 100 years of history, this lighthouse tower was built in 1887. It remained in operation until the early 1950s when the lighthouse was completely automated. The lighthouse fell into disrepair after the Coast Guard abandoned the lighthouse in the early 1970s. Thankfully, it was quickly recovered and restored by the Ponce de Leon Inlet Lighthouse Preservation Association. Today, the lighthouse is designated as a National Historic Landmark and is now used as an operational private navigation aid.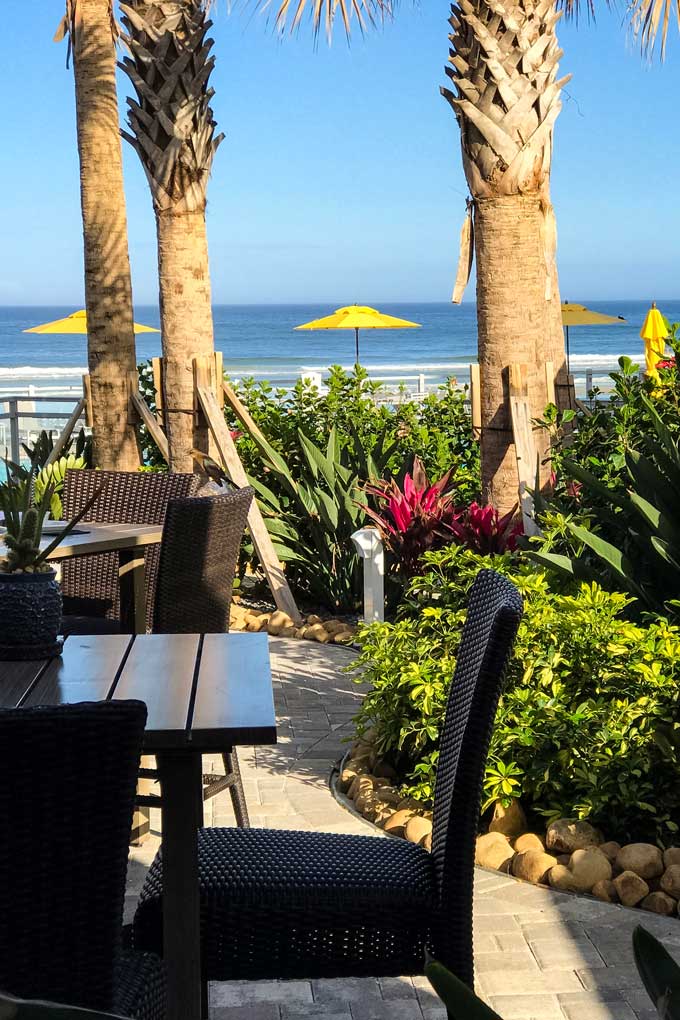 Waterfront Restaurants in Daytona Beach
You've come to the right place if you're in the mood for delicious seafood and stunning views of the ocean. Here are a few Daytona Beach restaurants with plenty of seafood and relaxed beachside charm.
Joe's Crab Shack
This casual eatery is situated right on the pier – the view can't be topped from the second floor! And there's plenty of seating and dining options to choose from. Indoors or outdoors, upstairs or downstairs, the choice is yours!
Give one of the Shack Favorites a whirl for your dinner. With choices like blackened shrimp, mahi-mahi, or chicken tacos, Joe's classic steampot, the crab cake dinner, or the shrimp sampler you really can't go wrong.
And if you happen to be around for the Joe's Crab Shack weekday happy hours, you'll find fried pickles, popcorn shrimp, voodoo chicken, and even crab-stuffed mushrooms. This is a great budget-friendly option. Each dish is under $6!
Caribbean Jack's
Caribbean Jack's offers an indoor and outdoor dining experience that's fun for the whole family. With daily live entertainment and a wide selection of yummy cocktails, appetizers, and entrees, this is the perfect way to wrap up a fun-filled day at the beach!
This restaurant is named after an experienced mariner and rum "runner," John "Caribbean Jack" Gilbert. After living the rum-running adventure, Jack eventually settled down and opened a restaurant and bar in Daytona Beach. Since then, Caribbean Jack's has committed to honoring Jack's memory with great food, hearty rum drinks, and a magnificent view.
With signature menu items like the piña colada shrimp, Caribbean chicken salad, crabby patty, and Jack's Caribbean tacos, you're sure to find flavor-filled dishes that appeal to your hungry travel companions. And if you're in the mood for seafood, you'll also find yellowfin tuna, grouper, snapper, mahi-mahi, salmon, shrimp, and scallops on the menu.
Of course, what sort of homage to a rum runner would this be without offering an award-winning rum cocktail? Make sure to try the Pirate's Booty Rum Punch. It's made with local handcrafted key lime rum!
Ocean Deck
What first began as a classic hot dog stand has since become a primary hub of the Daytona Beach nightlife and restaurant scene. Over 60 years after its founding, Ocean Deck is now known for its bevy of beach activities, regular music festivals and daily live entertainment, volleyball tournaments, and more.
If you're in the mood for some air conditioning, try the Upper Deck. You'll find a dining room with a fantastic view of Daytona Beach and the Atlantic Ocean. Or, if you're looking for a vibe that's a little more casual, give the Lower Deck a whirl. You'll enjoy open-air dining with easy beach access.
Ocean Deck is particularly well-known for their seafood. Give the Shipwreck a spin if you're hungry. It's a delicious steamed platter of large Gulf Shrimp, Alaskan Snow Crab legs, Oysters and Clams! You'll also find menu staples like mahi-mahi, lobster tail, grouper, crab cakes, Atlantic salmon, tuna steak, and Alaskan trawler.
Fun Free Things To Do In Daytona Beach
While Daytona Beach has a seemingly endless supply of amusement parks, museums, and unique racing experiences, there are also plenty of fun free things to do in Daytona Beach. Here are a few budget-friendly ideas for you to keep in mind when planning your beach vacation.
Soak Up The Daytona Beach Sunshine
I mean, this is the most obvious free activity to do while you're in Daytona Beach. Pack your beach bag for the day and hit the beach! Locals and visitors alike have unlimited free access to the full 23 miles of beautiful white-sand beaches. You should definitely take advantage of this beautiful beach!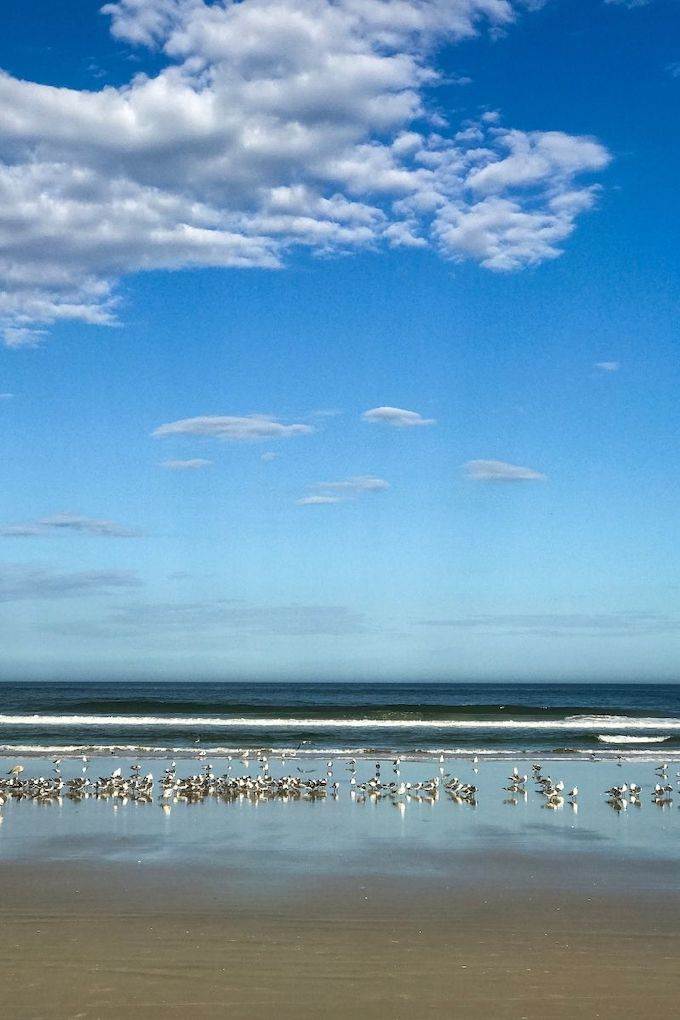 Daytona Beach is a hard-packed beach, making it perfect for running or a relaxed bike ride. And the shoreline is quite wide at low tide, so there's plenty of room for all of the beachgoers. You'll also find more than 10 beachfront parks along the waterfront. There are plenty of picnic areas, public restrooms, splash parks, playgrounds and local fishing holes to explore. With all of these amenities, you could easily spend an entire day at the beach!
One thing to note about the summer months: From May 1 through to October 31, Daytona Beach becomes a popular nesting location for local sea turtles. You'll want to check out the sea turtle season rules to help keep these beautiful sea creatures safe.
Summer Concerts in the Boardwalk Bandshell
Visiting Daytona Beach during the summer months? Then you'll need to check out the free boardwalk bandshell concerts held every Friday and Saturday night starting at 7:15 p.m. In town on a holiday? There are extra concerts on Memorial Day Weekend, Independence Day, and Labor Day Weekend.
Originally built in 1937, you can find this historic coquina-constructed amphitheater at the north end of the boardwalk. Whether you love Dixieland jazz, big swing bands, mellow folk tunes, or classic rhythm and blues, you're likely to find something that suits your musical preferences in this beautiful oceanfront amphitheater.
And if these free concerts weren't enough of a draw, you can also catch a free fireworks display after every Saturday night concert, as well as on Independence Day.
Michael Crotty Bicentennial Park
Looking to switch up your scenery and score some beach time beyond Daytona Beach? Try checking out this 37-acre park located just north of Ormond Beach. Michael Crotty Bicentennial Park is completely loaded with free, family-friendly amenities, including a baseball field, basketball court, nature walking trail, launch point for canoes and kayaks, access to fishing areas, and more.
This is a particularly great place to spend a little time hiking the local nature trails. Keep your eyes open for gopher tortoises and raccoons. And if you're traveling with a furry friend, make sure to check out the large 4-acre dog park.
Visitors can access this park free of charge on a daily basis between sunrise and sunset.
North Peninsula State Recreation Area
Here's another nearby alternative to Daytona Beach. This nearby beach park spans a whopping total of 534 acres. Whether you're itching to give surf fishing a go or simply want to kick back in the warm Florida sunshine, there's plenty of room to roam!
North Peninsula State Recreation Area not only has 2.5 miles of beach along the Atlantic Ocean but also offers access to the 2-mile Coastal Strand Trail and Ormond Scenic Loop (this is a bike rider's paradise!). The Coastal Strand Trail is a particularly great hike for bird lovers. Stay on the lookout for royal terns, great blue herons, yellow-crowned night herons, osprey, warblers, sapsuckers, and woodpeckers!
Similarly to Daytona Beach, you'll find loggerhead, green, and sea turtles nesting here between May and September. Be sure to give them plenty of space to avoid disrupting any nests.
You can access this park from 8 a.m. until sundown, year-round.
So, there you have it. These 15 awesome things to do in Daytona Beach will keep your next beach getaway exciting!
Whether you're driving along Daytona Beach, splashing around at Daytona Lagoon, or enjoying some local seafood at Ocean Deck, there are plenty of ways to enjoy the warm Florida sunshine and all that Daytona Beach has to offer its guests.
More Florida and Southeast Beach Guides
Ready to start planning your Daytona Beach vacation? Start searching for the best hotels here.