Discover the breathtaking beauty of America's most spectacular seaside getaways in this captivating journey along the coast. From serene shores to bustling boardwalks, let's explore some of the best beaches in the United States.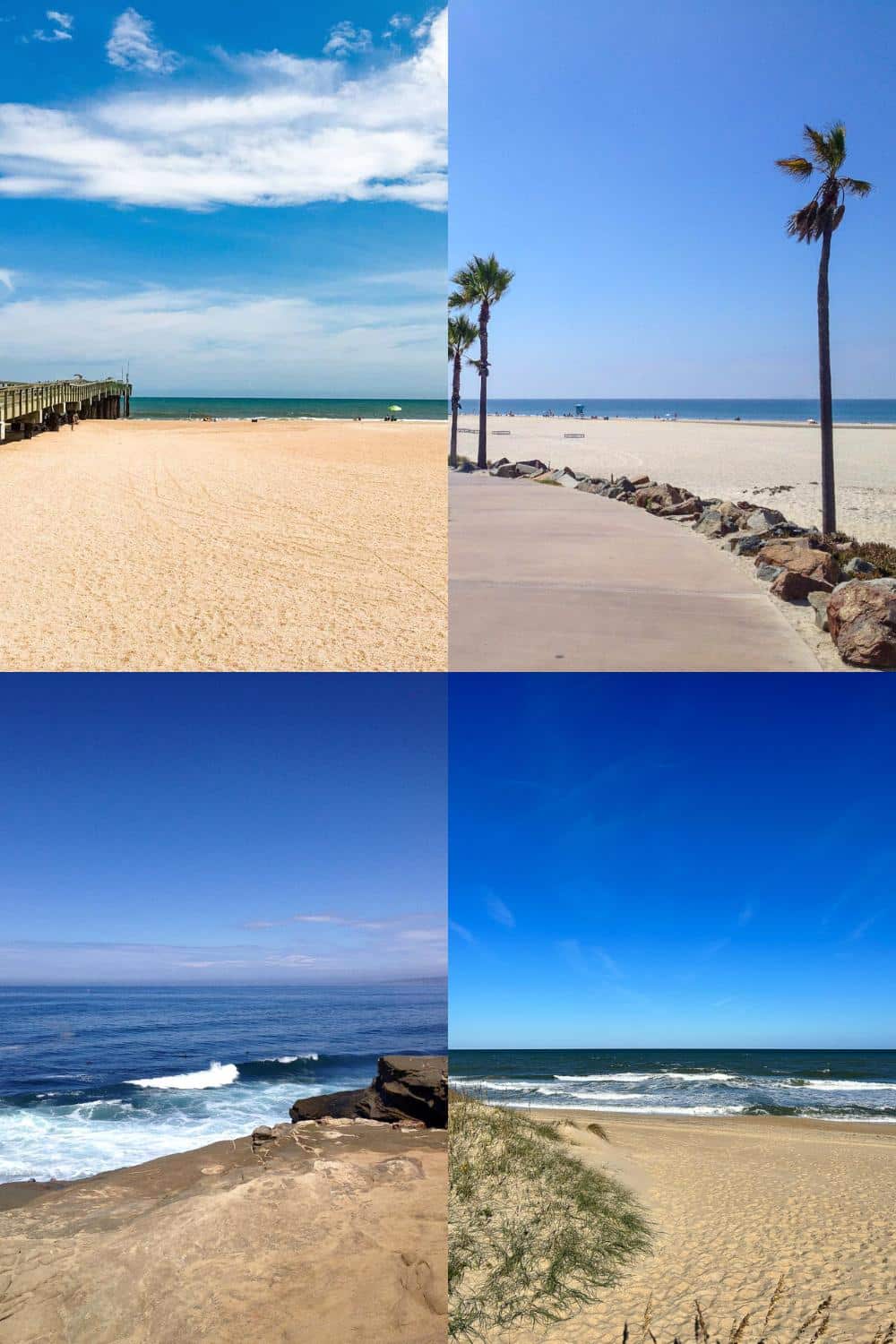 When it comes to white sands and swaying palm trees, it's easy to think of exotic beach vacations. But the US has 95,471 miles of pristine coastline from the Atlantic to the Pacific Ocean. From the rugged shores of Acadia National Park to the soft waves of the Gulf shores and out to the West Coast, these are our best beaches in the United States, worthy of planning a road trip this year.
Top 10 Unforgettable Beach Getaways in the USA
Nantucket, Massachusetts: A New England Island Retreat
Starting in the North East, Nantucket, Massachusetts, a quintessential Cape Cod island retreat not far from Mystic, Connecticut, effortlessly weaves charm and history into a picturesque seaside destination.
Known for its cobblestone streets, historic gray-shingled homes, and beautifully preserved 18th-century architecture, Nantucket transports visitors to a bygone era. The island's inviting beaches, such as Jetties Beach and Surfside Beach, offer a serene and relaxing atmosphere, where the Atlantic waves lap gently at the shore and sunrises that are nothing short of spectacular.
During your stay on Nantucket, immerse yourself in the island's rich history and maritime heritage by touring its iconic lighthouses, such as Brant Point Light and Sankaty Head Light. Delve deeper into the island's past at the Whaling Museum or the Nantucket Shipwreck & Lifesaving Museum, open May 27 to October 10.
Better yet, hop on a working schooner for a true ocean adventure. For a leisurely day of exploration, wander through the island's quaint villages, such as Siasconset, and discover charming shops, galleries, and eateries. With its timeless appeal and array of activities, Nantucket is the perfect New England island escape.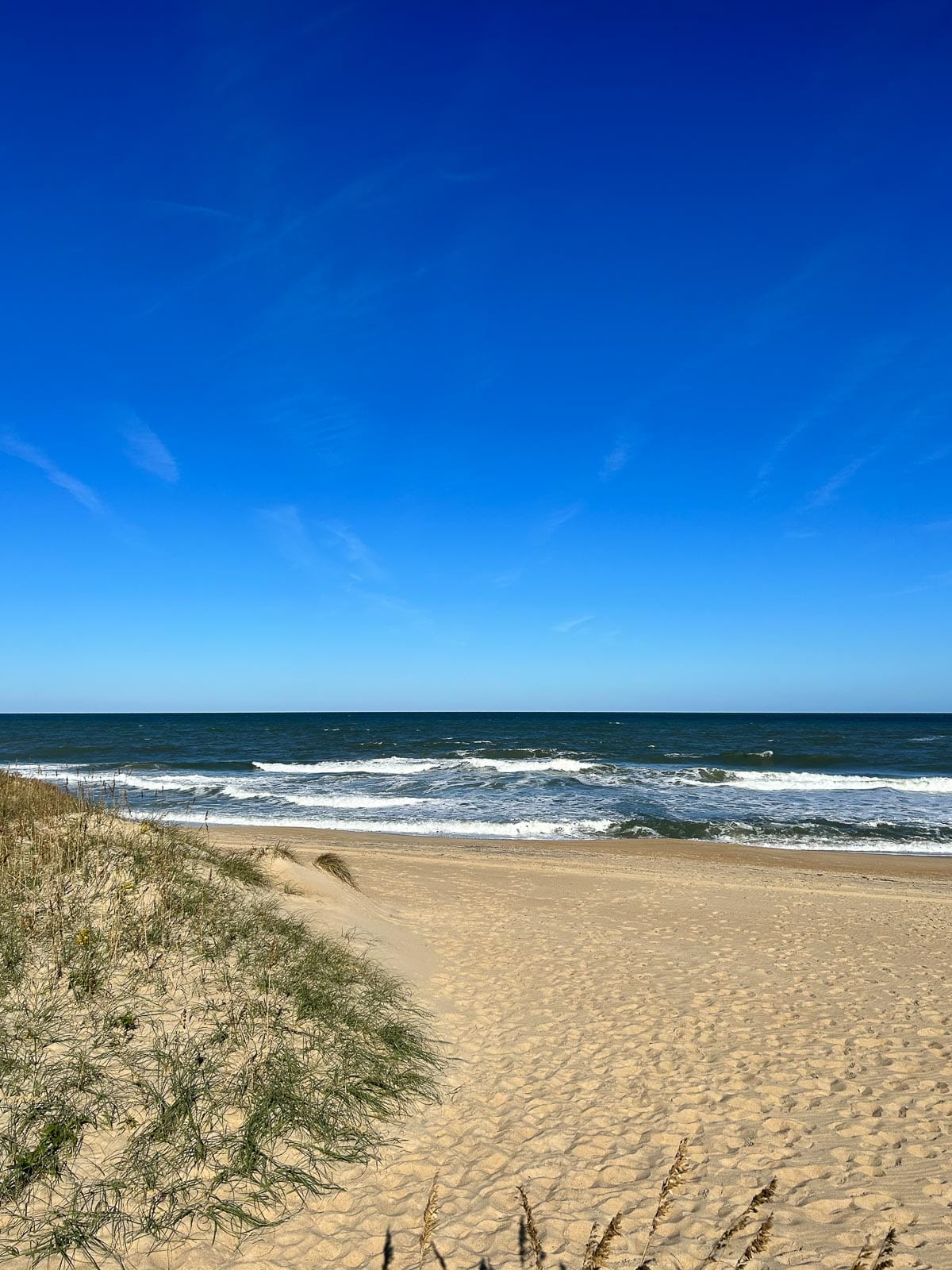 Outer Banks, North Carolina: A Wild, Scenic Wonderland
North Carolina's Outer Banks is a wild and scenic wonderland that offers a unique coastal experience characterized by its narrow barrier islands stretching over 200 miles along the Atlantic coast. This natural playground is beloved for its pristine beaches, dramatic sand dunes, and diverse wildlife, providing a serene and unforgettable escape from the everyday hustle.
Visitors to the Outer Banks will be enchanted by the scenic beauty, where wild horses roam free and historic lighthouses stand sentinel along the shoreline. With its captivating landscapes and diverse range of activities, the OBX is a truly special destination that captures the essence of North Carolina's wild, scenic coast with stunning beaches.
Myrtle Beach, South Carolina: Fun for the Whole Family
Myrtle Beach is a family-friendly South Carolina beach destination that boasts over 60 miles of sandy coastline, known as the Grand Strand. The area is home to beautiful beaches, from the bustling central Myrtle Beach to the more serene North Myrtle Beach and Surfside Beach. Myrtle Beach offers endless opportunities for family fun, relaxation, and seaside recreation with its sunny weather, warm Atlantic waters, and plenty of beach access points.
Aside from its inviting shoreline, Myrtle Beach is packed with exciting attractions that cater to visitors of all ages. Thrill-seekers can spend a day at the Family Kingdom Amusement Park, open April 1 through the season, while marine enthusiasts can explore the wonders of Ripley's Aquarium. And, for a stroll, shopping, and dining experience, the Myrtle Beach Boardwalk is a must visit, offering oceanfront views, eateries, and entertainment venues to delight the entire family.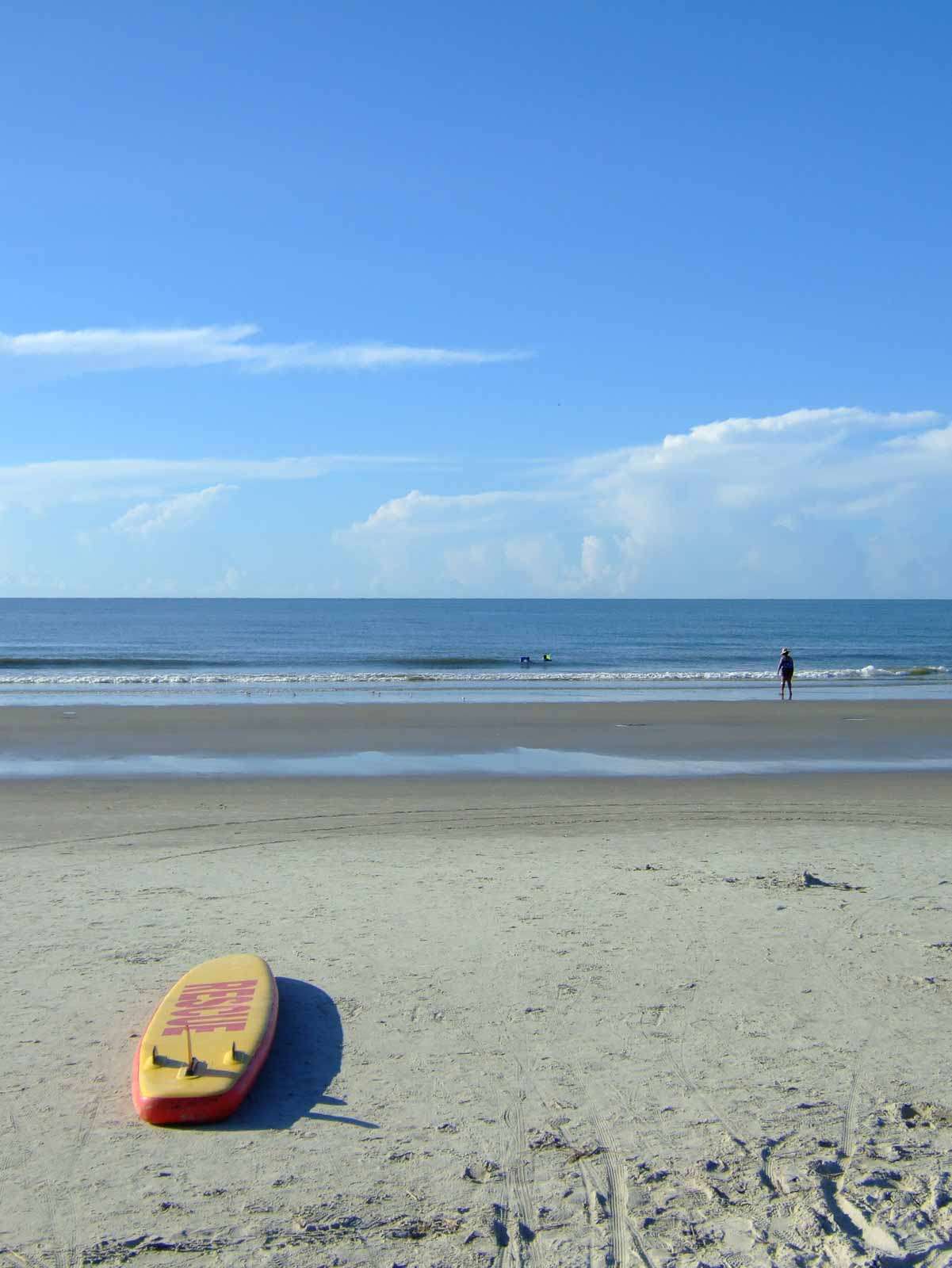 Hilton Head Island, South Carolina: Luxury and Leisure
Further south is Hilton Head Island, South Carolina, which seamlessly combines luxury and leisure, offering visitors an upscale beach retreat on the picturesque Atlantic coastline. Known for its top-ranked Coligny Beach, world-class golf courses, and luxury accommodations, Hilton Head Island is a haven for those seeking a refined yet relaxed seaside getaway just before the Georgia state line.
In addition to its beautiful beaches, Hilton Head Island offers many activities for the discerning traveler. Set off on a wildlife-watching excursion to encounter the island's diverse flora and fauna, including dolphins, alligators, and various bird species. With its blend of sophistication and natural beauty, Hilton Head Island is the epitome of a luxurious coastal escape.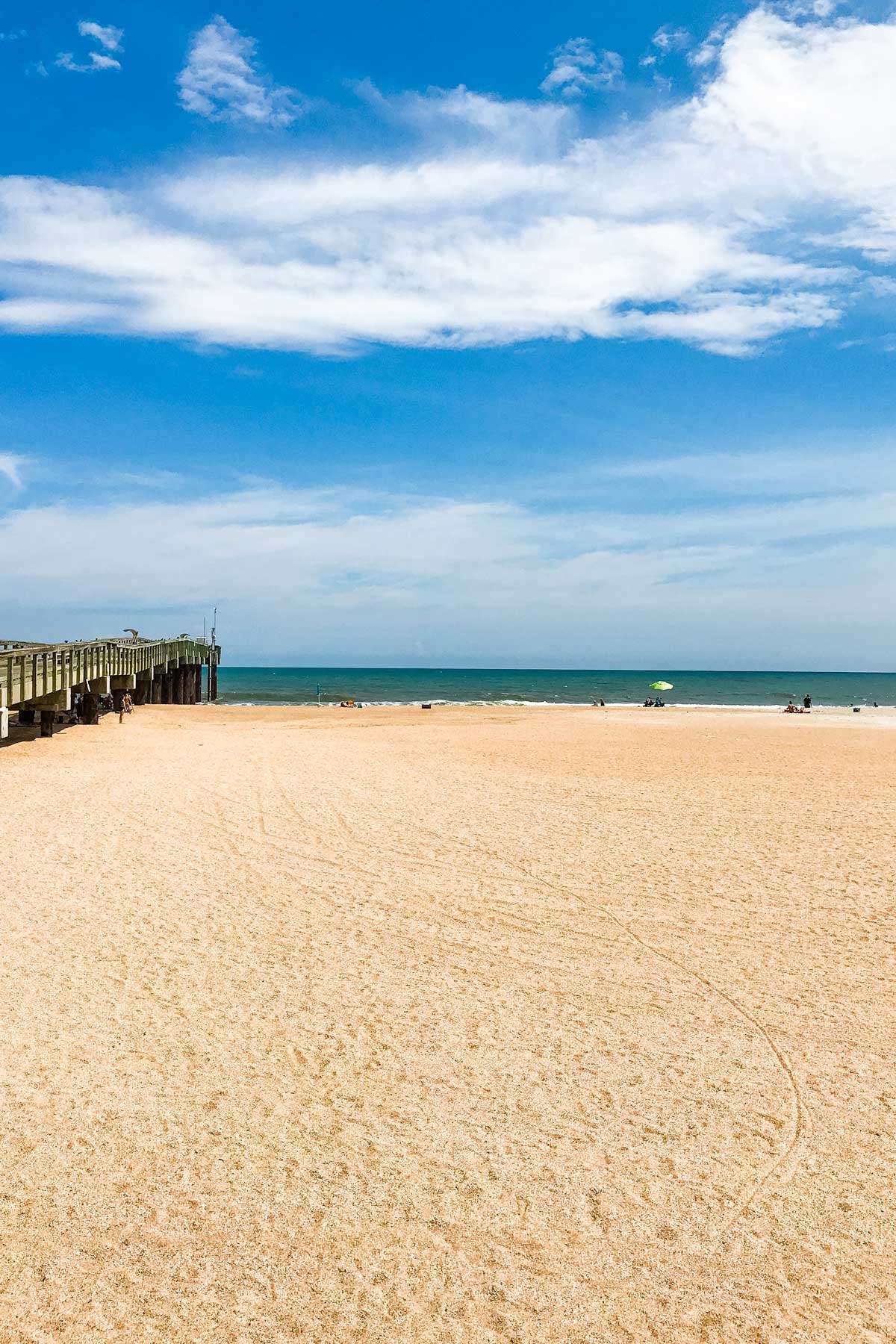 Augustine, Florida: A Historic Coastal Getaway
Along Florida's Atlantic Coast sits the nation's oldest city, St Augustine, offering visitors a unique blend of history and picturesque coastal beauty. Steeped in rich Spanish colonial heritage, St. Augustine enchants travelers with its charming cobblestone streets, historic forts, and museums. In addition, the city's beautiful beaches, such as St. Augustine Beach and Vilano Beach, provide an inviting backdrop for relaxation and sunbathing along the Atlantic coastline.
Explore the stunning coastline by kayak or paddleboard, try your hand at surfing, or take a scenic boat tour to spot dolphins and other marine life. After a day at the beach:
Wander through the city's historic district.
Visit the Castillo de San Marcos National Monument.
Enjoy a meal at one of the many outstanding restaurants.
It's a captivating destination that combines the allure of a beach getaway with the charm of a historic coastal city. Explore it with a perfect 3-day St Augustine itinerary already mapped out.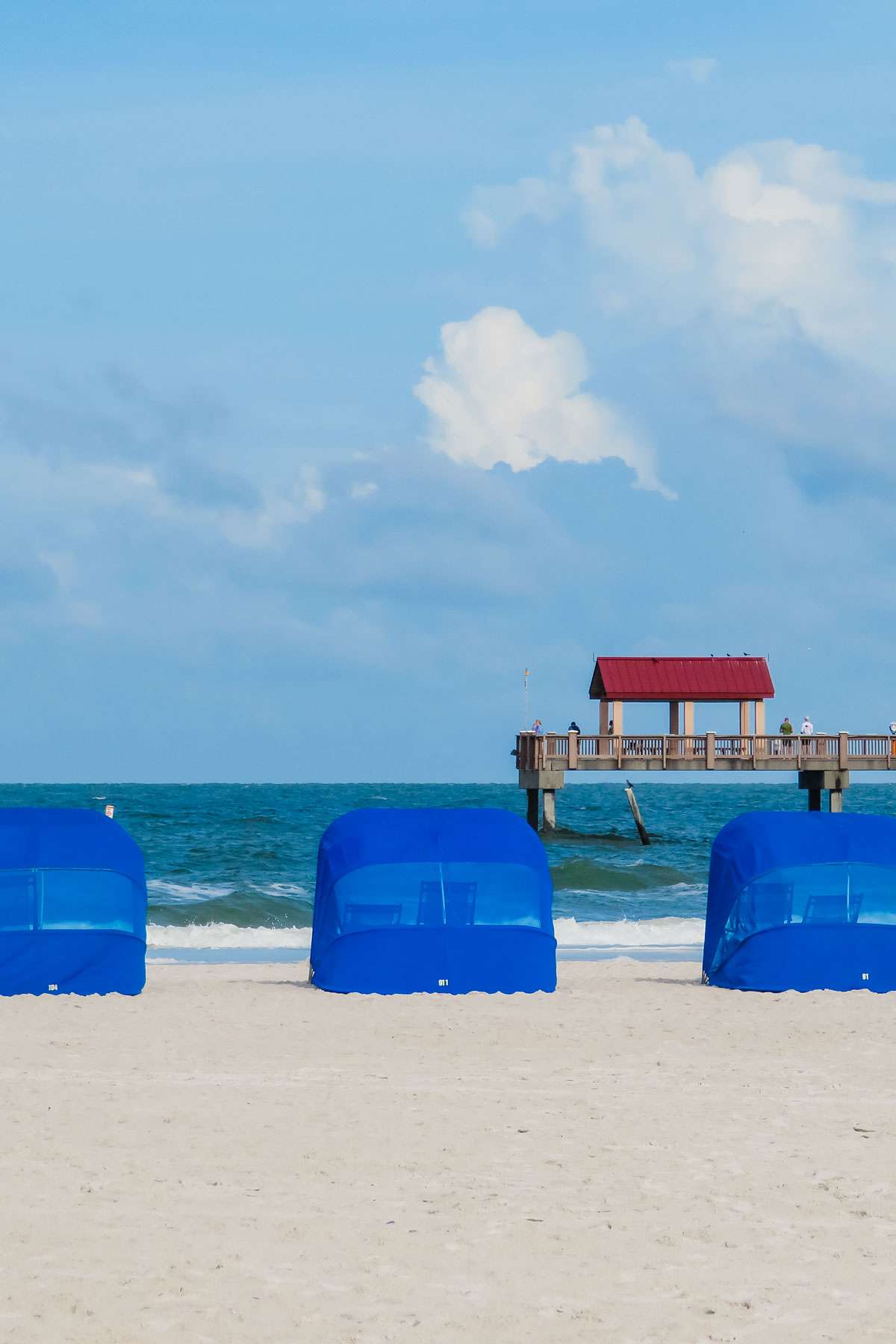 Clearwater Beach, Florida: A Gulf Coast Gem
Clearwater Beach, Florida, nestled along the Gulf Coast, is an alluring gem that entices visitors with its pristine white sands and inviting warm waters. This popular destination offers a quintessential beach experience, blending relaxing beaches and entertainment in an idyllic setting.
The soft sands and gentle waves create the perfect conditions for swimming, sunbathing, and building sandcastles, while the area's thriving marine life offers unforgettable dolphin-watching excursions. For a more laid-back beach, visit nearby Sand Key Park just across the bridge.
Besides its natural beauty, Clearwater Beach boasts several nearby attractions catering to a wide range of interests. At the heart of the beach, Pier 60 comes alive each evening with a vibrant sunset festival. For those passionate about marine life conservation, a visit to the Clearwater Marine Aquarium is a must, where visitors can learn about the rescue and rehabilitation of injured sea creatures, including the famous dolphin Winter, star of the movie "Dolphin Tale." It's one of the best beaches to visit if you're planning a trip to Tampa or St. Petersberg.
Coronado Beach, California: San Diego's Crown Jewel
Coronado Beach, California, often called San Diego's crown jewel, is a stunning expanse of golden sand, stretching along the Pacific coast with gentle waves lapping at its shores. This picturesque beach is known for its family-friendly atmosphere, excellent swimming conditions, and the iconic red roof of Hotel del Coronado.
Try your hand at surfing, or rent a bike to explore the island's scenic pathways and oceanfront eateries. There's no shortage of romantic things to do in San Diego. After you've strolled along the best beaches in the U.S., meander through Coronado's quaint downtown area, a delightful blend of beachside relaxation and small-town charm.
Santa Monica Beach, California: An Iconic L.A. Getaway
Santa Monica Beach, California, an iconic L.A. getaway, effortlessly combines the relaxed beach vibes with the hustle and bustle of a thriving urban scene. Located just a short drive from downtown Los Angeles, Santa Monica offers an inviting stretch of golden sand, gently swaying palm trees, beach volleyball, and the endless blue of the Pacific Ocean. The laid-back atmosphere is perfect for soaking up the Southern California sun while the city's energetic buzz permeates all the way to the soft sand.
One of the most iconic landmarks of this California beach is the historic Santa Monica Pier, which boasts an amusement park, an aquarium, and a variety of eateries, all with a stunning ocean backdrop. For a taste of eclectic beach culture, a short walk or bike ride along the coastal path will take you to the vibrant Venice Beach, with its renowned boardwalk, skate park, and colorful street art.
There's no shortage of popular beaches in California along the Pacific Coast Highway to plan the perfect beach trip all the way up to wine country for a stop in Napa Valley.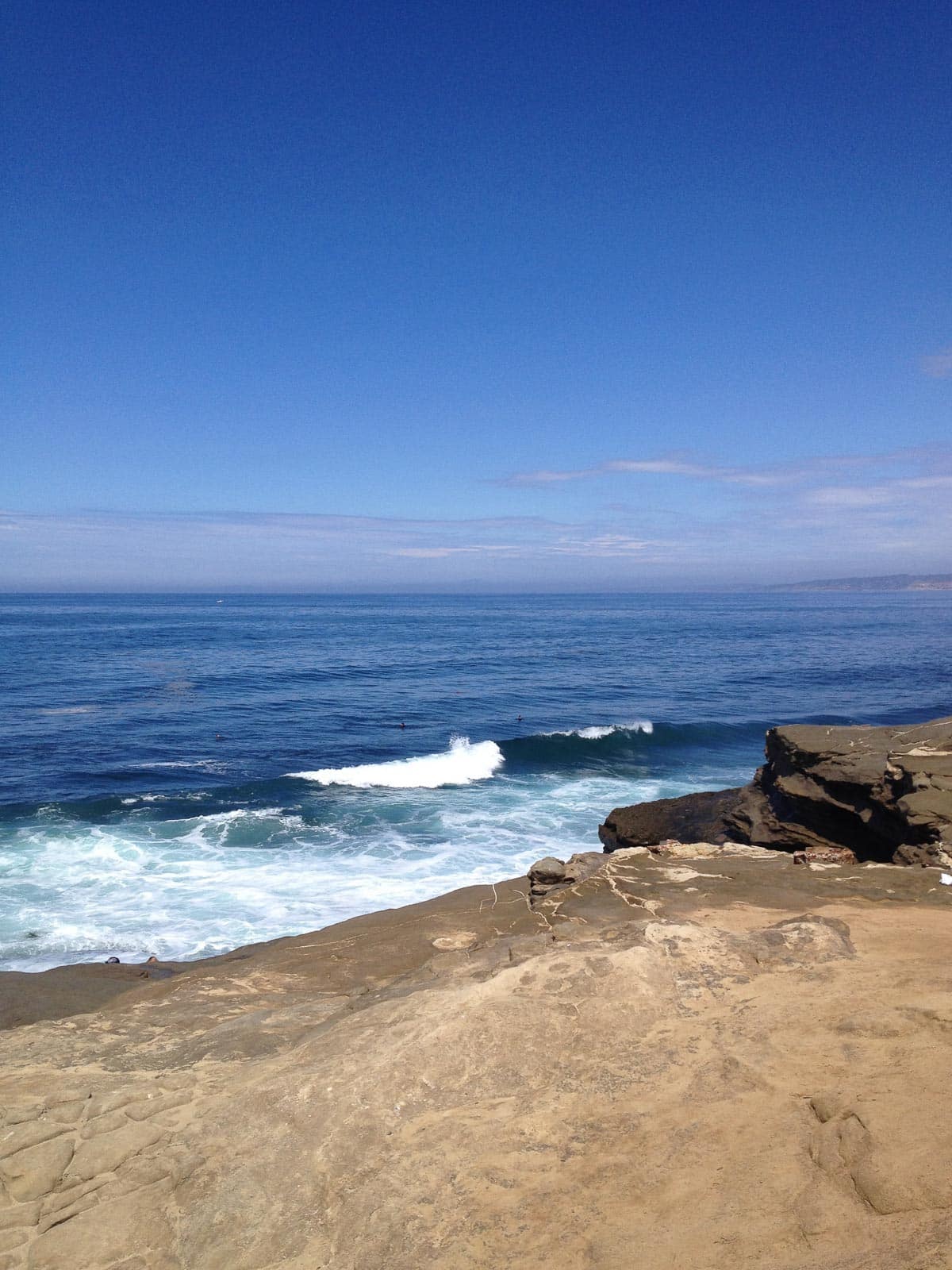 Cannon Beach, Oregon: A Pacific Northwest Treasure
Cannon Beach, Oregon, a true Pacific Northwest treasure, enchants visitors with its unique beauty and dramatic coastline. Known for its expansive sandy beach and towering rock formations, including the iconic 235-foot Haystack Rock, Cannon Beach offers a breathtaking and tranquil retreat. The rugged coastal scenery, combined with the lush greenery of the surrounding forests, creates a captivating contrast that sets this beach apart from its counterparts.
The area surrounding Cannon Beach boasts scenic hiking trails that meander through coastal forests and offer stunning viewpoints, epitomizing the Pacific Northwest, perfect for nature lovers and photographers alike. Of course, a visit to Cannon Beach wouldn't be complete without delving into the tide pools teeming with marine life at the base of Haystack Rock or venturing to the nearby Ecola State Park for dramatic views. Cannon Beach is an unforgettable Pacific Northwest escape with its spectacular beaches and myriad outdoor activities.
Oahu, Hawaii: A Tropical Paradise
Oahu, Hawaii, a true tropical paradise, is renowned for its pristine and picturesque beaches, which are undoubtedly some of the most beautiful in the world. The dazzling island shores, such as Kailua Beach and Waimea Bay, feature sandy shorelines and crystal-clear turquoise waters, creating an idyllic setting for relaxation and seaside exploration.
These stunning beaches offer more than just sunbathing and swimming; they also serve as gateways to various exciting ocean adventures. Snorkel in the vibrant coral reefs off the coast, or stroll along the shoreline, taking in the breathtaking views and gentle sea breezes. With their captivating beauty and wealth of seaside activities, Hawaii's beaches genuinely provide an unforgettable tropical escape without needing a passport.
Remember to always look at peak season when planning a beach trip to ensure restaurants and attractions are open. Avoid Spring Break and other busy holidays to truly enjoy the miles of stunning beach and the relaxing sound of the ocean waves.
With amazing sandy beaches from coast to coast, there's no shortage of travel inspiration. USA beaches, from white sand beaches to driftwood shores, coastlines filled with pebbles, and a million perfect places to park a beach chair and read while unwinding. Explore these picturesque beach destinations from coast to coast of the United States and make some memories along the way.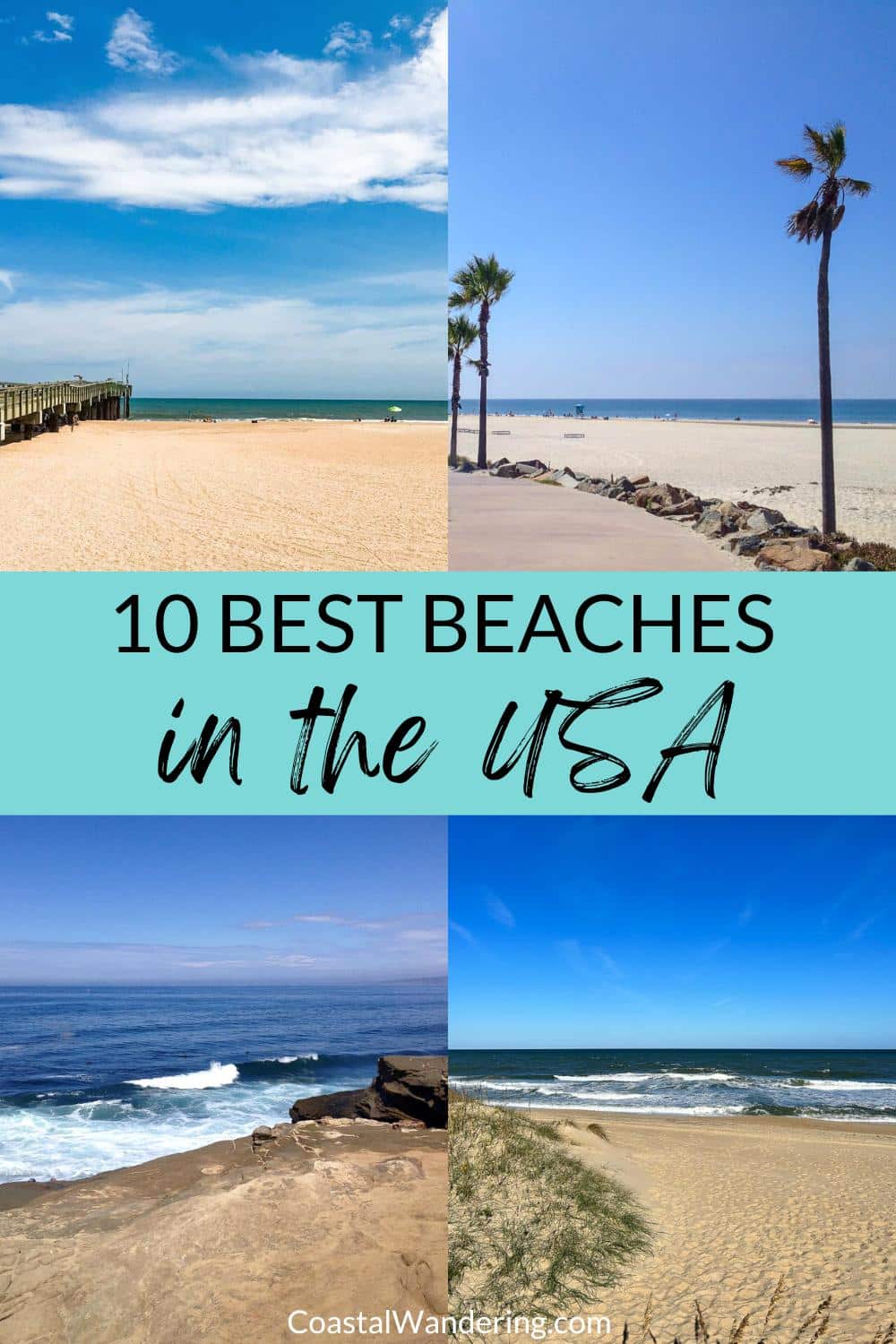 The article originally appeared on Food Drink LIfe.