If you're looking to create a seaside state of mind in your home, look no further. These elegant coastal decor ideas cover everything from color palettes to the top beachy accessories. There are also some easy DIY decor projects included! You'll be reminded of your favorite beach house, no matter where your home is located.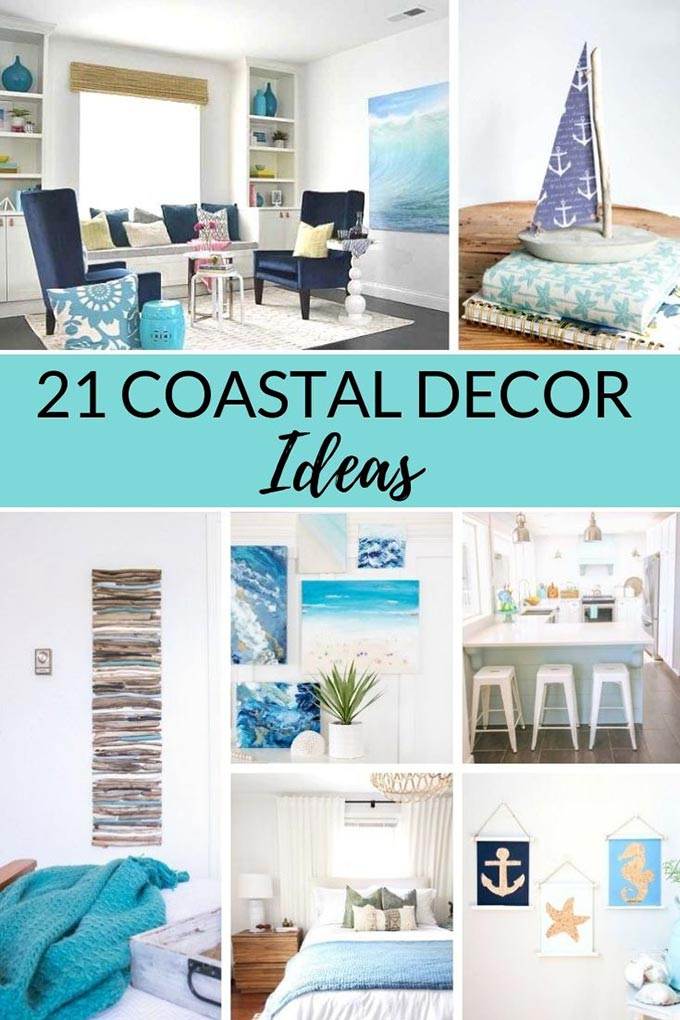 There's something about a beach house, isn't there? I find I relax the moment I step inside. So it's no surprise that beach lovers want to bring this style home with them. Recreating that tranquil atmosphere is the next best thing to actually visiting your favorite coastal destination!
Aside from channeling your favorite beach vacation destination, the great thing about decorating in a coastal style is the versatility that it offers. Of course, overtly beach-themed knick-knacks can look a little cliché. Too many sea horses, turtles or seashell crafts and you'll head into the more nautical spectrum of decorating. Evoking the best style of coastal living is much more subtle.
Elegant Coastal Decor Tips & Tricks
Whether your style is traditional, modern, or even a little boho, it's quite likely that you'll be able to work in a few of these coastal decorating ideas to suit your space.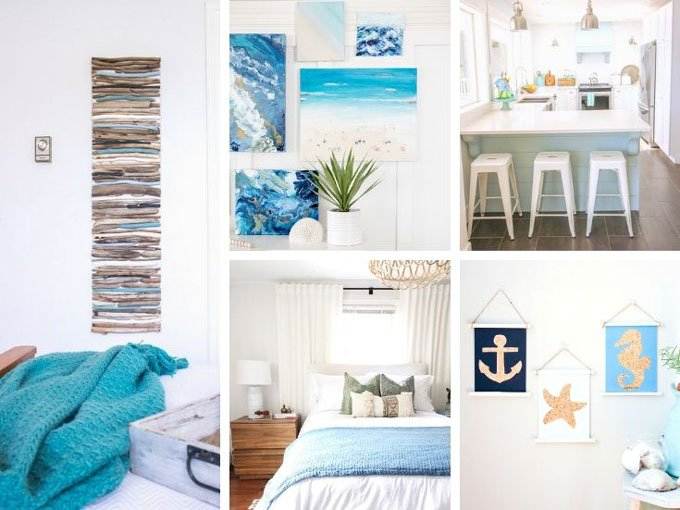 For example, your coastal decor will work really well with rustic farmhouse pieces. This allows you to mix in coastal pieces and accessories that you love without worrying that your new decor addition looks out of place.
The biggest trick for elegant coastal decorating is actually quite simple. Lean into subtlety, for a natural, fresh atmosphere that simply hints at the beach. Think about it. Your favorite beach house probably doesn't try to be beachy. It just is. The most elegant coastal decorating doesn't try too hard.
RELATED: Beach Themed Bedroom Ideas For Beautiful Coastal Style
Here are my top tips for paint colors, natural textures, coastal-inspired accessories, and more, to help you bring your favorite elegant beach house just a little closer to home.
Paint Colors for Coastal Decorating
As you might have already guessed, the best paint colors for coastal decorating are those that evoke the beach, ocean, and natural surroundings. Your best bet is to work in shades of blue, green, white, or other neutral shades.
The color saturation you land on will influence the overall atmosphere of your space. For example, if you're aiming for a fresh, calming vibe, try looking at lighter paint colors.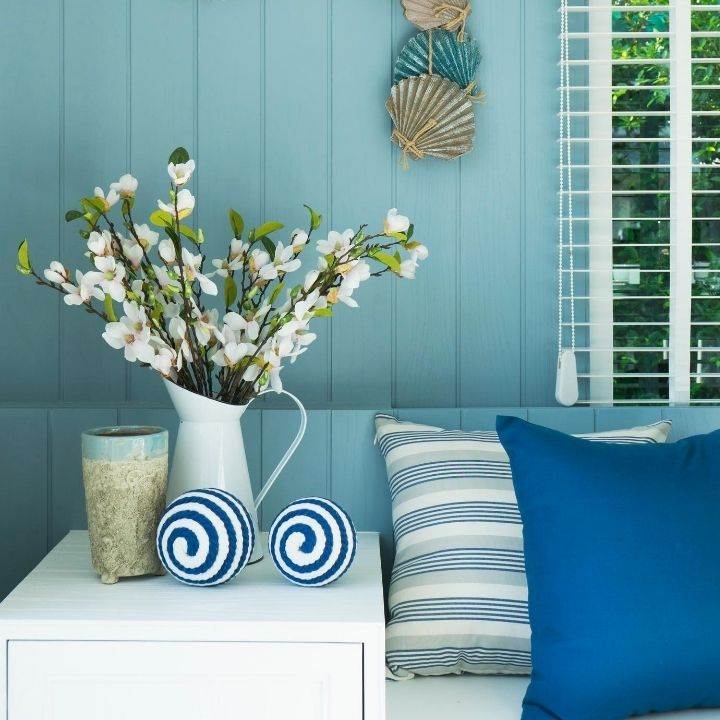 Aiming for an elegant coastal style with a modern twist? Try a deeper paint shade, like indigo. If you gravitate towards greens, you'll likely want to keep the saturation and intensity on the lighter side. Too dark and we're no longer at the beach!
Personally, I love the freshness and versatility of light neutral colors, like sand, sea salt, and pale sea glass. These neutrals effortlessly pair with other coastal elements, like natural textures, organic beach accessories, and maybe even a little ocean photography or artwork.
Looking for more coastal paint color inspiration? Here are a few ideas to consider:
Natural Textures To Mix In
While your paint colors might set the overall atmosphere of a space, the textures you use will give your space more character. The best textures to look at are woven, natural textures, like seagrass, rattan, sisal, grasscloth, and linen.
These sorts of textures are a great option for both larger furniture pieces like wicker chairs, grasscloth wallpaper on an accent wall, a jute area rug or some crisp white linen curtains. You could also try adding a light neutral-colored cotton or linen slipcover over your sofa or ottoman. Layering these textures together will help you create visual interest in an elegant and timeless way.
Of course, you can also try to add smaller pops of texture. Perhaps you could add in a wooden tray with rope handles, like this DIY coastal rope handle tray from h2obungalow.com. Or you could create a piece of driftwood art like this DIY coastal painted driftwood wall art from sustainmycrafthabit.com.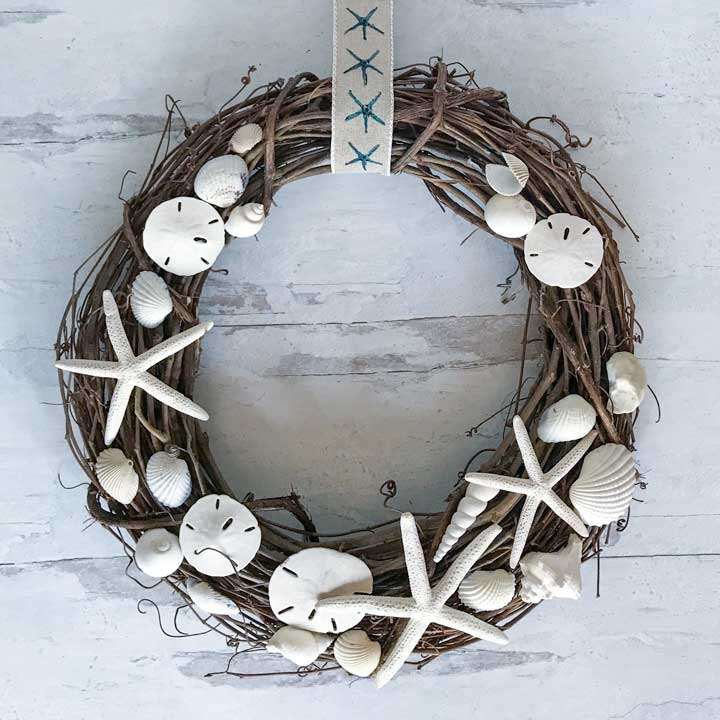 Here are a few more DIY coastal decor projects that will help you layer in natural coastal textures:
Bringing in Accessories
Just like your coastal-inspired textures, the secret with accessories is leaning into natural, organic elements with an occasional pop of color. We're talking about pieces like tropical plants, bamboo roman shades, and light or rustic wood accessories. While ceramics and throw pillows are great for adding a little coastal color.
I particularly love placing little clusters of plants around my home. Look for plants like a Kentia palm, a Fiddle-leaf fig or even a snake plant (or sansevieria). All of these work well indoors and are perfect for bringing a little interest into an empty corner. And if you're worried about your green thumb (or lack thereof)? Then go for the snake plant. They're incredibly hardy and require very little care.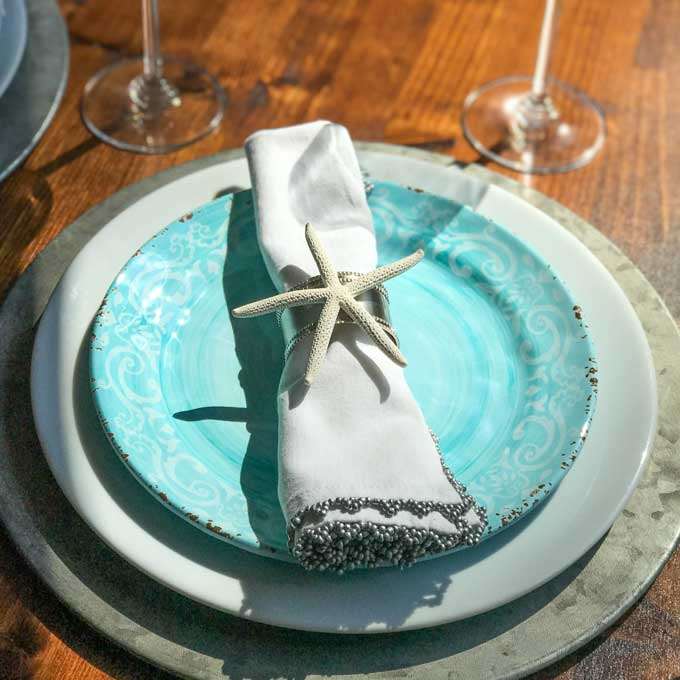 Essentially we're looking to bring the outdoors in. Of course, a light dose of seashells and your favorite beach souvenirs will also work too. But the trick in achieving a more effortlessly elegant coastal decor style is subtlety. You'll want to keep your nautical accessories to a minimum.
Here are a couple of DIY coastal accessories projects you may want to consider:
Beach Inspired Wall Art Ideas
While many of us are not blessed with a beautiful beachside view right outside our window, you can always incorporate coastal views in other ways. Coastal photography is also a great way to bring the beach into your home. Or you could always paint your very own coastal wall art!
To achieve a more elegant coastal look, you'll probably want to choose one statement piece to display in your room. Any more than that and you risk losing the subtle hints of coastal living.
If you've been hunting for the perfect beach-themed wall art with little luck, check out these DIY ideas:
More Coastal Style Inspiration
The key to achieving that effortlessly elegant coastal style is simplicity. By being subtle in the way you mix in coastal or beachy decor, you'll be well on your way to achieving the beach house style of your dreams.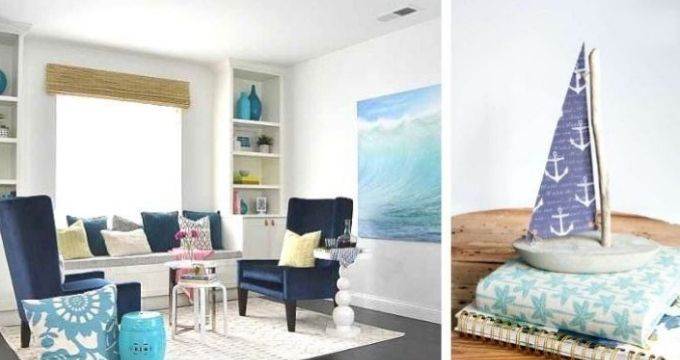 Looking for more coastal style inspiration? Check out these coastal living-inspired makeovers more ideas: