From the white, powdery sands of Amelia Island to the wide, flat stretches of Panama City Beach, Florida is home to miles of sunny, sandy shores. Here's a list of the top beaches in North Florida.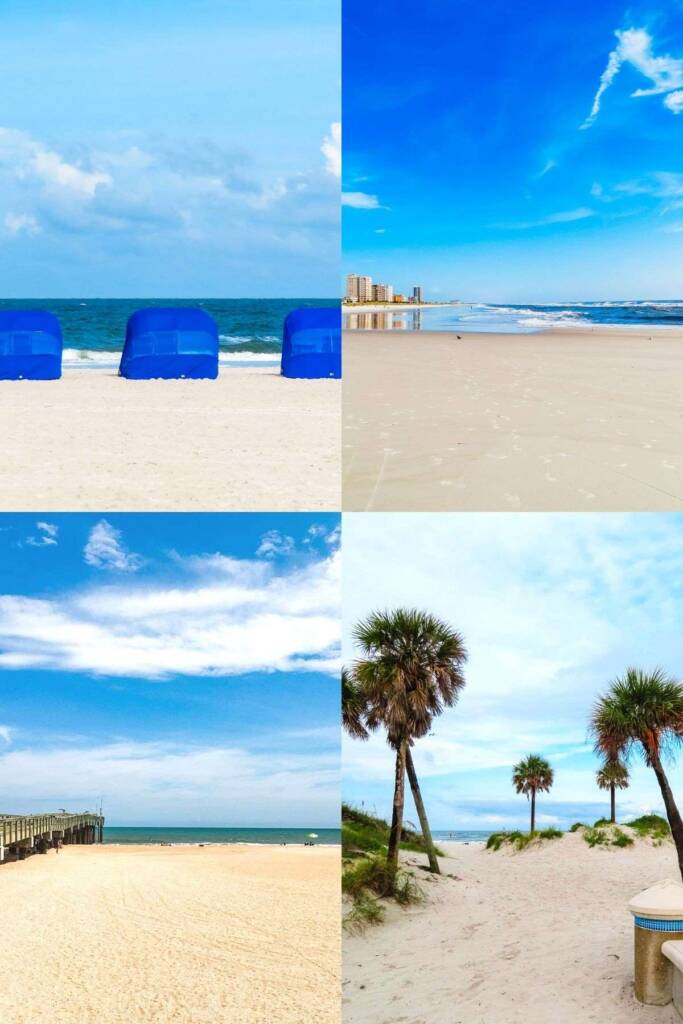 Florida has a reputation for gorgeous sandy beaches and year-round sunbathing weather. But there's even more to your seaside exploration than lounging; these North Florida beaches have plenty of adventures to offer, too. There are many Florida cities with beaches, and these are some of the best.
Jump to:
Northeast Florida Beaches Near Jacksonville
How far is the beach from Jacksonville, Florida? Just far enough that it feels like an adventure, but not so far that it will take an hour's drive. If you're venturing seaward for Jacksonville, FL beaches, aim for one of these destinations.
Fernandina Beach, Amelia Island
Located on the beautiful Island of Amelia off Florida's Atlantic coast, Fernandina Beach is a top destination. This north Florida beach town has many historic attractions and festivals to choose from.
The northernmost beach on Amelia Island is in Fort Clinch State Park. Distinguished by its remarkable sand dunes, plains, tidal marsh, and magnificent views from the historical fort, the park includes a beautiful Atlantic beach with plenty of parking and boardwalks for easy access to the beach.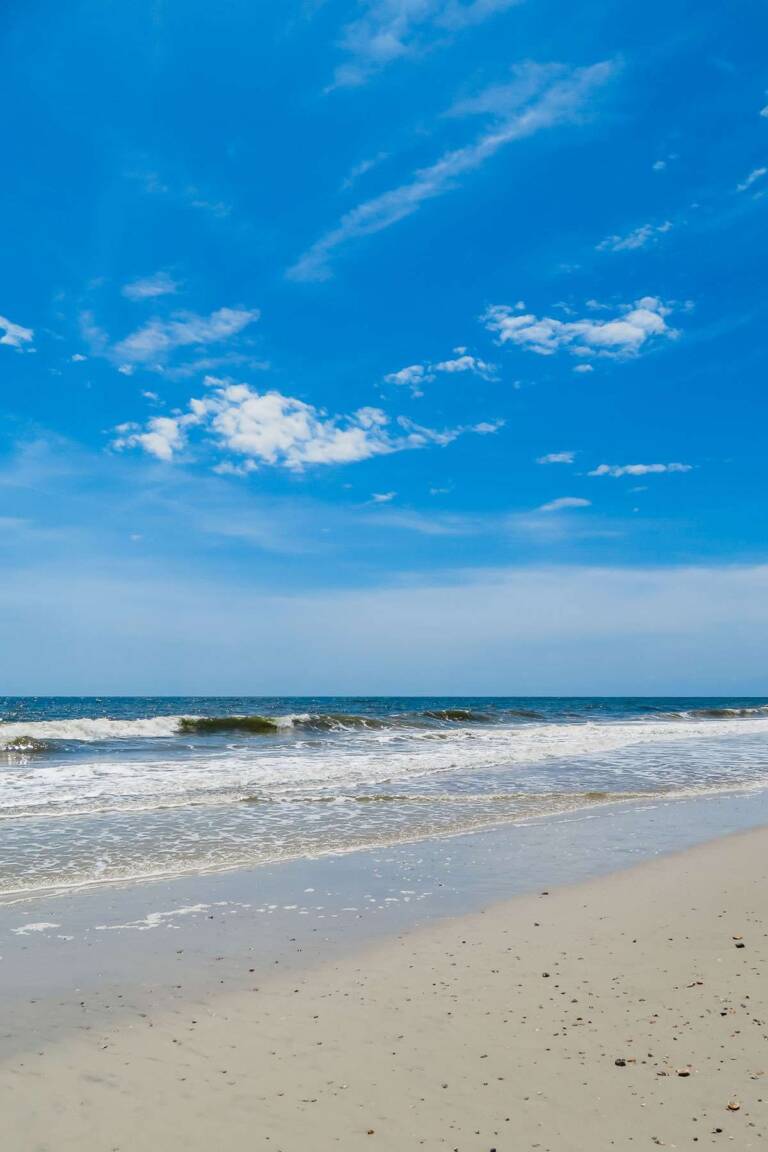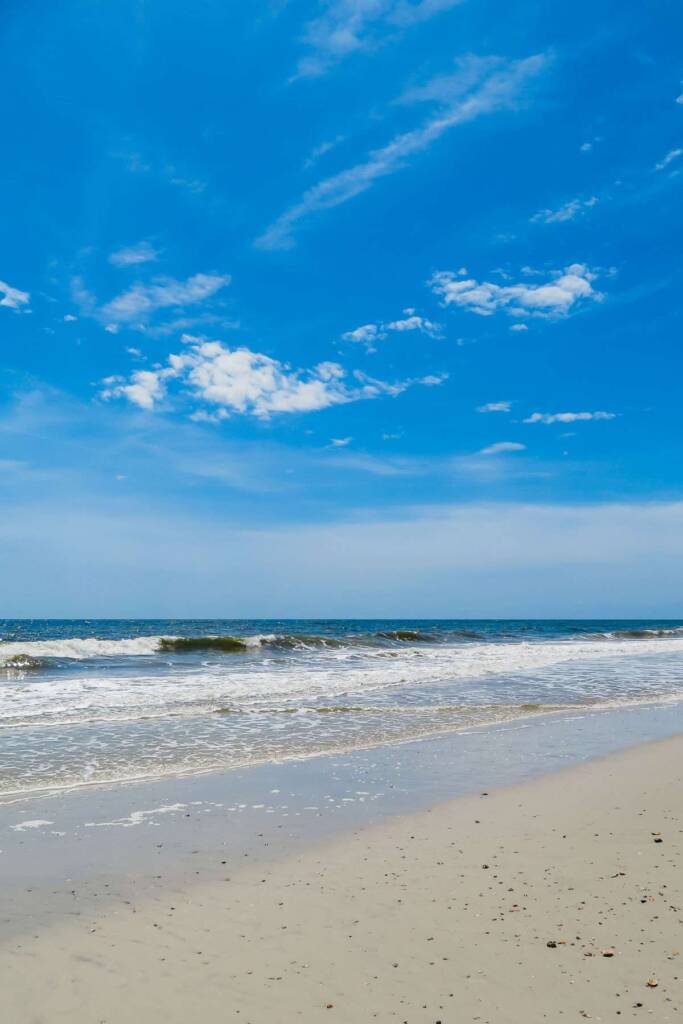 Main Beach, Amelia Island
Main Beach is an excellent escape for sunbathing, birdwatching, outdoor games, and even beachside crab racing. Its sand is soft yet compact, making it easier to take long strolls on the beach.
Considered one of the most popular beachfront parks on Amelia Island, Main Beach offers visitors access to volleyball courts, picnic shelters, and a skate park. Main Beach offers both pristine water and grassy areas ideal for picnicking.
Amelia Island State Park, on the south end of the island, is the only Florida state park where you can go horseback riding on the beach. Other recreational activities on Amelia include fishing, paddling, biking, shelling, and wildlife viewing.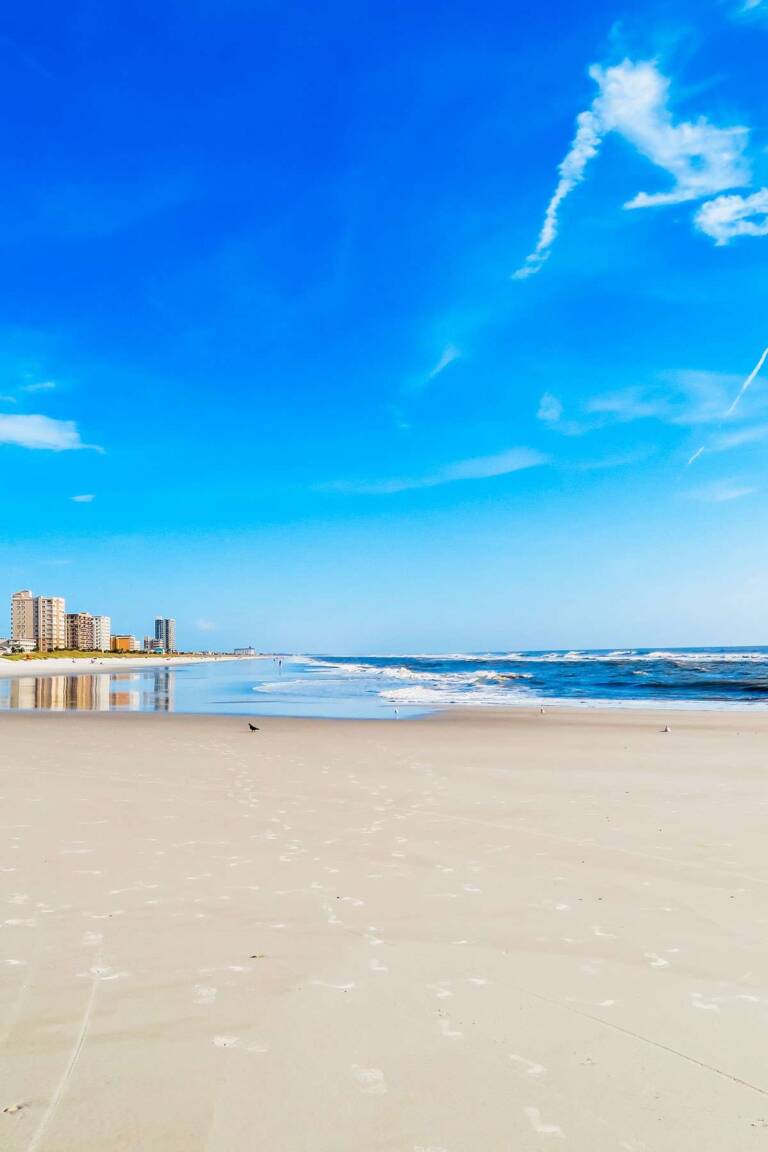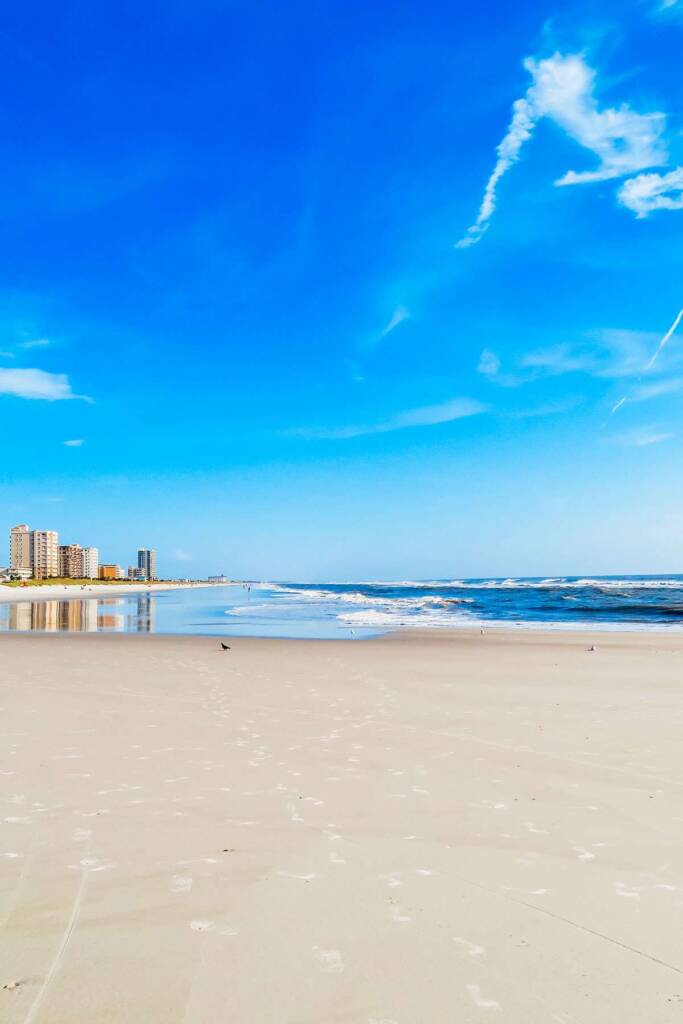 Jacksonville Beach
Jacksonville Beach is a coastal resort city full of surf, sand, and sun. Located on Florida's northeast end, this beautiful and expansive beach is famous for its fishing pier and redesigned golf course. From beach volleyball to surfing some of the best waves in the area, the north side of the pier is where most water sports take place.
This is a great spot to get a hotel room with a balcony overlooking the beach and soak up the view 24/7 during your vacation.
Atlantic Beach
Atlantic beach is a mixture of beach life and big-city energy. Beach Town Center is right in the heart of Atlantic Beach, offering oceanfront hotels, boutiques, restaurants, and lovely ocean breezes. Oceanana Fishing Pier is the perfect place to dine in for fresh seafood on the pier with a beautiful view.
Hanna Park, an oceanfront city park on Atlantic Beach's northern border, is a haven for all outdoor lovers. Hanna Park has 1.5 miles of white-sandy beaches where you can experience some of the best waves in Florida all year round.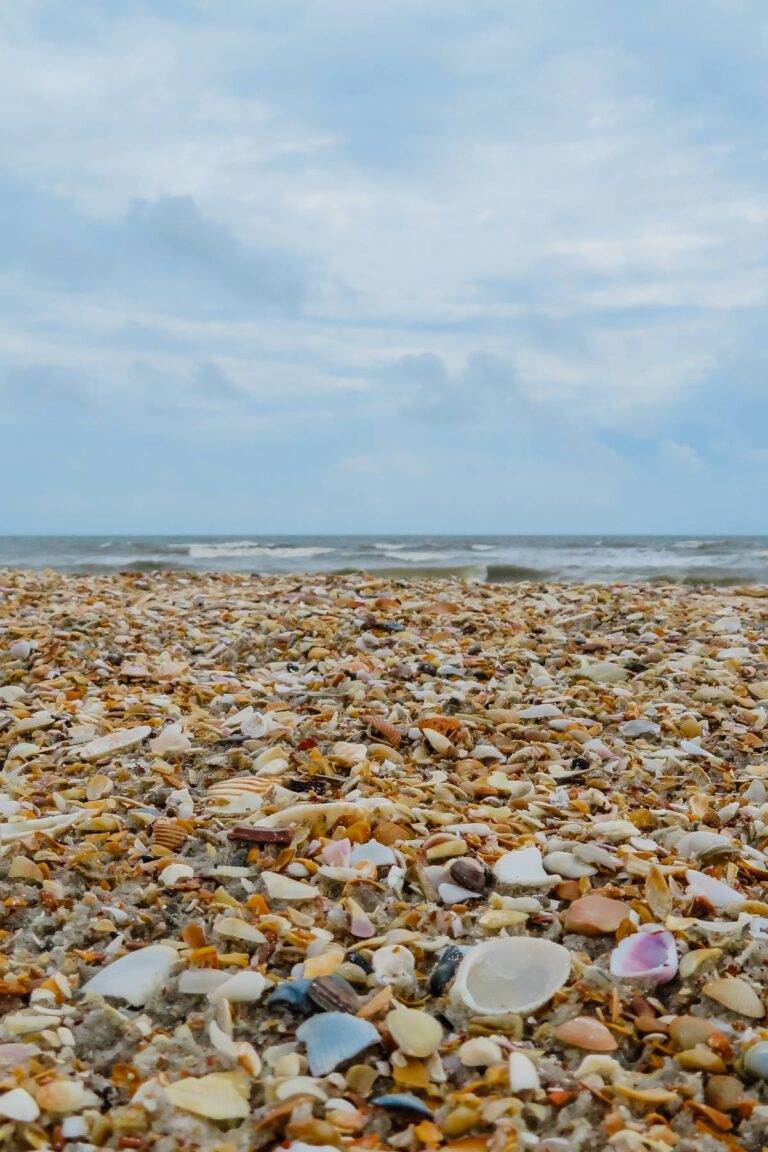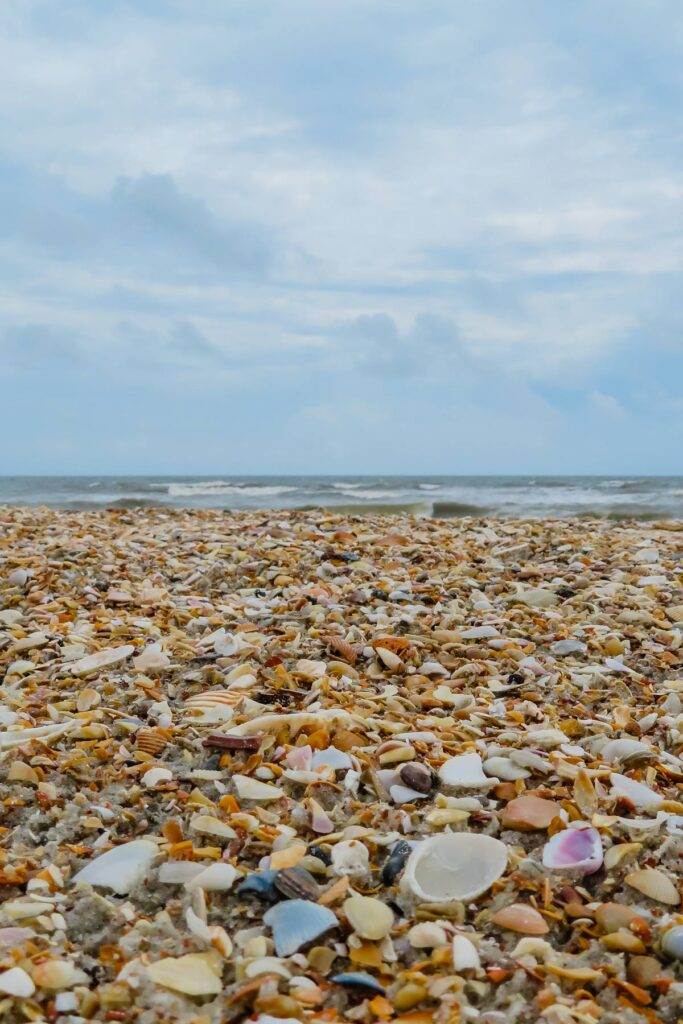 Micklers Beach
South of Jacksonville Beach is quiet Mickler's Beach. This is a local favorite for shelling and especially for hunting shark teeth. It's an easy drive from Jacksonville Beach to spend that afternoon exploring Mickler's and nearby Ponte Vedra.
Mickler's Beachfront Park has beach parking, including parking for horse trailers. Horseback riding on the beach is allowed with a permit.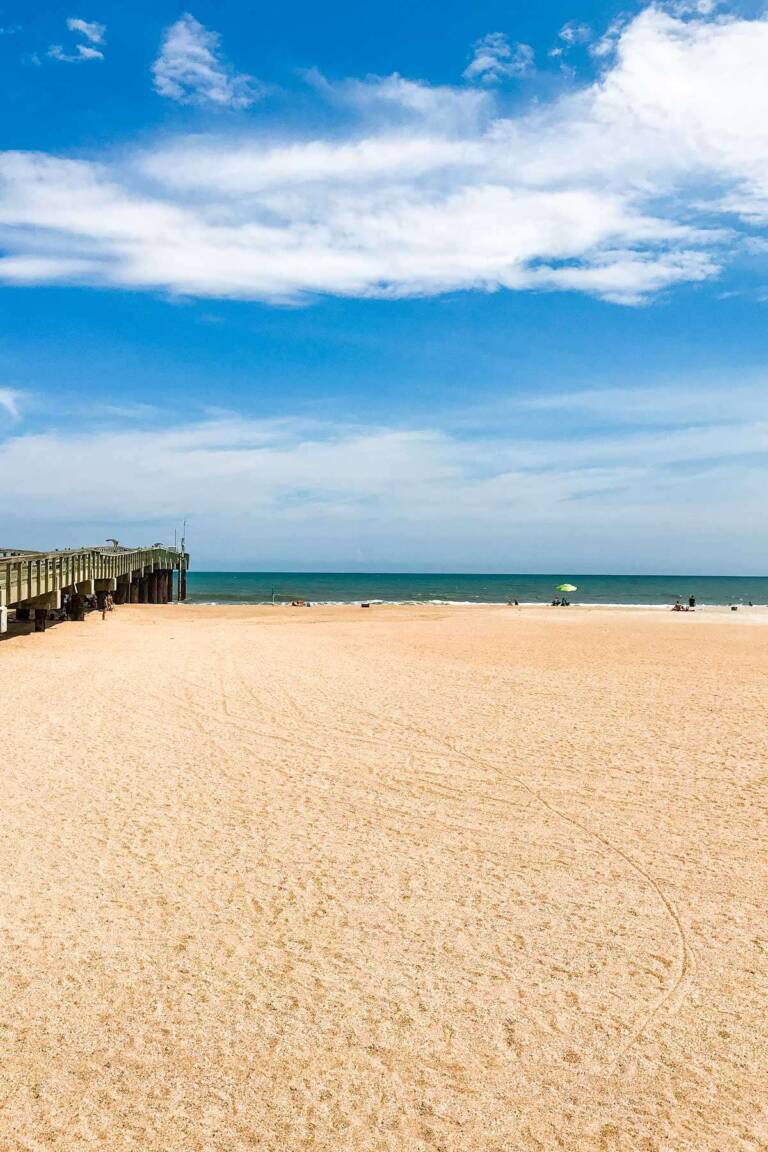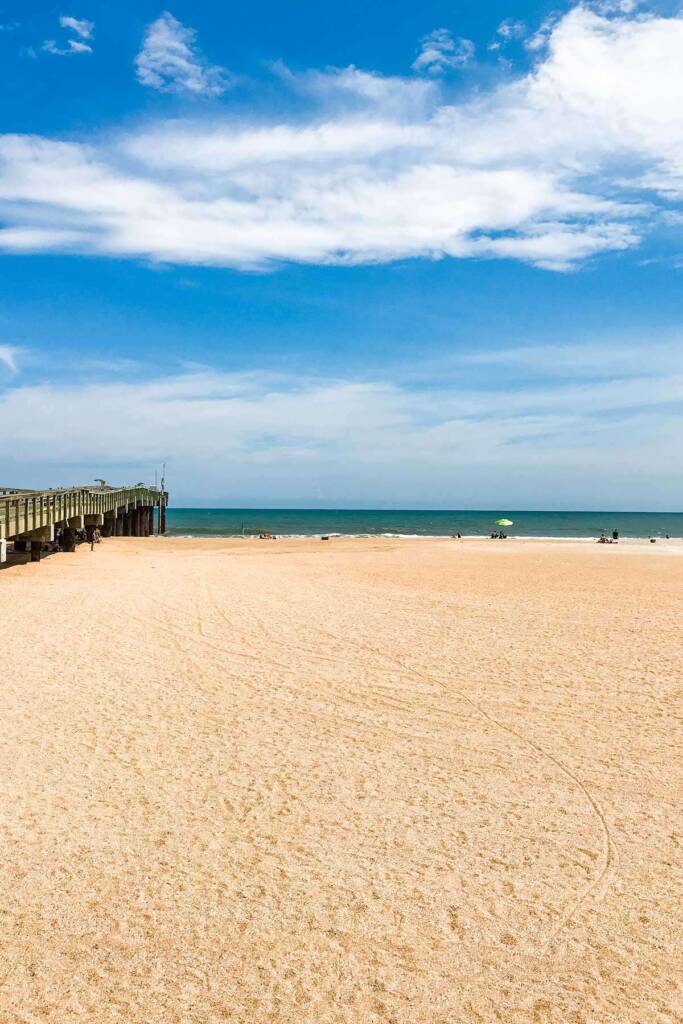 St. Augustine Beach
You'll find St. Augustine beach just a short drive from the historic city of St. Augustine. There are 42 miles of shoreline and several beaches to choose from, including Anastasia State Park.
The area is packed with history and countless dining and shopping options. Take a self-guided tour at The Castillo de San Marcos, the oldest masonry fort located on the Western shores of Matanzas Bay. This well-preserved fort is loaded with information on St. Augustine, its people, and history.
If you're looking to stay nearby, St. Augustine-area resorts offer everything from easy beach access to deluxe accommodations with full-service restaurants, ocean views, and more.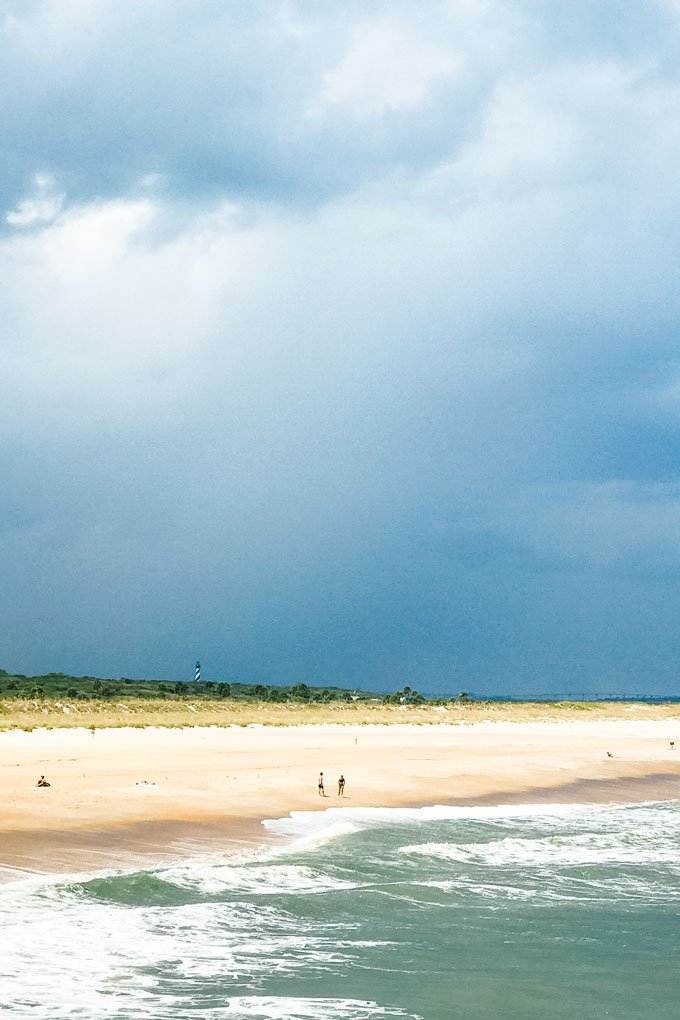 Crescent Beach
Perhaps the most unique of northern Florida beaches, the aptly-named (and shaped) Crescent beach is a family-friendly shoreline with sand that lends itself for fun-filled activities like volleyball and bike rides.
If your family prefers to steer clear from big crowds and high rises, Crescent beach is the perfect place to lodge and enjoy the simple things in life like the crystal white sand, dunes, and serene ocean waves.
Visitors are drawn to Crescent beach as it is generally not as congested as other beaches. The beach has hard-packed sand that is perfect for walking or bike riding.
Gulf Coast Beaches Near Destin
If your northern Florida beach destination needs to be nearer to Destin, these panhandle-area spots might fit the bill. Florida beaches in Destin include plenty of picturesque places for beach days.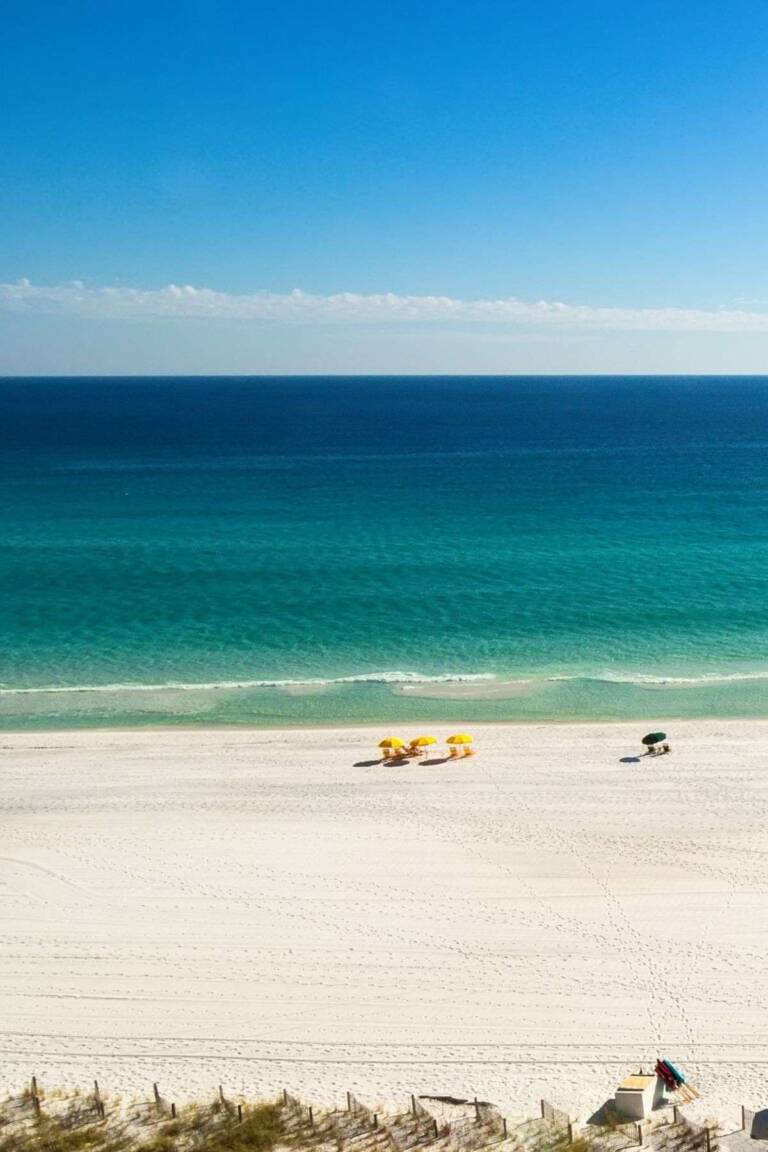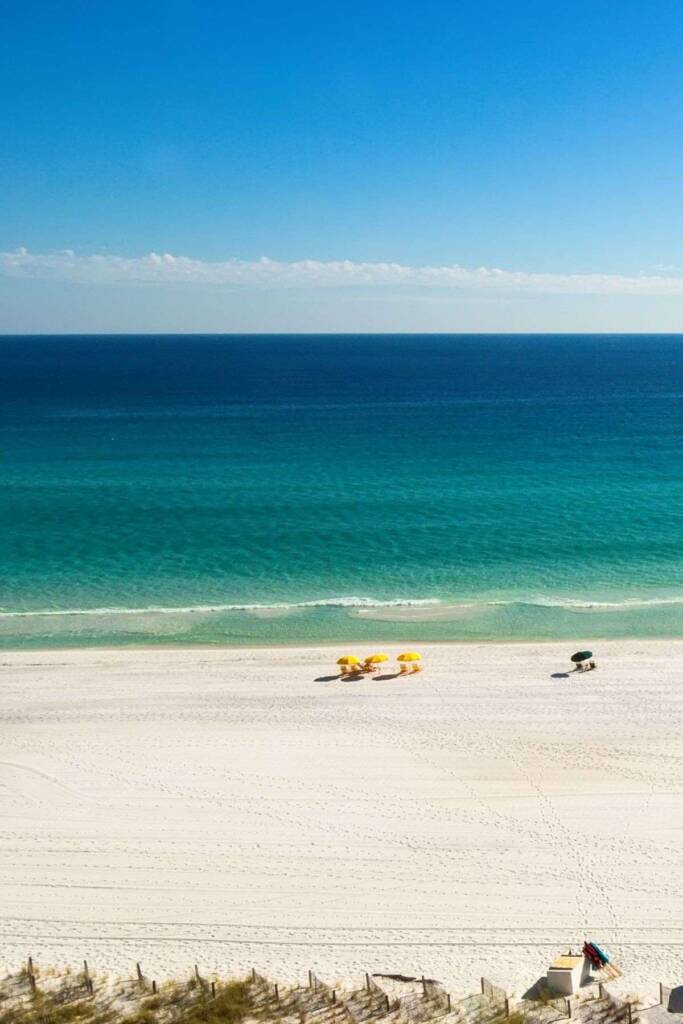 Destin Beaches
Nestled against the Gulf of Mexico in Northwest Florida, Destin is known for its crystal sand beach and emerald crashing waves. A popular destination for family vacations, Destin Beach offers activities that appeal to diverse interests. Try your hand at fishing in the "world's luckiest fishing village," and you may reel in a trophy saltwater fish.
The sparkling blue water and fine powdered sand are a favorite for many on the Emerald Coast. There are many beach access points in Destin. Try the popular James Lee Park or June White Decker Park. Or if you prefer something laid back, check out the beach sanctuary at Henderson Beach State Park.
Henderson Beach State Park
Henderson Beach State Park offers white dunes, shady palms, and the warmth of the Florida sun that make it the perfect relaxation destination. You can immerse yourself in the wildlife watching experience and see everything from migrating butterflies and birds to bobcats and gopher tortoises.
A great mix of beach life and nature, Henderson Park has sixty campsites with water, electricity, picnic tables, and grills on site. Nature hikes lead you through the coastal scrub and maritime forest, making Henderson one of the best northern Florida beaches for those with an adventurous spirit.
Topsail Hill Preserve State Park
Home to towering dunes that rise above the emerald waters, Topsail Hill Preserve State Park offers 3.2 miles of clear water for paddle boarding or kayaking.
Dolphins and other shorebirds are common along the water's edge, and whitetail deer are a common sight as they browse for food in the coastal dunes. This state park is a hiking paradise with many outdoor activities like bird watching and fishing from one of the three coastal lakes housing freshwater fish.
The Gregory E. Moore RV Resort on site has all the amenities to accommodate your stay in the wilderness. Equipped with shuffleboard courts and heated swimming pools, this resort also has fully furnished bungalows with full kitchens for those who want to feel more at home.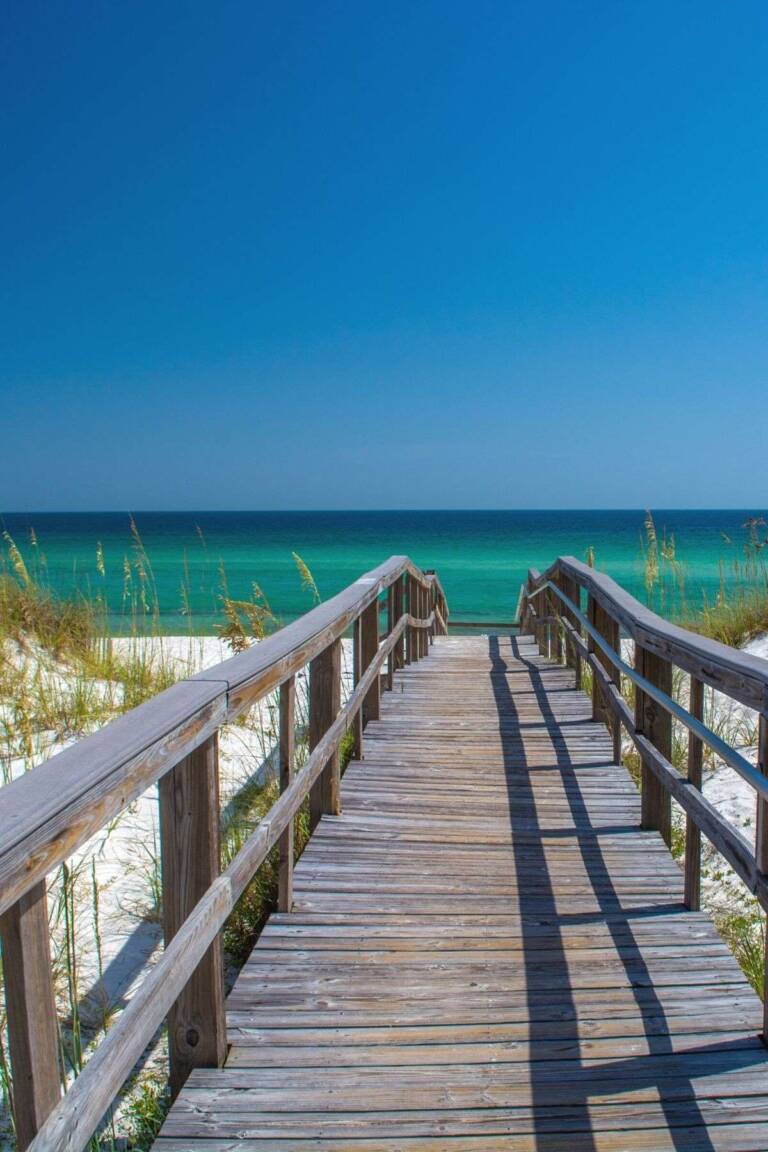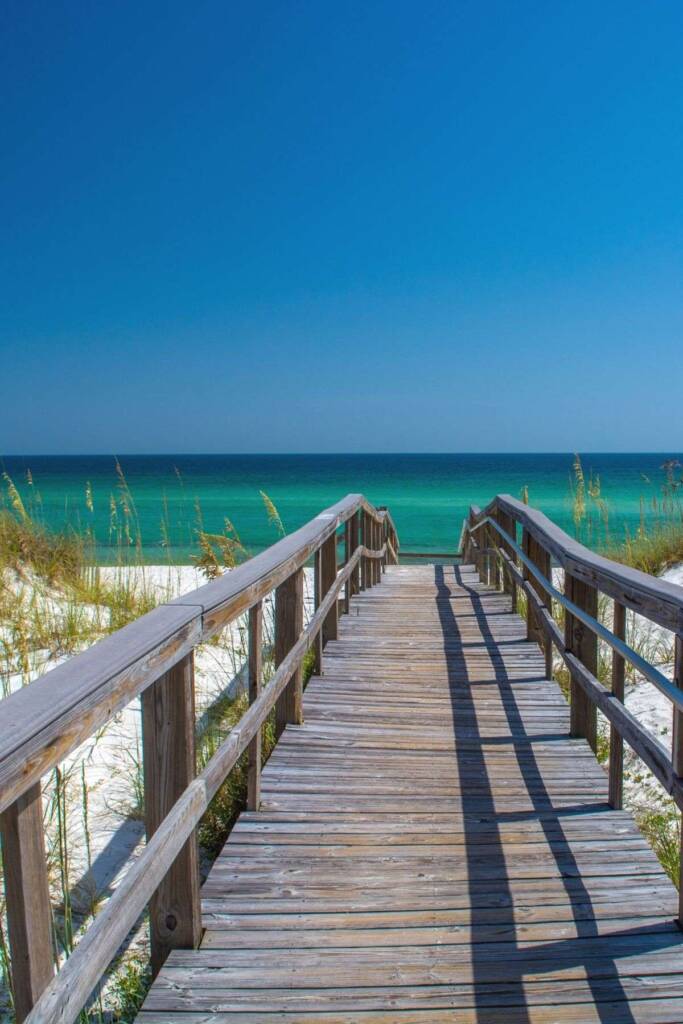 Pensacola Beach
Pensacola's beach has crystal clear waters and white sands making it a perfect beach escape. Located on the border between Florida and Alabama, this beautiful barrier island offers a range of experiences like dolphin tours and unique shopping at the Pensacola Beach Boardwalk.
Lively crowds are typical around Pensacola's main beaches, so if you are looking for something more secluded near the west coast of Florida, head on over to Gulf Islands National Seashore.
Or head out to Fort Pickens National Park. Named after a Revolutionary War Hero, Fort Pickens is a historical fort where you can take a self-guided tour and cool off while walking through its different tunnels.
Panama City Beach
Panama City is a stunning resort town on the Gulf of Mexico coast. Its sugary white sandy beaches have earned it a reputation as one of the most beautiful locales in northern Florida. Hop on the catamaran cruise from Treasure Island Marina and enjoy the sunset views.
Vacation rentals feel just like home at Panama City Beach. Beach houses are readily available for those who want to be right on the water and wake up to golden sunrises. Alternatively, St. Andrews State Park provides camping and RV amenities if you prefer BBQs and bonfires.
Grayton Beach
Grayton beach is a little paradise nestled right along the Gulf of Mexico between Pensacola and Panama City. Great for swimming, surfing, and sunbathing, Grayton beach also has excellent dining options. Visit the famous Red Bar for great food and fun décor.
Grayton Beach State Park is abundant in wildlife and trails. While Western Lake offers fishing and many other water activities, the park provides four miles of trails, campsites and cabins.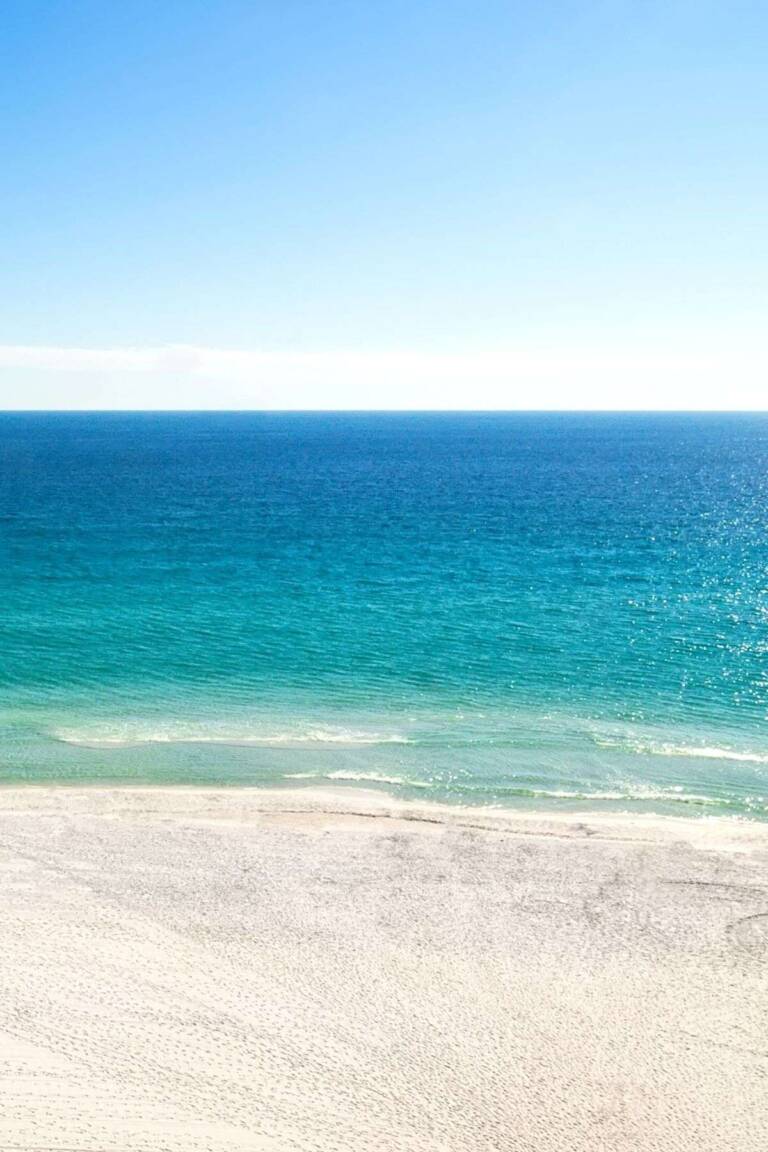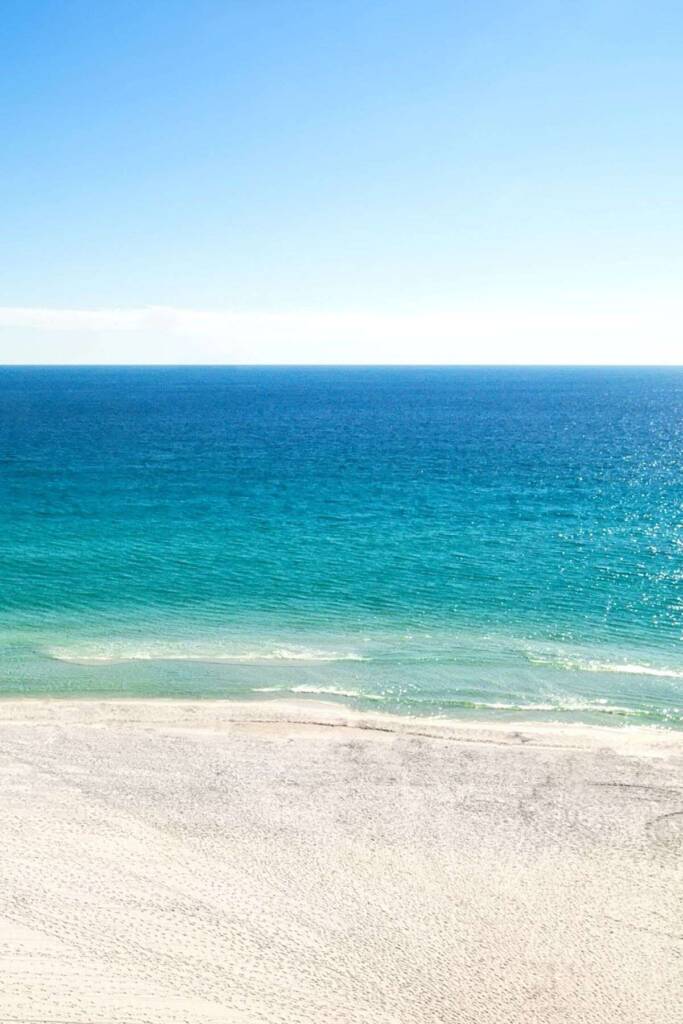 Fort Walton Beach
Wedged in between Pensacola and Panama City, Fort Walton Beach is a family favorite. Fort Walton is a natural playground for snorkeling, paddleboarding, and swimming with 24 miles of pristine white sands and emerald waters.
The Boardwalk on Okaloosa Island across the bridge has dining options from all-you-can-eat shrimp dinners to Cajun chicken Pasta. Fort Walton has plenty of diverse attractions, making it the perfect beach getaway.
Navarre Beach
Relaxation is the main attraction at Navarre beach. Located between Gulf Islands National Seashore and the Navarre Beach Marine Park, Navarre Beach is a veritable paradise.
Away from all the crowded attractions, embark on a journey to uncover an underwater world full of fish, coral, and sea turtles.
Family-friendly attractions like the Panhandle Butterfly House are ideal spots for children or any animal lover who wants a hands-on learning experience with wildlife.
St. George Island
Just off North Florida's Gulf Coast, St. George Island rates at the top of the list as one of the best beaches in the U.S. St. George Island is a tranquil escape with clean Gulf waters perfect for fishing, swimming, and wildlife viewing.
Take the bridge from Eastpoint across Apalachicola Bay to reach this 22-mile long barrier island. With no high rises in sight and minimal light pollution, the skies are prime stargazing. St. George Island is a laid-back community with no commercial development; however, charming cottages and luxury beach homes are available for rent.
West Coast Florida Beaches Near Tampa
Tampa is a destination of its own, but if you're hoping for a unique beach spot to relax at, find the best beach near Tampa, FL here.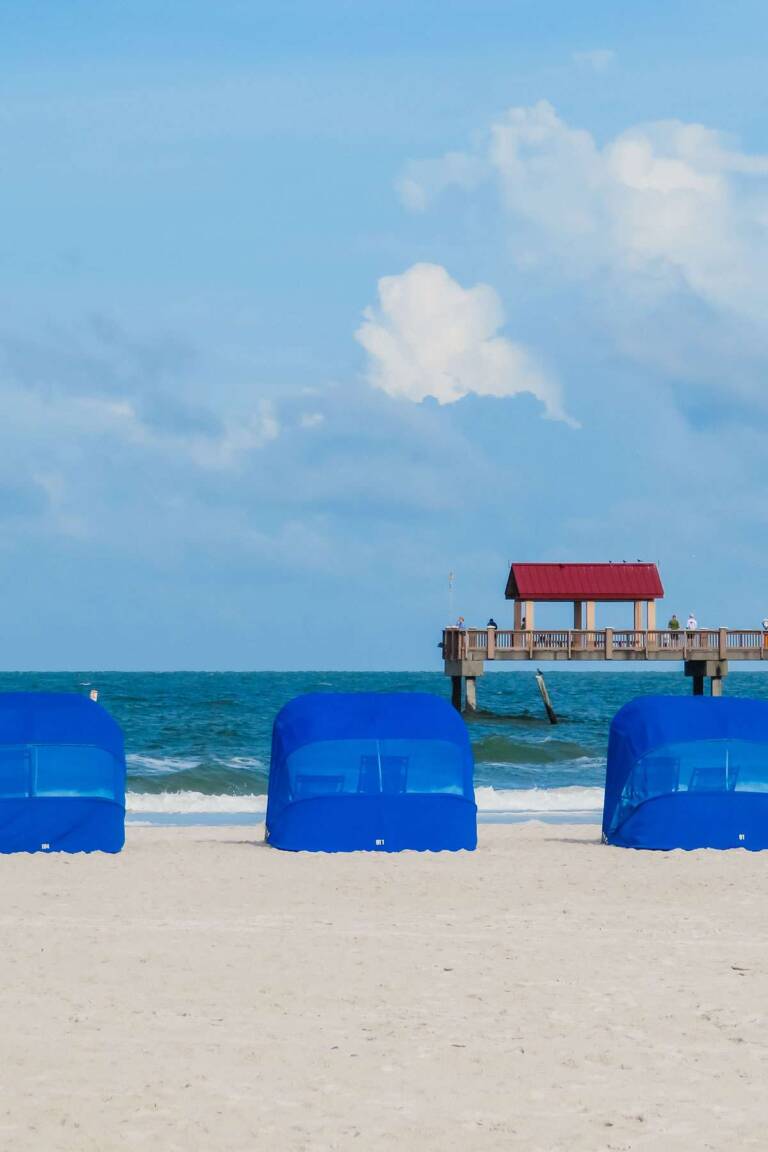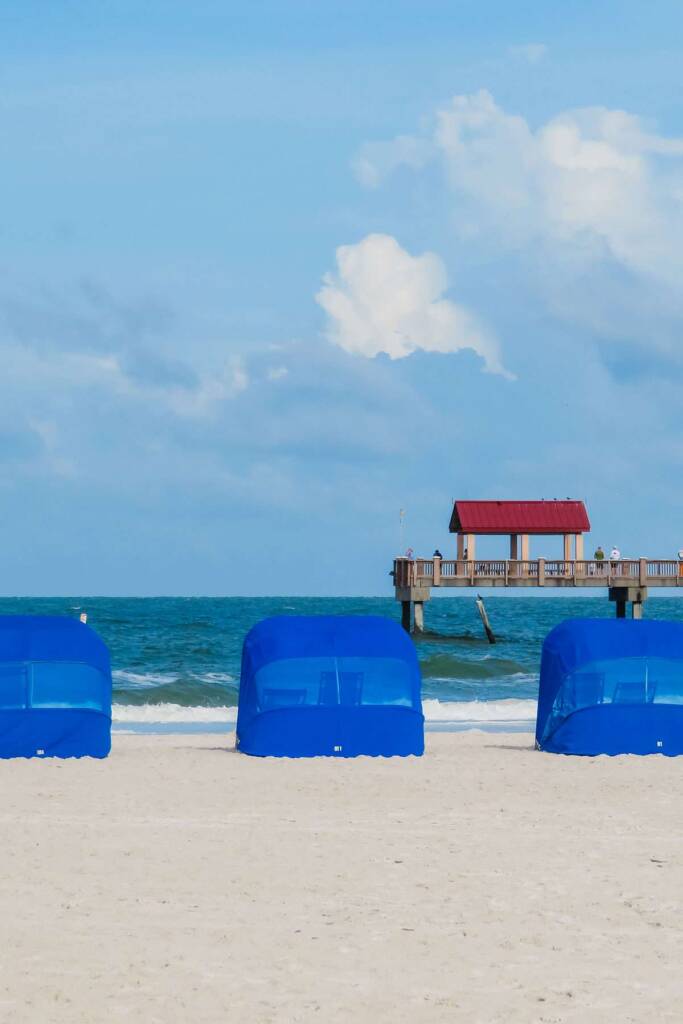 Clearwater Beach
Off the Pinellas County shorelines, Clearwater Beach is one of the most famous barrier islands. Here you can enjoy the beaming rays of the sunshine state, clear gulf waters, and white sand beaches. 
If you want to capture Clearwater's beauty in full effect, visit the 'Sunsets at Pier 60.' Here, you will experience what is truly a sunset celebration while artists and street performers put their talents on display.
Take the walkway from the pier to find your perfect stretch of sand. Stop at one of the beachside restaurants for lunch, or shop along the way. There are many hotels and attractions on the beach or within walking distance.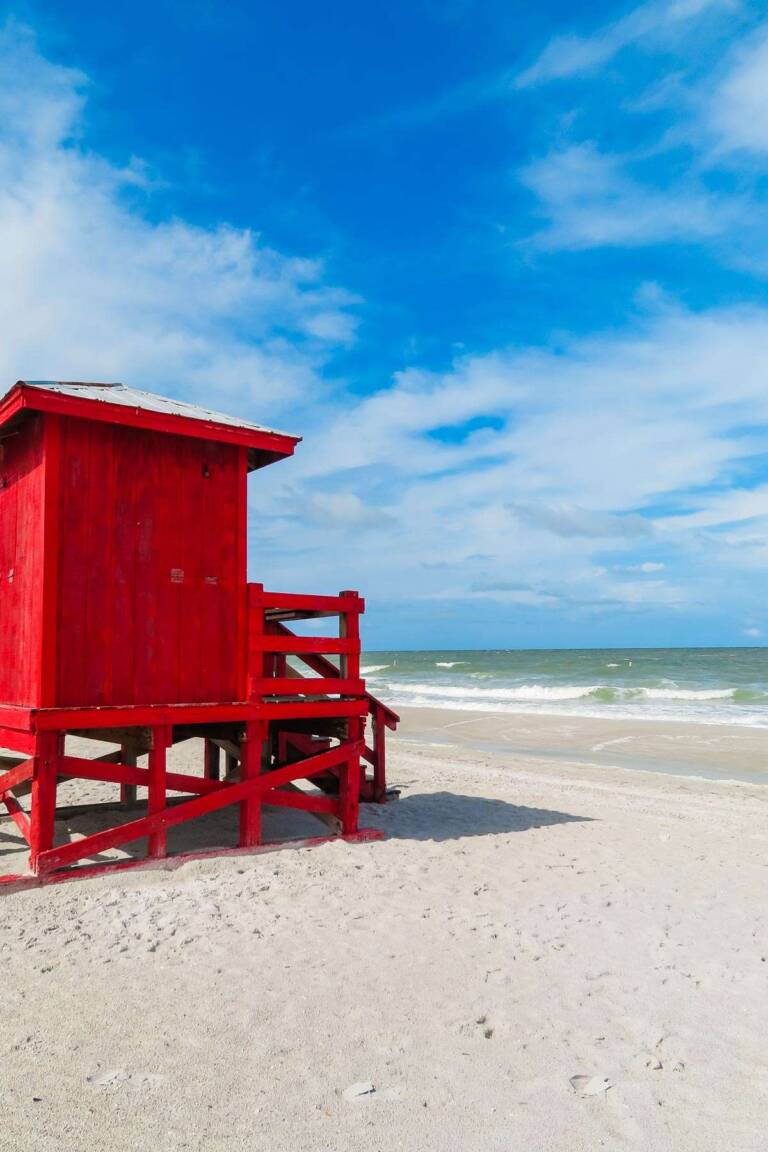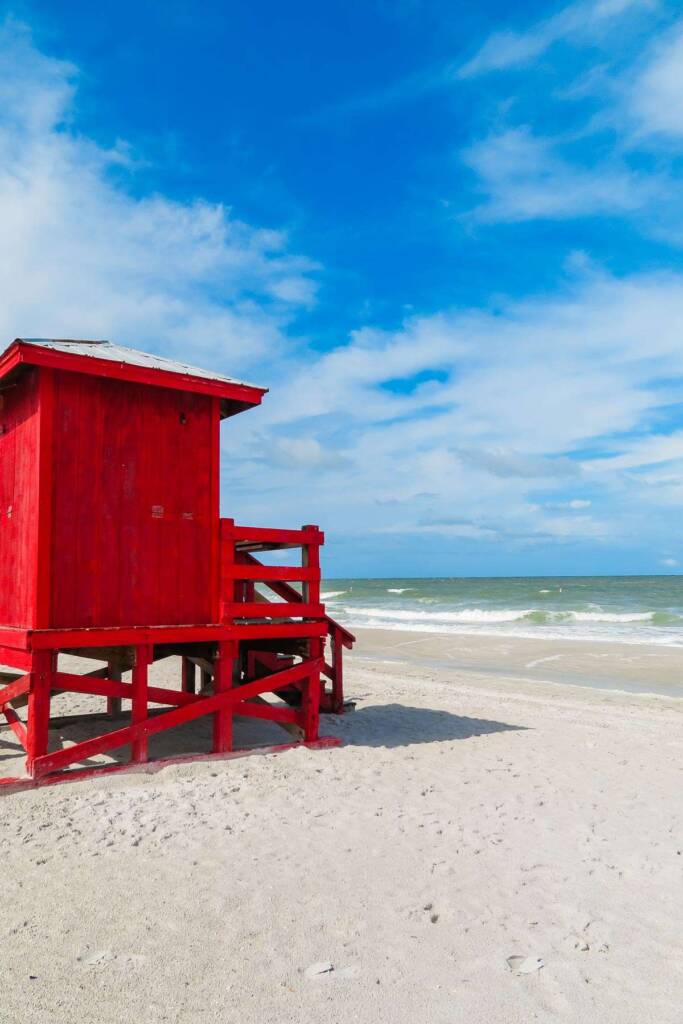 Sand Key Beach
If you're looking for a quieter alternative to Clearwater Beach, venture just across the bridge to neighboring Sand Key Beach. The beach at Sand Key State Park is absolutely gorgeous.
This beach is laid back, without the crowds you'll find at Clearwater. But with these windswept white sand beaches, you won't find a better view. The park has plenty of parking and easy access to the beach.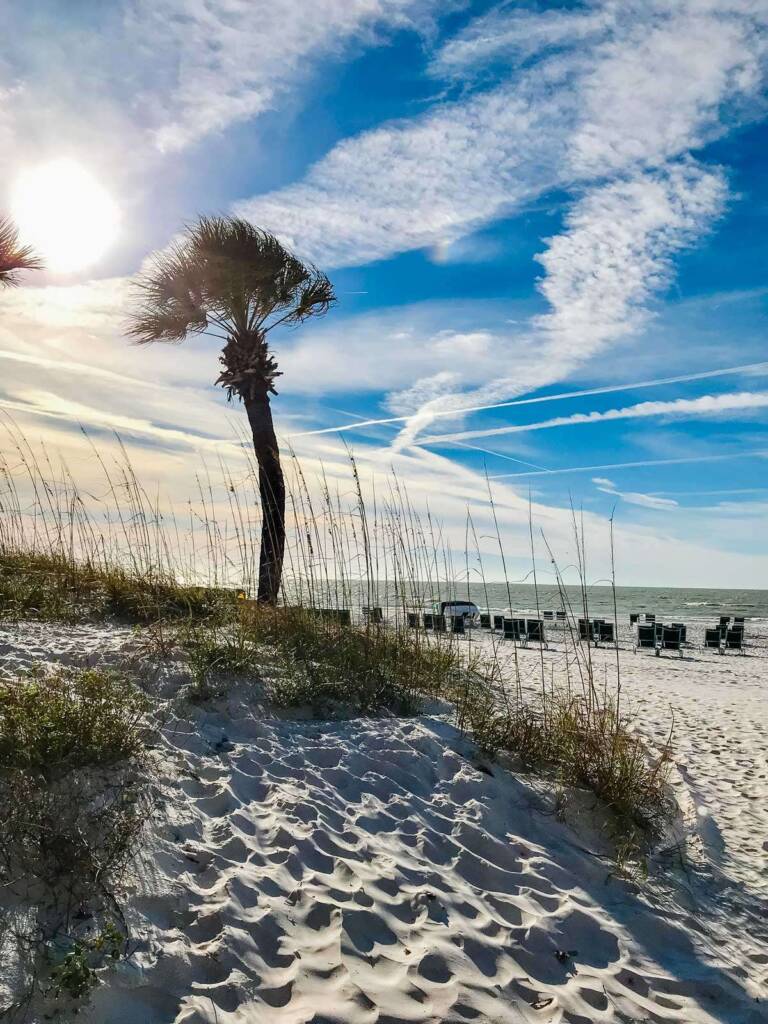 St. Pete Beach
Stretching nearly four miles in length, St. Petersburg is one of the longest northern Florida beaches. The sugar-white sand is soft on your toes, and the beach has plenty of benches for visitors to sit and enjoy the sunset.
St. Pete's beach is a low-key family destination surrounded by great sites to dine, drink, and shop 'til you drop!
This northern Florida beach has many full-service resorts, so your family can enjoy all of St. Petersburg's offerings in comfort.
On the southernmost end of St. Pete's beach, you will find an easy-going beach town named Pass-a-Grille. Here you will find all sorts of great entertainment, including an immersive experience at Rumfish, where you and your kids can snorkel with fish and stingrays.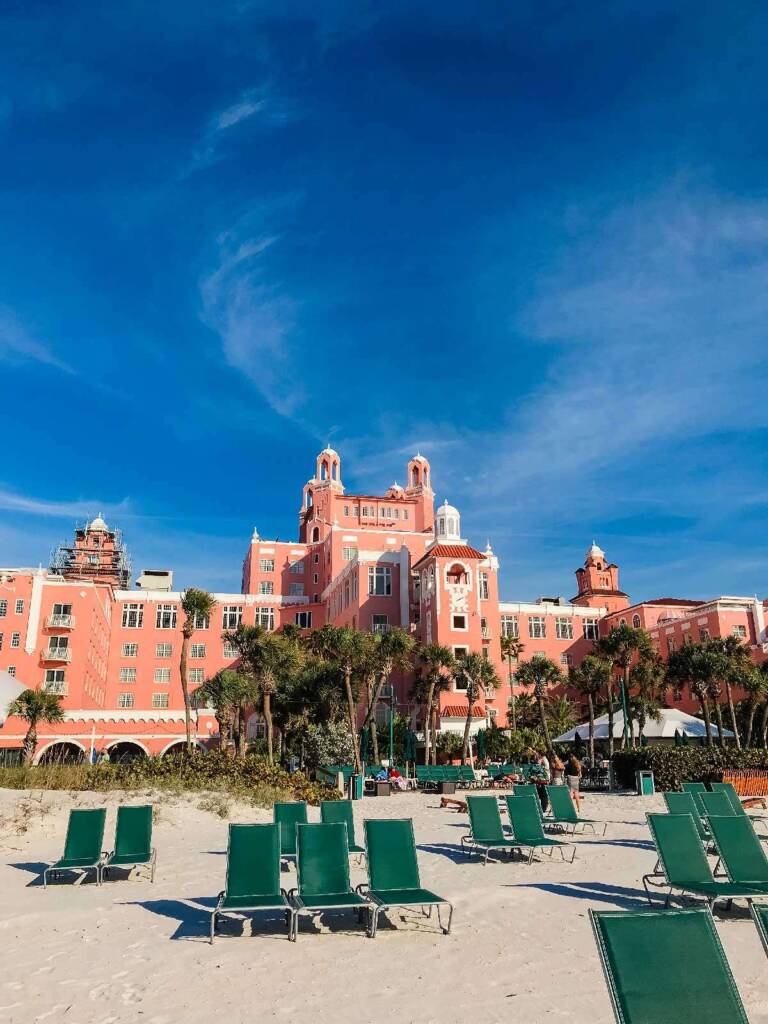 Passe-a-Grille Beach
Surrounded by the breathtaking Gulf of Mexico, Passe-a-Grille Beach is a popular destination for beachgoers who love fiery sunsets and scenic walkways over the dunes. Passe-a-Grille has trendy restaurants offering rooftop views of the Boca Ciega Bay and the Gulf lined with sea grapes and sea oats along the shorelines.
Known for having almost no buildings on the sand, visitors can find small boutique hotels just steps away from the beach.
Passe-a-Grille town is charming with its local art galleries and historical artifacts at the Gulf Beaches Historical Museum. There is no absence of adventure as you'll quickly discover a surplus of water activities at the Historic Merry Pier.
Check out the boat excursions and fishing destinations, as the redfish, flounders, and snappers are just some of the great catches you will come across. And don't miss the grouper sandwich at the Hurricane!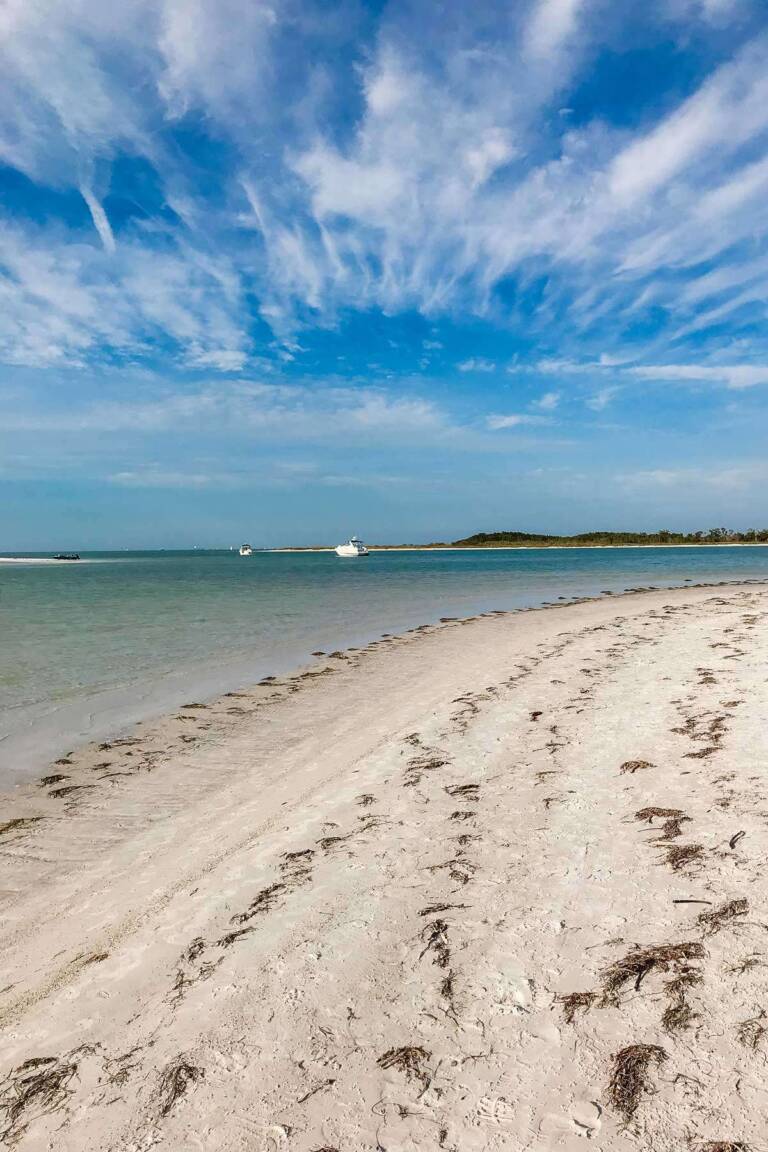 Fort De Soto Beach
Fort De Soto has been named one of America's Top Beaches by Trip Advisor. The Pinellas County park has beautiful nature trails to explore along with more than six miles of beachfront. Its five keys offer opportunities for kayaking, fishing, boating or just relaxing on the beach.
The park also includes the historic fort itself, which you can explore on a self-guided tour. The campground includes picnic areas, grills, modern showers, and special pet-friendly campsites. This is an excellent park for a family vacation!
East Coast Florida Beaches Near Orlando
Orlando has a lot going for it, including the classic beach experience within driving distance. Check out these beaches near Orlando, Florida for your next trip.
Cocoa Beach
Cocoa Beach is one of the best beach towns and is located an hour east of Orlando, midway along the east coast. If you are an outdoor enthusiast, Cocoa Beach's natural resources make it the perfect destination for you. Here you can get up close and personal with wildlife on one of their eco-tours. Take a peaceful kayak trip and soak in the manatee, dolphin, and sea turtle nesting views.
Just minutes away from Cocoa Beach is Port Canaveral, from which you can depart on any number of exotic (or even local) cruises. If you want to extend your adventure beyond northern Florida beaches, a cruise from Port Canaveral may be just the ticket.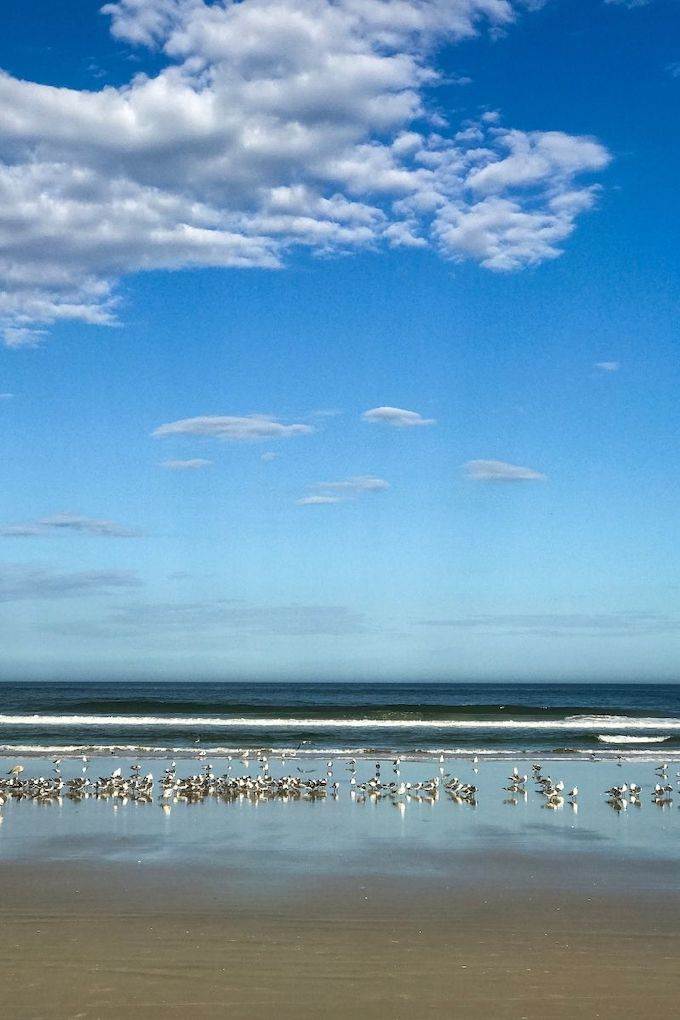 Daytona Beach
Entertaining more than 10 million visitors a year, the infamous Daytona Beach is one of the most notable Florida east coast beaches that many come to for relaxation and fun. There are plenty of things to do in Daytona Beach, whether you want to relax, explore, or experience an adrenaline rush.
With plenty of elbow room to spread out, this magnificent beach has over 23 miles of white sandy beaches on Florida's Atlantic coast. Perfect for running, cycling, or just catching some sun rays. You can even drive on Daytona Beach!
The Daytona International Speedway and Daytona Beach Pier and Boardwalk are arguably the most popular attractions. Stretching 1,000 feet into the Atlantic, the Daytona Beach Pier attracts anglers and families to see its famous fighting fish.
The World Center of Racing offers an all-inclusive NASCAR Racing experience as well as luxury suites and delicious venues to refuel while you watch the race cars on the track.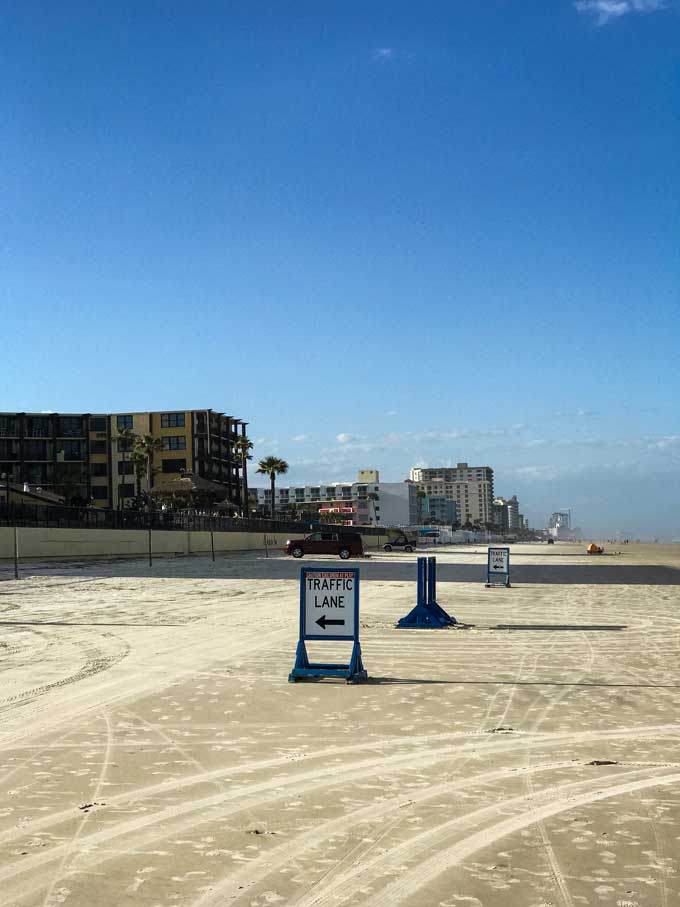 Flagler Beach
Twenty miles north of Daytona Beach on A1A, Flagler Beach brings about an eclectic vibe thanks to beachside restaurants like High Tides at Snack Jack. Their trendy dishes like fried gator tail and flounder Reuben sandwiches are big hits.
A trip to Flagler Beach would not be complete without checking out the eclectic local shops, the fishing pier and of course, the gorgeous views. This is also a great spot for sunning, surfing and walking the pet-friendly beaches.
Northern Florida Beaches Have So Much to Offer
Given Florida's reputation for gorgeous sand and pristine water, it's not surprising that the northern Florida area has a nearly endless list of beaches to enjoy.
Whether you're looking to relax and sunbathe, get active with your family, or visit historical spots and dive into the past, north Florida's beaches have you covered.
Looking for more Florida beaches? Check out these south Florida beaches perfect for your next vacation getaway.