With over 42 miles of sandy shorelines, St. Augustine Beach, Florida is the perfect vacation destination for beach lovers. Here's a guide to the best beaches to visit near St. Augustine, including St. Augustine Beach, Butler Beach, Ponte Vedra Beach, Anastasia State Park and beyond.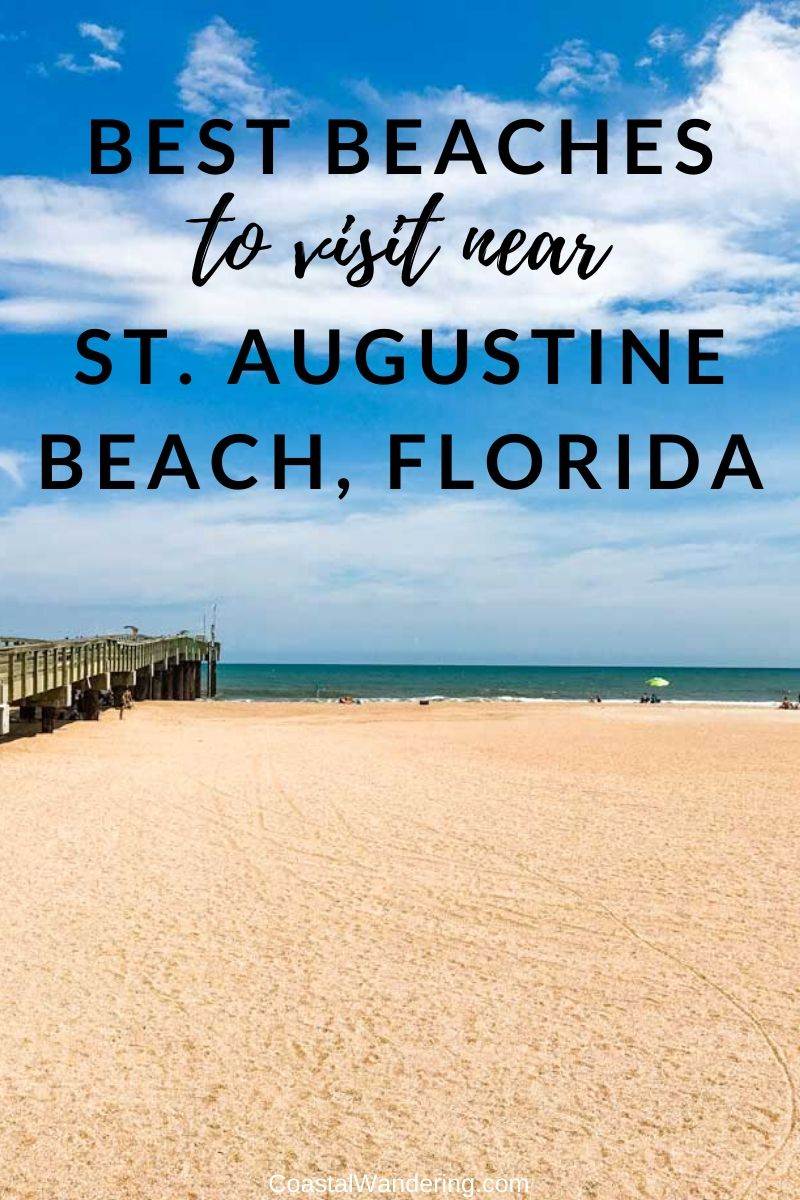 You'll find the small city of St. Augustine in St. Johns County, Florida. Like much of the Sunshine State, St. Augustine offers residents and visitors alike a wonderfully warm and sunny climate. Whether you're hoping to spend your beach vacation shelling or soaking in the Florida sunshine, there are plenty of beautiful beaches to explore near St. Augustine Beach.
And if you like your beach vacations with a little history on the side, you're also in luck! St. Augustine (originally named "San Agustin") is, in fact, the oldest European-established settlement in the United States. It was first founded by Spanish explorers in 1565!
With its beautiful beaches and long-spanning history, St. Augustine becomes the perfect beach vacation destination for history buffs and beach lovers alike. Pack your beach bag. We're heading to the beach!
To search for the best hotels in St. Augustine Beach, click here.
Your Beach Guide for Saint Augustine, Florida
No matter whether you're planning to spend your morning beachcombing sandy shores or want to spend a day enjoying the waves, St. Augustine offers a variety of beautiful public beaches to choose from. And all the beaches covered in this guide are located within 20 minutes of the historic downtown core.
Within 5 minutes from downtown St. Augustine you'll find:
St. Augustine Beach
Vilano Beach
North Beach
Anastasia State Park
And between 5 and 20 minutes from downtown you'll find:
Butler Beach
Crescent Beach
Ponte Vedra Beach
Here's a closer look at the top things to see and do near each of these seven Florida beaches.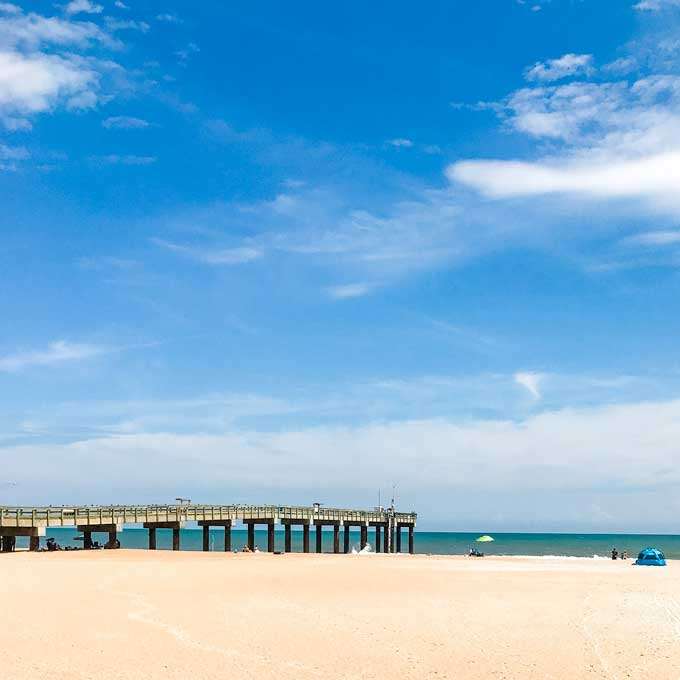 St. Augustine Beach
You'll find this iconic Florida beach on Anastasia Island, just a short drive outside of St. Augustine. Similar to Daytona Beach, this is one of only a few beaches in the country that allows you to purchase a permit to drive on the beach (within designated areas only!).
St. Augustine's white sandy beaches make it a popular destination no matter whether you're hoping to play a little beach volleyball or kick back with a great book. You'll also find the St. Johns County Pier, a playground, kayak rentals, bait shops and fishing pier nearby.
Pro Tip: Visit Mango Mangos for lunch. You'll find a delicious selection of fresh fish (I love the avocado mango salad with mahi mahi) and Caribbean-inspired dishes (like the coconut shrimp), and it's just a block away from the beach!
Parking: There are a variety of options for street parking along the beach. See the full map here.
Cost: Free for regular public access. Find current beach driving pass fees here.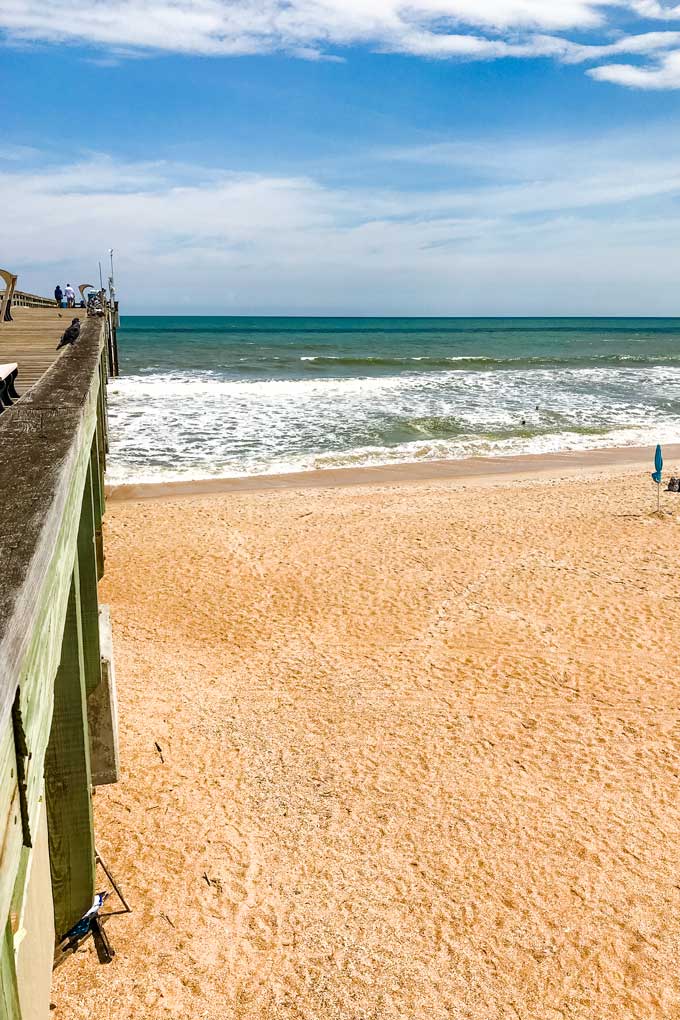 Butler Beach
Butler Beach is located on the south end of Anastasia Island, between Crescent Beach and St. Augustine Beach. This quiet beach offers seasonal lifeguards, pavilions for family picnics and barbecue grills for a beachside cookout. Perfect amenities for an entire day spent having fun at the beach!
Parking: Access the beach via Frank. B. Butler County Park. If you're looking for free parking, try to find street parking on Gloria Avenue.
Cost: Free public beach access or a nominal fee if you want to drive your car on the beach.
Ponte Vedra Beach
Located almost in between Jacksonville and St. Augustine, Ponte Vedra Beach is the perfect spot to visit if you're in the mood to hunt for seashells and other ocean treasures. Pack a breakfast sandwich and wander the beach early so you have the best selection of shells. Ponte Vedra Beach is also particularly well-known for their great selection of shark teeth.
Ponte Vedra Beach also boasts some of the highest sand dunes in Florida–up to 40-feet high! Beyond the sand dunes and seashells, you'll also find the Guana Tolomato Matanzas National Estuarine Research Reserve. It's the perfect spot to visit if you're in the mood to explore the natural environment surrounding St. Augustine and learn more about the local wildlife.
Finally, the famous TPC Sawgrass is nearby, making Ponte Vedra Beach a great day-trip destination from St. Augustine if you're looking to play golf on one of the best courses in the country.
Parking: Find the beach access parking lots on the west side of A1A, near the Guana Tolomato Matanzas Visitor Center.
Cost: Public beach access is free.
Crescent Beach
Unlike St. Augustine Beach, Crescent Beach offers more hard-packed shorelines. Perfect for bike riding, walking and even playing beach frisbee! Crescent Beach is located in a small community just outside the Saint Augustine downtown core.
So far, there's been very little commercial development in the area, making it the perfect beach to sneak away to if you're after a quiet and peaceful afternoon at the beach.
Parking: You can find parking information and Crescent Beach access points on this interactive map.
Cost: Public beach access is free. They offer vehicle access for a small fee between March 1 and Labor Day.
North Beach
You'll find this quiet beach on A1A just a little north of Vilano Bridge and Vilano Beach. With the North Beach park facilities including picnic tables, grills and a playground, this lovely beach is a great spot to day-trip with a picnic lunch.
My tip? Sit back, soak in the Florida sunshine and relax with your favorite snacks and a great book. If you'd prefer a slightly more active visit, North Beach is also well known for its surf fishing.
Parking: Free parking lot with highway walkover beach access.
Cost: Public beach access if free.
Vilano Beach
You'll find this sweet little coastal community just north of St. Augustine's historic district. The town itself offers a beautiful (yet surprising) array of architectural features and tiled fountains. And Vilano Beach? Well, it might just be your favorite surprise near St. Augustine!
Expect to see a heavier surf and stronger currents at Vilano Beach. These features make it perfect for surfing, but may not be the right fit for families or those looking for a relaxing spot to splash around near the shoreline.
Parking: You'll find the main beach access at 2725 Anahma Drive with a free public parking lot nearby.
Cost: Public beach access is free. As with the other St. Augustine beaches allowing vehicle access, they charge a small nominal fee for a beach driving pass.
Anastasia State Park
You'll find some of the most beautifully kept beaches in the area within Anastasia State Park. With plenty of facilities and amenities, this state park is perfect for day-tripping beach lovers. On the north tip of Anastasia Island, you can easily spend an entire day enjoying the 1,600 acres of land, including four miles of pristine beaches, and tidal marshes and sand dunes.
Whether you're planning to spend your visit to Anastasia State Park on the beach or hiking the Ancient Dunes Nature Trail, you will spot plenty of local wildlife during your visit. This is a great spot to stop if you love birding–you can spot everything from roseate spoonbills to osprey in the area!
You're also in luck if you'd like to spend some time out on the water. Visitors can rent kayaks, canoes, stand-up paddleboards and even sailboats from Anastasia Watersports. This is a great way to get another perspective of this wonderful state park and its local wildlife!
Parking: There are a handful of parking lots available past the park gates.
Hours: Open 8 AM until sundown all year.
Cost: Entrance fees range from $2 to $8 per vehicle. Find the full admission fee breakdown here.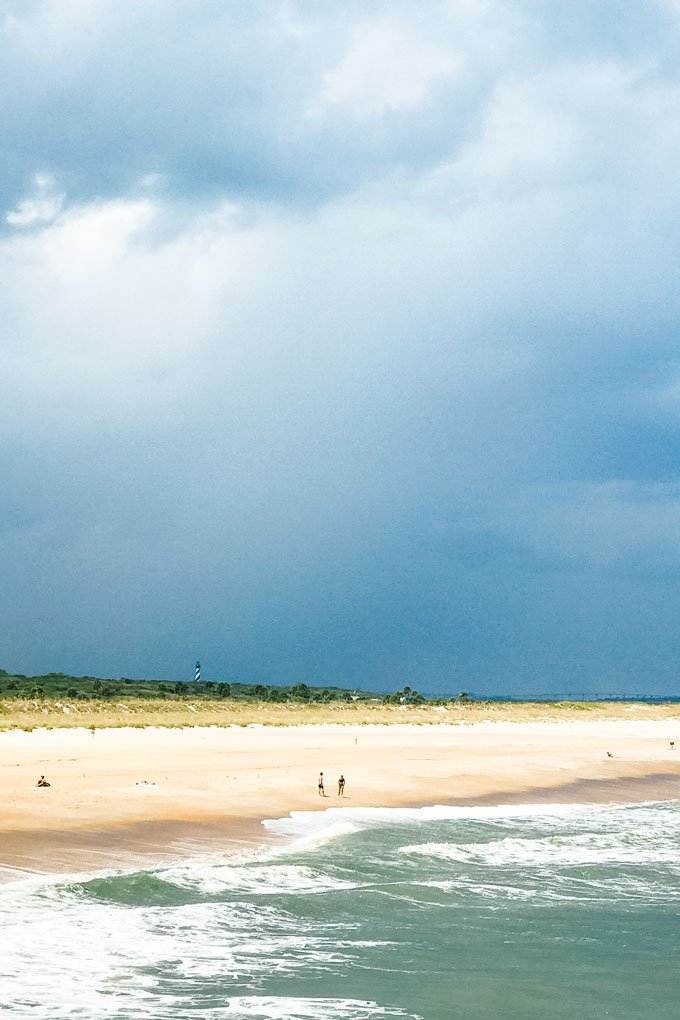 Accessibility at St. Johns County Beaches
What's wonderful about St. Johns County is its commitment to providing wheelchair access so that everyone in your group can enjoy the beach together. The county owns three sand-rolling wheelchairs and makes them available to rent for free. And the county will drop off the chair to you on the beach!
You can learn more about this service here.
Historic Downtown District
While not technically a beach, it would be a shame to miss one of the most beautiful historic districts in the country. In the heart of the St. Augustine historic district, you'll find most of the city's best restaurants, shopping, and hotels.
With some of the oldest buildings in the district dating back to the early 18th century, you won't be surprised to learn that St. Augustine's historic district also offers some of the best museums in the state. If you're in the mood for a museum-filled afternoon, consider the Lightner Museum or the Ripley's Believe It or Not! Museum. Likewise, the Colonial Quarter offers an interactive approach with costumed actors and canon demonstrations–it's a fun way to step back in time and experience the St. Augustine of a bygone era.
St. Augustine Beach's historic district is very walkable and offers plenty of opportunities to take in the incredible bay front featuring the Matanzasa Bay. Enjoy the Spanish Colonial and Renaissance Revival architecture in the area and soak in our nation's oldest city. Perfect for an afternoon away from the beach!
St. Augustine Beach is the Perfect Florida Beach Vacation Destination
With plenty of different nearby beaches to choose from, St. Augustine Beach is a wonderful beach vacation destination to visit. No matter whether you're planning a day trip or want to spend an entire week exploring these beautiful Florida beaches, there's plenty to see and do in Saint Augustine.
One final note: if you visit the area, be sure to download St. Johns County's Reach the Beach app. Their app offers the most up-to-date information on access locations, driving conditions, lifeguard information and beyond!
Ready to plan your Saint Augustine Beach vacation? Start searching for the best hotels here.