Wondering what to do with the bag of shells you brought home from your beach vacation? Here are 21 creative ideas for displaying your seashells.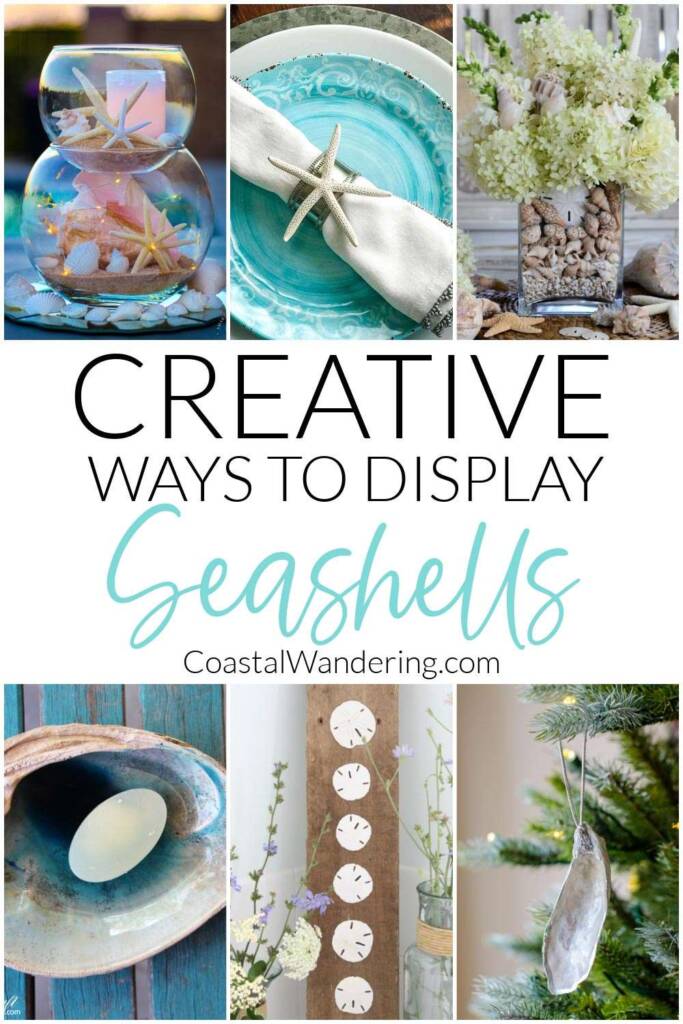 Add a coastal feel to your home décor by using these ideas as creative inspiration for how to display your collection of seashells.
Walking along the ocean is always a favorite pastime and it's practically unheard of to not bend down and pick up a pretty seashell treasure as a souvenir.
If your beach vacation has ever taken you to Sanibel Island in Florida, you know that its beaches are one of the best places to find seashells that wash up from the Caribbean. Soon enough, you've collected a bucketful of unique shells that are begging to be admired and enjoyed in a new setting.
Creative Ways To Display Seashells
These easy seashell crafts will take your beachcomber treasures to display-worthy decorative pieces that are perfect for gracing your mantel, bookcase, walls, tables, and more.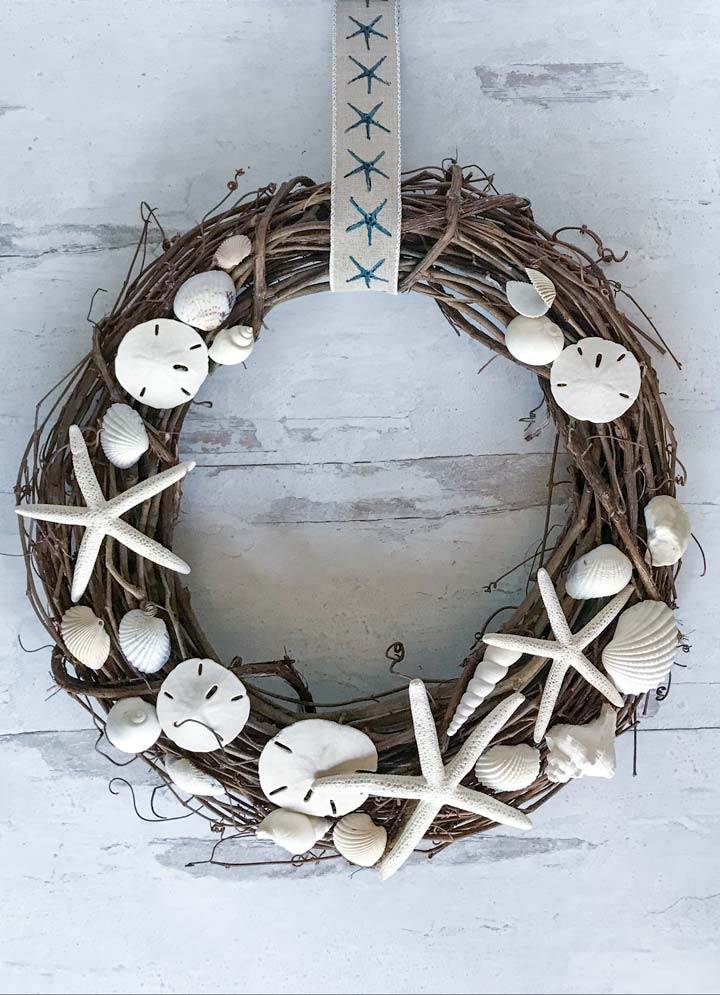 DIY Seashell Wreath
Seashells, sand dollars and starfish are all on display in this DIY seashell craft that lends a beachy feel to a grapevine wreath. You'll need a wreath form, a hot glue gun, seashells and a wide ribbon or fabric for hanging the wreath.
Plan your design and attach your large shells first and fill in with the smaller shells. Loop your ribbon or fabric around the top and your seashell wreath is ready to hang on your door or wall.
Idea by Coastal Wandering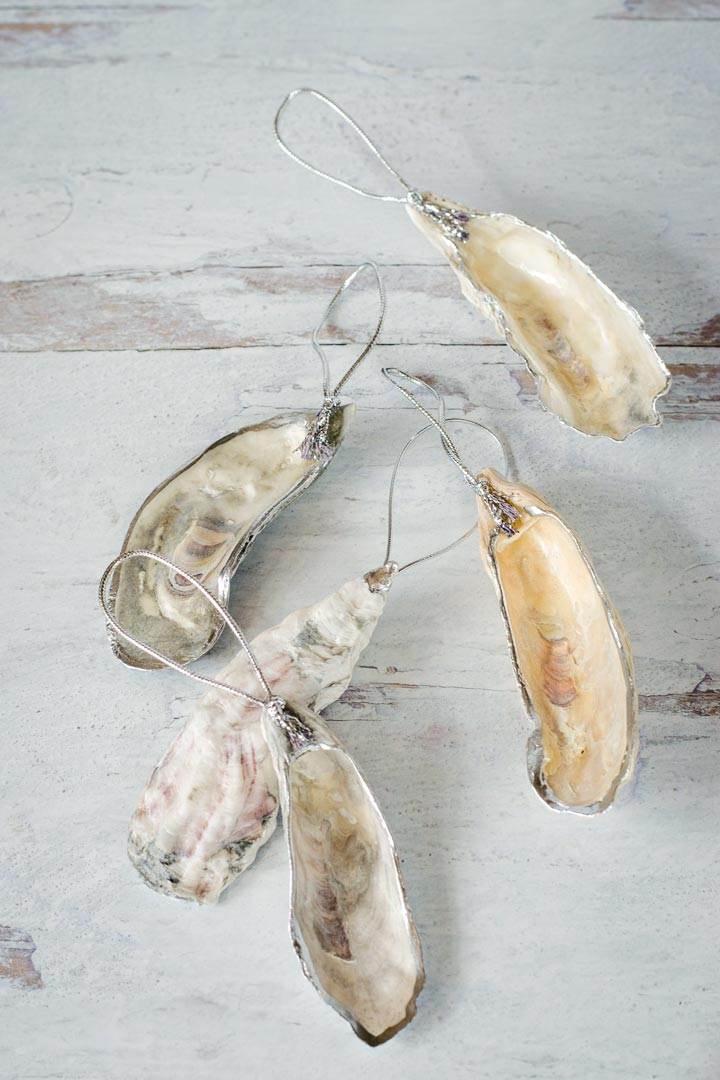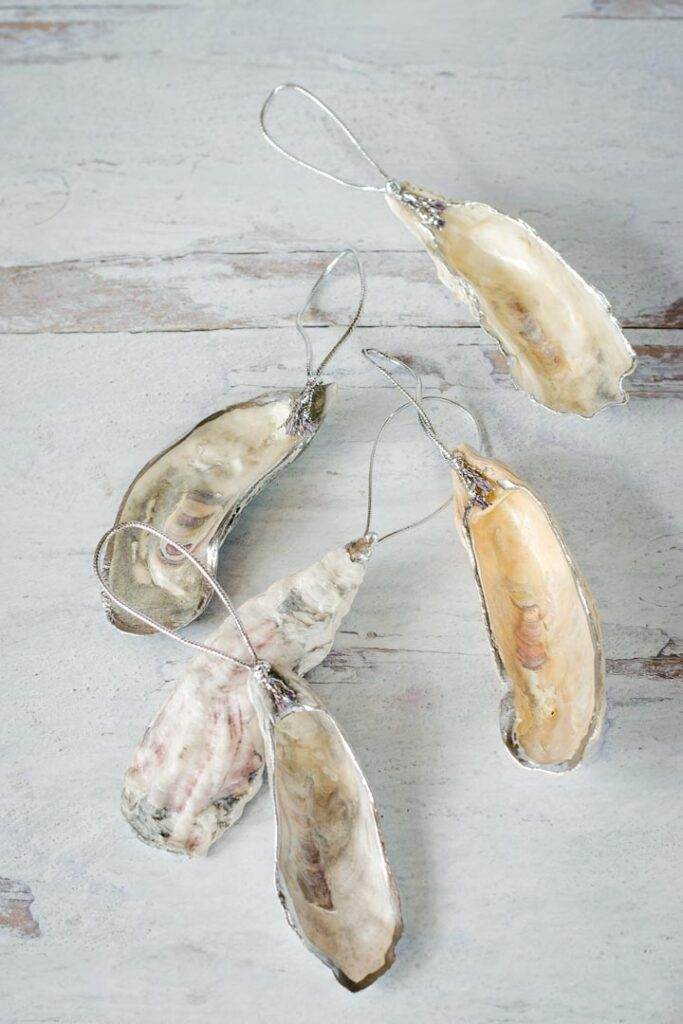 Oyster Shell Ornaments
Let the beauty of oyster shells make an elegant backdrop for these DIY ornaments. Just a little clear nail polish will add a coating to help it shimmer when it catches the light.
A metallic marker can be used to outline the edge of the shell for even more sparkle. Hot glue a cord at the top for hanging.
Idea by Coastal Wandering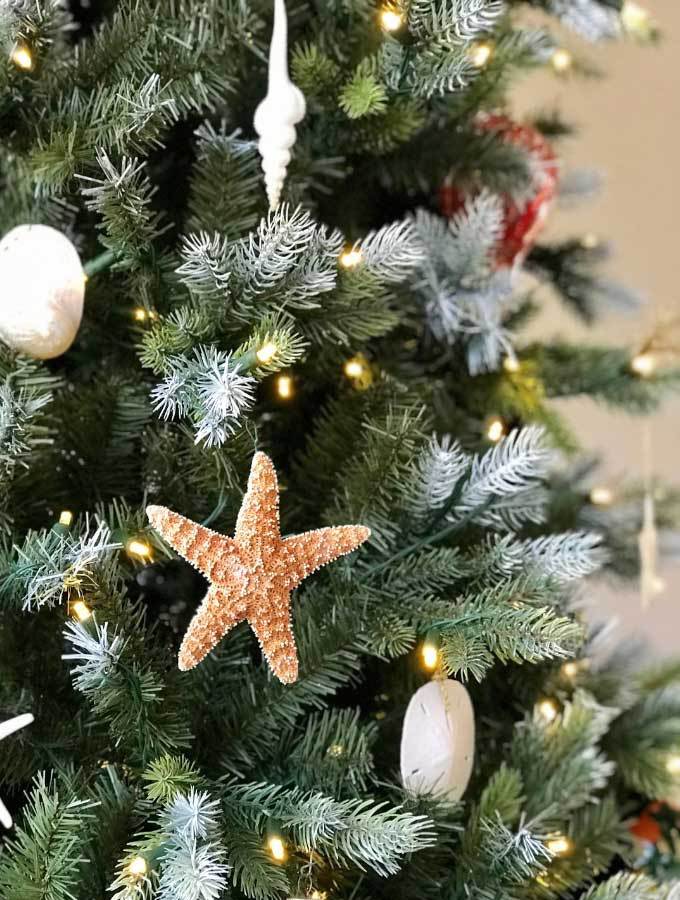 Easy Beach Christmas Ornaments
Display your collection of souvenir seashells by crafting them into simple DIY Christmas ornaments.
With a little help from a hot glue gun, strings, ribbon and ornament hooks, your sand dollars, starfish, spindle and scallop shells can contribute to a coastal-themed holiday with this easy craft idea.
Idea by Coastal Wandering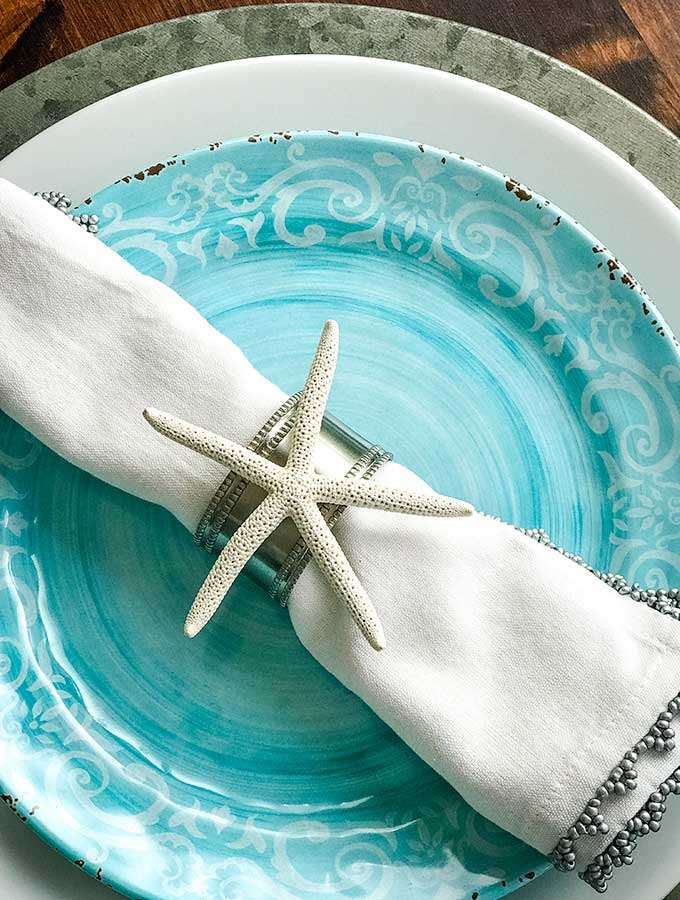 DIY Starfish Napkin Rings
Attach starfish to pewter, brass, or even braided rope napkin rings with this easy beach-themed craft. Just add a drop of hot glue to the underside of the starfish and position it on the napkin ring and hold for a minute until it has set.
Complete your place settings with this craft for a lovely way to display seashells on your dinner table.
Idea by Coastal Wandering
Flower Arrangement With Seashells
A small glass vase placed within a larger glass vase makes a stunning way to display seashells coupled with flowers. Between the two vases, add an array of different shapes and sizes of shells and sand dollars to create a unique display.
The inner vase holds the flowers. It's a centerpiece that's sure to be noticed!
Idea by Home Is Where The Boat Is
DIY Seashell Plank
This simple craft idea might be one of the easiest DIY projects that you can make with seashells. By attaching shells to a wooden plank you'll make an eye-catching decorative item in just minutes.
You can even do this project cost-free if you've collected the shells and have an old plank board. All you need is a glue gun to attach the shells. Display the decorative plank indoors or out for a coastal touch.
Idea by House By Hoff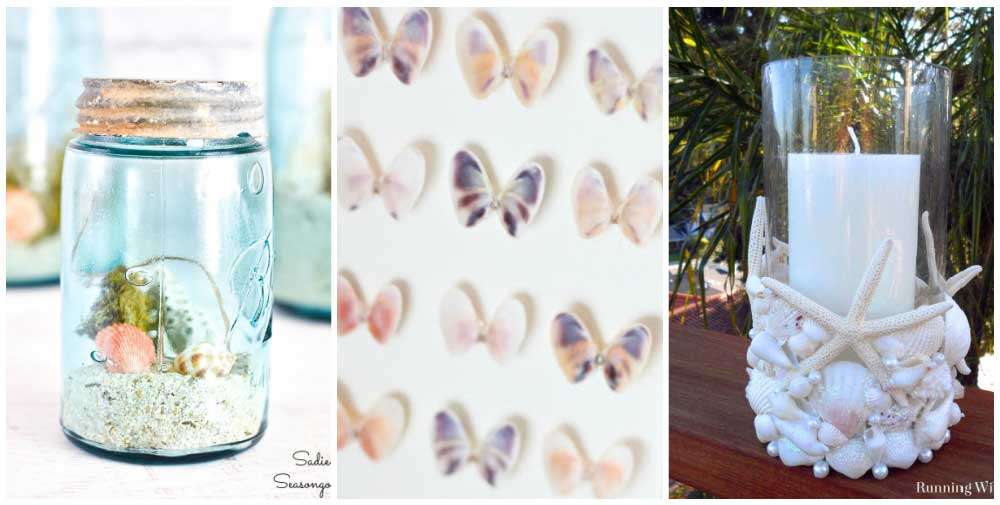 Seashell Candle Holder
Display your favorite seashells in a prominent way by attaching them to a glass candle holder. Add a little bling to the look with white pearls and a light dusting of iridescent glitter. Add a starfish here and there to complete the seashore look.
Idea by Running With Sisters
Summer Beach Jars
Create a memory jar by filling mason jars with mementos such as sand, seashells, moss and more as a unique way to display your beach treasures. No glue, scissors or special equipment is needed other than a jar and lid.
Display this sweet craft on a table, mantle, or shelf as a way to remember your beach vacation.
Idea by Sadie Season Goods
DIY Handmade Shell Candles
Scallop seashells are the perfect vessel for making DIY candles. Using clean and dry shells, hot glue pre-waxed wicks to the center of the inside of the shells. Using melted wax pellets, gently fill the shells and let set until fully cool. These little seashell candles make lovely gifts, too!
Idea by Burkatron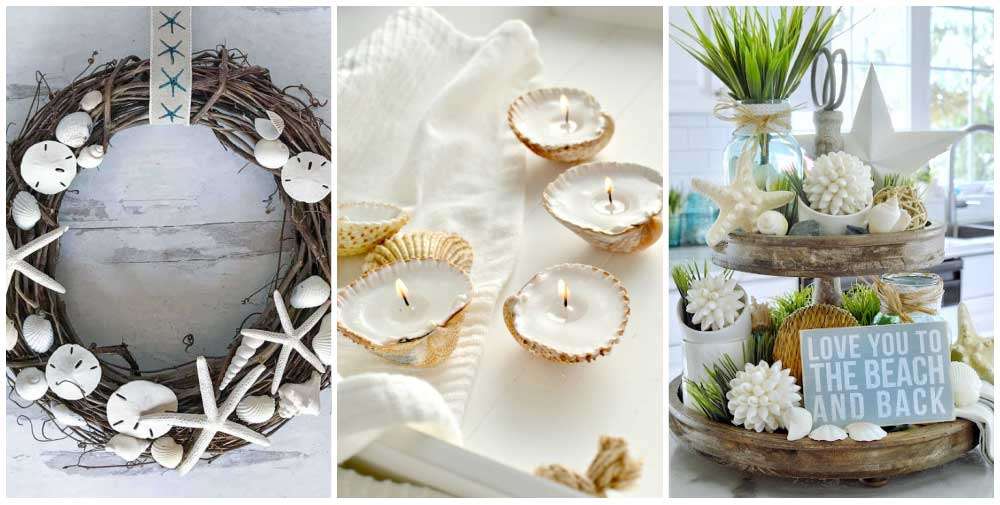 Seashell Soap Dish
Using a large seashell, you can create a gorgeous soap dish that is completely usable. It's perfect for a coastal-themed bathroom. You'll need blue and green translucent dye to add beachy tones to the inside of the clam shells as well as clear epoxy to seal it.
This dish can also become a trinket dish, perfect for your bedside table.
Idea by Doodle Craft Blog
DIY Seashell Heart Shadowbox
Display this shadow box that captures seashells within a heart-shaped rope outline. Form a heart using craft rope and use tacky glue to secure it to the cardboard shadow box backing.
Arrange the seashells within the heart and then hot glue them in place. Insert the backing back into the shadow box and it's ready to be displayed as wall art.
Idea by Living Porpoisefully
Tiered Tray
Perfect for your coastal kitchen or as a centerpiece, use a tiered tray to display your favorite seashell collection interspersed with sea glass, coral and other beach-themed souvenirs.
Use clear or blue mason jars filled with these treasures to add interest. Incorporate some natural elements, such as seagrass or driftwood, to create a stunning display.
Idea by Dining Delight
Seashell Specimen Art
All those seashells that you collected on the beach during your vacation can make a unique piece of display art using "butterfly" Coquina shells.
It's a simple shell craft that needs a hot glue gun, toothpicks and scrapbook paper. You'll also need a picture frame for the final product where you can hang it on a wall or enjoy it on a mantel, bookcase shelf or side table.
Idea by Petals And Ply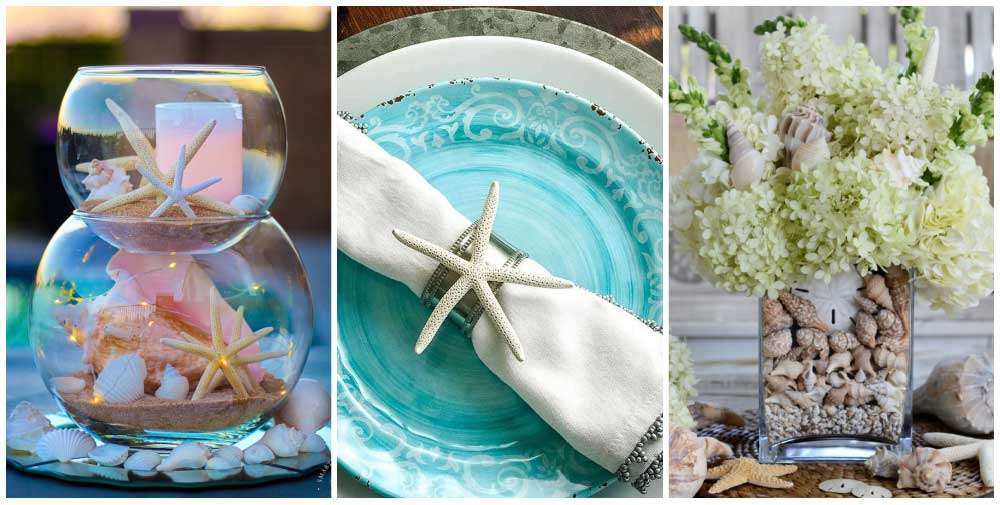 Seashell Door Hanging
Whether you use this as wall decor or a door hanging, this easy shell craft is a way to add a coastal vibe to your home decor. Hanging from hemp twine and attached to a piece of driftwood, add your favorite seashells to the rope.
Follow the easy instructions on how to secure the shells with a no-drill solution and hot glue, if needed. Add faux succulents to the top of the driftwood for a splash of greenery. Display this decorative piece on your front door or a wall.
Idea by Homemade By Carmona
DIY Beach Theme Frame
This coastal-inspired frame in a distressed whitewashed texture is tastefully embellished with seashells and pebbles. All you need is a hot glue gun to attach them strategically on the frame.
This is a perfect way to display a favorite photo as a memento of your time at the beach.
Idea by DIY And Fun
Stacked Fishbowls With Seashells
These dollar store fishbowls in various sizes are the perfect way to create a capsulated seashell vignette. This stackable craft makes a great centerpiece for summer.
Fill with sand, seashells and even an LED candle for use outside at dusk. It looks like a mini aquarium (without the fish).
Idea by Smart School House
Seashell Decorative Jar
This seashell craft uses jute yarn to help attach scalloped shells to a woven container for a beachy embellishment. Here, a glass container with a natural fiber exterior was used but any woven container could also be used as long as you can tie the jute to it.
Depending on your seashells, you can either drill a hole to attach the twine to it or use hot glue. It's an easy shell craft that you can complete in minutes.
Idea by Between Naps On The Porch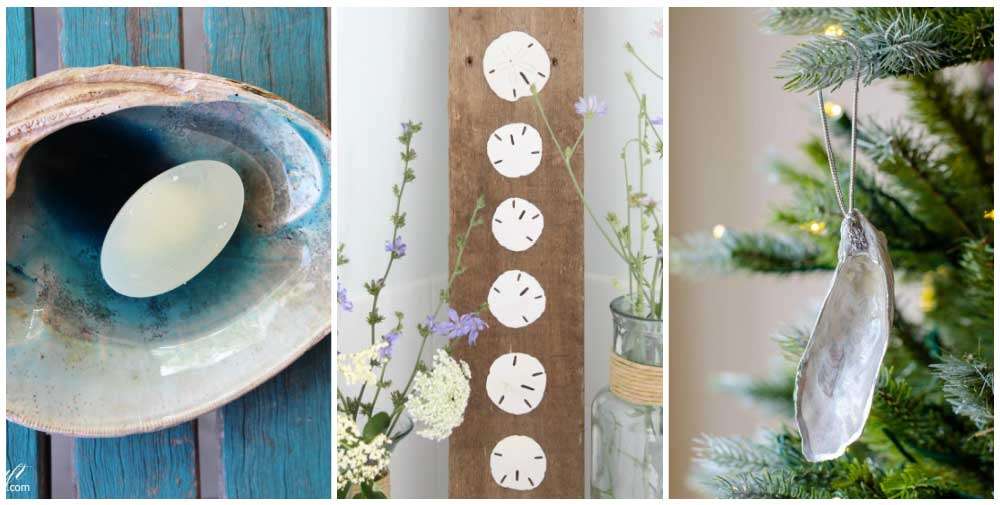 DIY Seashell Vase
Perfect for a side table, mantel or console table, use a large glass bowl or vase to fill with beach-themed items.
Here, this tall glass vase is filled with beach sand, a collection of beautiful seashells and green faux tall grass to accentuate the height of the vase. It's a simple yet beautiful way to decorate with seashells.
Idea by H20 Bungalow
Seashell Shadow Box Table
Take any table with a recessed section and repurpose it as a shadow box and cover it with a fitted piece of glass. Inside, you can place all your beach shell treasures to create a one-of-a-kind table that will always hold special memories.
Craft a coffee table, side table or even an outdoor patio table with this unique seashell idea.
Idea by Our Crafty Mom
Shell Garland
Display your seashell finds with this simple garland craft. Using jute twine or ribbon, cut 6" pieces and hot glue them to the back of your seashells.
Tie each one to a longer length of the twine or ribbon, spaced evenly. It's perfect for a draping decoration for a mantel or staircase.
Idea by Burlap And Blue
Painted Seashells
Get creative by using acrylic paint to decorate seashells. This is a great kids' craft, letting them paint the shells they collected during a trip to the beach.
Keep the colors monochromatic or paint designs on them using a foam brush and smaller paintbrushes for finer detail work. Display them on walls or hot glue magnets to the back and display them on your fridge.
Idea by Handmade Charlotte
These decorating and craft ideas will give you plenty of creative ideas for displaying seashells and showcasing your beach treasures!