Love seafood? You will love these easy and delicious seafood breakfast recipes. These tasty breakfast ideas include everything from salmon to shrimp to lobster to crab. Perfect for a coastal brunch or any time you want a breakfast-inspired fish dish!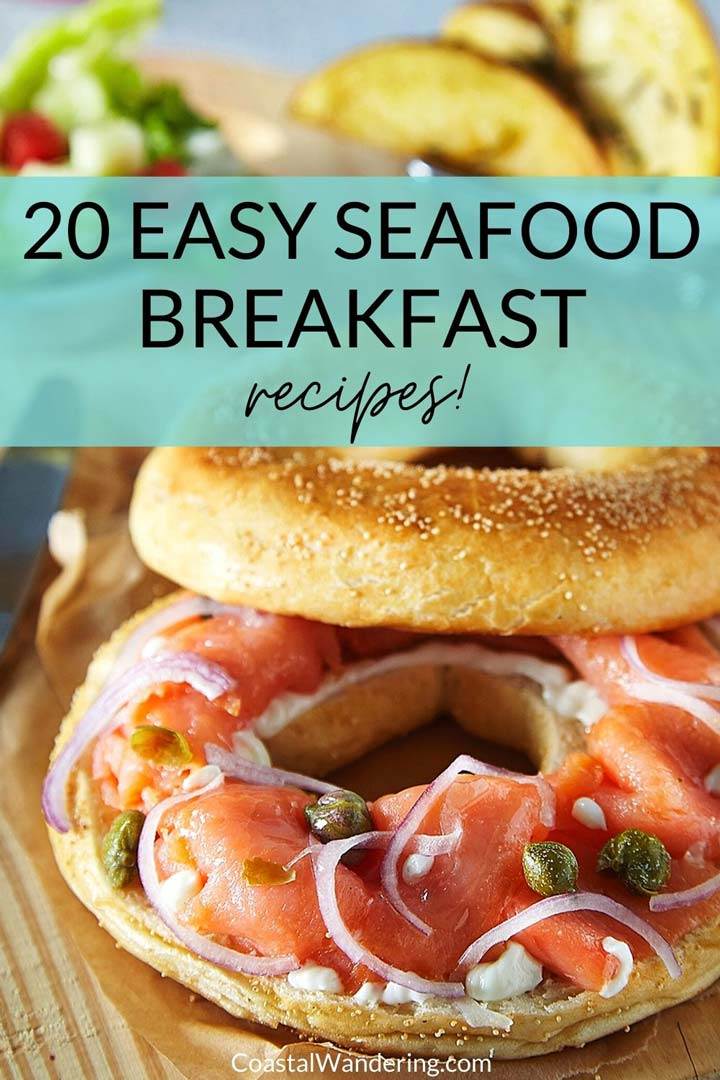 If you prefer a savory morning meal over a sweet one, this collection of hearty seafood breakfast recipes will inspire you. Perfect for using fresh seafood as well as frozen, canned or leftover seafood, you'll find zesty options for shrimp, smoked salmon, crab, lobster, scallops, and more.
Since most seafood is quick and easy to prepare, many of these recipes can be made on the fly which will fit right in with your morning routine whether it's a weekday breakfast or a lazy weekend brunch.
Of course, the classic fish breakfast is a simple lox and bagel sandwich and these recipes take seafood breakfasts to the next level. From eggs to tacos or wraps and from quiche to stir-fry to breakfast bowls, explore the variety of seafood options that will liven up your morning cuisine.
Seafood breakfast ideas
These fish breakfast recipes will give you plenty of ideas for changing up your morning meal. Which coastal-inspired breakfast will you try first?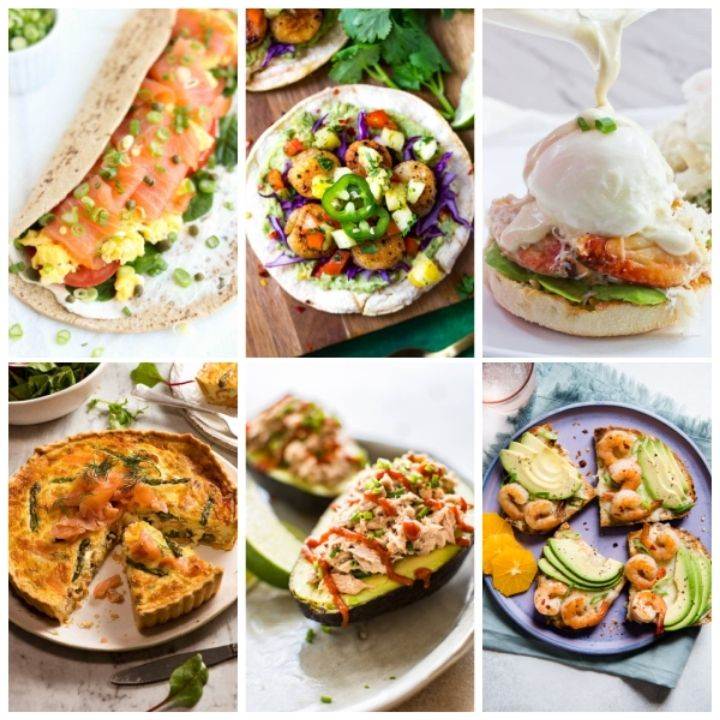 Shrimp Deviled Eggs
Here's a new twist on eggs for breakfast - add shrimp to the classic deviled egg recipe for an easy and delicious way to start the day. Bonus, these tasty bites can be made ahead and are easy to pack up for breakfast on the go.
Recipe by Coastal Wandering
Lobster Breakfast Sandwich
This decadent breakfast meal sandwiches fresh lobster tail meat, soft scrambled eggs, and pan-seared asparagus spears between brioche bread. Make it even more savory by toasting the buns with butter and garlic salt. Garnish it all with chives and savor this delicious sandwich.
Recipe by Bake It With Love
RELATED: 20 Quick & Easy Breakfast Sandwich Recipes
Lobster Scrambled Eggs with Wasabi Hollandaise
Take your scrambled eggs to a decadent and savory level by adding steamed lobster meat. The scrambled eggs get a dollop of mascarpone cheese to keep them soft and succulent. Add in diced lobster meat. Serve with the homemade hollandaise sauce that gets the perfect kick from the addition of a pinch of wasabi powder. Try it with a champagne cocktail!
Recipe by Pineapple And Coconut
Dungeness Crab Eggs Benedict
Put a healthy spin on your breakfast with this delectable seafood and egg feast that uses Dungeness crab. Use canned crab or quickly steam frozen Dungeness crab legs, extract the meat and begin building your meal. Toast your English muffin, add sliced avocado, layer on the crab meat, add a poached egg, and spoon on the healthy homemade yogurt sauce. Absolutely divine!
Recipe by Champagne Tastes
RELATED: 22 Easy Crab Cake Recipes Take You Back To The Beach
Salmon Quiche
This may become your favorite seafood quiche to serve for holiday meals or any special brunch event. Try this with smoked salmon or fresh salmon and be prepared for the compliments! Eggs, leeks, asparagus, cheese, and dill give this salmon-based quiche all the flavor it needs. It's crustless, so it's easy to whip up, pour in a pan, and bake. Amazing taste!
Recipe by Recipe Tin Eats
Shrimp And Grits
Rich and cheesy grits topped with sauteed shrimp, onion, and bell peppers makes for a zesty and filling breakfast, southern-style. You'll love this seasoned grits recipe that cooks up perfectly every time. It's a thick and tasty base for enjoying fresh shrimp. Garnish with crumbled bacon.
Recipe by Spend With Pennies
RELATED: 35 Easy & Delicious Shrimp Recipes
Spicy Tuna Stuffed Avocado
Whether you use freshly cooked tuna or canned tuna, this zesty mixture makes the perfect protein to stuff into a ripe avocado. You can whip this tuna salad up in minutes, scoop it into the avocado, and drizzle with Sriracha. An awesome way to have fish for breakfast!
Recipe by Salt And Lavender
Easy Smoked Salmon Breakfast Wrap
This hearty breakfast will fuel you right up until lunch and possibly beyond! It's full of smoked salmon, scrambled eggs, cream cheese, and veggies, all tucked into a convenient wrap. It's super quick to make in the morning, especially if you have the veggies chopped and prepped the night before. It's family approved, so make this one with confidence!
Recipe by Two Healthy Kitchens
Scottish Smoked Salmon Bagel with Scrambled Eggs
You can't go wrong with this simple but outrageously delicious smoked salmon and egg breakfast bagel. For the ultimate zing to your taste buds, use an everything bagel. Slather on the cream cheese, layer on the smoked salmon, pile on the scrambled egg and top it with a slice of red onion. Swoon!
Recipe by Kitchen Confidante
Albacore Tuna Buddha Bowls
Perfect for canned tuna fish or if you have leftover tuna from the night before, this bowl of sustenance will make a delightful savory breakfast. Build your morning buddha bowls from leftovers or fresh ingredients like greens, beans, rice, and hard-boiled eggs. Add the tuna in the middle and dig in!
Recipe by The View From Great Island
RELATED: How To Cook Carolina Gold Rice In An Instant Pot
Silky Egg Stir Fry with Jumbo Shrimp
Keep it low carb with this egg, shrimp, and tomato stir fry that's served over riced cauliflower. Blanche the raw shrimp in boiling water, drain and set aside. Prepare the savory egg mixture, add the shrimp and stir fry. Add in tomatoes and onions and cook until tender. Serve over hot cauliflower rice.
Recipe by The Organic Kitchen
Crab Melts
Top a toasted English muffin with this cheesy and delicious crab mixture for a quick and filling breakfast. Fresh or canned crab will work for this mayo, celery, and hot sauce mixture. Spread it on your muffins and stick it under the broiler to melt the cheese. So good!
Recipe by Spicy Southern Kitchen
Orange Honey Shrimp And Avocado Toast
It doesn't get much easier than this. Toast your favorite bread, melt the cheese on it under a broiler, top with avocado slices, add your freshly sauteed shrimp that you've tossed in the homemade orange sauce, garnish it all with scallions and dig in. Quick and tasty!
Recipe by Healthy Nibbles And Bits
Lobster, Bacon and Gruyère Crustless Quiche
Filled with eggs, bacon, shallots, Gruyere cheese, and chopped cooked lobster meat, this easy mixture can be assembled quickly and poured into a greased pie plate. It's crustless, so it's adaptable to your favorite pan. Bake until golden brown. Makes the perfect leftover breakfast for the next few days!
Recipe by Movita Beaucoup
Scallop Tacos With Pineapple Salsa
Quickly sear a bag of frozen scallops in a skillet and add to your favorite taco shell or wrap. Top with sliced red cabbage, guacamole, and a little sweet and savory pineapple salsa. What a zesty way to start your morning!
Recipe by The Girl On Bloor
Tuna Patties
Use freshly cooked tuna or canned tuna to make these popular and kid-friendly tuna patties. They're full of spicy and savory goodness like onion, mustard, Cajun seasoning, and fresh lemon juice. Crunchy on the outside, they make a perfect filling for buns or just to eat as-is. Make a batch of these fish cakes and save some for the next morning!
Recipe by The Rising Spoon
Shrimp Breakfast Bowl
Oat bran hot cereal gets a savory topping of sauteed shrimp and seasonings. Pancetta, onion, and garlic are sauteed in olive oil and are joined by peeled and deveined shrimp and cooked until lightly pink. Add it to your hot bran cereal and enjoy this savory feast.
Recipe by Home And Plate
Grouper Fish Tacos
Use leftovers or quickly sear grouper, or another mild white fish, in butter and lemon juice. It's the perfect flaky fish to nestle in a taco shell for a hand-held breakfast option. Just add in lettuce, tomato, cheese, and a tasty honey-mustard sauce.
Recipe by Averie Cooks
Rustic Crab Quiche
Fresh crab meat will set this breakfast quiche apart from the rest. It's a rustic yet flavorful egg and seafood baked meal that's perfect for a brunch or lazy morning breakfast. Fill the frozen pie pastry with the egg, crab, seasonings, and spice mixture along with shredded Gruyere cheese and bake. So delicious!
Recipe by Garlic And Zest
Lobster Benedict
Up-level your morning cuisine with a toasted English muffin topped with a poached egg, followed by cooked lobster meat and a luscious hollandaise sauce. Perfect for brunch menus or when you have access to fresh lobster.
Recipe by Chocolate And Chai
Breakfast Tacos with Wild Alaska Salmon, Eggs, and Avocado
Perfect for leftover cooked salmon, this breakfast comes together quickly the next morning. Warm your corn tortillas, scramble your eggs, chunked the salmon, and get ready to assemble your tacos. Add toppings of tomato, onion, and cheese and enjoy this hearty breakfast.
Recipe by Simply Recipes
So the next time you're craving seafood, try it for breakfast!