Here are 21 iced coffee recipes for hot summer weather. Whether you're looking for classic iced coffee or copycats of your favorite frozen coffee drinks, you'll find something to cool you off and perk up your day.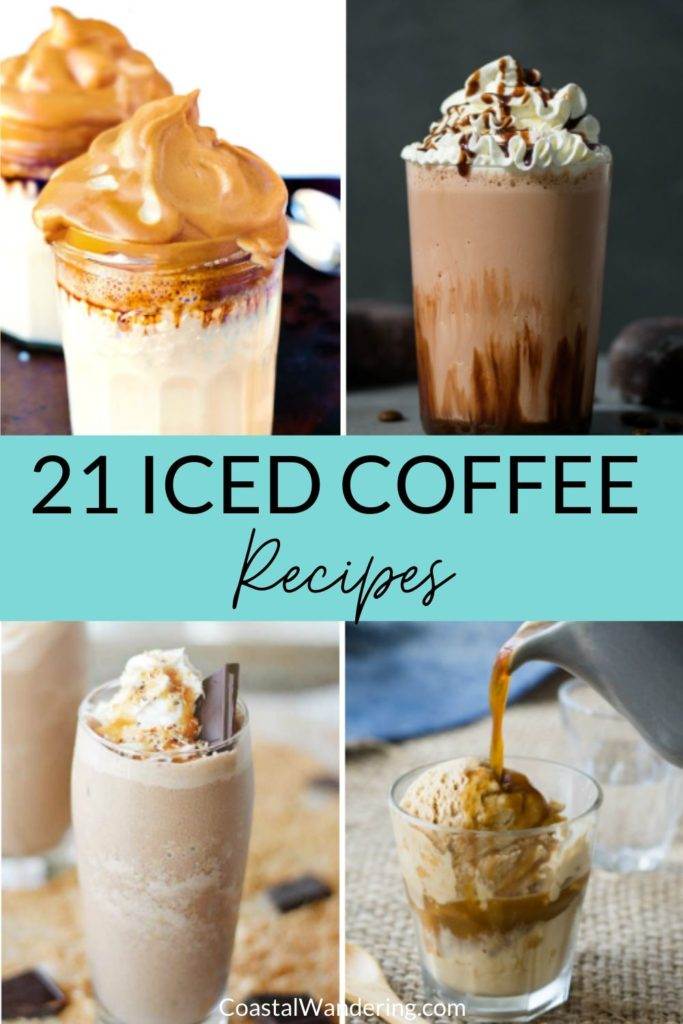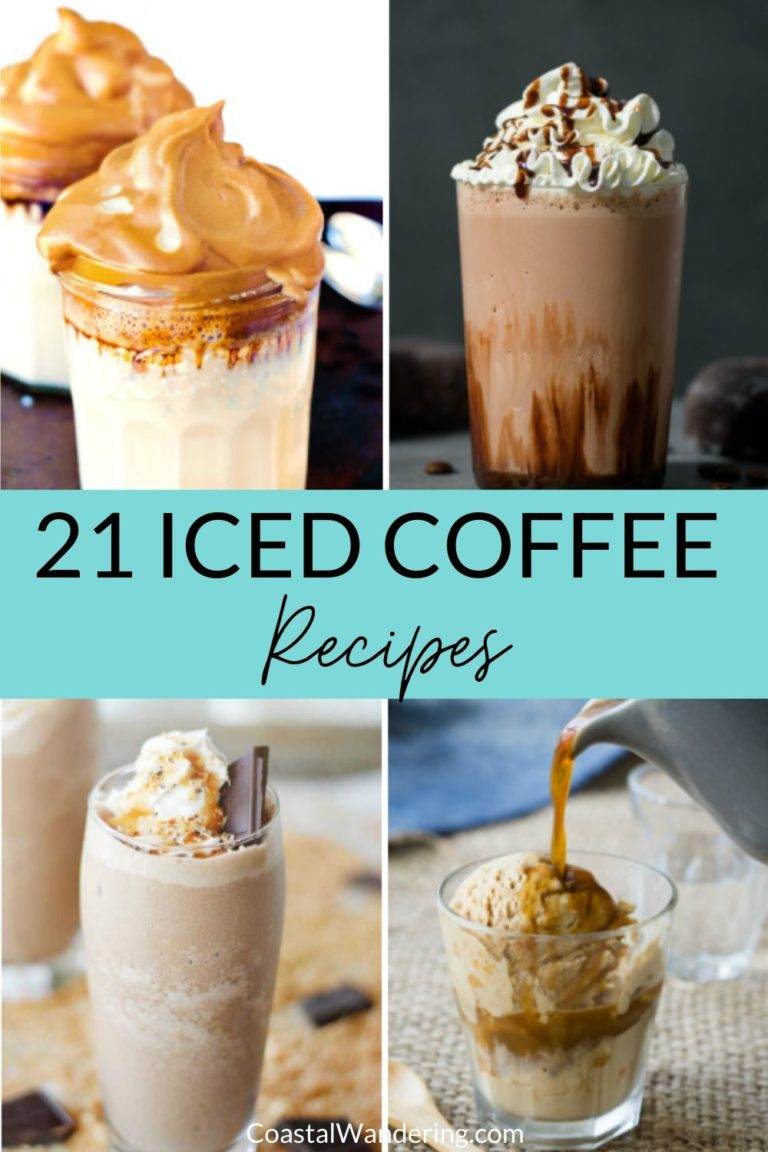 Looking for the perfect iced coffee for hot summer days? Try one of these coffees with a breakfast sandwich to start your morning. (Even better if you take it on a road trip to the beach!)
Or when the afternoon slump sets in, treat yourself to one of these refreshing cold coffee recipes. Hot coffee has its place, but these blended and frothy beverages give you icy goodness that takes your coffee to the next level.
Be your own barista and try an iced latte, coffee soda, or frappuccino with these awesome ideas. You'll find ways to incorporate flavors of chocolate, berries, herbs, nuts, and more into these scrumptious and creative iced coffee recipes. Get your blender and ice cubes ready!
And if you're looking for an icy coffee cocktail, try this easy espresso martini recipe with Baileys!
21 iced coffee recipes
These iced coffee recipes will perk up your day with a delicious jolt. Which one will you try first?
This simple iced latte is my go-to summer drink. Brew a quick shot of espresso or use cold brew coffee concentrate. Make it with regular milk or your favorite plant-based milk (try almond, cashew, coconut, or oat milk) for a dairy-free vegan iced coffee at home. Either way, this recipe makes it easy to have your perfect iced latte at home. No need to go to Starbucks!
How To Make Iced Latte by Cook Eat Well
RELATED: 15 Easy Coffee Desserts To Make Now
If coffee and donuts are one of your favorite treats, you'll want to try this recipe that combines the flavors of chocolate iced donuts into an iced beverage. A smidge of nutmeg, a dollop of chocolate syrup and milky ice cubes are blended to give this iced coffee an irresistible mocha profile. Top with whipped cream and a drizzle of chocolate syrup. Swoon!
Double Chocolate Blended Iced Mocha by Fork Knife Swoon
This slushie coffee drink incorporates hazelnut and chocolate flavors that take this frappuccino over the top in the taste department. Use full cream for a rich and thick finish and use coffee ice cubes to keep it frosty. Crazy good!
3-Ingredient Nutella Frappuccino by The Flavor Bender
If you've never added salt to coffee, you're in for a treat with this tasty recipe. Sweetened cold brew gets topped by a fluffy cloud of heavy cream and finely ground sea salt that's been whipped to perfection. Try this one!
Sea Salt Foam Iced Coffee by The Little Epicurean
Using healthy ingredients, you'll adore the flavor of this cookie-inspired coffee beverage. Almond milk, honey and strong coffee get flavored with melted dark chocolate and shredded coconut. Blend and top with whipped coconut cream, caramel sauce, and coconut flakes.
Skinny Samoa Cookie Frappuccino by Well Nesting
Coffee and soda? Yes! Add a few ounces of seltzer to your iced coffee beverage to give it a refreshing pop that's perfect for a hot summer day. The homemade coconut syrup flavors it to delicious perfection.
Iced Coconut Coffee Soda by How Sweet Eats
Give yourself a caffeinated dessert with this icy shake. Just add your favorite cold brew to a blender, drop in frozen banana chunks, coconut milk, raw cacao powder, almond butter, Medjool dates and a few ice cubes. Blend it and garnish the top with cacao nibs.
Frosty Java-Cacao Shake by Blissful Basil
Chocolate and peanut butter are best friends and here, they invite coffee to the party. Powdered peanut butter and cocoa powder are the secret ingredients to the incredible flavor that helps this drink blend smoothly. Add a little milk, some strong coffee, a few ice cubes and blend.
Skinny Chocolate Peanut Butter Frappuccino by Amy's Healthy Baking
To create this sensational coffee drink and achieve its iconic meringue look, you'll be whipping your ingredients. Here, you can even use instant coffee. Use a hand mixer for quick results. Serve it hot or cold - it's delicious both ways!
Whipped Dalgona Coffee by Chocolate Covered Katie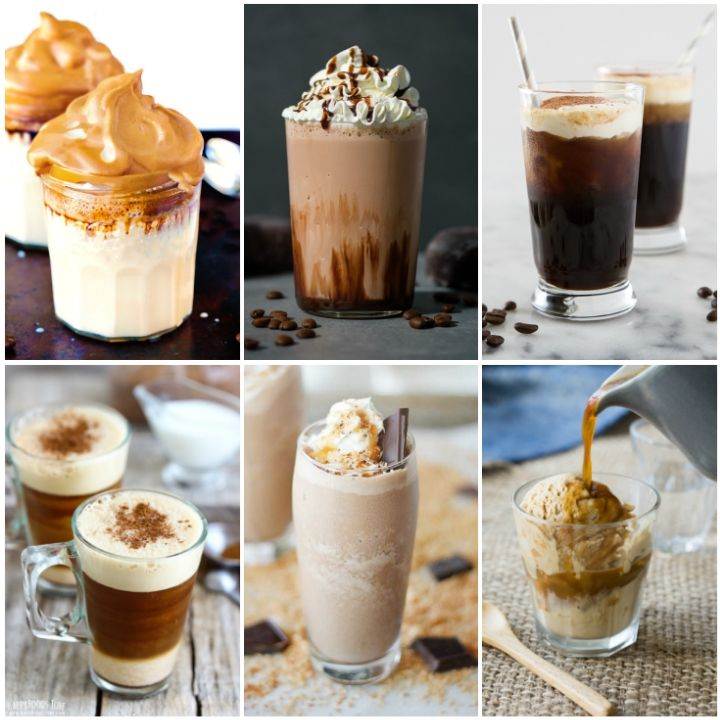 Save your leftover coffee (if you have any!) and let it chill in the fridge for an afternoon pick-me-up beverage. Just add milk, a little hazelnut syrup and ice to your cold brew and sip on this tasty drink for a sweet cool-down session.
Hazelnut Iced Coffee by Our Crafty Mom
Make this fancy and fun coffee by adding black tapioca pearls to your cold brew along with milk, honey and ice cubes. Make sure and serve it in a clear glass so you can see the bubbles! So cute!
Iced Coffee Bubble Tea by Savory Tooth
Make this berry-flavored iced coffee with your favorite coffee machine or a conventional brew method. Either way, it's a sweet way to use summer's fresh raspberries. Add frothed milk and a smattering of cacao nibs for a scrumptious afternoon coffee break.
Fresh Raspberry Iced Coffee by Running To The Kitchen
This icy beverage is sweetened with honey and flavored with cocoa powder. A base of coffee and coconut milk, along with ice cubes, are blended into this mocha frappuccino that's perfect for on a hot day.
Clean Eating Mocha Coconut Frappuccino by The Gracious Pantry
You can make this spicy coffee in a snap if you use a personal coffee machine. Milk, maple syrup, ground cardamom and coffee are poured over ice and stirred to create a delectable chilled caffeinated drink to enjoy any time of day.
Iced Cardamom Coffee by Cook Republic
Just a little sweetened condensed milk will up-level your iced cappuccino to a sweet treat. Add a dash of cinnamon, a shot of espresso, frothed almond milk and ice to a jar with a lid. Shake well and enjoy this delightful beverage.
Iced Cappuccino by Baked Bree
Make this sweet salted caramel coffee float for a quick afternoon jolt of energy. It's elevated to dessert status with a scoop of caramel ice cream followed by espresso, vanilla syrup, sparkling water and a little sea salt. Awesome!
Sea Salt Caramel Coffee Float by The Worktop
Get your tumbler full of ice ready for this cooling mint-infused latte. Be sure and use fresh mint leaves that you'll crush with a smidge of sugar to release that awesome flavor. Strain the mint mixture. Mix it with a few shots of cold coffee and milk of your choice. Fabulous!
Mint Latte by Mixed And Measured
It's handy to keep instant coffee on hand when you don't have time to brew the old fashioned way. For a quick iced coffee jolt, make this spicy cinnamon concoction in about a minute. Blend the instant coffee, cinnamon and sugar to give it a nice foam. Add milk and pour over ice cubes. Delish!
Cinnamon Iced Instant Coffee by Happy Foods Tube
You'll still enjoy hot and spicy flavors in this coffee drink, even though it's in chilled form. The best part is the rich homemade chocolate sauce (no-cook!) that creates this awesome drink. Just add it to your hot espresso, pour it over ice and add your favorite non-dairy milk.
Aztec Iced Mocha Vegan by Vegetarian Gastronomy/
Make this healthier version of a creamy caramel macchiato by using almond milk and a homemade paleo caramel sauce. Mix it all with cold-brewed coffee and indulge in this delicious drink.
Paleo Iced Caramel Macchiato by Wicked Spatula
This fall-friendly drink is full of seasonal goodness thanks to the pumpkin butter ice cubes. Pumpkin lovers will adore this sweet and spicy coffee drink that blends into a frappuccino worthy of the change of seasons.
5-Ingredient Pumpkin Frappuccino by Minimalist Baker
What's your favorite cold coffee drink for summer? Share in the comments below!