Orange roughy is delicious. The key is to cook it the right way. Here are 20 easy and tasty ways to prepare orange roughy.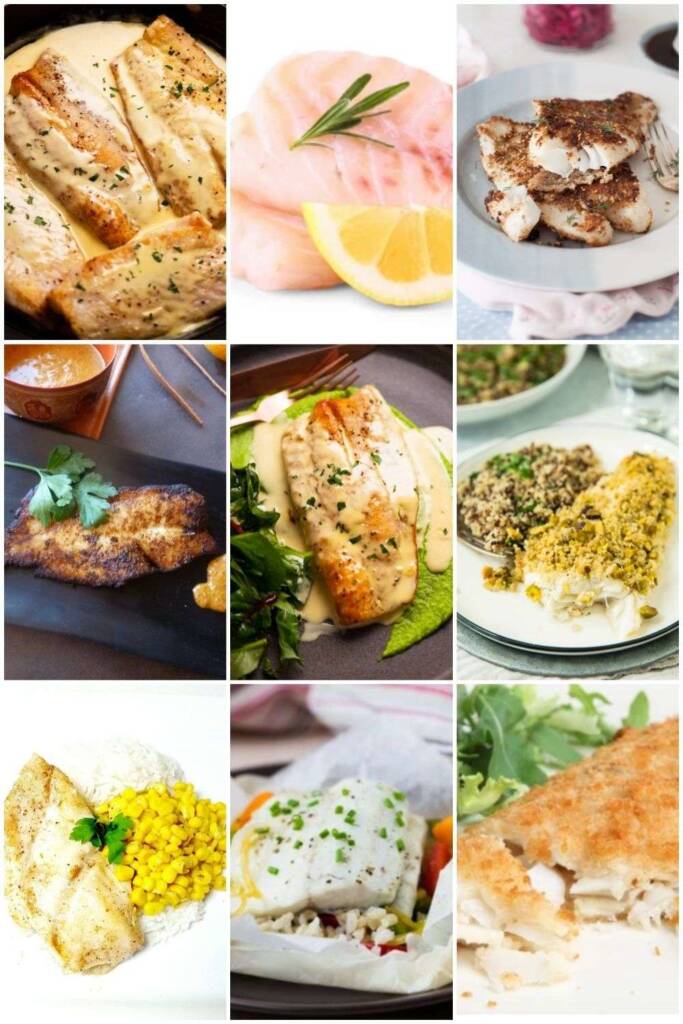 If you love mild white fish that cooks quickly and can take on different flavor profiles from simple seasonings to bold flavors, then you'll enjoy this collection of easy orange roughy recipes.
This deep sea perch is a versatile fish that can be pan fried, grilled or baked in a relatively short time making it perfect for quick meals.
Orange roughy, sometimes called red roughy, can be easily prepared with herbs, spices, simple breadings and sauces, making it a delicious way to enjoy seafood without complicated cooking skills or multi-ingredient recipes.
Easy Orange Roughy Recipes
From blackening spices to lemon pepper to a simple dredge in flour and browning in butter or a quick broil, grill or air fry, there are so many ways to cook this versatile fish. Here are some quick, easy and delicious orange roughy recipes to try.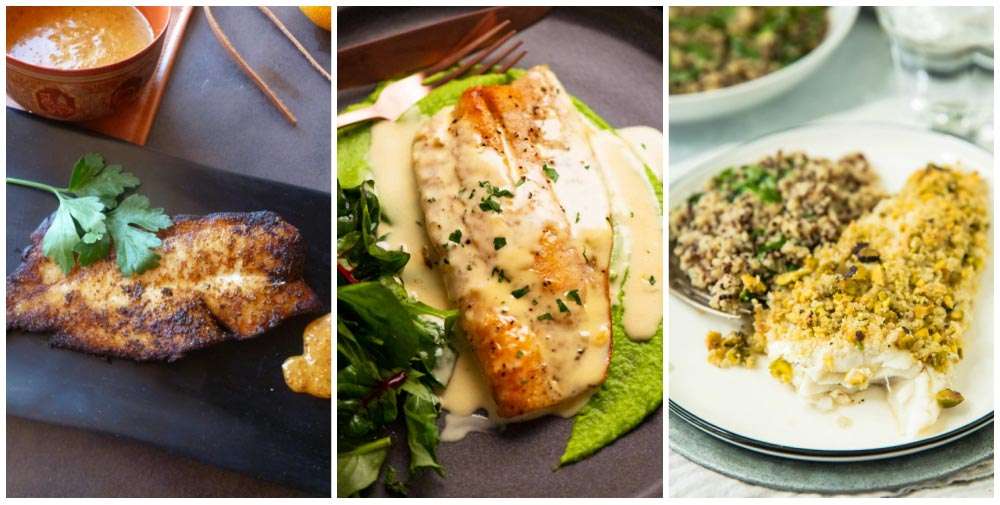 Blackened Orange Roughy
Buttery, tender and full of spicy blackened seasoning, this orange roughy dinner can be made in under 10 minutes. Use a paper towel to blot your orange roughy to dry it thoroughly before adding the blackened spice mix to both sides of the filets.
Mix the spicy blackening seasoning in a small bowl with paprika, garlic powder, salt, pepper, cumin and oregano. Sauté the fish in an oiled skillet for just a few minutes on each side. You'll know it's done when the fish flakes easily with a fork.
Recipe by The Top Meal
Sweet And Sour Orange Roughy
Give your orange roughy a mouth-watering flavor boost with this sweet and sour sauce. After a quick sauté of the fish, set it aside and sauté onions, garlic, ginger, bell peppers and carrots to soften.
Add in a homemade mixture of soy sauce, honey, rice wine vinegar, broth and chili paste. Add the fish filets back to the skillet to heat before serving this fragrant and scrumptious meal.
Recipe by Lean Bella's Kitchen
Pan Fried Sesame Walnut-Crusted Roughy
You'll love the nutty crunch of walnuts, bread crumbs, dried dill and sesame seeds that coats the orange roughy fillet with this easy dish. Dip the fish in a shallow bowl of beaten egg before coating with the walnut mixture.
Use a large skillet to sauté both sides of the fish before plating it for serving. For a final touch, drizzle the fish with a tangy mixture of soy sauce, grapefruit juice, and honey.
Recipe by Melangery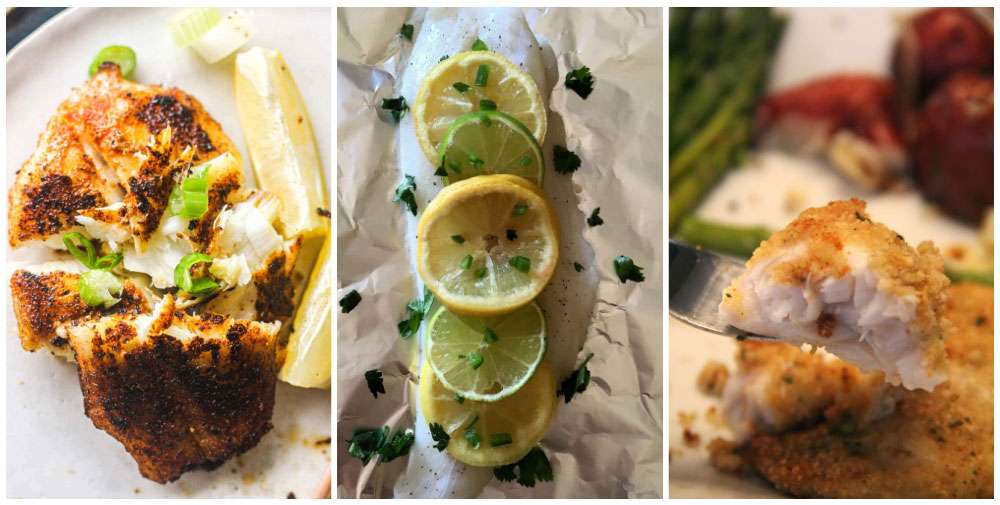 Grilled Roughy With Blueberry Mango Salsa
The mild flavor of orange roughy is the perfect canvas for a fresh homemade fruit salsa to top a summer grilling session with this deep sea perch. Fresh blueberries, chopped mango, cucumber and cilantro along with diced jalapeño pepper and lime juice make this sweet and spicy salsa.
With just minutes on the grill for the fish, this salsa can be made ahead of time. Easy and delish!
Recipe by Kim's Cravings
Fish With White Wine Sauce
This easy to make white wine sauce will add an elegant touch to your orange roughy fish dinner.
White wine, white wine vinegar and heavy cream are flavored with butter, shallots, garlic and lemon juice for a deliciously creamy topping to your pan-seared fish. It's a restaurant-worthy meal.
Recipe by Recipe Tin Eats
Citrusy Baked Orange Roughy
Steam your orange roughy in a parchment paper or foil pack in the oven for a tender and succulent baked fish dinner.
Flavor is infused by adding lemon slices and lime slices along with finely chopped jalapeño pepper and freshly chopped cilantro. A tablespoon butter or a drizzle of olive oil will keep it from drying out as it steams. So easy!
Recipe by All She Cooks
Sautéed Fish with Mustard Tarragon Cream Sauce
This creamy and herbal sauce is a delicious way to dress up mild-flavored orange roughy for an easy meal. Shallots, whole grain mustard and fresh tarragon liven up the cream sauce that's easily made on your stovetop.
Blot your orange roughy with paper towels to make sure it's completely dry before salting it and pan frying it in avocado oil. Serve and top with the herbal sauce.
Recipe by Simply So Healthy
Caesar Orange Roughy
This baked fish recipe will be a hit with kids since this white fish is topped with some cheese and crunchiness. Add your fish fillets to a baking dish and top with your favorite caesar salad dressing.
Add a layer of crushed butter-flavored crackers and top with freshly grated cheddar cheese. It needs just 15 minutes in the oven to cook, making it perfect for busy weeknights.
Recipe by Noble Pig
Air Fryer Orange Roughy
Spritz your orange roughy with a little oil before seasoning it with salt, onion powder, garlic powder and dried thyme before adding it to your air fryer basket. Cook for approximately 7 minutes.
Garnish with a squeeze of fresh lemon juice on top before serving. What could be easier?
Recipe by The Top Meal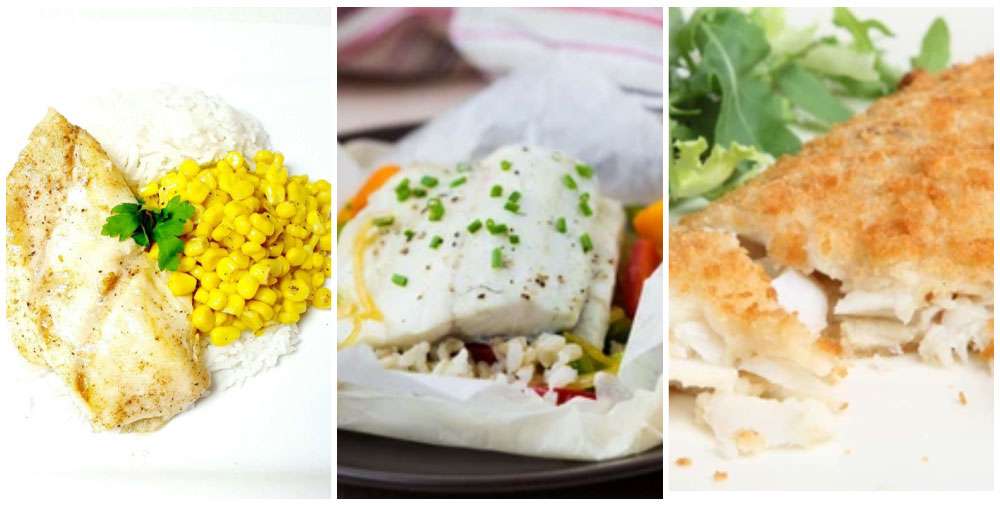 Crab Stuffed Orange Roughy
Pair your orange roughy with crab for a restaurant-worthy fish dinner that you can make at home with ease. The fish filets are spread with a spicy crab mixture before being rolled up and placed in a baking sheet for a session in the oven.
Bake to deliciousness and enjoy this crab-stuffed orange roughy extravaganza.
Recipe by Pam's Midwest Kitchen Korner
Spice Seared Orange Roughy
Make this fish dinner when you have a little time to soak your orange roughy, fresh or frozen, in a milk bath for a succulent outcome.
After marinating, pat dry and season with a spicy mix of paprika, cayenne and garlic to season the fish before its short session in the skillet.
Recipe by Diplomatic Kitchen
Garlic Parmesan Orange Roughy
For a classic savory and breaded white fish recipe, dip your orange roughy filets in a shallow dish of melted butter before dredging them in a garlic and parmesan cheese bread crumb mixture.
Place them in an oiled baking dish and sprinkle with fresh parsley. Bake for approximately 20 minutes until the fish is opaque and flakes easily with a fork.
Recipe by Bitz And Giggles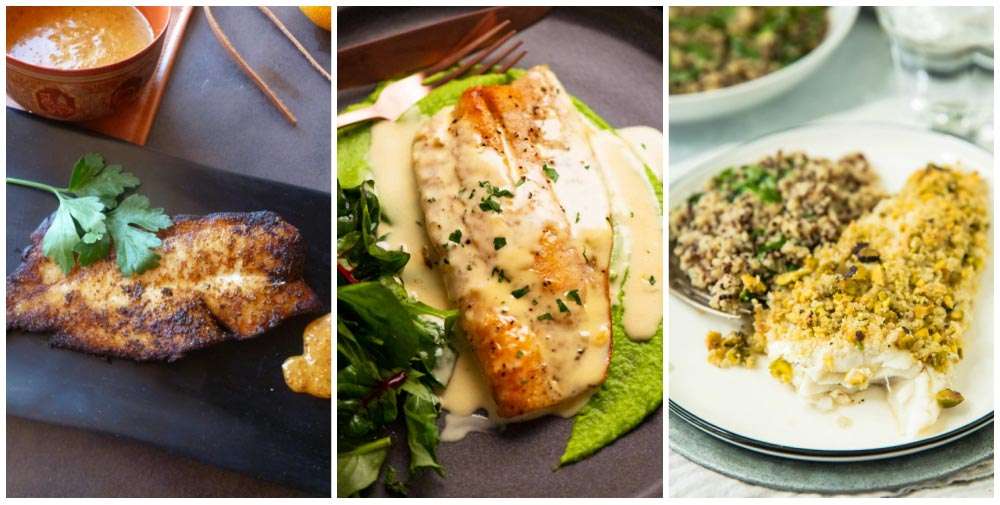 Healthy Pistachio Crusted White Fish
Crushed pistachios cover orange roughy filets slathered with Greek yogurt and panko breadcrumbs before being crusted with the nuts.
This preparation works well for any white fish. Bake in the oven for about 15 minutes or until the fish is opaque.
Recipe by Kim's Cravings
Prosciutto Wrapped Roughy
This elegant and easy fish dinner will win you rave reviews. Orange roughy filets are seasoned with both dried and fresh rosemary before being wrapped in tasty prosciutto.
Garnished with a squeeze of lemon juice and grill these filets succulent and fragrant perfection.
Recipe by Recipe Girl
Pan Fried Orange Roughy
A simple dredge in all-purpose flour and egg before being covered in breadcrumbs becomes a crunchy coating for this easy pan fried fish recipe.
A quick sauté in a large skillet will produce a golden crisp shell for this easy and tasty orange roughy meal.
Recipe by Conscience Of A Gourman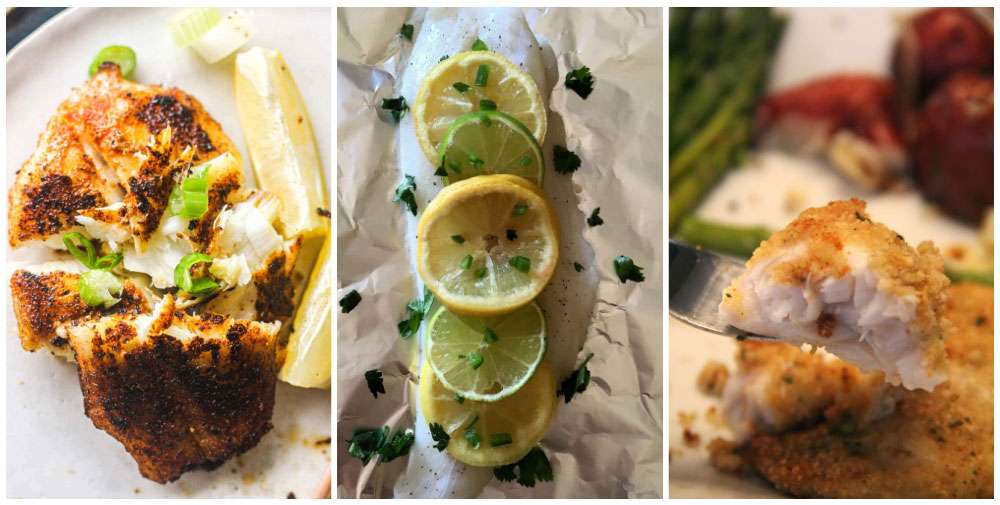 Mediterranean Style Orange Roughy
Orange roughy gets a Mediterranean-inspired flavor upgrade with the addition of a tomato, capers and feta cheese topping as it bakes in the oven.
For easy clean up, line your baking sheet with foil before adding the rinsed and dried filets. Pour the tomato mixture over the top and bake for 12 minutes. Simple and mess-free!
Recipe by La Mia Cucina
Orange Roughy in Parchment with Pesto
Punch up the flavor of orange roughy with a savory and herbal topping of pesto in this parchment-steamed fish recipe. To a sheet of parchment or foil, add your rinsed and dried fish filets slathered with pesto and fold into a sealed pack.
Bake for 10 minutes to allow the steam in the pack to cook the fish. This main dish is perfect to serve with pasta. Just add cherry tomatoes and quartered artichokes for a satisfying meal.
Recipe by Chatty Gourmet
Pan Grilled Orange Roughy With Herbs
A quick marinade of lime juice, hot sauce, fresh thyme and oregano add a boost of flavor to orange roughy before being grilled to deliciousness. You'll need an hour of refrigeration time to let the flavors infuse the fish.
When ready, use a grill pan or skillet with a little olive oil and add the marinated filets. Cook for a few minutes on each side and serve with your favorite side items.
Recipe by Broadmoor Farm House
Romano Baked Orange Roughy
Your family will love this creamy and cheesy topping that bakes to melted goodness on top of your orange roughy filets. Mix mayonnaise with Romano cheese, lemon juice and freshly chopped chives.
Spread it over your fish filets and bake for approximately 12 minutes until the fish flakes easily.
Recipe by The Single Gourmand
Lemon Orange Roughy
This may be the easiest orange roughy recipe ever, so keep it handy for nights when you're too tired to think, much less cook. Melt a few pats of butter with a teaspoon of olive oil in a skillet. Brush the filets with melted butter and season with salt and pepper.
Add your fish filets to the skillet and pan fry each side for a few minutes until golden brown. Squeeze fresh lemon juice on each side while cooking. Garnish with lemon zest, plate it up and enjoy!
Recipe by Lou Lou Girls
Orange roughy has a fairly mild flavor, but it can still stand up to bold sauces. Try these easy orange roughy recipes that make the perfect quick, last-minute fish dinner for your family.