When you're craving an oven-baked meal, these seafood casserole recipes are the perfect comfort food. From crab meat to lobster and from salmon to shrimp, you'll love these classic seafood dinners!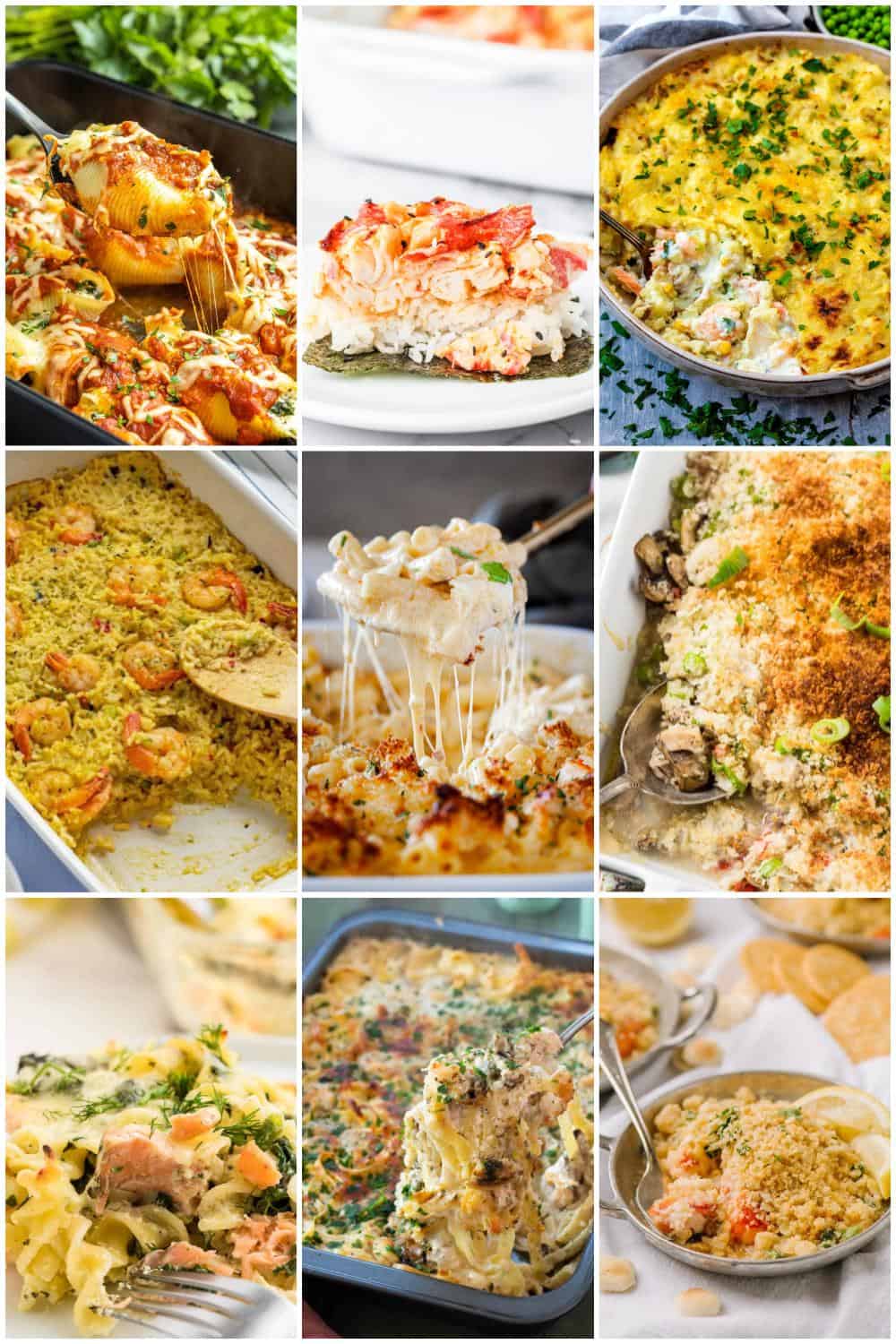 If you love seafood, there's nothing more indulgent than baking it into a creamy, cheesy comfort food dinner. Including fresh or frozen fish and shellfish along with ingredients like rice, cheese, pasta, veggies and more is perfect for a one-pot meal that's baked to savory deliciousness.
Best Seafood Casseroles
These shortcuts and ideas will give you tasty inspiration for the best seafood casserole recipes that are always crowd pleasers.
Whether you use shrimp, lobster, crab or fish, you'll find ways to incorporate pre-cooked, frozen as well as fresh seafood into an easy seafood casserole recipe.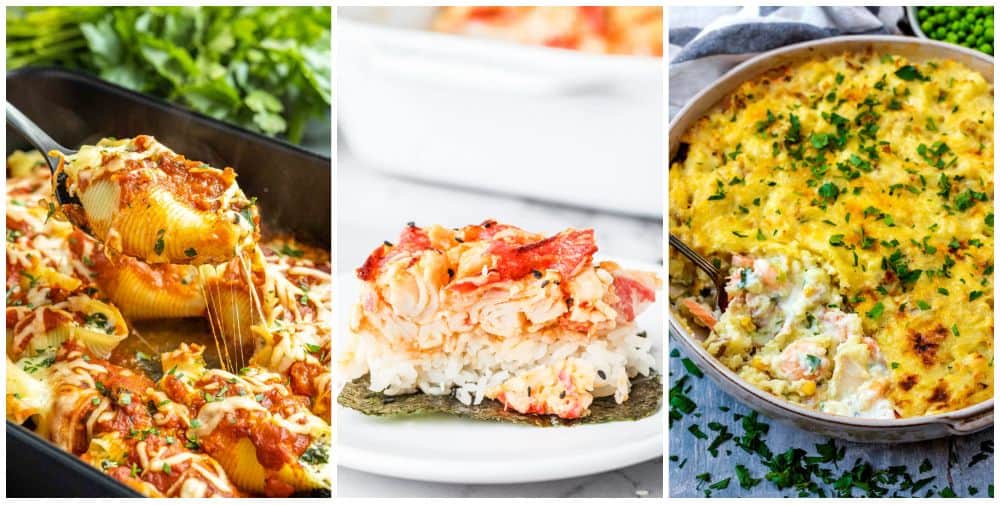 Salmon And Veggies Casserole
Use canned or cooked salmon to assemble this delicious casserole. It gets mixed with carrots and peas as well as cream of celery soup. Keep it delectably creamy with Greek yogurt and shredded cheese. Add flavor with chopped onions and fresh dill.
Lastly, stir in cooked small shell pasta and mix the ingredients well before adding it all to your buttered casserole dish. Top with crushed Ritz crackers and bake this protein-packed salmon casserole until golden on top.
Recipe by I'm Hungry For That
Healthy Fish Pie
What could be more satisfying than a seafood casserole that's actually low in calories yet full of veggies and topped with mashed potatoes? A seafood mixture of smoked haddock, shrimp and salmon are cooked in a savory milk sauce before being transferred to a baking dish.
Top it with a white creamy and cheesy mixture and cover it all with homemade mashed potatoes. Garnish the top with shredded cheddar cheese before baking. Scrumptious!
Recipe by Hungry Healthy Happy
Southern Shrimp And Rice Casserole
You'll love this zesty seafood casserole that combines shrimp with rice, aromatic chopped veggies such as onion, bell peppers and celery, plus cream of mushroom soup and cheddar cheese.
Make it all from scratch or use pre-cooked rice, frozen shrimp and a frozen chopped veggie mix to help things along. However you assemble it, it bakes up with a Cajun seasoning for a spicy flavor that makes it a crowd-pleasing casserole.
Recipe by My Kitchen Serenity
Tuna Casserole Stuffed Shells
Pasta stuffed with seafood and baked with a buttery and crumb topping is a comfort meal anyone would devour. Here, use canned tuna and mix it in a bowl with cream of mushroom soup, peas and a little milk.
Stuff this simple tuna mixture into cooked pasta shells and set them in a baking dish. Bake until bubbling. Remove from the oven and top each shell with melted butter and bread crumbs. Return to the oven and bake until the tops are golden brown.
Recipe by Homemade Interest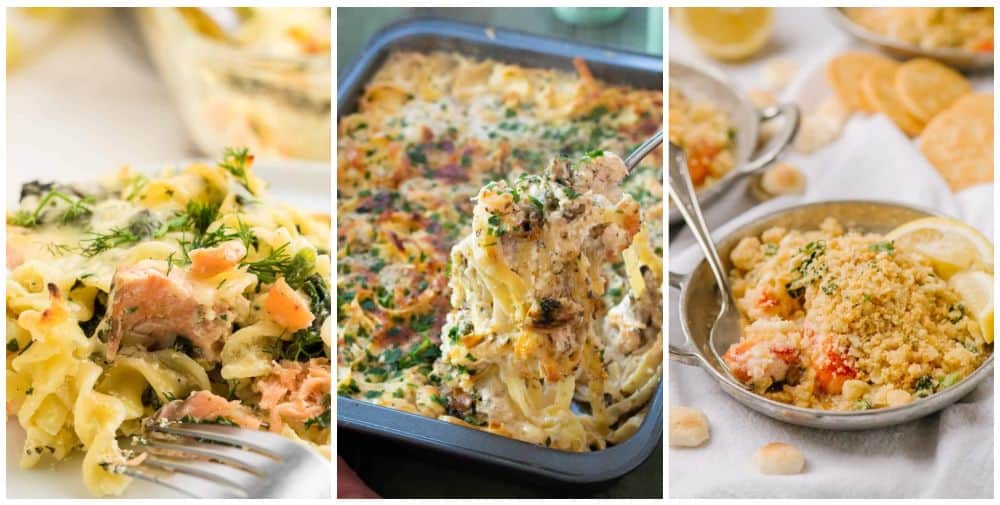 Seafood Lasagna
Long and rectangular pasta noodles help create a layered lasagna casserole that combines a trio of seafood delight. Cooked shrimp, lump crabmeat and sea scallops are layered on top of a rich and creamy sauce that's flavored with butter, garlic and Old Bay seasoning.
Shredded Colby Jack and mozzarella cheese make it irresistible. Repeat these layers again before baking. This seafood lasagna is packed with protein and is always a crowd pleaser.
Recipe by Amanda's Cookin
Lazy Lobster Casserole
Chunks of lobster meat are heated in a skillet with butter and garlic before adding sherry and lemon juice to create an outrageously tasty sauce. You can use cooked lobster to make it even easier.
Transfer it all to a baking dish and top with a mixture of crushed Ritz crackers and crushed oyster crackers that have been combined with melted butter and chopped parsley. Bake until the top is golden brown. This sumptuous casserole is easy and perfect as a seafood entrée.
Recipe by Baked Bree
Shrimp And Grits Casserole
The classic southern seafood combo of shrimp and grits gets a spicy boost with this easy to make casserole rendition. Grits are cooked smooth, creamy and cheesy thanks to the addition of Gouda. Scallions, garlic, bell pepper and bacon keep it savory and flavorful.
It's all mixed with cooked shrimp, poured into a baking dish and covered with more shredded Gouda cheese. Bake until bubbly.
Recipe by From A Chef's Kitchen
Oyster Casserole
Make this casserole for holidays or anytime you're craving an oyster dinner. Start by sautéing aromatics of onion, garlic, celery, mushrooms and red bell pepper in several tablespoons of butter before adding in a container of drained oysters.
Add them to the pan and cook before adding it all to a casserole dish. Pour over a homemade creamy and cheesy white sauce before garnishing the casserole with Panko crumbs. Bake until golden and bubbly.
Recipe by Spicy Southern Kitchen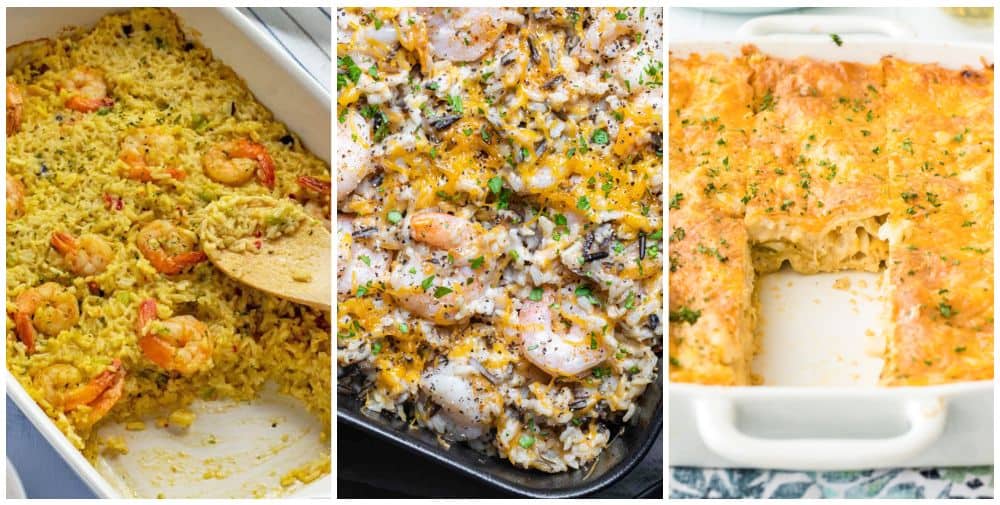 Tuna Mornay
Tuna is packed with protein and here, a can of it makes for an easy and family favorite meal. Make a Mornay sauce with flour, milk, salt, pepper, shredded cheddar and parmesan cheese in a saucepan over medium heat.
Mix together cooked elbow pasta, drained tuna, cans of corn niblets and creamed corn along with the Mornay sauce. Transfer it to a casserole dish and top with parmesan cheese before baking.
Recipe by I Am Homesteader
Seafood Enchiladas
Encase a delectable seafood mixture along with vegetables in flour tortillas before topping with sauce and cheese and baking. Cook shrimp, scallops, and crab meat with baby spinach and aromatic ingredients before adding in sour cream and green enchilada sauce.
Fill the tortillas and top with grated cheese before rolling each and setting them in a baking dish. Top them all with more sauce and cheese and bake until heated through and the cheese on top has melted.
Recipe by Seeking Good Eats
Sushi Bake
If you love sushi you'll want to serve this easy deconstructed version that's made in casserole form. In a baking dish, layer in a cooked rice and vinegar mixture.
Top it with a flavored imitation crab mixture that contains kewpie mayo, cream cheese, and hot sauces. Drizzle the top with Sriracha and bake. Serve with nori sheets. How easy is that?
Recipe by Wonky Wonderful
Lobster Mac And Cheese
Upgrade mac and cheese to an elegant dinner entrée with the addition of lobster meat to the traditional elbow macaroni pasta bake. The homemade cheese sauce uses a blend of grated Gruyere and cheddar in a base of heavy cream, garlic, spices and Dijon mustard.
Stir together the cooked pasta, lobster meat and cheese sauce before adding to a baking dish. Top with a mixture of breadcrumbs, Parmesan cheese, olive oil and chopped parsley before baking to golden deliciousness. This recipe can also substitute lump crab meat for the lobster.
Recipe by Simply Delicious Food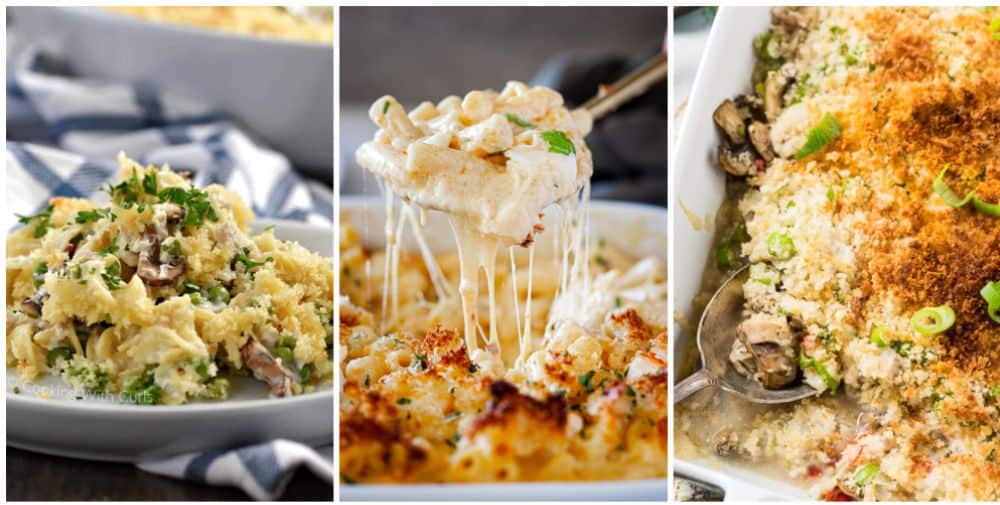 Maryland Seafood Bake
You'll appreciate the ease of this seafood bread pudding that checks all the boxes for a comfort food meal. Shrimp and crab meat are flavored with Old Bay seasoning along with a savory mixture of sautéd onion and bell peppers.
Add bread cubes and stir all the ingredients together before spreading in a casserole dish. Pour an egg and milk mixture over the top and bake this seafood bread pudding to savory deliciousness.
Recipe by Bake At Midnite
Shrimp Pasta Casserole
Start this protein packed meal on the stove in an oven-proof skillet over medium-high heat. Melt butter and add olive oil to heat before adding chopped garlic to brown. Fresh shrimp and parsley go in next and are cooked until pink. Make a roux with flour, butter, salt and pepper before adding a duo of cheeses to turn it into a creamy sauce.
Toss in cooked penne pasta along with the shrimp and stir well to combine. Add it all to a baking dish and top with more cheese. Bake until it melts and is slightly brown on top.
Recipe by Brooklyn Farm Girl
Rustic Crab Quiche
Lump crab meat adds protein along with eggs to this baked seafood quiche. This casserole is the perfect make ahead entrée that can work for any meal of the day as well as a celebratory brunch.
Use a pre-made pie shell and fill it with an egg, heavy cream, garlic, onion, crab meat and Gruyere cheese mixture. Sprinkle the top with more Gruyere cheese and a few tablespoons of parmesan. Bake until set and golden on top.
Recipe by Garlic And Zest
Seafood Pasta Casserole With White Wine
Shrimp and mussels join fettuccine in a white wine, lemon juice and cheese sauce that's boosted with herbal notes of dried marjoram and the spiciness of garlic. Heavy cream keeps the casserole rich and creamy while it bakes in the oven.
Bonus tip: use fresh pasta from the refrigerated section and skip cooking it beforehand. It will cook and soften perfectly within the casserole.
Recipe by Always Use Butter
Salmon Florentine Casserole
You'll love this easy salmon Florentine casserole that's baked in a base of pasta and made cheesy with cream cheese and shredded Swiss cheese. Use cooked penne or fusilli pasta for best results.
Garlic and other seasonings keep it savory with this simple creamy mixture that combines with frozen spinach and chunks of salmon. Mix it, bake it and enjoy!
Recipe by Cheerful Cook
Tuna Noodle Casserole
Comfort food is just a casserole away with this family favorite meal that can be assembled days ahead of time for easy weeknight dinners. Egg noodles provide the base for canned tuna that's mixed with frozen peas, Greek yogurt, milk and a host of savory spices.
Top with breadcrumbs, grated Parmesan cheese and bake until golden and bubbly. What could be easier?
Recipe by Cooking With Curls
Cheesy Shrimp Casserole
This shrimp casserole is always a winner. Cook your favorite wild rice blend and cook your shrimp. Add them to a large mixing bowl and stir in cream of mushroom soup, shredded cheddar cheese, Old Bay seasoning, onion powder and salt.
Transfer it all to a casserole dish and bake. It's savory, cheesy and always a family favorite that's easy to put together when you're short on time.
Recipe by Homemade Interest
Keto Seafood Gratin
If you're watching your carb intake, try this tasty seafood casserole that's low in carbohydrates and uses riced cauliflower in place of rice. You'll also need a frozen seafood mix, such as shrimp, mussels, and scallops, plus a dry white wine, heavy cream and Gruyere cheese to pull together this delicious casserole.
Once everything has been cooked and the creamy sauce has been made, just mix it and spread it in a baking dish. Top with more shredded cheese and bake. Garnish with freshly chopped parsley before serving.
Recipe by Low Carbing Asian
Seafood Casserole
This casserole includes scallops, shrimp and fresh crabmeat along with mushrooms in a parmesan cheese sauce. Topped with breadcrumbs and baked until golden brown and crunchy, this main course dish will remind you of days spent at the beach.
Recipe by Charleston Magazine