These easy pinwheel sandwich recipes are perfect for a picnic lunch, party appetizers, or a beach snack. Just about any sandwich flavor you can imagine is even tastier rolled up in perfect finger food spirals.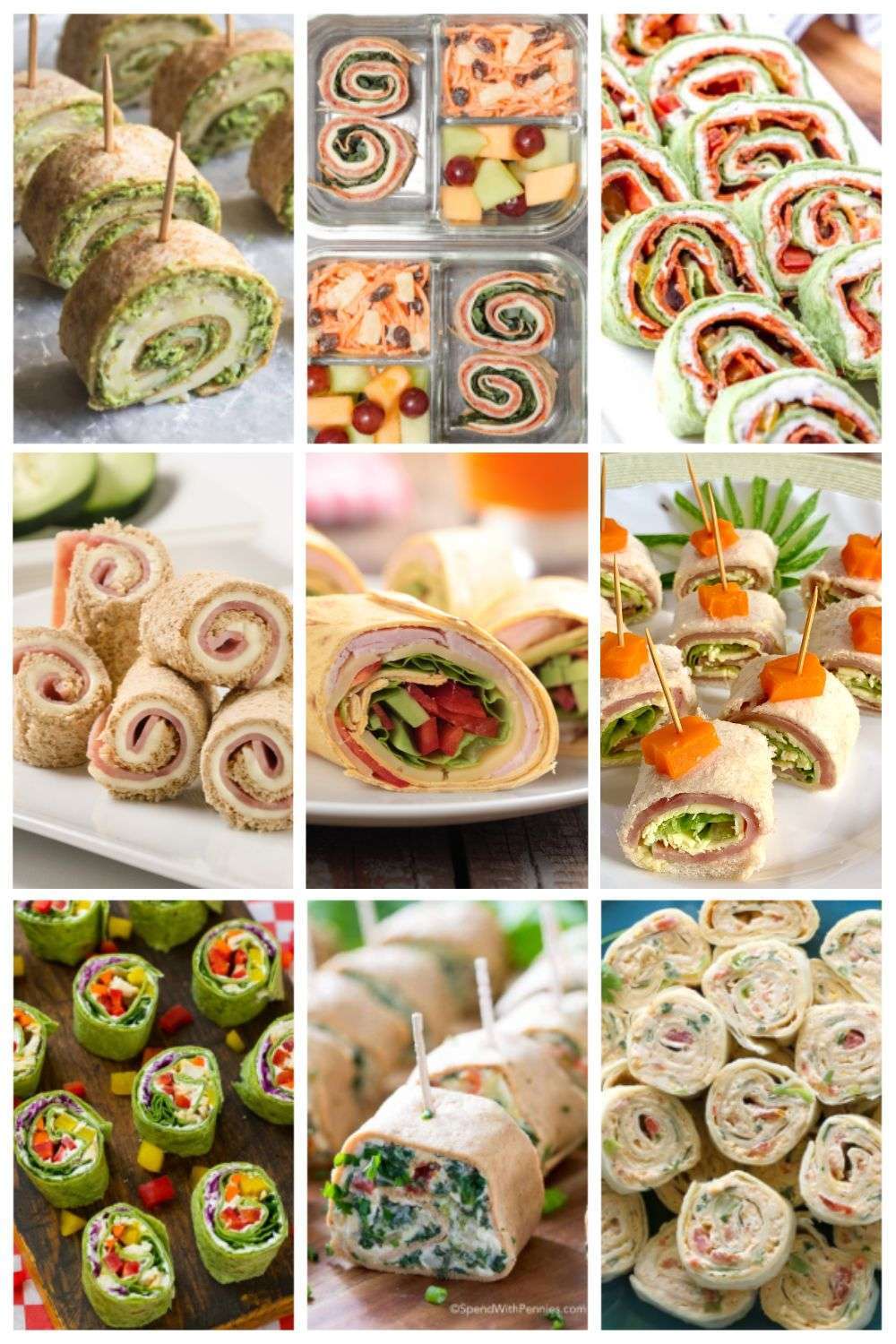 Whether it's their enticing circle of delicious ingredients beckoning you to pick it up and have a taste or their compact bite-sized adorableness, pinwheels are downright irresistible. Pinwheels, or rollups, are the perfect antidote for sandwich boredom.
Traditionally made with tortillas or other flatbread held together by a slathering of cream cheese, Dijon mustard, hummus or another equally tasty spread, pinwheels are layered with enticing ingredients that lend themselves to being rolled tightly in a round vessel before being sliced into edible pieces that are perfect for a lunch box or pinwheel appetizer trays.
Pinwheel sandwiches to try
You'll find all your favorite sandwich flavors plus some new ones in this collection of ideas. You'll find roast beef, chicken, turkey, ham, tuna, veggies and more in these recipes that will inspire you to make a pinwheel sandwich as soon as possible.
Chicken Enchilada Roll-Ups
Leftover or rotisserie chicken is the perfect ingredient to make into this Mexican-inspired rollup. To turn a chicken enchilada into a sandwich, combine cream cheese, shredded chicken, taco seasoning, chilis, and green onion together.
Spread the cream cheese mixture on burrito-size flour tortillas, roll, slice and serve for lunch. These pinwheels also make an awesome easy appetizer!
Recipe by The Girl Who Ate Everything
Rainbow Veggie Pinwheels
Even picky eaters won't be able to resist these colorful pinwheels full of healthy veggies. Use spinach tortilla wraps for maximum visual appeal as well as taste and smear it with a ranch-flavored cream cheese.
Add in red and yellow sliced bell peppers, long sliced carrot strips, baby spinach leaves and shredded purple cabbage on top of the cream cheese layer. Gorgeous and delicious!
Recipe by Dinner At The Zoo
Italian Pinwheels
You can't go wrong with a sub-inspired sandwich in the form of a zesty pinwheel. Add salami, prosciutto, pepperoni, provolone cheese and lettuce or kale to a tortilla, roll it up and slice it.
Zest it up even more by serving it with a toothpick and a little Italian dressing for dipping purposes. So good!
Recipe by I Hate Meal Prep
Pesto Turkey Pinwheels
Whether you use leftover slices of turkey breast or deli turkey, pair it with pesto cream cheese and smoked provolone for an outrageously delicious sandwich in pinwheel form.
Just use jarred pesto if you don't want to make your own and mix it in a bowl with the softened cream cheese to slather it on your sandwich wraps before adding the turkey and provolone. Roll it up tightly, slice and devour!
Recipe by Lemon And Zest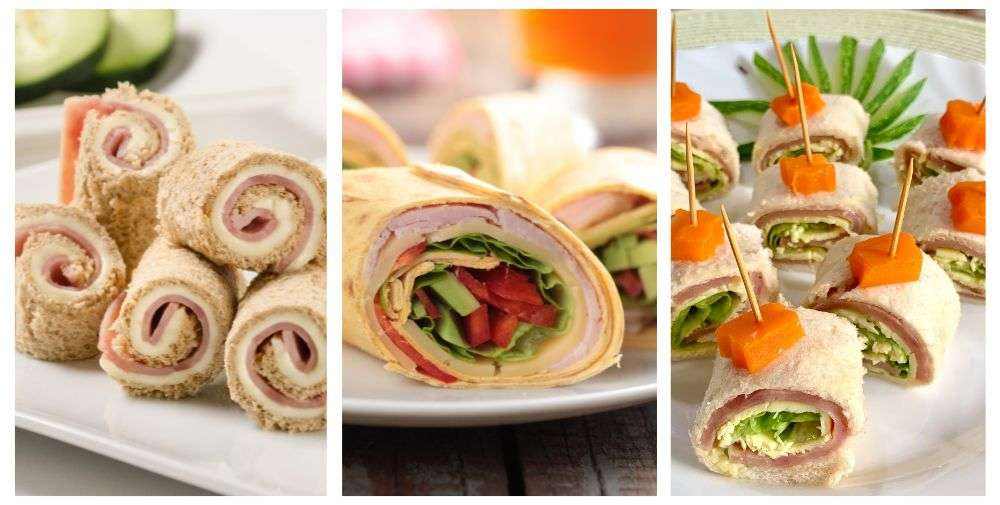 Avocado Egg Salad Roll Ups
Up-level your egg salad game with the healthy addition of mashed avocado. Use yogurt in place of mayo for the egg salad and be sure to add salt, pepper and your favorite onion to the mix - either green onion or red.
Roll the avocado egg salad in a whole wheat tortilla for an unbelievably flavorful pinwheel sandwich.
Recipe by OMG Chocolate Desserts
Sun Dried Tomato And Basil Pinwheels
These wonderful Italian pinwheel sandwiches come together in just 15 minutes. Sun-dried tomatoes join with fresh garlic, fresh basil, vegan cream cheese and frozen spinach that's been thawed and dried.
You'll love the flavors and it's easily spread on a tortilla for a zesty rollup.
Recipe by Minimalist Baker
Spinach Artichoke Pinwheels
The combo of spinach and artichoke is universally loved as a dip. Here, it becomes the base that's spread on flatbread. Make the spinach and artichoke mix that gets a punch of flavor from a packet of dry vegetable soup.
You'll love the taste of these pinwheels that are filling and irresistible.
Recipe by Spend With Pennies
Ham and Cheese Pinwheels
You can't beat ham and cheese as a tasty combo and here they get a new setting - pinwheels! Using puff pastry as a base, slather on Dijon mustard, deli ham, grated Gruyere cheese and chopped chives or green onions.
Roll and chill in the fridge before slicing. Bake the pinwheels until golden. You'll adore the warm deli meat and cheese. So good!
Recipe by Well Plated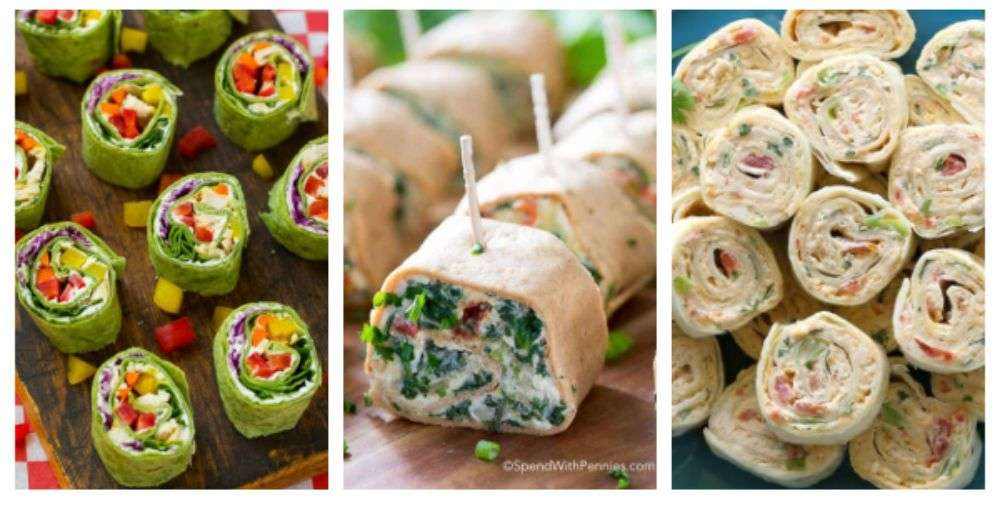 Italian Pepperoni Rollups
Forget pizza pie and make these easy pepperoni pinwheels instead. Use a yummy spinach or sun-dried tomato tortilla for taste and color. Spread it with a garlicky cream cheese and shredded cheese mixture followed by pepperoni.
Add onion, banana peppers, mushrooms, black olives whatever other pizza-esque topping you like, roll it up tightly and wrap it in plastic wrap. Refrigerate before slicing for best results.
Recipe by Tastes Of Lizzy T
Turkey Bacon Ranch Pinwheels
No need for sandwich bread with these pinwheels that use easily rolled deli turkey as the out layer. Filled with shredded cheese, crumbled bacon, cream cheese and spices, these pinwheels are a low-carb/no-carb way to enjoy a turkey club sandwhich.
Recipe by Joy Filled Eats
Peanut Butter Banana Roll Ups
Not just for kids, these irresistible pinwheels give you a salty and sweet flavor along with a punch of protein from the peanut butter. Slather on peanut butter followed by slices of banana.
If you want to take these over the top, add a dollop of Nutella on top of the peanut butter. Oh, my!
Recipe by Happy Foods Tube
Reuben Tortilla Pinwheels
The classic Rueben sandwich gets a makeover in the form of tortilla pinwheel sandwiches. Cream cheese, Russian dressing and sauerkraut form the spread for these rollups before being topped with shredded Swiss cheese.
Finally, add on sliced corned beef and roll it up. Chill well before slicing and serving. Thee would be great for St. Patrick's Day!
Recipe by Home Cooking Memories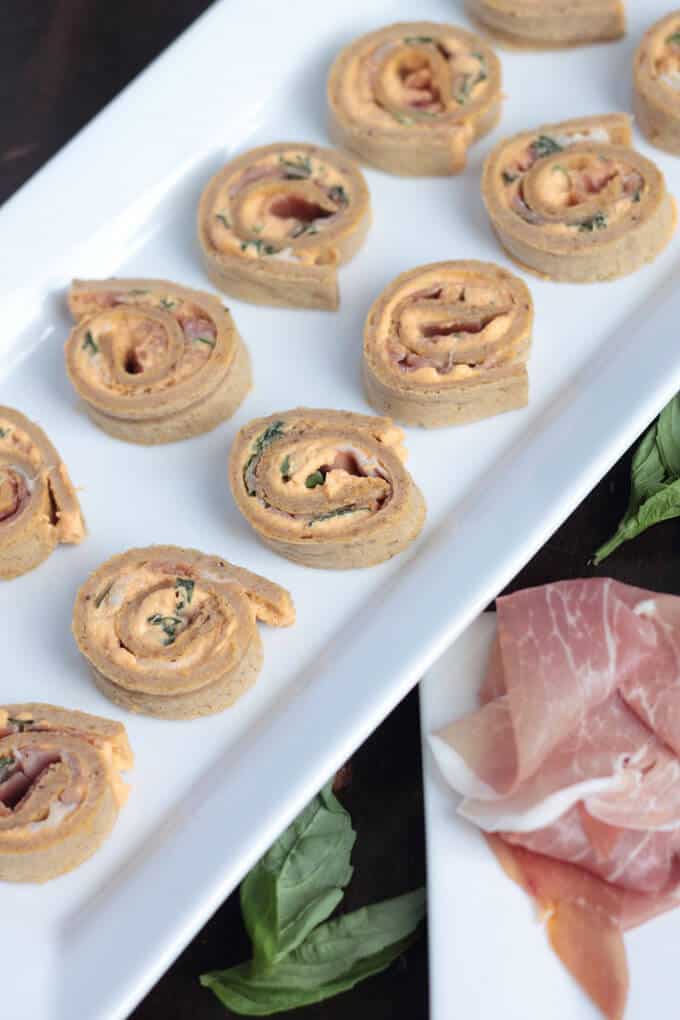 Plantain Pinwheels with Prosciutto and Cashew Cream Cheese
These paleo pinwheels highlight the classic flavor combination of prosciutto, roasted red bell peppers, and basil. And they're made without traditional flour tortillas and cream cheese.
An easy homemade cashew cream cheese is the base of the filling. And using plantains to make the tortillas makes them gluten-free and dairy-free - a great option if you're cooking for someone who's avoiding those.
Recipe by Physical Kitchness
Pesto Cream Cheese Pinwheels
You can assemble this rollup sandwich in minutes. Using jarred pesto, diced roasted red peppers, cream cheese, grated parmesan cheese and garlic powder, your filling will practically make itself.
Use your favorite tortilla wrap to create these wonderful pinwheels that make a great appetizer.
Recipe by Simple Joy
Buffalo Chicken Pinwheels
It's hard to resist Buffalo chicken in any form, and these pinwheels are no exception. Just mix leftover rotisserie or even canned chicken with cream cheese, hot sauce, crumbled bleu cheese, green onion and shredded cheese. Add it to a flour tortilla and roll!
Recipe by Space Ships And Laser Beams
Ham & Pimento Cheese Pinwheels
Ready in minutes, you'll adore this easy-to-assemble ham and cheese pinwheel. Use the homemade simple recipe for pimento cheese spread or take a shortcut using store bought.
Either way, smear it on your favorite tortilla before topping with deli sliced ham. You can even make this the night before and stash it in the fridge so that it's fully chilled and perfect for slicing the next day. Store leftovers in and airtight container.
Recipe by Spicy Southern Kitchen
Tuscan Herb Hummus Prosciutto Goat Cheese Pinwheels
Grab a container of hummus, goat cheese, some salty prosciutto, green leaf lettuce, fresh herbs and tomato, and layer it on your favorite tortilla. It's a crunchy and zesty rollup that's perfect for an easy handheld lunch!
Recipe by Big Bear's Wife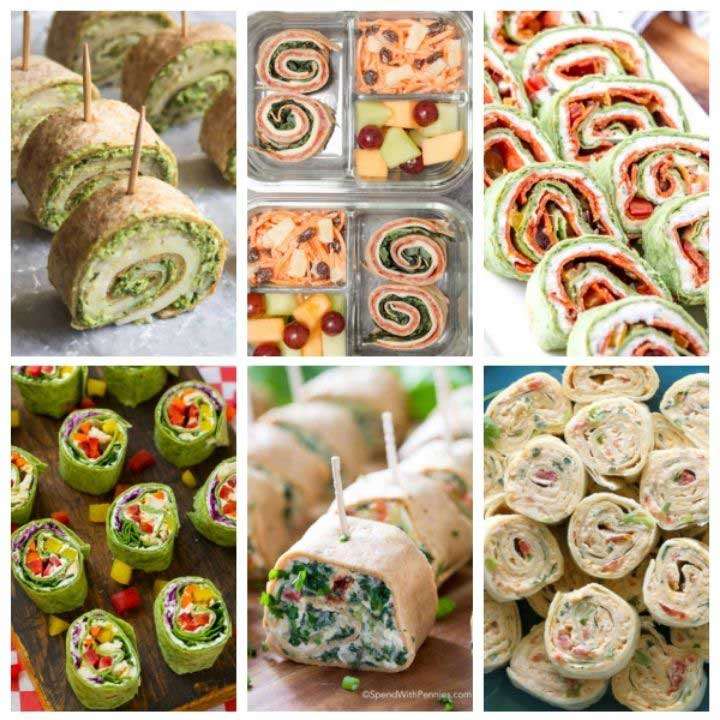 Easy Smoked Salmon Roll Ups
Salmon and dill are best buddies which make them perfect for creating a tasty pinwheel sandwich. A cream cheese base gets kicked up in the flavor department will fresh dill, lemon and red onion.
Spread this on a spinach wrap and layer on fresh baby spinach leaves and smoked salmon. Roll tightly and slice into savory pinwheels. Pretty and delicious!
Recipe by Kathryn's Kitchen
Spicy Tortilla Roll Ups
You can make this rollup in minutes using everyday pantry and fridge ingredients! Sour cream, cream cheese, cheddar cheese, green onion, chopped green chilies and chili powder give these pinwheels a punch of spiciness that will delight your tastebuds. Perfect as a snack or on a party platter, these rollups are a hit every time.
Recipe by Tidy Mom
Roast Beef Horseradish Pinwheels
Spicy and packed with flavor, this roast beef pinwheel includes a horseradish, Dijon mustard and cream cheese spread. Smear this on your soft tortilla before topping with baby spinach leaves, sliced roast beef, and shredded cheddar cheese. This pinwheel will be a family favorite!
Recipe by The Girl Who Ate Everything
Bacon Cheddar Ranch Pinwheels
Even with the most basic of ingredients, this pinwheel is a hit for lunch, snack or party time. Cream cheese gets flavored ranch dressing, crumbled bacon, shredded cheddar cheese and minced chives. Mix it, spread it, roll it and devour this deliciousness.
Recipe by Lemon Tree Dwelling
Easy Sandwich Pinwheels
These easy pizza-inspired pinwheels work as lunch or game day appetizers. Just add sandwich fillings - a cream cheese and parmesan mixture, basil, pepperoni, lettuce and turkey - to large flour tortillas. Roll, cut and secure with toothpick and they're ready to serve.
Recipe by The Fast Recipe
Taco Tortilla Roll Ups
These make-ahead appetizers are perfect for entertaining. Filled with cheese, tomatoes, chilis, olives and taco seasoning, they will be a big hit. The instructions say these party bites need to be assembled for at least two hours before serving so you may want to make them the night before.
Recipe by Culinary Hill
Vegan Pinwheels
These vegetable tortilla rollups are made without cream cheese to keep them vegan. Fill with the homemade cannellini bean spread and top with avocado, beets, onion, cilantro and vegan sour cream for a tasty bite.
Recipe by Gets Vegan
Cinnamon Sugar Cream Cheese Roll Ups
For a sweet option, try these cinnamon sugar pinwheels. Follow the usual method of spreading the cream cheese filling on tortillas, rolling up and slicing. Then quickly crisp them up in a hot pan with butter. Dip each piece in the cinnamon mixture and serve with maple syrup.
Recipe by Gathered Nutrition
No matter which of these easy pinwheel recipes you try, you'll love the make-ahead convenience of these tasty and versatile pinwheel sandwiches! They're perfect for lunch, snacks or your next party. 
Love sandwiches? Try these 20 Quick & Easy Breakfast Sandwich Recipes.
Looking for more easy appetizers? Here are 15 Tempting & Easy To Make Crab Appetizers.