These easy seafood boil recipes will bring you back to your favorite seaside eatery. Filled with shrimp, crab, sausage, corn, potatoes, and spices, a boil is perfect for a casual one-pot meal!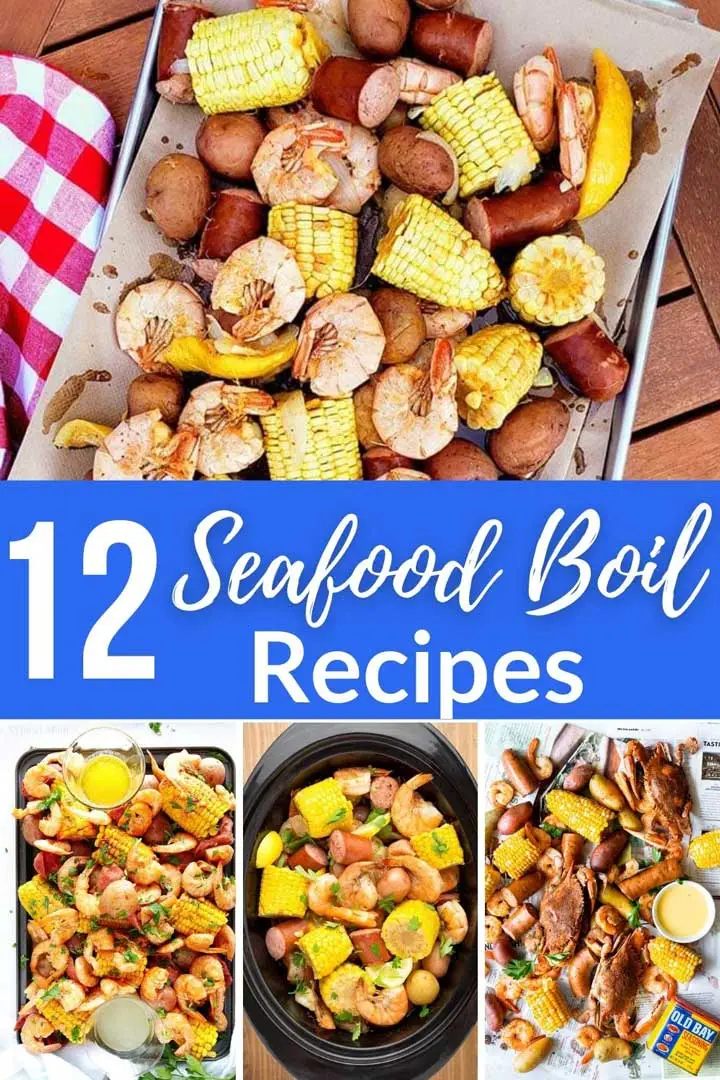 Seafood dinners boiled in a large pot can be dated back to many generations of our ancestors. They are extremely popular in the south, Maryland, the Carolinas, Florida, Georgia, Louisiana, and all along the gulf coast but have quickly become more and more popular across the United States.
Seafood boil recipes usually contain similar ingredients---shrimp, crab, clams, crawfish, or lobster---along with andouille sausage, garlic, corn on the cob and potatoes.
Shrimp is a key ingredient and is found in most boil recipes (you can even use frozen shrimp). However, the regional differences are in the combination of shellfish and vegetables, how it is spiced, and the way it is cooked.
Boils are often served as a main dish during many parties and events. Several different side dishes can be served with them, but you can serve them on their own, or with a loaf of crusty bread for mopping up the sauce. Beer is traditional, but why not try a fun coastal cocktail with seafood dinner?
Seafood Boil Recipes
If you are looking to spice up your night or channel a beach vacation, these easy one-pot recipes are a great way to go.
Instant Pot Country Shrimp Boil
An easy meal to make, this Cajun-spiced low country shrimp boil is made in the instant pot for a quick and delicious meal. Recipe here.
RELATED: 12 Instant Pot Fish Recipes For Easy Seafood Dinners
Southern Frogmore Stew
Southern and full of flavor, this is a delicious seafood stew recipe with sausage, beer, citrus, and Old Bay seasoning that you will not want to miss out on! Recipe here.
Slow Cooker Shrimp Boil
Slow-cooked and delicious, this shrimp meal combines the creole flavors of vegetables, shrimp, sausage, and potatoes. Recipe here.
RELATED: 35 Easy & Delicious Shrimp Recipes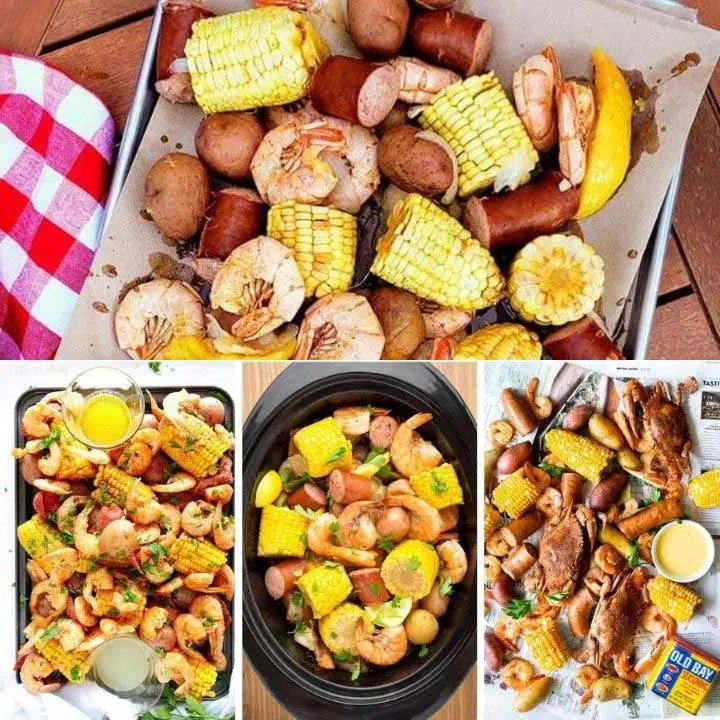 Florida Style Seafood Boil
If you are looking to enjoy a shellfish boil, Florida style, this delicious boil uses fresh shrimp, clams, and crab legs with key limes to create a delicious dinner. Recipe here.
RELATED: 15 Festive & Easy To Make Crab Appetizers
Shrimp Boil Foil Recipe
Not your typical way to cook a shrimp boil recipe, this flavorful shrimp meal will be a hit with the family. Recipe here.
Marie's Low Country Boil Recipe
A versatile southern dish, this quick and easy meal is a flavorful and filling meal that everyone is sure to love. Recipe here.
Frogmore Stew
Also known as a low country boil, this delicious stew is easy to make, full of flavor, and a delicious option for dinner. Recipe here.
RELATED: Easy Cioppino Seafood Stew
Spicy Shrimp Boil
Full of Cajun flavors and fresh ingredients, this easy to make spicy shrimp boil will be a dinner hit. Recipe here.
Instant Pot Shrimp Boil
A healthy dinner idea that is easy to throw together, this instant pot shrimp boil will make a great weeknight dinner. Recipe here.
Shrimp Foil Packets
With a mix of corn, shrimp, onions, peppers, and sausage, these shrimp foil packets include a spicy Cajun seasoning mix that adds a little flair. Recipe here.
RELATED: 22 Easy Crab Cake Recipes Take You Back To The Beach
Cajun Seafood Boil
Everything you need to know about throwing a southern boil party, this also contains a recipe for a Cajun flavored boil with shrimp and lobster or crawfish. Recipe here.
Steamed Lobster Boil
Steamed and ready to go, this lobster boil with clams will make the perfect summer recipe that will go well with your favorite side dishes. Recipe here.
What's your favorite version of seafood boil? Let us know in the comments below!