What's the best side dish for lobster tails? Lobster dinners aren't complete without delicious sides. Pairing it with the right side dishes and sauces will make the most of your lobster meal.
Here's what to serve with lobster tails - butter sauce, pasta, salad, and more - for an easy and delicious lobster dinner.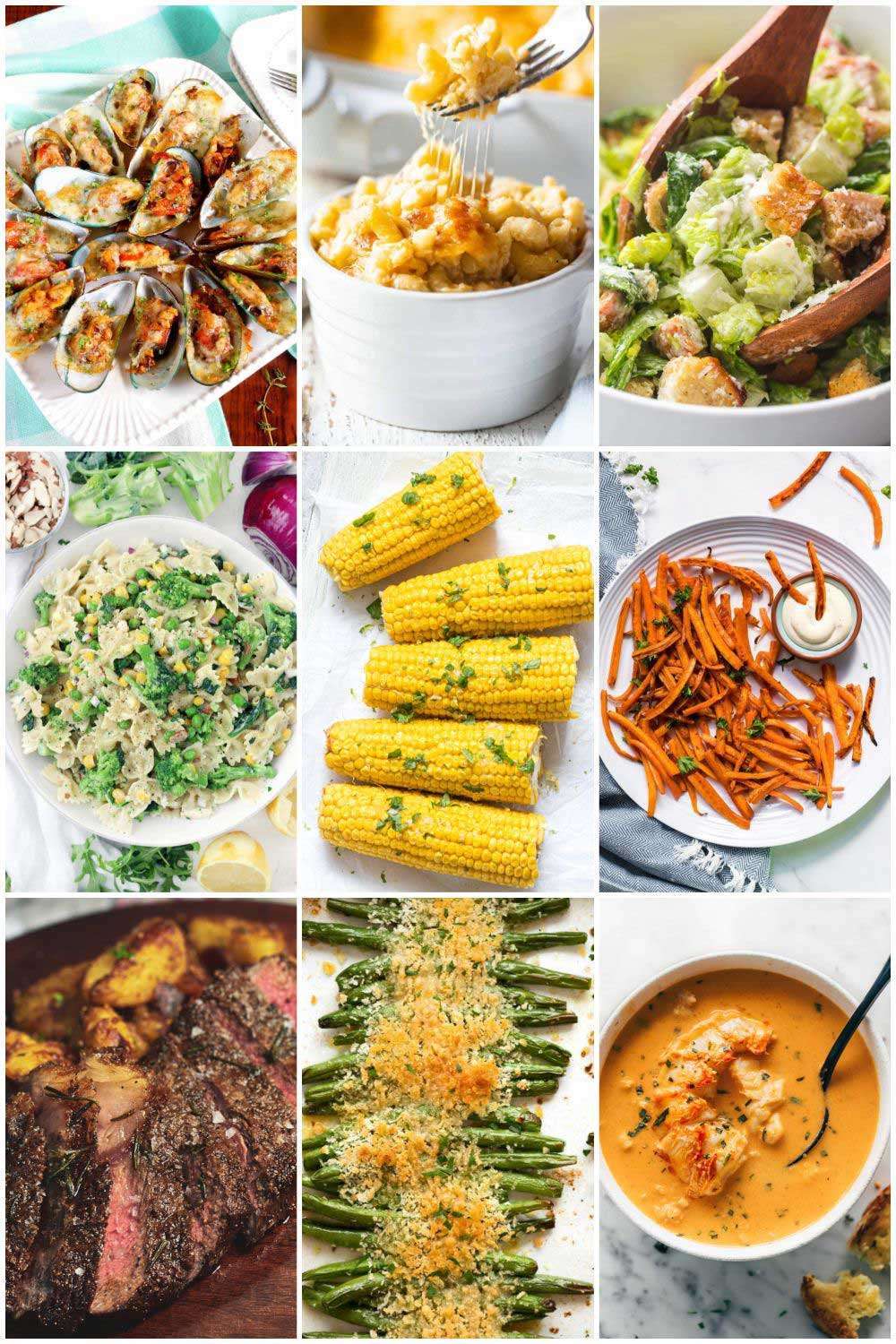 Tender and meaty lobster tails deserve a side dish that compliments its sweet flavor. In this collection of recipes, you'll find the best side dishes to serve with lobster tails to make your next party or special dinner a success.
You'll find inspiration for perfect sides that offer classic flavor pairings of lemon, garlic and butter. Pasta and cheesy sides are always a hit, too. Choose from side dishes that are casual or those that can offer a more elegant presentation.
What to Serve with Lobster
From sauces to salads and from vegetables to soups, you're guaranteed to find the best sides to pair with your next lobster dinner.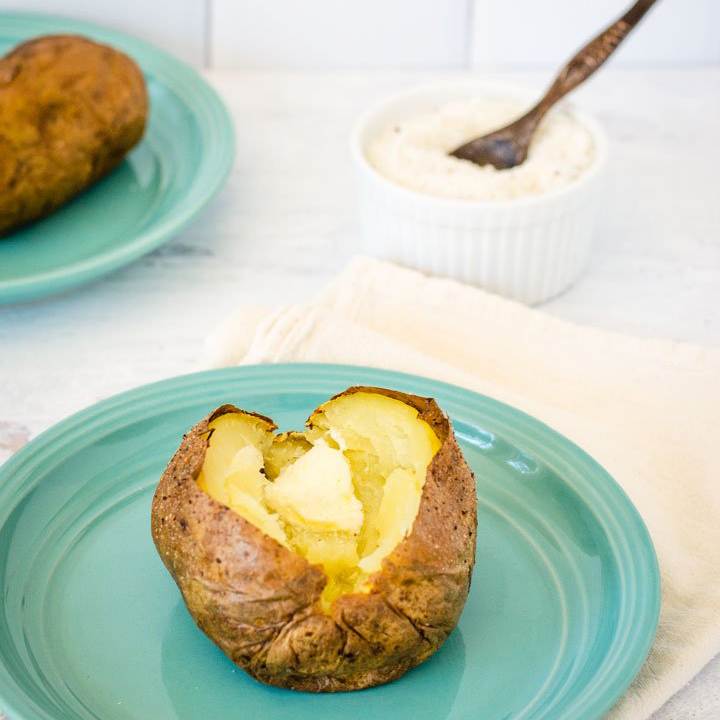 Air Fryer Baked Potatoes
Baked potatoes are a classic side to go with a lobster dinner or add to your surf and turf. These super easy baked potatoes are kicked up a notch with truffles salt and lots of butter.
Baking them in the air fryer makes for a crispy skin with a soft and tender inside. They cook faster in the air fryer so there's no need to heat up the kitchen with your full-size oven.
Recipe by Coastal Wandering
Creamy Lemony Vegetable Pasta Salad
Farfalle pasta is the base for this bright and lemony salad that can be ready to serve in just 20 minutes. To the cooked pasta add veggies like peas, corn, broccoli florets, red onion, arugula and nutty slivered almonds for texture and deliciousness.
It's all drizzled with a mayonnaise, olive oil, garlic and lemon juice dressing for the ultimate flavorful punch.
Recipe by Bowl Of Delicious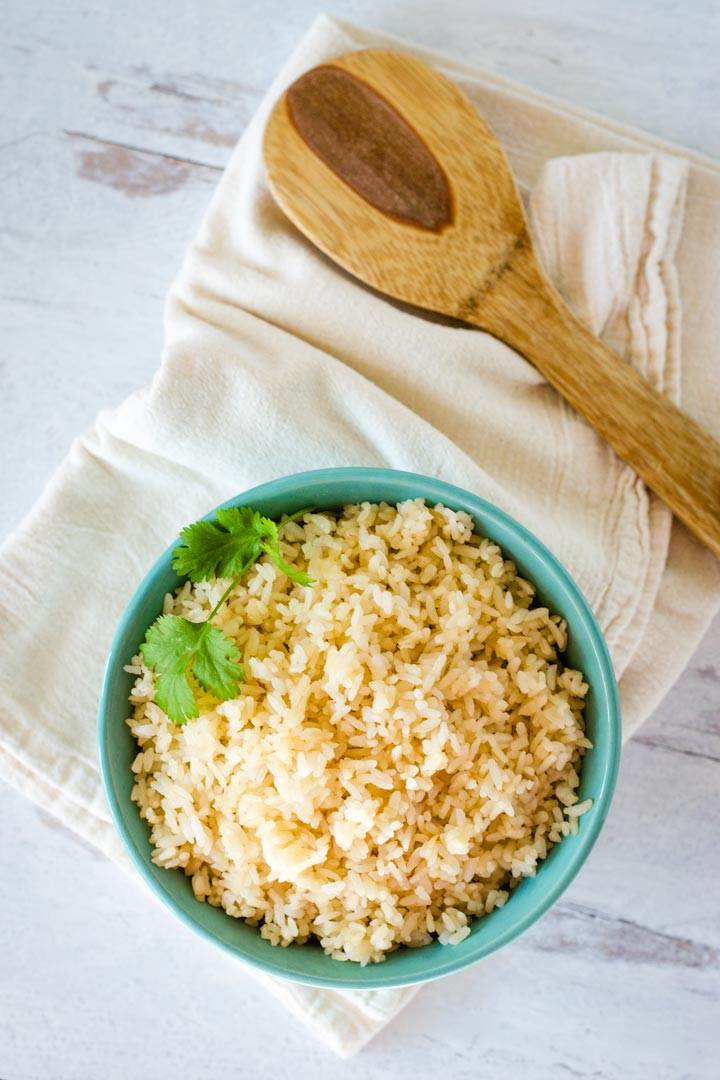 Instant Pot Carolina Gold Rice
This simple Carolina Gold rice cooked in the Instant Pot is so easy to make. And the subtly sweet and nutty flavor of this specialty rice pairs perfectly with the mild taste of lobster.
Just cook the rice in vegetable or seafood broth until done, then fluff the rice and melt in a couple of tablespoons of sweet butter.
Recipe
Coleslaw
Keep it simple and quick with this shredded cabbage coleslaw recipe that makes a tangy side dish to serve with lobster tails.
The zesty dressing is a homemade mixture of honey, apple cider vinegar and vegan mayonnaise. Amp up the taste and texture with crunchy additions like shredded carrots, celery seeds, or even apple chunks for a touch of sweetness.
Recipe
New England Clam Chowder
Keep the seafood theme going and serve this clam chowder soup alongside lobster for a delicious pairing full of amazing flavor. The creamy soup gets its richness from bacon fat, clam juice and heavy cream. Onion, garlic and fresh herbs layer on the aromatics and help infuse the potatoes and clams.
Make it in a Dutch oven and savor the delectable aroma that will have your family and guests waiting impatiently for it to be served.
Recipe by Simple Joy
Parmesan Roasted Green Beans
Green beans are an easy vegetable to roast and they get a crunchy and cheesy kick with the addition of a panko crumb and parmesan topping. Freshly trimmed green beans line a baking sheet and are seasoned with olive oil, garlic, salt and pepper. Top them with the cheesy panko mixture.
They're ready in about 15 minutes and make a tasty vegetable side dish for lobster.
Recipe by Recipe Tin Eats
Caesar Salad
Serve this classic side salad that's always a crowd pleaser. Caesar salad offers a crisp crunch when topped with crunchy garlic croutons and freshly grated parmesan cheese.
The homemade Caesar dressing contains all the traditional ingredients, including anchovies, in keeping with the seafood theme. It's an easy recipe for a lobster side dish that's always appreciated.
Recipe by Little Sunny Kitchen
Lobster Bisque
Lobster in any form is always a delectable treat and when served in this hearty bisque, it's especially appetizing. A simple seafood stock plus mirepoix aromatics of onion, carrot, and celery help make a rich base for the lobster.
Heavy cream and tomato paste keep it creamy while dry white wine helps elevate the flavors. Use an immersion blender to smooth it all out before adding chopped fresh lobster meat extracted from the tails. Serve with your favorite crusty bread for an unforgettable meal.
Recipe by Cafe Delites
French Baguette
There's nothing like the aroma of freshly baked homemade bread and this French baguette recipe is an easy one to make. It pairs wonderfully with any soup, chowder, or salad that you serve as a perfect side dish for lobster tails. Or, just dunk it in melted garlic butter as you enjoy your seafood meal.
All-purpose flour, yeast, kneading and rising time will get you in touch with old world artisan bread making but with the help of modern day appliances. You'll be rewarded with bakery quality bread that you'll be proud to serve to your family and guests.
Recipe by A Couple Cooks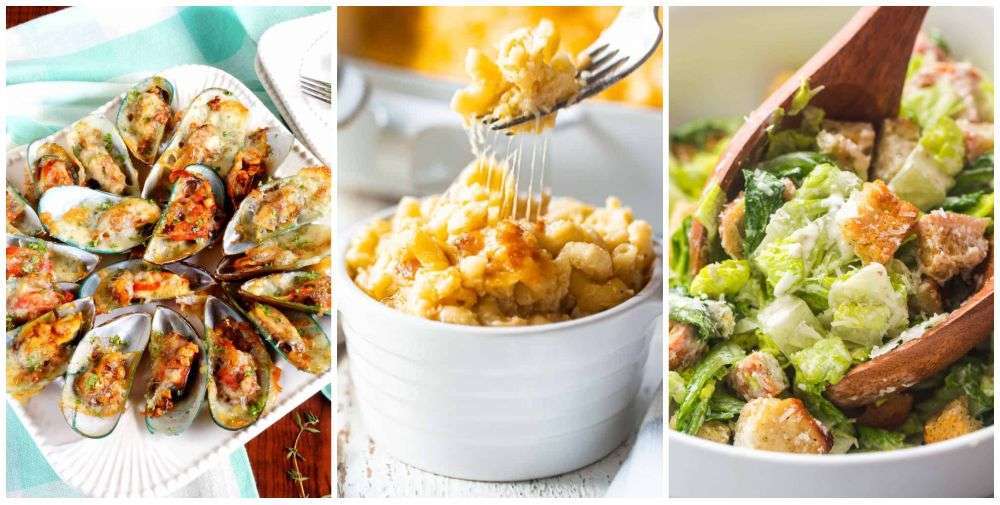 Lemon Garlic Butter Sauce
You're 10 minutes away from the side item that's practically a requirement when serving lobster tails - lemon garlic butter sauce. It's an easy yet potent and incredibly delicious way to enhance lobster. It's also perfect for drizzling over vegetables, salads or as a dipping sauce for bread.
Butter, olive oil, lemon juice, minced garlic, freshly chopped parsley and salt are all you need. It starts on the stovetop with the sautéed garlic helping to infuse the oil and butter. Off the heat, stir in the remaining ingredients and serve while still warm.
Recipe by Pinch And Swirl
Instant Pot Corn On The Cob
You can't go wrong with this simple side item of corn on the cob that's a classic for serving with lobster.
For the perfect tender corn kernel, pressure cook them in an Instant Pot in just minutes. Have butter ready to slather on along with fresh herbs like parsley, cilantro, and salt and pepper, of course!
Recipe by Recipes From A Pantry
Easy Baked Mussels
Baked mussels are a tasty side dish pairing for lobster tails. Begin with a stovetop ginger-infused water boil to help open the shells. Place the halves on a sheet pan and drizzle with garlic-infused melted butter.
A sprinkle of cheese makes the perfect topping that will brown to melted deliciousness in just 10 minutes for this seafood side dish.
Recipe by Sweet Peas Kitchen
Roasted Asparagus With Easy Hollandaise Sauce
Roasted asparagus makes the perfect green vegetable side dish for lobster tails since it takes only 10 minutes in the oven to become tender enough to impart its delicious flavor.
The bright and lemony hollandaise sauce is the delectable topping that you'll want to make with ghee, lemon juice, and egg yolks. A pinch of cayenne pepper adds a slightly spicy kick that takes it over the top. Simple, elegant and on point for a lobster dinner.
Recipe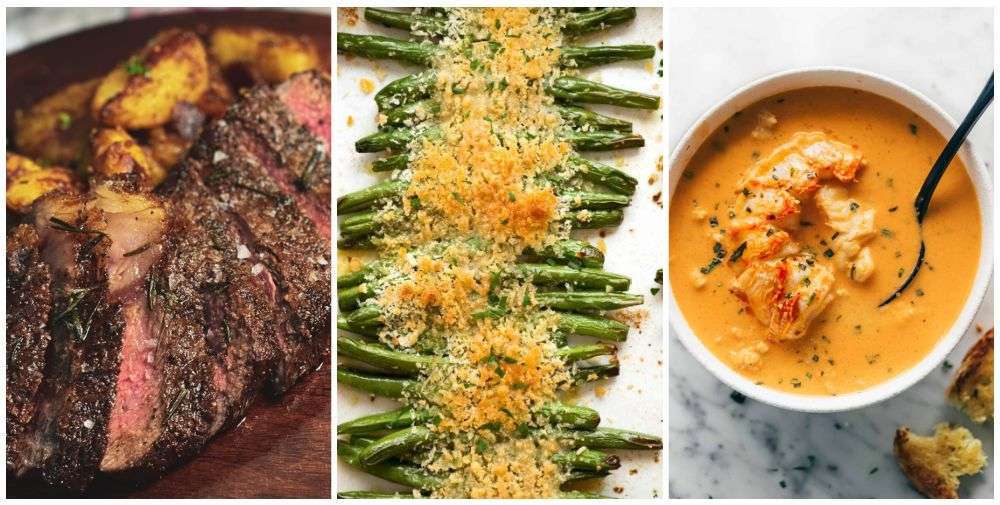 Baked Macaroni And Cheese
Cheesy goodness abounds in this homemade mac and cheese side dish that incorporates three cheeses for maximum flavor. Use a blend of gruyere, extra-sharp cheddar, and mozzarella for robust cheesiness. Smoked gouda or Swiss substituted in the cheese blend would be wonderful, as well.
Classic elbow macaroni holds the homemade flour, milk and cream sauce. Once mixed together, it needs just 15 minutes in the oven and another few minutes under the boiler to brown the top.
Recipe by Baking A Moment
Stovetop Steak
Serve steak along with lobster for a classic surf and turf meal that will delight your friends and family. Tender and juicy steak can be made with simple seasonings.
Start it out with a sear in a skillet on your stovetop before transferring it to the oven to finish cooking. Once out of the oven, let the steak rest before slicing and serving. It's the perfect meaty side dish to compliment a seafood dinner.
Recipe by Lauren's Latest
Herbed Potato Salad
If you're not on a carb restricted diet, you'll enjoy these herb-infused red potatoes that are mayonnaise free. It's a fresh and bright tasting potato salad that's dressed with a lemon juice and an olive oil drizzle.
The sliced red potatoes are boiled and then mixed with chopped parsley, sliced green onions and chopped celery. Add in little dijon mustard for just the right zesty kick.
Recipe by Cookie And Kate
Grilled Romaine Salad With Bacon And Ranch
Perfect for a summer lobster dinner, serve this grilled Romaine salad that boasts a delightful char and smokiness on those crunchy lettuce leaves.
Top the grilled Romaine lettuce with bacon crumbles, tomato and cucumber for additional crunch. Dress it with a drizzle of homemade ranch.
Recipe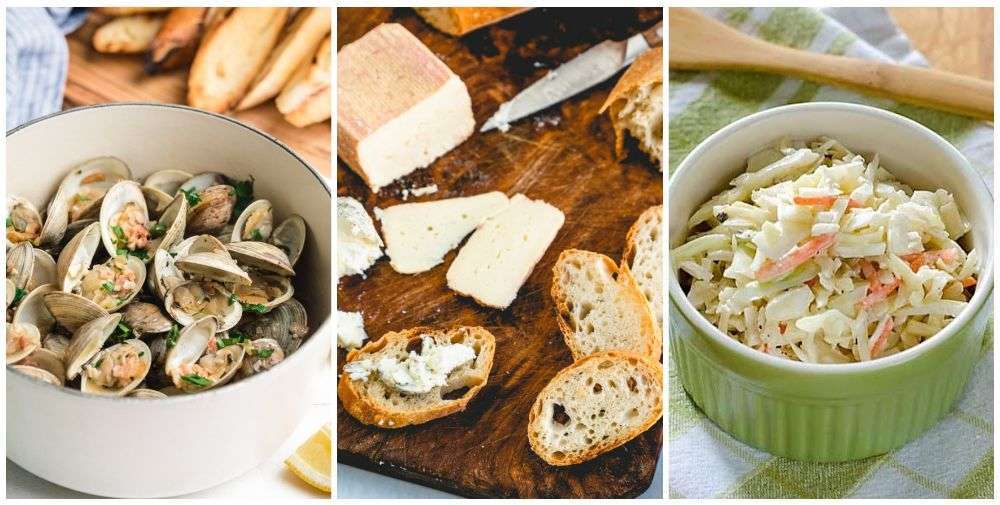 Cheddar Bay Biscuits
Keep it gluten-free by using this easy almond flour biscuit recipe that adds herbs and cheese to the mix for a classic side dish bread option.
Almond flour, egg, cheddar cheese, butter and baking soda make up the simple dough which is made into drop biscuits and baked. Brush the biscuits with a mixture of garlic, butter, Old Bay seasoning and parsley before serving.
Recipe by Delicious As It Looks
Curry Lobster Bisque
This smooth bisque gets a jolt of spiciness from garlic, ginger, and jalapeño paste that infuses the coconut milk broth with outrageous flavor. Red curry paste and crushed tomatoes are added before it's all smoothed out with an immersion blender.
Freshly cooked lobster tail meat provides the finishing touch to this zesty soup.
Recipe by The Whole Smiths
Instant Pot Baked Potatoes
Let your Instant Pot pressure cook baked potatoes to steaming tenderness. Just scrub your potatoes well, poke holes in them, add water to your Instant Pot and set the potatoes on a trivet.
Pressure cook them and let the steam release before opening the lid. Use tongs to remove those hot potatoes! Serve alongside lobster for a potato side dish that everyone can personalize with their favorite toppings.
Recipe by Everyday Eileen
Carrot Fries
Veggie fries made from carrots offer a crisp side dish for lobster. Slice fresh carrots into fry-shaped strips and roast, drizzled with olive oil and seasoned with salt and pepper.
Flip them halfway through to ensure browning and tenderness on all sides. Serve them as is or with your favorite dipping sauce.
Recipe by Slender Kitchen
Beer Steamed Clams
Clams are steam cooked with a beer-infused liquid making them a tasty side dish to pair with lobster tails. Bacon, garlic and shallots are sautéed in a heavy pot before pouring in a pale lager.
Littleneck hard shell clams are cleaned and scrubbed before being added to the broth. Cover and steam until the clams have opened. Serve, garnished with parsley.
Recipe by Striped Spatula
Lobster tails are the perfect treat for a special occasion. But don't forget to serve them with one or two of these delicious side dishes.