These instant pot fish recipes are quick and easy versions of your favorite seafood dishes. From salmon tikka masala to fish tacos to tuna noodle casserole, there's a fish dinner here everyone in your family will love!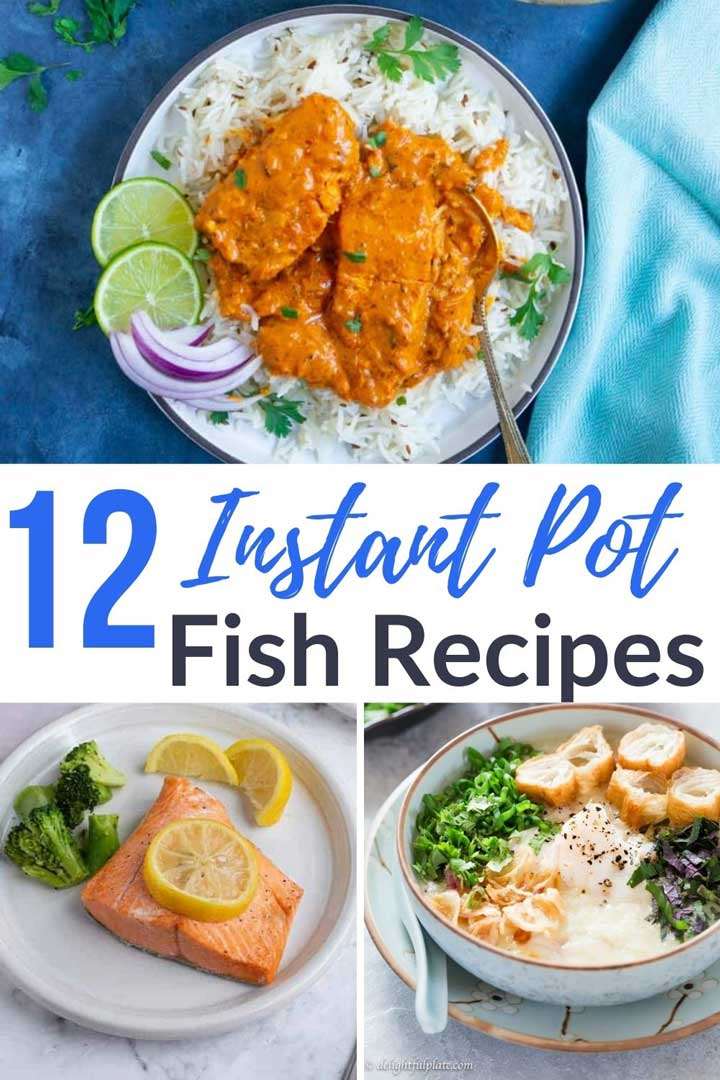 The instant pot has become a life changer for many of us who work busy schedules. The magical pressure cooker has become a great way for us to get a delicious meal on the table in at least half the cooking time of any other cooking method.
There are so many different dishes that can be cooked in the instant pot. It's as easy as baking fish in the oven. If you're not familiar with an instant pot it may seem a little intimidating, but don't be afraid! It's actually pretty easy once you get the hang of things!
Just remember you need a cup of water or other liquid to cook the fish if you use a steam rack. These dishes stir plenty of flavors to spice up the meal. Another benefit is many of these recipes work with fresh fish or frozen fish - another time saver when you need to get dinner on the table quickly.
Seafood recipes to make in your Instant Pot
These instant pot fish recipes make for a delicious weeknight dinner that everyone in the family is going to love. Here are a few ideas if you are interested in cooking fish in the instant pot.
They're quick and simple to make. All of the ingredients are easy to keep on hand if you have fish in the freezer. And they save you time because everything is cooked in one pot.
Instant Pot Salmon and Broccoli
Easy to make and delicious, this salmon and broccoli meal is made in the instant pot for a quick family meal. Recipe here.
Instant Pot Salmon Tikka Masala
Full of flavor and creamy, this tasty salmon dish is sure to delight. Made in the pressure cooker, this is an easy weeknight dinner. Recipe here.
RELATED: Easy Recipes for Leftover Salmon
Vietnamese Fish Congee
Comforting and flavorful, this easy Vietnamese fish dish is a quick and delicious dinner the whole family is sure to love. Recipe here.
Instant Pot Shrimp Scampi
Simple and easy to make, this instant pot shrimp scampi recipe only takes a few minutes to make and makes for a delicious dinner dish. Serve with pasta, roasted cherry tomatoes and a sprinkle of fresh basil. Recipe here.
RELATED: 35 Easy & Delicious Shrimp Recipes
Easy Instant Pot Salmon
An easy way to make dinner, this instant pot salmon recipe is made with frozen or fresh salmon fillets for a quick recipe. Recipe here.
Salmon with Pineapple Zucchini Rice
From frozen to delicious, this salmon is made in the instant pot until perfectly flaky. Serve with a delicious pineapple zucchini rice for a complete meal. Recipe here.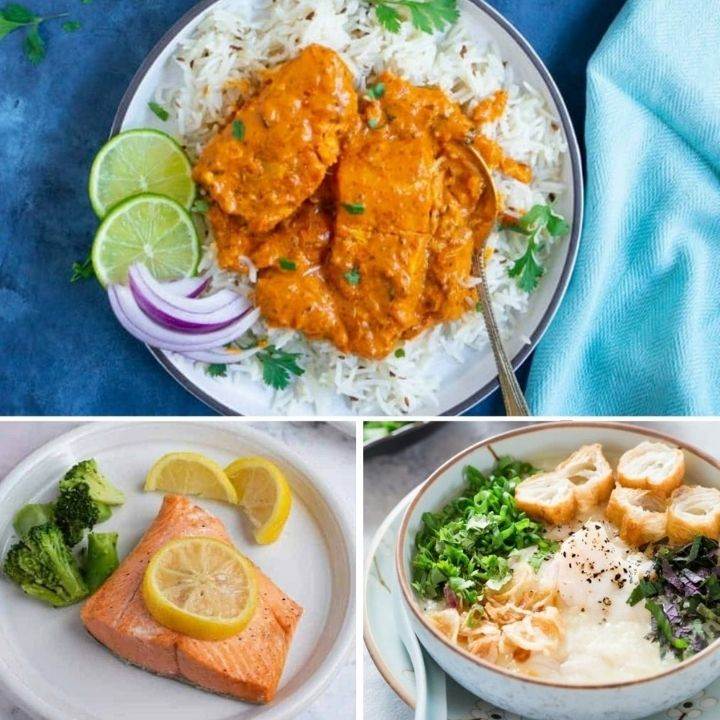 Cilantro Lime Shrimp Tacos
Flavorful and easy to make, these cilantro lime flavored shrimp make the perfect tacos. Recipe here.
Instant Pot Sushi Rice
A delicious way to enjoy sushi, this instant pot sushi rice is easy to make and cooks up in no time at all. Recipe here.
RELATED: How To Cook Carolina Gold Rice In An Instant Pot
Instant Pot Fish Tacos
Made with tilapia, these fish tacos are made in the electric pressure cooker for a healthy and delicious weeknight dinner. Recipe here.
Fish Curry
Simple to make and delicious, this instant pot fish curry is served with rice and a side dish of carrots or other vegetables for a tasty meal. The curry includes spices, garlic, ginger, and coconut milk for the sauce. Use a mild white fish like halibut, cod, tilapia, red snapper or flounder for this dish. Recipe here.
Sun-Dried Tomato Pesto Salmon
Gluten-free and delicious, this sun-dried tomato pesto salmon is made in the instant pot for a quick and tasty dinner. Recipe here.
Instant Pot Lemon Pepper Salmon
This delicious instant pot seafood recipe takes just 5 minutes of hands on prep time and cooks the fish fillet to the perfect silky texture. Recipe here.
Tuna Noodle Casserole
Using fresh or canned tuna, this easy tuna noodle casserole makes for a delicious, quick, and easy weeknight meal. Recipe here.
Pressure Cooker Fish in a Packet
This Pesce al Cartoccio or Italian fish in a parchment paper packet uses grouper, lemon, onion and potatoes flavored with olive oil, salt and pepper, fresh thyme and parsley. It cooks for just 10 minutes at high pressure. So simple. Recipe here.
Instant Pot Ginger-Soy Tilapia
Frozen tilapia filets go straight into the cooking pot - no need to thaw them! The fish steams in a mixture of water, ginger, mirin, and soy sauce until cooked through and tender. Recipe here.
If you're looking for a great way to cook fish - and you want a hands-off cooking method - these one-pot fish dinners are an easy way to do it.
Looking for more seafood ideas? Try these 15 Easy To Make Crab Appetizers!