Want to explore outside of the city limits of Charleston? Why not visit the beach! Here's your travel guide to the best Charleston, South Carolina beaches, including Folly Beach, Sullivan's Island, Isle of Palms and beyond.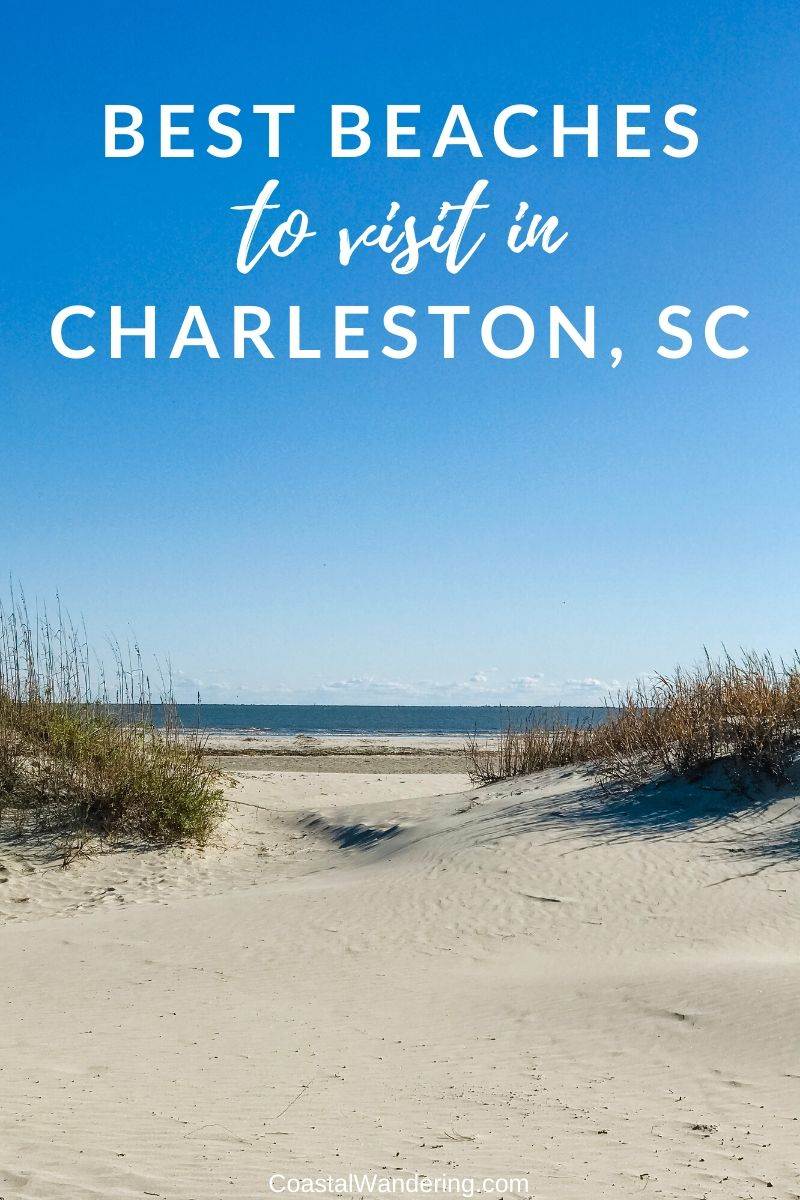 With its rich historical background, wonderful restaurants and friendly locals, it's no wonder that Charleston, South Carolina is consistently found at the top of tourist's bucket lists.
This popular travel destination is located on Charleston Harbor just off the coastline of the Atlantic Ocean. And while Charleston may be touted by Travel + Leisure as the "World's Best City," the beaches found just beyond the city limits are equally awesome.
It won't take you long to find the beautiful beaches on Kiawah Island, Folly Island, Sullivan's Island, Isle of Palms and Seabrook Island. In fact, these Charleston, South Carolina beaches are all within an hour of Charleston by car. These barrier islands are easy to access (no ferries necessary) and offer a relaxing alternative to the busy-ness of Charleston. These beachside destinations are perfect for a day trip or a quick getaway from the city!
Jump to:
Your Guide to the Best Beaches in Charleston SC
You might know Charleston as America's friendliest city, but if you're visiting Charleston, then you must make sure you save some time to adventure beyond the downtown core. Why? Because Charleston also boasts some of the most beautiful beaches in the country!
To search for the best hotels in Charleston, South Carolina, click here.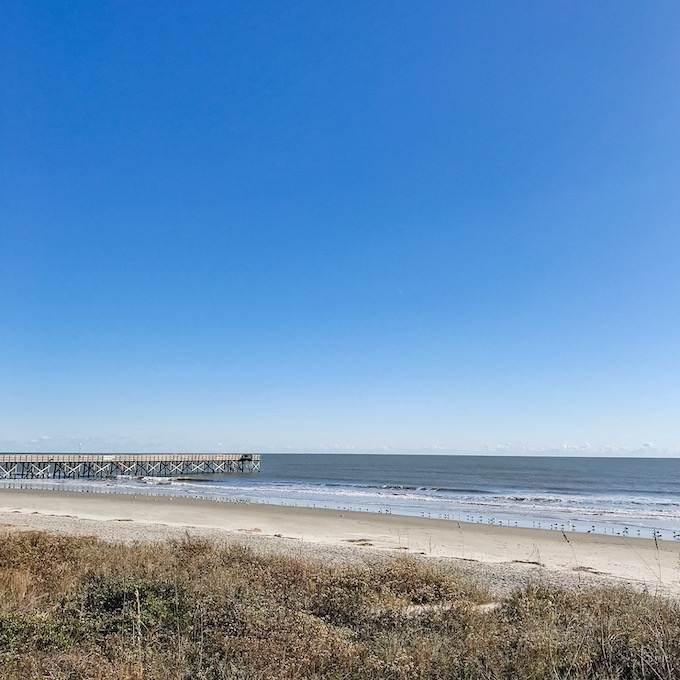 Here are the best Charleston, South Carolina beaches to visit:
Kiawah Island
Folly Beach (on Folly Island)
Sullivan's Island
Isle of Palms
Seabrook Island
Let's take a closer look at each of these coastal destinations with miles of pristine beaches to explore.
Folly Beach
Folly Beach is close to downtown Charleston. If you're looking to escape the city for an afternoon, this is the quickest to travel to. You can drive there and be relaxing in a beach chair in about 30 minutes!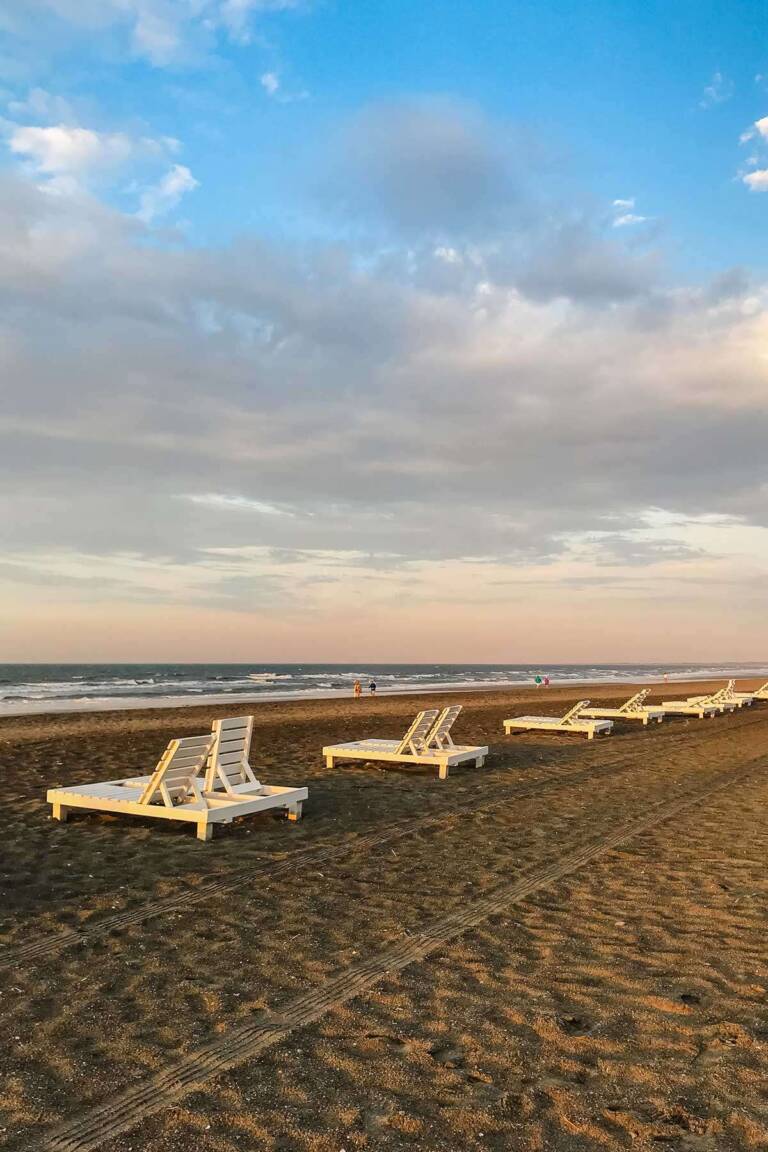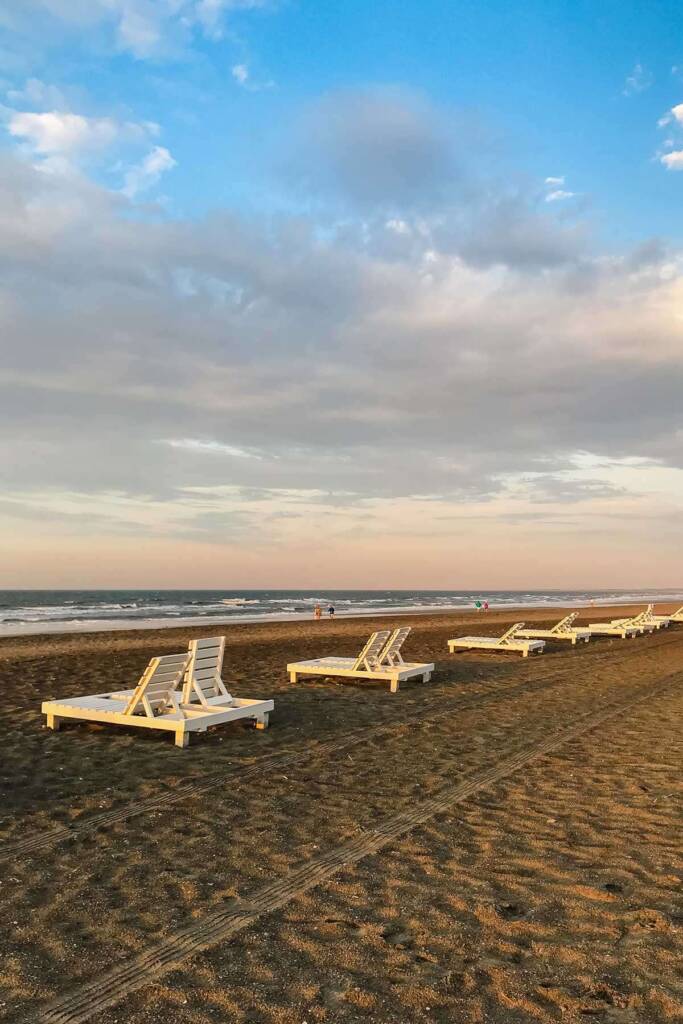 Folly Beach, known as the edge of America, is popular with surfers. If you're looking to give the local surfing a spin then you'll have two popular spots to choose from—The Pier and The Washout.
Not into surfing? Not a problem. You can also enjoy fishing, paddle boarding or just kicking back with your toes in the sand and ocean wind in your hair. Enjoy the view from the great pier that extends 1,000 feet over the water. There's also a fun mix of Folly Beach restaurants and bars, and (on the right day) you might even catch some live music. 
Parking: There are a couple of different parking options for Folly Beach visitors:
Paid parking lots can be found at beach access points on most city blocks (approx. $7 per day)
Parking meters can be found near The Washout
Street parking is free
Cost: Free admission for both Folly Beach and Morris Island Lighthouse
Morris Island Lighthouse
If you're traveling with a history buff, you'll also want to visit the Morris Island Lighthouse. While the original tower built in 1767 was destroyed during the Civil War, you can spot the 1876 tower from Folly Beach. You'll find the best sightlines toward the northeast end of the Beach.
Sullivan's Island Beach
Sullivan's Island might be small, but it isn't lacking in southern coastal charm. Your travel time from Charleston will clock in at just 20 minutes, making it a great option for a half-day visit. And at just 3.3 miles this is the smallest of all the barrier islands mentioned in this guide.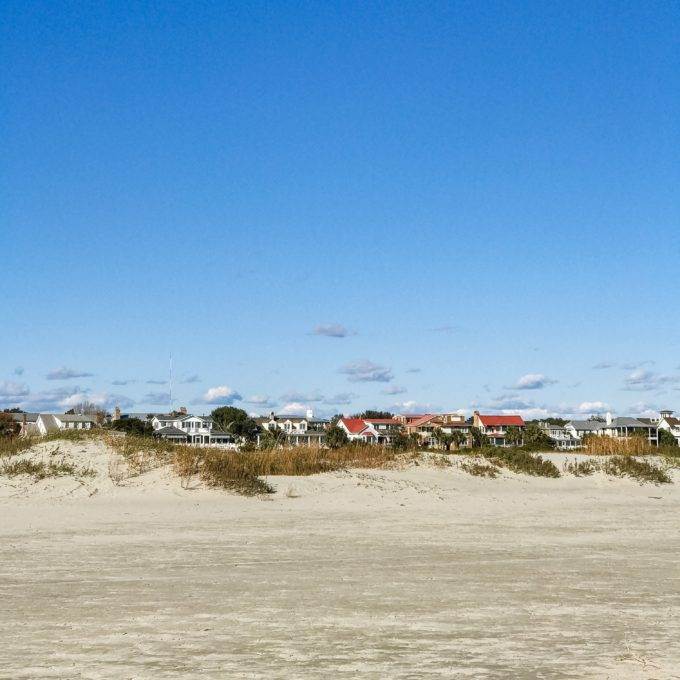 You'll find Sullivan Island beside Isle of Palms at the mouth of the Charleston Harbor. Quaint local restaurants and shops make this a fun spot to wander during lunch. And beach lovers will be happy to see Sullivan Island's wide sandy shores. While they're perfect for sunbathing, there are also plenty of watersports to choose from. Kayaking, kiteboarding, paddleboarding, and sailing are all popular pastimes along the Sullivan Island shoreline. No matter which activities you do, don't forget your sunscreen!
If you're planning a day trip to Sullivan's Island, take note–while there are several pedestrian beach access paths, there are no public restrooms, showers, public parking lots or concessions. If you plan to spend the day on the beach you'll need to bring a picnic lunch or plan on lunching at a local restaurant on Middle Street (try The Obstinate Daughter or Poe's Tavern).
Parking: There are no municipal parking lots on Sullivan's Island. There are a limited number of street parking spaces for beach visitors, so arrive early if you'd like to find space close to the beach!
Cost: Public beach access is free.
Here are two historic landmarks to consider visiting while you're on Sullivan's Island:
Fort Moultrie
History buffs will enjoy wandering through Fort Moultrie. Originally beginning as a Palmetto log fort in 1776, the current fort you can visit today was fully completed in 1809. With a colorful history that includes attacks by a squadron of British warships and Union soldier abandonment, Fort Moultrie makes for an interesting historical stop along the way to the beach.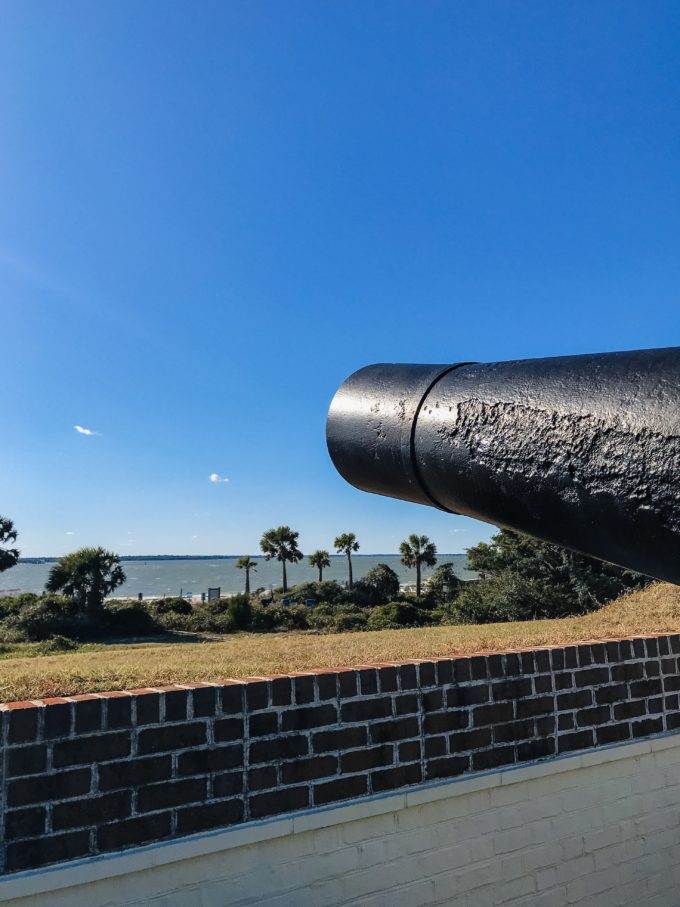 Sullivan's Island Lighthouse
Glimpse Sullivan's Island Lighthouse–one of the last lighthouses built in the entire country! This unique-looking slim black-and-white lighthouse stands at about 140 feet tall. It's quite easy to spot once you're on the island. While a neat sight to see, this lighthouse is still operational and not open to public visitors.
Isle of Palms
You'll find the beautiful Isle of Palms just a short 35-minute drive from downtown Charleston, between the Atlantic Ocean and Intracoastal Waterway and just across from Mount Pleasant. Your drive out to Isle of Palms will be rewarded with a beautiful beach and plenty of fun activities on and off the water.
If you plan to spend your visit soaking in the surf and sunshine, it's easy to find your way to the beach. There are over 50 beach access paths on the Isle of Palms!
If you'd prefer to spend your time golfing, kayaking, sailing, fishing, surfing, or even paddle boarding, fear not. Those are all popular activities on the Isle of Palms as well! In fact, kayaking is particularly fun along the mainland side of the island in the marsh. Be sure to pack some sunscreen and bug spray in your beach bag!
Parking: With so many beach access paths, it's not surprising that there are a variety of parking options to choose between. Here are a few of the most popular options:
Municipal parking lots with daily rates ranging from $10 to $15
Metered parking on Ocean Boulevard near Front Beach
Isle of Palms County Park has plenty of beach frontage, a picnic area with grills, restrooms, playground, sand volleyball and lifeguards (in season)—see current fees and hours here.
Cost: Public beach access is free.
Kiawah Island
Whether you're visiting purely to dig your toes in on Kiawah's sandy shores or want to take a walk through the Kiawah Beachwalker Park, there's so much to do and see on Kiawah Island!
While Kiawah Island offers over 10 miles of beach shoreline, the only public access is located in Kiawah Beachwalker Park. You'll find this park on the west end of the island. Make sure to take in the views here–you'll see beautiful ocean and river views as you make your way through the Park.
Kiawah Island offers a variety of family-friendly amenities, including an accessibility ramp and grills for beachside cookouts. Get out on the water in a canoe or kayak rental, or simply enjoy the peaceful vibe on this calm beach.
Kiawah Island is also home to beautiful maritime forests and marshes. Unsurprisingly, Kiawah's beautiful natural environment is also popular with the local wildlife. Everything from alligators to sea turtles frequent this island!
Kiawah Island is also home to the Kiawah Island Golf Resort. If you follow the PGA tour, you may want to try your hand at this award-winning course! It was the host of the 2012 PGA Championship and Kiawah Island's Ocean Course will host again in 2021.
Parking: At Kiawah Beachwalker Park. Parking during high season is limited, so it's best to arrive early.
Park Hours: Variable depending on the time of year. Check for up-to-date information here.
Cost: Park admission ranges from $5 to $15 per vehicle, depending on the time of year. See current admission fees here.
Seabrook Island
Seabrook Island is just a short 40-minute drive outside of Charleston. With over three miles of beautiful sandy beaches and maritime forest, Seabrook Island is truly a perfect getaway from the hustle and bustle of the city.
Though Seabrook Island offers some of the most pristine beaches in South Carolina, it is (unfortunately) a private gated community. That said, if you would like to get a glimpse at this private barrier island, your best bet is to stay on the island.
If you stay on the island, you'll be free to enjoy the laid-back coastal vibes of this area. Kayaking, sailing, paddle boarding and beachside horseback riding are all popular activities here and offer a variety of unique ways to enjoy Seabrook Island's natural beauty.
Parking: Street parking is prohibited. There are free parking areas at the beach access boardwalks.
Cost: Free, but they limit access to residents and vacationers staying on the island.
More South Carolina beaches to explore
Which of these beautiful Charleston, South Carolina beaches will you visit first? There's more to Charleston than meets the eye, and these beaches prove it!
Whether you're looking for a day trip outside the city or a longer coastal vacation, these Charleston, SC beaches are the perfect oceanside destinations to consider if you find yourself in the area.
Curious about other South Carolina beach destinations? Here are a few more to consider:
Ready to plan your Charleston, SC beach vacation? Start searching for the best hotels here.