Check out these easy and tasty langostino lobster recipes perfect for a quick weeknight meal or a fancy dinner.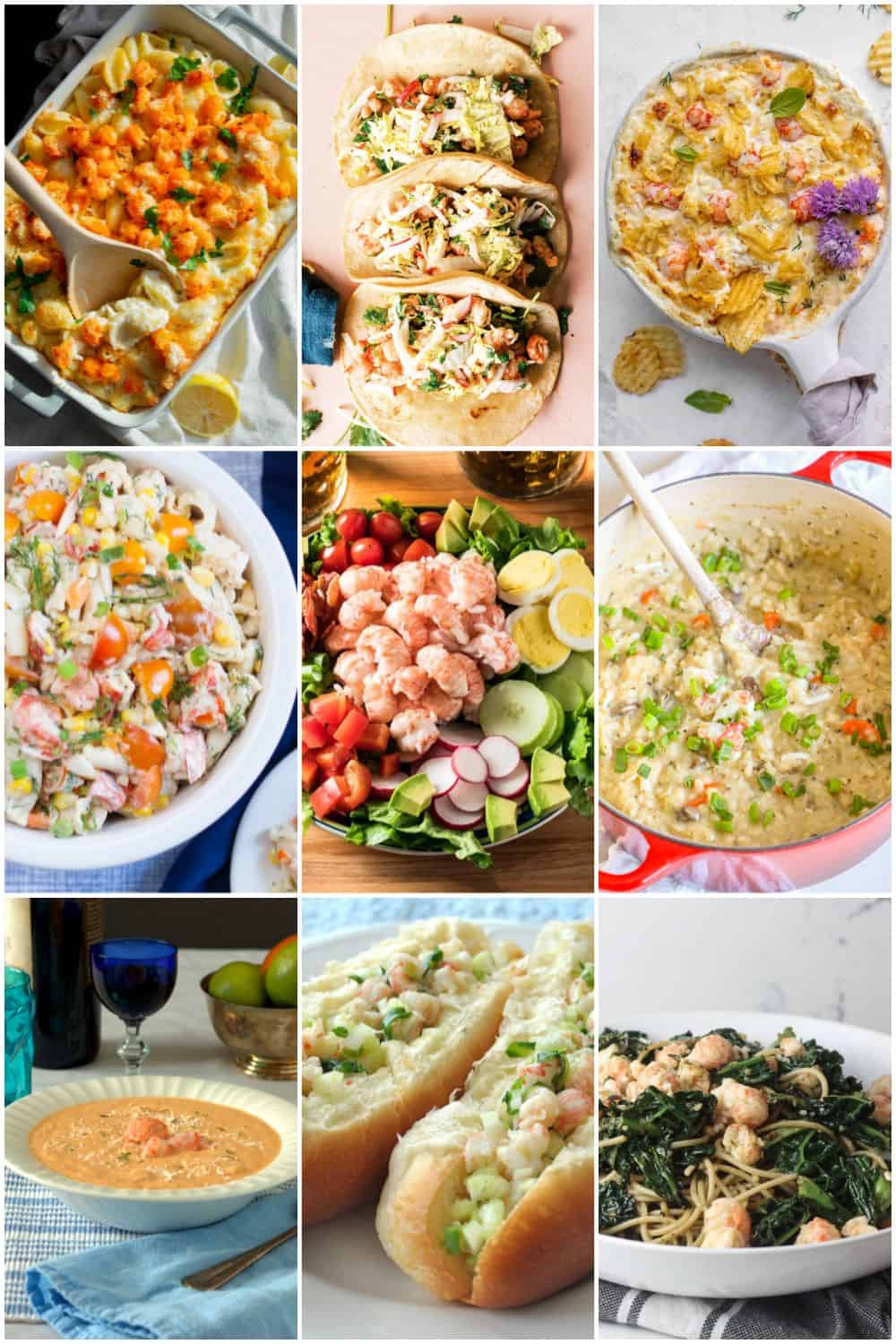 If you love lobster and are looking for a budget-friendly way to enjoy it regularly without sacrificing taste and flavor, consider purchasing Langostino lobster.
Langostino lobster tails are available in frozen, pre-cooked form in many larger grocery food chains as well as at Costco and Trader Joe's.
The convenience factor alone makes them a delicious option when you're putting together a seafood meal at home.
What's the difference between lobster and langostino?
While Langostino lobster is a crustacean, it's actually more closely related to crab. However, it's widely used as an inexpensive alternative to lobster meat or shrimp since its flavor is complementary to both.
Langostino meat is super easy to use in many recipes that range from pasta, soup, salads, appetizers and more. Oh, and of course, it's a great ingredient to use for everyone's favorite: lobster rolls!
Langostino Lobster Recipes
Let these amazing recipes inspire you to use Langostino lobster in your next homemade seafood meal.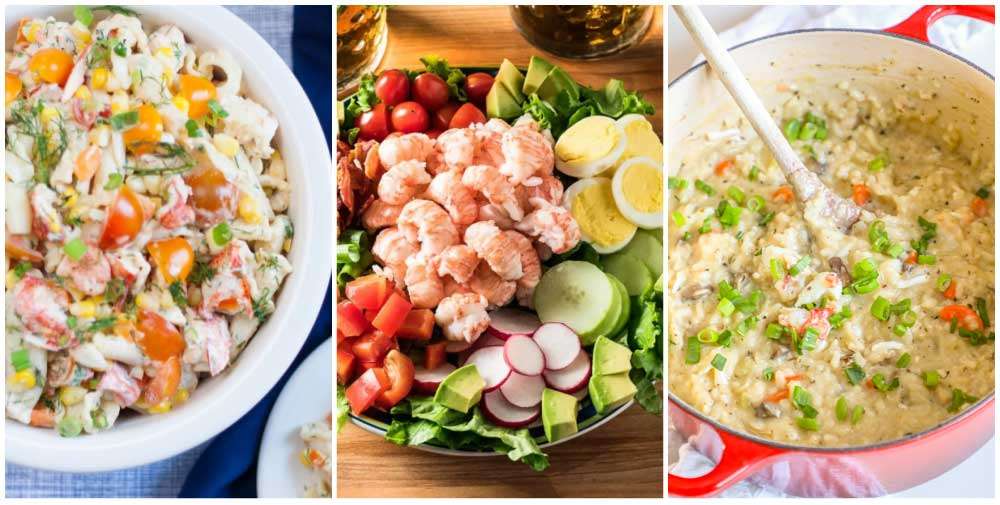 Garlic Herb Butter Langostino Pasta with Kale And Pesto
Infuse Langostino tails with succulent garlic butter for an outrageously tasty pasta dish. Boil spaghetti noodles in a large pot, drain and toss with pesto.
Combine with the melted butter, garlic, lobster and some wilted chopped kale for a simple dinner that's quick, easy and delicious.
Recipe and Pesto by Mince Republic
Langostino Cobb Salad
This seafood salad is a breeze to assemble thanks to pre-cooked Langostino lobster. To your salad greens, just add the lobster, crispy and crumbled bacon, hard boiled egg, avocado, tomato, radish, cucumber and green onions.
Drizzle with a homemade mayonnaise and Old Bay dressing.
Recipe by Tasty Low Carb
Langostino Ceviche
You'll love this easy ceviche recipe that uses pre-cooked Langostino lobster in the lime juice, garlic, shallot and jalapeno pepper mixture.
Combine all those aromatic and spicy ingredients and let it marinate in the fridge for at least 30 minutes before serving. It's a treat for your taste buds!
Recipe by Become Betty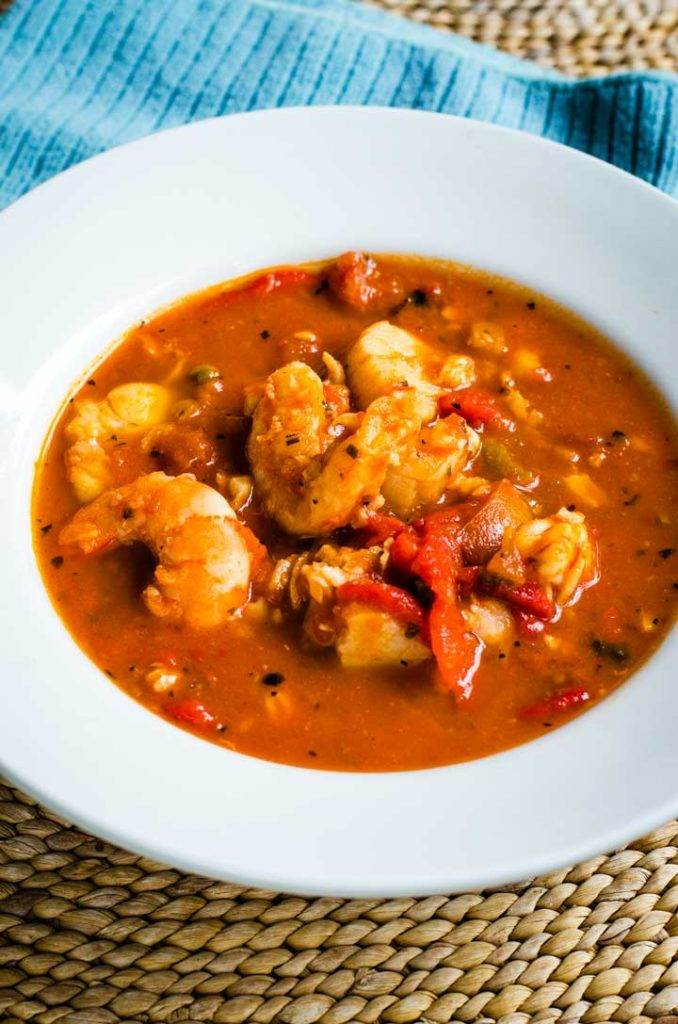 Easy Seafood Stew
Langostino is a perfect addition to the easy and versatile cioppino seafood stew. Just add it at the end with the shrimp (or in place of the shrimp!).
The spicy tomato broth, fish and shellfish combine deliciously for a simple, yet impressive dinner. Serve with a side salad and crusty garlic bread for dipping.
Recipe by Coastal Wandering
Lobster Pasta Salad
Make this refreshing lobster salad in the spring and summer using fresh cherry tomatoes, bell peppers, green onions, corn, fresh dill and pre-cooked Langostino lobster.
It all gets mixed with campanelle pasta and an easy dressing of lemon juice, sour cream and mayo that won't overpower the seafood and fresh veggies. Chill well before serving.
Recipe by Bits And Bauble
Caprese Lobster Pasta
Quinoa pasta gets tossed with a creamy marinara sauce, thanks to the heavy cream in the mix. Layer this sauce in the bottom of a baking dish, followed by fresh chopped Roma tomatoes, fresh basil and shredded mozzarella cheese.
Layer on the Langostino lobster followed by a final layer of cheese. Bake until heated through and the cheese has melted. Scrumptious!
Recipe by Gutsy Gluten Free Gal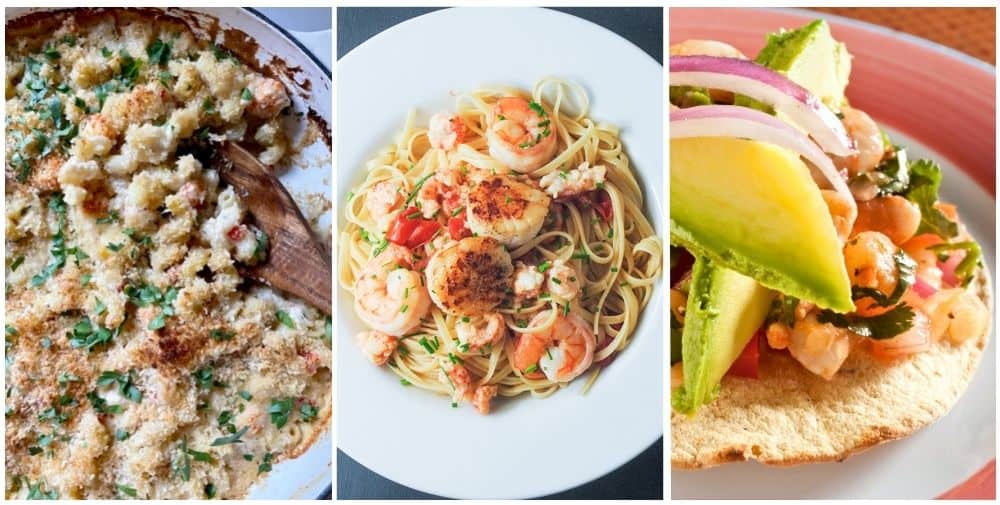 Cilantro Lime Lobster Tacos
These tacos are a breeze to make and will earn you rave reviews in your Taco Tuesday meal rotation. Heat the pre-cooked Langostino lobster in a skillet with a little butter, lime juice, cumin and paprika for some added spiciness in the flavor department.
You'll want to top the lobster tacos with a quick homemade slaw of cabbage, radish, mayonnaise, lime juice and cilantro. Pile all this savory goodness in warm soft tacos and go ahead and indulge.
Recipe by Dad With A Pan
Easy Lobster Risotto
This one pot recipe of risotto is made creamy by using Arborrio rice which is stirred to luxurious perfection, all without any added cream. Chicken stock, onions, shallot and mushrooms add flavor.
Parmesan cheese and Langostino lobster complete family favorite seafood and rice dish.
Recipe by Sweet C's Designs
Langostino And Pimiento Skillet Mac And Cheese
Elevate cooked elbow macaroni with chopped pimiento and lobster. An extra sharp cheddar cheese mixture coats it all before goes down in a baking dish and is topped with a seasoned panko breadcrumbs mixture.
Bake until the top is golden brown. Your family will love this Langostino mac and cheese version that takes the classic comfort food to the next level.
Recipe by Djalali Cooks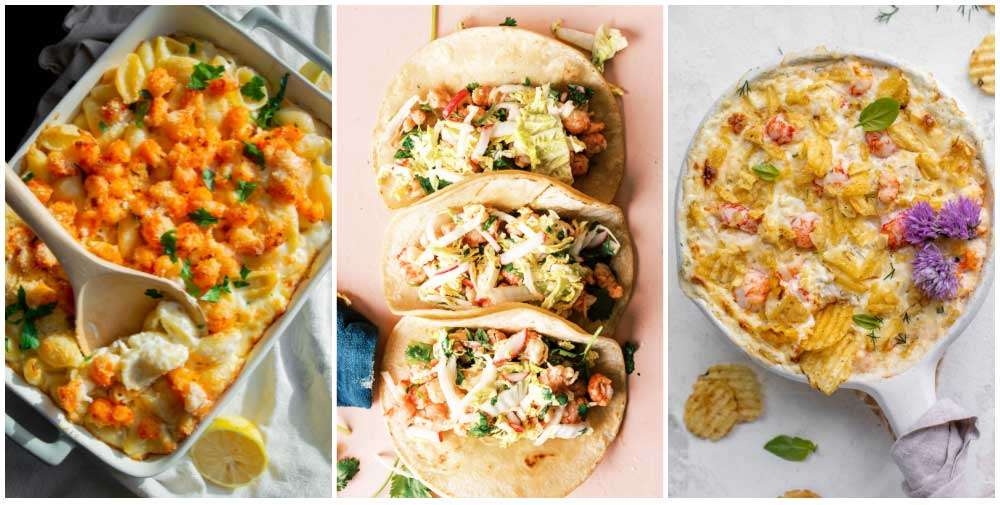 Mediterranean Langostino Pasta
Take pasta with lobster to a new level with a delightful mix of flavors in this Mediterranean-inspired meal. To the cooked pasta you'll add a topping of crispy pancetta, chopped Langostino lobster, onions, bell peppers, capers, red pepper flakes and sun-dried tomatoes.
Drizzle with olive oil and a sprinkle of parmesan cheese on top.
Recipe by That's Some Good Cookin'
Lobster Nachos
Whether you make this seafood nacho recipe for game days, lunch or dinner, it will no doubt become a family favorite. Scatter tortilla chips on a sheet pan and cover them with black beans, cheese, and jalapeño peppers and bake in the oven for 15 minutes.
Grab a large skillet and saute the Langostino lobster meat in a tablespoon of butter and minced garlic over medium heat. Add the warm and seasoned lobster to the nachos and top with pico de gallo and homemade chipotle sour cream. Dig in!
Recipe by Life's Ambrosia
Langostino Lobster Roll Recipe
Satisfy your craving for a lobster roll by combining the meat of chopped Langostino lobster tails with chopped celery, green onion, and parsley. Whisk together a lemon juice, garlic and olive oil dressing and drizzle it on the lobster mixture. Stir well to combine.
Buns or sub rolls can be used fresh or grilled to golden perfection with a little butter. Fill the buns with the lobster mixture and enjoy this handheld seafood feast!
Recipe by 2 Sisters Recipes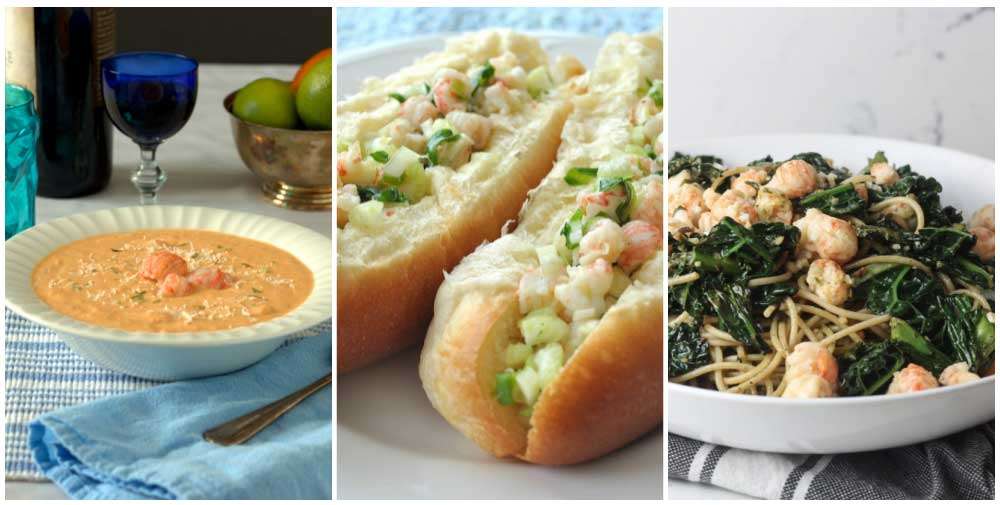 Langostino Lobster Bisque
You'll swoon over this homemade lobster bisque that starts with a sauté of savory aromatics and is followed by tomato paste, chicken stock, herbs, and sherry. Add in the Langostino lobster and use an immersion blender to smooth out the bisque.
Make a roux from butter and flour and add as a thickener to the soup. Serve this warm lobster bisque with a sprinkle of parmesan cheese on top.
Recipe by Experimental Epicurean
Lobster Dip
Officially an appetizer, this hot dip may just become a meal in itself. Made with Langostino lobster, this dip is a feast of three cheeses plus sour cream, mayo, dijon mustard and fresh herbs.
Add in the chopped lobster, mix and top with crushed potato chips before baking to cheesy oblivion. Oh, my!
Recipe by How Sweet Eats
Lemon Pepper Parmesan Pasta With Langostino
You're just 15 minute away from a rich and creamy Alfredo sauce made with heavy cream and parmesan cheese. Brighten it up with lemon juice, zest, and a teaspoon of black pepper and add in chopped Langostino lobster meat.
Stir in cooked bowtie pasta and serve with a garnish of lemon zest. Easy and delish!
Recipe by The Kitchen Whisperer
Langostino Sushi Rolls
These bite-sized lobster treats are perfect for appetizers, snacks or a light sushi lunch.
Pre-cooked Langostino lobster joins with a cucumber, avocado and mayonnaise mixture before being rolled in soy wrappers. These lobster sushi rolls are easy, quick, delicious and irresistible.
Recipe by Low Carbing Asian
Langostino Shrimp And Squash Pasta
Use a vegetable-based noodle of spiralized butternut squash to keep it gluten-free for this pasta-inspired meal.
The creamy parmesan Alfredo sauce is rich with flavor and when you add in Langostino lobster and shrimp mixture, you'll be sure to add this seafood meal as a regular in your meal planning rotation.
Recipe by Larena's Corner
Langostino And Andouille Sausage Empanadas
The spicy filling for these empanadas is a loose nod to jambalaya, but without the rice. The filling is made with Langostino lobster, Andouille sausage, celery, onions, peppers, cilantro and plenty of hot sauce.
Use store-bought empanada discs and fill them with this tasty mixture. Bake or fry them and serve with an avocado dipping sauce. They're perfect for appetizers or snacks.
Recipe by Laylita
Lobster Mac and Cheese
Macaroni or shell pasta gets a creamy and cheesy coating thanks to brie and parmesan cheeses. Up-level this cheesy pasta meal to epic tastiness by adding Langostino lobster to the mix.
Sprinkle cheese on top and bake until browned and bubbly.
Recipe by Jawnsi Cooked
Langostino Cornbread
If you've never tried seafood cornbread, you're missing out! Here, you'll add pre-cooked lobster to a cornmeal mixture that's been spiced with onions, creole seasoning, frozen corn, jalapenos and sharp cheddar cheese.
Bake this extravaganza until golden brown and top. It's a treat that you have to try!
Recipe by FMITK
Seafood Scampi
Linguine plays host to a scrumptious seafood topping of shrimp, scallops and Langostino lobster tails. A quick sauté in olive oil, garlic and white wine are all the seafood needs before adding tomatoes and lemon juice.
Add this seafood trio over warm linguine and garnish with chopped chives.
Recipe by White Plate Blank Slate
If you love lobster, you have to try one of these langostino recipes!